San Francisco offers visitors iconic attractions, verdant gardens, colorful history, and cultural diversity—all with that extra city-by-the-bay twist! With so much to see and experience, this wondrous city can seem overwhelming at first look. But you gotta start somewhere!
In this article we will cover the top 10 things to do and places to see in San Francisco. We will give you the insider information you need to experience each to the fullest during your stay.
If you are looking for a structured trip plan with timelines, check out our First Timer's 3-Day Itinerary here.
Without further ado, here are the ten must-see things to do in San Francisco:
#10 Explore Historic Fisherman's Wharf and Pier 39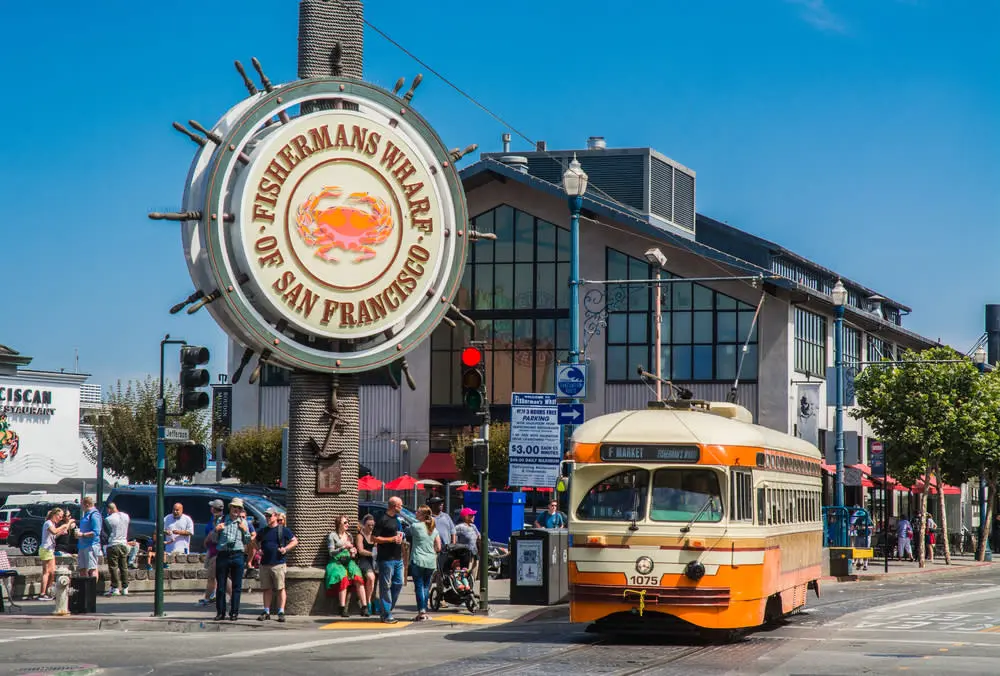 The City by the Bay is known for its picturesque waterfront location, so spend some time exploring the waterfront area, including Fisherman's Wharf and Pier 39. With incredible shopping, historic buildings, barking sea lions, an aquarium, some of the best seafood in the city and more, the waterfront can truly keep anyone busy for the whole day. Here are just a couple of the not-to-miss things to do near Fisherman's Wharf.
Get up Close to Local Sea Life at the Aquarium of the Bay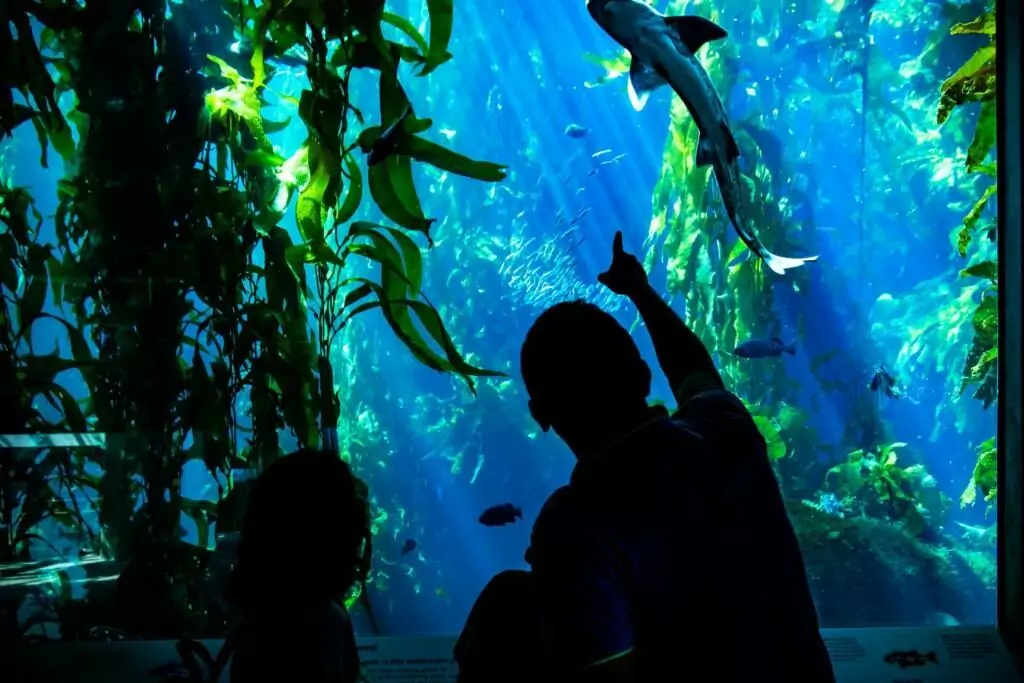 The Aquarium of the Bay cares for more than 24,000 local marine animals, including sharks, jellies, rays, eels, river otters and more! It's easy to spend hours here, but whatever you do make sure you don't miss the touch tanks. Head upstairs to find the universally popular touchpools where visitors of all ages can get hands on with tidal creatures like sea stars, anemones, and even leopard sharks! While we still love a visit to the aquarium as adults, it is a very popular thing to do in San Francisco with kids. For more kid-friendly ideas, head here.
Witness the Wild Local Sea Life at Pier 39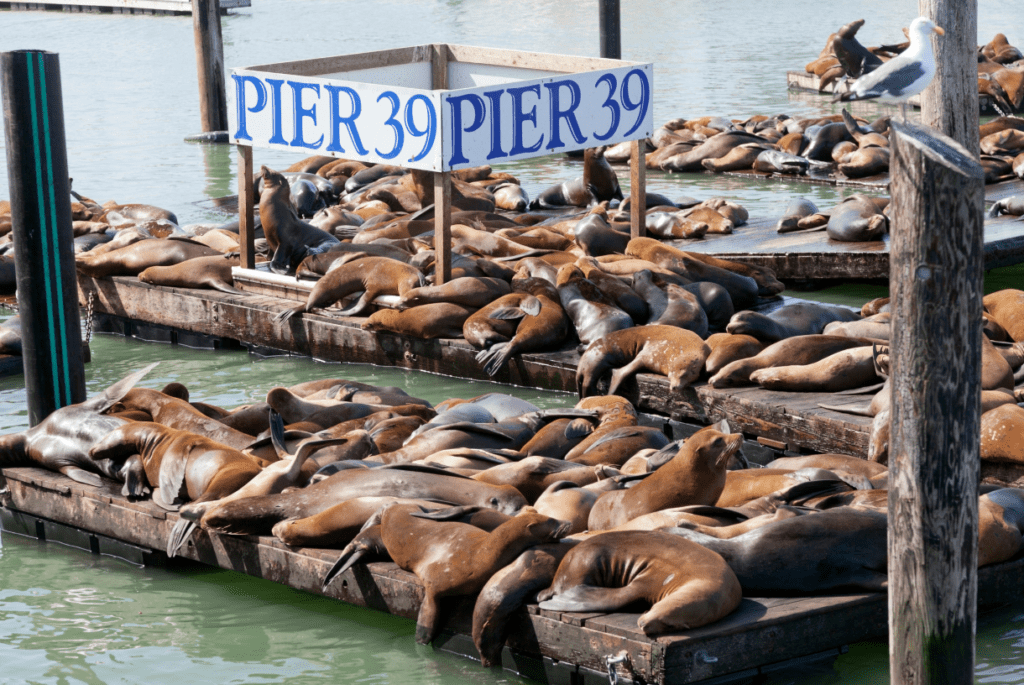 In 1989 a few local California sea lions chose the K-dock on Pier 39 to "haul out" for a bask and bark in the sun. Well, this habit spread amongst the population, and since then the sea lions of Pier 39 have become San Francisco celebrities. It shouldn't be difficult to find them, since they are quite loud, but head to the end of level 2 of Pier 39 to find the viewing platform.
Cycle to the Sights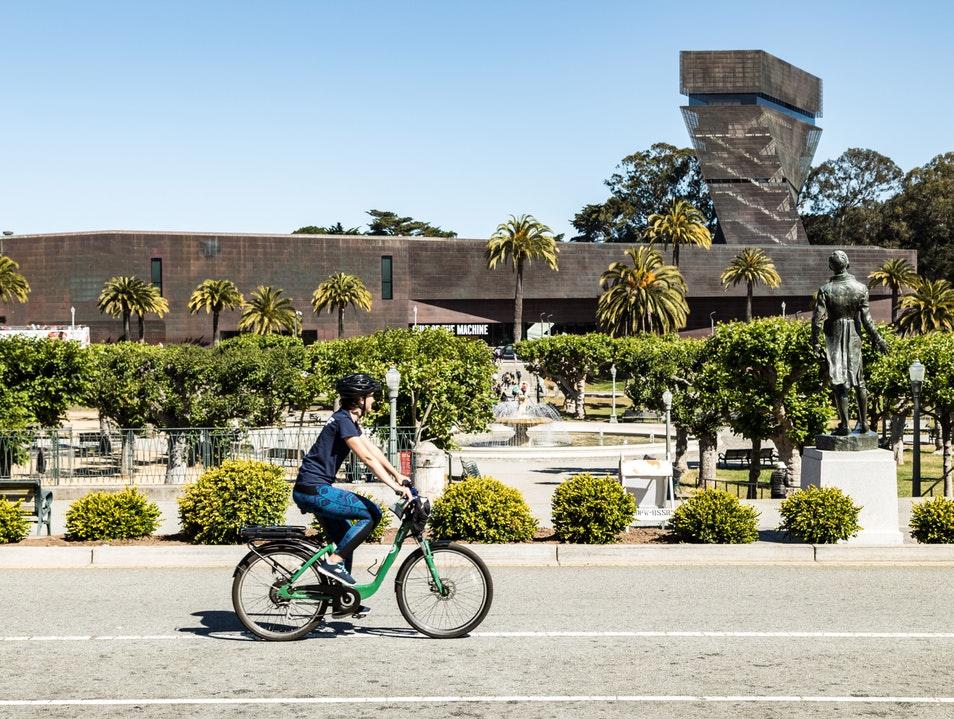 Renting a bicycle to ride along the waterfront is a wonderful way to see the area. You can stay local, stopping frequently to explore each new area, or you can gear up and ride across the Golden Gate Bridge, or even to charming Sausalito.24-hour bike rentals (traditional and Ebike) are available here. If you would like a guide to show you the sights and add some local insider info, there are also tours which combine must-see sights with a little exercise!
Eat, Shop, and Explore to Your Heart's Content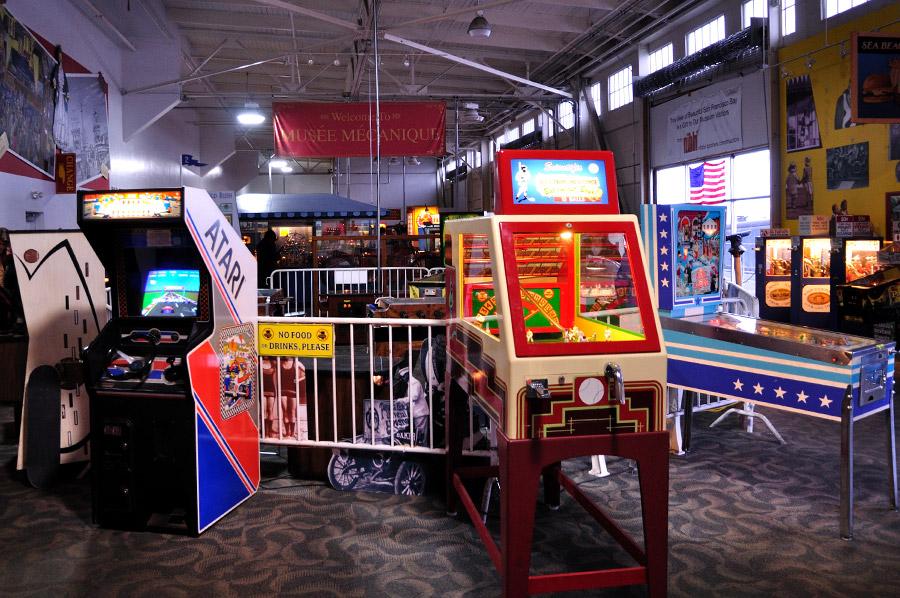 Some of the best seafood can be found on Fisherman's Wharf, from quick casual cafes, to romantic dining establishments overlooking the water. To digest all of that food, wander the waterfront, enjoying the vast array of museums, attractions, street performers, and beautiful views.
#9 Break Into Alcatraz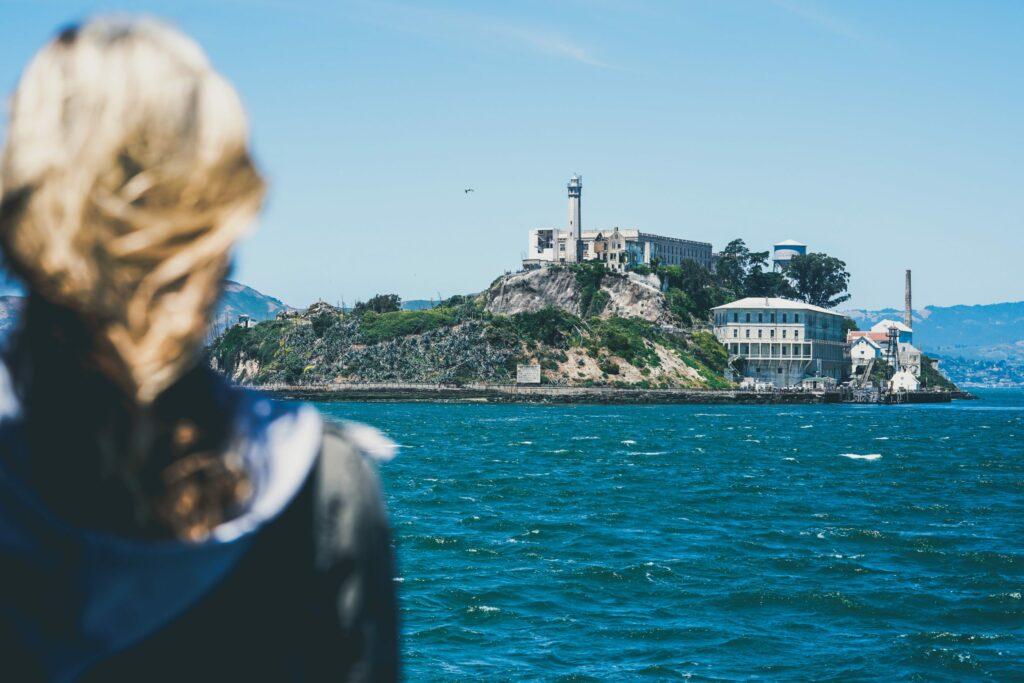 Did you notice Alcatraz Island on your wander of the waterfront? The infamous prison island can be seen from all over the city, but cannot truly be experienced without a visit to the island itself.
The fascinating story of Alcatraz, an inescapable prison located on an unforgiving island, has inspired movies like "The Rock" with Sean Connery and Nicholas Cage. Back in the day, Chicago's notorious mobster Al Capone was imprisoned at this high-security prison. Today, the Island is a popular tourist attraction managed by the National Park Service, and a visit is a must-do in San Francisco.
Only one company is permitted to ferry visitors to the Island, Alcatraz Cruises. Options for tickets include buying them directly from their official site, lining up in person on Pier 33 for day-of or future tickets, or combining a visit to Alcatraz with a city tour.
The 15-minute ferry to the island departs from Pier 33 on the Embarcadero. Arrive early and head to the will call booth with your ID. The ride to "The Rock" is gorgeous, with views of the Golden Gate Bridge, the Bay Bridge, and Angel Island. Once on the Island, a Ranger will introduce you to the island and then leave you to explore on your own agenda. Note: the walk up to the prison is steep, but there is an hourly electric shuttle for assistance if desired.
After exploring, hop on any return ferry to the mainland. Most visitors spend about 3 hours exploring Alcatraz.
Enjoy Your Best Alcatraz Island Visit with These Insider Tips:
Buy your tickets well in advance. Especially during peak seasons, tickets can sell out weeks to months in advance and buying tickets day-of is stressful and no guarantee.
Arrive well fed and early. No food is allowed on the island.
Bring a jacket. Even if it is warm in the city, the island can be windy and much cooler.
Don't follow the crowds. Most visitors head inside for the audio tour of the prison directly after the ranger orientation. If you explore the grounds first and then head inside, folks will be more spread out and you will have a more-relaxed experience.
The fascinating story of Alcatraz, an inescapable prison located on an unforgiving island has inspired movies like "The Rock" with Sean Connery and Nicholas Cage. Back in the day, Chicago's notorious mobster Al Capone was imprisoned at this high-security prison. While serving out his life sentence, the ruthless Capone became the banjo player in Alcatraz's prison band, the Rock Islanders.
Insider's Tip: If you plan to do the Alcatraz Tour during the summer or a holiday weekend, nab your tickets at least 90 days in advance. Be careful there are many scammy sites with questionable tickets–the official site is here . If you'd like to combine your Alcatraz experience with a comprehensive city tour, check out our packages here.
#8 Ride a Cable Car to the Stars (and Lombard Street!)
You can ride the world's last manually-operated cable car through the scenic neighborhoods of San Francisco and, like Tony Bennett famously sang, "halfway to the stars!" Cable cars were Andrew Smith Halladie's answer to animal cruelty. After witnessing horses struggling mightily on San Francisco's hills, Halladie dreamt up the notion of a steam engine powering an underground cable.
The three remaining cable car routes cover different parts of the city. The Powell-Hyde line is a good one for visitors. It runs from the intersection of Powell and Market Streets to the end of Hyde Street in Fishermans' Wharf. Need to do a little shopping? The Powell-Hyde line passes San Francisco's premier shopping destination: Union Square.
Get Crooked on Lombard Street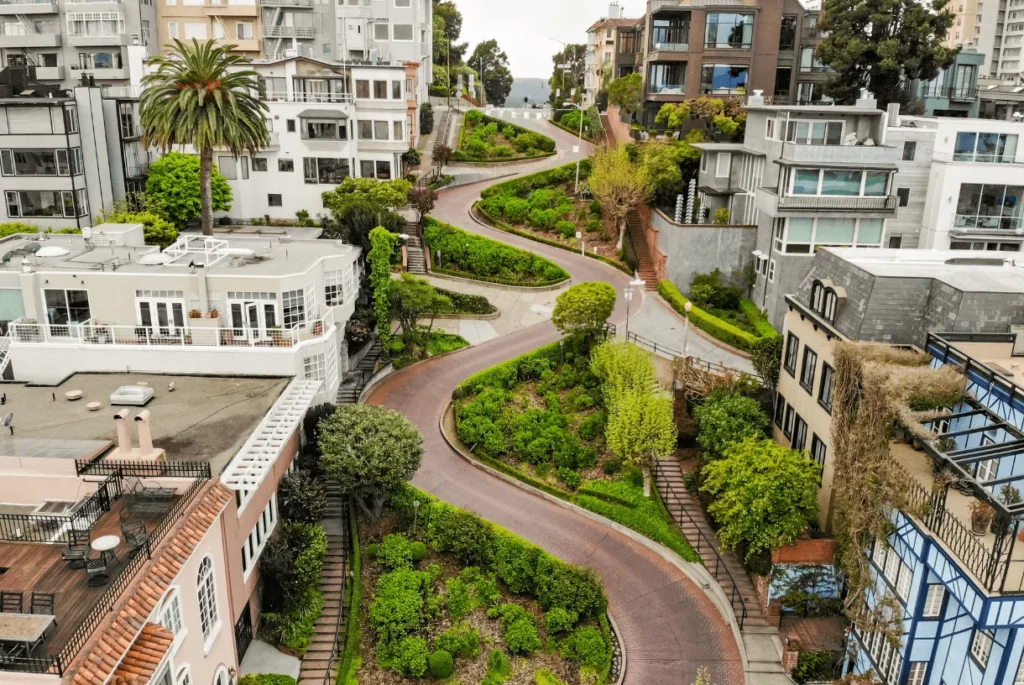 And let's not pretend you plan on missing one of San Francisco's most iconic and frequently visited streets on your visit. Lombard Street is located between Hyde and Leavenworth streets along the same Powell-Hyde line, so just hop off the cable car at the top of Lombard Street and then walk down the pedestrian stairs alongside it.
Lombarde Street is famous as being the world's "crookedest street" and you will see why. The street has 8 hairpin turns, designed to reduce the steepness of the hill's slope. This is a working street (not a park) so be extremely cautious when posing for pictures! Check out this article for other instagrammable spots in #San Francisco.
Insider tip: If you loved the cable car ride and you'd like to take a deep dive into the history and workings of San Francisco's cable cars, check out the Cable Car Museum at Washington and Mason Street. This fascinating museum is free, but closed on Mondays.
#7 Discover San Francisco's Famous Chinatown and Haight-Ashbury Neighborhoods
San Francisco's iconic neighborhoods are rich in culture and history. While it would take years to see every mural, try every pork bun, and learn all of the fascinating local stories, spending the day wandering these neighborhoods is a delight, a feast for the eyes (and the stomach), and a must-do in San Francisco.
Find your Fortune in Chinatown
Chinatown is its own city within the city. It is one of the oldest and largest Chinese communities in the world, outside of China. Its streets bustle with life amid golden dragon and red lanterns. Grant Street is the "Main Street" of Chinatown and the location of the photogenic Dragon's Gate. Start your journey here.
As you wander, look for women playing mahjong and men playing Chinese chess in the park. Peek into the shops, shelves full of exotic ingredients and wares. If it's meal time, line up for some authentic local cuisine. We love the Garden Bakery for moon cakes and the House of Dim Sum. Before leaving Chinatown, relax in one of the many Chinese tea shops where you can choose from hundreds of exotic varieties.
Insider tip: Follow your nose to Ross Alley and the Golden Gate Fortune Cookie Factory. Since 1962, it has made delightful fortune cookies by hand. Watch as made-from-scratch dough is pressed into cast iron griddles, then stuffed with fortunes. Taste the piping-hot samples. Pick up a bag of chocolate-dipped cookies with sprinkles for later. It won't cost… you guessed it, a fortune!
Join the Counterculture in Haight-Ashbury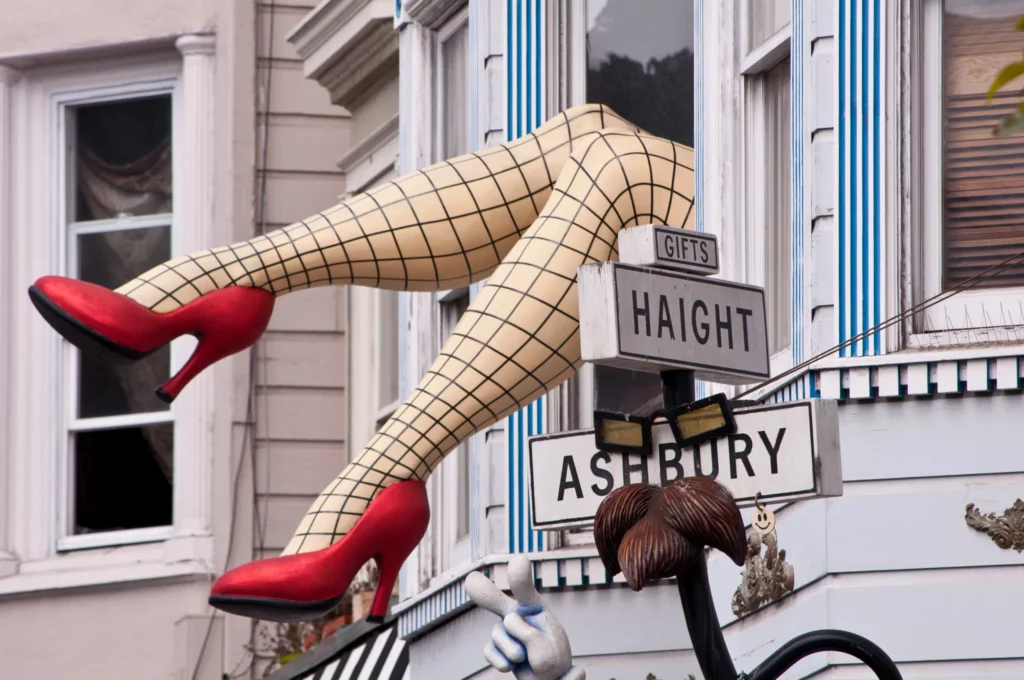 The summer of 1967 was the "Summer of Love" when 100,000 people communed in San Francisco's Haight-Ashbury and kickstarted the Hippie Revolution. San Francisco soon became the mecca for a subculture that would influence the country for a generation. Insider fact: Hippies borrowed heavily from an earlier San Francisco cultural movement, the Beat Generation of authors of the 1950s, who flourished in the North Beach area.
Long after the Summer of Love gave way to Silicon Valley's digital age, "The Haight" remains a vibrant, counter-cultural hub reminiscent of the days of peace, free love, flowers and psychedelic trips.
Explore Haight-Ashbury solo or experience it as part of a San Francisco city tour. This tour takes you to the homes where the Hells Angels Motorcycle Club and the Grateful Dead lived. Rock 'n roll is still bringing people together in Haight-Ashbury!Looking for something in between? An audio tour of Haight-Ashbury may be perfect for you! Utilizing the GPS on your smartphone, this guide gives you insider knowledge of the neighborhood while you explore at your own pace and on your own two feet. If you like this way of exploring the city, here are a couple more audio tours of San Francisco.
Don't Miss San Francisco's Street Art!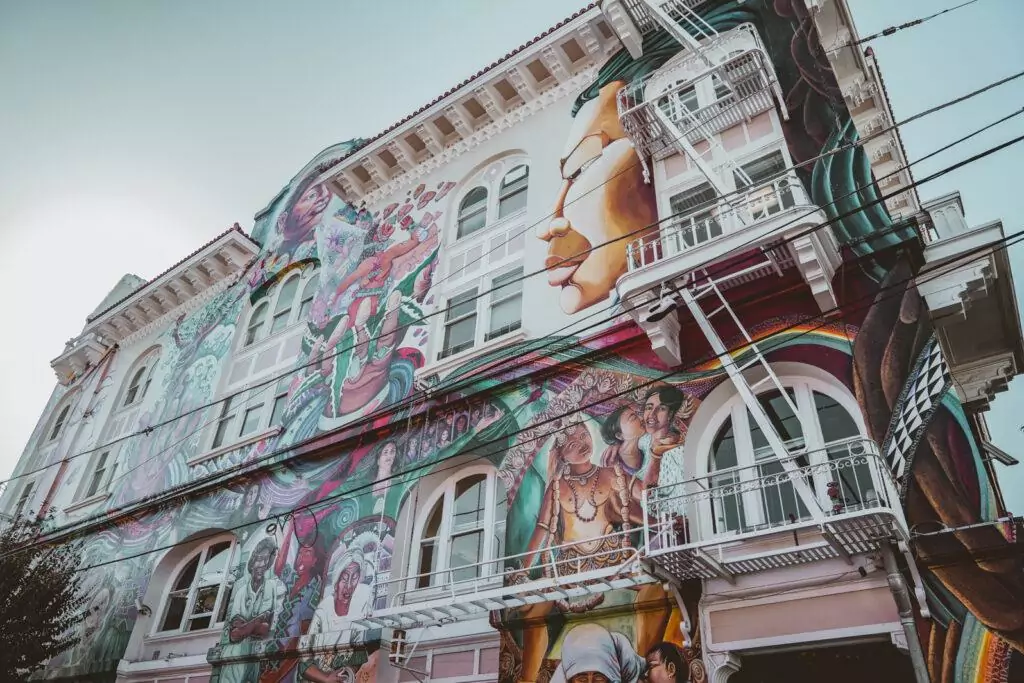 The Mission neighborhood of San Francisco is known for its impressive street murals. This art is hidden all around The Mission, numbering more than 200 murals found down countless alleys. Much of the art reflects the neighborhood's Latin heritage and social justice themes. For the greatest concentration of art head to one or more of the following alleys: Caledonia Alley (at 15th Street), Clarion Alley (at Valencia Street), Balmy Alley (at 24th Street), Horace Alley (at 25th Street), Cypress and Lilac Alleys (at 26th Street) and Osage Alley (at 25th Street).
#6 Find Relaxation and Inspiration in the Marina District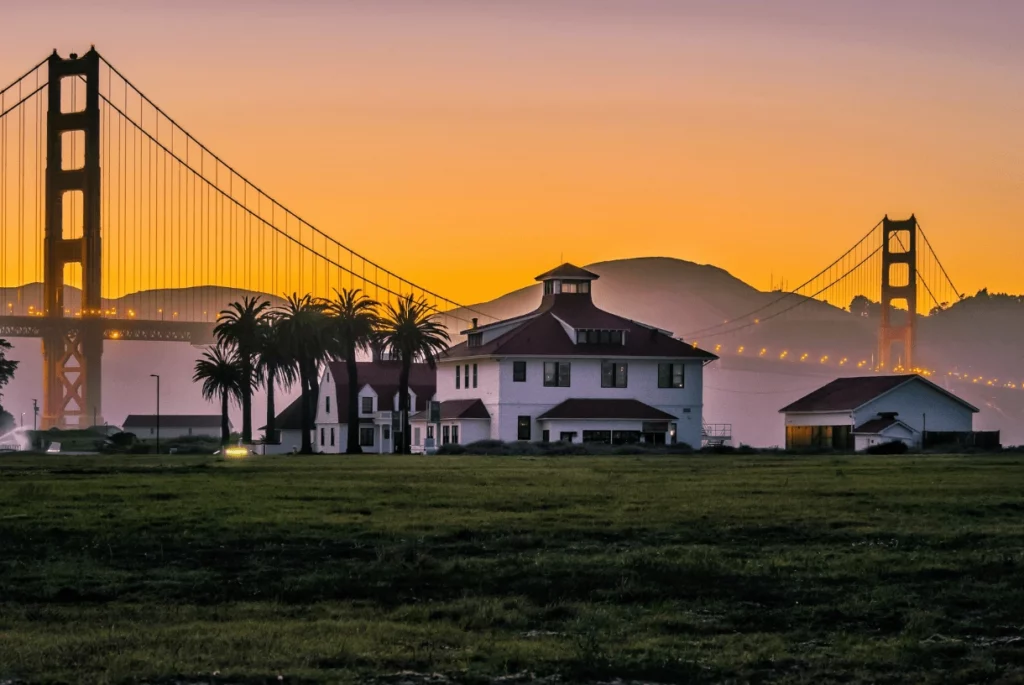 The Marina District is home to two must-see locations in San Francisco — The Presidio and The Palace of Fine Arts. They are located conveniently close together and make for a great combined outing.
Find Relaxation at the Presidio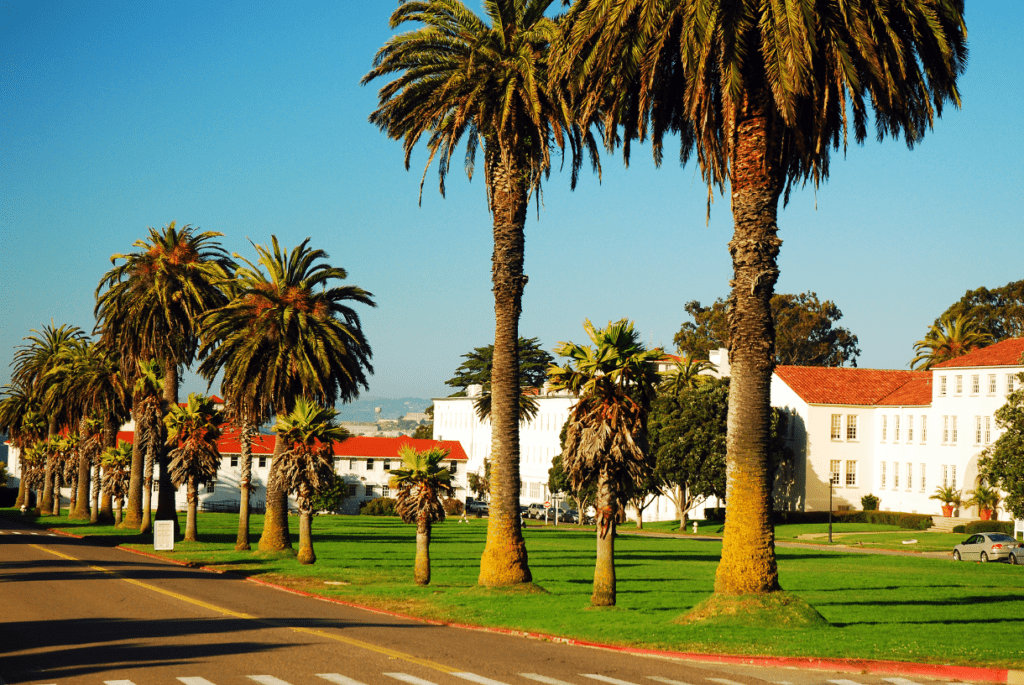 The Presidio was for many years a military fort for Spain, and then Mexico, and then a US Army base until 1994. It is now a National Park Site with activities too numerous to list (but we are going to give it a shot!) and is definitely worth a visit.
Come to the Presidio to learn about history, capture a great photo of the Golden Gate Bridge, go to the beach, ride, run, or walk along 24 miles of trails, picnic, bird watch, rent a space for an event, and so much more! The brand new Presidio Tunnel Tops, built on top of the Presidio Parkway tunnels, is a great place for the entire family to interact with nature, and maybe even catch a Ranger talk.
Find Inspiration at the Palace of Fine Arts
The Palace of Fine Arts is the last of ten palaces constructed for the 1915 Panama-Pacific International Exposition. The buildings for the temporary exposition were not built to last and the Palace, which had fallen into disrepair, was rebuilt in 1964. The handsome rotunda is entirely enclosed by a picturesque lagoon.
As you meander through the ancient Greek-inspired colonnades, look for Bruno Zimm's repeating panels portraying "The Struggle for the Beautiful"; then look up to spot Ulric Ellerhusen's frieze work representing contemplation, wonderment, and meditation. The Palace is a favorite spot for local couples to take their wedding photos, so be careful that you're not photobombing someone during your visit.Believe it or not, a visit to the Palace of Fine Arts is absolutely free! Visit this article for 34 more of The 35 Best Free Things to do in San Francisco.
#5 Go Green in Golden Gate Park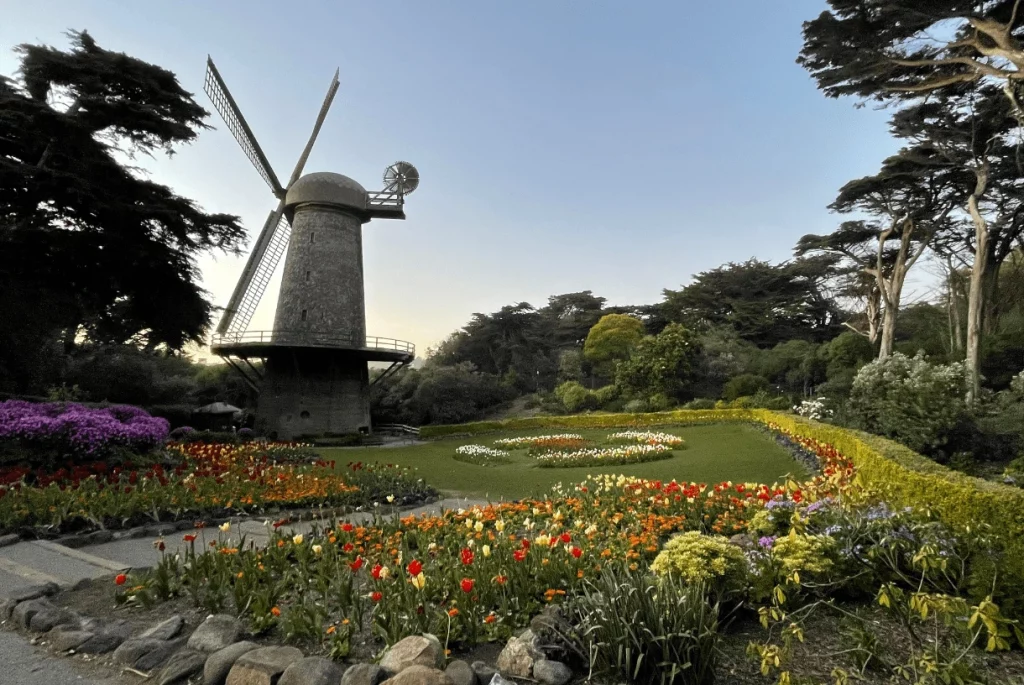 While we have already mentioned the Presidio, San Francisco has plenty more incredible parks, including of course, Golden Gate Park! Bigger than Central Park, and home to just as many must-do attractions, Golden Gate Park needs to be on everyone's list.
Inside the 1,000+ acre Golden Gate Park there are gardens aplenty, but the gold medal goes to the San Francisco Botanical Garden. The gardens are vast and host more than 8,000 varieties of flowers and plants. Stroll through a grove of coast redwoods, a Mediterranean garden, a Mesoamerican Cloud Forest, and other spaces featuring flora from Chile, Australia, Japan, and California.
But gardens are not all Golden Gate Park has to offer! Head to the de Young Fine Arts Museum for spectacular art and a gorgeous view from the observation tower. Or spend the afternoon in the California Academy of Sciences — the self-proclaimed "only place on Earth with an aquarium, planetarium, rainforest, and natural history museum—all under one living roof." Or stop by the Bison paddock to visit the small herd of American bison that call Golden Gate Park home.
Don't Miss the Other Wonderful Parks in San Francisco!
We would be remiss to not at least briefly mention the following parks and what they are great for:
Alamo Square — The best place to get a photo of "The Painted Ladies" Victorians along Steiner Street
Corona Heights Park – Stunning city views and the Randall Museum (great for small children)
Grand View Park – A less crowded place to view the sunset, and don't miss the mosaic steps on 16th Avenue!
#4 View the City from Above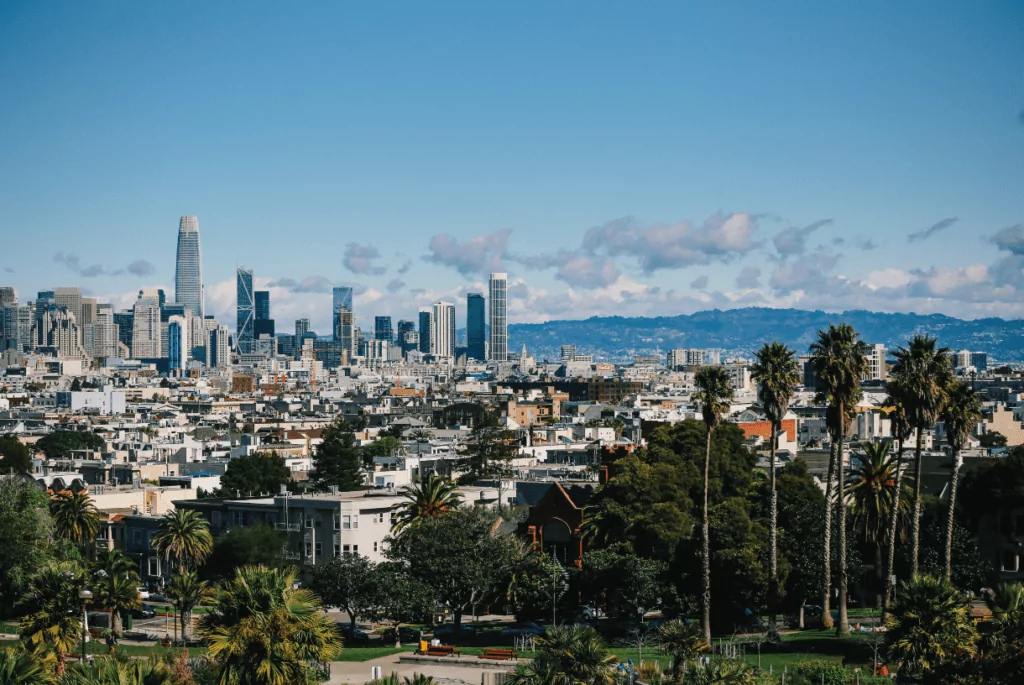 Everyone enjoys a sweeping view of a city from above, and boy what a city the Bay City is! There are several jaw-dropping places to catch panoramic views of San Francisco, here are the best.
Take the Elevator to the Top of Coit Tower
This towering column rising from the top of Telegraph Hill has been a fixture of San Francisco's skyline since 1933. Be sure to take the elevator to the observation deck and capture stunning 360-degree views of the city and bay—including the Golden Gate and Bay Bridges. It's the perfect vantage point to take it all in!
Insider tip: There is a small parking lot at the top of Telegraph Hill, but if you have a little time, we suggest you get there by walking up the stunning garden maze along the Filbert Street steps. Coit Tower is a fascinating building with much to learn and experience. Learn more about it here.
Have a Peak Experience at Twin Peaks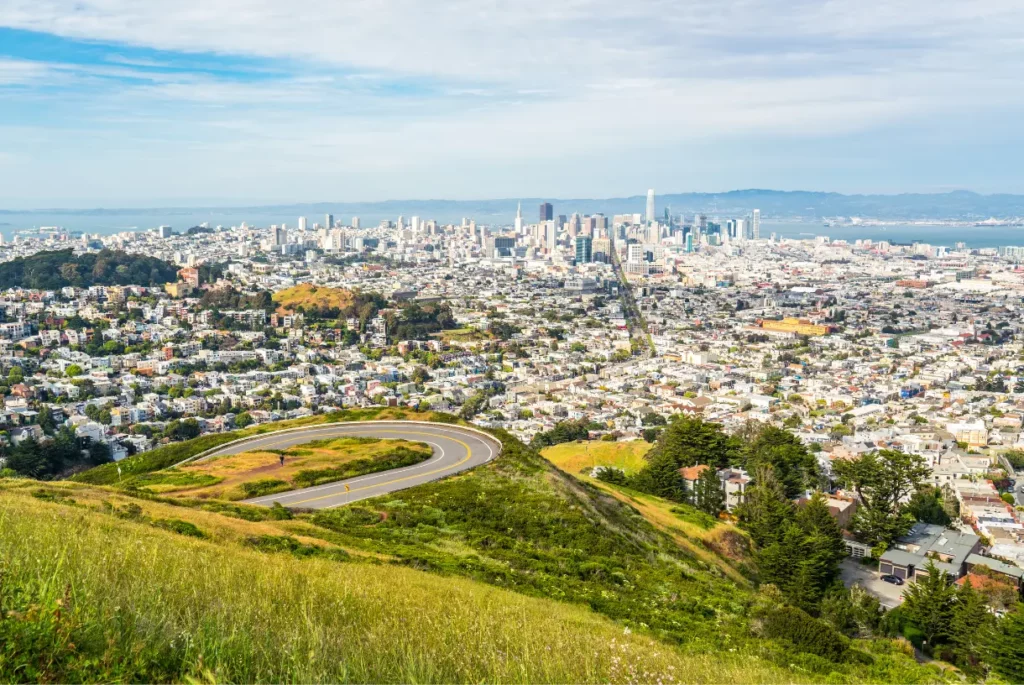 From these 922-foot peaks, you'll enjoy 360-degree views of San Francisco which are not to be missed. The hills sit very close to the geographic center of the city so they make for exceptional photo opportunities. If you are lucky enough to be there when the fog is below the hill tops, Twin Peaks is the place to catch a wonderful San Francisco sunrise.
Take a Hike!
San Francisco is unique for its proximity to world-renowned hiking within bucket-list National Parks, but you don't have to leave the city limits for great hiking to awesome views.
To reach the Twin Peaks summit mentioned above, you can drive or take a bus to the north peak parking lot. But if you're able, hiking will treat you to incredible views and native flora and fauna, including the endangered Mission Blue Butterfly and its host plant, the Silver Lupine. Plus the view will be even more beautiful after the effort to get there!
The Presidio offers several trails including the Batteries to Bluffs Trail, a short trail on the wild, western edge of the park, ending in great views of craggy bluffs tumbling into the Pacific Ocean and the Golden Gate Bridge. Check out our other articles about hiking in and around San Francisco for more outdoor inspiration.
#3 Tingle Your Taste Buds with San Francisco's Food Scene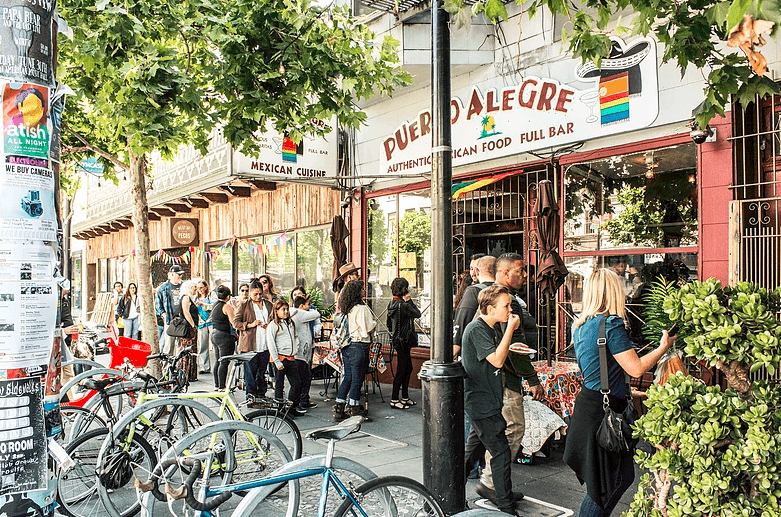 San Francisco is truly a foodie destination, with flavors from across the world available in all manner of establishment in every neighborhood. And don't forget the beverages! Top-tier wine from close-by Sonoma and Napa Valleys, craft beer from local breweries, and innovative cocktails flow freely in atmospheric bars and speakeasies.
Start your gastronomic journey with this 3-day itinerary to some of the best food in San Francisco. Follow the plan to the letter or pick and choose those that interest you and fit within your trip. You are sure to find culinary masterpieces around every corner in San Francisco.
Consider joining a food tour to learn something unexpected while tasting some of the best food in the city. Here we have curated what we think are 8 of the Best Food Tours in San Francisco. There are food tour options for everyone in San Francisco, whether you are looking for a cooking class, a deep dive into the art of cocktails, or to enjoy some street art with your mouth-watering Mexican cuisine.
#2 Take a Tour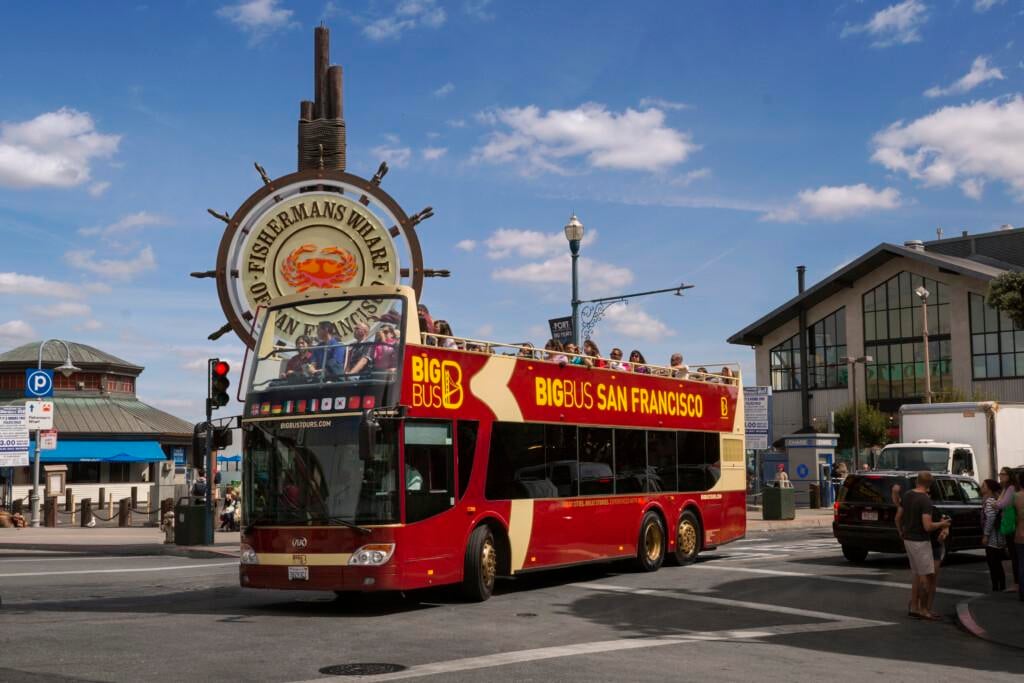 Insider tip: Taking a tour on one of your first days in San Francisco is the perfect way to get the lay of the land and bookmark places you may want to revisit during your stay. The best plan is to book a city tour that goes to the major sites, whether you opt for the flexible Hop On Hop Off Bus Tour with 24-hour ride tickets, or a half-day San Francisco city tour, hitting the must-see sites with a seasoned local guide.
If you already have your solo exploration of San Francisco all planned out, good for you! If you have sufficient time in your trip, don't forget about the possibility of a day trip outside of the city. Northern California is spoiled with spectacular scenery for every taste within just a couple hours of San Francisco. Sip your way through wine country, photograph the world famous sites of Yosemite National Park, walk among giant redwoods at Muir Woods National Monument, or spend the day with the sea otters in Monterey Bay.
These suggestions are really just the beginning of all Northern California has to offer. Check out our article on the Top One-Day Trips from San Francisco to explore other must-see destinations near San Francisco.
#1 Capture the Iconic Golden Gate Bridge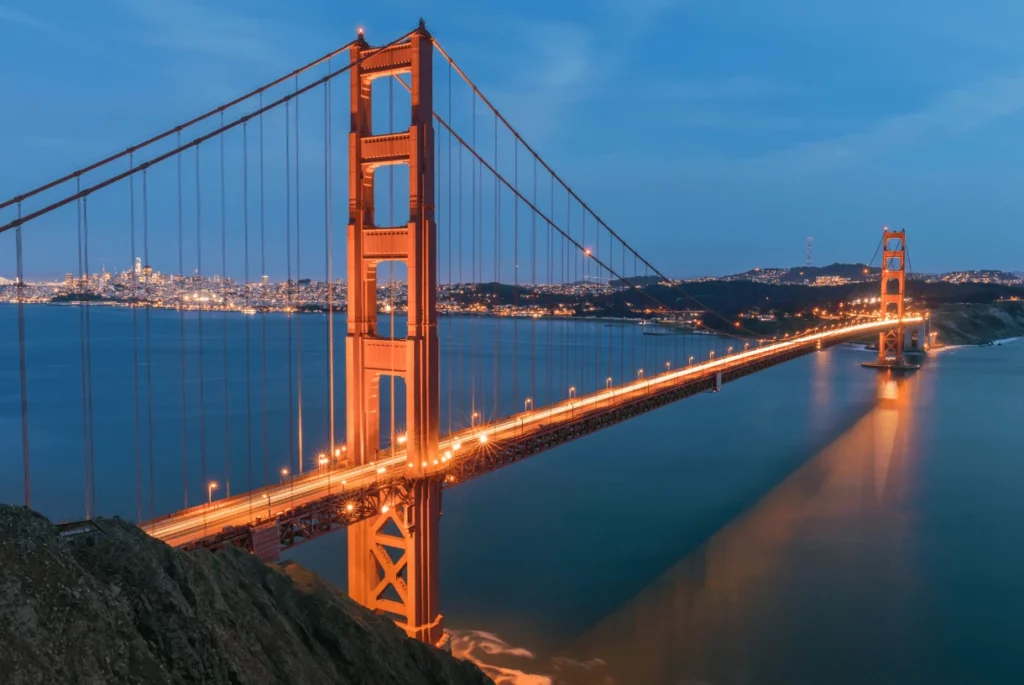 You absolutely cannot leave San Francisco without getting a wonderful view and photo of the iconic Golden Gate Bridge. While many of the suggested destinations in this article have views of the Golden Gate Bridge, here are some specific insider tips to see the famous landmark from different perspectives and preserve that perfect memory on film (or phone!).
Capture the Bridge from Land
There are many great spots to frame up this San Francisco icon. Coit Tower, Battery Godfrey, Marin Headland, and Baker Beach all serve up memorable photos, but our favorite is Fort Point. Not only has the fortress safeguarded the city for over 150 years, it is a prime spot to capture a striking profile of the Golden Gate Bridge. The intricate masonry of the Fort blends nicely with the deco-inspired architecture of the bridge. Bridge architect Joseph Strauss recognized the Fort's importance, and created a unique arch over its top. Insider tip: access to the roof at Fort Point closes at 4:30 pm, so make sure to plan accordingly.
Hike Across
If you're looking to get up close and personal with this iconic engineering structure, you can always go for a hike across it! Begin at the Welcome Center on the South end and walk the 1.7 miles to Vista Point on the North end, for a 3.4-mile round trip. If you want some great views but that sounds a bit extreme, don't feel pressured to complete the whole thing — simply turn around at any point and head back South. The view from the bridge is spectacular and the experience is perfect for beginner hikers and children.
Sail Underneath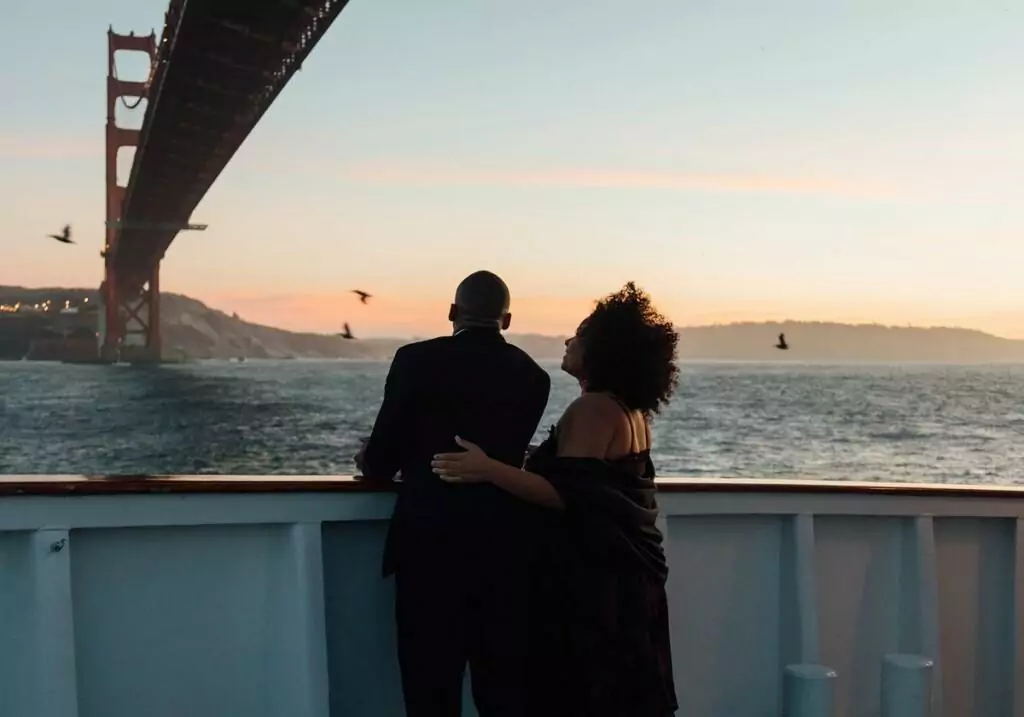 So you've captured pictures of the bridge from land, and from on the bridge itself, now head onto the water! Booking a boat trip is a wonderful way to see the City by the Bay from a different perspective and many tours sail directly beneath the Golden Gate Bridge, offering unique photography opportunities. These tours can include luxury meal experiences, sails around Alcatraz Island, and more, so they offer a great bang for your buck!
Wrap Up: Have a Great Time in San Francisco!
Thank you for joining us on this overview of the 10 best things to do in San Francisco. We hope that this guide will help you enjoy the City by the Bay as much as we do!
Published on: July 18th 2023