Yosemite is beautiful all year round. But without a doubt, one of the best times to visit Yosemite National Park is spring. Waterfalls are gushing, flowers are blooming and summer crowds are not there yet. So let's explore some of the best things you can do in Yosemite during the spring season.
Visit Yosemite's waterfalls
Whitewater rafting on the Merced
Photograph the wildflowers
Hike to the Giant Sequoias Trees
Hit Yosemite's hiking trails
Bike to Yosemite's top attractions
Experience a moonbow
Fishing Yosemite
Try rock climbing
Go star gazing
When is the best time to visit Yosemite National Park?
Good question! Since conditions and activities change with each season, it is important to set your expectations. Springtime in Yosemite has a lot going for it—the days are warmer, waterfalls at their gushiest, wildflowers are blooming, trails are reopening, crowds are smaller, and lodging is less expensive.
UPDATE ON RESERVATIONS. The National Park Service has announced that they will return to requiring reservations to enter Yosemite beginning May 20 and continuing through September 30, 2022. When you know the dates for your visit, make your reservation at https://www.recreation.gov. You do NOT need a reservation if your plan is to enter the park on a day or overnight trip with a public tour company such as Extranomical Tours.

RESTRICTIONS. 2022 will not be a normal year in Yosemite National Park. Due to COVID-19 and planned construction in the park, some services and facilities will be closed, and shuttles will be operating on a limited basis. Mask mandate has been lifted inside the park.
If you are thinking about visiting Yosemite between March and May, here's our checklist of what to see and do as Yosemite awakens in spring.
1. Visit Yosemite's Waterfalls
Yosemite's waterfalls are a highlight of any trip to Yosemite National Park. Snowfall this winter has been below average, so the warmer weather will fill the creeks and streams with snow melt from the Sierra Nevada mountains early this spring. In 2022, the best time to see—and feel—the most thunderous display will be April.
Often, I am asked about the drippiest, the noisiest, the most rainbow-packed waterfalls to be found in Yosemite. Here's my take.
Which is the tallest waterfall?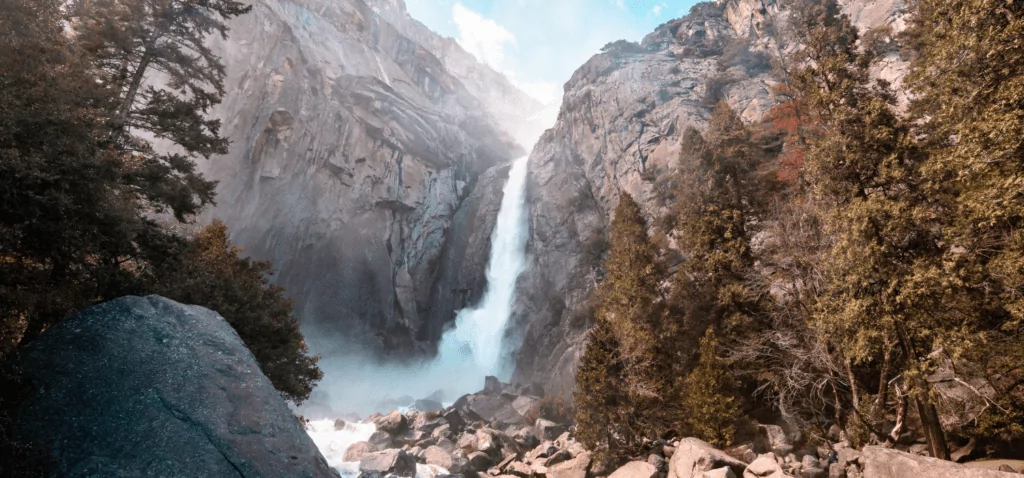 Yosemite Falls. Its springtime rainbows have been featured in zillions of books, calendars, and posters. "Yosemite Falls" is not one, but three separate Yosemite waterfalls, stacked on top of each other. There's Upper Yosemite Fall; the Middle Cascades; and Lower Yosemite Fall. Add them all up, and there is 2,425 feet (739 meters) of falling water! That makes it the tallest waterfall in North America. Yosemite Falls is usually at its strongest and loudest in April.
What waterfalls can only be seen in spring?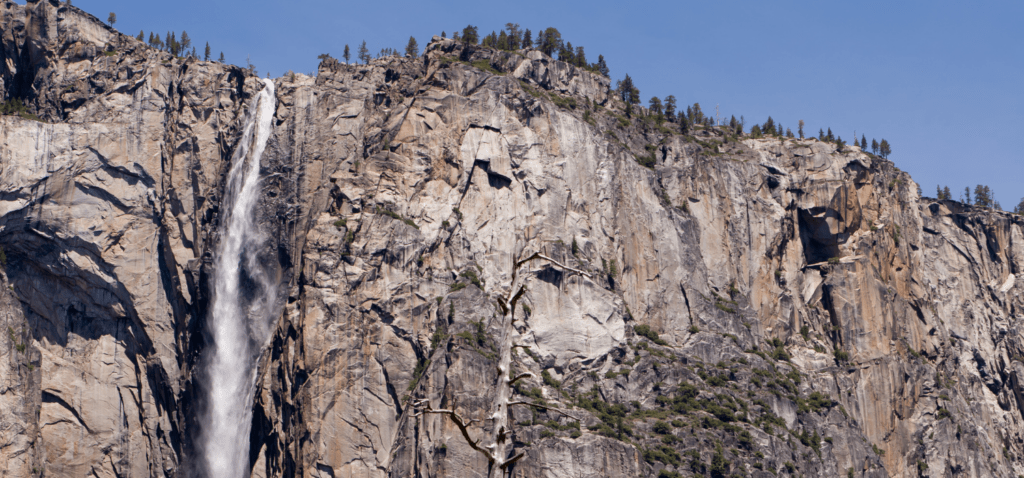 Ribbon Fall. This is a stunning and underappreciated waterfall that drops its water 1,612 feet (491 meters) but is not normally active in summer and fall. From March through late May you can catch Ribbon Fall just west of El Capitan. Get the best views from the road that takes you into Yosemite Valley, just past the turn for Bridalveil Fall. You can legally park in the roadside turnouts.
Horsetail Fall. Another seasonal waterfall, Horsetail Fall pours its water right down its eastern face of El Capitan. You can see how it got its name—it looks like a horse's tail when at its peak in April. Heads up, the "fire fall" phenomenon during which the setting sun reflects reddish rays from the mist is pretty much over by mid-March. View Horsetail Fall at the El Capitan Yosemite picnic area.
Which waterfall is the most famous?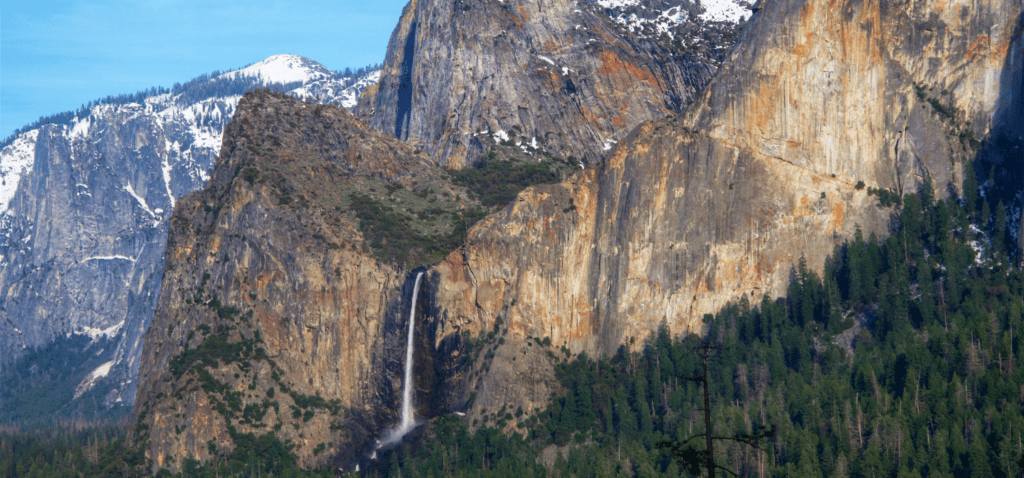 Bridalveil Fall. This is arguably Yosemite's most iconic waterfall. It earns its name when the breeze sways it to look like the veil of a 620-foot (189 meter) bride. Bridalveil Fall is often the first waterfall to greet visitors to Yosemite Valley. During the spring, it really comes down with power and is at its most "veil-y." Access is available near the tunnels on Wawona Road and Big Oak Flat Road, as well as the parking lot on the way into Yosemite Valley.
What is the best spot to see Yosemite's waterfalls in March or April?
Glacier Point. From an altitude of 7,200 feet (2,195 meters), visitors are treated to a grand view of some of the park's famous landmarks, including Vernal and Nevada Fall (Vernal Fall is the one framed by tall pine trees) from across Yosemite Valley. Heads up: the road from Yosemite Village to Glacier Point is closed in the winter. Glacier Point Road will be undergoing some improvement repairs in 2022 so be sure to check Yosemite road conditions here.
2. White Water Rafting on the Merced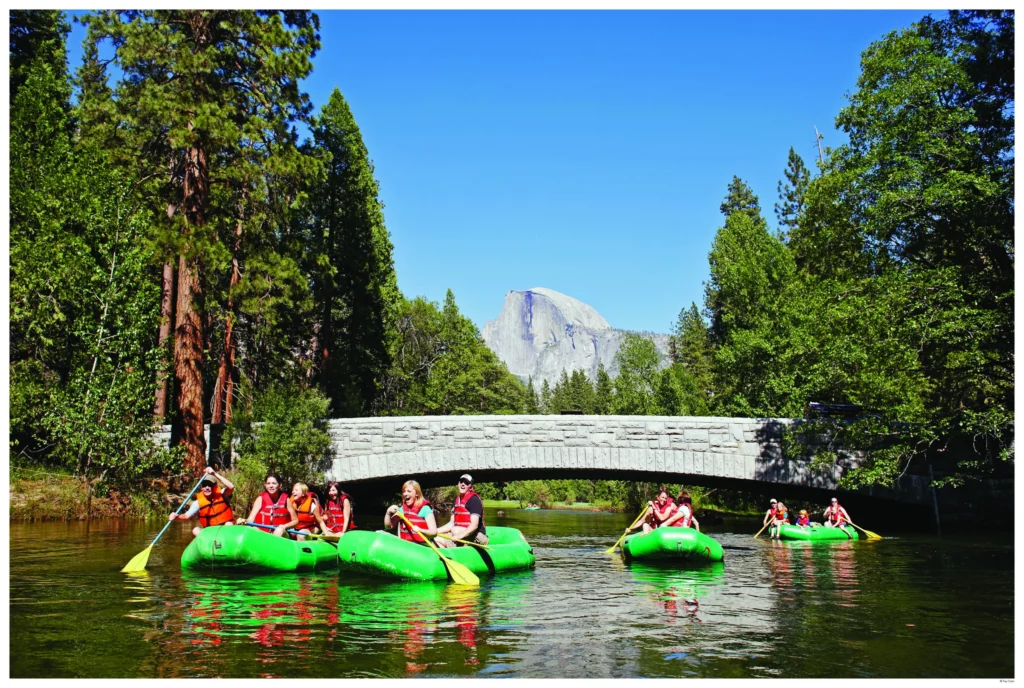 The Merced River that meanders slowly through the valley in the summer but can be a raging whitewater adventure in a Yosemite spring. Depending on the winter snowfall, rapid levels range from an adrenaline pumping 2 to a white-knuckle 4. This year it will be on the tamer side.

You can rent a raft and safety equipment at Curry Village. If you are a beginner and would like the reassurance of a guide in your boat, check out outfitter Sierra Mac here.
3. Photograph the Wildflowers
California poppies usually make a stunning orange backdrop in late April and May. For 2022, expect the buds to pop early. About the same time, you should be able spot Redbud, Hyacinth, and Lupines. As you explore, you may run across the bright red stalks of the Snow Plant, they are striking but technically a fungus and not a flower.
Mountain Dogwood blossoms are another prized Yosemite Valley flower. The white blossoms that adorn these 10- to 30-foot-tall trees resemble giant butterflies in flight. Look for Dogwoods along the banks of the Merced River on the west end of the valley.
One of my favorite places to catch the spring wildflowers is on the Sentinel & Cook Meadow Trail. This short, easy trail is a great place to frame wildflowers with the Swinging Bridge, the crystal-clear Merced River, Yosemite Falls or Sentinel Rock in the background. Get those Instagram filters ready!
4. Hike to the Giant Sequoias Trees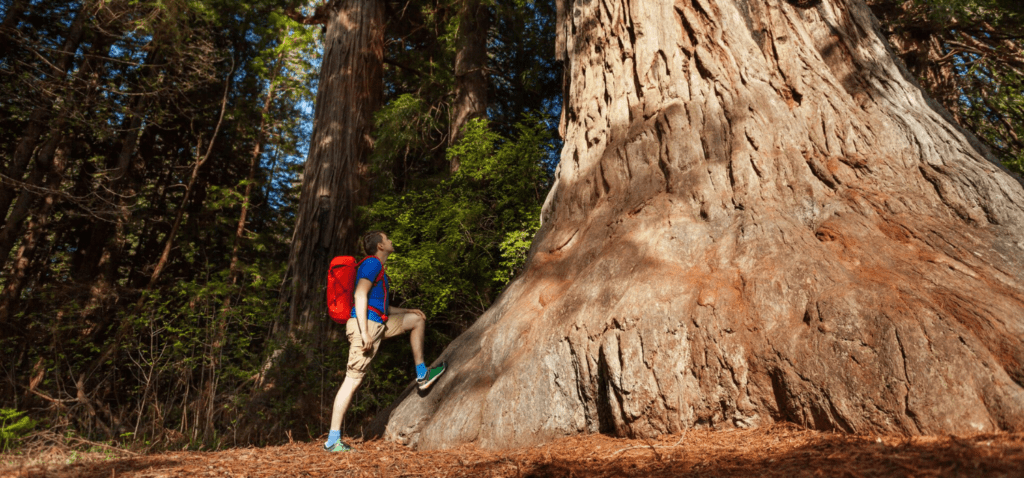 Giant Sequoia trees are a highlight of any visit to Yosemite National Park. Seeing the trees is difficult in winter when access to the groves in Yosemite are inaccessible due to snow and ice. By late-March or April in Yosemite, these towering 200-foot (60 meter) redwoods are ready to welcome visitors again. There are three sequoia groves in Yosemite, all are breathtaking. Check the conditions before you go.
Mariposa Grove is the largest stand with over 500 mature Giant Sequoia trees. The "named" trees in the grove are Three Graces, Bachelor, and the oldest tree on the planet, the Grizzly Giant. While crowded in summer, expect to find some peace and quiet in the early spring. It is usually possible to take the YARTS shuttle bus to the Welcome Plaza near the south entrance, but given the planned construction, schedules in 2022 are likely to be restricted.
Tuolumne Grove avoids the crowds since visitors need to hike to the stand of about two dozen old-growth Giant Sequoias. The hike to the grove is a 2.5-mile (4 km) round trip and can be strenuous on the steep uphill return to the trailhead. A highlight is walking through a fallen tree in the grove.
To get to the Tuolumne Grove parking lot from Yosemite Valley, take Highway 120 ten miles (16.8 km) to the Crane Flat/Tioga Road turnoff, then continue on Tioga Road for a half-mile (0.8 km).
You can visit this Tuolumne Grove on Extranomical Tours' Giant Sequoias and Yosemite National Park 1-day tour of Yosemite from San Francisco.
Merced Grove is home to approximately 20 mature Giant Sequoias and is least well known of the groves. Look out for a Merced Grove sign and a post labeled B-10 located on the Big Oak Flat Road (Highway 120) about 3.5 miles north of Crane Flat.
5. Hit Yosemite's Hiking Trails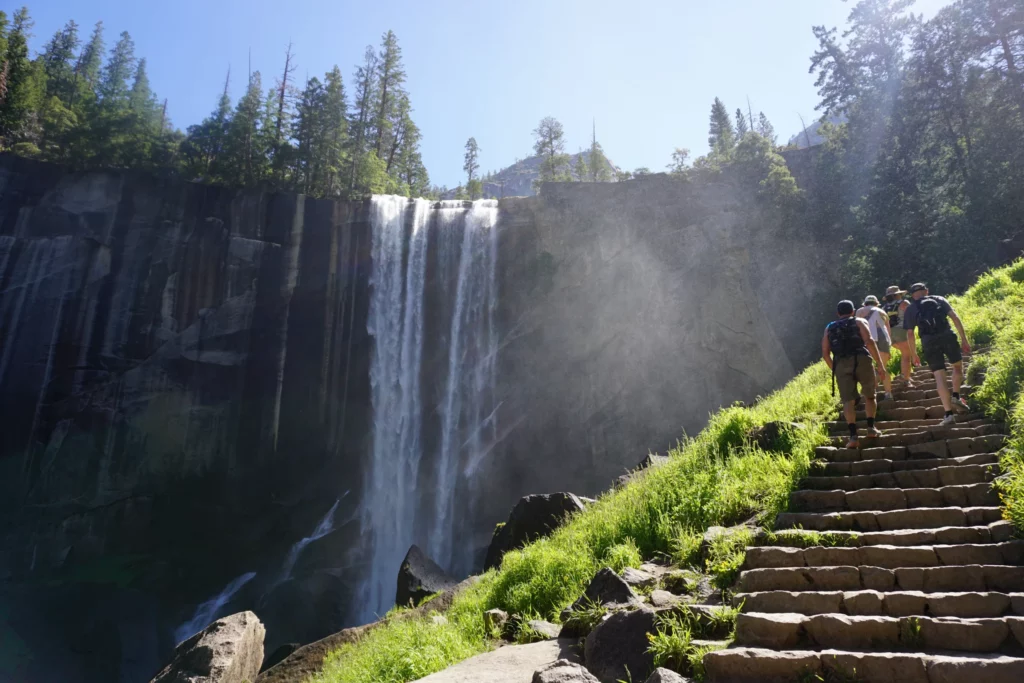 In normal years, the hundreds of miles of trails throughout Yosemite National Park open up by April. Before you set out, be sure to check wilderness conditions. Be careful: melting snow can freeze overnight and make trails very slippery. Here are a few trails that are likely to be open and safe for hikers (due to their sun exposure and proximity to the trafficked areas of Yosemite Valley) before April.
Lower Yosemite Falls Trail
This easy 1-mile (1.6 km) round trip loop to Lower Yosemite Falls Trail meanders through a pine and oak forest before opening up to a spot where you can view the picture-perfect falls from top to bottom. Be prepared to share this popular trail with many other Yosemite visitors in spring.
Sentinel & Cook's Meadow Loop
This flat, easy 2.3 mile (3.6 km) path treats hikers to several different views of Yosemite Falls and Half Dome. One of the best is from the Swinging Bridge with these iconic features reflected in the calm, spring waters of the Merced River.
The Mist Trail
The Mist Trail to Vernal Fall challenges hikers with a steep granite stairway of over 600 steps. In spring, be prepared for slippery footing and a great deal of spray from the waterfall. To bag two falls in one day, you can continue another 1.3 miles (2.1 km) on the Mist Trail to the top of Nevada Fall.
6. Bike to Yosemite's Top Attractions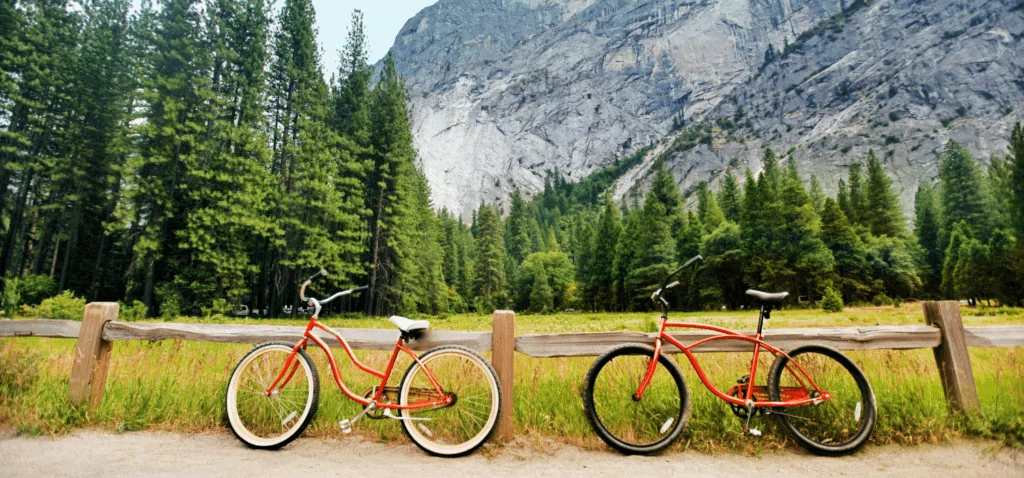 Even in spring, Yosemite Valley traffic can get bogged down. From the seat of a bike, your group can peddle right past the slow-moving vehicles on your way to the sites. And you'll be getting some good exercise doing it! There are 12 miles of paved, mostly flat biking trails to enjoy in Yosemite Valley in spring—if it's clear and dry, try the one from shuttle stop #17 leading to Mirror Lake. Bike rentals are available in Curry Village. Don't forget your helmet!
7. Experience a Moonbow
A moonbow is what happens in the combination of mist from the waterfalls and the angle of a bright full moon combine to create an evening rainbow. Tip: your eyes will not see the colors at night, but your camera will capture the scene in living color. Check to see if a full moon will occur during your spring visit to Yosemite here.
8. Fishing in Yosemite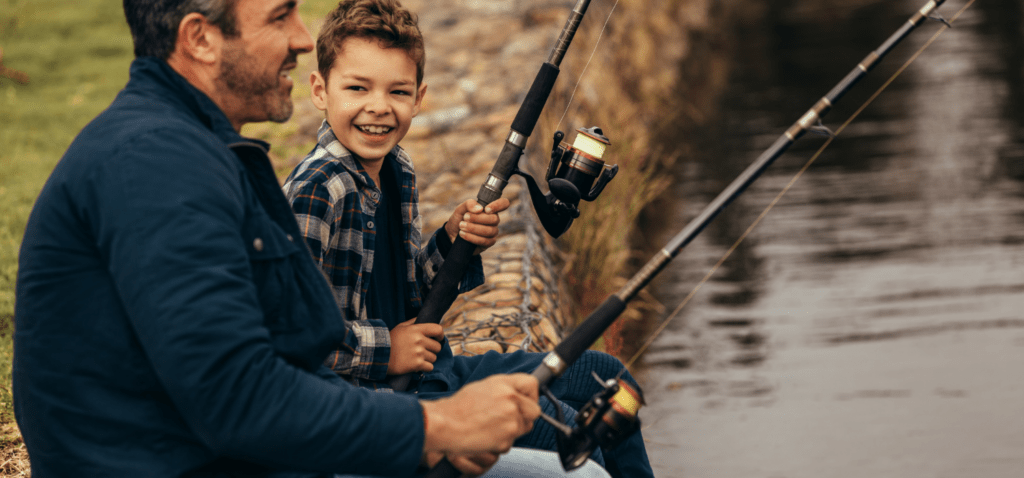 You won't have trouble finding a fishing spot all to yourself with 770 total miles of permanent streams and creeks in Yosemite in spring. Anglers usually find good spring fishing for both rainbow (catch and release on the Merced) and brown trout, especially at lower elevations.
The season for stream and river fishing begins on the last Saturday in April in Yosemite National Park. Fishermen, 16 years of age and older must have a valid California sport fishing license. Read more about licenses and fishing restrictions.
9. Try Rock Climbing
Yosemite Valley is a mecca for rock climbers wanting to challenge themselves on the 'big walls' of El Capitan and Half Dome. Climbing records are being broken every year. Just beginning? Check out the classes by the Yosemite Mountaineering School and Guide Service in Curry Village. The "Welcome to the Rock" class is great for beginners. The class was not offered during the pandemic, so check on availability before you go.
10. Go Star Gazing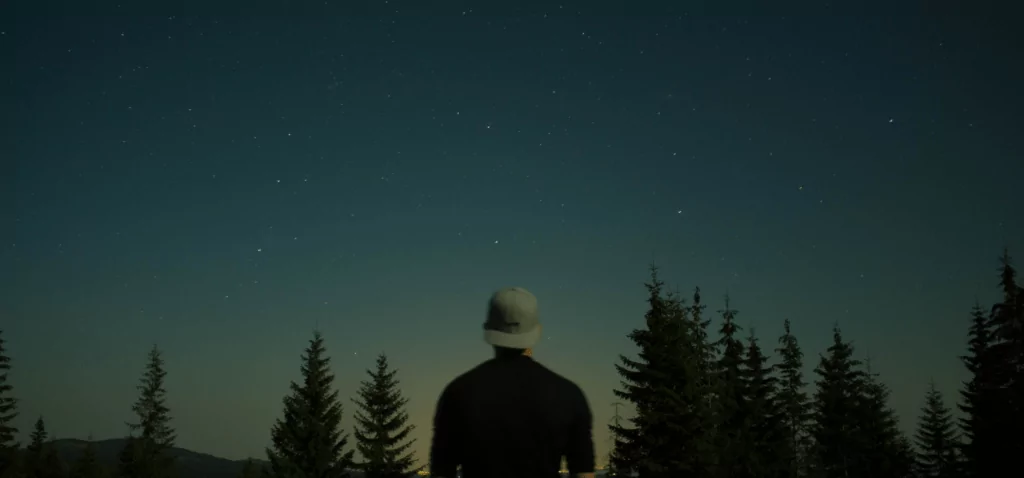 If your group plans to be in Yosemite during March, April, or May for several days, don't forget about the nighttime. Since Yosemite has insignificant light pollution, you can find mind-blowing views of the Milky Way at Glacier Point, Bass Lake, and Sentinel Dome on clear spring evenings.
To do everything on this checklist of Yosemite spring activities, you will likely need to stay overnight in Yosemite for about three days. Extranomical Tours offers a nice variety of multi-day Yosemite overnight tours with accommodations. Find one that is right for you.
Frequently Asked Questions (FAQs) when visiting Yosemite in spring
When is the best time to visit Yosemite National Park?
There are pluses and minuses to every season. Summer has uninterrupted sunny days for hiking, fall features uncrowded experiences at the popular attractions, winter's blanket of white snow creates unique images and spring brings a waterfall show unlike anywhere in the world.
Where to stay in Yosemite in spring?
The best plan is a lodge in Yosemite Valley where you are within walking distance to hiking trails, restaurants and visitor centers. Your choices in the valley range from $$$ to $, and include the iconic Ahwahnee hotel, rustic tent cabins at Curry Village, Yosemite Lodge, and four park service campgrounds.
What should you bring to Yosemite in spring?
For sure, pack an extra waterproof top layer. With no reliable cell service, print copies of maps and permits. Avoid the lines in restaurants by bringing your own food (and bear-proof canisters to secure it). If you are planning long hikes, bring a topographic map, compass, gloves, trash bags, water bottles, headlamp, sunscreen, first aid kit, whistle, and emergency blanket.
What hikes should you take in Yosemite in spring?
In March and early April, many of the remote trails further from Yosemite Valley will still be snow covered and treacherous after freezing overnight. Safe bets are the Lower Yosemite Falls Trail, Mirror Lake Trail (be careful with ice and snow along Tenaya Creek) and the Sentinel & Cook's Meadow Loop.
What is there to do in Yosemite in spring?
Nearly all Yosemite National Park activities are open and available by late spring. Highlights of a visit to Yosemite in spring include waterfalls, whitewater rafting, photographing wildflowers, seeing Giant Sequoia trees, hiking Yosemite trails, biking trails, experiencing a moonbow, fishing, rock climbing and star gazing.
What is the best way to get to Yosemite in spring?
Visitors to Yosemite during spring from southern California may use the South entry near Fish Camp (Highway 41) or the Arch Rock gate near El Portal (Highway 140). Approaches from points west and north use Crane Flat (Highway 120). IMPORTANT: the Tioga Pass near Lee Vining does not open until late spring. Carry tire chains and know how to use them.
What is the weather like in Yosemite in spring?
Yosemite weather in spring is usually mild and sunny but it can be quickly interrupted by late-season rain or even snow. For current road conditions check the National Park Service website. Average temperatures in Yosemite Valley in April and May range between 69°F (21°C) and 39°F (4°C)
Have questions or concerns? Contact us.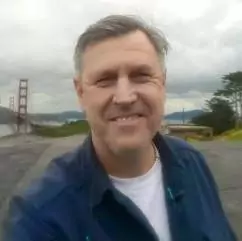 Gary Lillian is an advisor to Extranomical Tours which has led more than 10,000 guided tours in Northern California in the last 10 years. He is a graduate of Northwestern University, holds a master's degree from Kellog Graduate School of Management, and is a recognized subject matter expert in marketing and customer experience engineering.
Published on: March 21st 2022