What is the best time to visit Yosemite National Park? In the spring? Summer? Fall? Or winter? Our answer is, "all of the above". Yosemite is a gold mine for memory making during any season. Some of the best hikes and fun things to do can only be had when visiting Yosemite in winter between November and March.
On their tours from San Francisco, Extranomical Tours company has been helping visitors enjoy Yosemite in winter for more than 20 years. In this post, we've asked our guides to help with trip planning and answer a few questions you may have, such as: 
Here's the good news: Yosemite National Park is open to visitors 365 days a year. What you should expect, however, is that some parts of the gigantic 1,200 square mile park are inaccessible in winter. For example, Tioga Road to the East Gate of Yosemite is closed annually by late November putting Tuolumne Meadows and Tenaya Lake off limits for vehicle traffic. 
If you want to catch the spectacular view from Glacier Point, you'll have to do it on foot (or snowshoe!). Fortunately, the Glacier Point/Badger Pass Road is plowed to the Badger Pass Ski Area, where both downhill and cross-country skiing are popular. The Mariposa Grove Road to the majestic sequoias is open only to visitors on foot or cross-country skis.
Visitors should also expect that certain services like the Grand Tour by the National Park Service and that warm weather activities like golf and biking will not available during the winter season.
Witness Horsetail "Fire Fall"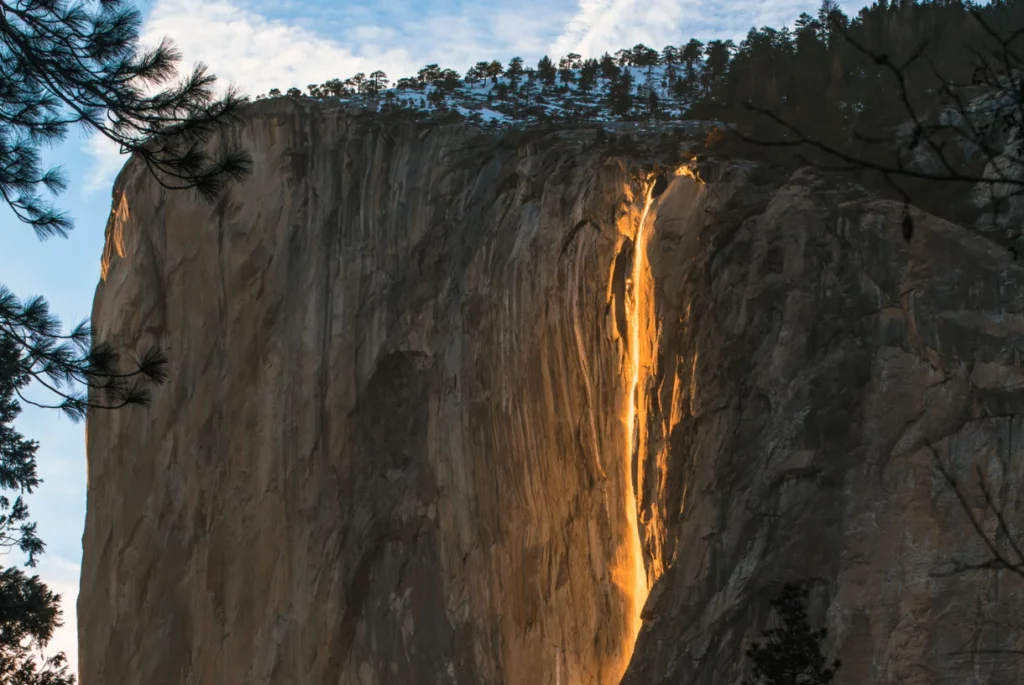 Have you seen a rainbow? How about a moonbow! You can witness this rare phenomenon, also called Lunar Rainbow, when light from the late-February setting sun or moonlight reflects off the mist created by Horsetail Fall. The effect is an extraordinary reddish glow that looks like the waterfall is on fire!
Horsetail Fall is on the northern side of the Yosemite Valley and cascades off the east side of El Capitan. Park at the El Capitan picnic area and you'll be able to see it from the road.
Turn Back Time at the Ahwahnee Hotel
They don't build them like this anymore. The Ahwahnee's early 20th century granite facade, elegant stained glass, massive log-beamed ceilings, stone fireplaces, and Native American artwork make it a deserving National Historic Landmark. Besides eye-popping design, this diamond in the wilderness offers a gift shop featuring local artisans, decadent sweet shop, and comfortable bar.
Have a Snowy Adventure at Badger Pass
In Winter, you'll find Yosemite groomed trails perfect for cross-country skiers, chairlifts for downhill skiers, a wicked terrain park for snowboarders, and a tubing area where the whole family can have fun together. Within the Badger Pass Ski Area, you'll find 90 miles of marked trails and a groomed cross-country track from Badger Pass Ski Area to Glacier Point. A snowshoe walk exploring the winter forest takes off at 10am each day. Advance reservations are required.
The Badger Pass Ski Area is open from mid-December through mid-March, conditions permitting. Visit Badger Pass to check out snow conditions, rent equipment, find the shuttle schedule, buy season passes and get discounted ski and lodging packages.
Get Snap-Happy at the Ansel Adams Gallery
Ansel Adams is known throughout the world for spectacular black and white images of America's natural grandeur. His photographs and outspoken views helped to shape global opinion about the need to protect our environment.
The Ansel Adams Gallery in Yosemite Valley is open during the winter, except on Thanksgiving and Christmas Day. Advance registration is required for the gallery's Ansel Adams' Legacy and Your Digital Camera, Creative Smartphone Photography, or Demystifying Digital Exposure classes. The gallery is located between the Visitor Center and Post Office.
Glide Across the Curry Village Ice
Curry Village, located just below Half Dome and Glacier Point, has been a family-friendly attraction since its establishment in 1899. In Winter, its most popular attraction is the Ice Rink where you can skate until stars have filled the sky. In addition to ice skating, you can enjoy spectacular views of Half Dome, an entertainment amphitheater, ranger programs, a cozy fire pit and several restaurants.
Skating tickets are available on a first-come, first-serve basis. Call 209.372.8333 for more information.
Photograph El Capitan and Half Dome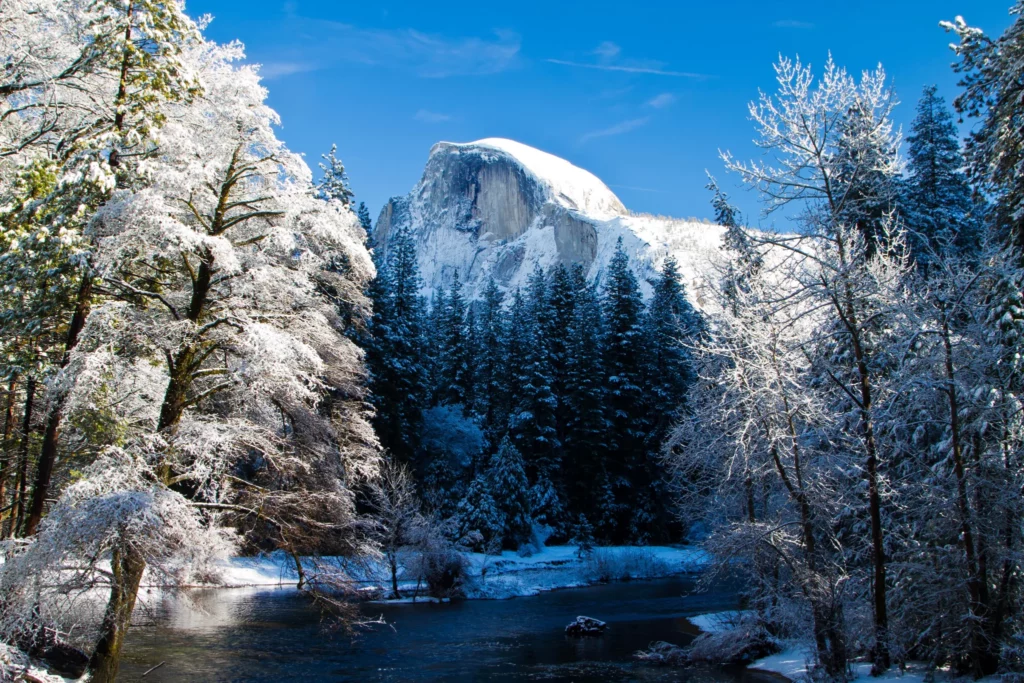 The best winter vantage point for these two granite icons is from Tunnel View. From this famous perch overlooking Yosemite Valley, the El Capitan formation stands at attention, Bridalveil Fall plunges off granite cliffs, and Half Dome frames the right side of the landscape. Look for the Tunnel View parking lot just outside the eastern side of the Wawona Tunnel on State Highway 41.
El Capitan is a monolithic 3,000-foot sheer rock face that has been climbed by many people, but none so dramatically as Alex Honnold's "free solo" climb on June 3rd, 2017, which he did without the aid of ropes. The climb took an astonishingly short time of three hours and 56 minutes. Half Dome rises 4,737 feet from the valley floor and is the most well-known rock formation in Yosemite Valley. Its face gives the appearance of being a large rock that's been cut in half. While nothing can replace seeing the monument in person. Here is a webcam sneak peek from just east of Yosemite Village.
Soak up the Stars of the Milky Way
Yosemite National Park is one of the last great spaces without significant light pollution, offering wonderous nighttime skies full of Milky Way stars. Popular places for evening star gazing are at Bass Lake and Sentinel Dome.
The National Park Service offers an awe-inspiring walking tour called Starry Night Skies Over Yosemite. The evening program is currently on pause due to COVID precautions but we suggest you check on Yosemite programs availability during your visit.
Find Your Own Outdoor Adventures
Yosemite Mountaineering School offers professional guides for Nordic skiers and snowshoe trips. Reservations required. Call (209) 372-8444 or email yms@aramark.com. Yosemite Conservancy Adventures offers personalized day hikes, birding walks, stargazing programs and backpacking trips.
Yosemite Nature Conservancy and the park offer occasional snowshoe treks, winter hikes and evening campfire stories. For a full schedule check out the Yosemite Guide to see what is available on the days of your visit.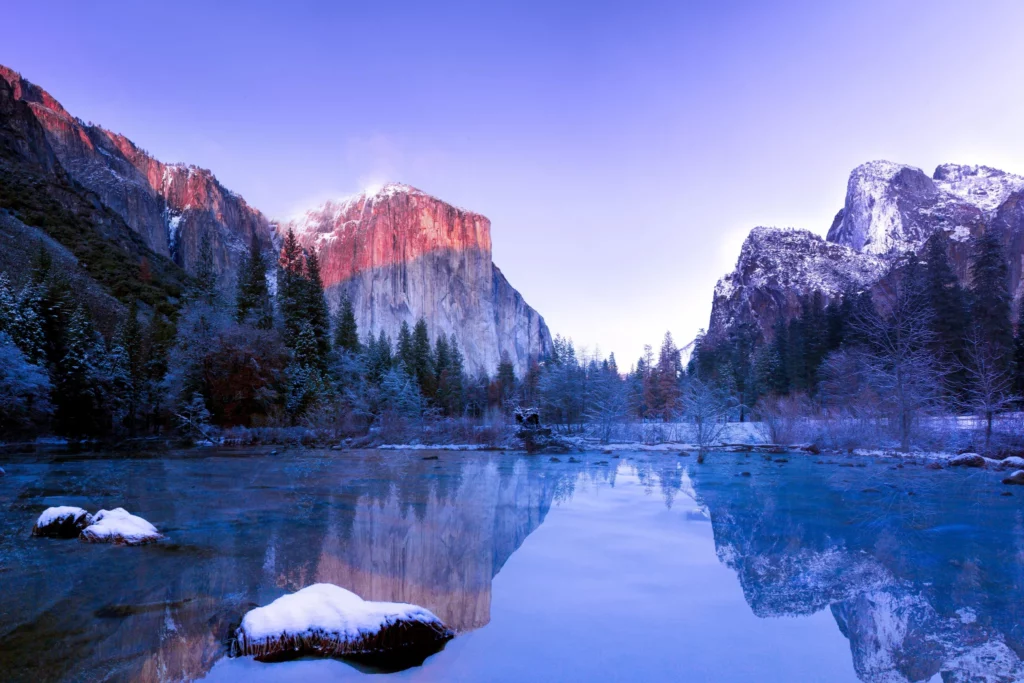 While Yosemite National Park can get heavy snowfall during winter storms, the Valley is generally very navigable for hikers prepared with warm boots, insulating layers and a desire to get up close and personal with the sheer granite.
We encourage you to be cautious during winter hikes when falling water, snow and ice make surfaces slippery. Winter trails are marked with a blaze. Always keep at least one marker or reference point in sight. Carry a good map or GPS devise and never leave the safety of the trail.
Yosemite Falls – 1.2 miles – Easy
This Yosemite waterfall looks familiar because its falling waters have been featured in books, calendars, and posters for 100 years. Yosemite Falls is three separate falls. When adding the Upper Yosemite Fall, the Middle Cascades, and Lower Yosemite Fall, together there is a half a mile of falling water! Want to see if the falls are gushing right now? Check out this live streaming view.
Look for the start of the flat, mostly paved trail to Yosemite Falls at the Yosemite Valley Lodge.
Mirror Lake – 2 miles – Easy
This pool of calm Tenaya Creek water forms an idyllic setting for artists and naturalists. On calm days, the aptly-named, Mirror Lake offers a wonderful reflection of Half Dome's face. Winter adds a frosty frame to one of the most beautiful scenes in all of Yosemite National Park.
Look for exhibits along this paved trail that detail the story of the area's lake-to-meadow succession and its cultural history. Though flat, it's safest to follow the out & back trail on the north side since ice and snow often cover the loop route to the south.
Mariposa Grove of Giant Sequoias – 4 miles – Moderate
This Mariposa Grove of Giant Redwoods is home to over 500 mature giant sequoias. Among the most popular trees in the grove is the Fallen Monarch made famous in an 1899 photograph with U. S Cavalry officers. Other must-visit trees are the Bachelor, Three Graces and the 2700-year-old Grizzly Giant.
While the Mariposa Grove Road closes to cars from the end of November until at least March 15, the road to the grove and all of its trails remain open to hikers, snowshoers, and skiers. YARTS provides reliable public transportation to the Mariposa Grove Welcome Plaza. Then, you will have 2-mile hike or snowshoe trek to the first giant sequoias.
Top of Vernal Fall – 5.5 miles – Moderate
This awesome hike has fabulous views of Nevada Fall, Liberty Cap, and the back of Half Dome. In winter, Vernal Fall takes on a whole new vibe because its sheer rock ledge is hemmed in by towering pines and covered in a blanket of snow. Unlike other falls in Yosemite, water cascades year-around, plummeting 317 feet down to an outcropping of granite boulders.
Access to Vernal Fall via the Mist Trail's steep granite stairway is closed in winter but you can reach Vernal Fall by following the longer (and snowier) the John Muir Trail. Be extra careful and check on conditions before setting out as snowfall can accumulate from the Footbridge to the top of Nevada Fall. You will find the John Muir Trail Trailhead at the Happy Isles Bridge, follow it to the Vernal Fall footbridge, then on to the top.
Yosemite Valley Loop Trail – 11 miles – Moderate
The meandering Valley Loop Trail offers stunning views of the Park's iconic landmarks—El Capitan, Yosemite Falls, and Half Dome. The mostly flat trail follows many of Yosemite's original east-west wagon roads. There are many well marked Valley Loop trailheads with access and vehicle parking so you can follow the path for a 10-minute stroll or the whole 11-mile circuit to many of Yosemite's top attractions.
The Ahwahnee Dining Room. Dining at The Ahwahnee, with its stained-glass windows, immense natural-stone fireplaces and Native American artifacts is absolutely magical. If you can't snag a reservation for its popular dinners, the hotel restaurant offers delicious breakfast options such as eggs benedict and delicious three-egg omelets.
Mountain Room Lounge. At Yosemite Valley Lodge, enjoy striking views of the 2,424 foot high Yosemite Falls from the comfy Alpine-inspired interior or the outdoor patio. The menu offers sizzling steaks, fresh seafood, and tasty pastas along with lighter fare like sandwiches, salads and nachos.
Valley Lodge Base Camp Eatery. The casual restaurant, which includes a Starbucks coffee bar, serves breakfast, lunch and dinner. The space has been recently remodeled and honors the history of rock climbing in Yosemite. The menu features local, seasonal ingredients, front-of-house cooking, and popular grab-and-go selections.
Degnan's Kitchen. Located in Yosemite Village, Degan's is the perfect place to enjoy tasty BBQ chicken wings, ribs, and brisket. The Loft upstairs from the Degnan's Kitchen offers authentic deli sandwiches, signature salads, artisan pizzas, breakfast favorites, baked goods and a wide selection of beverages.
Seven Tents Pavilion in Curry Village is currently closed for remodeling.
There are also small grocery stores in Curry Village, Yosemite Village and at the Yosemite Valley Lodge.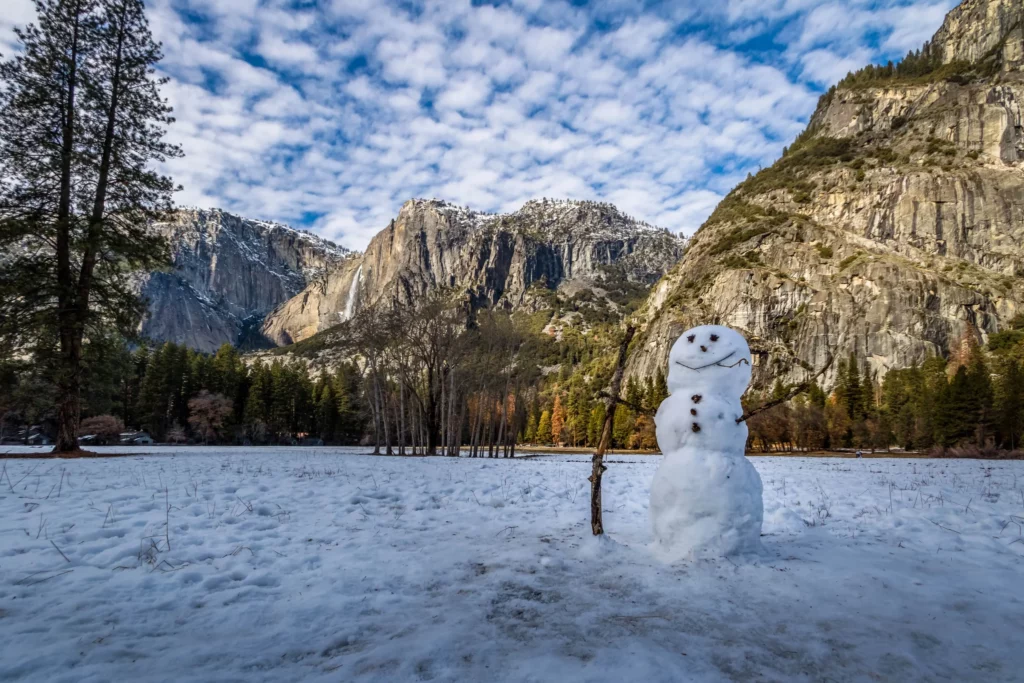 If you are considering driving to Yosemite National Park from San Francisco or other points in Northern California, pay attention to the current weather forecast and do a last-minute check of road conditions within Yosemite National Park at (209)-372-0200 and outside Yosemite National Park at (800)-427-7623.
The Yosemite Area Regional Transportation System (YARTS) operates a winter season service that connects Yosemite Valley to the gateway community of Merced. Visitors can also use the service to get from point to point in the Valley. The Yosemite free shuttle does not operate in winter.
A free shuttle service to and from Badger Pass Ski Area operates between December and March, weather and road conditions permitting. Badger Pass shuttle arrival and departure times are subject to change. Always check the latest Yosemite public transportation schedules in advance to plan your trip.
Do not count on shared ride apps like Uber or Lift since the cell signal in Yosemite is weak to non-existent.
Winter road conditions through Yosemite can vary widely and may require tire chains. Chain requirements are strictly enforced. So, be prepared to install chains. For updated 24-hour road and weather conditions for Yosemite National Park, please call 209/372-0200. Signs will indicate when chains are required. If you would prefer to leave the winter navigation and driving to us, schedule one of our overnight tours from San Francisco or San Jose to Yosemite National Park.
Things to Know Before You Go to Yosemite
Pack your patience: Winter weather in Yosemite can bring unexpected delays. Relax and take the safest way to your destination.
Plan ahead: Winter visitors avoid summer crowds, but some services and facilities do not operate. Check availability and make reservations in advance.
Keep wildlife wild: All park wildlife can be dangerous and unpredictable. Respect wildlife from a distance, never feed or approach them.
Drive responsibly: Observe posted speed limits, watch for wildlife, and use pullouts to take pictures. You will need snow chains to drive in Yosemite in the winter.
Leave no trace: Keep Yosemite beautiful by staying on trails, placing trash in receptacles, and leaving only footprints.
Be careful near water: Stay back from swiftly flowing water. A slip on wet or icy rock is all it takes to get swept away.
Have a buddy: Hiking alone is generally not a good idea, so take a friend. Be sure someone knows where you're going and when you plan to return.
Make your reservation: Yosemite sometimes requires a reservation for personal vehicles entering the park. Find out if they are needed for your visit in advance.
Entrance fee: Yosemite park costs $35 for a car, RV or truck and does not depend on the number of passengers).
Travel Planning Resources
Before you settle on your plan for your visit, you may want to check out these helpful resources:
Travel Yosemite (host by current concessionaire Aramark) https://www.travelyosemite.com/
Check the Guide schedule corresponding to the dates you will be in Yosemite for special events and activities. https://www.nps.gov/yose/planyourvisit/guide.htm
Yosemite Conservancy host a variety of wintertime outdoor explorations and events. https://yosemite.org/. The park itself also host a useful website full of activities and recommendation for keeping your visit fun, memorable and safe. https://www.nps.gov/yose/planyourvisit/index.htm
See you there!
There are many wonderful things to do in winter in Yosemite National Park. Whether it is your first or umpteenth visit, we are excited for you and hope this post has been useful to your planning. If you would like additional help, we are here for you.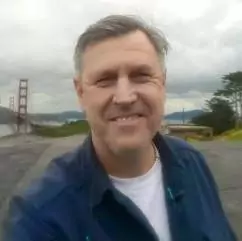 Gary Lillian is an advisor to Extranomical Tours which has led more than 10,000 guided tours in Northern California in the last 10 years. He is a graduate of Northwestern University, holds a master's degree from Kellog Graduate School of Management, and is a recognized subject matter expert in marketing and customer experience engineering.
Published on: December 23rd 2021