Tunnel View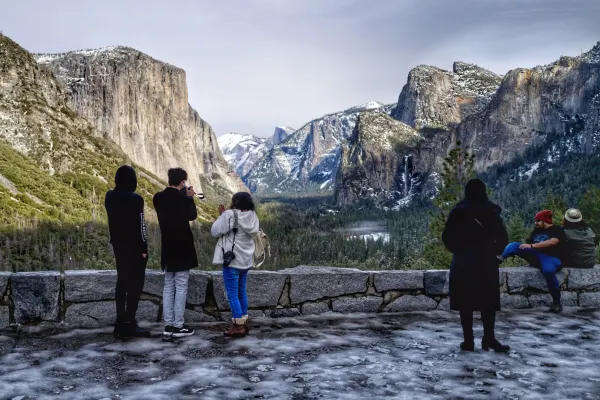 The dramatic photography of Ansel Adams helped to make Tunnel View in Yosemite into a scene recognized around the world. To this day, the panorama of granite formations and magical waterfalls that emerges from the Wawona Tunnel attracts artists and casual visitors to paint, draw and photograph.

Tunnel View is Yosemite's signature attraction and a definite "must-see' for any visit. Here, we will clue you into why the location is considered the best view in Yosemite National Park and give you advice on the best way to get to Tunnel View, when to visit and other insider tips we hope will make your experience magical.
Why Tunnel View is a 'Must See' in Yosemite
From this 500-foot perch above Yosemite Valley, Tunnel View displays the profiles of Yosemite's most recognizable rock formations and waterfalls. Like few other places, you will get a sense for how powerful glacial forces and millennia conspired to carve this unique natural wonder.
As you scan left (north) to right (south) from the stone retaining wall at Yosemite's Tunnel View, you will see:
El Capitan  – 3,000-foot sheer face that tops every climbers bucket list
Clouds Rest – mountain peak floating 1,000 feet above Half Dome
Half Dome – signature Yosemite formation towering above the valley floor
Sentinel Dome – granite peak that once hosted the Jeffrey Pine
Cathedral Rocks – fascinating collections of pinnacles, cliffs and spires
Glacier Point – southern rock cliff that towers above its surroundings
Bridalveil Fall – spilling year around down its 317-foot rock face
Yosemite Valley — pine-carpeted valley cut by the Merced River
Wawona Tunnel and Tunnel View were listed on the National Register of Historic Places in 1986 because of their exemplary design.
Before you go, download this to your image gallery (you will probably not have a cell signal at Tunnel View):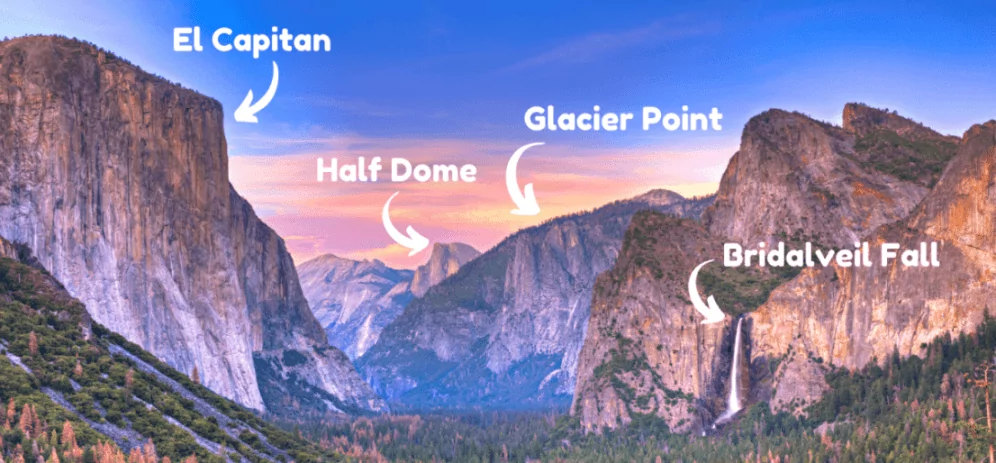 Ansel Adams first visited Yosemite National Park at the age of 14. This is what he later had to say about his first view of Yosemite Valley: "The splendor of Yosemite burst upon us and it was glorious…One wonder after another descended upon us…There was light everywhere…A new era began for me."
How to Get to Tunnel View
From Yosemite Valley, head south on Highway 41 (Wawona Road), climbing up from the valley for 1 ½ mile. The larger parking area is on the right side of the road just before the tunnel.
From the south entrance of the park, drive 24.5 miles north on Highway 41. Once you pass through the Wawona tunnel, you will see the parking areas on both sides of the road.
The parking lots can be crowded on summer weekends. Be patient and wait for a sop to open up.
Tunnel View address for search: Wawona Road, Yosemite National Park, CA 95389
Click here for directions to Tunnel View from San Francisco.
Insider Tips for a Visit to Tunnel View
The Tunnel View is justifiably crowded during the summer months, so try to arrive early.
To really enjoy the waterfall show, bring along some binoculars.
If the crowds are too much, you can take a short hike to Artist Point. Its trailhead is just across the road from the Tunnel View. Another option is to take the 5-mile (8 kilometer) round trip hike to Inspiration Point. The trailhead can be found in the corner of the Tunnel View parking lot.
BE CAUTIOUS. Pedestrians will looking at the view and not paying careful attention to vehicles around them in the parking lot.
Best Time to Visit
No matter the time of year, Tunnel View is an inspiring first stop in Yosemite National Park. Tunnel View is even worthwhile in bad weather. When looking out from Tunnel View during a clearing storm, you can watch the clouds race by while playing a beautiful game of hide and seek.
During peak waterfall season from March to May, you will spy Bridalveil Fall at its peak and more dropping their lacy cascades of snow melt off Yosemite's steep walls. The view changes with each passing season, especially in winter when the granite domes are draped in snow and mist.
Tunnel View is a magical place to watch a sunrise. Early in the day, Yosemite Valley is backlit, throwing impressive details into shadow. By contrast, sunlight in the late afternoon creates an enchanting show of light as shadows play out across the valley floor.
All the Best Views in Yosemite
For the locations of Tunnel View and other inspirational views in Yosemite, check out this map:

(maps)
FAQs
What is the best time to visit Tunnel View?
As snow melts in Spring, Yosemite's waterfalls are at their peak, making dramatic aquatic displays in all corners of Yosemite Valley. Winter brings dramatic snow-covered scenes with each passing storm. No matter what season, sunrise is a popular time to experience Tunnel View.
What do you see at Tunnel View at Yosemite?
On a clear day, as you scan left (north) to right (south) from Tunnel View into Yosemite Valley, you will see: El Capitan, Clouds Rest, Half Dome, Sentinel Dome, Cathedral Rocks, Glacier Point, and Bridalveil Fall, all sitting above a pine-carpeted valley cut by the Merced River.
Where to park for Tunnel View in Yosemite?
Outside of the Wawona Tunnel, there is a large parking lot north of the road and a smaller one on the south side. When crowded, you may need to cue up for a space to open. Beat the crowds by visiting in the fall or winter and arriving early in the day.
What to wear when visiting Tunnel View in Yosemite?
The weather can change quickly in the Sierra Nevadas, turning comfortable sunny days into bone-chilling rain, snow or ice. Dress in layers and have a water-resistant jacket handy if needed. The parking and viewing areas are paved but bring hiking shoes if you plan to walk to Artist or Inspiration Point.