Napa and Sonoma County Wineries, Visited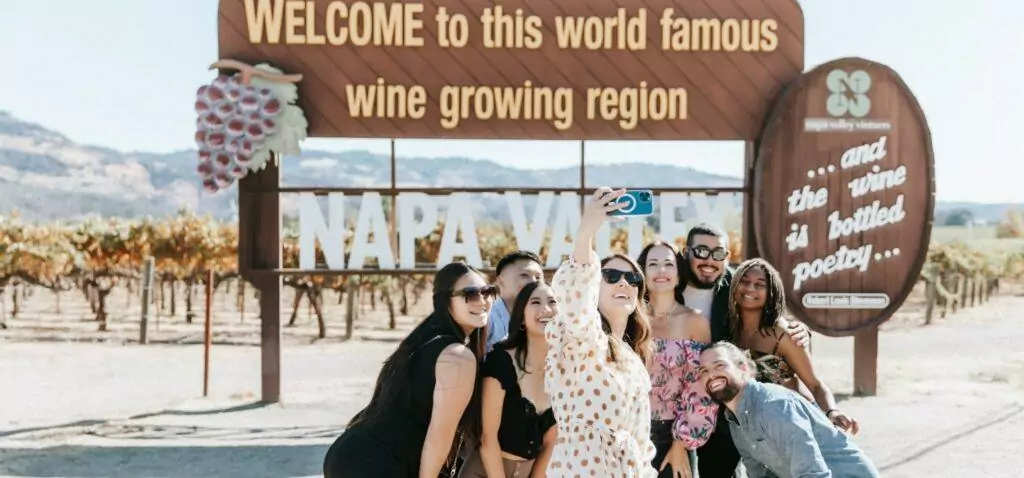 With over 750 wineries in San Francisco's wine country, choosing the best locations can be overwhelming. When putting together a tour, we like to select winemakers that offer unique features like gardens or tasting caves, informative presentations, friendly staff, and quality wines not generally available in retail stores.
If you don't see the wineries you'd like to visit on a tour to Napa and Sonoma Valleys from San Francisco and you have at least 6 people, why not consider a private tour? An experienced travel consultant will help put your custom tour together, handle reservations and all the special details needed to make your day in the wine country perfectly memorable. Start your private wine tour here.
Just a handful of wine making families in Napa Valley have a heritage as old and rich as Ballentine. Their history dates back to 1906 when the grandfather of current owner's Van and Betty purchased 60 acres of land in the northern part of the Napa Valley and founded L. Pocai & Sons Winery and Vineyards.
On a tour of Ballentine's 100-year-old winery and barrel room, you will learn how this family-owned winery makes use of recycled rainwater and solar power in its sustainable farming operation. Ballentine has built a reputation among Chenin Blanc enthusiasts for their limited production bottling of this variety. A visit to their sun-lit outdoor tasting room will feature limited production, will also feature single vineyard Cabernet Franc, Zinfandel and Cabernet Sauvignon wines that can only be purchased at the winery.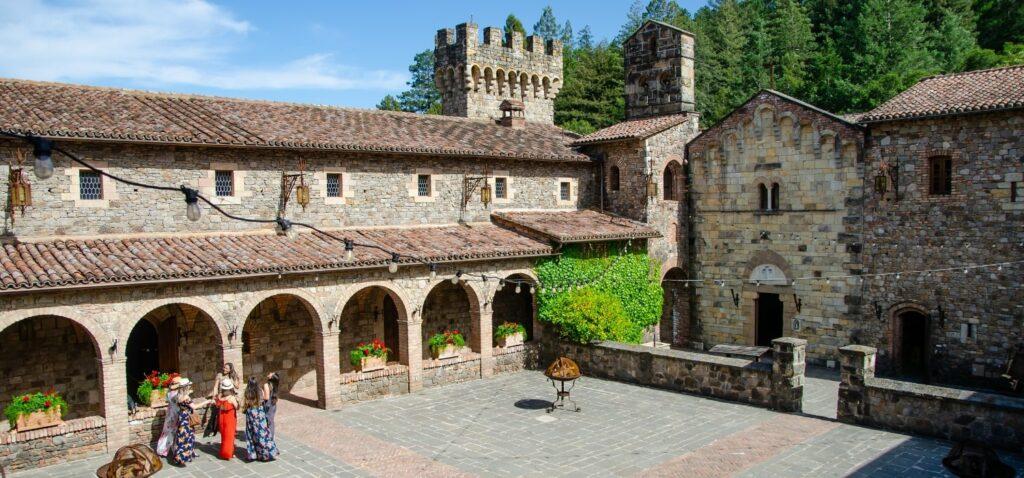 Castello di Amorosa knows how to make a first impression. The authentically styled, 13th-century Tuscan castle winery was constructed using more than 200 containers of European materials and furnishings. This remarkable winery is visited on our Napa Valley Reserve wine tour.
Begun in 1994, a humble building morphed into a castle spanning 121,000 square feet with 107 rooms located in four underground and four above-ground levels. The building has all the elements you'd expect from an authentic Italian castle. A moat with drawbridge, high stone walls, gargoyles, a church, and a fully equipped torture chamber will fascinate on the way to the vaulted wine tasting cellar.
Thankfully, Castello di Amorosa puts the same love and attention into its wines which are elegant, intensely flavored, and well-balanced. The castle winery produces hand-crafted Italian-styled wines, including Cabernet Sauvignon, Merlot, Primitivo and Sangiovese.
Pioneering Charles Krug established the winery that started it all. As the oldest winery in Napa Valley, Charles Krug Winery is the quintessential example of a multigenerational winery that fuses tradition and innovation to craft its wines. Originally built in 1872, the stunning visitor space is a Registered National Historic Landmark.
The winemaker maintains full control over everything from vine to glass to create exceptionally balanced wines. Visitors may tour the award-winning gardens and the mezzanine of the winery which has a view into the Family Reserve Barrel Room, a working cellar where some of the finest wines are crafted. Your wine tasting at Charles Krug will feature three limited release, estate wines.
Cline Cellars is a much celebrated family-owned winery in the Sonoma Valley. Known for its ancient vines, the winery specializes in Zinfandel and French Rhone-Style wines. The winery was founded in 1982 by Fred and Nancy Cline and moved to its current farm house location in 1991. Fred acquired a love of winemaking from his grandfather Valeriano Jacuzzi, an Italian-born winemaker and namesake of the Jacuzzi Family Vineyards across the street.
Cline Cellars is committed to sustainable growing that maintains the rural beauty of the region. Guided by the talented hand of their winemaker, Charlie Tsegeletos, Cline Cellars seeks complexity, elegance, power, and sense of place in every wine they make.
This beautiful vineyard estate, situated on scenic acres of rolling hills in the Petaluma Gap. Designated an American Viticultural Area (AVA) in 2017, Petaluma Gap is one of the best regions in the word for producing high quality Pinot Noir and Chardonnay.
Each morning the estate experiences heavy fog that lifts when warm sunshine breaks through, then late afternoon winds are followed by thick evening fog. These wind and fog patterns create long and cool growing seasons that force the Pinot berries to develop thick skins that have a high concentration of phenols which give rise to bold spicy flavor profiles and deep color extraction.
Winemaker, Megan Brodie, explores various winemaking techniques to best exhibit the high-quality fruit that the vineyard produces. As a rule, she uses very minimal intervention, allowing each vintage to tell its own story to the delight of visitors' senses of sight, taste, touch, smell, and hearing.
Fred and Nancy Cline built Jacuzzi Family Vineyards to honor Fred's grandfather, Valeriano Jacuzzi, who invented the namesake spa pump and later inspired grandson Fred's love of winemaking. The stunning, 18,000-square-foot Tuscan-style property was modeled on the Jacuzzi family's ancestral home in Italy, and features a traditional piazza in its center where guests can taste wine and picnic.
The 190-acre vineyard is located at the "gateway to Sonoma", where cool Pacific fog and coastal wind follow the afternoon's blistering California heat. The vines are planted in volcanic soil and adobe clay known for producing outstanding Chardonnay and Pinot Noir. In addition to the California standards, the winery offers delicious Italian style wines like Teroldego, Barbera, Moscato, Arneis and Pinot Grigio.
Visitors are also treated to award-winning extra virgin olive oils at The Olive Press, a tribute to the Jacuzzi family home in Casarsa, Italy.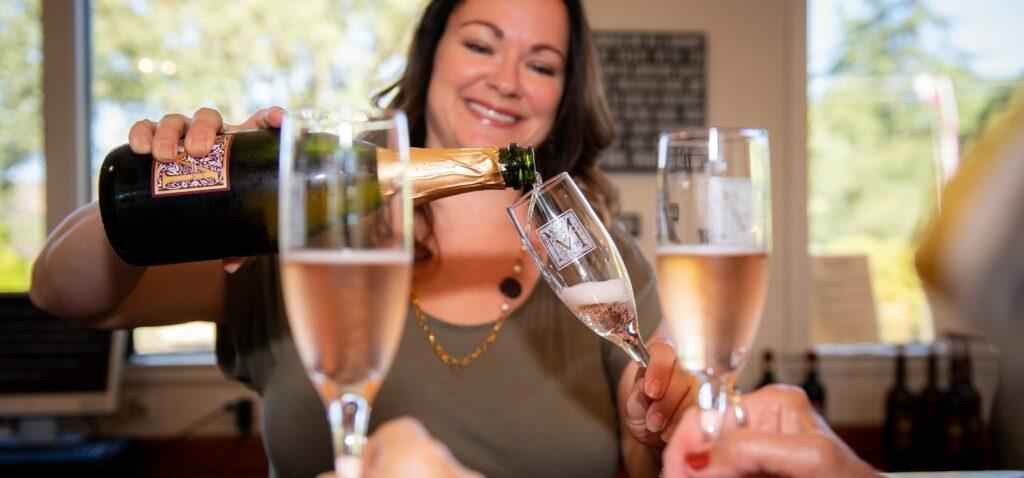 Mayo Family Winery is a small, family-owned and operated winery located in the heart of the Sonoma Valley. Since 1994, Diane and Henry Mayo have specialized in producing small batches of artisanal wines, utilizing hand-picked local grapes. They produce over 20 different single vineyard wines, ranging from Chardonnay, Pinot Noir, and Zinfandel to unique varieties such as Gewurztraminer.
The Mayo Family Winery has always focused on producing wines that capture the best expression of each varietal. We like to visit the Mayo Family Winery on our Redwoods and Wine Country Tour because it is one of the friendliest small wineries in the region and annually produces just 5000 cases or less for sale exclusively in its tasting room and to Wine Club Members.
Jeffrey Mayo is currently President of the winery and guides its operations. Their head winemaker is Michel Berthoud. Mayo Family Winery has won a slew of awards including Gold and Best of Class accolades at the Sonoma County Harvest Fair.
Muscardini Cellars graces Sonoma Valley's Monte Terra with its estate grape vines, family home and barrel room. The mission of Muscardini Cellars is to pass the knowledge, tradition and zest for life from more than a century of family experience into wines that artfully capture flavor and spirit.
Over 100 years ago, patriarch Emilio Alchera came to America from Italy. The red table wines he made for his family would eventually become the St. Helena Napa Valley Wine Company. Today, guests consistently rave about the friendly hospitality that flourishes at the Muscardini tasting room nestled inside a historic red schoolhouse right in the heart of Sonoma's Valley of the Moon. Enjoy wine by the glass while having a spontaneous picnic in their patio garden.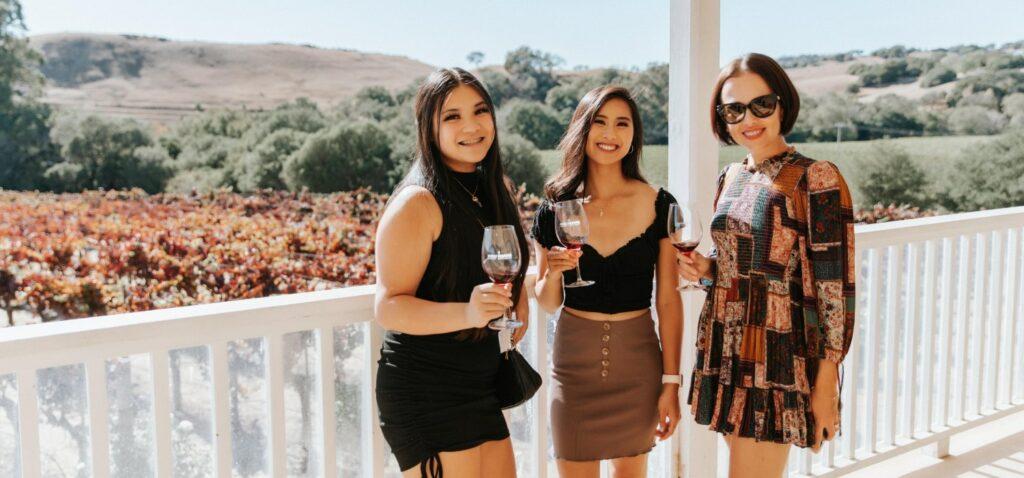 This quintessential Carneros AVA property, once cultivated by the Michael Mondavi Family Estate, is surrounded by rolling hills of planted vineyards. In the evening, fog and breezes off nearby San Pablo Bay provide natural cooling.
Ru Vango loosely translates to "Road to Art". Fittingly, the winery's tasting salon features a collection of fine art from Winn Slavin Fine Art in Beverly Hills. Besides perfect aesthetics, what makes a visit delightful is the perfectly situated wrap-around porch that looks out over sun-soaked vineyards located in the southernmost grape growing region in Napa Valley.
The winery is particularly known for its wines made from Chardonnay and Pinot Noir grapes grown at 2000 feet above sea level and in the direct pathway of cool breezes that create the ideal growing conditions for wines with complex character.
Located in the heart of Sonoma wine country, Sebastiani offers a historic winery with an atmosphere that is always lively, casual and informative. Samuele Sebastiani emigrated from Tuscany and planted his MIssion Vineyard in 1825. Today, after carefully rejuvenating the estate vines, limiting yields, and embracing innovative techniques in fermentation, the winery is making the best artisan wines in its history.
Sebastiani's historic tasting room bar is one of the most popular places in Sonoma County to delve deeper into wine history, food and wine pairing, winemaking techniques, and the culture of wine. Extranomical's visits to Sebastiani feature three sub-appellation wines and gazing upon hand-carved redwood tanks. While enjoying the beautiful setting, a wine educator will explain how the winery is creating the perfect blend of tradition and innovation.
Trek Winery began as a family-owned and operated winery in 2007 after years of experience in the wine business and amateur winemaking. Over the years, Trek Winery has become a premier venue for wine making, brewing and live entertainment in the Bay Area.
Trek Winery's winemaker, Andy Podshadley, started his wine career in the tasting room of Gloria Ferrer's Champagne caves and quickly rose through the ranks at this respected winery before moving to Allied Domecq Wines USA. Over the years, Andy has been a frequent judge at wine competitions across the western United States.
Trek's Cabernet Sauvignons, Chardonnay, Zinfandels and Sauvignon Blancs have been medal award winners 10 times at the California State Fair Wine Competition. Its latest wines can be tasted on our Redwoods and Wine Country Tour.
V. Sattui is a family-owned business started by Vittorio Sattui in 1885 after emigrating from Genoa, Italy. In 1976, Vittorio's great-grandson, Dario, realized his dream of resurrecting the family business in the town of St. Helena in Napa Valley.
By controlling the process from "vine to cork", the winery is able to produce flavorful grapes from its Estate Vineyards in Napa Valley, the Los Carneros AVA, Sonoma County and Mendocino County. Nationally acclaimed winemaker, Brooks Painter, employs a blend of artistry, sustainability, time-honored traditions, and innovation to consistently produce award-winning, small-batch, small lot wines for a wide range of tastes.
The sprawling must-see estate in St. Helena has three Tasting Rooms, manicured gardens, and an underground wine cave serviced by a friendly, knowledgeable staff. If you are feeling hungry during your visit, V. Sattui's Artisan Deli and Marketplace is the place to gather items for your ultimate Napa Valley picnic. Visitors to V. Sattui Winery may sample more than 60 different sustainably farmed wines including dozens of 90+ point rated wines that are sold exclusively at the winery.