Castello di Amorosa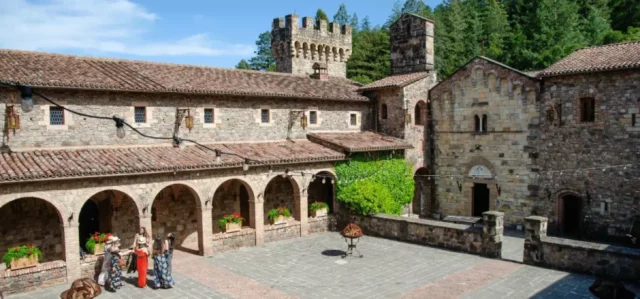 Castello di Amorosa, the medieval Italian Tuscan castle and winery, has been delighting visitors since it officially lowered its drawbridge in the hills near the Napa Valley town of Calistoga where Colonel William Nash planted one of California's first vineyards in 1846. The genius behind this Napa Valley fan favorite was Dario Sattui, a 4th-generation Italian winemaker whose decades visiting and studying medieval castles and wineries in Europe became an all-consuming passion.
The Castle
Dario intended to build an 8,500 square foot building without cellars but the "castle of love" vision grew in size and grandeur to become 107 rooms that if laid out side by side would cover five American football fields. There is an enormous Great Hall with 2-story Tuscan frescoes; a 500-year old fireplace; 8,000 tons of hand-chiseled stones; a drawbridge, dungeon and torture chamber; medieval church; secret passageways; and a stunning wine barrel room with ancient Roman cross-vaulted ceilings.
Castello di Amorosa's construction took 15 years and used one million imported antique bricks. More than 200 containers of other materials and furnishings were shipped over from Europe to decorate the interior. When completed, Dario said of his masterpiece, "So Castello authentic, I used only hand-made materials, employing the same methods that would have been used 700-800 years ago. You can't fake something like this."
The Vineyard
This 30-acre estate vineyard surrounding the Castello, in the foothills of the Diamond Mountain District, is planted with Cabernet Sauvignon, Sangiovese, Merlot, Primitivo, Malbec, and Petit Verdot grapes. The porous volcanic soils and extended sun exposure above the fog line produce rich and powerful Cabernet Sauvignons with chewy textures and hard tannins. The vineyards are certified Napa Green, a soil-to- bottle environmental stewardship program.
Besides this original vineyard, Castello sources grapes from more than a dozen other sites it owns and cultivates in the Napa, Sonoma and Anderson Valleys.
The Wines
The wine-making team focuses on balance and terroir expression. As a result, Castello di Amorosa's wines — available only at the winery — are elegant, well-structured, and intensely flavorful so they may be paired beautifully with a diverse array of food.
The Tour
If you manage to score a reservation at Castello, you are welcome to roam the castle grounds and explore the featured rooms but not the working winery areas. Here are some of the highlights.
The chapel which used to hold mass in this room on Sunday mornings
The courtyard in the center of the castle where concerts of often held
The fermentation area with massive stainless steel tanks imported from Italy
The caves lined with French barrels, some over 150 years old
The armory with authentic medieval pieces imported from Europe
The torture chamber featuring grotesque devices from back in the day
The Great Hall with high arching ceilings and exquisitely painted Tuscan frescos
The upper rooms have a beautiful view of the castle and surrounding Napa Valley
Wine Tasting
Castello di Amorosa offers wine tasting by reservation only. Each unique experience includes a complimentary tasting of 5 wines from an extensive wine menu or a Muscat Grape juice for those who would like a non-alcoholic alternative.
Standing Reserve Tasting: Select 5 wines from an extensive wine menu that includes Cabernet, Merlot, Sangiovese, Pinot, Barbera, Chardonnay, Pinots Grigio and Blanco, and Gewürtztraminer, and a collection of dessert and sparkling wines.
Seated Reserve Tasting: Offers 5 wines from an large list of reserve reds, whites, and a collection of dessert and sparkling wines. Several of these wines have won high honors in respected wine competitions.
You can also do tastings that pair the wines with cheese or chocolate!
Visiting
An incredible way to experience Castello di Amorosa is on a Napa Valley wine tour. Extranomical Tours offers a nice Small Group Napa Valley Reserve Tour. If going on your own, be sure to make a reservation well in advance of your visit. The address is 4045 North St. Helena Way (Highway 29). The turn off is between St. Helena and Calistoga on Hwy 29, 2 miles south of Calistoga. Watch for a large sign for the castle (you can't see the castle from the highway).