San Francisco Shopping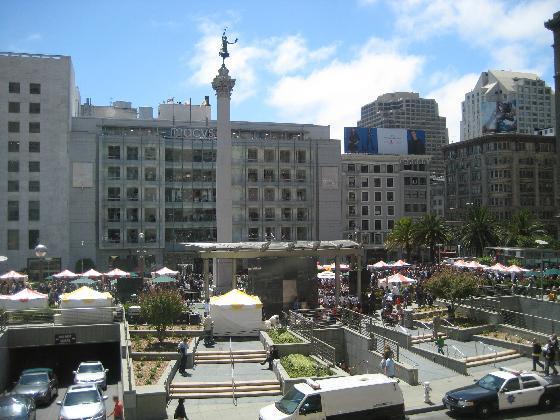 Union Square
A shopper's paradise, Union Square is a great place to catch live music in the summer and just sit and watch the people stream by. Radiating out from Union Square in all directions are more shops and restaurants than you could visit in a month, and 10,000 hotel rooms filled with people from all over the world, so it makes for a world class people-watching venue. In the evening the shops may close, but the nightlife takes over with the bars and restaurants teeming, and the weekends see the theater crowd out in full regalia on Geary, Post, and Sutter Streets.
Westfield San Francisco Centre
A shopaholic's dream, including Bloomingdales, Tiffany & Co, Nordstrom, Aveda, and so many more. Plus you haven't lived until you've gone to Bake Cheese Tart! The food court is not to be believed. It would take a month to try every vendor and a lifetime to try every menu item.
Union Street and the Marina
Dozens of fashion boutiques, jewelers, and a few salons line both sides of Union Street from Gough to Fillmore. After the lights go down, there are a few places to eat and then drink, but the age skews a few years younger than the daytime shoppers. Down the hill 4 blocks, Chestnut's commercial row starts at Fillmore and continues west, similar to Union Street, but with more of an emphasis on food and neighborhood merchants.
Fillmore Street
We're talking about the other side of the hill, here, known as Lower Pacific Heights, from Washington south. Block after block of coffee, chocolate, breakfast, lunch, jewelry, housewares, shoes, fashion, and salons.
Haight Ashbury
There's a Gap where Jerry Garcia once stood, and a Ben and Jerry's selling Cherry Garcia where Wavy Gravy once stood, but it is still one of the more eclectic and non-conformist business neighborhoods in San Francisco. Anti-fashionistas can still get used and unique clothes and Amoeba's has one of the largest selections of CD's and LP's you've ever seen. There are organic groceries and foods to go, and an eclectic variety of little shops selling collectibles, curios, paraphernalia, and mementos. There's basically nothing left from the 60's except the Free Clinic, but Aardvark's, the various T-shirt vendors, the Blue Front Cafe, Amoeba, and the Red Vic's will give you a hippy-type feeling.
Chinatown
Only about 3 blocks separate Union Square and the Chinatown Gate, but the shopping experiences couldn't be more different. Walking Grant Street through Chinatown may give you a little feel for what it is like to go to Hong Kong, but taking a left along Pacific and another left on Stockton will be an even more intense cultural awakening. Grant Street is full of shops used to catering to tourists with imported crafts and mementos of San Francisco.