Dear first-time visitors to San Francisco: Do you have bucket list items? Do you have to hit the famous attractions in the least amount of days in order to save on those oh-so-expensive hotel prices? For a perfect first-time trip to San Francisco, you need to be as organized as possible in advance. We've put together an itinerary that maximizes your group's time in order to give you the best experience possible. Our 3 day San Francisco itinerary will show you a brief guide to the best of what San Francisco has to offer – and leave you excited to return.
As city locals, we've also made sure to include our insider hints, extra tips, and things to know before you go to the "City by the Bay". Read on to see the best way to make the most of your 3 day trip in San Francisco.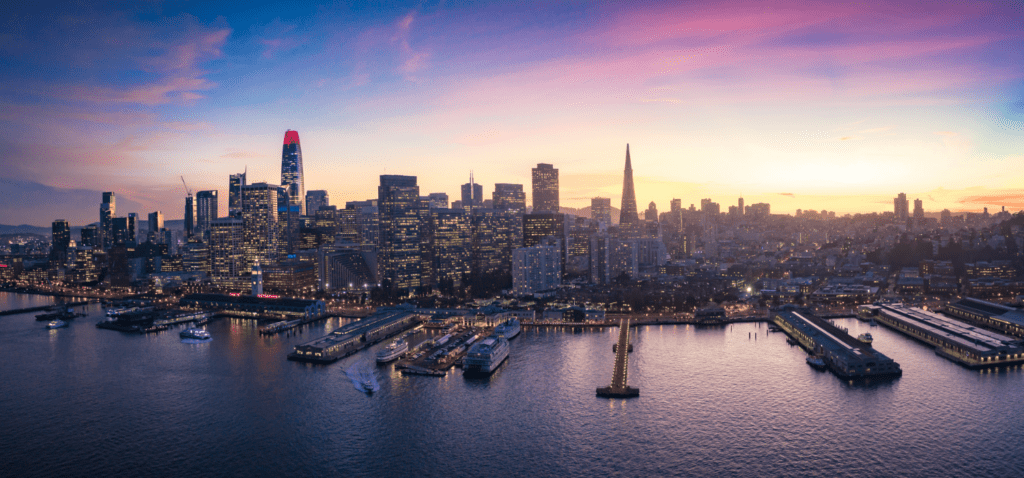 But, wait, you might ask yourself: "Can you see San Francisco in 3 days?"
Our answer is unequivocally: "Yes!" We believe that the key to making the most out of any vacation is planning, planning, planning – and San Francisco is no exception. Our itinerary will take you to the top things to do in San Francisco in only 3 days.
Here's the plan:
Ready? Let's get started.
The First Timer's San Francisco 3 Day Itinerary
Day 1:
Embarcadero, Alcatraz, Fisherman's Wharf, North Beach
Day 1 – Morning
So – You've touched down in San Francisco (or nearby), unpacked your luggage (or put it off), had a deep sleep at your hotel (hopefully)… What next?
Well, if you're like us, you need a little fuel for the soul – A fresh cup of local coffee. Luckily, San Francisco has no shortage of options to choose from.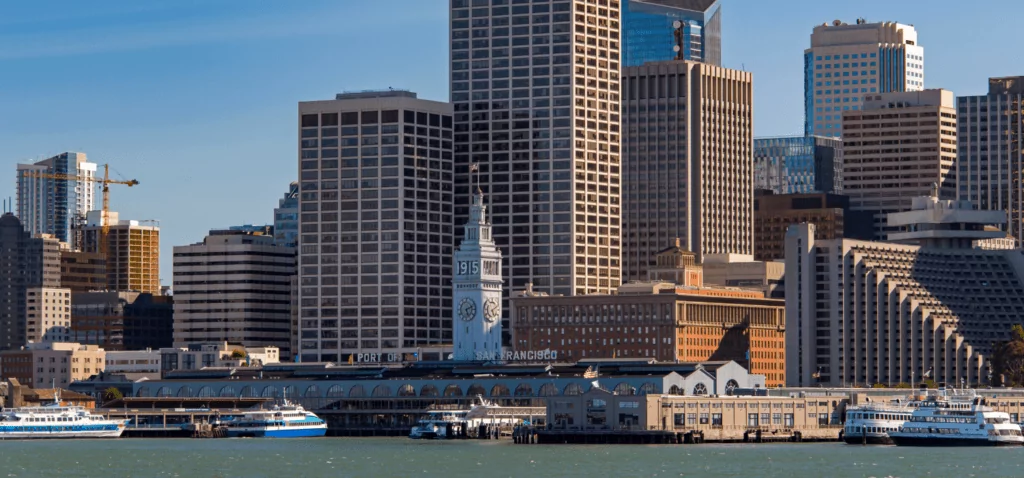 Begin your day at the San Francisco Ferry Building. This historical clock tower at the heart of Market Street has marked the passage of time at the surrounding waterfront every hour for more than a century. That might not seem like a long time, but when you take into consideration that the state of California is only 178 years old – that's more than half of its statehood!
Today, in addition to the various ferries that operate out of its docks and cross the bay every single day, the Ferry Building plays host to a thrice-weekly farmers market on Tuesdays, Thursdays, and Saturdays. If you're visiting on one of those days – you're in luck!
Extra Tip: Be sure to come back later during your 3 day trip in San Francisco to pick from a wide variety of delicious miniature single-serving cheesecakes at local favorite CheeseQuakes – flavors include but are not limited to: Snickerdoodle, Dark Chocolate Jamocha, Wild Huckleberry and more. Or, if ice cream is more your taste, why not try Humphry Slocombe's famous "Secret Breakfast" ice cream – whiskey and cornflakes?
If the first part of your itinerary isn't on one of those days, don't despair: we're still here to help you make the most of your 3 day trip in San Francisco. There are a plethora of local options for you to choose from inside the Ferry Building itself even if you aren't a coffee drinker, from freshly baked pastries at Acme Bread Company (cartoon anvil not included) to a hot cup of tea at the Imperial Tea Court.
For those of you who also need to start their day with fresh coffee, there is no shortage of possibilities nearby. Nearly everyone knows about Starbucks and Blue Bottle, but what about Berkeley chains Peet's and Philz? And nobody should miss out on our local favorite – Red Bay Coffee. The Bay Area has more than a handful of independent roasters that you won't find anywhere else. Take some time to stop by as many local coffee shops as you can while you're here!
Coffee or otherwise in hand, make your way north along the Embarcadero until we get to Alcatraz Cruises at Pier 33. A typical self-guided tour of Alcatraz island Island can take around anywhere from 12 to 4 hours, so make sure you eat up beforehand.
> Did you know? There are approximately 36 active ferry docks in San Francisco, from Pier 14 up to Pier 96. The even-numbered ferry docks run south of the Ferry Building, while the odd-numbered ones run along the north side. We don't think you'll have enough time to visit every single one if you only have 3 days in San Francisco (though we definitely recommend coming back to see most of them at least once!), so here's a list of some of the ones to keep an eye on so that you can plan your itinerary in advance:
Pier 15: The Exploratorium. A smaller but more family-friendly, interactive, and accessible alternative to the California Academy of Sciences.
Pier 33: Alcatraz Cruises landing. Read on to see our extra tip to score day tickets to the infamous Alcatraz Island. This is a must-add to your San Francisco 3 Day Itinerary!
Pier 39: Fisherman's Wharf. This is the big one. It's got it all. Sea lions, the San Francisco Carousel, "Lefty's" – a specialty store for left-handed people, an Alcatraz gift shop, San Francisco city souvenirs, local treats, and so much more. In fact, there's so many things to do here, you could very well end up spending your entire 3 days in San Francisco at Pier 39 alone if you're not careful!
We recommend taking a look at what Pier 39 has to offer in advance and planning what you would like to visit ahead of your trip to San Francisco.
Pier 41: This is the home of Blue & Gold Fleet, whose Escape From The Rock cruise sails around Alcatraz Island if you'd like an abridged experience without setting foot on the Rock itself. It also sails underneath the Golden Gate Bridge for a unique perspective you won't find hardly anywhere else.
Pier 45: Musée Mécanique, an antiques museum with more than 300 whimsical items and coin-operated games. A hidden gem! Admission is free.
Most of the even-numbered piers are industrial piers that have been turned into parking lots, but there are a couple places that we'd still like to point out, just in case you find yourself wanting to fill some windows of extra time you've found on your 3 day itinerary in San Francisco:
Pier 24 – Pier 24 Photography. This serene art museum is open Monday-Friday with free admission (by appointment only).
Pier 40 – SF City Kayak. Rent a kayak and paddle the open bay, the small canal between SOMA and Dogpatch, or even watch the latest game at Oracle Park from the water. They also offer kayaking lessons.
The Alcatraz Cruises ticket booth is actually not within the Pier 33 building, but rather between the Pier 31 and Pier 33 buildings. There will be a smaller building that reads "Tickets" bold at the edge of the overhang – you can't miss it. There are no storage lockers on the Rock, so bring as little as possible, keeping in mind there will be a lot of walking and the prison is at the top of a tall hill. In addition, the boat ride over can get quite chilly if you're outside in the wind, so you may want a jacket or sweater.
If you've already purchased tickets (which we highly recommend, especially if you're planning a date that is not that far out), you can go straight to the "Will-Call" line and pick them up. Here's some tips if your tickets are pre-purchased:
You'll want to arrive at least 20-30 minutes ahead of the time on your ticket in order to get through the queue in time for your departure.
Don't be late – your ticket is timed and you can only take the boat at your exact time. If you miss your boat, the day's remaining tickets are first-come first-served, and you may have to pay for an additional ticket on top of the wait.
Be sure to have your ticket confirmation as well as a photo ID. Any government issued identification will do, including passports.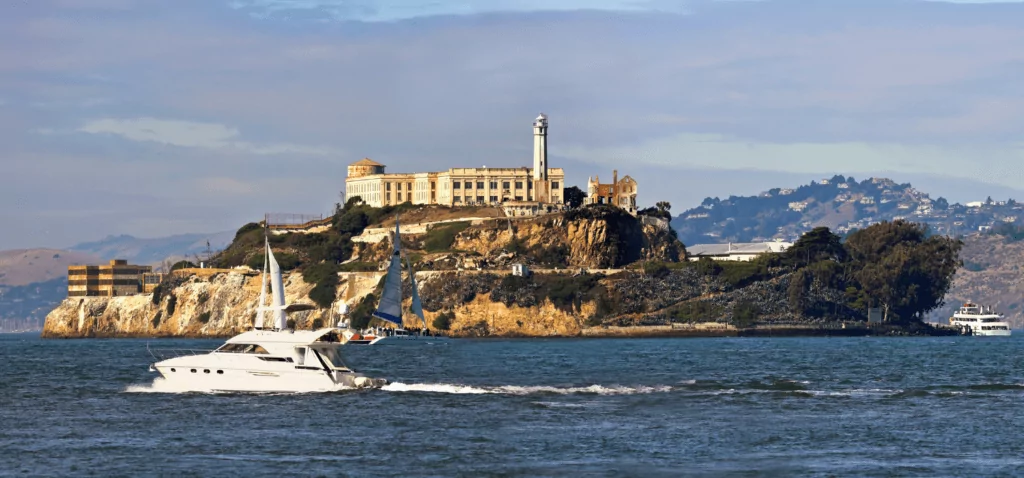 If you haven't already bought your tickets, it's better to arrive as early in the day as you can. (The early bird gets the worm, after all!)
Once you have your tickets, all that's left to do is board your ferry and it's off to Alcatraz!
Extra Tip: Get your tickets from Alcatraz Cruises at least 6 months out to guarantee availability during the summer months. If your desired date is already sold out, it might still be available as a tour package with a third party (for example, Extranomical Tours' Alcatraz Island and Guided San Francisco City Tour includes many of the attractions we'll talk about in this article, in addition to the coveted Alcatraz tickets). If you have specific items you want to see, it's also a great way to cover multiple bases at once. Shop around!
Day 1 – Afternoon
Once we're back from Alcatraz, it's time to fill back up with more uniquely San Francisco fare. Stop by Boudin's (just a few blocks away at Pier 39) for a delicious sourdough bread bowl with chowder. Not only is Boudin Bakery the birthplace of the "Original San Francisco Sourdough™", but it's also recognized as the oldest continuously-operating business in San Francisco. They're using the very same sourdough starter they began with from the California Gold Rush – how's that for living history?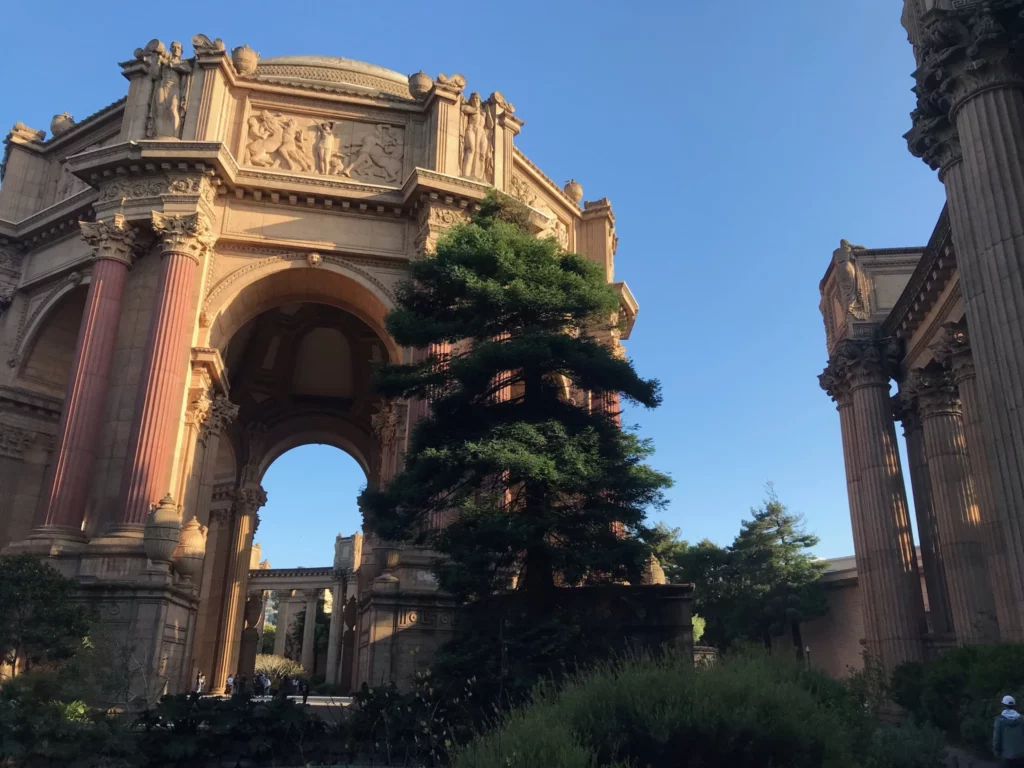 After you've had the opportunity to recharge your batteries, you'll want to make your way through the Marina and Presidio. There's a lot of ground to cover, so we recommend renting a bike (electric or otherwise) from our friends at Bay City Bikes – since it's right there next to Fisherman's Wharf. Ride up the Embarcadero to visit Aquatic Park Cove, Fort Mason, Crissy Field, and Fort Point – all gorgeous parts of northern San Francisco that belong to the National Park Service. At Fort Point, you'll be right by the Golden Gate Bridge, so definitely visit or take pictures while you are there if fog allows! Then, return by the Presidio Cemetery, The Walt Disney Museum, Lucasfilm studios – if you're a Star Wars fan, definitely stop to take pictures with the Yoda fountain – and the historical Palace of Fine Arts.
After all that pedaling, you might be exhausted. So stop at the famous Buena Vista Café and order an Irish Coffee at the very place they were initially invented before taking the Cable Car up to the top of Lombard Street. This winding street almost became a toll road – if not for the bill that would have allowed it to do so being vetoed by the governor in 2019. It's still better to walk around the area these days, especially due to the heavy traffic that can build up on this infamously steep hill.
Day 1 – Evening
Once you've had your fill of wandering, end our day in North Beach, San Francisco's version of "Little Italy". You'll be able to mark the area by the Italian flags on the lamp posts! North Beach is also home to the Stinking Rose, where visitors can have.
Some Extra dinner suggestions from our "Local Experts":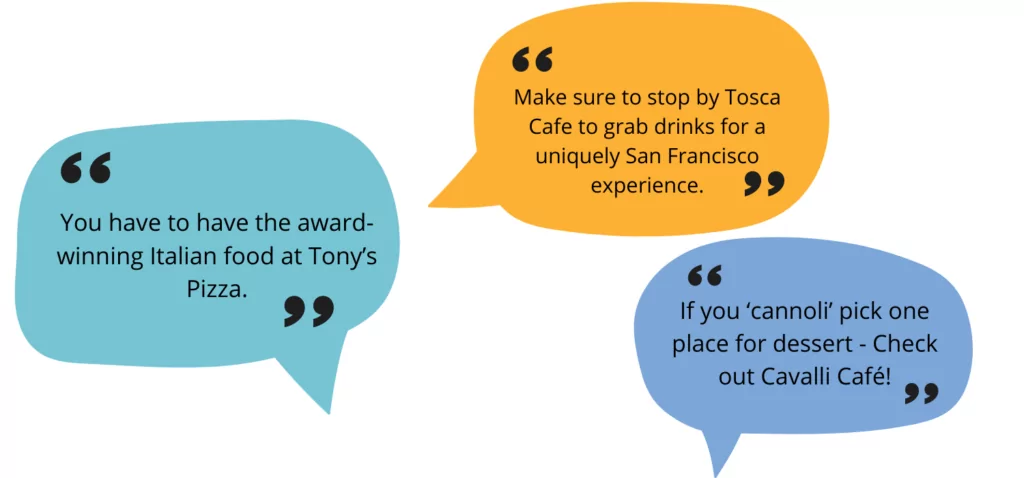 For an alternative Day 1 plan, you could have an all-in-one orientation to the city on a guided city tour by Extranomical Tours or Dylans, where you'll be able to see Fisherman's Wharf, Palace of Fine Arts, Lands End, Sutro Bath, & Ocean Beach, Golden Gate Park, Haight-Ashbury, Mission, Chinatown and North Beach. Or, you could see San Francisco by air – at San Francisco Seaplanes. Any way you choose to do it, that's the end of your day, so wrap up whatever time you have left and head back to your hotel. Time for Day 2!
Day 2:
Golden Gate Bridge, Muir Woods, Sausalito, Chinatown
Day 2 – Morning
Next on the itinerary today: Crossing the Golden Gate Bridge, visiting the tallest trees in the west at Muir Woods National Monument, and finishing off the day with a visit to Chinatown and Nob Hill. Let's get started.
Your day begins with a hotel pickup from Extranomical Tours. They'll be taking you over the Golden Gate Bridge, up through the Robin Williams tunnel, and to the entrance of Muir Woods, where we'll see the Coastal Sequoias. These trees are hundreds of years old, and even taller than the ones in Yosemite National Park! The oldest of them all is a whopping 1,200 years old  – these sequoias, for sure, have a long time to "stick" around. 
Coastal Sequoias might not be so wide as to drive a car through – those are the Giant Sequoias in Yosemite – but most of them are still wide enough to fit a whole person inside!
The national monument charges for entrance as well as parking (which you must reserve in advance in increments), but going with a tour company takes all of the hassle out of that for you, so we definitely recommend it.

Extra Tip: Be sure to check out the gift shop while you're there for souvenirs made with authentic California redwood, as well as the serene Cathedral Grove, which has a plaque commemorating President Roosevelt's passing near the end of World War 2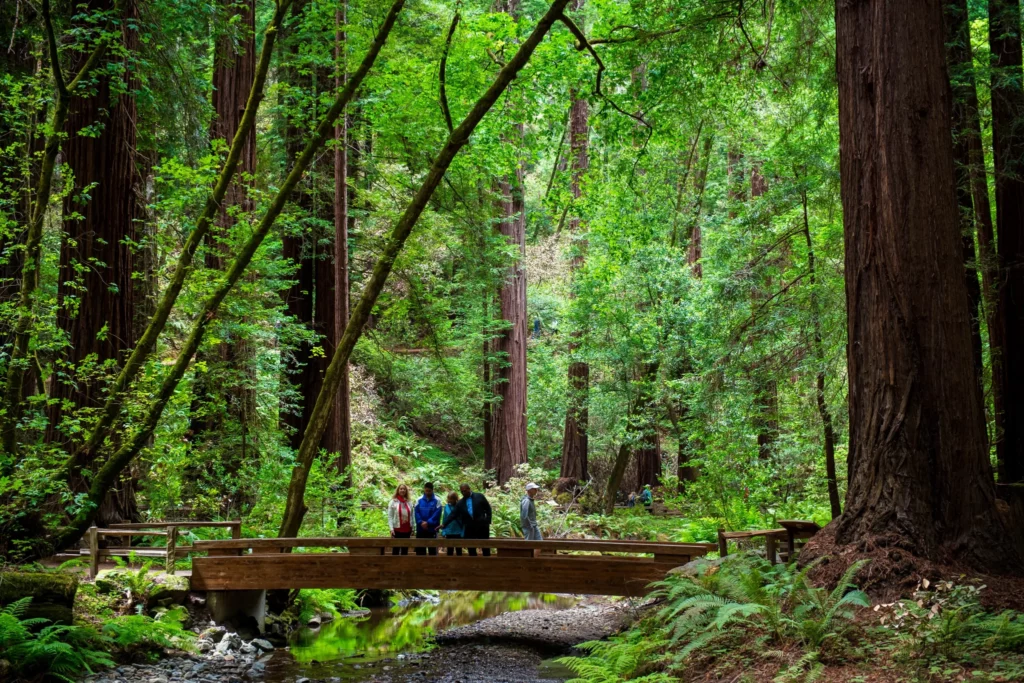 Once we've had our fill of the redwoods, the tour will be heading to the seaside village of Sausalito. Be sure to grab your lunch to go if the skies allow – you'll have a lovely view of the entire San Francisco city skyline from the "dock of the bay".
Day 2 – Afternoon
Time to float back to San Francisco – We'll be taking the Blue & Gold Fleet ferry back to Pier 1 (at the Ferry Building we saw earlier in our 3 day itinerary). If you haven't had the chance to see the Farmer's Market, maybe you can check it out today! Alternatively, return with your tour guides back to San Francisco over the Golden Gate Bridge again. Whichever route you take, be sure to grab pictures of Angel and Alcatraz Islands on your way, as well as the stunning city skyline – now featuring the relatively-new and not-so-universally-loved Salesforce Tower, topped by a projection screen that's displayed many various scenes from artistic dancing figures to fireworks every single night since the building's opening.
After arriving back in Sna Francisco, have a nice walk through the iconic financial district, all the way down to Union Square. The fastest way to get there on foot is by taking Market Street. Be sure to check out the passing historic streetcars (aka trams). Not to be confused with the cable cars, these travel specifically on the "F" and "E" lines that run down Market Street. San Francisco is one of the few cities in the world to have still-operating streetcar lines, and each of the colored trams is modeled after their counterparts in a different place in the world. See if you can spot all of them during your stay!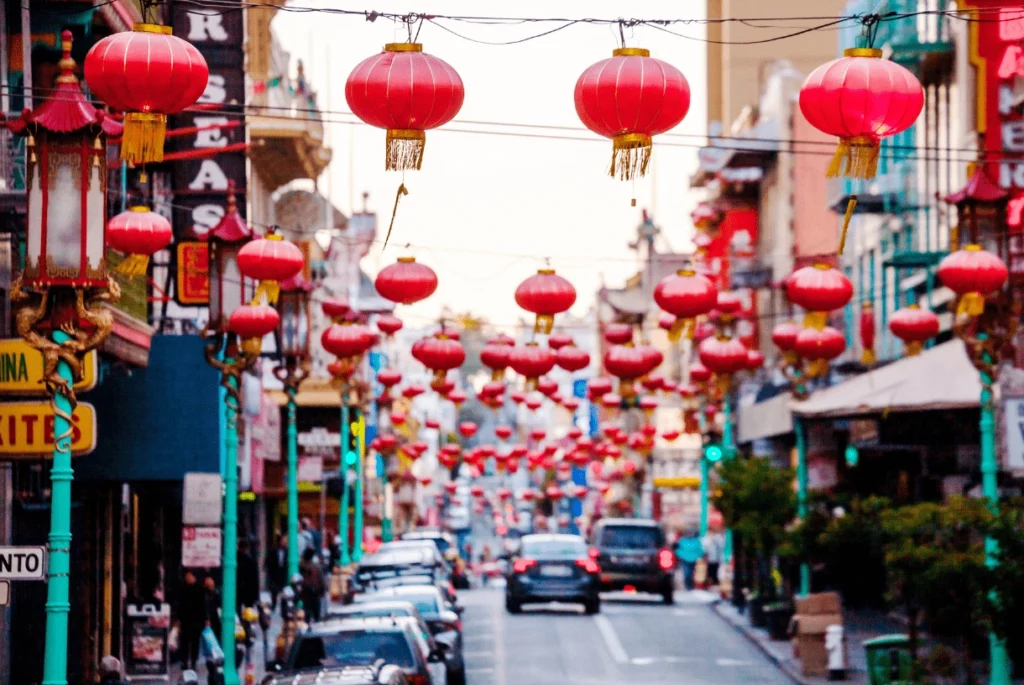 Once you've had our fill of high-end designer shopping in Union Square (and perhaps an early dessert from the Cheesecake Factory above Macy's while we're at it), head to San Francisco's Chinatown. The iconic Dragon Gate at its entrance has stood since construction was finished in 1970 and was the first permanent ceremonial gate to be installed in the United States.
Extra Tip: Explore Stockton Street (instead of Grant) during your three days in San Francisco for a less "touristy" vibe and an authentic Chinatown shopping experience..
We'll follow our noses all the way to Ross Alley (initially named "Stout's Alley") to check out the Golden Gate Fortune Cookie Factory – that smell is the scent of over 10,000 fresh fortune cookies made in-house every day! While fortune cookies themselves weren't invented in Chinatown, the location itself is still making custom fortune cookies in many flavors even today, and has been operating since 1962. Take a free tour of it if you have a bit of time and learn about its history as a former sewing factory. Stop by the gift shop and take home unique finds you won't get anywhere else!

Afterwards, visit Portsmouth Square, which is on the site of the first "official" designated plaza in the nation. It went through many phases throughout its history, and still shows hints of them in its design today – including from its original name as "Plaza de Yerba Buena" all the way to its current iteration.
Day 2 – Evening
I don't know about you, but all that walking, you'll be looking for somewhere to eat.
There are a couple of choices our "Local Experts" recommend for a Chinese food experience. For an elegant and refined ambience, our pick is Oriental Pearl. Its spacious room and white tablecloth service make this Chinatown classic one of the best.
Alternatively, for an authentic San Francisco experience, visit the newly-relocated Sam Wo Restaurant, moved from its original location on Washington to its current one on Clay Street after a 3 year hiatus. This hundred-year-old restaurant is a local community establishment featured in many an article and even a late-night talk show for its one-of-a-kind appeal. For those who doesn't mind a lack of frills, we'd say it's definitely worth a trip off the beaten path.
We'll finish our evening on a high note with drinks and sights at the Top of the Mark – the Mark Hopkins Hotel, that is. If you have a larger party, this is most likely something you'll need reservations for, but your time and effort will be well-rewarded. The impressive views from the top of Nob Hill are sure to leave you with fond memories for years to come.
Day 3:
Golden Gate Park, Haight Ashbury, Mission District
Day 3 – Morning
With more than 1000 acres of land, Golden Gate Park is a forest-filled urban oasis about 20 percent larger than New York's own infamous Central Park. From fine arts at the M.H. de Young Memorial Museum (colloquially the "de Young Museum"), to nightlife among geological exhibits and an earthquake simulator at the California Academy of Sciences, the park has no shortage of things to do and places to see! There is a Japanese Tea Garden with imported bonsai, the Conservatory of Flowers with cultigens from all over, and paddle boats that will take you all around Stow Lake, and much, much more. See if you can spot the windmills and the bison paddock as well during your time in the city! We are certain the park has something to offer everyone who visits the city, so it's definitely a must-see on your three day itinerary in San Francisco.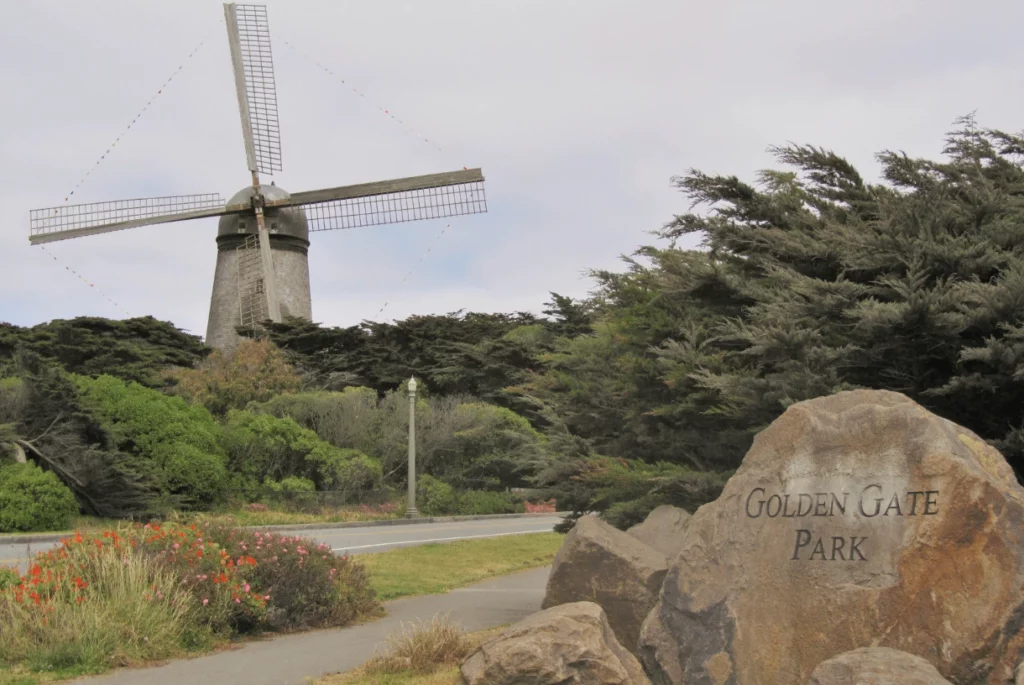 Once you've finished up there, head over to the Haight-Ashbury district to immerse yourself in the district's Summer of Love history. Check out the 60s rock star homes and the iconic Four Seasons Victorians (more picturesque than the "painted ladies", in our humble opinion), and don't forget to shop for some tie-dyed souvenirs while you're there!
Day 3 – Afternoon
We'll be finishing up our three day tour of San Francisco in the city's Mission District. The Mission is one of the oldest neighborhoods in San Francisco. Its name comes from the Mission San Francisco de Asís, more commonly known as Mission Dolores. Built in the late 1700s (and not to be confused with the much taller and more prominent "Mission Dolores Basilica" nearby), it is the oldest surviving structure in San Francisco.
Today, the historical Mission district is home to many locally-loved restaurants, food trucks, bars, clubs, art galleries, and street life, including streetside wall murals in several alleys. Take the time to stop by and look at the murals in Clarion Alley, as well as its lesser known sister Balmy Alley. The murals painted by locals on the walls will change regularly, so be sure to come back to visit for a new and different local experience each time you're able to visit San Francisco.
Finally, load up on Bi Rite ice cream and walk to the top of Mission Dolores Park for beautiful views and dog-spotting. On a clear day, you'll be able to see all the way to downtown, where you first began our journey back on day 1.
Extra Tip: Enjoy a guided experience in the Mission by taking the Extranomical Tours Mission District Food Walking Tour on Sundays.
Day 3 – Evening
As you approach the end of your stay in the city by the bay, reflect on the wonderful time you've had during evening dinner at Taqueria La Cumbre, home of the Mission Burrito. Afterwards, we can enjoy drinks at El Techo; its wind screens and heat lamps make it a comfortable rooftop patio for drinks and Latin American street food. Or, if they're still in stock, you might also be able to pick up the one-of-a-kind "Rebel Within" (a savory breakfast muffin complete with soft boiled egg) from Craftsman and Wolves, along with some truly delicious desserts.
We'll end our time in SF with a stop at Dandelion Chocolate for warm hot cocoa and artisanal chocolate bars. Pick up some for your friends and family back home – or keep it all for yourself!
Either way, it's officially time to say goodbye to the city by the bay. We hope you've enjoyed your time here, and hope that this 3-day San Francisco itinerary has given you a good enough idea of what we're all about that you'll want to come back and see more.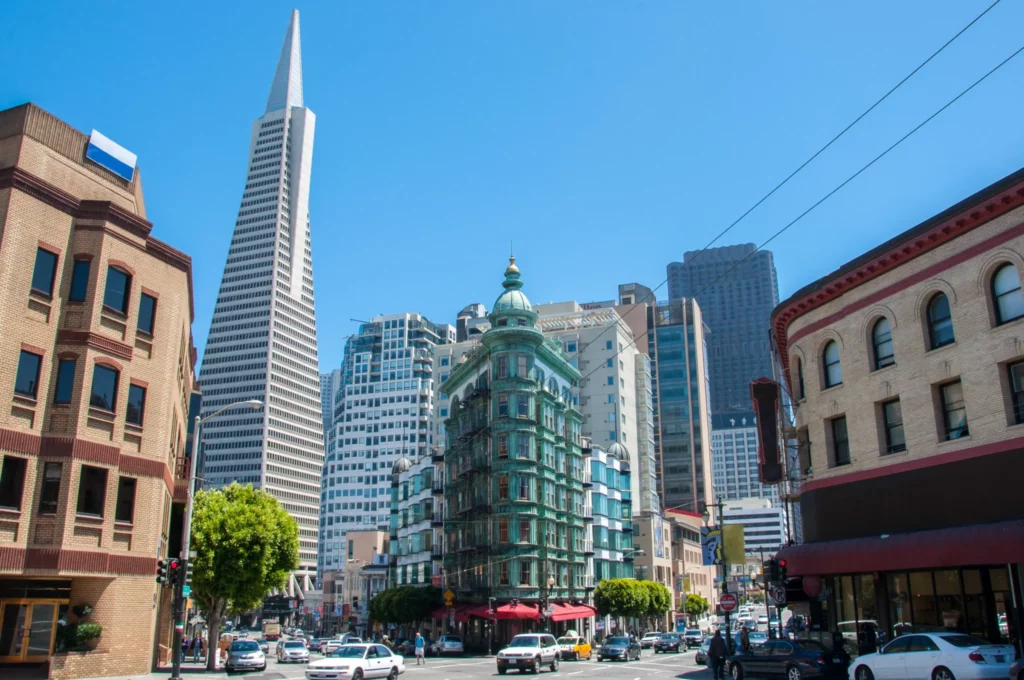 Things to know before you go:
Now that you know what you want to do, the next step is figuring out what to bring.
Don't worry – We've got you covered there, too.
What should you bring?
Extra spending money for meals, snacks, souvenirs etc.A light waterproof jacket (easily removable)
Warm, layered clothing
Comfortable shoes
Hat and sunscreen (during the late summer and early fall months)
Sturdy umbrella (if the forecast calls for rain)
What should you wear?
Temperatures vary depending on the season and time of day in the Bay Area, so we recommend that you wear layered clothing in case of unexpectedly climbing or falling temperatures. We do not recommend wearing shorts or sleeveless shirts in the winter. However, we realize that everyone is acclimated to different weather and thus trust you to make your own judgment. For footwear, we recommend comfortable walking shoes, such as regular tennis shoes, sneakers, or boots with rubber soles and treads. In the summer months, hiking sandals can be worn on the tour, but high heels, beach flip-flops, and other open-toed shoes are not recommended.
What's the best way to get around San Francisco?
People tend to have a love-hate relationship with San Francisco's public transit system. If you're from an area that doesn't have access to public transportation (if at all!), then the mass overlapping network of MUNI / BART / CalTrain / Golden Gate Transit / Ferries can definitely seem like a dream come true, if a bit overwhelming. You can get pretty much anywhere in the city and even nearly anywhere in the Bay Area without needing a car. For example, BART (the subway – short for Bay Area Rapid Transit) can take you straight from SFO to downtown San Francisco in just a short while – no car necessary. However, we do hear from people that visit from places with slightly-more well-managed and well-funded public transportation that it's dirty at best and broken-down at worst. We'll let you be the best judge of it for yourselves.
If you'd prefer to rent a car, there is plenty of parking available around the city – just be prepared to shell out for it. Some parking garages can easily cost $30 per day or more. And you'll need to beware of vehicle break-ins – don't leave anything visible in your car if you can help it, and travel insurance isn't a bad idea either!
For a happy medium between the two, there are rentable scooters and mopeds around in addition to the ride-sharing apps that have somewhat taken over the taxi industry. These days, there isn't much "sharing" of rides going on, so prices are rather inflated for Lyft and Uber. There's a new TaxiVQ app released from the SFMTA (San Francisco Metro Transit Authority) that is promising to help close the gap between riders and taxis. It launched February 2022, so feedback is still scarce as of yet. We hope (for the sake of our local businesses) that it will begin to help everyday taxis and their drivers take back some of the market share that had been lost to Lyft and Uber. Only time will tell.
When should you visit San Francisco?
"The coldest winter I ever spent was a summer in San Francisco." This famous quote is attributed – accurately or not – to Mark Twain. (You can read more about its actual origins here!) Yet the statement stands, and we would happen to mostly agree that early summer can be quite cool here in the city. Here's some of the average temperatures throughout the seasons:
SUMMER MONTHS (JUNE, JULY, AUGUST)
Average High temperature: 67°F / 19°C
Average Low temperature: 54°F / 12°C
WINTER MONTHS (DECEMBER, JANUARY, FEBRUARY)
Average High temperature: 58°F / 14°C
Average Low temperature: 47°F / 8°C
San Francisco has the benefit (and drawback) of being on the beautiful Pacific coast, which means it is also buffeted by the wind and blanketed with daily fog. Winter months tend to be rainier, but by and large – we recommend you simply visit whenever your schedule permits. San Francisco has something to offer everyone 365 days of the year.
Where should I stay in San Francisco?
It's best to keep in mind your travel requirements when booking your hotel/accommodation. If you're planning to walk around a lot, then staying somewhere nearer what you want to visit is best – or at least, somewhere near one of the aforementioned public transportation options.
If you're planning on driving, then staying closer to Ocean Beach or Golden Gate Park would be a lovely option. Not only are you more likely to have free parking, but you'll be within just a few minutes of gorgeous views and picturesque vistas.
Do you have more questions we haven't answered? Ready to start making magical moments in the City by the Bay? Reach out to us at Extranomical Tours and start planning your 3 day San Francisco itinerary today.
Published on: May 23rd 2022