North Beach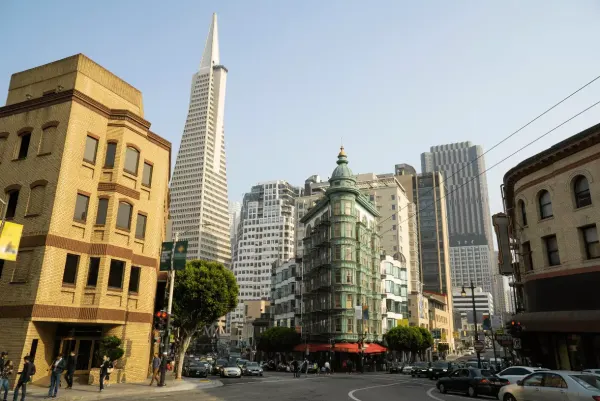 On a cool, misty San Francisco-style morning, strolling on North Beach Street, known as San Francisco's Little Italy, is such a pleasant trekking adventure! The street is full of strong aromas of Espresso Roasting and the aroma of the hot fried onion rings. There are followers of the Beat Generation in North Beach. A large number of Tai-Chi lovers do morning exercises in Washington Park every day. There are also many Italian cafes along the street. And espresso coffee bar. Previously, this place was indeed a beach, a coastline northeast of San Francisco. The beaches of North Beach are formed over time and are connected to the Barbery Coast. In the past, it was a place frequented by sluts and wealthy people. Now they mostly choose Jackson's Square, China Town Chinatown , Russian Hill, Telegraph Hill, and Financial District. North Beach is home to the Coit Tower Coit Tower , where you can overlook the entire San Francisco Bay. It is Jiuquhua Street, whose exquisiteness is unparalleled, except for the curve that was once found at the Conter Club. The Conte Club opened in 1964 and was the first Striptease Club in the United States.
For immigrants from South American, European, and Australian penal colonies, North Beach is their gateway to San Francisco. They all came to San Francisco from the North Point dock. Italian fishermen from the seaside village of the Ligurian Sea came to San Francisco thousands of miles, because there they can do what they love to do-fishing. In 1870, these Italian fishermen provided 90% of the entire San Francisco fish market. Early Italian immigrants used North Beach as their home and brought their favorite Italian food and wine, and enjoyed sitting in the cafe with good friends and enjoying a cup of strong conscious roasted coffee. Today, the streets and alleys of North Beach are all Italian cafes and restaurants. Those coffee enthusiasts and romanticists sit together, enjoying the aroma of coffee while admiring the real North Beach. From Fior d'Italia (the oldest Italian restaurant in the US) to Moose's, Café Trieste, Capp's Corner, Caffe Sport, to Molinari's Delicatessen, Liguria Bakery, Victoria Pastry Company, North Beach Restaurant and the Stinking Rose, you can find exquisite Italian cakes, delicious prosciutto and pasta, and a cup of strong Italian coffee. Joe Di'Maggio is from this world-famous region, and Joseph Allioto, the former mayor of San Francisco.
In the early 1950s, the post-war anxiety of young people was replaced by a mixture of innovation, experimental impulse, and vitality, which gave birth to the collapsed generation. Jack Kerouac, an iconic poet and writer of the Beat Generation, is the soul of the Beat Movement. Lawrence Ferlinghetti established the City Lights Bookstore in 1953 and became a study room for thinkers, poets and writers to define the times and create cutting-edge works. The smoky atmosphere of the bookstore and the explosive jazz music inspired them. The bookstore stays open until late in the mist. City Lights Bookstore only sells paperback books. It is a landmark building in San Francisco's cultural history. It was the birth of writers and poets such as Allen Ginsberg, Neal Cassady, Ruth Weiss and William S. Burroughs.
From past to present, there are many San Francisco cultural buildings in North Beach, including the Purple Onion-San Francisco's famous comedy club, Enrico Banducci's Hungry I and Vesuvio's café-famous fast-fall bars, and Enrico's Sidewalk Café, and Washington Square Bar.