Lombard Street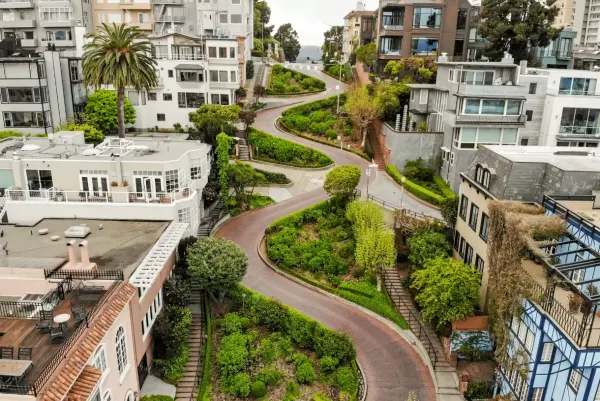 Lombard Street is, in many ways, "just a street". But Lombard Street is also more than just a street. It is a tourist attraction, a place where events are held and a street that has its own well-known nickname as "the crookedest street in the world". It has been pictured as the image on innumerable postcards that are sent from San Francisco, easily recognizable to even those people who can't recall its name. And Lombard St. San Francisco is also the home to a couple of lesser known tourist attractions that often get passed by tourists trekking their way up the steep hills to capture their trip in photographs.
Lombard Street is actually a long street that has many different areas to it, both residential and commercial. However, it is the small stretch of curvy brick-paved road that starts at Hyde Street which is the famous stretch of Lombard Street. For just a couple of blocks in this area, Lombard Street is a one-way road (from west to east) on which there is almost always a crowd of cars traveling down the "crookedest street in the world". From the top, you see sweeping views of the bay, but you go to Lombard Street less for the views than just to say that you have been there. It is a destination itself.
Those who don't drive down the street usually walk up to it. Most foot traffic starts around Columbus Avenue where tourists come from either Fisherman's Wharf to the north or North Beach / Chinatown to the south. These travelers then turn west on Lombard Street and start the steep climb up the hill that will take them to Hyde Street, at the base of the crooked part of San Francisco's Lombard Street. Those who do walk up this way will pass by a couple of tourist attractions although many don't know it. On the south side of Lombard Street, they will pass the Real World House San Francisco. On the north side, they will pass the reportedly haunted former home of author Pat Montandon. These homes are just plain old residences now but they make up part of the street's history.
Those who make this trek up Lombard Street are often out of breath but they stand in front of the famous street and smile for their pictures anyway. Some continue on up for a couple of blocks to get to the top of Lombard Street. They take the staircases which line either side of the brick road on the curvy part of the street. From the top, there is a wide view of the city. Some people come directly to this top part of Lombard via the Hyde St. cable car. Riding the San Francisco trolley is a tourist adventure in and of itself and tourists often kill the proverbial two birds with one stone by taking the cable car to Lombard Street.
But it isn't just travelers who frequent Lombard Street. Although it is primarily known as a tourist destination, locals make it over there as well. Many people run or walk the streets and steps here as part of their regular exercise routine. A popular long running route is from Lombard Street to Coit Tower or vice versa – both ways taking you up steep hills. Even those who don't exercise may end up on Lombard Street for an event. Every Easter, there are big wheel races down Lombard Street. Grown adults get into costumes and get on children's big wheel bikes and ride them down the street, allowing participants and viewers alike to partake of a little childlike fun on the famous street.
Lombard St. is "just a street" in the sense that you can drive it to get to a destination in the city. On the west side of the hill is the hotel area as well as a number of restaurants and bars and other city destinations. It is also the street that many people take west to get to the Palace of Fine Arts, the Exploratorium and the Golden Gate Bridge. In that sense, it's a functional street. But Lombard Street is also a destination itself, a tourist attraction enjoyed by many for the interesting, quirky place that it is.