Golden Gate Bridge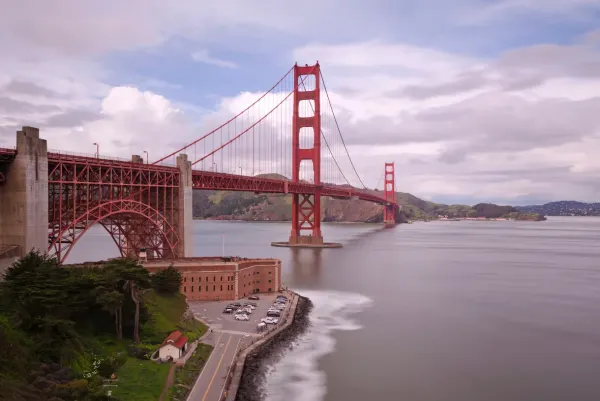 The Golden Gate Bridge links San Francisco with Marin County. The 1.7 mile-long suspension bridge was completed on Thursday, May 27, 1937 when Franklin D. Roosevelt was the President. San Franciscans joined other thousands in walking across the newly opened Golden Gate Bridge, all together a huge throng of approximately 200,000 people. On the next day, the cutting of a ceremonial barrier took place, after which an official cavalcade of automobiles traversed the span. The Golden Gate Bridge can be crossed by car, by bicycle or by foot. It took more than four years to complete it and it cost $35 million dollars. The Golden Gate Bridge is 1.7 mi (2.7 km) long, with two suspension towers of 746 feet (224m) tall which support the Golden Gate Bridge's suspension cables; These two cables are 36 1/2 inches (92,4 cm) in diameter, and with these dimensions they are the largest bridge cables ever made. Each cable is 7,659 feet long and contains 27,572 parallel wires, enough to encircle the world more than three times at the equator. The Golden Gate Bridge crosses the Golden Gate Strait which is about 400 feet deep.
The Golden Gate Bridge has always been painted orange vermilion, deemed "International Orange". This color was selected because it blends well with the span's natural setting. It is named the Golden Gate because it is the entrance to the San Francisco Bay from the Pacific Ocean (check out one of our Bay Cruises or Alcatraz Packages for amazing views of the Golden Gate Bridge and the city skyline).
Painting the Golden Gate Bridge is an ongoing task and the primary maintenance job. The Bridge paint protects it from the high salt content in the air, which rusts and corrodes the steel components. Many misconceptions exist about how often the Bridge is painted. Some say once every seven years, others say from end to end each year. Actually, the Bridge was painted when it was originally built with a red lead primer and a lead-based top coat. For the next 27 years, only touch up was required. By 1965, advancing corrosion sparked a program to remove the original paint and replace it with an inorganic zinc silicate primer and acrylic emulsion topcoat. The program was completed in 1995 and since then paint touch-up work is continuously being performed on corroded areas.
On the south end you will find "Fort Point," a National Historic Monument built out of brick in 1853-1861 at the beginning of the Civil War. Its lighthouse was the second built in California. The first was on Alcatraz Island. The Fort was used as a base of operations for building the Golden Gate Bridge. The bridge remains the symbol of the city despite competition from modern constructions. To visit the Golden Gate Bridge, go on one of our Wine Country, Muir Woods, or San Francisco tours.