Fisherman's Wharf San Francisco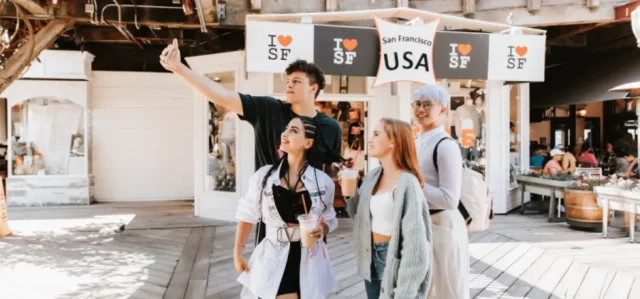 Fisherman's Wharf San Francisco is one of the biggest tourist attractions in the Bay Area. People come to the Wharf to see the famous street performers who have long graced the area with their interesting shows. They come to Fisherman's Wharf to enjoy the many restaurants, cafés and sidewalk food vendors that line the area. Travelers from around the globe known that Fisherman's Wharf San Francisco is the place to get a good sourdough bread bowl filled with clam chowder, the place to pick up tourist souvenirs and the place to see many other San Francisco attractions. From the Wharf, you can see the Golden Gate Bridge, Alcatraz Island and the North Bay. This area was once a historic working part of the area where many San Franciscans made their living off of boats that docked at the harbor here. Today, the boats are tourist boats but you can still see many active working boats in the Bay.
Hotels at Fisherman's Wharf in San Francisco
Many travelers who visit the Bay Area opt to stay at a hotel at Fisherman's Wharf in San Francisco. Fisherman's Wharf hotels have terrific amenities, are close to a number of attractions and are filled with delicious restaurants and rooms with sweeping Bay views. Some hotels which are popular with tourists include the Hyatt at Fisherman's Wharf, Sheraton Fisherman's Wharf, and Radisson Hotel Fisherman's Wharf. People who have a little bit more money to spend on a Fisherman's Wharf hotel may stay at the Hilton Fisherman's Wharf whereas those who are trying to budget their money might stay at a place like the Holiday Inn Fisherman's Wharf. Wherever travelers stay, they are bound to find that a room at a hotel puts them close to many of the attractions that they wish to see while spending time in San Francisco.
Attractions at Fisherman's Wharf in San Francisco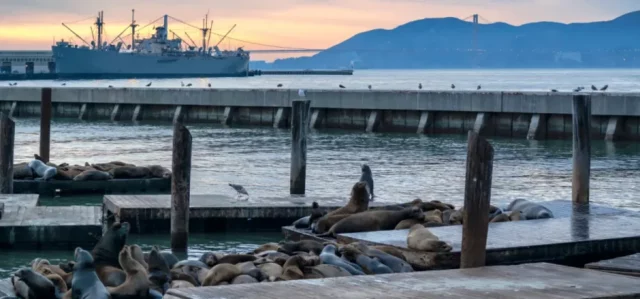 Fisherman's Wharf itself is a San Francisco attraction. It is the place that tourists go to pick up the San Francisco souvenirs that they'll take back home to their loved ones. It is also where travelers go to see some of the tourist attractions that they might see in other major cities such as the Wax Museum. The actual sign for Fisherman's Wharf is located at Pier 41 where visitors can also see such interesting sights as the historic arcade museum known as Musee Mecanique.
However, the area also includes other piers and attractions neighboring Pier 41. Pier 39 is a well-known location where tourists go to eat, shop, and see street performers. Street performers can be seen all throughout the Fisherman's Wharf area, performing their talents on the sidewalk. Shows include magicians, break dancers, mimes, robotic humans and the infamous Bush Man who hides behind leafy branches and startles tourists as they walk by. On any given day, the Wharf is filled with these performers as well as with caricature artists and musicians. At Pier 39, travelers gather together to see the sea lions which dock there, barking out at them and making everyone laugh.
Restaurants at Fisherman's Wharf in San Francisco
People go to Fisherman's Wharf to see the attractions and to stay in the hotels, but the thing they do most often there is eat. The area is filled with a number of different restaurants. You can grab a bite at a small café associated with a Fisherman's Wharf bed-and-breakfast or get a full romantic dinner overlooking the Bay at one of the restaurants. There are restaurants which are historic to the area. For example, Boudin's is a restaurant featuring the area's first sourdough bread bowls; you can take a tour of their bread making factory and museum while you wait for a table. Other restaurants are new and modern. Still others are chain restaurants (both fast food and sit-down) that can make travelers feel at home while visiting the Fisherman's Wharf area.
Fisherman's Wharf is an Excellent Location
Fisherman's Wharf is an excellent location because of its proximity to so many other San Francisco attractions. Those who stay in a Fisherman's Wharf hotel are located right near Ghirardelli Square, Hyde St. Pier and The Embarcadero. From here, it is an easy bike ride to the Golden Gate Bridge, the Palace of Fine Arts and the Exploratorium. The Historic F Line Trolley runs to the Wharf and the area is also close to the historic cable cars that still make for excellent transportation to major areas in the city. From Fisherman's Wharf in San Francisco, you can easily get to Coit Tower, the Financial District, Chinatown, and North Beach. The ease with which travelers can pick up souvenirs, get transportation and see the sights all add to the comfort of staying in a Fisherman's Wharf hotel. But it is the beauty and fun of Fisherman's Wharf itself that makes it such a terrific pick for accommodations.