Wonder of the Redwood Forest
What is it like to walk in a towering redwood forest? The feeling is hard to describe. After spending time among these giant redwoods, our guests have called them "majestic," "tranquil," "magical," or just "awesome." For sure, the redwood trees in California have been growing for millennia waiting for your visit!
Northern California's redwood trees inspired naturalist John Muir and photographer Ansel Adams. Later, U.S. President Theodore Roosevelt described a night camping beneath Yosemite redwood trees as "like lying in a great solemn cathedral, far vaster and more beautiful than any built by the hand of man."
Of course, we're talking about the Sequoioideae, the family that includes California's coast redwood trees and their cousins, the Giant Sequoias.
Redwoods Along the West Coast
Coastal Redwood trees (Sequoia Sempervirens) really are something special. They are one of only three remaining species of Redwoods, and can only be found in a small strip of land from Santa Cruz, California up into southern Oregon. These giants can grow up to 375' tall, making them the tallest living organism on the planet, and they can live for over 2000 years!
Coast redwoods (as their name suggests) are found in a narrow 50-mile band along the California, Oregon, and Washington coasts. The other redwoods, called Giant Sequoias, grow naturally along the western slope of the Sierra Nevada mountains, between 5,000 and 7,000 feet above sea level.
Here are the redwood groves close to San Francisco that are accepting public visitors. They can be reached in your own or a rented vehicle in as little as 1 hour and up to 5 hours from the San Francisco Bay Area. All are reasonal day trips except for the Humboldt and Kings Canyon groves where it would be better to plan an overnight stay near the trees. If you are not up to a long drive there are guided tour alternatives available. See Extranomical Tours.
Have we got you tree-curious? In this post, we will try to answer your questions about California's redwood forests and the best places to visit giant redwoods in Northern California. We will cover:
Why are the Giant Redwoods in California so large?
If you visit Northern California and poke around its wild redwood forests, you'll find giants nearing 400 feet and boasting ages of more than 3000 years. Before the last ice age, these trees could be found throughout Eurasia, North America, and as far away as New Zealand. Now, these tall redwood trees are far more rare…but no less amazing.
Though northern California is damp, water tables can still lie quite deep. Trees all over the world often have deep taproots—vertical-plunging below-ground "branches" that seek rivers of water underneath the earth. Coast redwoods have a different approach.
From their massive conifer biomass, they ingeniously suck massive amounts of water from the air. It's hard to imagine, but redwood trees can suck up to 150 gallons of water a day from coastal fog. Though osmosis from the air may be a strange way to absorb something, biologists know of only 8 other plants who can do it, they've got a name for this activity: "foliar uptake." With fog like San Francisco's, redwoods aren't the only plants that get their water this way. Sword ferns, huckleberries, and the broadleaf Tanbark Oaks local to this area, do it, too.
The Redwood's Roots
One of the most shocking features of these giants' anatomy is that a redwood tree's roots go just 6 feet deep (before fanning out over 100 feet). These behemoths gather in groves, their roots intertwining to support their height and girth in the face of sometimes gale force winds coming off the Pacific Ocean.
Maybe the most important reason for their enormous size is that they live to be a ripe old age. Their bark—evolved to be up to 12 inches thick—allows the trees to generally survive forest fires. More natural defense is provided by the tannins in the bark which do a good job at fending off insects.
How old are the trees in California's redwood forests?
Both Coastal Redwoods and Giant Sequoias are among the oldest living things around but the Sequoias are the oldest. Naturalists estimate that the "Grizzly Giant" tree in Yosemite was a sprout when Julius Caesar was crossing the Rubicon over 2000 year ago!
How do they determine the age of a giant redwood tree? Botanists study a thin layer of growing cells known as the "cambium" which covers the tree like a thimble, creating annual "rings." The width of rings varies with thick ones forming in favorable seasons and thin rings during years of drought or cold.
Since it is not possible to make accurate counts of the rings in living redwood trees, the age of most living redwoods cannot be precisely determined but must be estimated by making comparisons with trees that have been cut down and their rings counted.
For example, a wedge-shaped section of a comparatively small 15-foot-diameter Giant Sequoia on display in the Mariposa Grove Museum shows an actual ring count of 1,830 years. Since many sequoias can reach 30 feet in diameter, it is a near certainty that some of these trees are more than 3,000 years old.
It is difficult to say precisely which is the oldest redwood tree since ages are estimates and we may not yet have "discovered" an old-growth tree in a remote area. That said, here is the "unofficial record" of the five oldest living trees in the world.
—all Giant Sequoias in the Sierra Nevada mountain range:
Grizzly Giant: 2,200 years old
General Sherman: 2,400 years old
Mother of the Forest: 2,500 years old
Washington: 2,850 years old
President: 3,200 years old!!!
Many scientists agree that a Giant Sequoia could, theoretically, go on living and growing forever. Death comes to them only by means of fire or through some external physical event such as being undermined by erosion or overthrow by the wind. An optimistic thought!
How fast do California giant redwoods grow?
When visiting Northern California, you may see shops selling small redwood sprouts. Will it take a lifetime (or more) to grow them? Don't be discouraged, Coastal Redwoods are one of the fastest-growing conifers in the world when given the right conditions. Expect 4-8 feet of upward growth for well cared for trees. Giant Sequoias grow tall rapidly when the sun is blocked by other trees. Once they reach full sun, they grow much slower as they begin to form a thick trunk and rapidly put on weight.
Given optimal conditions, the thickness of all redwoods can increase 2 inches per year. In 100 years, that would put a well-managed tree in competition with the largest wild trees (the General Grant redwood tree is 41 feet in diameter). In the wild, sequoias compete with one another and other species for nutrients, water, sun, and space—all dramatically increasing the time needed to reach maturity.
Interestingly, Coastal Redwoods and Giant Sequoias produce more wood, on average, in old age than when they were younger. This is because a redwood tree's leafy foliage expands over its long lifespan. The leaves produce more sugars through photosynthesis which adds wood and bark to the tree's girth.
At the other end of the age range, baby redwoods often sprout at their parents' base, latching onto their roots for nutrients. For this reason, they often grow in circular clusters sometimes called fairy rings. Within the first two years of growth, the root system begins to branch out laterally just beneath the soil surface. Eventually the roots of the larger trees reach out to more than hundred feet.
How tall are the redwood trees in California?
These incredible trees are the largest living things on Earth. The tallest Coast Redwoods, if relocated, would cast some nice shade on top of the U.S Capitol dome!
In Northern California, you'll find the world's tallest trees, some brushing the clouds over 350 feet above the ground. There are other large trees in the world. Certain varieties of Eucalyptus in Tasmania, Yellow Meranti in Borneo, and the Douglas Fir of Oregon surpass 300 feet, but the Sierra Nevada mountain and California coast redwood forests remain the leaders in this heavyweight bout.
Among the redwoods, a coast redwood tree named Hyperion dwarfs them all. The tree was not discovered until 2006 and is 380 feet tall. Other giants include Helios (375 feet), which is just a shade smaller than Hyperion, Icarus (371 feet) and Daedalus (363 feet). To protect these champion redwoods from vandals, their exact locations are kept secret.
While not as tall, Giant Sequoias win the prize for "largest" trees. Giant Sequoias can grow to be more than 30 feet in diameter and over 200 feet tall. The biggest of these monsters is General Sherman, in Sequoia National Park. This giant stands 275 feet tall, has a 102-foot circumference, and weighs an incredible 2.7 million pounds.
Where are drive-through redwood trees?
In 1881, in the Mariposa grove of Giant Sequoias near what is today Yosemite National Park, a tunnel was carved through the Wawona "Tunnel" tree. The Scribner brothers were paid $75 for the job! The tunnel was big enough for people to drive their carriages — and later their cars — right through. The 2,100-year-old tree fell in 1969 during a heavy snowstorm and is now known as the Fallen Tunnel Tree.
The Pioneer Cabin Tree, near Arnold, California
The Pioneer Cabin Tree located in Calaveras Big Trees State Park got its name from its distinctively hollow trunk formed by lightning strikes and a forest fire. It had small compartments reminiscent of a log cabin, a chimney, and a small backdoor opening. Local flooding, combined with the shallow root system of Giant Sequoia caused it to fall on January 8, 2017.
The Chandelier Tree in Leggett, California
The Chandelier Tree, a 276-foot tall coast redwood tree in Leggett, California, had a 6X6 foot hole carved through its base in the early 1930s. Its name comes from its unique limbs that resemble a chandelier and measure from 4 to 7 ft in diameter.
Dead Giant Tunnel Tree in Yosemite
The Dead Giant tunnel tree in Tuolumne Grove in Yosemite National Park was actually the first standing sequoia to be tunneled. An hour-long loop path passes through the base of the former tree (now a burnt stump) and continues past a peaceful stand of other Giant Sequoias. You can visit this location on Extranomical Tours' Giant Sequoias and Yosemite National Park 1-day tour or by booking a Yosemite private tour.
Tunnel Log in Sequoia National Park
Tunnel Log at Sequoia National Park in Giant Forest along the Crescent Meadow Road in California is a fallen tree with an arched section cut out for the road. The opening is 17 feet wide and 8 feet high, with a bypass for taller vehicles. In this same area, you can find Tharp's Log, a fallen tree that a 19th-century cattleman turned into his home.
What are the best places to see redwoods in Northern California?
Depending on your preference and willingness to drive, you can find groves of Giant Sequoias with trunks measuring up to 30 feet (approximately 10 meters) in diameter in the Sierra Nevada Mountains. If you prefer to stay closer to the City by the Bay, you can find Coastal redwoods taller than you can even begin to see from the ground.
The 77 groves of redwoods that populate Northern California thrive on the local climate, mild temperature, moist air, and heavy precipitation. No matter which spot you visit, you will see mist among the treetops, feel leaves and twigs crunching beneath your feet and smell woodsy fresh air.
Redwood Forest Close to San Francisco
If you're looking for a redwood forest near San Francisco, you don't have to travel far. We have selected and profiled below our favorite public spaces to see Coast Redwoods or Giant Sequoias on a day trip when visiting Northern California. Here is the list arranged by their distance from San Francisco.
San Francisco's roughly 700,000 residents host about 7,000,000 tourists every year (global pandemics notwithstanding, of course), so it's likely that the departure point for your tree-viewing sojourn will be the metropolis of the Golden State Warriors and the Golden Gate Bridge. Shameless promotion: you can visit any of these on a private tour arranged by Extranomical Tours.
Places to See Redwoods & Distances from San Francisco
Okay, ready to go see some redwoods? The following profiles should help to plan your visit to a redwood forest in Northern California!
Why go? A rare Coastal Redwood forest just minutes from San Francisco.
This other-worldly park containing a coast redwood forest is flourishing just outside the bustling urban center of Oakland, California. This park is a local favorite for hiking, cycling, and horseback riding.
The 1,830-acre park features nearly 40 miles of trails that traverse a varied landscape of second-growth redwoods, evergreens, and grasslands teeming with wildlife such as deer and golden eagles. A favorite is the Stream Trail, which skirts Redwood Creek through lush redwood groves dotted with alien-like funghi.
Know before you go. Load up on food that you can spread out in one of the park's scenic picnic areas.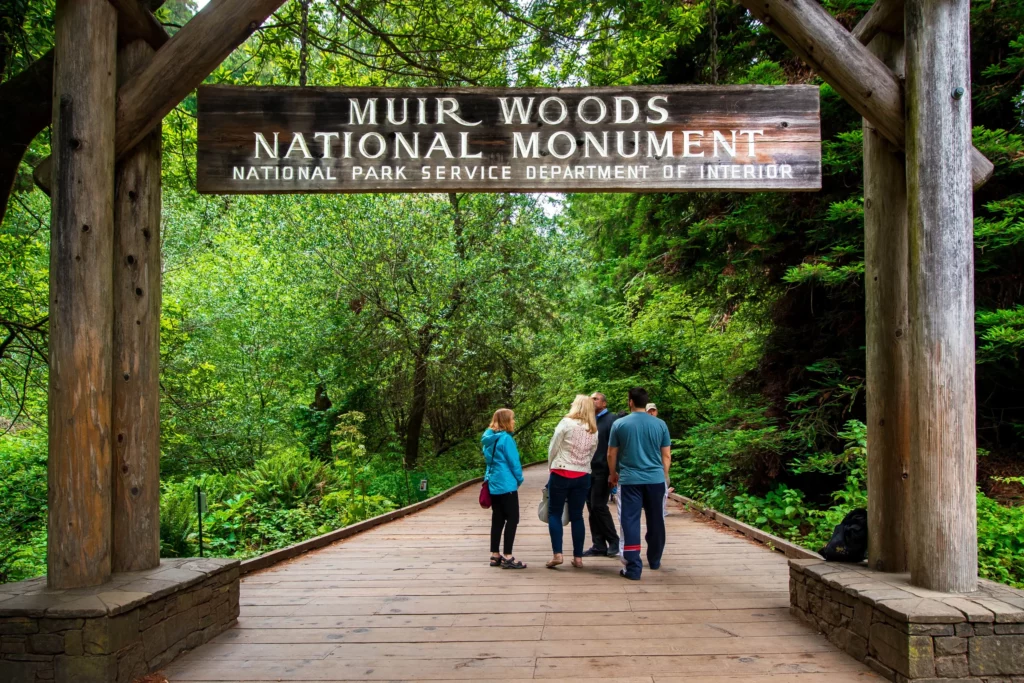 Why go? U.S. President Franklin Delano Roosevelt was memorialized among these giant old-growth Coastal Redwoods.
The story of the Muir Woods National Monument goes back to William Kent, a leading conservationist, who in 1905, bought 612-acres of old-growth redwood forest in Marin County and made the space available to visitors. It quickly became one of San Francisco's most popular attractions.
Thankfully, President Teddy Roosevelt shared his concern for our nation's wildlands and agreed to have the federal government step in to protect the land. In gratitude, to their longtime friend and fellow conservationist John Muir, Roosevelt and Kent agreed that the park would be named in his honor.
Know before you go. If you are going in your personal vehicle, you will need to acquire a parking reservation (https://gomuirwoods.com or call +1 800/410.2419). Food and beverages are available for purchase at the café but the rangers strictly prohibit picnicking within the park's boundaries. There is no cell or Wi-Fi service in the park. Download your parking reservation or shuttle ticket in advance.
Traffic congestion and parking at Muir Woods National Monument can be a challenge on busy summer days. Consider taking public transportation or a bus tour (check our Muir Woods and Sausalito Tour). A bus takes the place of dozens of cars. The park service—and the trees—will thank you!
Why go? Lots of amenities for campers and R.V.s like group campsites, cabins, hiking and biking trails, picnic tables, public showers, fire pits, and dump stations.
Samuel P. Taylor was a wealthy entrepreneur who in the mid-19th century built a trackside resort property that he thought would appeal to travelers on the local Sausalito-to-San Francisco railroad who were weary of "big city life". The property passed into California state hands in the 1940s.
The 2,882 acre park is located in densely wooded countryside along steep rolling hills. There's beautiful coast redwood groves and open grassland to explore. There's also a wide variety of flowers, oak, laurel and Douglas Fir.
Know before you go. "The Inkwells" are a series of pools along Lagunitas Creek that are good for swimming on hot days. Don't dive or jump in—they're not deep enough. From the park, take the Cross-Marin Trail east along the creek to the Inkwells Bridge. From there, it is a short scramble to the swimming hole.
Why go? The Fremont Tree has a large hole at the bottom and the giant tree. Combine your visit with a trip to the sunny beaches of Santa Cruz nearby.
Henry Cowell State Park is a 40-acre grove of old-growth redwoods that was spared the extensive logging of the 19th and 20th century. The self-guided Redwood Grove Trail weaves through one of the last remaining old-growth redwood forests and passes alongside the notable Fremont Tree whose massive, hollowed out trunk invites group photos.
Know before you go. The park's diverse landscape, which includes the sandy terrain of an ancient seafloor, is laced with 30 miles of trails that lead to other highlights including an observation deck with sweeping views of Monterey Bay, and swimming holes along the mighty San Lorenzo River.
Why go? Big Basin's ancient redwood trees—like the Mother of the Forest considered to be the third oldest tree in the world—inspired California's first redwood conservation efforts.
Located in the Santa Cruz mountains, Big Basin Redwoods is California's oldest state park. It is home to the largest continuous stand of ancient Coastal Redwoods south of San Francisco. It's much less crowded than Muir Woods, and you can spend the night in the middle of the redwood forest in one of their tent cabins.
Know before you go. There are over 75 miles of moderate to strenuous hikes through the coastal redwood forest, one from the visitor's center to Sempervirens Falls and another 12.5-mile segment called the Skyline-to-Sea trail which ambles down to Waddell Beach.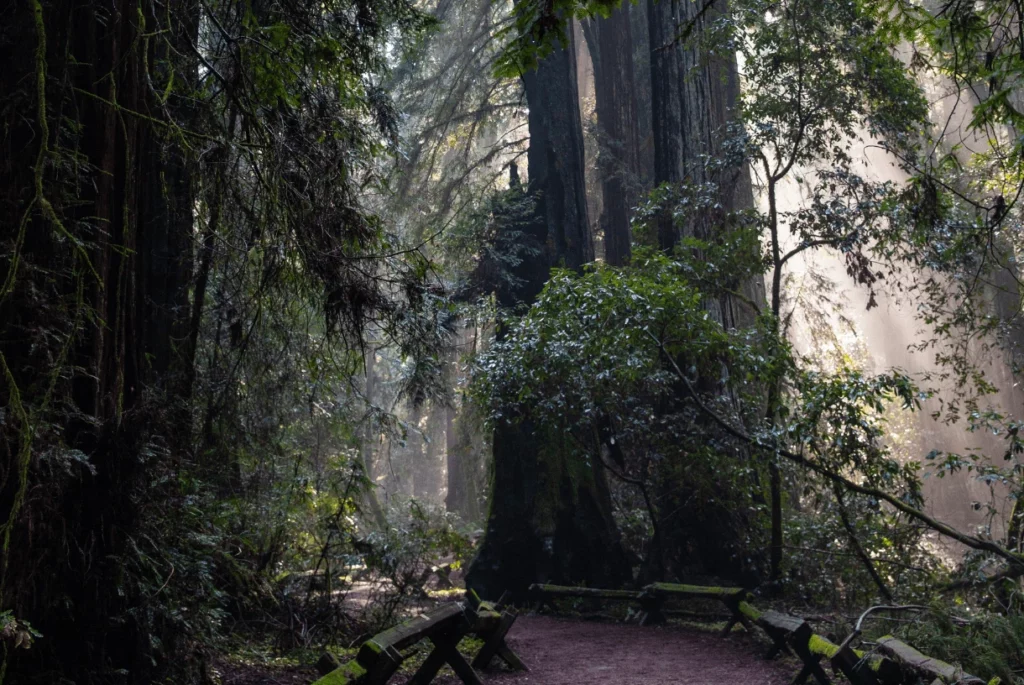 Why go? Jack Armstrong Park is conveniently located for an afternoon trip to visit Napa or Sonoma Valley.
Located in Sonoma County, the Armstrong redwood stand is not as impressive as some other locations but it is a great place to explore away from the crowds. Two miles of trails weave in and out of the forest and past three large trees. The Colonel Armstrong Tree is the largest and reaches beyond 250 feet tall.
Know before you go. Don't forget to visit the Redwood Theater when you are there as well.
Why go? What these redwoods lack in comparison to other Northern California redwood groves is made up for by stunning views of the Big Sur River, the lofty Santa Lucia Mountains, and the McWay Waterfall and Bixby Bridge on the Pacific Coast Highway.
The park's biggest trees, like the Colonial Tree, are growing on a short, self-guided nature trail near the historic lodge. Another wonderful day hike is on the Ewoldsen Trail, which offers views of redwood groves and the Pacific Ocean.
Know before you go. Big Sur park has 189 campsites that allow you to pitch a tent amidst the massive trees and alongside the river. Reserve them early!
Why go? A spectacularly beautiful place to experience the Giant Sequoias in spring with blooming dogwoods, in summer with trails open to the entire park, in fall with the dogwoods changing to their fall colors, and in winter with annual snowfall.
After their discovery by Augustus T. Dowd, demand to see the giant redwoods in this area was immediate. Tourists began arriving at the Calaveras North Grove by 1853. The park's North Grove is the longest continuously operating tourist attraction in California, and perhaps anywhere west of the Mississippi.
Calaveras Big Trees State Park is one of the easiest places to see towering trees and preserves two groves of Giant Sequoias. In addition to the giant trees, you will find the Stanislaus River, Beaver Creek, ancient volcanic formations, and natural meadows. There is also has a wonderful museum where you can learn about local wildlife and view two short videos that are educational and enjoyable for all ages
Know before you go. You can reserve a site at one of the two large campgrounds or tent sites in advance. Summer is the busiest time of year. Spring offers showy white dogwood blossoms.
Why go? An uncrowded and serene hike to a stand of old-growth Giant Sequoias and the Tunnel Tree (no longer living) located just outside the Big Flat Oak entry to Yosemite National Park.
Located on Tioga Road just east of Crane Flat, the Tuolumne Grove has about two dozen mature Giant Sequoias. The Sequoias are visible at the end of a one-mile hike with 500 feet of elevation loss (the one-mile hike back to the parking lot gains altitude and can be challenging for some).
Know before you go. After entering Yosemite park on Old Big Oak Flat Road, look for the "Entering the Tuolumne Grove of Giant Sequoias" sign. Water is not available so bring drinking water for everyone in your group who will be hiking this trail. Parking is limited.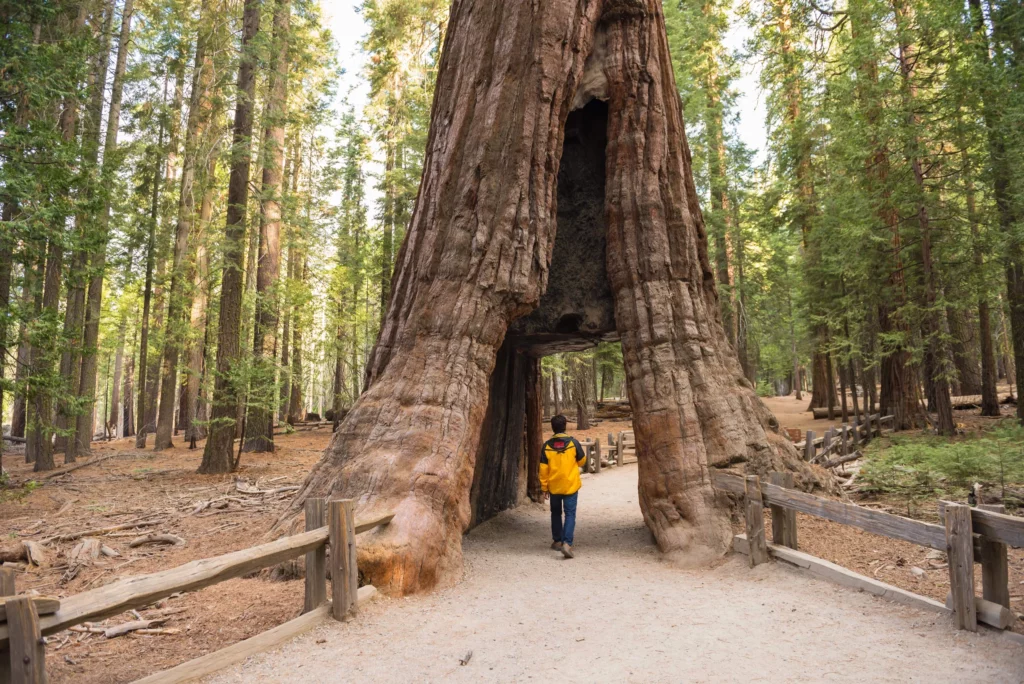 Why go? Location of the Grizzly Giant and California Tunnel Trees are only an hour from Yosemite Valley.
Located near the South Entrance of Yosemite, the Mariposa Grove is the largest redwood grove in Yosemite park and is home to over 500 mature Giant Sequoias. During much of the year a free shuttle is required for use between the Mariposa Grove Welcome Plaza and the Mariposa Grove.
There is a variety of easy to strenuous trails within the grove. Most visitors choose the 0.8-mile hike from the parking lot to the impressive 2000-year-old Grizzly Giant and a few that you can walk through like the California Tunnel Tree.
Know before you go. Restrooms are located at the Mariposa Grove Welcome Plaza and areas within the grove. Drinking water is available only at the welcome plaza and arrival area, so plan accordingly. Check local road conditions since Highway 140 may be closed from November through April due to snow.
Why go? Avenue of the Giants, a scenic highway that gives you a close-up experience with three giant Coastal Redwood trees without leaving your car (because you drive through them!).
A bit over 200 miles north of San Francisco is Humboldt Redwoods State Park, home to Rockefeller Forest, the world's largest remaining continuous old-growth forest of coastal redwoods. Situated along a former stretch of the original Highway 101, the 32-mile Avenue of the Giants winds through dark redwood forests.
In the early 1900s, loggers came to what is now Humboldt Redwoods State Park to cut down ancient redwoods to make shingles. The Save the Redwoods League thought that was akin to "chopping up a grandfather clock for kindling" and ultimately preserved 53,000 acres, an area almost twice the size of San Francisco, of old-growth redwood forest.
Assuming you get out of your car, Founder's Grove is a redwood fan favorite located at the end of the Avenue of the Giants. There are dozens of moss-covered giants all around the short trail and a collection of downed, hollow, and giant trees woven perfectly into a palate of other green and brown vegetation.
Other not-to-miss spectacles are the Dyerville Giant, a fallen, 362-foot redwood behemoth that you can inspect from head to two and the Travel Log, an RV-like vehicle carved from a redwood trunk and driven across the U.S. by conservationist, Charles Kellogg.
Know before you go. Pick up an auto tour guide at the Visitor Center which is crammed with fun, historical objects and tales.
Why go? The Generals (Grand and Sherman) are reason enough but there is also America's deepest canyon, deeper than the Grand Canyon.
This massive, million-acre-plus Sierra playground is two separate parks administered as one by the National Parks Service. Their redwoods are not only big, but they are old, too. Scientists estimate they are between 1,800 and 2,700 years old.
Connecting the adjacent parks, and two celebrated Giant Sequoia groves, is the Generals Highway. The new Majestic Mountain Loop is another way to experience the highlights of Sequoia and Kings Canyon National Parks, as well as Yosemite National Park.
General Sherman is the largest tree in the world and located in Sequoia park at the end of a relatively lone trail, but it is worth it to see the massive tree up close. About 20 minutes away in Grant Grove near Lodgepole Village, you will find the only-slightly-smaller General Grant Tree.
The famous drive-through Tunnel Log cut through a fallen tree is in Giant Forest on Crescent Meadow Road.
Know before you go. Overnight options range from luxurious at the Wuksachi Lodge to rustic at the Bearpaw High Sierra Camp overlooking the Great Western Divide. Other activities include exploring caves and snowshoeing.
Planning to See the Sequoias
Even if you're planning only a one or two-day visit to national parks near San Francisco, you can experience California's Coast Redwoods and Giant Sequoias. The easiest and more assured way is to book a Muir Woods or Yosemite tour with a local operating company (like Extranomical Tours!) so you can sit back and let a "local insider" guide take you there. Your group will arrive relaxed and more informed about the places you're visiting.
In case you want to go farther afield and visit one of the more than 50 other redwood-bedecked parks along our coasts and in the Sierra Nevada Mountains, here is the only complete catalogued list of California Coast Redwoods and Giant Sequoia public areas.
Complete List of California Coast Redwoods & Giant Sequoias
Admiral Standley State Recreation Area, Branscomb Rd, Branscomb, CA 95417
Andrew Molera State Park, 45500 CA-1, Big Sur, CA 93920 (State Park)
Armstrong Redwoods State Natural Reserve, 17000 Armstrong Woods Rd, Guerneville, CA 95446 (State Natural Reserve)
Austin Creek State Recreation, 17000 Armstrong Woods Rd, Guerneville, CA 95446
Benbow Lake State Recreation Area, 445 Lake Benbow Dr, Garberville, CA 95542
Big Basin Redwoods State Park, 21600 Big Basin Way, Boulder Creek, CA 95006
Bothe-Napa Valley State Park, 3801 St Helena Hwy, Calistoga, CA 94515
Butano State Park, 1500 Cloverdale Rd, Pescadero, CA 94060
Calaveras Big Trees State Park, 1170 CA-4, Arnold, CA 95223
Castle Rock State Park, 15451 CA-35, Los Gatos, CA 95033
Del Norte Coast Redwoods State Park, Crescent City, CA 95531
The Forest of Nisene Marks State Park, Aptos Creek Rd, Aptos, CA 95003 (State Park)
Fort Humboldt State Historic Park, 3431 Fort Ave, Eureka, CA 95503 (State Park)
Fort Ross State Historic Park, 19005 Coast Hwy, Jenner, CA 95450 (State Park)
Garrapata State Park, 34500 CA-1, Carmel-By-The-Sea, CA 93923 (State Park)
Grizzly Creek Redwoods State Park, 16949 CA-36, Carlotta, CA 95528 (State Park)
Hendy Woods State Park, 18599 Philo Greenwood Rd, Philo, CA 9546 (State Park)
Henry Cowell Redwoods State Park, 101 N Big Trees Park Rd, Felton, CA 95018 (State Park)
Humboldt Lagoons State Park, 15336 US-101, Trinidad, CA 95570 (State Park)
Humboldt Redwoods State Park, 17119 Avenue of the Giants, Weott, CA 95571 (State Park)
Jug Handle State Natural Reserve, CA-1, Fort Bragg, CA 95437 (State Natural Reserve)
Julia Pfeiffer Burns State Park, 52801 California State Route 1, Big Sur, CA 93920 (State Park)
Jedediah Smith Redwoods State Park, Yorkville, CA 95494 (State Park)
Jack London State Historic Park, 2400 London Ranch Rd, Glen Ellen, CA 9544 (State Park, California Historical Landmark, National Historic Landmark)
Kings Canyon (National Park)
Kruse Rhododendron State Natural Reserve, Cazadero, CA 95421 (State Natural Reserve)
Limekiln State Park, 63025 CA-1, Big Sur, CA 93920 (State Park)
Mailliard Redwoods State Natural Reserve, Yorkville, CA 95494 (State Natural Reserve)
Mendocino Headlands State Park, Mendocino, CA 95460 (State Park)
Mendocino Woodlands State Park, Little Lake Road, Mendocino (State Park)
Montgomery Woods State Reserve, 15825 Orr Springs Rd, Ukiah, CA 95482 (State Natural Reserve)
Mount Tamalpais State Park, 3801 Panoramic Hwy (State Park)
Muir Woods National Monument, 1 Muir Woods Rd, Mill Valley, CA 94941 (National Monument)
Navarro River Redwoods State Park, Elk, CA 95432 (State Park)
Patricks Point State Park, 4150 Patricks Point Dr, Trinidad, CA 95570 (State Park)
Pfeiffer Big Sur State Park, Pfeiffer Big Sur Rd, Big Sur, CA 93920 (State Park)
Prairie Creek Redwoods State Park, 127011 Newton B. Drury Scenic Pkwy, Orick, CA 95555 (State Park)
Portola Redwoods State Park, Redwood Gate, 7867 Redwood Rd, Oakland, CA 94619 (State Park)
Redwood Grove Nature Preserve, 482 University Ave, Los Altos, CA 94022 (City Park)
Redwood Park (1), 2415 Western Ave, Sacramento, CA 95815 (National Park)
Redwood Park (2), 3097 Redwood Ave, West Sacramento, CA 95691 (National Park)
Reinhardt Redwood Regional Park, 7867 Redwood Rd, Oakland, CA 94619 (Regional Park)
Richardson Grove State Park, 1600 US-101, Garberville, CA 95542 (State Park)
Roys Redwoods Preserve, Woodacre, CA 94973 (County Park)
Russian Gulch State Park, CA-1, Mendocino, CA 95460 (State Park)
Samuel P Taylor State Park, 8889 Sir Francis Drake Blvd, Lagunitas, CA 94938 (State Park)
Salt Point State Park, 25050 CA-1, Jenner, CA 95450 (State Park)
Sinkyone Wilderness State Park, Whitethorn, CA 95589 (State Park)
Smithe Redwoods State Natural Reserve, 73201 US-101, Piercy, CA 95587 (State Natural Reserve)
Sequoia National Park
Sonoma Coast State Park, 3095 CA-1, Bodega Bay, CA 94923 (State Park)
Standish-Hickey State Recreation Area, Leggett, CA 95585 (State Recreation Area)
Trione-Annadel State Park, 6201 Channel Dr, Santa Rosa, CA 95409 (State Park)
Van Damme State Park, 8001 CA-1, Little River, CA 95456 (State Park)
Transamerica Redwood Park, 600 Montgomery St, San Francisco, CA 94111 (Corporate Pocket Park)
Wilder Ranch State Park, 1401 Coast Rd, Santa Cruz, CA 95060 (State Park)
Published on: May 29th 2022