Muir Woods National Monument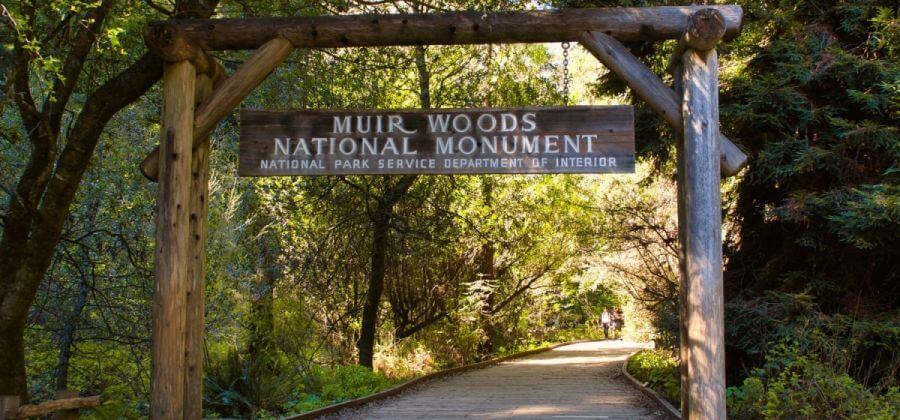 Just a 30-minute dash from San Francisco is the protector of one of the last remaining giant redwood forests in California–Muir Woods National Monument. With only 5% of these old growth redwood trees still standing, nature lovers from all over the world come to visit these coast redwood trees in Northern California, some more than 750 years old and with branches so high that they would cast shade on the U.S. Capitol dome.
A peaceful and awe-inspiring Muir Woods trail guides hikers to Cathedral Grove where U.S. President Franklin Delano Roosevelt was memorialized and historic Bohemian Grove. Heads up! You can no longer get into the park without planning ahead. On this page, we have summarized everything you need to know (and do) before heading to Muir Woods National Monument.
Let's get you on your way to the trees!
What There is to See in Muir Woods
Northern California redwood forests are home to the world's tallest trees. These San Francisco redwood skyscrapers would even stare down upon other giants like Douglas Fir (Oregon), Eucalyptus (Tasmania), and Yellow Meranti (Borneo). At maturity, the Sequoia Sempervirens can reach a height of 370 feet (113 meters).
Not all California redwoods are created equal. In scientific speak, the redwood trees in Muir Woods are members of the Sequoioideae family that includes coastal redwood trees and their cousins, the Giant Sequoias. While the anatomy of these two redwoods have a lot in common, like cinnamon-red bark, they are actually different species.
Giant redwoods are picky about where they live and can only thrive in a narrow slice of geography along the coasts of California, Oregon and Washington. With Muir Woods National Monument so near to San Francisco, it is one of the best places to visit old-growth California coastal redwoods.
Over eons, California redwoods have acquired superpowers enabling them to live long lives in places like Muir Woods. For example, their bark—up to 12 inches (30 centimeters) thick and full of rusty-red tannic acid—protects them from destructive insects, fungus and most forest fires. Also, growing taller than other trees allows these California redwoods to monopolize the sunlight.
Another special ability of coast redwood trees is using their massive green branches to suck water, up to 150 gallons a day, from coastal fog. Biologists say that only eight other plants in the Northern California region can do this "foliar uptake": broadleaf tanbark oaks, sword ferns, and huckleberries.
When coming across a downed redwood, most people are shocked to see that the roots of giant redwoods go just 6 feet (2 meters) deep. Redwood trees have evolved to withstand the violent storms from the Pacific Ocean by gathering in groups with their roots intertwined. The circular clusters of giant redwoods grown this way are generally referred to as "groves".
The more breathtaking groves in Muir Woods National Monument are:
Bohemian Grove has some of the tallest trees in the park, including a 258-foot monster coast sequoia. The grove was the original meeting place of the Bohemian Club, an organization of wealthy and powerful Americans. This area can be crowded so try to arrive early.
Cathedral Grove is one of the most enchanting places in the park. The tall and straight redwoods give the place a church-like vibe. Note the sign at the grove's entrance: "Cathedral Grove, enter quietly." It is a good place for some silent meditation.
Kent Memorial is located in the middle of a stand of very tall trees between Bridge 3 and 4. The memorial to benefactor William Kent is next to a huge fallen tree. Look for this peaceful place just 100 feet off the main trail, right where the Fern Trail starts.
While the giant redwoods are the star of the show in Muir Woods National Monument, the park is home to more than 380 different plant and animal species.
Redwood Creek, which runs through the middle of Muir Woods is an important spawning habitat for coho salmon and steelhead trout. The annual migration begins when winter rains breach the Muir Beach sandbar. If you have timed your Muir Woods hike right, you can watch the spawning from any of the four footbridges that cross the creek.
Muir Woods has relatively few bird species since the tannin in the trees repels insects and the canopy of shade limits the volume of flowers and fruits available to birds. The park, however, is home to the endangered Northern Spotted Owl.
Where light does penetrate beneath the redwood trees you can find other plants like red alders, Douglas fir, California maples, redwood sorrel, and a variety of ferns.
If you are lucky, you may also spot deer, chipmunks, skunks, river otters, and squirrels.
Hiking Trails
Within the boundaries of Muir Woods National Monument there are six miles of hiking trails, unlike any others in the world. If you are up for a more aggressive hike, there are also longer trails that cross the park in route to Mt. Tamalpais or Stinson Beach.
The Muir Woods hiking options in the park are pretty simple to follow and contained in a loop with several Redwood Creek crossovers and trail spurs into the less-traveled hillside areas. Below is a National Park Service map to help you plan your time in Muir Woods. Maps are also available at the entry gate to the park.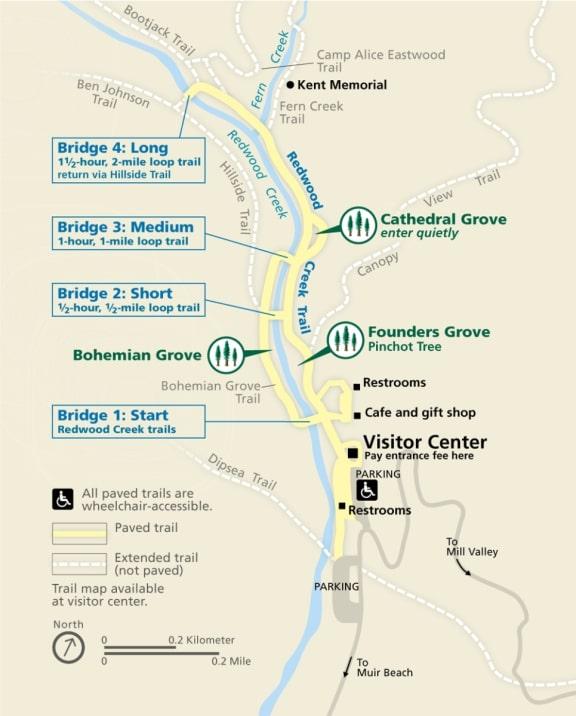 Basically, your hiking options without taking any of the spur trails, such as Fern Creek, are to follow the Redwood Creek Trail boardwalk from the Visitor Center and return via the Hillside and Bohemian Grove trails at Bridge 2 (1/2 hour loop), Bridge 3 (1 hour loop), or Bridge 4 (2 hour loop). The main Muir Woods trails are flat and easy walking.
More tips for hiking in Muir Woods:
During the winter season, inquire about trail conditions at the Visitor Center.
Detailed topographical maps of the area are available for purchase in the Visitor Center
Bring plenty of water, at least a liter for each hour of hiking.
Dress in layers with a waterproof top layer
Wear sunscreen and a brimmed hat to protect your skin
Please stay on the trails.
Bridge 2 Loop
Distance: 0.5 miles (0.8 km)
Duration: 30 minutes
Difficulty: Easy
From the Visitor Center, walk north on the Redwood Creek Trail up the east side of the creek. After Founders Grove, look for Bridge 2. Cross over and return to the start on the Bohemian Grove Trail on the west side of the creek. Enjoy views of old growth redwood forest. Stroller and wheelchair accessible.
Bridge 3 Loop
Distance: 1 mile (1.6 km)
Duration: 1 hour
Difficulty: Easy
Begin the hike at the Visitor Center. Walk up the Redwood Creek Trail boardwalk past Founders Grove and Bridge 2. When you reach Bridge 3, cross over the creek and reverse your direction on the Bohemian Grove trail. On your way back, enjoy some of the tallest trees in the park (including a 258-foot tall Coast Redwood in the Bohemian Grove) interspersed with younger redwoods.
Bridge 4 Loop
Distance: 2 miles (3.2 km)
Duration: 2 hours
Difficulty: Moderate
The longest loop trail in Muir Woods also begins at the Visitor Center and follows Redwood Creek a ½ mile (.8 km) past Cathedral Grove to Bridge 4 where some of the tallest redwood trees stand. On your way, you will pass the trailhead for the Fern Creek Trail. There are some large trees here and it is a short stroll to the Kent Memorial. The return section of the Muir Woods hike is on Hillside Trail, which passes through an upland environment and eventually returns you to the Bohemian Grove trail.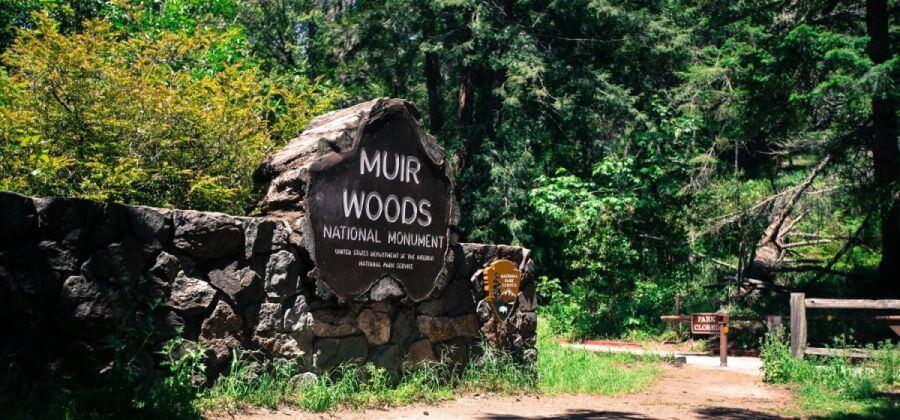 History
Thousands of years ago, giant redwoods covered much of Northern California. They have stood up to and endured hundreds if not thousands of storms, droughts, winters, and fires. Some of the redwood trees living today were around before the European settlers arrived on the eastern shores of America.
Before they were protected, logging companies harvested 90% of the millions of acres of Coast Redwoods to fuel the building boom that followed the California gold rush.
How was Muir Woods spared the ax? Concerned about the decline of these ancient redwood forests in 1905, California Congressman William Kent purchased 611 acres of redwood-forested land from the Tamalpais Land and Water Company for $45,000.
In the aftermath of the 1906 earthquake and fire, San Francisco desperately needed building material and the land where Muir Woods stands today was nearly condemned for logging. Kent wanted to save the last remaining old growth redwood forest in the area, so he donated it to the Federal government so that it would be protected under the Antiquities Act. President Franklin D. Roosevelt made it official in January of 1908 when he declared the land a national monument.
Why "Muir Woods"? Unselfishly, Congressman Kent requested that his redwood forest be named after the naturalist whose environmental campaigning led to the founding of the Sierra Club and the establishment of the National Park System in the United States–John Muir.
Today, the monument's 559 acres of old-growth redwoods are part of the Golden Gate National Recreation Area.
Muir Woods Parking Reservations
To protect the park for the future, the National Park Service has instituted a strict parking reservation system for vehicles and shuttle passengers arriving at Muir Woods. If you arrive at Muir Woods without a reservation, you will be turned away.
A parking reservation for regular vehicles (up to 17 feet) costs $9. Reservations for medium vehicles (over 17 feet and shorter than 22 feet) are $30. Reservations may not be purchased on site. Since there is no cell reception or public Wi-Fi at Muir Woods, reservations must be made prior to arrival.
Book your advance reservation to Muir Woods at GoMuirWoods.com or call 1-800-410-2419.
Guided tours to Muir Woods from San Francisco do not require an NPS reservation. Check out availability for one of our daily tours from San Francisco.
Know Before You Go
Parking and Entry
Be sure to print out a downloaded copy of your parking voucher. Staff from Ace Parking, which manages the Muir Woods parking reservation system, will be at the entry to confirm your reservation.
Muir Woods has an entry fee. To avoid lines at the entrance, buy your entry ticket online at GoMuirWoods.com. The fee is currently $15.00 for adults. Children under 15 are free.
Restrooms
There are restrooms and hand washing stations at the entry plaza and at the gift shop near the Visitor Center.
Food
Food and beverage may be purchase in the deli/gift shop next to the Visitor Center. Be aware that picnics in the park are prohibited.
Weather
The San Francisco Bay Area has temperate Mediterranean weather but winters feature frequent rainstorms and brilliant sunshine, sometimes on the same day. The rainy season is usually over by March. By July, the dry weather has turned the landscape to golden brown and coastal fog prevails most mornings. September and October skies are clear and sunshine is abundant. Most times of the year, temperatures range from 40-70F (5-21C) degrees.
When to Go
To experience the solitude and grandeur of Muir Woods National Monument, plan your trip to avoid holiday and peak summer weekends when crowds can ruin the vibe.
Insider tip: Arrive when the park opens. That way you pass the gate quickly and are among the first to experience the popular groves. If there are crowds, head quickly to the north end of the park near Bridge 4 where fewer visitors will be exploring.
Visitor Center
I know what you're thinking…but the gift shop has a nice collection of literature and many nice souvenirs made from redwoods. A redwood pen? Maybe a bowl? Necklace? You can even buy a tiny redwood tree seedling to plant in your backyard.
Cell Service
Heads up! There is no reliable cellular service in Muir Woods National Monument. Rideshare services are not an option for your return trip. Download or print your parking reservation or shuttle ticket in advance.
Additional Restrictions
Don't bring your pet. They are not permitted in Muir Woods National Monument.
Bicycles, smoking, and horseback riding are not permitted within the park.
Camping is prohibited in park boundaries. There are several options in areas nearby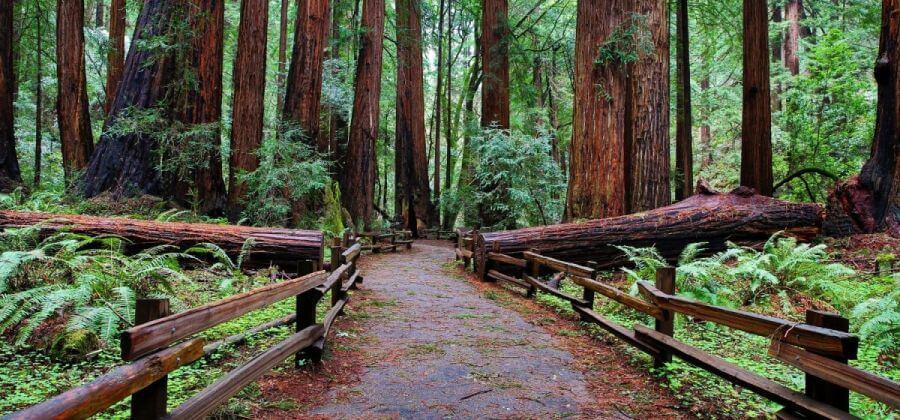 Getting There
Muir Woods is located on the north side of Golden Gate Bridge in southwestern Marin County, a 30- to 60-minute trip from San Francisco depending on traffic.
Personal Vehicle
From San Francisco, find Highway 101 and take it north to the Golden Gate Bridge. After crossing the bridge, Highway 101 passes through a tunnel. Take the Route 1 off-ramp to Mill Valley/Stinson Beach. Follow the signs under the freeway, then continue along as the road enters a residential area. At the traffic light, turn left and follow the signs to Muir Woods.
After passing through a residential area, turn right at a well-marked intersection for the Panoramic Highway. Make the hairpin turn and ascend to a chaparral-covered hillside. Turn left at the next intersection and follow the narrow, twisty road until you reach the entrance to the Muir Woods parking area.
On summer and holiday weekends the drive can take longer than you planned. Traffic congestion on the Golden Gate Bridge and Route 1 around Sausalito can slow to a crawl by noon.
Remember to make your parking reservation!
Public Transportation
The Muir Woods Shuttle brings visitors from two off-site locations to Muir Woods National Monument and back. Shuttle reservations are location-specific, and the tickets are round-trip. If you book a shuttle, you do not need a Muir Woods parking reservation.
Sausalito
Bay & Bridgeway, Sausalito, CA 94965
No Parking Available
A good option if you use the ferry to get to Sausalito
Larkspur Landing
Weekends and Holidays only
101 E Sir Francis Drake Blvd, Larkspur, CA 94939
Free parking available
Learn more about booking a reservation on the shuttle here.
Guided Tour
Your other option is to sit back and let a "local insider" guide pick you up in San Francisco and take you to Muir Woods. This way, you arrive relaxed and informed about this fabulous park. And remember, a bus takes the place of dozens of gas-guzzling cars. Check out availability here.
FAQs
Where is the redwood forest near San Francisco?
Muir Woods National Monument, protector of one of the last remaining coast redwood forests, is just a few miles north of San Francisco. The drive on Highway 101/Route 1 takes 30-60 minutes and requires an advance parking reservation. Public transportation is available on the Muir Woods shuttle from Sausalito and Larskpur.
How tall are the giant redwood trees?
California hosts two species of giant redwood trees, both members of the Sequoioideae family. The taller variety are commonly referred to as Coast Redwoods and thrive in a narrow band just inland from the Pacific Coast. At maturity, these trees (Sequoia Sempervirens) can reach a height of 370 feet (113 meters).
Are sequoias and redwoods the same?
Not all "redwoods" are sequoias but the two species of Sequoioideae (or sequoia) found in the Pacific Northwest are commonly referred to as "redwoods". The Giant Sequoias are found in California's Sierra Nevada mountains and Coast Redwoods are located in a narrow band closer to the Pacific Ocean.
Is Muir Woods a national park?
Muir Woods was established in 1908 by President Theodore Roosevelt as a national monument, not a national park. Today, the park is part of the Golden Gate National Recreation Area, a patchwork of lands in the San Francisco Bay Area which are part of the national park system.
What is there to do in Muir Woods?
The main attraction in Muir Woods are the Coast Redwoods, the tallest trees in the world. The park is enjoyed by visitors for its boardwalks and trails through the several hundred old-growth redwoods. The park also hosts 380 other species of plants and animals, some endangered, like the northern spotted owl.
How far is the Muir Woods redwood forest from San Francisco?
The distance from Union Square in San Francisco to Muir Woods National Monument is not far, just 16 miles (28 km). To drive yourself takes 30 to 60 minutes depending on traffic. Public transportation is available from Sausalito which can be reached by one of San Francisco's waterfront ferries.
How much time should you spend in Muir Woods?
Most visitors spend 2-3 hours enjoying the park. The longest loop trail to Bridge 4 and back is approximately 2 miles (2 km) on flat, well-maintained pathways.
How do you get a parking permit to visit Muir Woods?
Book your advance reservation to Muir Woods at GoMuirWoods.com or call 1-800-410-2419. Parking reservations are not sold at the park and must be purchased prior to arrival.
Do you need a reservation to visit Muir Woods?
All personal vehicles arriving at Muir Woods require that a reservation be made prior to arrival. If you arrive at Muir Woods without a reservation, you will be turned away.
How to dress for Muir Woods?
The San Francisco Bay Area has a temperate Mediterranean climate but winters can bring chilly rainstorms followed by brilliant sunshine. Temperatures range from 40-70F (5-21C) degrees during the year. It is best to dress in layers, including a top waterproof layer in case rain.
Can you camp in Muir Woods?
Camping is not allowed within the park boundaries. There are camping options in the Marin County area, however.