Bohemian Club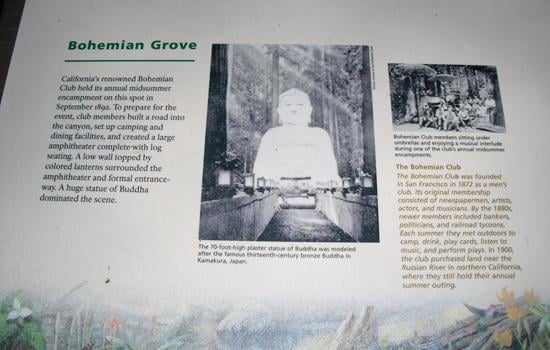 The Bohemian Club is a private men's club founded in 1872 by journalists who wished to promote a fraternal connection between young men who enjoyed the arts. As the club's prestige and popularity increased the membership criteria changed to include artists and musicians and finally businessmen and entrepreneurs. The club also offers temporary membership to university professors and military commanders. Today the Bohemian Club has a very diverse membership including former United States Presidents, global leaders and corporate CEOs.
The Bohemian clubhouse is located at 624 Taylor Street in San Francisco, CA and the club also owns a 2,700 acre property in Monte Rio, CA called the Bohemian Grove. The Bohemian Grove lies adjacent to the Russian River and is a very private venue as is the clubhouse in San Francisco. Although the club was founded by free spirited, young journalists the current club members are part of America's elite society.
Here are some interesting facts about the Bohemian Club:
The Bohemian Club is a private men's club based in San Francisco, California. It was founded in 1872 by a group of journalists and artists who wanted to create a space for intellectual and artistic exchange.
The club's membership is limited to around 2,500 people, who are primarily wealthy and influential men from politics, business, and entertainment.
The club is best known for its annual two-week summer retreat at the Bohemian Grove in Monte Rio, California, where members gather to relax, network, and participate in a range of cultural and artistic activities.
The club's most famous event is the "Cremation of Care" ceremony, which takes place during the Bohemian Grove retreat. The ceremony is a theatrical production that is said to represent the members' desire to leave behind their worldly cares and enjoy a sense of camaraderie and brotherhood.
The club has been the subject of controversy and conspiracy theories, with some claiming that it is a secret society with links to the Illuminati and other shadowy organizations.
Several U.S. Presidents have been members of the Bohemian Club, including Herbert Hoover, Richard Nixon, Ronald Reagan, and George H.W. Bush.
The club has a strong tradition of supporting the arts, and has commissioned works by some of the most important artists of the 20th century, including Mark Rothko, Diego Rivera, and John Sloan.
The Bohemian Club has a number of smaller "camps" that specialize in different areas of interest, such as music, theater, and literature.
The club has been the subject of several books and documentaries, including the 2000 film "Dark Secrets: Inside Bohemian Grove.
The Bohemian Club is known for its strict no-camera policy, which prohibits members from taking photographs or recording any aspect of the club's activities.