Golden Gate Park is the emerald gem of San Francisco — A 1,017 acre oasis of gardens, meadows, and world-class museums nestled between the City and the Pacific Ocean. But how do you decide what to do in a park 20% bigger than Central Park? We are here to help! Buckle up for the ultimate guide to things to do in Golden Gate Park.
This article will include the following sections about Golden Gate Park to help you plan your visit:
The Top 8 Attractions in Golden Gate Park
California Academy of Sciences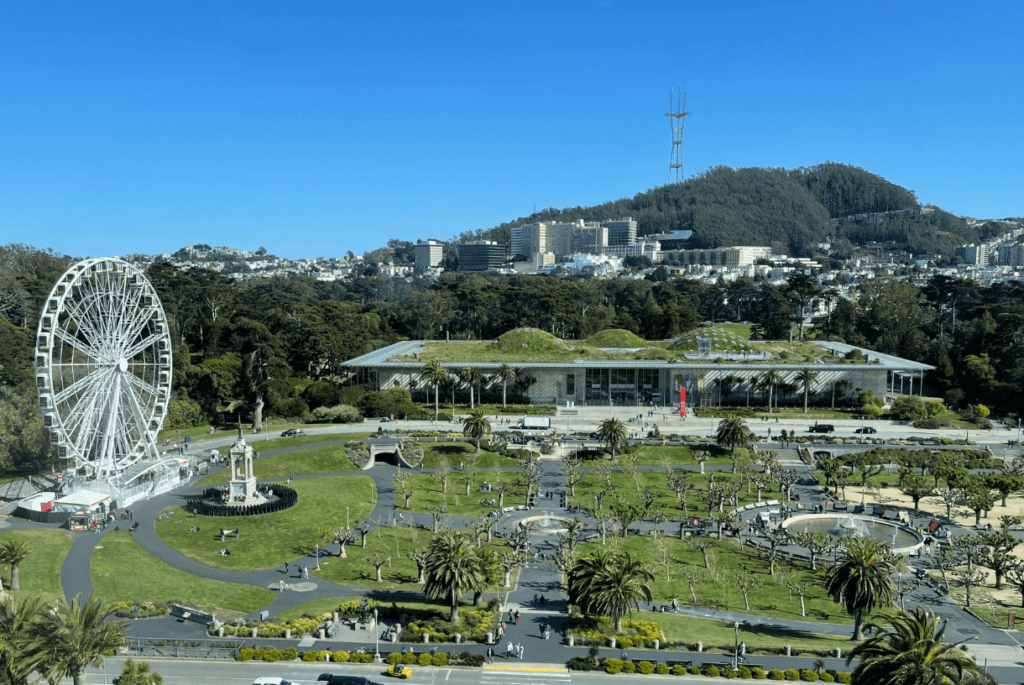 We could seriously write an entire blog on this place! The California Academy of Sciences is a not-to-miss attraction in Golden Gate Park, and San Francisco in general.
There are not many places where you can find a four-story rainforest atrium, an aquarium, a planetarium, and a natural history museum all in one. And we haven't even mentioned the living, plant-covered roof! Take your kids, take a date, take yourself — anybody curious about the world will be fascinated here.
Thursday nights are for the adults at the California Academy of Sciences! Their Nightlife events are 21+ and allow adults to explore the exhibits, while sipping cocktails and enjoying live music.
De Young Fine Arts Museum
Another of the main attractions in Golden Gate Park is the de Young Museum. A visit to this museum elevates a trip to the park with fine arts from around the world, shown in their permanent collection and special exhibits.
Exhibits come in and out so visitors can always find something new to discover. Keep in mind the special exhibits often come with an additional fee. We find their online ticket sale system a bit confusing, but buying in advance does allow you to skip the admission line.
The Hamon Observation Tower at the de Young is open to the public, free of charge, and offers wonderful views of Golden Gate Park and San Francisco. Definitely don't miss this view, even if you choose to skip the museum.
Conservatory of Flowers
Built in 1879 as the first formal structure in Golden Gate Park, the Conservatory of Flowers welcomes visitors to the park with stunning Victorian architecture and rare plants. Five galleries immerse visitors in distinct ecosystems from around the world for a taste of exotic and endangered plant life in a beautiful setting.

Even if you don't pay to go inside, you can experience the Conservatory's architecture during their themed nighttime light displays. During the Summer of 2023, Photosynthesis will illuminate the facade of the Conservatory of Flowers 30 minutes after sunset.
San Francisco Botanical Garden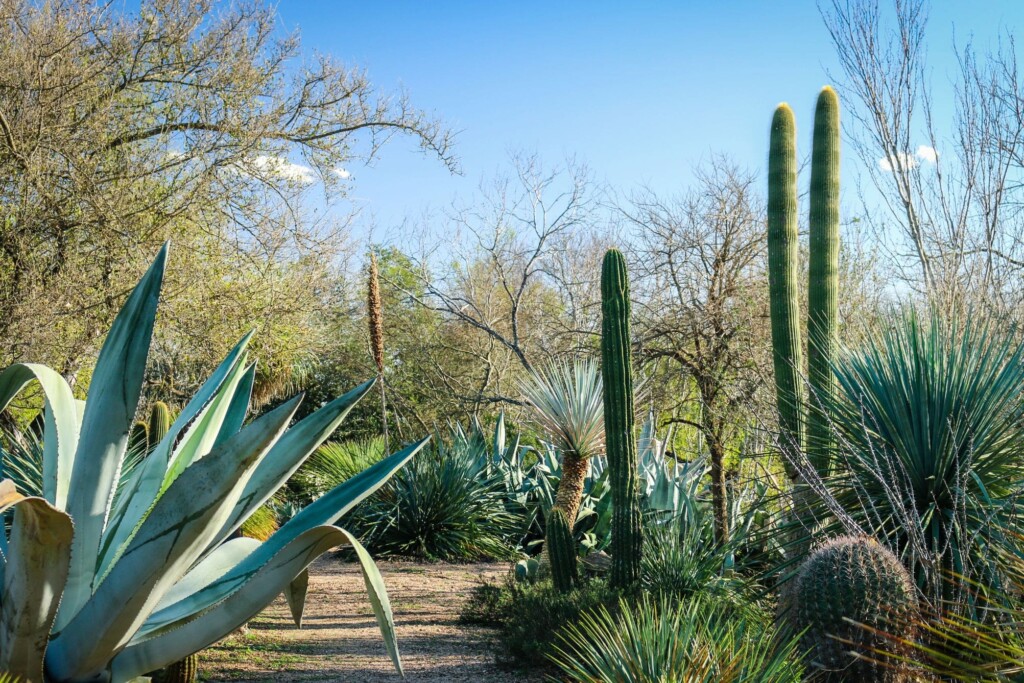 55 acres of Golden Gate Park are dedicated to the popular San Francisco Botanical Garden. Visitors can explore a mix of open space (perfect for picnics!) and beautifully-landscaped gardens, planted with over 8,000 species. Explore plant collections from around the world, including Chile, Australia, Japan, and of course California (complete with a redwood grove).
Each month of the year showcases different plants at their best, and we love this page from the garden explaining the not-to-miss plants for each month. The magnolia bloom in February is particularly special, painting the garden with a splash of white and pink blooms.
Japanese Tea Garden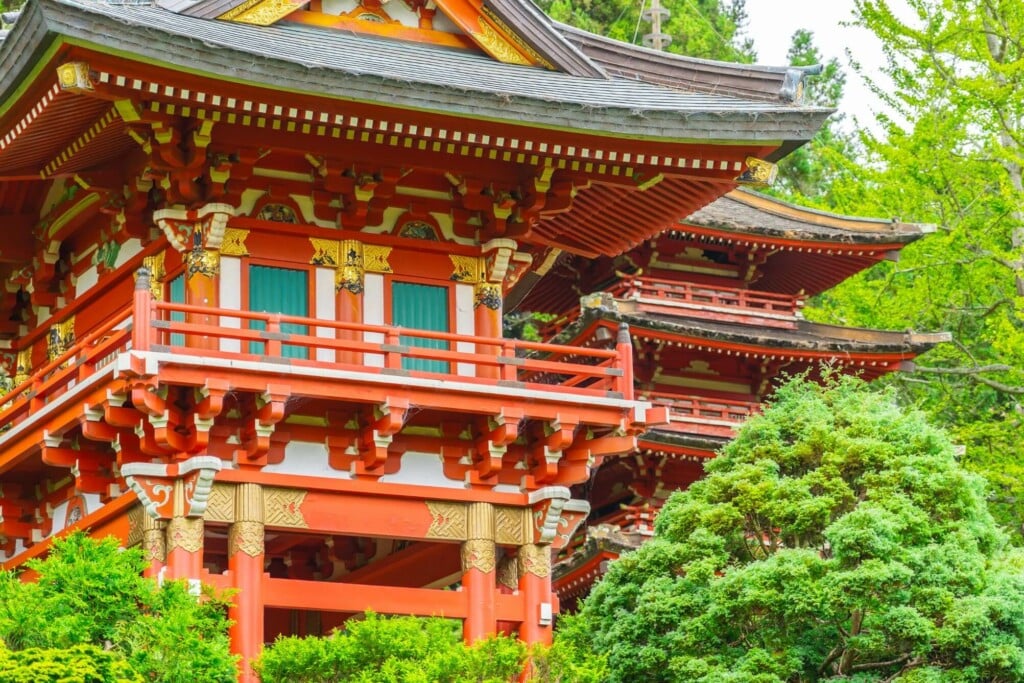 One of the most popular San Francisco attractions is the Japanese Tea Garden, a 5-acre passion project nurtured by landscape architect Makoto Hagiwara. This garden transports visitors across the Pacific with tranquil koi ponds, stone zen gardens, and classic architectural features. Among the most popular is the Drum Bridge. This hard to climb bridge makes for a fun memory and great photos.
This garden is peaceful all year round, but for something special consider a visit in spring to witness the cherry blossoms, or in fall to see the maples in their fiery colors.
Don't miss a stop at the tea house for Japanese small bites and, of course, tea!
Insider Tip: If you plan on visiting the Conservatory of Flowers, the San Francisco Botanical Garden AND the Japanese Tea Garden, definitely buy the Gardens of Golden Gate Park Pass. It'll save you money and you get unlimited entry to all three gardens for 3 days. Find out more and buy online here.
Stow Lake and Strawberry Hill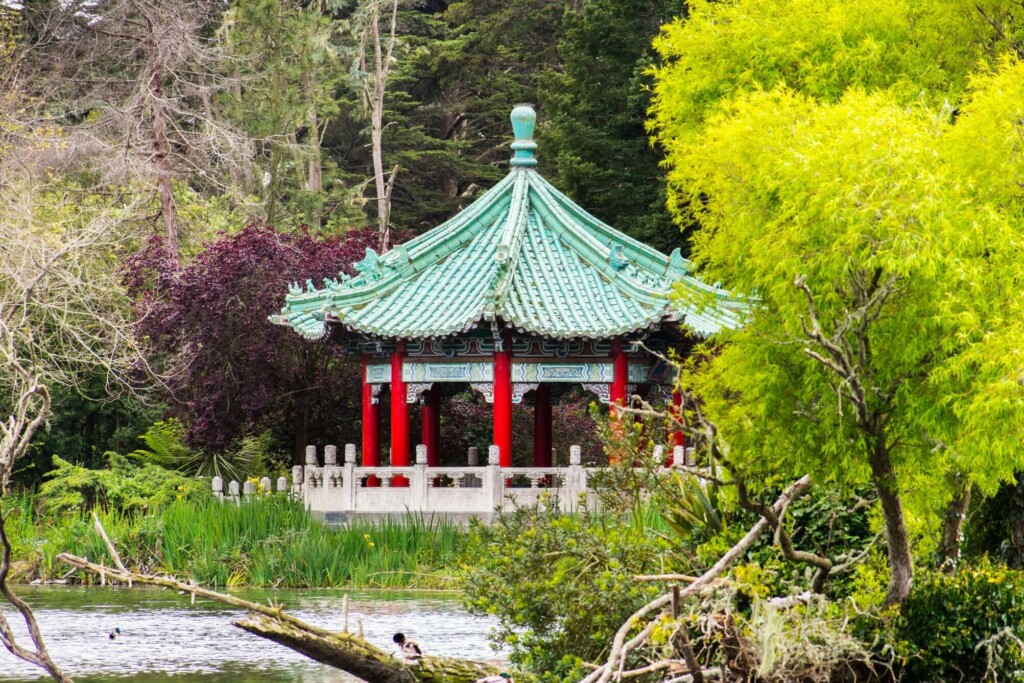 Stow Lake, like much of Golden Gate Park, is completely man made, but we will be surprised if you can tell! This lake (the biggest in the park), surrounds Strawberry Hill and is a peaceful place to watch wildlife, hike, or even go boating.
Rent a pedal or rowboat from the Stow Lake Boathouse for a little exercise and a different perspective from out on the water. Or cross one of two bridges onto Strawberry Hill and hike to the highest point in the park for great views, or to Huntington Falls.
Dutch Windmill and Queen Wilhelmina's Tulip Garden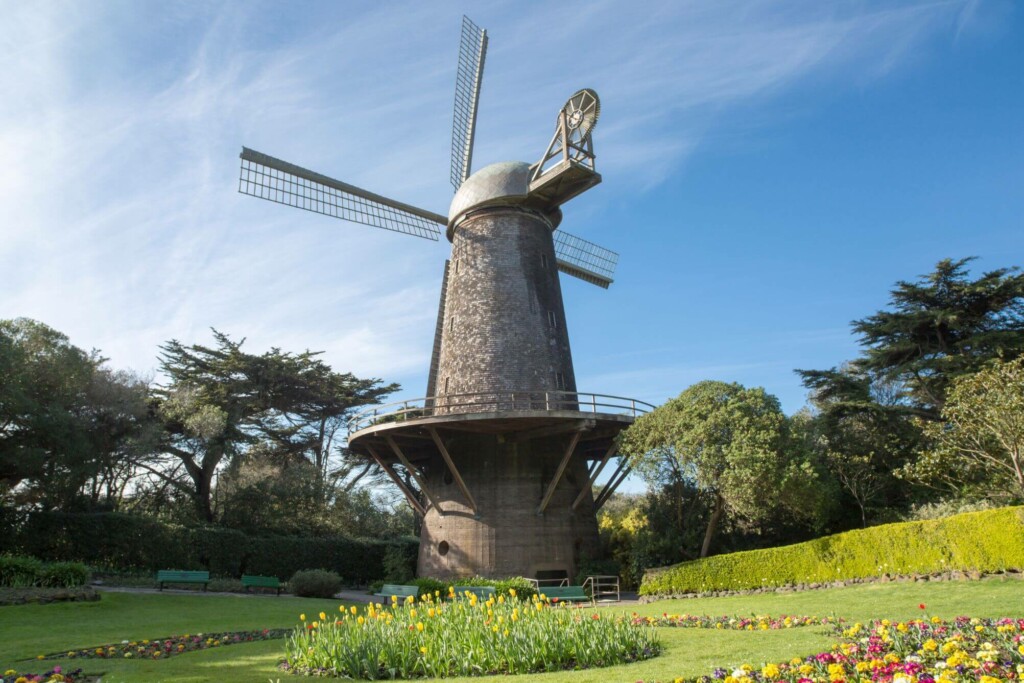 The Dutch Windmill and Tulip Garden are located on the far west side of the park, but that doesn't mean there will be less crowds. This is a popular spot, but we can see why.
The traditional Dutch windmill is fun to watch as it rotates in the San Francisco breeze, and the tulip garden is a stunning splash of color in Spring.
Other Gardens and Groves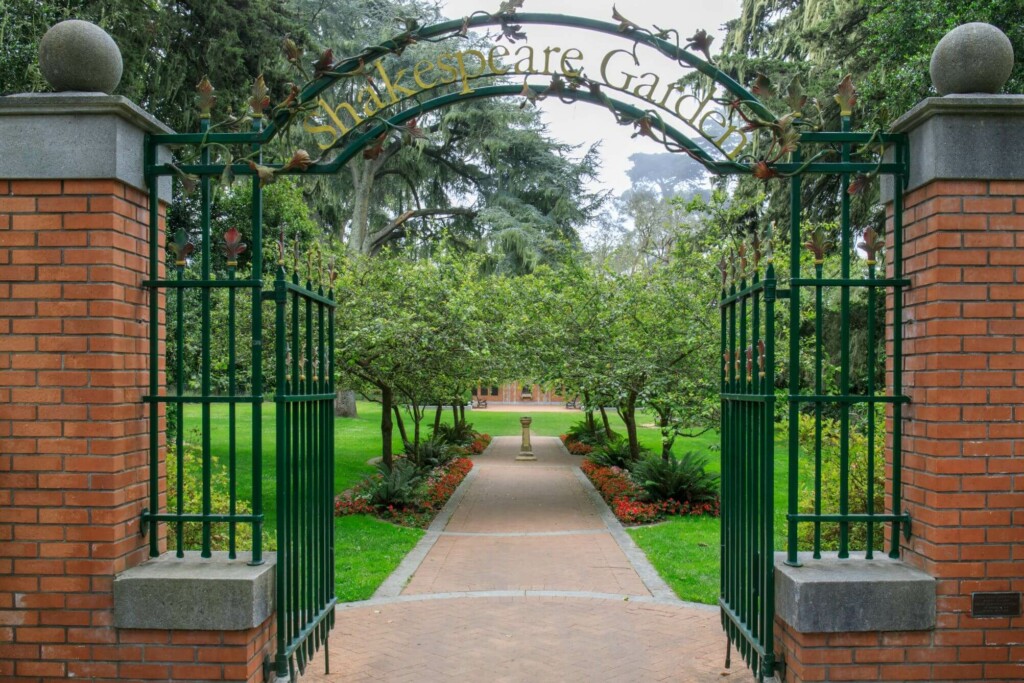 A favorite spot among photographers and romantics is the Shakespeare Garden. This little Golden Gate Park gem features over 200 plants and trees mentioned in the plays and sonnets of William Shakespeare. The best part about this garden — It is completely free to visit!
There are plenty of other free gardens scattered throughout Golden Gate Park. Among them are gardens dedicated to roses, dahlias, rhododendrons, camellias, and more.
A special place of remembrance in the park is the AIDS Memorial Grove. Take a moment of quiet contemplation for all the lives touched by the AIDS epidemic.
Golden Gate Park Sports and Where to Play 'em
In classic park fashion, Golden Gate Park is a hub for physical activity. Here are just some of the sports available to you in the park.
Hiking and Biking: The park offers pedestrians and bicyclists miles of car-free recreation. A main thoroughfare from East to West, including part of JFK Drive, was recently closed to cars permanently, making for a stress-free experience all week.
Archery: An archery field in the west side of the park (Fulton and 47th) is open to the public, although you must bring your own equipment. Rentals are available at San Francisco Archery Pro Shop, just a couple blocks away.
Skating: Skating is a bit of an institution in the park. Practice your skills at "Skatin' Place" just off Fulton St. and 6th Ave, or take to the car-free streets.
Basketball: The panhandle on the far east side of the park is home to the Nate Thurmond Basketball Courts, a popular spot for pickup games and practice.
Golf: There is a nine-hole Par-3 public golf course in Golden Gate Park!
Fly fishing: It sounds fake, we know, but the Angler's Lodge on the western side of the park near the bison paddock provides 3 pools to practice your casting technique, free of charge.
Golden Gate Park Events Big and Small
Chances are there will be an event going on in the park during your visit. With events big and small happening all year long, there is something for everyone. Below is a sample, but visit the official park website for big event dates and details, or their main page for a calendar of the upcoming week's events.
Lindy in the Park: Learn to swing dance every Sunday (weather permitting) on JFK Drive near the de Young Museum.
Bandshell Concerts: The Music Concourse Bandshell often has free music and performance events. Through November 2023 enjoy events every Wednesday, Friday, Saturday, and Sunday.
Opera in the Park: Every September, the park hosts the San Francisco Opera for a free concert in Robin Williams Meadow.
Outside Lands Music and Art Festival: A destination for music, art, food, and wine lovers, this festival brings the party to the park each August.
Bay to Breakers: This costume-filled 12K fun run is quintessential San Francisco, and the route runs straight through the park every May.
Hardly Strictly Bluegrass Festival: This free music festival features 3 days of music every October.
Holiday Events: Tree lightings and Easter Eggstravaganzas help you celebrate the holidays in the park.
Tours in Golden Gate Park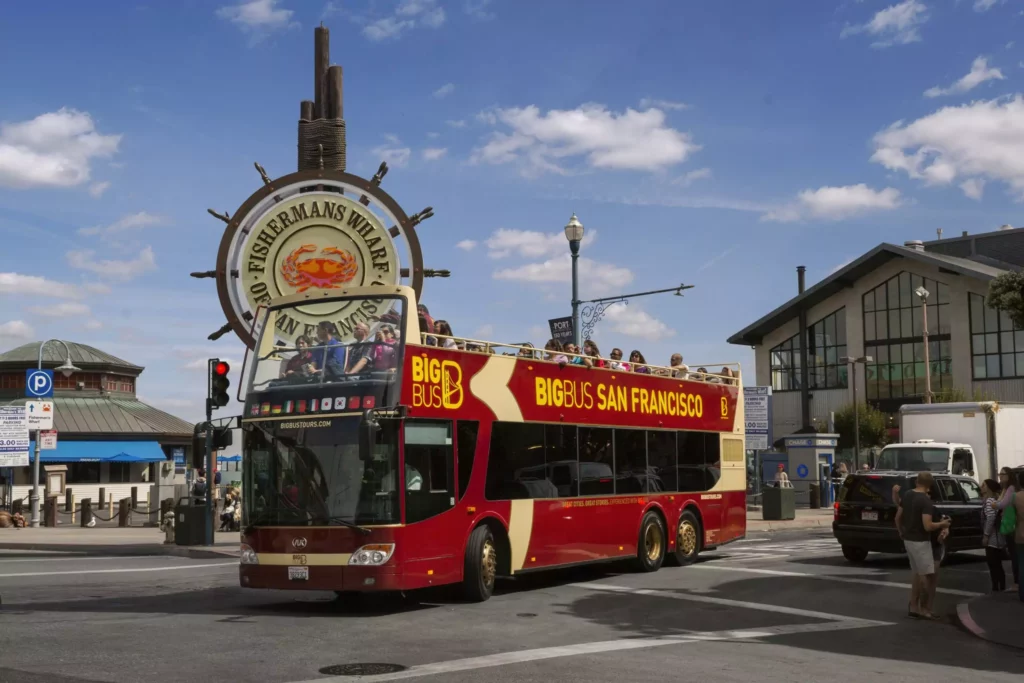 Golden Gate Park is absolutely explorable on your own, but it is a big place with lots to discover, so booking a tour can be a great way to add to your experience.
Self-Guided Audio Tour: Discover hidden gems of the park with this 1-mile walking tour. Solve the mystery of an escaped Alcatraz inmate as you discover must-see locations in the eastern end of the park.
Segway Tours: These Segway tours are great fun, and the guides will point out sights along the way so you can come back and explore if desired.
Guided City Tour: This tour introduces you to all of San Francisco's top attractions in just 4 hours! This is a great way to see the park for the first time because you can make note of places you want to come back to and the live, local guide can answer questions and make recommendations.
Hop-on, Hop-off Bus Tour: This tour allows you to discover the best of San Francisco in 24 hours, including a stop in Golden Gate Park. This is a great transportation option to reach the park's main attractions.
Bike Rental: If you want the freedom to explore on your own and just need the wheels to do it, consider a bike rental. With bikes you can see the entire park, stopping whenever and wherever you want for further exploration. Locks, helmets, and maps are included.
How to get to and around Golden Gate Park
Golden Gate Park is about a 20-minute drive from downtown San Francisco. If you have a car, you can drive right into the park on multiple roads and then begin the search for parking near your first destination.
If taking public transportation to the park, the easiest options from downtown are the 5 Fulton bus, running along Fulton St on the north side of the park, or the N Judah streetcar which runs two blocks south of the park.
To get around within the park without a car, walking, biking, or hopping on the shuttle are good options. The free shuttle operates 7 days a week, with stops at all of the major attractions in the eastern half of the park.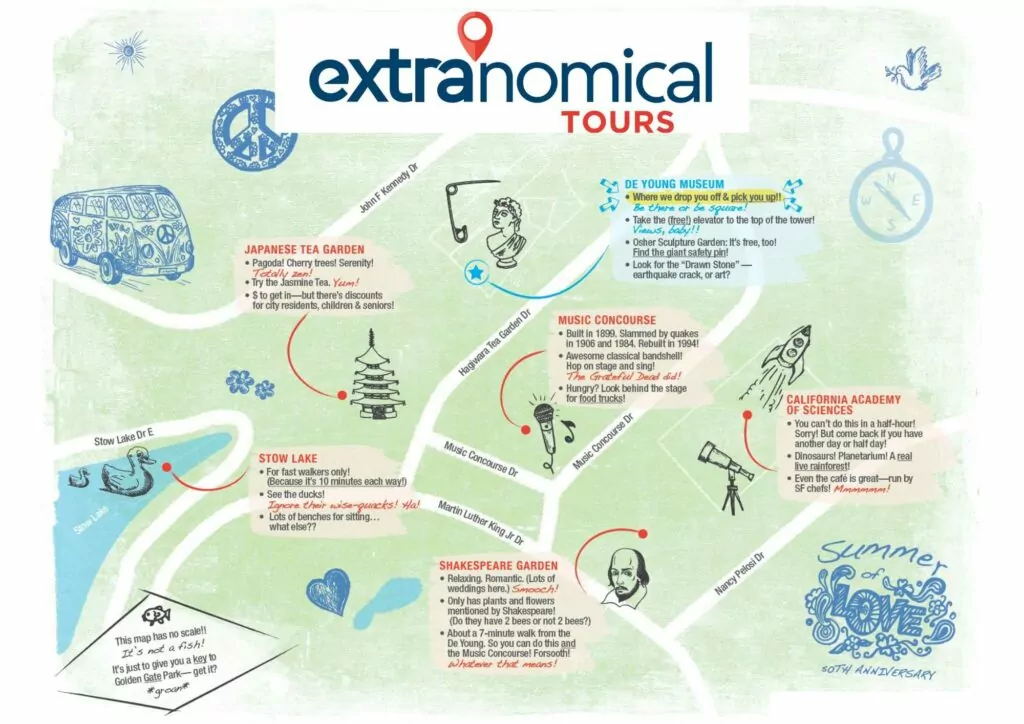 6 Things to Do in Golden Gate Park for Free
Good news: Golden Gate Park itself is completely free to visit! Having said that, many of the most popular attractions within the park are not. Here are our picks for the best free things to do in Golden Gate Park.
Hamon Observation Tower: See San Francisco from above at the de Young Museum's Observation Tower. While the museum is not free, this view from above is!
Gardens: The garden glory often goes to the Botanical Garden and Conservatory of Flowers, but Golden Gate Park has loads of themed gardens which are free to explore. Among them are the Dahlia, Rhododendron, and Rose Gardens, and the Shakespeare Garden.
Bison Paddock: Don't expect a lot of heart-thumping action out of these guys, as they mainly stand around, but it is still really cool to stop by and see these unexpected residents of the park.
Dutch Windmill and Queen Wilhelmina's Tulip Garden: Head to the west side of the park to be transported to the Netherlands! The windmill is fun to watch and the tulips are spectacular in early Spring.
Events: Check for free events happening during your visit! While some of the biggest events charge admission, some like the Hardly Strictly Bluegrass Festival are totally free to enjoy. There are also smaller events occurring all the time in the park, like Bandshell concerts, or Lindy in the Park, a Sunday staple that spreads the joy of swing dance.
Insider Tip: Nearly all of the attractions in Golden Gate Park offer free days or hours, if you know when to go! Of course, the free times often come with bigger crowds, but they offer a great opportunity to experience these not-to-miss attractions, without the price tag. Check each attraction's website before you go.
6 Things to do in Golden Gate Park with Kids
Golden Gate Park is a safe, family-friendly park. With playgrounds aplenty, hands-on learning available around every corner, wildlife watching, and plenty of free space to run, you may never run out of activities for kids of every age. Here are our suggestions for the best things to do with kids in Golden Gate Park.
California Academy of Sciences: This one is a bit obvious, but it had to make the list. Curious kiddos (and their parents!) are guaranteed to love this place.
Koret Children's Quarter and Carousel: The restored classic carousel is a fan favorite. And right next door is the newly-renovated Koret playground, including the popular concrete slides.
Skystar Observation Wheel: If your kids love rides, check out this temporary addition to Golden Gate Park. This 150 foot ferris wheel in the music concourse offers squeal-inducing views, and each 6-person gondola is private for your family.
Fairy Doors: Golden Gate Park is home to miniature doors leading to the fairy realm. They have been known to change locations (they are magic, after all!), but here is a recent article detailing the location of 3. Keep your eyes peeled as you wander the rest of the park — you never know what else you might find!
Spreckels Lake: Watch the model boats skimming across the water and look for turtles. Hint: They often (ironically) hang out on top of the turtle sculpture!
Sports: Explore a new activity with your kids in the park's endless physical activity areas. Introduce fantasy fans to archery, take it back to the 80's for a roller-skating session, or try out Pickleball as a family. Here is a list of park activities for inspiration.
6 Things to do in Golden Gate Park on a Date
Dinner and a movie — move over! Golden Gate Park is the perfect place to build romance out in nature. Here are some suggestions for engaging activities to do with a partner in Golden Gate Park.
Shakespeare Garden: Home to over 200 plants and trees mentioned in the Bard's writing, this manicured little garden is the perfect spot for a romantic stroll.
Stow Lake Boat Rental: Rent a pedal or row boat from the Stow Lake Boathouse and spend an hour or two on the water together.
Skystar Observation Wheel: This attraction will give you unbelievable views of the City and Pacific Ocean. And each gondola is for only your party, so you can enjoy a private moment high in the sky.
Japanese Tea Garden: This peaceful garden is a great place for a date. Climb over Drum Bridge, talk as you watch the koi, and then grab an afternoon tea.
Picnic: Golden Gate Park is essentially 1,000 acres of spectacular picnic spots. Many have tables, some even have grills, or you can go old school with a blanket in the grass. Note that groups can reserve an official picnic.
Cocktail hour at California Academy of Sciences: Every Thursday night, experience the must-see attraction in a different light at this 21 and over event. Learn about the world together as you explore the exhibits, cocktail in hand.
6 Best Places for Instagram Photos in Golden Gate Park
Picture-perfect Golden Gate Park offers photo spots at every turn, but these spots in particular are great for photos worthy of your social media grid.
Conservatory of Flowers: The Conservatory is a treasure trove of photo spots, inside and out, with its Victorian greenhouse packed to the brim with exotic plants. Consider stopping by for the light show after sunset too!
Shakespeare Garden: This garden is popular with wedding photographers, but you don't have to be in a white dress to take lovely photos here.
Huntington Falls: A 110-foot-tall man made waterfall in the heart of San Francisco is definitely worth a photo. You can hike across Stow Lake onto Strawberry Hill to get up close to the falls.
Dutch Windmill and Queen Wilhelmina's Tulip Garden: Especially in early spring when the tulips are blooming, this spot will be full of photographers. Join them and get your own photo that looks straight out of The Netherlands.
Drum Bridge: The Japanese Tea Garden's Drum Bridge (sometimes called Moon Bridge) is an Instagram favorite, famous for its dramatic, picturesque arch.
Chinese Pavilion at Stow Lake: A gift from San Francisco's sister city Taipei, this beautiful pavilion by Stow Lake offers endless inspiration.
FAQ about Golden Gate Park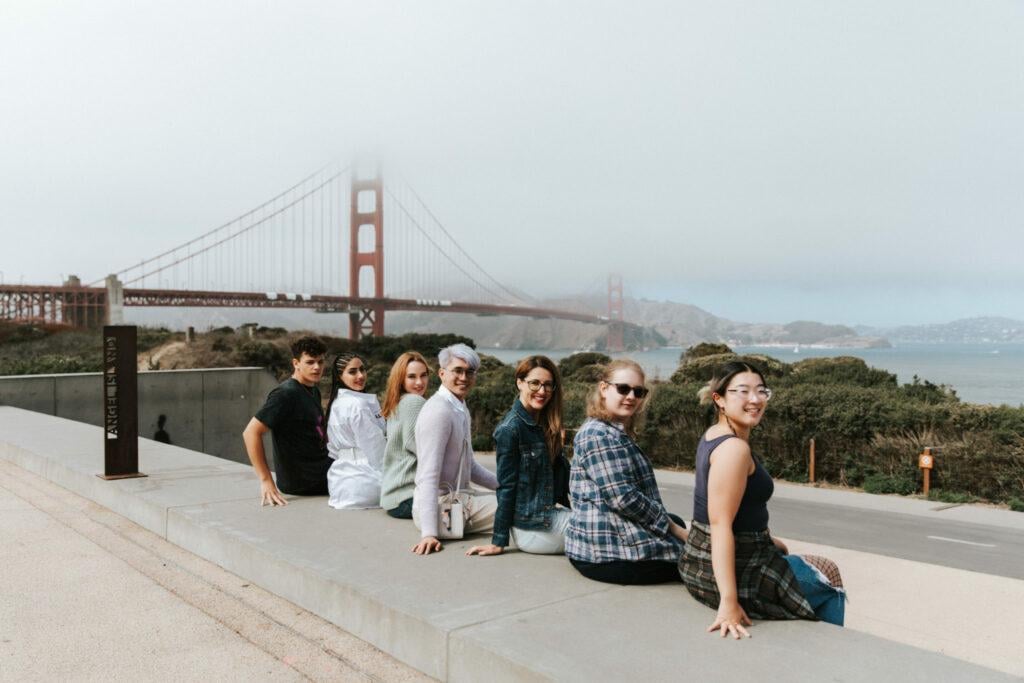 Is Golden Gate Park free?
Yes! While many of the popular attractions charge admission, entrance to the park itself, and many of the best spots, are completely free.
How long does it take to see Golden Gate Park?
This is hard to answer because you can see the highlights in a day if you hustle, but you can also spend a lifetime discovering new corners of the park. The bottom line is Golden Gate Park is a wonderful place filled with tons of things to do.
How long does it take to walk through Golden Gate Park?
Golden Gate Park is 3 miles long and a ½ mile wide, so technically you could walk across it in the short direction in about 10 minutes (if you can find a straight path!), but to walk a good portion of the trails and really get a feel for the park on foot would take a long day or two and some very comfortable shoes.
Can you drive in Golden Gate Park?
Yes, there are multiple car-friendly roads that cross the park, and lead to the main attractions. Recent changes have closed a route from East to West to cars, creating a pedestrian and bike-friendly thoroughfare.
This page on the park site is extremely helpful for drivers, with a map of open roads, closed roads, parking lots, and more.
Where can you park in Golden Gate Park?
Parking can be tough in the park, especially during weekends and at peak times. The music concourse parking garage provides 800 convenient spaces (for a fee), and there are smaller lots dotted throughout the park.
Another option is to find a parking spot along the roads within the park. Wherever you park in the park, just be sure to read signs (some have time limits) and take anything valuable with you, as break-ins do happen.
Are dogs allowed in Golden Gate Park?
Yes, Golden Gate Park is dog friendly, but all dogs need to be on a leash when not in the designated off-leash areas. There are off-leash areas located in all 4 corners of the park.
What to do in Golden Gate Park if the weather is bad?
We always recommend bringing a coat with you to Golden Gate Park, since its location near the ocean often means cooler weather. But if your coat just isn't cutting it, head to one of the museums! It is easy to spend an entire rainy day inside the California Academy of Sciences, for instance.
Where to eat in Golden Gate Park?
The park is not particularly known for its food options, but there is some good dining at the Park Chalet and Beach Chalet Restaurants (located in the Beach Chalet Visitor Center), the Terrace Restaurant and Academy Cafe in The California Academy of Sciences (admission required), and the De Young Cafe.
More casual options include the snack bar at Stow Lake and the food trucks near the Academy of Sciences. Honorable food mention has to go to the Japanese Tea Garden, which serves tea and small bites in a beautiful setting.
Published on: August 11th 2023