To stretch your vacation dollar, Extranomical's Insider Guides have picked out 35 fun and free things to do during your stay in San Francisco.
San Francisco is such a fun city to visit, but with hotels and airfares getting so spendy, it is a great idea to take time before your trip to discover all of the free things to do in San Francisco. They are everywhere!

This is why we asked our team of seasoned tour guides to share their best hacks for enjoying San Francisco without spending a dime. The results are as diverse and exciting as the city itself. You'll find everything from the best places to snap a pic of the Golden Gate Bridge (here's a hint, it's not the one surrounded by all of the tourists), to a free woodshop for children, along with insider's insights into the best free tours of the some of the most historical landmarks in the city.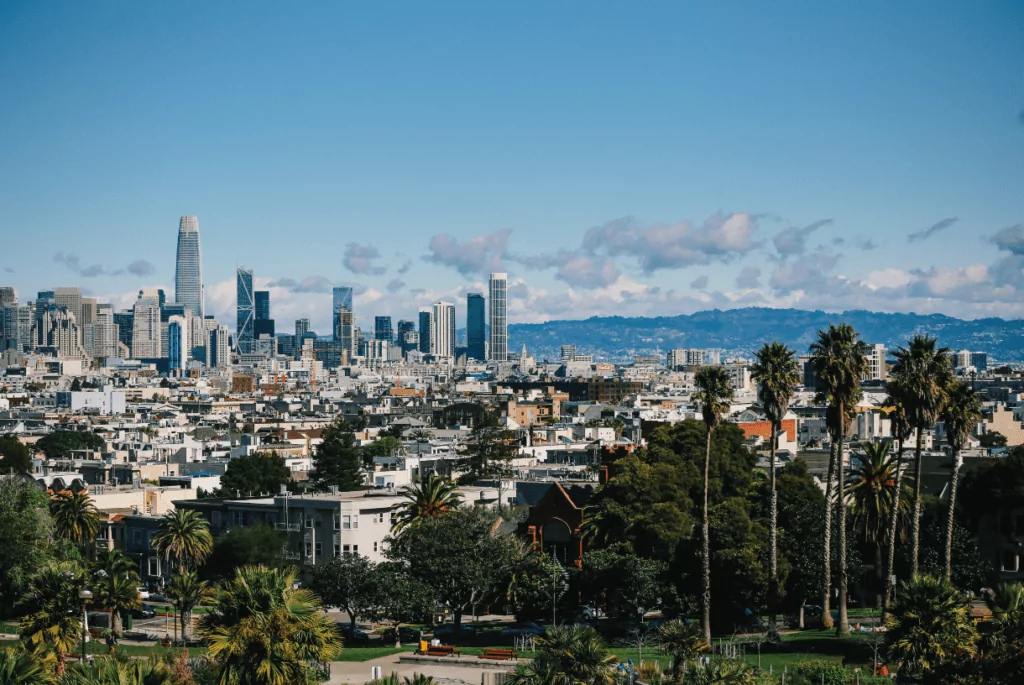 Where to Park During Your Trip to San Francisco
Downtown parking can be a challenge but there are free spots at 170 Stevenson St. or 201 Folsom St. If those are full, you can nab an inside space at the Valet Garage at 55 Second Street for $2-3 for two hours. The Pier 39 parking garage charges a flat daily rate but offers discounts if tickets are validated by participating restaurants. Most parking meters are enforced between 9 a.m. to 6 p.m. Monday through Saturday, so anything outside that time is fair game to park for free. No matter where you park on San Francisco's streets, you risk a ticket if you stay more than 72 hours. A great app for locating free or cheap parking in other parts of the city is located at Spot Angel's
Free Things to Do in Parks or Green Spaces in San Francisco
Visit a Dutch Windmill and Queen Wilhelmina's Tulip Garden in Golden Gate Park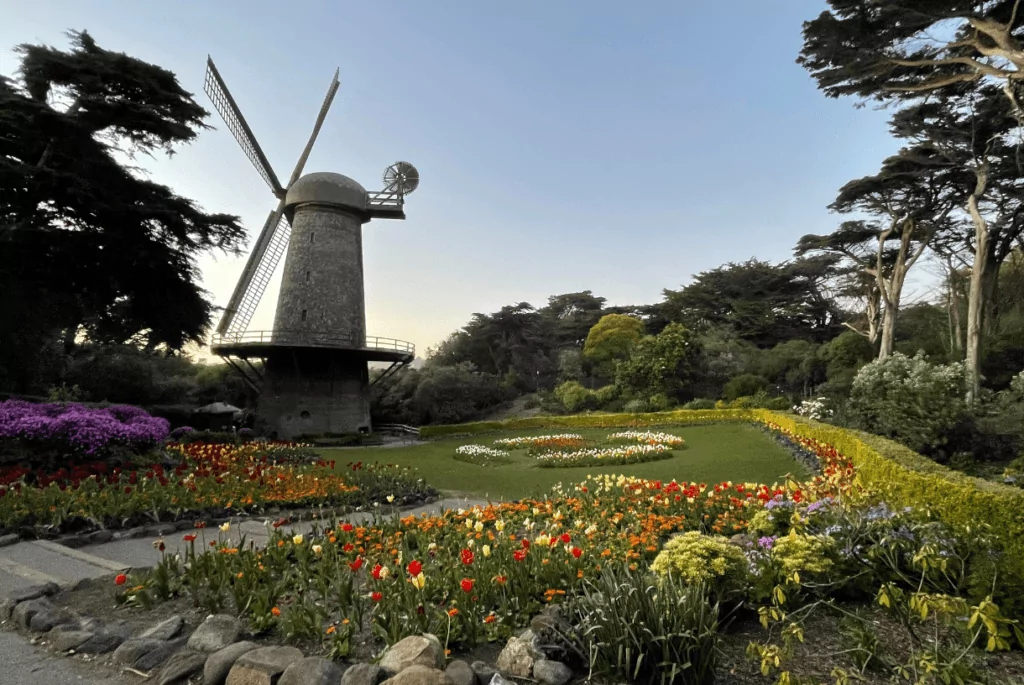 Golden Gate Park is full of surprises, including the Dutch Windmill with its surrounding tulip garden. In 1902 Queen Wilhelmina from the Netherlands donated this windmill and the tulips (a symbol of peace and reconciliation) to the city of San Francisco. The windmill's original function was to pump water to all of the flowers in the park. Though no longer an irrigation pump, the windmill once pumped 30,000 gallons of water per hour each day!
Have a (Clothing Optional) Picnic on Baker Beach
Before turning into a tech mecca, San Francisco was most famously a city devoted to the principles of free love and expression. Much of that culture still exists, particularly at Baker Beach, where you can get your fill of sunshine and sand, and clothing here is optional. This dog-friendly beach also allows for outstanding views of the Golden Gate bridge. Plus, you might spot porpoises that have returned to the area after a 65-year hiatus!
Take a Nature Hike in a Former Army Base (Presidio)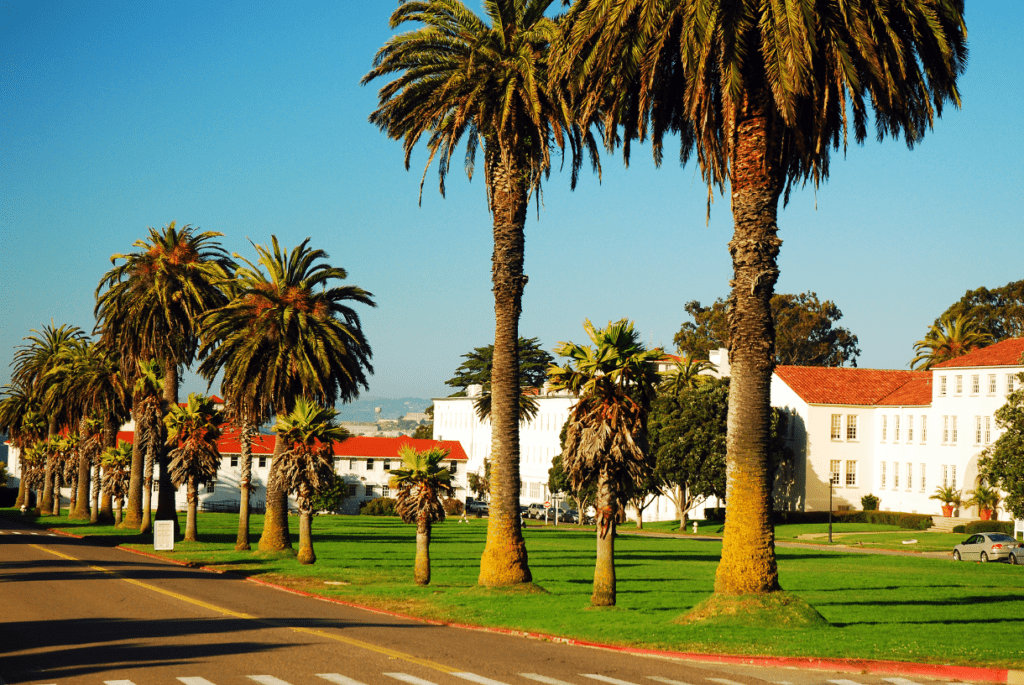 There is no shortage of places to walk, bike, hike, and explore in San Francisco, but one of the best spots for hikes is in the Presidio. Historically, the Presidio was an army base, but in 1994 the land located at the most northern point of San Francisco was turned over to the National Park Services. Head to the Woodline trail accessible from Presidio Boulevard, and you'll feel as though you've been magically transported to the middle of the woods.
Take a Moment at the Stone Labyrinth at Lands End
Looking for some "peace, love, and enlightenment?" Then meander down to the Stone Labyrinth constructed by Eduardo Aguilera. Aguilera based his design on a seven-circuit Chartres Labyrinth, which is a design that dates back thousands of years. The Stone Labyrinth is located on an outcropping on the edge of Lands End Lookout, giving you views of the Golden Gate Bridge and the Marin Headlands.
Spy a Bison at the Golden Gate Park Buffalo Paddock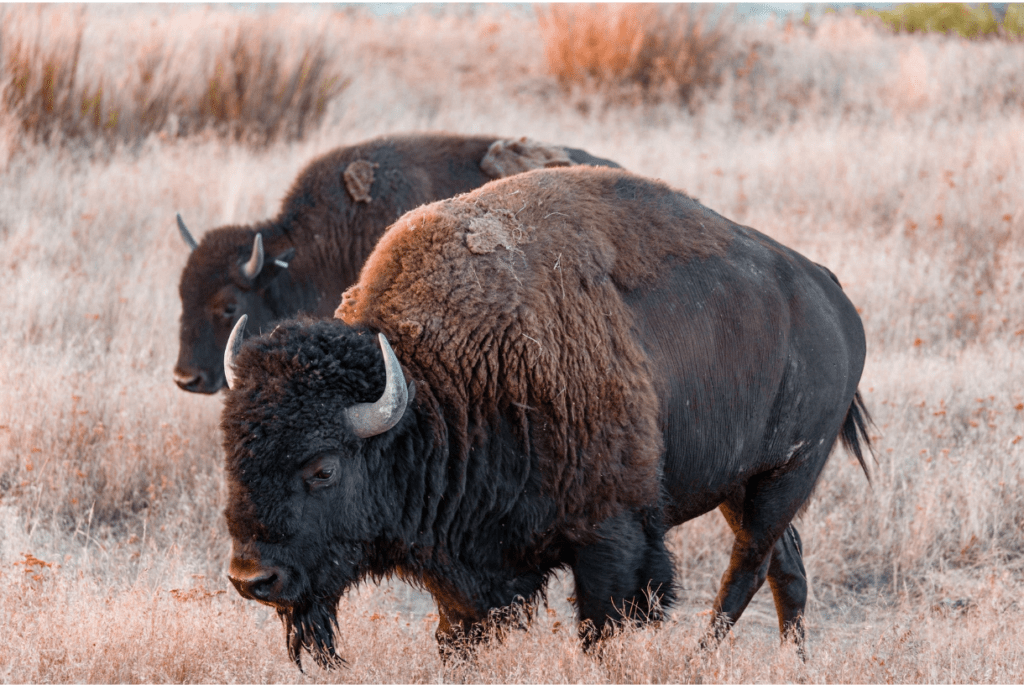 You'll hardly believe your eyes as you cut across Golden Gate Park and behold a bison herd! Don't let the name confuse you. You're actually looking at the American bison at the Buffalo Paddock in Golden Gate Park. These majestic creatures are a symbol of the wild frontier. Thanks to this herd, their numbers have grown to over 200,000 in the United States, which is a piece of great news as they nearly became extinct in the 19th century due to commercial hunting practices.
Bring a Blanket and a Frisbee to Dolores Park in Mission District
This dynamic park located in the Mission District of San Francisco reflects the diverse vibrancy found in its adjoining neighborhood. It's one of the most popular parks in San Francisco, and for a good reason, as you'll get fantastic views of the skyline from the park along with access to soccer fields, two designated areas for dogs, six tennis courts, and plenty of open space for a picnic and a game of frisbee. Just note since its major renovation in 2016, the park requires that its visitors "Leave No Trace."
Have a Peak Experience at the Summit of Twin Peaks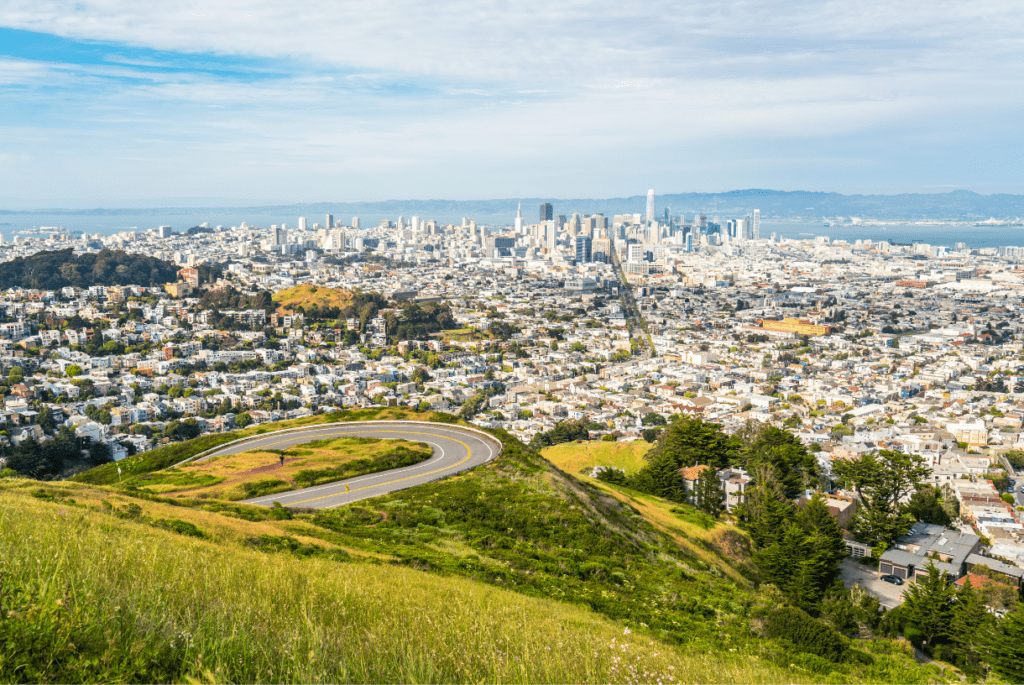 Here's a fun fact: early Spanish soldiers called the Twin Peaks Los Pechos de la Choca or the "breasts of the maiden." The peaks are 922 feet in elevation, the second-highest after Mt. Davidson. You'll enjoy 360 views of San Francisco at this height, which are not to be missed. So what's the best way to get up? Of course, you could drive or bus to the north peak parking lot and access the peaks from here, but if you're able, we recommend hiking for both the spectacular views and sightings of the native flora and fauna, including the endangered Mission Blue Butterfly and its host plant the Silver Lupine. Be sure to stick to designated trails to avoid poison ivy and help prevent erosion.
Climb to the Highest Spot in San Francisco (Mt. Davidson)
If you're looking for a great adventure during your visit to San Francisco, why not climb to the highest point? Climbing Mount Davidson is an experience unlike anything you'll find in the area due to its climate and unique flora and fauna. The climb is similar to traversing through a rainforest as the vegetation here is dense and slightly overgrown. The fog provides moisture along with a mystical allure. The variety of bird species is not to be missed, and the unique coastal scrub and grasslands are home to over 150 insect species. Though an invasive species, the blue gum forests of Mount Davidson are home to several birds of prey, including owls and hawks. The whole experience provides a much-needed respite from city sounds along with unforgettable views.
It would be impossible to list them all but San Francisco has many, many miles of beautiful trails ranging from easy to strenuous. Some of these are close to popular attractions in the city and make a good way to get some exercise during your fun-filled day.
Add an Image
Free Kid-Friendly Activities in San Francisco
Watch the Sea Lions Nap on Pier 39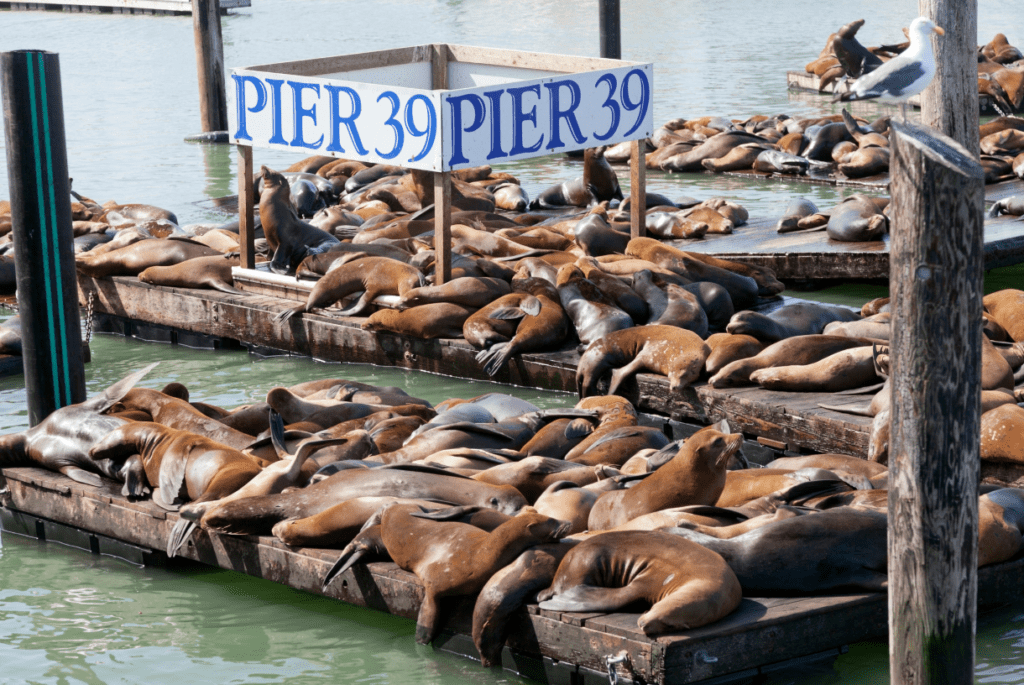 After weaving through a maze of tourist attractions, including shops, arcade games, street performers, and even 3D rides, you'll find the napping sea lions, and trust us, it's well worth the weaving as California is one of the only parts of the world where you'll spot them. But here's the pro tip: sea lions breed from late June through August, which means they're pretty sparse in the Summertime. So if you want to catch these magnificent sea mammals, check out Pier 39 in the Spring or the Fall.
Climb Aboard a Tall Ship in Maritime National Park
The San Francisco Maritime National Historic Park cares for an impressive fleet of historic ships. Look carefully and you can spot the masts of 19th century ships poking up from Aquatic Park Cove. The tallest ship in the cove is the square-rigger Balclutha, famous for voyages around Cape Horn, a shipwreck and career in the salmon fishing industry.
Explore Science, Nature, and Arts at the Randall Museum
The Randall Museum, located in the center of San Francisco, is owned and operated by the San Francisco Recreation & Parks Department. The museum focuses on science, nature and the arts. Kids love the live native and domestic animals and interactive nature displays. If you time your visit right, the whole family can enjoy feature films, lectures and classes.
Taste Free Samples at the Golden Gate Fortune Cookie Factory in Chinatown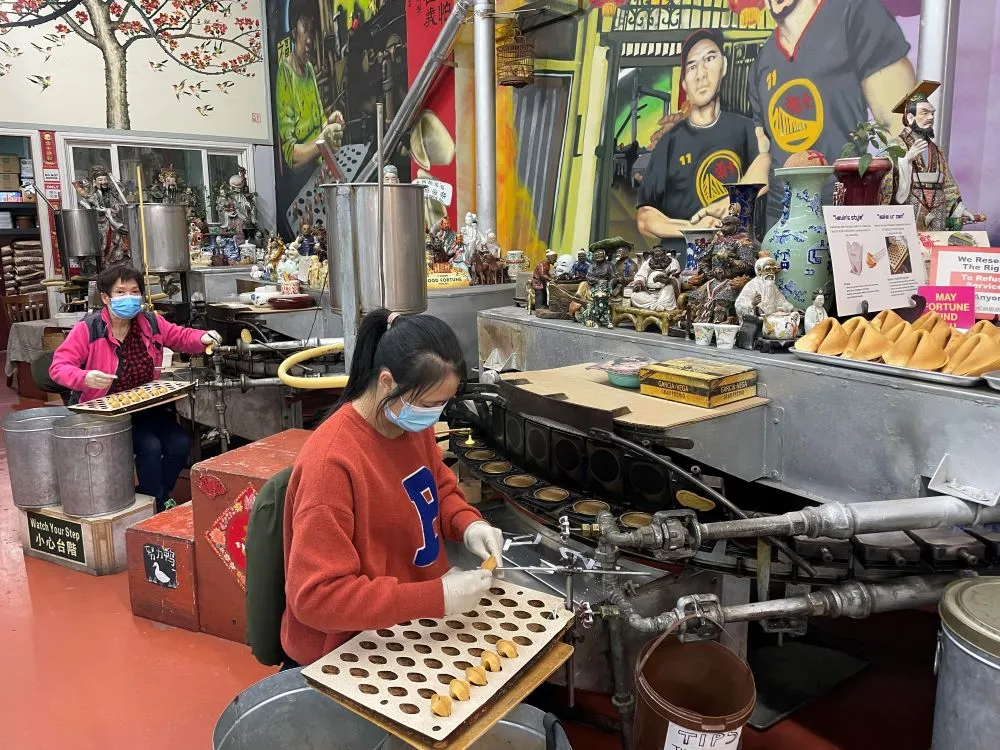 If you're in the heart of Chinatown, follow your nose to the Golden Gate Fortune Cookie Factory. Since 1962 this "San Francisco Legendary Business" has made their delightful fortune cookies by hand. The dough is made from scratch, pressed in a historic cast iron griddle, and finally stuffed with fortunes assembled on site. The experts hand out free cookies during their factory tour, but you'll be tempted to sample more. Their flavors include strawberry, chocolate, and green tea, and our favorites are the chocolate-dipped with sprinkles.
Slide Down the Seward Street Slides at Acme Alley
Ever wish you could just slide down the streets of San Francisco? Well, you can! A teenager designed these whimsical slides in the mid-1960s, and their existence is a "triumph of neighborhood activism." The land around the slides is present-day Corwin Community Gardens and Seward Mini-Park but in 1963 was an empty plot of land slotted for development. The locals disapproved, so they organized bold protests, including a sit-in to block the bulldozers. It worked. To ride the slides, bring up a piece of cardboard and simply have at it. Tap into your inner child and go, "wheeeee." These slides, after all, were designed by a kid.
Have Some Old School Fun at Musee Mecanique
Looking for something free to do 365 days a year? Then head to Musee Mecanique, an experience much like walking through a time portal to another century. The world's largest coin-operated museum houses over 300 mechanical machines still in their original working condition. You'll find hand-cranked music boxes, modern pinball machines, and more. The best part is that the museum is actually someone's private collection. Can't wait to get crankin'? You'll find these nostalgic treasures in pier 45.
Looking for more ideas for families visiting San Francisco? Try playing our San Francisco ABC game with kids.
Free Attractions: Museums, Tours, Gardens, and Exhibits in San Francisco
See Historical Cable Cars at the Cable Museum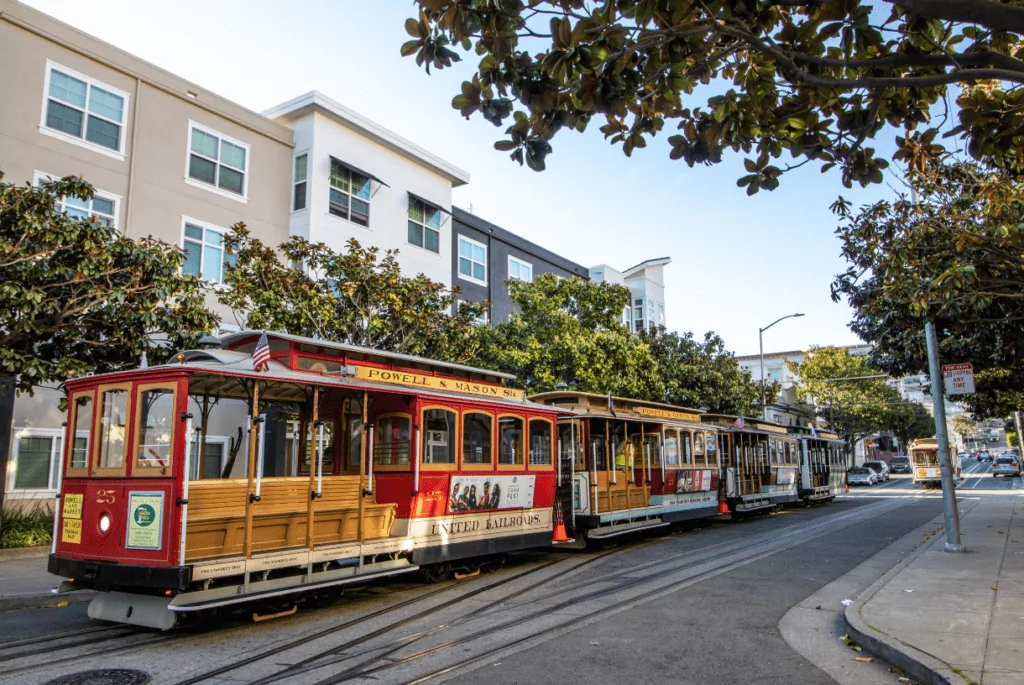 Cable cars to the rescue! Literally. Cable cars are more than a mode of transportation; they're Andrew Smith Halladie's answer to animal cruelty. After witnessing horses being whipped and then dragged to their death for not being able to traverse brutal San Francisco hills, Halladie dreamt up the notion of a steam engine powered by a cable. Ready to learn more? Head to Nob Hill.
Take the Free Tour of City Hall
City Hall is a must-see for anyone looking for something free to do in San Francisco. The building occupies two city blocks and was designed in the Beaux-Arts style (an art style that originated in Paris), becoming the primary inspiration for the American architectural Renaissance. Arthur Brown designed City Hall and was known for his keen attention to detail, including designs for the knobs on the doors and the lettering. Take note; there is only one time you can take a tour of City Hall. It's on Fridays at 1 PM.
Be an Early Bird at the San Francisco Botanical Garden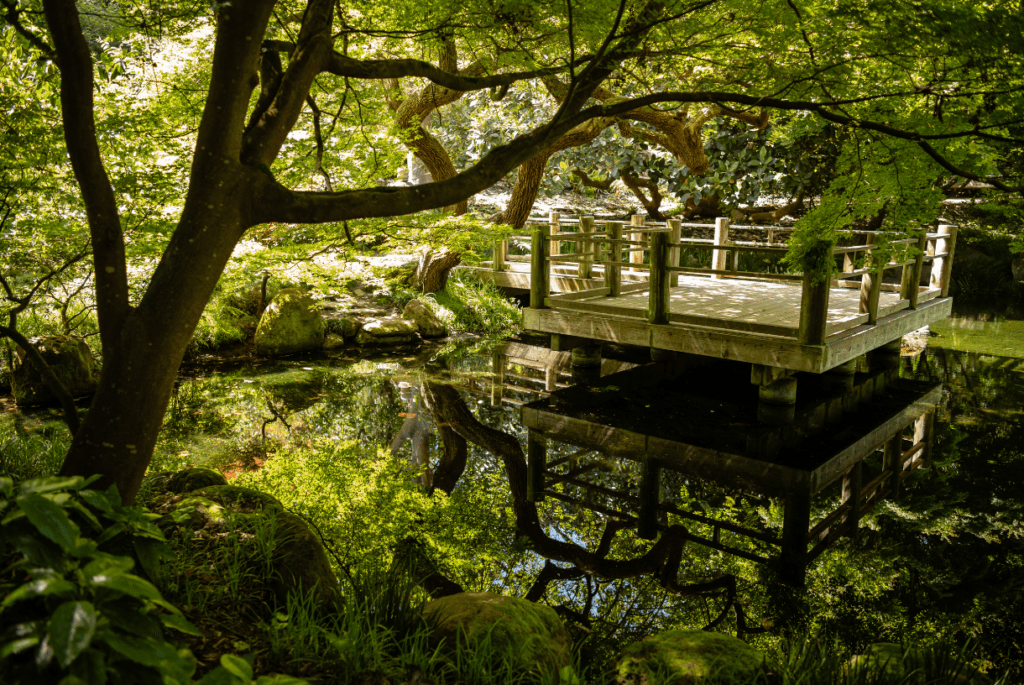 The San Francisco Botanical Garden is a real treat if you're a plant-lover. The gardens are vast, featuring species from all across the globe. You can marvel at ancient plants or stop and smell literally everything in the fragrance garden. Need an evening escape from the hustle and bustle? Head to the moon-viewing garden at night. Admission is free for members, veterans, and residents, but if you're visiting from outside of San Francisco, those who arrive between 7:30 AM and 9 AM also get in for free!
Walk Silently Through the National AIDS Memorial Grove
The National AIDS Memorial was created about 30 years ago during the height of the AIDS pandemic. Millions of people lost their lives across the globe and thousands in San Francisco. San Franciscans were looking for a way to mourn the loss of loved ones in a sacred space and created this memorial which is the only federally-designated AIDS Memorial in the nation.
Take the Gondola to the Salesforce Transit Center's Urban Park
The Salesforce Transit Center's Urban Park is a green infrastructure for commuters and visitors. The crown of the building is a 5.4-acre park! The park features a strolling path, delightfully landscaped gardens, an abundance of seating areas, and play structures for kids. The best way to access the park is the free glass gondola located at Mission and Fremont streets at the base of the future Transit Center. The gondola operates from 8 AM to 8 PM.
Stroll the Grounds of the Palace of Fine Arts
The Palace of the Fine Arts was built as one of ten palaces constructed for the 1915 Panama-Pacific International Expo and though rebuilt entirely in the 1960s and 1970s, is the only structure from the expo that remains on site. The rotunda, which is the most eye-catching building of the complex, is entirely enclosed by a lagoon and connects the large exhibition center by rows of colonnades. As you meander through the colonnades, look for Bruno Zimm's three repeating panels that symbolize "The Struggle for the Beautiful," and then look up to spot Ulric Ellerhusen's frieze work representing contemplation, wonderment, and meditation.
Marvel at the Architecture, Labyrinth, and Gardens at Grace Cathedral
Grace Cathedral is a soaring Gothic Revival church that happens to be the third-largest Episcopal church in the United States. Its architect is Lewis Hobart, heavily inspired by Notre Dame and Saint-Chappell in Paris. He beautifully blends three distinct styles apparent in the church's nave, cathedral, and Spanish Gothic features. Labyrinthine meditation is central to the spiritual practices of Grace which is home to two labyrinths, one indoors and one outdoors. The labyrinths serve as a place for contemplative practice and yoga. Head to their website for guidelines on how to walk the Labyrinth or more information on their candlelight labyrinth walks that feature live music and typically occur on the second Friday of every month. Finally, don't miss the grounds of Grace with their stunning gardens, which are a labyrinth in their own right.
Take in the Photography Exhibition at Pier 24
Pier 24 Photography is located at San Francisco's Embarcadero and is open by appointment only Monday through Friday. Their hours are from 9:00 AM to 5:15 PM, and as you might have guessed, admission is always free. Pier 24 houses the permanent collection of the Pilara Foundation, a foundation that collects, exhibits, and preserves photography. The first piece that made it into the collection was a portrait from Diane Arbus' Untitled series. Today the collection includes over 4,000 photographs from artists like Arbus, Ansel Adams, Fred Herzog, Idris Khan, Robert Bergman, Dorothea Lange, and Hiroshi Sugimoto.
Attend a Live Reading at the City Lights Bookstore in North Beach
Lawrence Ferlinghetti lived an incredible life as a poet and activist, dying in 2021 at age 101. In 1953, Ferlinghetti co-founded City Lights Booksellers and Publishers, which instantly became a gathering for artists, activists, writers, and readers and still is. This "literary meeting place" may be best-known for publishing Howl And Other Poems by beatnik poet Allen Ginsberg and continues to host weekly readings; the revolving schedule is posted directly on their website
Make It Teatime at Vital Leaf Tea in Chinatown
Immerse yourself in the world of all things tea at the Vital Leaf Tea Shop. Whether you call it "tea," "cha," or "chai," teatime means it's time to relax and unwind. A trip to the Vital Leaf Tea Shop in Chinatown is the perfect way to spend an hour after lunch. Their tea concept is modeled after a wine bar and features free tastings of some of the finest teas from China and Taiwan. The shop attendants are there to inform you! At Vital Leaf, you'll learn about each tea and its specific health benefits. You'll leave feeling enlightened, relaxed, and ready to tackle the rest of your day.
Experience two centuries of our history at Wells Fargo Museum
Located in the heart of San Francisco's financial district, the museum depicts Wells Fargo's important role in the California Gold Rush, San Francisco history, stagecoach travel in early California and the settlement of the American West. Visitors of all ages can enjoy fun interactive exhibits which include a stagecoach "ride experience," operating vintage banking machines, a working telegraph, videos and authentic artifacts such as an original 1868 stagecoach, historic coins, currency, maps, and photographs.
Climb or Traverse The Famous Streets of San Francisco
Get Crooked on Lombard Street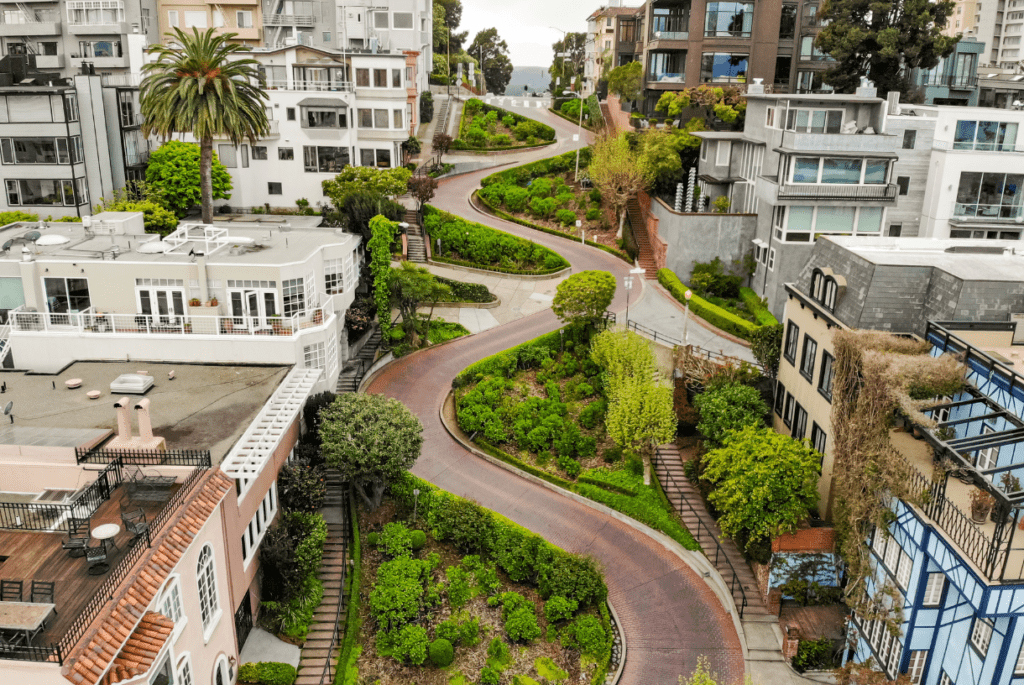 This iconic San Francisco street is known for its eight consecutive hairpin turns. Why so twisted? Lombard Street was designed to accommodate a 27% hill incline, which, back in 1922, was believed to be too steep for both cars and pedestrians. Their solution? Make the street more crooked than a politician doing a backbend.
Climb the 387 Filbert Street Steps to Coit Tower
Climbing the 387 Filbert Street Steps to Coit Tower is no small feat. But take heart! There are plenty of natural pauses that occur during the ascent. The view of San Francisco from Coit Tower gives you a great place to breathe and take in the view. Believe it or not, this area was once a place for dumping trash (literally, people just rolled it down the hill) until local resident Grace Marchant adopted the site, beginning her lifelong project of transforming the neighborhood into a stunning garden maze. Today, local residents maintain these gardens, which attract a variety of wildlife, including the famous "Parrots of Telegraph Hill."
Poke Around on Grant Avenue in Chinatown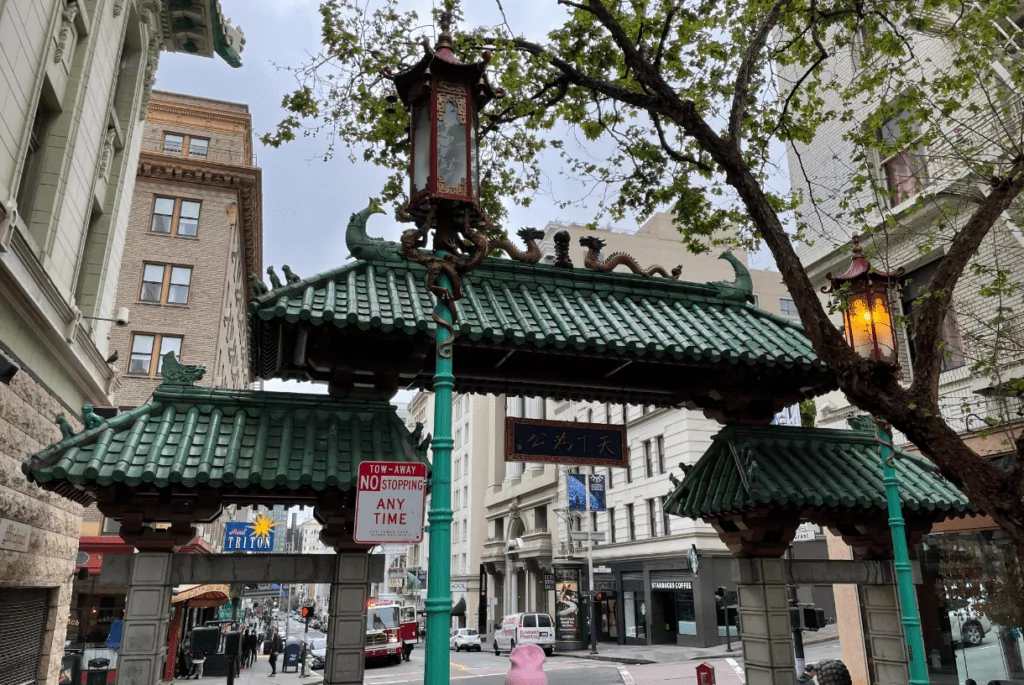 Grant Street is the real "Main Street" of Chinatown. Most visitors start at the photogenic entry–Dragon's Gate. As you walk down Grant, peek into exotic, local shops. Find Ross Alley so your group can taste the goods fresh off a hot iron at the Chinese Fortune Cookie Factory. If it's meal time, line up for some authentic local cuisine. We love the Garden Bakery for moon cakes and the House of Dim Sum. Before leaving Chinatown, relax in one of the many Chinese tea shops where you can choose from hundreds of exotic varieties.
Become Spellbound by the Murals in Clarion Alley
If you're spending the day in the Mission District of San Francisco, you can't miss the murals on Clarion Alley, a small street connecting Mission and Valencia streets between 17th and 18th streets. The Clarion Alley Mural Project (CAMP) is responsible for the murals, many of which highlight socially responsible themes. The colors and eclectic styles are mesmerizing.
Reach the Top of the 16th Avenue Steps Just Before Sundown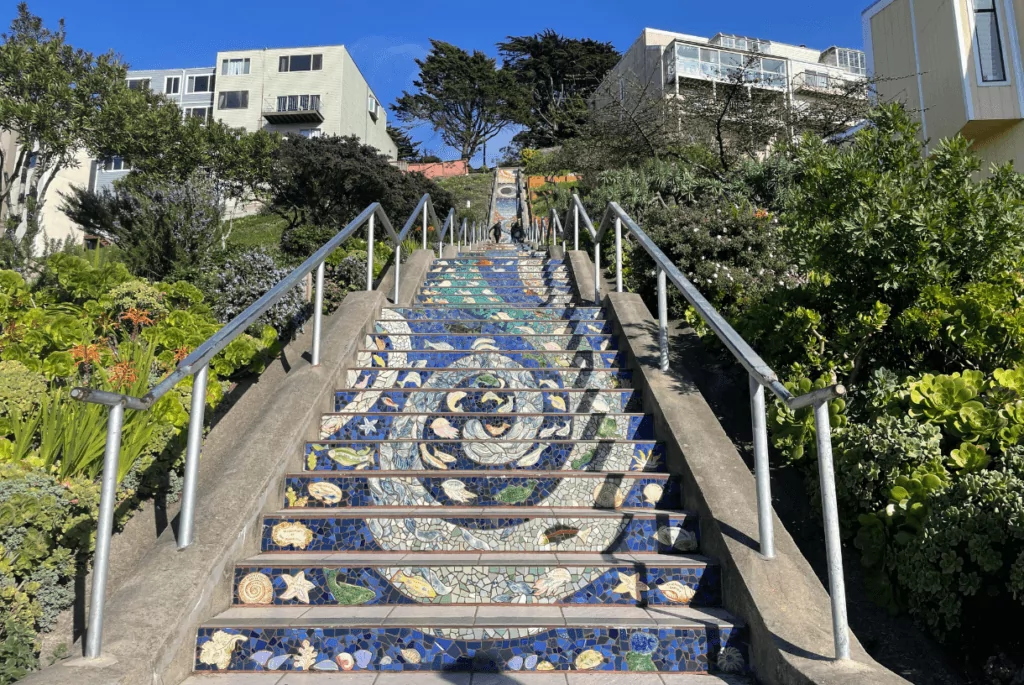 The 16th Avenue Steps are a collaborative neighborhood beautification project featuring a tiled mosaic with the theme "from sea to stars." The steps include 163 tiled panels highlighting swirling marine life, a glowing moon, and glistening golden tiles arranged to emulate the sun's rays. Though only half a mile, the walk will take about 20 minutes, so head to the steps about 40 minutes before sundown to catch the stunning views by sunset. Pack a layer to accommodate temperature as this part of town is known to be 5 to 10 degrees cooler.
Free Photo Op in San Francisco
Take a Selfie at the Painted Ladies While Lounging in Alamo Square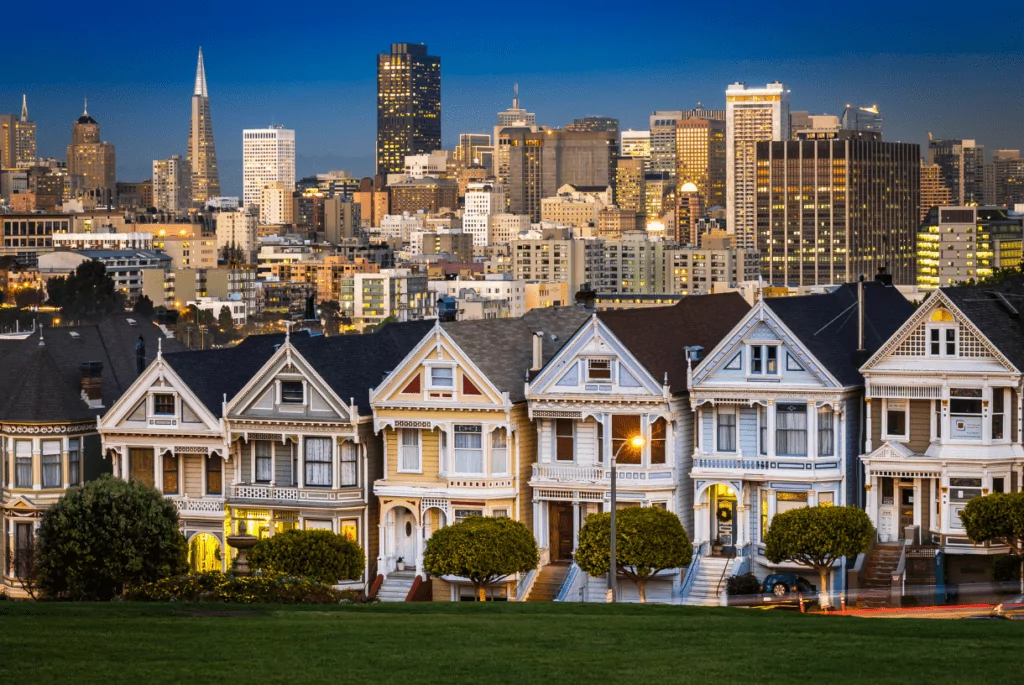 This is your moment to have your cake and eat it too! According to American architectural practices, Painted Ladies are Victorian or Edwardian ornate homes painted using three or more colors to enhance their ornate architectural details. So snap a pic of these lovely ladies while kicking your feet back in some luxurious green space on Alamo Hill. You'll be the envy of all your friends.
Walk Across the Golden Gate Bridge
Looking for something you should not miss in San Francisco? Walk across the iconic Golden Gate Bridge! The bridge is open from November to March from 5 AM to 6:30 PM and then from March to November from 5 AM to 9 PM. Not sure what to wear? Bring layers to ensure a comfortable journey, and expect it to be windy.
Capture the Iconic Golden Gate Bridge From Fort Point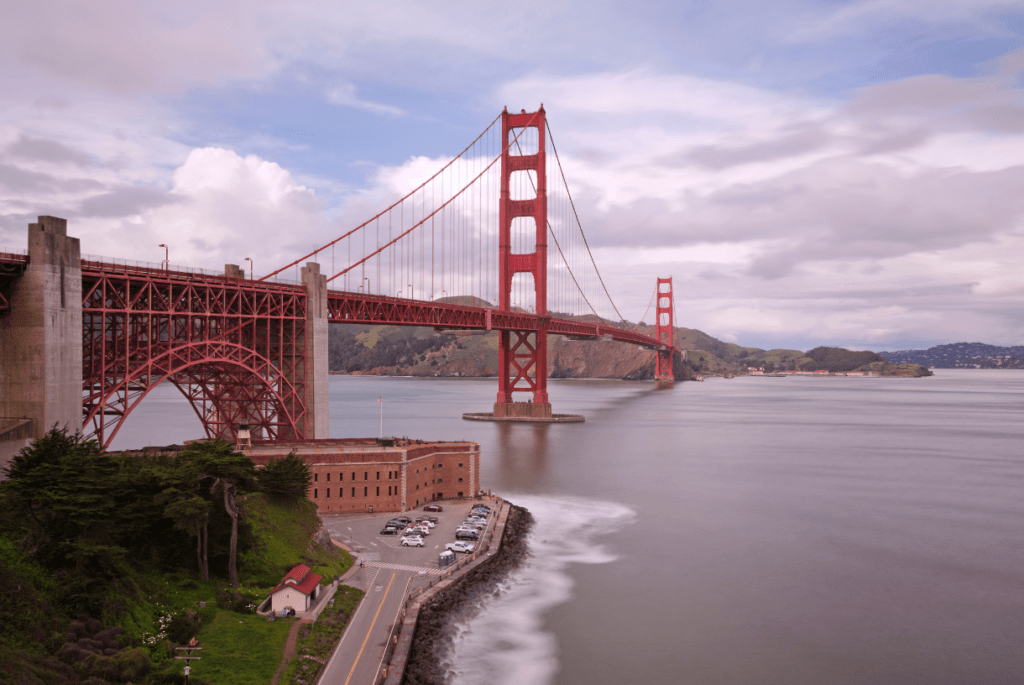 Fort Point is a historical landmark that protected San Francisco during California's Gold Rush and has safeguarded the city for over 150 years. It is also, as it happens, a prime spot to capture the Golden Gate Bridge. The intricate masonry of the Fort itself blends seamlessly with the distinct architecture of the bridge, but this almost didn't happen. Initially, to construct the bridge, the Fort was slated to be destroyed, but thankfully Chief Engineer Joseph Strauss recognized the Fort's importance and called for a unique arch to be constructed over top of it. The result was a match made in photo heaven.
Enjoy the View from the Hamon Observation Tower at the de Young Museum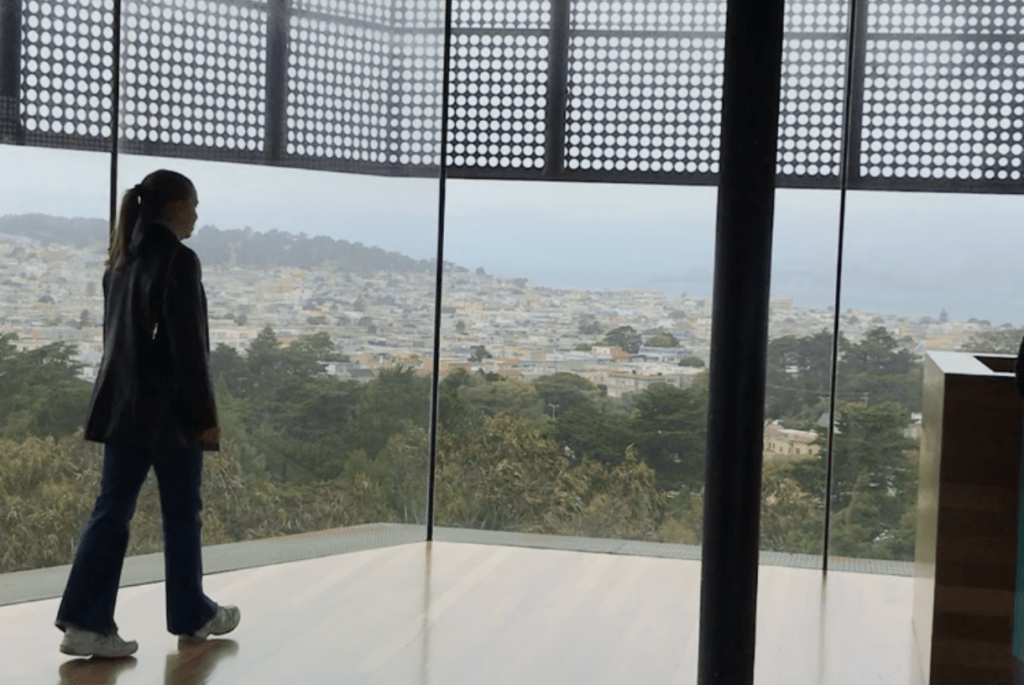 If you're looking to see it all (literally) in one instance, then head to the Hamon Observation Tower, which can be found at the de Young Museum. You'll enjoy 360-degree views of San Francisco, Golden Gate Park, the Bay, and the Marin Headlands from this vantage point. Looking for more? If you head there on a Tuesday, the entire museum is free!
Photograph Everything From Battery Spencer in the Marin Headlands
Battery Spencer offers one of the most breathtaking views of the Golden Gate Bridge and, of course, is always open and always free. There are only about a dozen or so parking spaces located a quick but steep drive up Conzelman Road, so head out early and be patient; a parking spot will open (we promise, most people just take a quick photo then leave so parking opens faster than you may think.) Your patience will be rewarded with astonishing intimate views of the Golden Gate Bridge, views of the bay and passing ships, and (as you turn around) views of Fort Baker and across the bay to Angel Island and Alcatraz. Take your time meandering and glimpse the relic that was once an active Battery.
We could keep going since San Francisco has a nearly unlimited variety of free things for visitors young, old and in between. Extranomical Tours loves to share our local insights so that you get the most from your visit to our city. Who knows? If you save enough on all these free experiences you might decide to join us on one of our 5-star tours to Yosemite National Park or Napa Valley!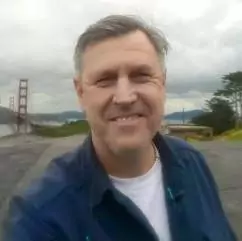 Gary Lillian is an advisor to Extranomical Tours which has led more than 10,000 guided tours in Northern California in the last 10 years. He is a graduate of Northwestern University, holds a master's degree from Kellog Graduate School of Management, and is a recognized subject matter expert in marketing and customer experience engineering.
Published on: July 15th 2022