Golden Gate Park, San Francisco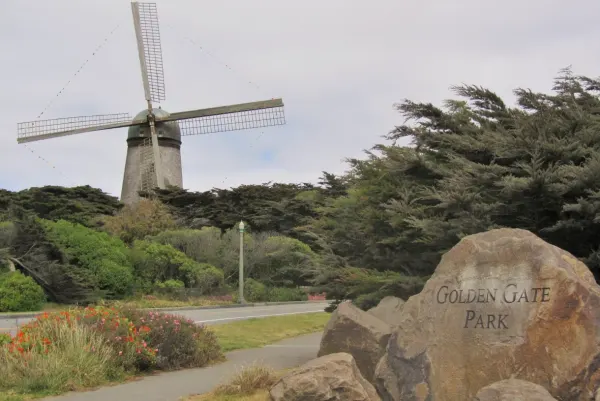 Golden Gate Park is a vast urban oasis that covers over 1,000 acres of San Francisco's western edge. It is one of the largest city parks in the world and a must-see destination for anyone visiting San Francisco.
The park was created in the late 19th century and named after the nearby Golden Gate Strait. It was designed to be a place of beauty and recreation for the people of San Francisco, and it has succeeded in that goal for over a century.
One of the most popular attractions in Golden Gate Park is the Japanese Tea Garden. This beautiful garden was originally created as part of the 1894 California Midwinter International Exposition and has since been expanded and renovated. Visitors can stroll through the lush gardens, admire the traditional architecture, and enjoy a cup of tea in the tea house.
Another must-see destination in the park is the de Young Museum. This stunning museum houses a vast collection of American art from the 17th through the 21st century, as well as a collection of art from Africa, Oceania, and the Americas. The museum's striking copper-clad exterior is a work of art in itself, and the views from the observation deck are breathtaking.
For those looking for outdoor recreation, Golden Gate Park has plenty of options. There are miles of hiking and biking trails, as well as fields for sports like soccer, baseball, and frisbee. You can rent a boat to row on Stow Lake, or take a spin on the historic carousel.
If you're traveling with kids, be sure to check out the Children's Playground and the San Francisco Botanical Garden. The playground has slides, swings, and other fun equipment, while the botanical garden offers a chance to explore plants from around the world.
Golden Gate Park is also home to a number of events throughout the year, including concerts, festivals, and art exhibits. No matter when you visit, there is always something to see and do in this vibrant and beautiful park.
In conclusion, if you're planning a trip to San Francisco, be sure to add Golden Gate Park to your itinerary. With its stunning natural beauty, world-class museums, and endless opportunities for recreation, it is truly one of the city's most beloved destinations.
Here is a list of some of the things you should come across when in the park:
Museums at Golden Gate Park:
California Academy of Sciences
Conservatory of Flowers
Garden of Shakespeare's Flowers
Japanese Tea Garden
M.H. de Young Museum
San Francisco Botanical Garden at Strybing Arboretum
Sports and Recreation at Golden Gate Park:
Archery
Basketball
Biking and Skating
Dog Runs
Fly-Fishing
Golf – 9 hole golf course
Handball
Kezar Stadium – Former home of the San Francisco 49ers
Lawn Bowling
Lindy in the Park – Swing Dancing
Pètanque – French Bowling game
Speckels Lake
Stow Lake – Largest Lake in the park
Tennis
Ultimate Frisbee
Sights and Activities at Golden Gate Park:
AIDS Memorial Grove
Arts & Crafts
Beach Chalet and Park Chalet
Birding
Buffalo Paddock
Children's Playground
McLaren Lodge
Music Concourse and Pavilion
Opera in the Park
Picnic Grounds
Rose Garden
Portals of the Past
Rhododendron Island
Statues
Strawberry Hill
Windmills and Queen Wilhelmina Tulip Garden