The de Young Museum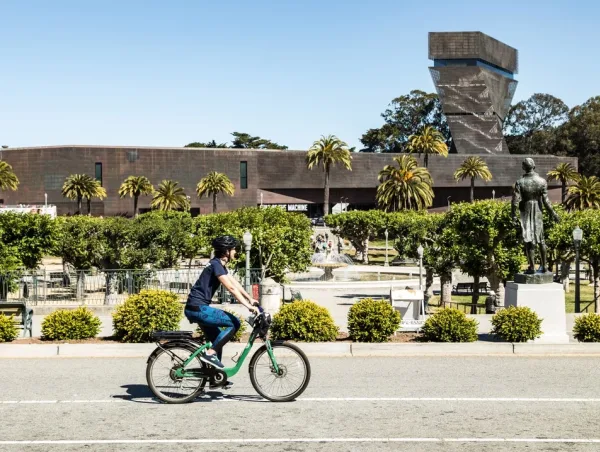 The de Young Museum, located in San Francisco's Golden Gate Park, is one of the city's most iconic landmarks. The museum is home to a vast collection of American art, including paintings, sculptures, and decorative arts, spanning from the 17th century to the present day.
The de Young Museum was founded in 1895 as part of the California Midwinter International Exposition. The original museum building was destroyed in the 1906 earthquake and fire that devastated much of San Francisco. The current building was designed by Swiss architect Herzog & de Meuron and opened in 2005, featuring a distinctive copper facade that has become a symbol of the museum.
Inside the de Young Museum, visitors can explore a diverse range of art and artifacts, including works by renowned artists such as Georgia O'Keeffe, Diego Rivera, and Thomas Hart Benton. The museum also has an extensive collection of African art, with over 1,000 objects that range from masks and sculptures to textiles and ceramics.
One of the most popular attractions at the de Young Museum is the observation tower, which offers stunning views of San Francisco and the surrounding area. The tower is free to visitors and can be accessed via an elevator located in the museum's central atrium. From the top of the tower, visitors can see landmarks such as the Golden Gate Bridge and Alcatraz Island.
In addition to its permanent collection, the de Young Museum hosts a variety of temporary exhibitions throughout the year. Recent exhibitions have included shows dedicated to fashion designer Oscar de la Renta, American painter Richard Diebenkorn, and photographer Dawoud Bey. The museum also offers a range of educational programs for visitors of all ages, including lectures, workshops, and guided tours.
One of the most unique aspects of the de Young Museum is its location in Golden Gate Park, one of San Francisco's most beloved green spaces. Visitors can easily spend a full day exploring the park, which features attractions such as the Japanese Tea Garden, the San Francisco Botanical Garden, and the California Academy of Sciences.
Overall, the de Young Museum is a must-see destination for art lovers visiting San Francisco. With its impressive collection, stunning architecture, and beautiful location in Golden Gate Park, the museum offers a truly unique and memorable cultural experience.