Twin Peaks, San Francisco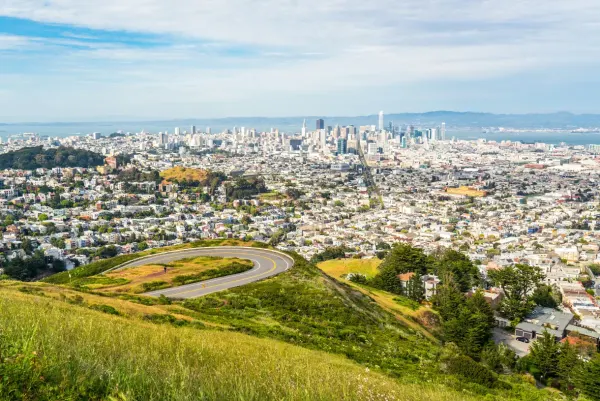 Of the 43 hills in San Francisco, Twin Peaks offers the city's most spectacular views. The almost identical summits, Noe and Eureka, rise approximately 922 feet above the city, dwarfed only by Mount Davidson.
Known by the Spaniards as "Los pechos de la Chola" (i.e. the Breasts of the Indian Maiden), Twin Peaks is ideally located at the geographical center of San Francisco. On a clear day, visitors are treated to a 360-degree view spanning the Golden Gate to Alcatraz, to Berkeley, to the peninsula. But even on a foggy day, the views are heart stopping, with the fog rolling in from the ocean and practically lapping at one's feet.
According to Indian legend, the two peaks stood as one mountain as man and wife until they quarreled and the Great Spirit parted them with a bolt of lightning. Today, the Southern peak is called Noe, the Northern peak, Eureka.
Twin Peaks Boulevard winds its way past colorful houses perched on the flanks of Twin Peaks to Christmas Tree Point, an observation area located where the two peaks merge. While the road stops at Christmas Tree Point, the athletic and inquisitive visitor can venture all the way up either summit via meandering footpaths where every step presents a new photo-op.
Aside from a couple of transmission towers and a reservoir, the Twin Peaks remain the only uninhabited hills left in San Francisco. The area has been slated as a natural preserve, and is home to indigenous plant life and wildlife, such as raccoons, skunks, opossums, white crowned sparrows and red tail hawks. It's also one of the few remaining homes to the endangered Mission Blue Butterfly. Thanks to the loving efforts of the Natural Areas program, a division of the San Francisco Recreation and Parks department, Twin Peaks has been able to restore and sustain much of this natural plant life, providing a safe place for the Mission Blue to survive.
Night on Twin Peaks is an entirely different view that must also be experienced. The entire Bay Area sparkles below like a jeweled carpet. But the billing and cooing one hears most probably emanates from cars parked nearby, rather than the wildlife. Not surprisingly, Twin Peaks serves as an "Inspiration Point" for lovers. After all, what could be more romantic than parking above the twinkling lights of San Francisco and below the twinkling stars in the sky? If you don't have someone to keep you warm, you might want to bring a jacket, it gets pretty windy on top of the world.