Coit Tower: Catch the View from Above San Francisco
What's my favorite view of San Francisco? No contest. It's from atop Coit Tower. From this perch, you can capture stunning bird's-eye pics of the Golden Gate Bridge, "crooked" Lombard Street, Nob Hill, Russian Hill, Twin Peaks, Aquatic Park, Pier 39, the Financial District, the Ferry Building, Angel Island, Alcatraz, Treasure Island, and the Bay Bridge. Don't miss it!
Getting to the observation deck 210 feet above Telegraph Hill is an adventure. First, you'll drive (good) or hike (better) up the winding pathways of Pioneer Park to the Tower lobby. Pause here to check out the depression-era murals and stories they tell. Thought-provoking! Next, take the elevator up 15 stories to the observation platform. A climb up two more flights will take you to an open-air viewing area. From this breezy spot, you can look out windows facing every direction. It's very chill.
Bring your selfie-stick! Famed filmmaker Alfred Hitchcock was so inspired by Coit Tower, if selfies had been around at the time, he would have taken one of himself there. Yes, Coit Tower was featured in his 1958 film, Vertigo. In a cameo shot, actor Jimmy Stewart gazes out the window at it.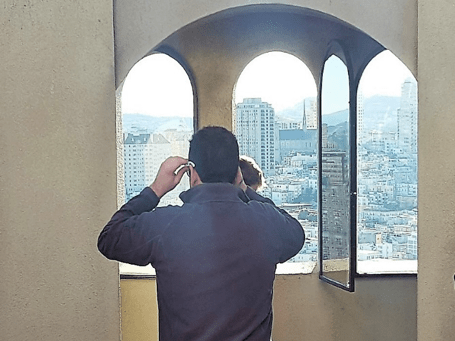 Eighty-Eight years ago, Coit Tower was built with money left to the city of San Francisco by Lillie Hitchcock Coit. Feisty, 'Firebelle Lil' was a wealthy socialite and genuine eccentric who regularly wore trousers and smoked cigars, so she could gamble in the male-only establishments of North Beach. I imagine that Lil would be as comfortable with the San Francisco of 2018 as the one she lived in 1918!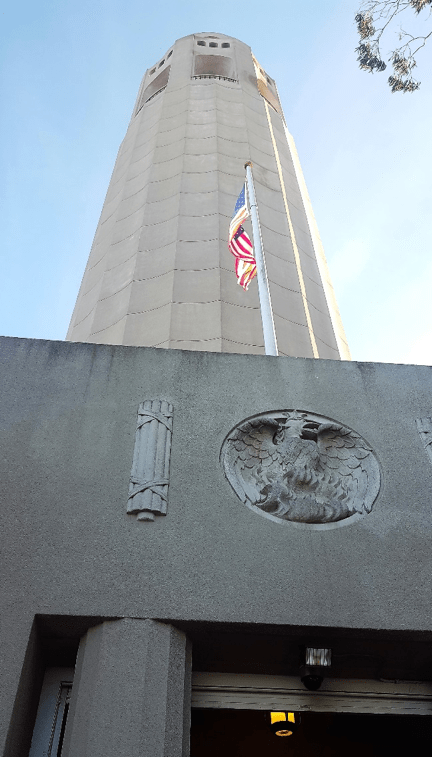 Local firefighters loved her! Urban legend has it that at the age 15, she'd helped the volunteer Knickerbocker Engine Company, No. 5 respond to a fire on Telegraph Hill, an act that made her an honorary member of the engine company. When she died in 1929, she bequeathed money to San Francisco to "add to the beauty of the city she'd loved."San Francisco felt it fitting to erect this marvelous lookout tower in her name. Strangely, Coit Tower architect Arthur Brown Jr. always contended that the memorial was not meant to resemble the brass tip of a firehose. Really?
Coit Tower Murals
When visiting Coit Tower, I love to browse the collection of fresco murals funded by President Franklin D. Roosevelt's New Deal. They depict the quiet dignity of workers during the Great Depression. There are left-leaning, Marxist, and racial equality images. When the public first saw them, a hail storm of public criticism caused Coit Tower to be closed and padlocked for three months. Today, viewing is free and open to the public.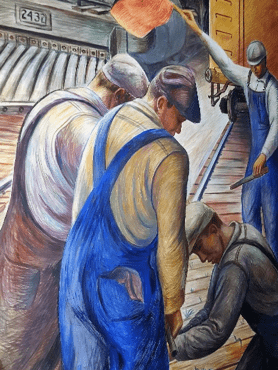 Telegraph Hill
I'd also suggest taking your time as you meander through Pioneer Park, which surrounds the tower. While climbing its 455 steps (whew!), you might just be lucky enough to spot one of the wild cherry-headed parrots made famous in the book and 2003 documentary film, The Wild Parrots of Telegraph Hill.The documentary first aired on PBS and is now available on Netflix.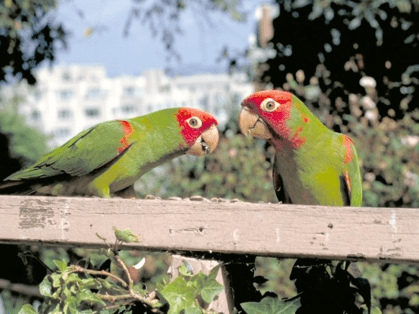 How to Get There
To reach the top of Telegraph Hill and Coit Tower, you can climb the Filbert Street stairs alongside beautiful neighborhood gardens, tiny cottages, and fabulous views. Or, Muni's #39 Coit bus runs between Coit Tower and Fisherman's Wharf. Caution: private vehicles or tour buses with more than 8 passengers are not allowed in the parking area. Coit Tower can be busy. Try to visit in the early morning or during the winter months when there are fewer tourists at popular San Francisco attractions.
For first-time visitors to San Francisco, I always recommend taking a guided bus or van tour with a knowledgeable tour operator like Extranomical Tours. At the end of your tour of Coit Tower, they can drop you within walking distance of Pier 39, Boudin Bakery, the Alcatraz Island ferry, or the Powell/Mason cable car turnaround. Enjoy San Francisco!
Published on: January 16th 2018