San Francisco is a magical place to spend the holiday season. Whether you are a local preparing to celebrate close to home or a visitor planning a vacation to the City by the Bay, it will help you to know a bit more about San Francisco during the holidays.
From fan favorite annual events to sparkling light displays to holiday markets and everything in between, this is your one-stop article to Christmas in San Francisco and other San Francisco holidays! Below we will cover all of 2023's best San Francisco holiday spots and activities in the city, broken down into the following helpful categories:
But first! Especially if you are traveling to San Francisco in November, don't miss all of the top things to do in San Francisco in the fall. Combine those suggestions with the ones below for an epic San Francisco visit.
Annual Holiday Events in San Francisco
Let's begin with the classic annual events everyone looks forward to. These family-friendly events bring the city together to ring in the San Francisco holidays with good cheer, twinkling lights, and fireworks.
Turkey Trots
While everyone's eyes are already trained on Christmas, we can't forget Thanksgiving! That wonderful holiday when most of us gorge ourselves on our favorite heavy foods, and others…. Run 5Ks?
We aren't sure exactly who these magical Thanksgiving runners are, but if you are one of them – we salute you! This article covers the details for this year's turkey trots in San Francisco.
Christmas Tree Lightings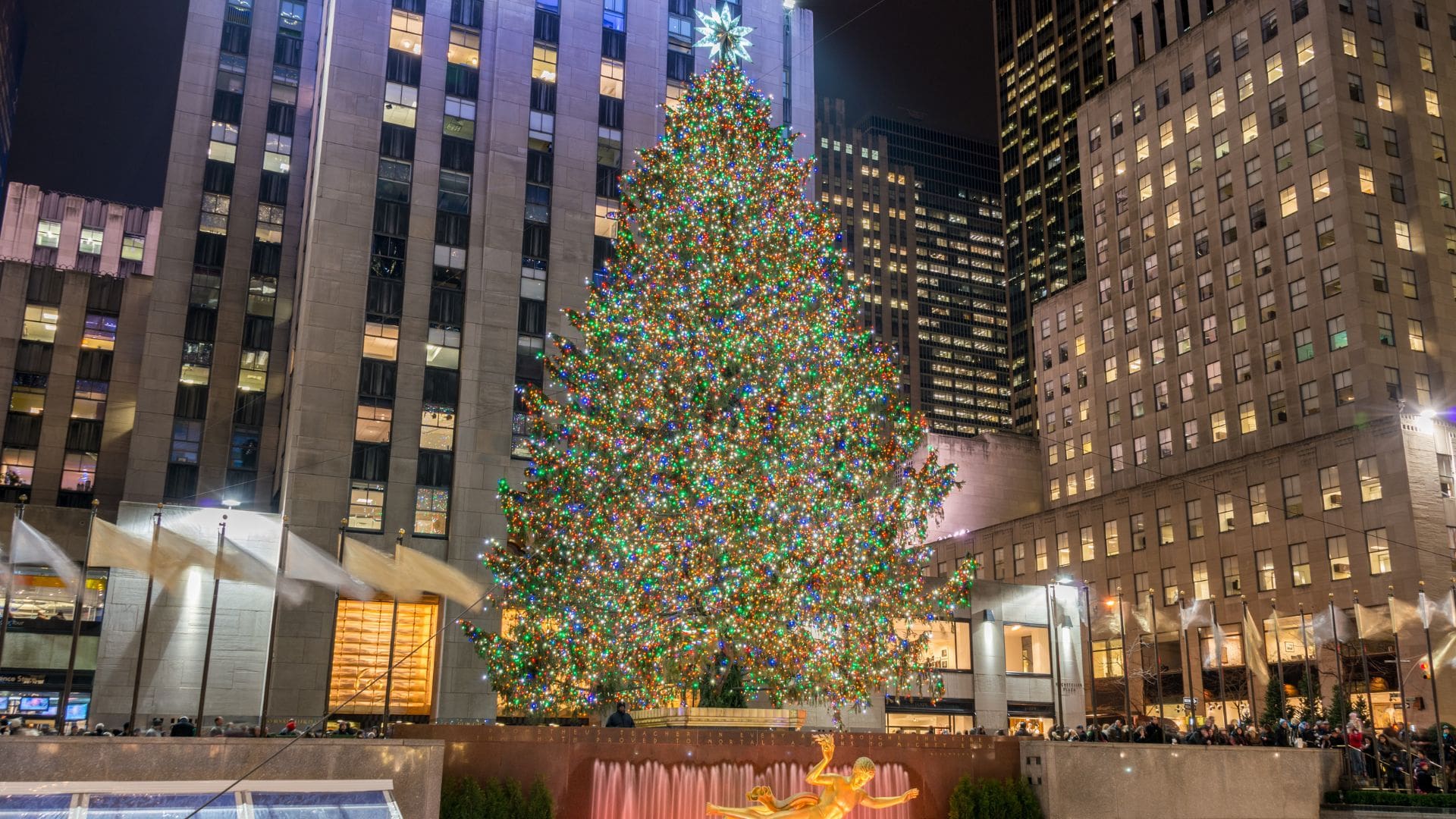 Now onto the sparkling Christmas lights! While many of the most famous trees in San Francisco will be lit quietly and without much fanfare this year, there are a couple of official tree-lighting events still happening.
Up first is the Civic Center Tree Lighting. This will occur on December 6th from 4-7 pm. Enjoy festive performances, seasonal sips and bites, and even a visit from Santa himself. The Mayor of San Francisco, London Breed will light the Civic Center Tree at 5:30 pm.
There will also be a celebration for the lighting of the Rainbow World Tree of Hope at Grace Cathedral. From 6:30-8 pm on December 4th, the Cathedral will celebrate the official lighting of the Tree of Hope, with performances from the San Francisco Boys Chorus, the Queer Chorus of San Francisco, and more.
Grace Cathedral has a calendar full of wonderful Christmas events not to miss this season. See the full schedule here and join them for joyous singalongs and thoughtful introspection.
Fisherman's Wharf Holiday Boat Parade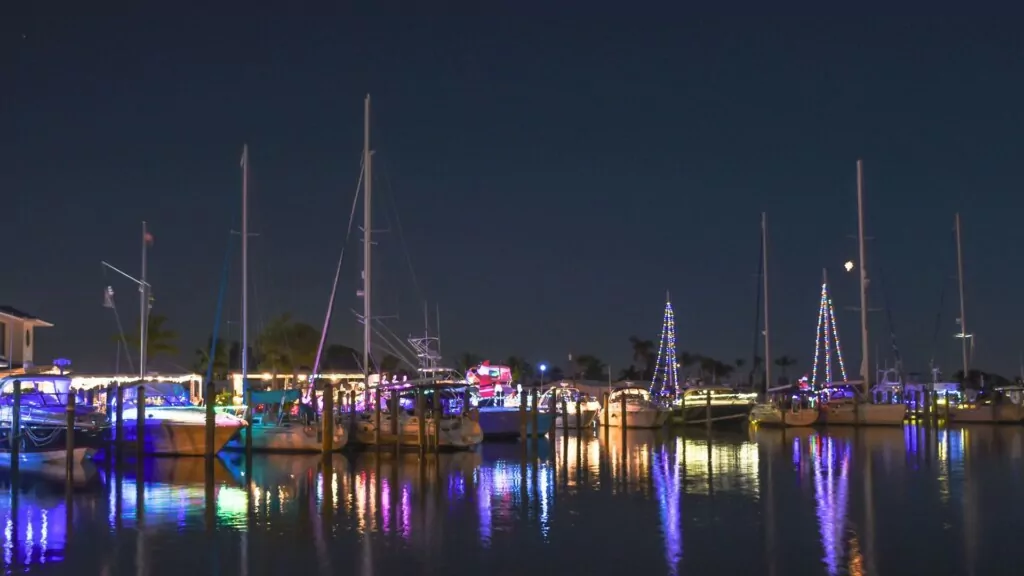 The Holiday light magic continues with this fan favorite boat parade. On December 15th, from 6-8 pm, snag a spot along the waterfront to watch the decked out boats float by Pier 39, Fisherman's Wharf, Fort Mason, and St. Francis Yacht Club.
If you can't make it to the official parade, just head over to Fisherman's Wharf before January to see the boats all lit up in their holiday best.
Menorah Lighting
It is not only trees and boats that will be lit in San Francisco this holiday season. In Union Square, from December 7th-14th, a 25-foot-tall menorah will be lit nightly in celebration of the 8 holy nights of Hanukkah.
Begun in 1975, San Francisco's Menorah lighting celebration was the first of its kind. It was in fact the very first official public Chanukah celebration outside of Israel. Since then, it has inspired similar celebrations in over 500 metropolitan cities across the globe.
On the first night, December 7th, the celebration begins at 3:30pm, with the official lighting scheduled for 5pm. See the Bill Graham Menorah Project's website for the lighting and event schedule for the remainder of the week-long holiday.
New Year's Eve Fireworks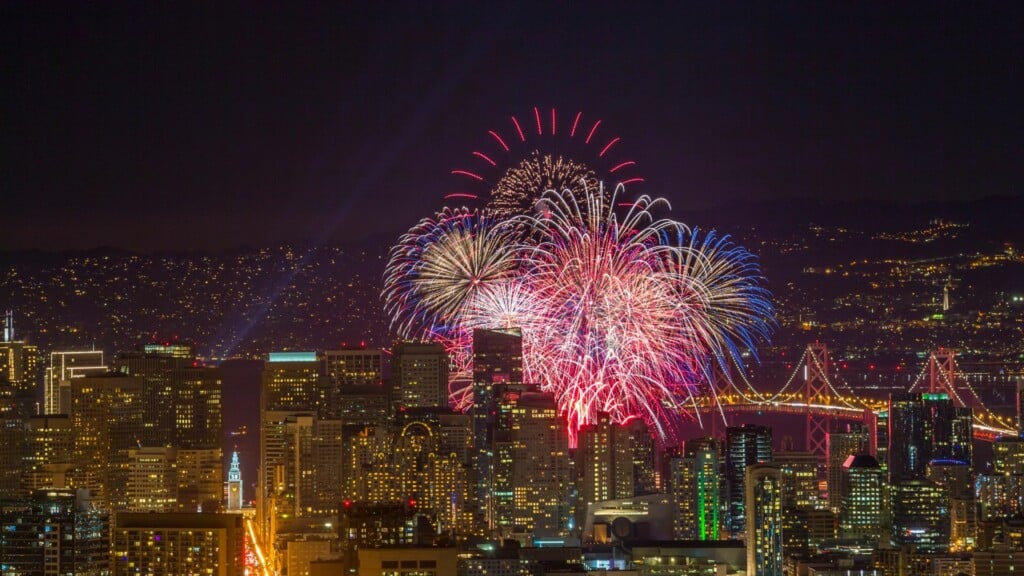 The San Francisco New Year's Eve fireworks display sees hundreds of thousands of locals and visitors crowding the waterfront to view the magical show. The fireworks are set off from a boat in between the Ferry Building and the SF Bay Bridge. The show begins at 11:59 pm and runs for 15-20 minutes.
One great vantage point is along the waterfront south of the Ferry Building. To get the best spots, many people begin arriving around 7 pm. They bring picnics and games to entertain themselves and their families until the show begins.
Even if you arrive just an hour or two before, you will probably still be able to find a good view somewhere and enjoy your own slice of this San Francisco holiday magic.
button
San Francisco Holiday Displays, Lights, and More!
We are not quite done talking about the wonderful holiday light displays in San Francisco. The following suggestions are less centered around one specific event, and more around independent exploration throughout the season.
You could probably explore San Francisco for weeks and keep finding brilliant holiday displays, but we are going to cover our favorite not-to-miss locations. From a gingerbread house big enough to walk through, to a breathtaking light show covering 5 whole buildings, here are the best holiday displays in San Francisco in 2023.
Union Square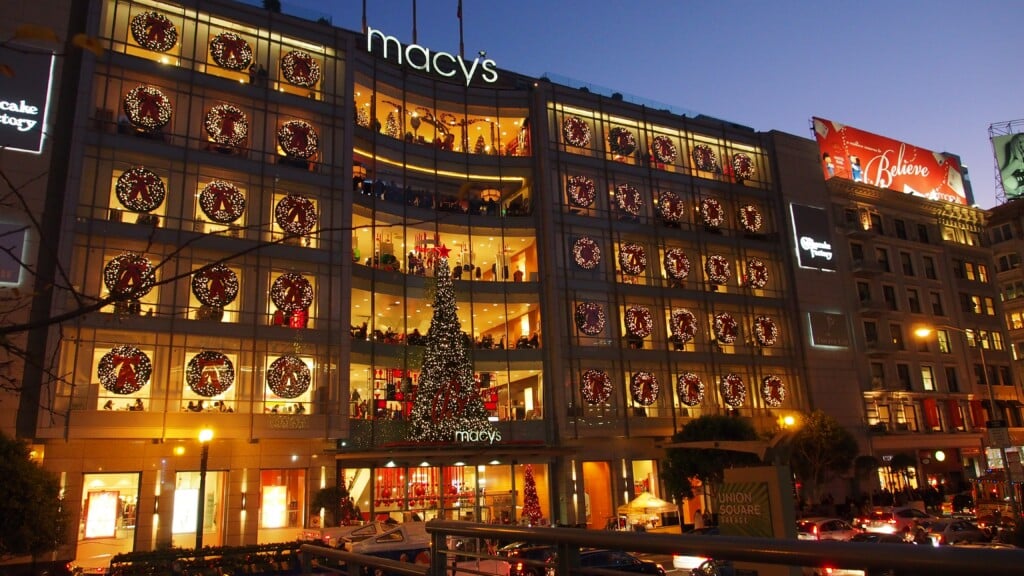 We have to begin with what is arguably the center of holiday cheer in San Francisco — Union Square. This open-air courtyard surrounded by high-end shops simply glistens this time of year.
A big beautiful tree stands twinkling above the Safeway Ice Rink in the center of the action. Stores like Neiman Marcus (they have a 4-story-tall tree!) and Saks Fifth Avenue always put on a show with their in-store and window decorations, but the real star is Macy's.
A beloved San Francisco tradition is back this year. The ASPCA will be stocking the windows of Macy's Department Store with adorable, adoptable kittens and puppies November 17th – December 31st from noon – 5 pm. Even if you aren't in the market for a new family member, watching the animals frolic in the wintery window scenes is truly heartwarming.
Also returning this year is Union Square's Winter Walk. This temporary pedestrian only holiday zone will be chock full of mouth-watering goodies, live entertainment, and perfect last-minute gifts. Winter Walk is scheduled for December 15-24th, 2023. Find the fun on Stockton Street from Post to O'Farrell.
During your visit to Union Square, make sure not to miss the Westin St. Francis Hotel and their giant sugar castle! This rotating, 12-foot-tall marvel of confection is sure to fill you with holiday cheer. The castle and village scene, complete with train, will be on display from November 22nd through January 4th.
After your visit to the sugar castle, POP on over to the champagne bar called Pop! Lounge, or grab some sweet treats from Sweet Boutique (open on weekends). The Westin St. Francis also offers a Breakfast with Santa experience and Holiday Teas, which are great fun for the whole family.
Pier 39
While maybe not quite the spectacle of Union Square, Pier 39 on the Embarcadero brings the holiday fun with beautiful decorations and a unique tree light show for their HapPier Holidays Celebration.
Every half hour from 5 – 10 pm, Pier 39's Christmas tree dances in rainbow lights, perfectly timed to holiday music. More details are yet to be announced, but their celebration will last from November 21st – January 7th 2024.
Ghirardelli Square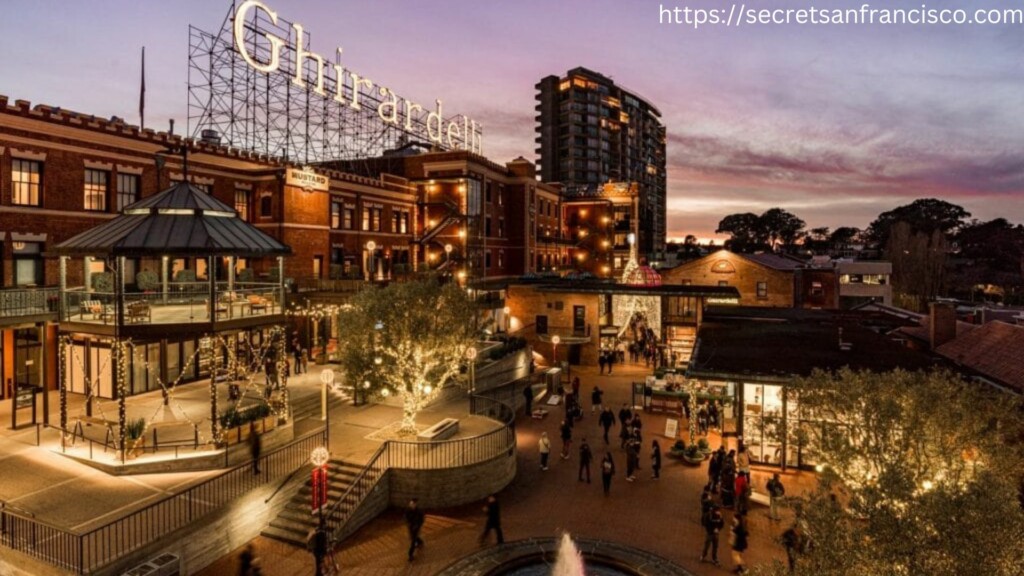 Don't miss Ghirardelli Square on the other end of the wharf! The square will light their Christmas tree (complete with a visit from Santa!) on November 24th. The rest of the season will include events like a Peppermint Bark Day, additional Santa visits and more. Check out their schedule. Even if you don't go there for a specific event, their lights and decorations are lovely all season.
Fairmont on Nob Hill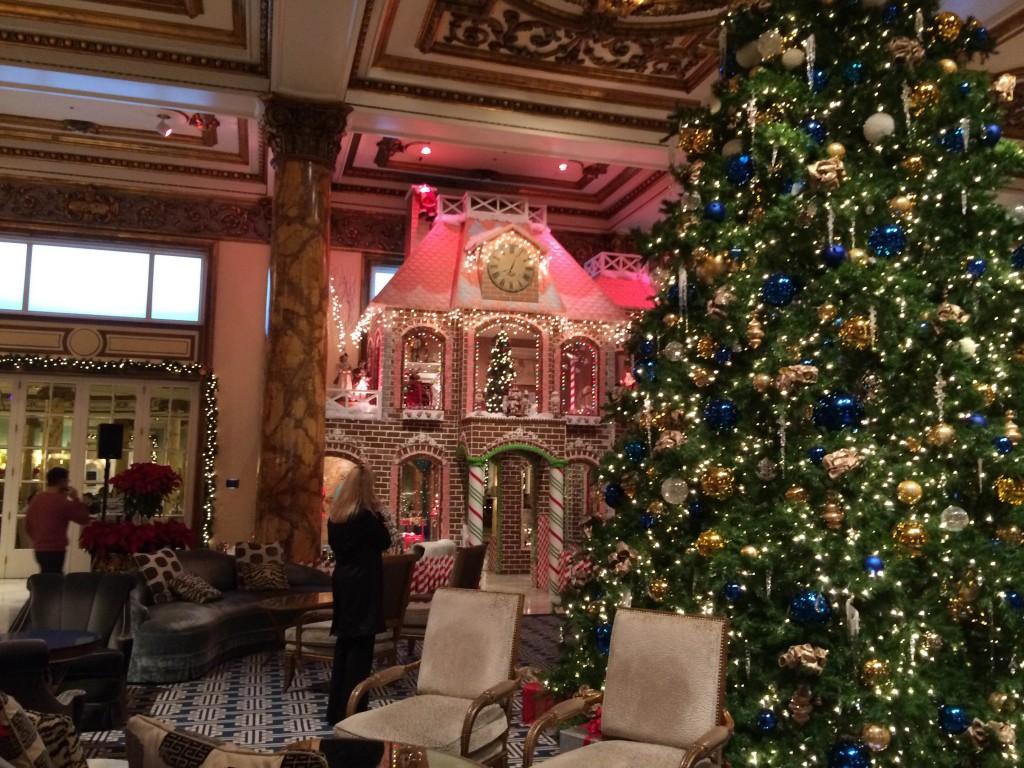 A not-to-miss holiday display in San Francisco is the gingerbread house at the Fairmont Nob Hill. This is no ordinary gingerbread house. This 2-story cookie mansion is big enough for adults to walk through and explore!
This delicious display is typically open from Thanksgiving through the New Year. After appreciating the gingerbread house, stay to explore the rest of the Fairmont's decorations. They really go all out. They are also a fabulous choice for Thanksgiving or Christmas Day Brunch!
Let's Glow SF
Back for its 3rd year is the popular light show Let's Glow SF. 5 iconic building facades around San Francisco will be illuminated using Panasonic projectors and lasers. The free shows will kick off on December 1st with the first projection onto the Ferry Building.
From December 2nd-10th, stop by all 5 buildings to experience artwork by different artists and food and drink for purchase. The 5-minute shows will play from 7-10 pm on the following buildings:
Ferry Building
Hobart Building
One Bush Plaza
Landing at Leidesdorff
Pacific Coast Stock Exchange
Salesforce Tower (special display on LED panel atop building)
Restaurants Serving Holiday Meals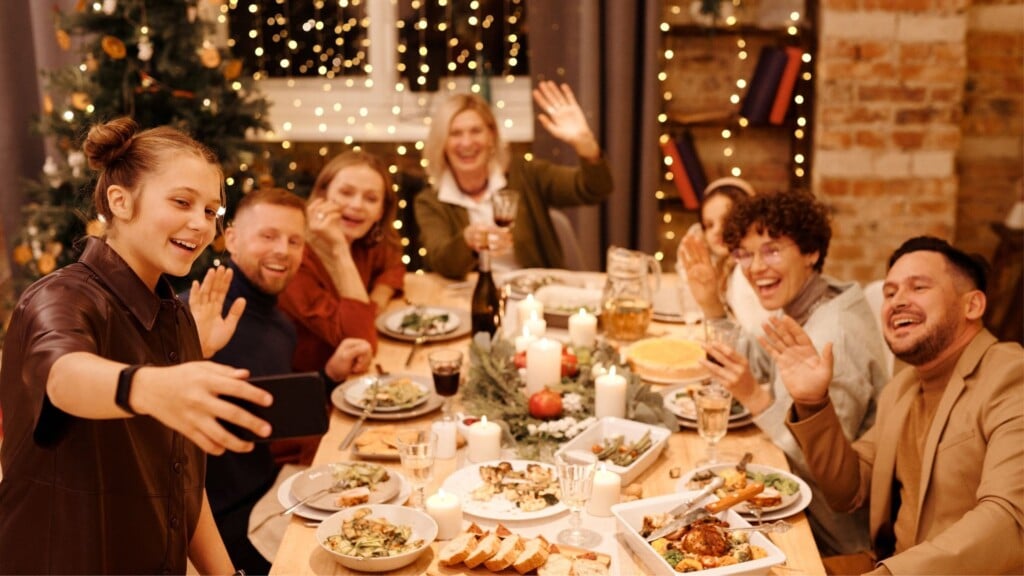 While movies and TV shows often depict holiday meals happening at home, many families create wonderful traditions and memories eating out on the holidays. This may be especially true if you are visiting San Francisco.
Many of San Francisco's wonderful restaurants offer magical meals for Thanksgiving, Christmas, and New Year's. Here are some to consider. Some offer prix-fixe menus or buffets with a set price, while others offer their classic menu with special twists. Make sure to make reservations as far in advance as possible, as these experiences fill up fast!
Thanksgiving Day
Westin St. Francis (Union Square) – Brunch buffet
Anzu (Union Square) – Japanese with a Californian twist
Buena Vista (Fisherman's Wharf) – All day regular menu plus Thanksgiving classics
One Market Restaurant (Embarcadero) – 4-course dinner
Hornblower Cruises (Pier 3) – Unique, on-the-water dining experience for brunch or dinner!
Christmas Day
Astra (St. Regis, South of Market) – Upscale Prix-fixe brunch
Westin St. Francis (Union Square) – Brunch buffet
Bistro Boudin (Embarcadero) – All day seafood with views of the Bay
Harborview Restaurant and Bar (Embarcadero) – Cantonese Chinese Cuisine
Laurel Court (Fairmont Hotel Nob Hill) – Californian lunch buffet
Zingari Ristorante (Union Square) – Italian Prix-fixe dinner
Hornblower Cruise (Pier 3) – Buffet dinner cruise embarking at 4pm
New Year's Eve (Dinner with Fireworks Views)
Waterbar (Embarcadero) – Sustainable seafood
Epic Steak (Embarcadero) – Steakhouse with extensive wine list
Terrene (Hotel 1, Embarcadero) – Fresh, local ingredients and outdoor area
Special San Francisco Holiday Activities
The holidays in San Francisco aren't just about searching out the best light displays. There are endless activities to keep you and your family entertained throughout the holiday season. From ice-skating rinks to a Charles Dickens-themed Fair to the classic Nutcracker Ballet, San Francisco has unforgettable holiday activities!
Golden Gate Park
First off, many of San Francisco's most iconic attractions step it up a notch during the holidays. Winter and holiday-themed exhibits and decorations turn repeat visits to classic attractions into brand new experiences.
A visit to Golden Gate Park will delight with holiday light shows on the Conservatory of Flowers, free admission to the Botanical Gardens on Christmas Day, and special winter exhibits within the California Academy of Sciences.
Ice Skating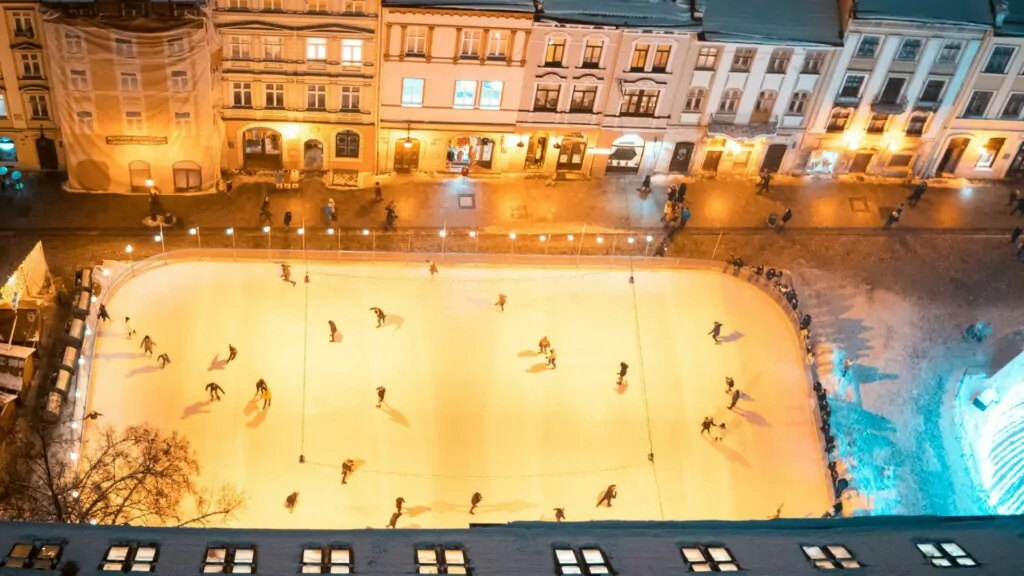 Even though the mild weather in San Francisco during the holidays may make ice skating a less obvious choice, locals and visitors alike still enjoy the classic winter activity here.
The most iconic ice-skating rink in San Francisco is right in the heart of Union Square. The Safeway Union Square Ice Rink will be available for hour-long skating reservations from November 1st – January 15th. Make sure to reserve your spot online, as there will be no in-person rental booth this year.
Insider Tip: The skating is extra special at night, with all of the lights of Union Square ablaze.
In years past, there have been several other outdoor seasonal ice rinks in San Francisco, including the Embarcadero Ice-Skating Rink near the Ferry Building and one in Golden Gate Park run by the California Academy of Sciences. As of writing, these rinks will not be returning in 2023, but keep an eye out for next year!
Searching for Santa
Santa may be a little harder to find in San Francisco this season, but we are here to help! Head to Macy's for a visit to the magical man from November 24th – December 24th. The visits are free (with optional photo purchase), but book your slot up to 5 days in advance.
You can also find Santa at Stonestown Galleria from November 17th – December 24th. Reservations are already available!
While these two locations are sure bets with a lot of availability, you will also see Santa pop in and out of celebrations throughout the city during the season. He will be lighting the tree at Ghirardelli Square on November 24th for example, and then returning there for photos on December 8th from 5-8 pm.
Insider's Tip: The worst day to search for Santa with your kiddos is December 9th, AKA 2023 Santa-Con. Following the tradition of other big cities, the streets of San Francisco will be crawling with drunk Santas, mid pub-crawl. While super fun for the adults participating, this may cause some awkward moments for young people.
See a Holiday Performance in San Francisco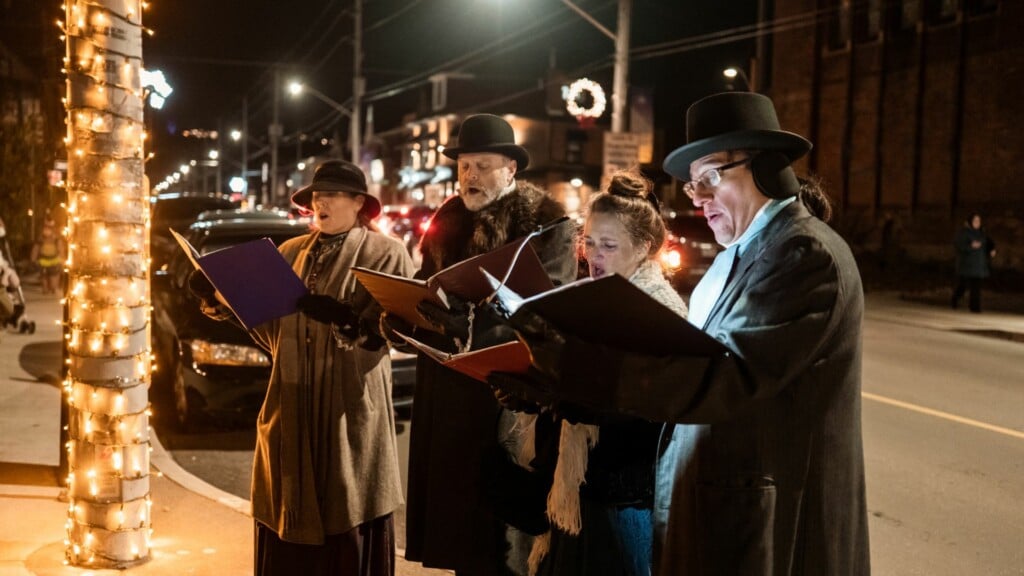 Going to see a classic holiday story told through dance, music, or live theater is always a treat. These San Francisco institutions create magic holiday memories every year.
First we have the classic ballet The Nutcracker. Be wept away to Clara's dream world filled with both holiday fears and delights. The San Francisco Ballet's Balanchine version of The Nutcracker will play at the War Memorial Opera House from December 13th – 30th.
The SF Symphony will perform a packed calendar of holiday shows in December, ranging from classic Christmas movies like Home Alone presented with a live symphony soundtrack, to Handel's Messiah. Check out their calendar of events.
Head to the Toni Rembe Theatre for The American Conservatory Theatre's popular rendition of A Christmas Carol. Witness grumpy businessman Ebenezar Scrooge discover the true meaning of Christmas after being shown his past, present, and future by 3 nighttime visitors. This production will run December 6th – 23rd.
The Great Dickens Christmas Fair
If watching A Christmas Carol on stage isn't enough of a Charles Dickens fix for you, you need to check out the Great Dickens Christmas Fair and Victorian Holiday Market in Daly City.
Step into the world of Victorian London with 140,000 square feet of historically decorated music halls, English pubs, and holiday shops, brimming with costumed characters from literature and history. Maybe even find some handmade Christmas gifts perfect for those on your list.
Become a part of this 30-year Christmas in San Francisco tradition! Purchase tickets online at The Great Dickens Fair Website. This event is held over 5 weekends from November 18th – December 17th, and tickets often sell out!
Find the Perfect Gift at San Francisco Holiday Markets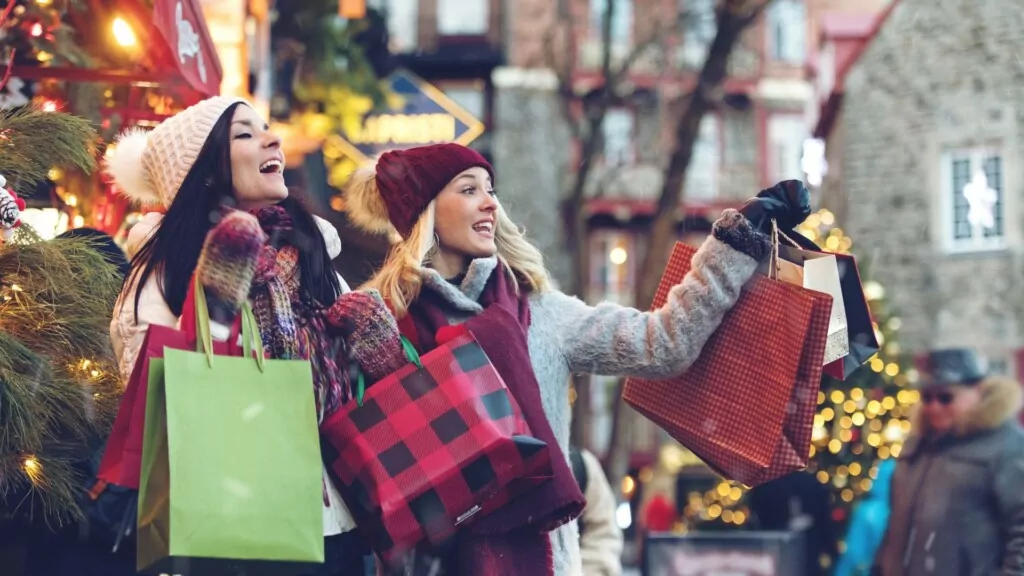 If you are looking for gifts that are just a tad more modern, but still festive, check out one of the other fantastic holiday markets in San Francisco.
On December 2nd from 9 am – 3 pm, St. Mary's Cathedral on Geary Street will host the San Francisco Swedish Christmas Fair. Shop for crafts while indulging in Swedish treats.
San Francisco's Ferry Building is always a great place to shop, but the Ferry Building during the holidays is better than ever. They host kid-friendly craft days and pop-up artisan markets where you can find truly special gifts.
Golden Gate Park's County Fair Building will play host to the Sunset Holiday Mercantile on December 2nd and 3rd from 11 am – 5 pm. This free indoor and outdoor market will feature local eats, local artisans and merchants, and loads of activities and performances.
Holiday Tea in San Francisco
Several hotels in San Francisco offer classy, yet family-friendly holiday teas. These include the Westin St. Regis, The Fairmont in Nob Hill, and the Ritz-Carlton. These outings will not come cheap, but may just become your favorite new holiday tradition.
Fresh Start Festival
We can't forget about New Year's! Fresh Start is a three-day outdoor music festival running December 30th – January 1st. Start the year off right with live music performances all day long at the Midway. This year's performers include Louis the Child, Elderbrook, Kaskade, and more.
New Year's Cruise and Fireworks
Ring in the new year out on the water with a Bay cruise. There are endless options to choose from, from raucous party boats with live DJs to high-end dinner and dancing cruises. Whatever your choice, they will all provide amazing views of the fireworks and a great memory to start your year.
Guided Tours from Extranomical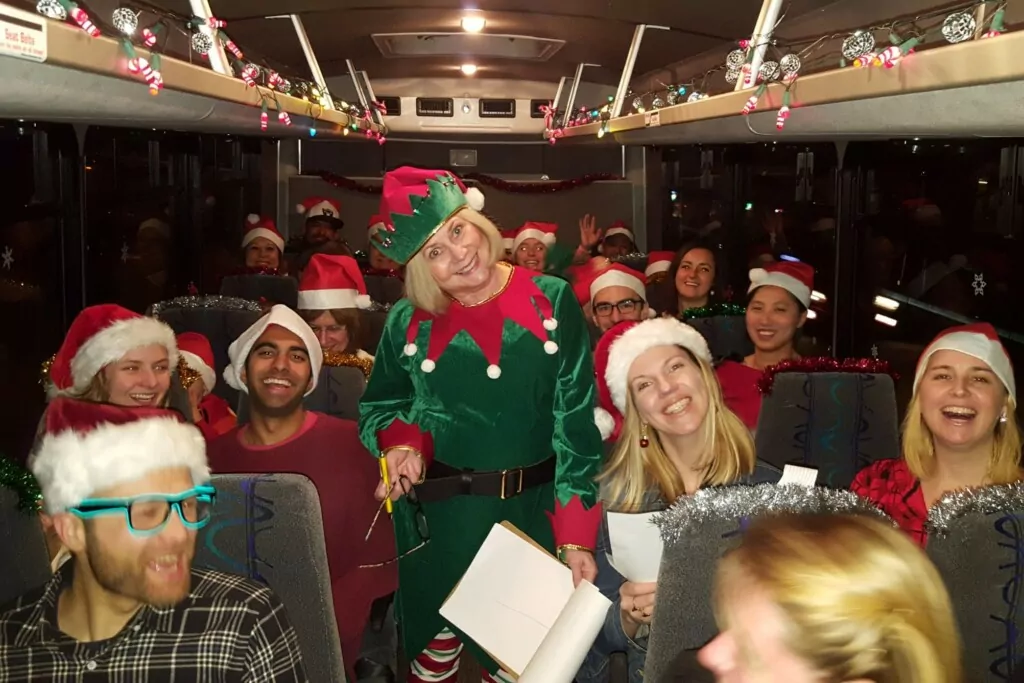 A great way to experience San Francisco during the holidays is to take a tour. The mild weather means all of the best San Francisco tours are still a great option this time of year.
But since this is a Holiday specific blog, here are our suggestions for the tours that will make your holiday experience in San Francisco even brighter.
This is the ultimate San Francisco Holiday Tour. Experience the best lights in the city including Pier 39 and Ghirardelli Square, see the Gingerbread house at the Fairmont Hotel, and indulge in holiday treats, all while singing classic tunes along the way!
The 24-hour HOHO bus tour is always a great choice for San Francisco first-timers. See all of the city's top attractions at your own pace. This is a great way to investigate each attraction's special holiday exhibits and decorations so you know exactly where you want to return for further exploration.
Here is a tour suggestion that may surprise you. The San Francisco Holiday season through to spring is a magical time to visit Yosemite National Park. This day trip from San Francisco takes all of the transportation stress out of your visit and allows for over 5 hours of time in the park.
And with 3 hours of free time in Yosemite Valley, you can choose your own adventure and do many of the best things to do in Yosemite in Winter. This tour even runs on Christmas day!
Practical Advice for Visitors
We want to wrap up this article with some need-to-know advice for spending the holidays in San Francisco. Here are some common questions we receive about things like packing and parking, and what we recommend.
What do I pack for Christmas in San Francisco?
It may surprise you to learn that San Francisco has mild weather during the holidays. We are talking highs of nearly 60 during the day, and lows only in the 40's at night. So while you may want to pack cute and fuzzy winter scarves and hats and gloves for themed photos, you may not actually NEED them.
For packing you will want to focus on layers. Bring and wear things that can transition easily from a chilly, light drizzle (it is our rainy season) to warm sun. Our rain rarely gets very hard though, so a raincoat with a hood will be enough protection for most.
Where can I park during the San Francisco holidays?
Parking in San Francisco can be just plain hard during the holidays, as everyone flocks to the same locations for all of the fun events. One method to make it a little less painful is to try a parking spot finding app like spothero.com.
For Union Square access, the big garages are the Union Square Garage, Sutter-Stockton Garage, and Ellis-O'Farrell Garage. Sutter-Stockton is the biggest, with close to 2,000 spots. If getting there early and staying the whole day on a weekday, Ellis-O'Farrell has a $22 special.
The most convenient parking for Fisherman's Wharf and Pier 39 is the Pier 39 Garage across the street. If you eat at many of the restaurants, you can get 1-2 hours free validation.
If you are able to find a parking spot on the street, here is an Insider's Tip for you: Street parking time limits are NOT enforced on Thanksgiving Day, Christmas Day, or New Year's Day. Unfortunately, if it is not one of those days, you need to comply with the signs or risk a ticket.
Of course, another option available to you is parking further away from your destination and taking public transit. Our system of street cars, light rail, buses, and ferries can get you pretty much anywhere. And many of them are scenic too!
Is San Francisco a good place to go for the Holidays?
Absolutely, yes! I hope that by now this article has convinced you that San Francisco is a wonderful place to spend the holiday season. This city has the holiday fun, Christmas lights and festive activities to cheer up even the grumpiest Scrooge.
One last important thing we want to mention is, above all else, be nice to each other this season. You don't have to be Jewish to enjoy the Hanukkah lighting in Union Square, and you don't have to be religious at all to join in on a service at Grace Cathedral, but you do need to be respectful. Bring all of the love in your heart with you to San Francisco, and the city will provide you with memories to keep you warm until next season.
Happy Holidays, everyone!
Published on: November 23rd 2023