Are you in on the secret about San Francisco in Fall? Believe it or not, San Francisco experiences warm, sunny, beautiful weather in fall. So while tourists flock to the Bay Area in summer only to get stuck in the fog, fall visitors (and locals!) get to experience the city at its best, often all to themselves.
With the fascinating combination of summer-like weather and classic fall activities, the best things to do in San Francisco in Fall are all over the map, with something for everyone. We have grouped the absolute best activities the city has to offer into 10 winning categories as follows:
10 Best Activities to do in San Francisco in Fall
1. Enjoy the Fall Weather in San Francisco
As mentioned, the weather in Fall in San Francisco is often wonderful, with highs in the low 70s. Take advantage of it with classic summer activities like biking and hiking in San Francisco's parks.
Bike Rentals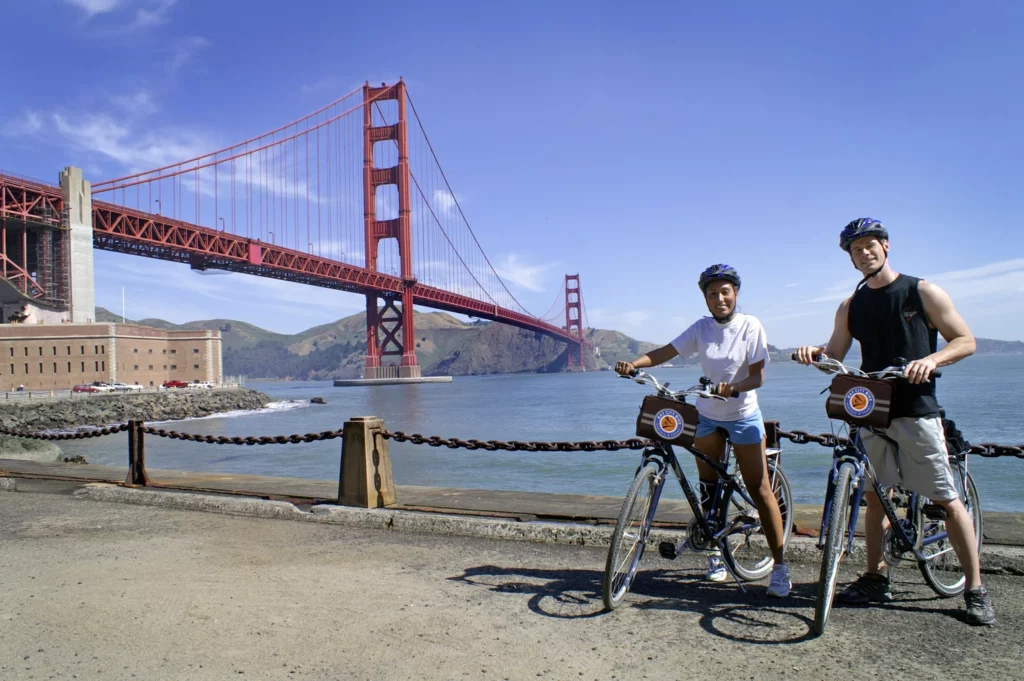 Take to two wheels to see the city in a fun way AND get your exercise. You can hop on a San Francisco guided bike tour with a local guide, or you can opt for a San Francisco bike rental to do your own thing on your own schedule.
Bike through Golden Gate Park, stopping to check out the Shakespeare Garden, catch a music performance at the bandshell, or take pictures in the Japanese pagoda on Stow Lake. Check out this deep dive into the best activities in Golden Gate Park.
Or bike along the waterfront and across the Golden Gate Bridge! The lifting of the August fog means you may just get a clear view off the famous bridge. And let's face it, you can't leave San Francisco without stepping foot (or wheel) on the iconic structure.
Hiking in Marin Headlands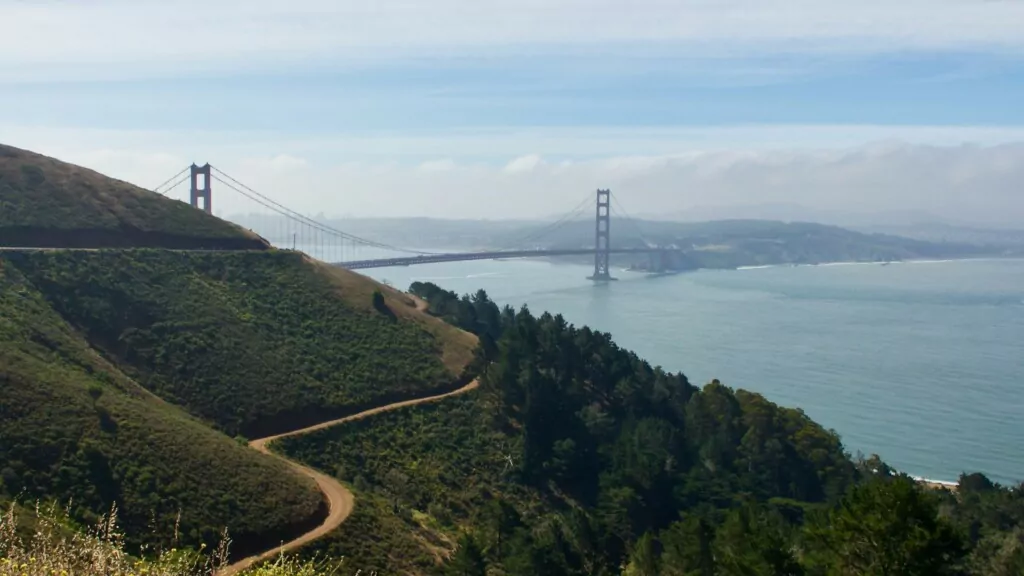 Fall is a great time of year to check out the local hiking scene in San Francisco. The Marin Headlands, just across the Golden Gate Bridge from the city, is a wonderful place to take a little city breather and connect with the local flora and fauna.
Mix history, harbor seals, and rugged coastal views with the 1-mile round trip walk out to Point Bonita Lighthouse. Or head just North to the Rodeo Lagoon Loop for a stroll between lagoon and Pacific Ocean. For an immersive trip through the chaparral and coastal grasslands, try the 5-mile moderate Gerbode Valley loop trail.
2. Gain some Culture
While the fall weather tends to be lovely, San Francisco still has a knack for chasing you indoors in any season. So it is always a good idea to have some indoor activities on your list for those days when 4 walls just sound nice.
Luckily, San Francisco is a world class location for indoor art and culture! Here are just a couple of ideas.
Art Museums
San Francisco is spoiled with fabulous museums in which to spend a rainy day. If you are a modern art fan don't miss the San Francisco Museum of Modern Art. It is one of the largest museums of contemporary art in the United States and shows an impressive array of sculpture, painting, architecture, media arts, and more. And kids under 18 visit the museum for free!
For a broader span of artwork, look to the fine arts museums of San Francisco, the Legion of Honor and the de Young. Together, their permanent collections and special exhibitions span 5,000 years of art. This fall, check out the de Young Open 2023 Exhibition, which will feature art from artists from all 9 Bay Area counties, hung floor to ceiling.
SF Open Studios
Every fall, a popular free event called SF Open Studios welcomes locals and visitors into artist's studios across the city for a behind the scene look at the creative process, and of course, their stunning artwork. The 2023 season will run from October 28-November 19th, each weekend focused on art studios in one quadrant of the city.
San Francisco Opera Company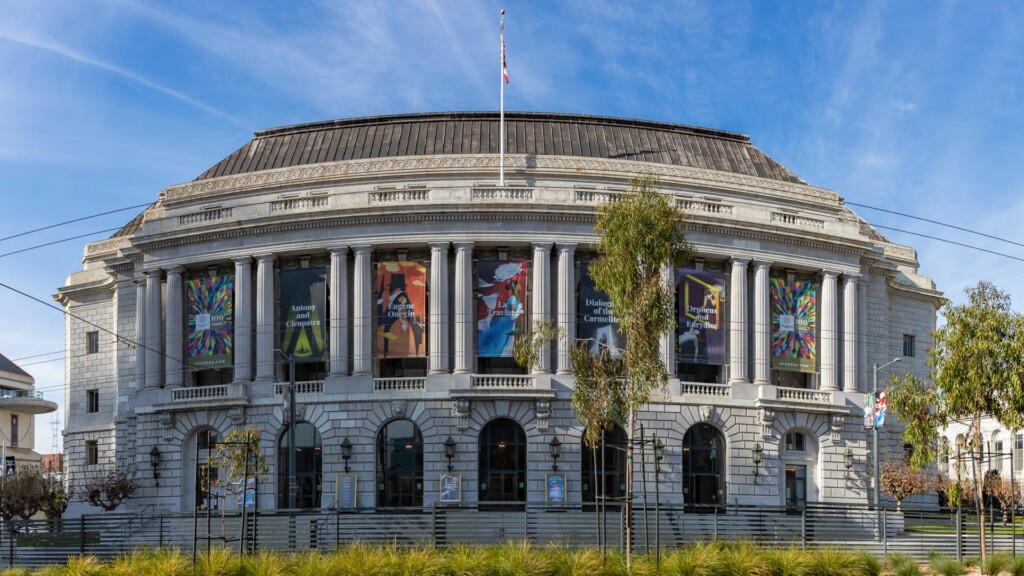 Spend a special evening out at the War Memorial Opera House. The fall lineup for the San Francisco Opera is out and includes classics like Verdi's Il Trovatore and Wagner's Lohengrin, as well as modern operas like The (R)evolution of Steve Jobs. The season runs from Sept. 12th – Dec. 9th and tickets start at just $26.
3. Find Fall Color in Golden Gate Park
No, San Francisco is not really the leaf chaser's paradise. We just have too many awesome evergreen trees which keep the city green year round. Having said that, there are two places right in Golden Gate Park to see some gorgeous fall color.
San Francisco Botanical Garden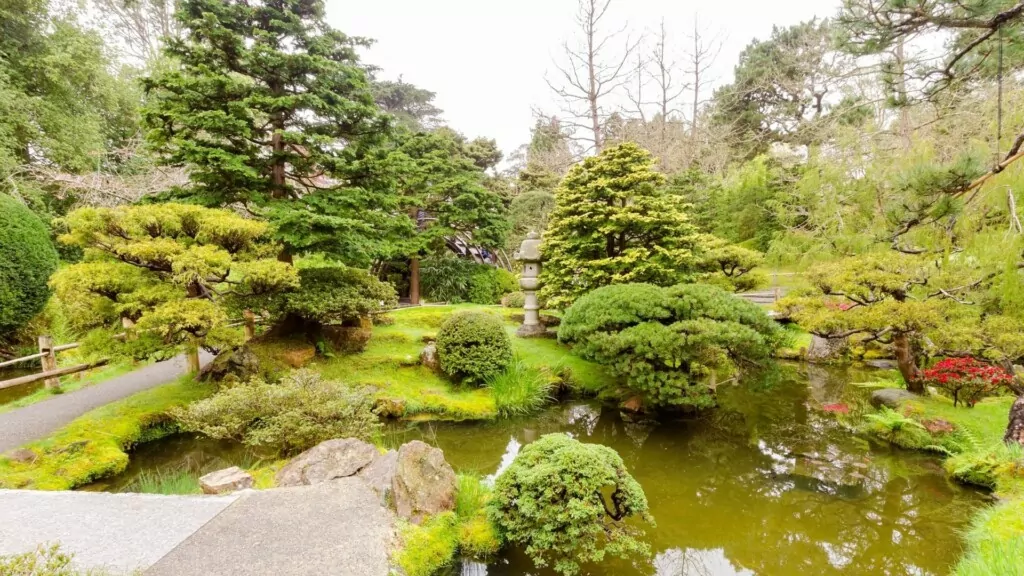 First off is the San Francisco Botanical Garden. This 55-acre garden is absolutely stock full of themed, manicured gardens and open spaces that are worth a visit any time of year. But in fall the places to go are the Temperate Asia Garden and the Moon Viewing Garden for Japanese maples, ginkgo bilobas, and more.
Japanese Tea Garden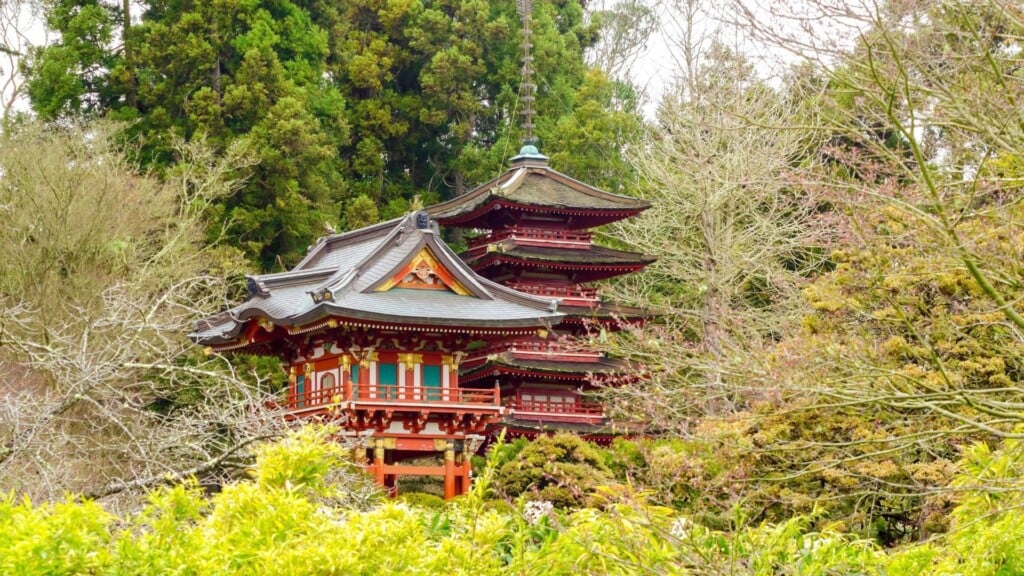 The Japanese Tea Garden really stands out in Fall. The maples turn vibrant red, echoing the traditional architecture perfectly. The koi in the ponds add their own fall colors to the scene as they swim alongside stone lanterns, walking paths, and zen gardens. Don't forget to walk across the drum bridge and stop at the Tea House for tea and small bites!
4. Eat Your Fill
Fall is for eating! Well, every season is, but fall boasts those fan favorite flavors and spices that warm hearts and bellies. Seasonal tables are filled with hearty root vegetables and apple pies, and everyone savors sips of hot chocolate and cider.
Seasonal food aside, San Francisco is a foodie city, with some of the best international food you can find anywhere. So if you prefer to focus on tacos or thai noodles over turkey, have no fear! However you enjoy interacting with food, San Francisco in fall has a food-related activity for you.
Farmers Markets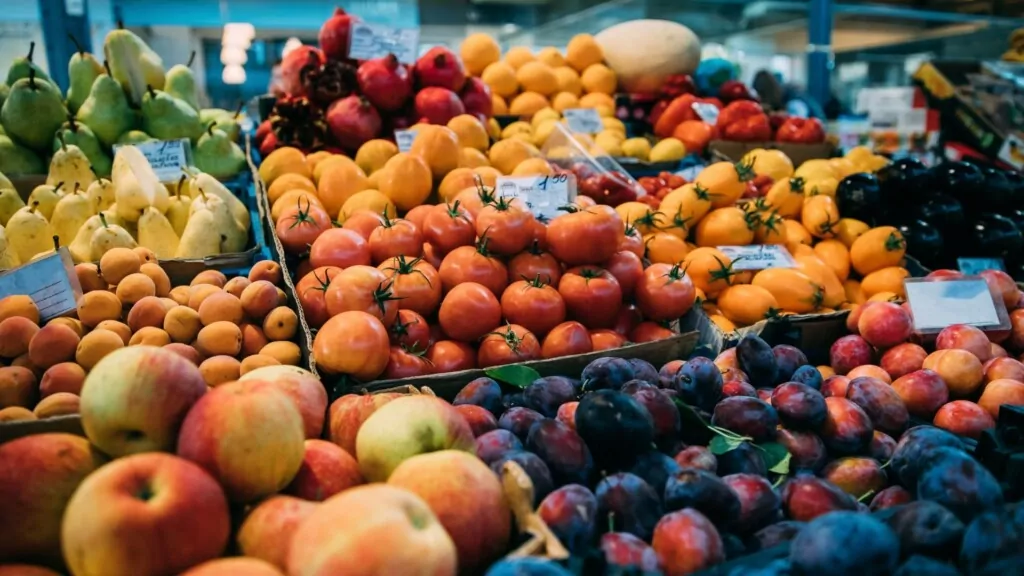 California is blessed with a long growing season, and the warm autumns mean fresh tomatoes into November, and fall harvests of favorites like potatoes and eggplant. Then of course there is all of the fabulous fall produce to savor like apples, pears, squash, peppers, and citrus. Check out the farmers market in the Ferry Building along the Embarcadero on Tuesdays and Thursdays from 10-2pm and Saturdays from 8-2pm.
Off the Grid at Fort Mason
Here's a fun fall food event! Off the Grid at Fort Mason is throwing Friday Night Food Fests this September and October. Each Friday is themed and will feature some of the best food trucks in the city as well as cocktails, beer/wine, and live music and entertainment.
Restaurant Week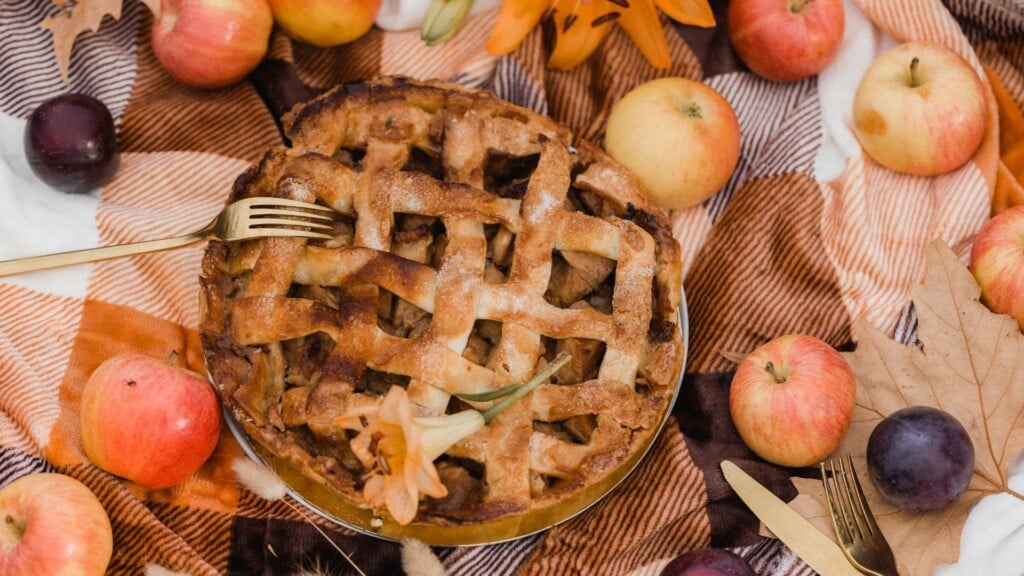 Treat yourself to an upscale prix-fixe brunch, lunch, or dinner during San Francisco's Fall Restaurant Week. This is the absolute best time to try out all of the restaurants on your bucket list or show your support to your favorite San Francisco culinary institutions. Restaurant week will run Nov. 3rd – 16th.
5. Take a Tour
Fall is an excellent time to take a tour in San Francisco. You can take advantage of the weather to take a broad city tour, hitting all of the popular spots, or you can lean into spooky season with a ghost tour or a trip to Alcatraz.
City Tour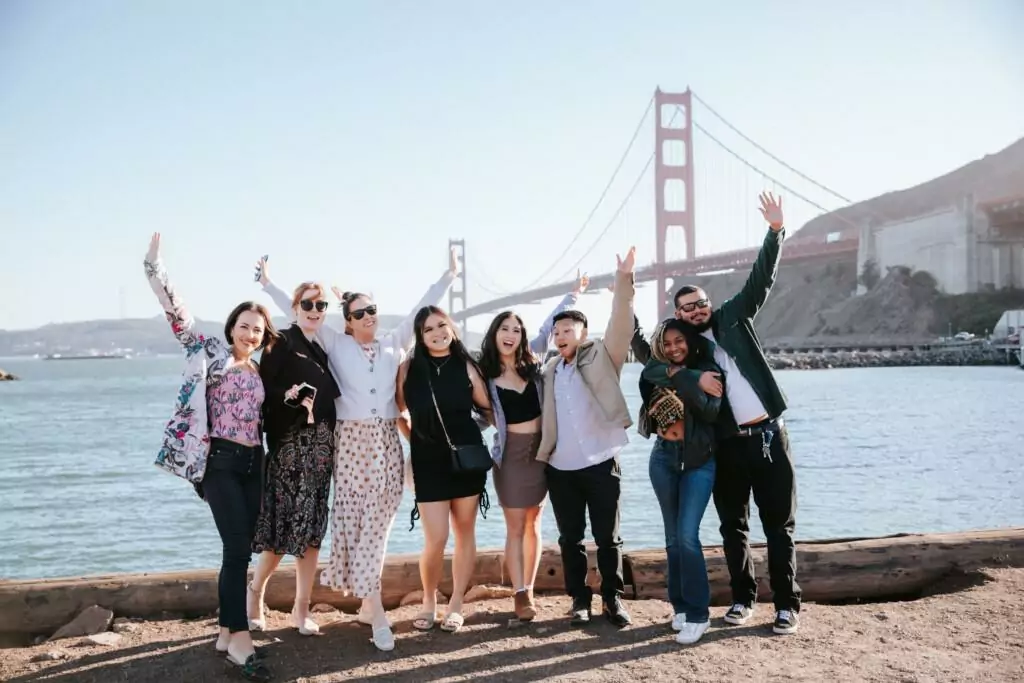 Fall is the perfect time to hop on a city tour. Take advantage of the slower tourist season to take in all of the must-see spots in the city, whether you are a visitor or a local.
Spend a morning hitting the top sights with an expert local guide on this morning guided city tour of San Francisco, or grab a ticket to the San Francisco hop-on hop-off bus and spend a day taking in the city on your own terms, gaining some interesting knowledge along the way.
Spooky Tours for Halloween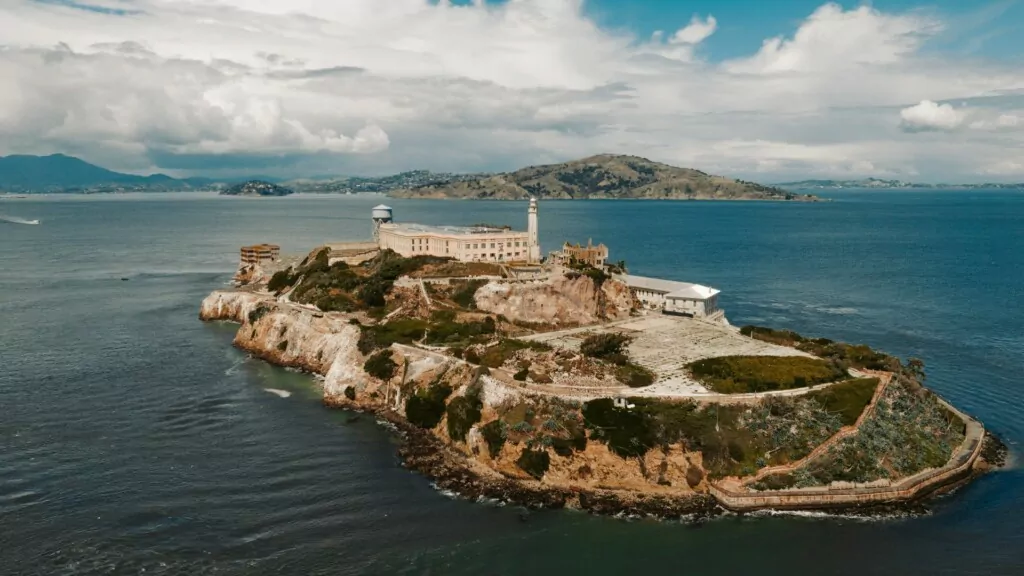 Prepare for Halloween with a spooky tour in San Francisco in October. Ghosts tours are a popular way to get into the spirit of the season, and San francisco has several to choose from.
This 1-hour nightly tour explores the darker side of the Nob Hill and Union Square neighborhoods, this one leads you to the spooky sites in and near Chinatown with your very own EMF paranormal meter, and this Boos and Booze tour takes you to 8 haunted spots, 4 of which are bars.
And of course we can't forget the world's most haunted prison! A visit to Alcatraz Island is always a bit eerie, as you walk along the cells, hearing stories from past inmates. But if you are brave enough, consider the Alcatraz Night Tour. Everything is spookier in the dark, plus the night tours include special rotating programs and activities not available during the day.
6. Frolic at a Fall Festival in San Francisco
Fall in San Francisco is simply bursting with amazing festivals. These events celebrate culture, food, and music in grand fashion and bring San Francisco together with delicious and colorful family-friendly fun.
Chinatown Autumn Moon Festival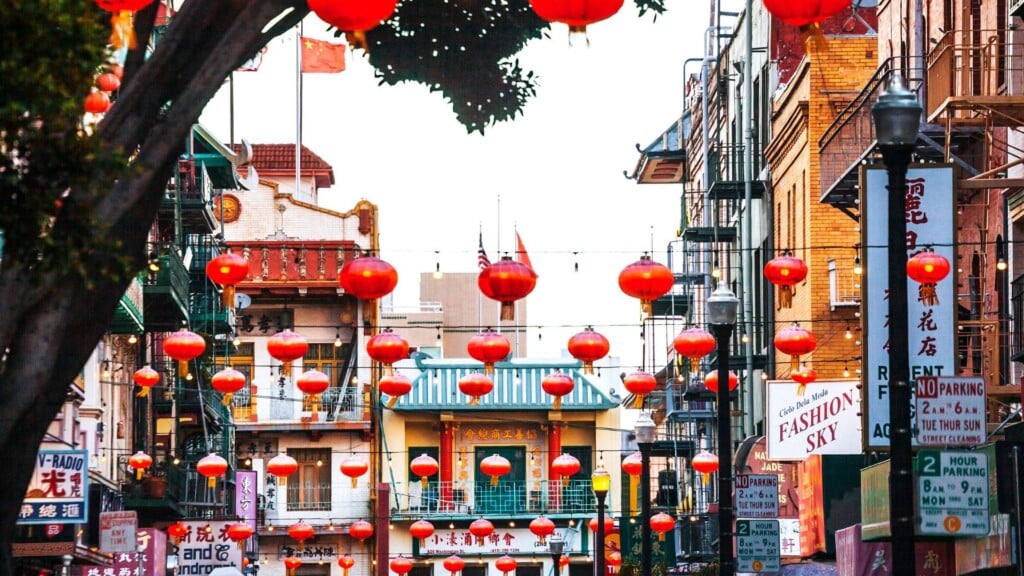 On the very first weekend of fall, head to San Francisco's famous Chinatown neighborhood for the annual Autumn Moon Festival. The weekend celebration includes, in the festival association's words, "nonstop entertainment, food vendors, mooncakes, kids activities, lion dancing, and much more!"
If you miss the moon festival, a visit to vibrant Chinatown San Francisco is still a must during any San Francisco visit. Don't miss a stop at the Golden Gate Fortune Cookie Factory to see those perfectly folded cookies made right before your eyes.
Hardly Strictly Bluegrass
This free music festival has been playing San Francisco into the fall season for nearly two decades. Over the 3 days of the first weekend in October, Hardly Strictly Bluegrass fills Golden Gate Park with music and food vendors. Intended at its start to be strictly bluegrass musicians, the "hardly" was added in 2004 as a wider range of musicians were invited.
The Hardly Strictly Bluegrass festival is extremely popular, drawing over 500,000 people to the park for their return in 2022. So many people can't be wrong – join them in Golden Gate Park this fall!
Dia de los Muertos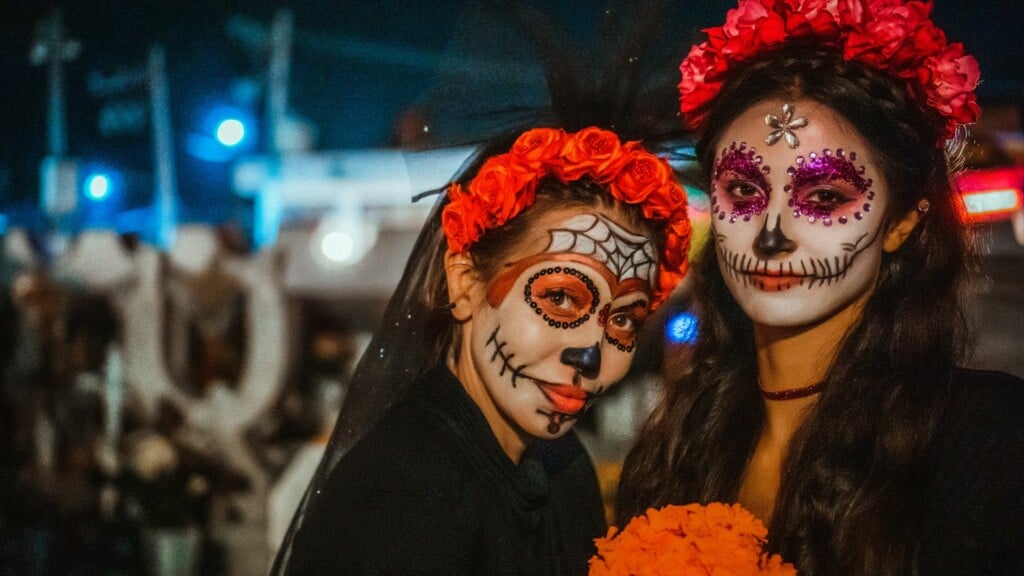 Take part in or just experience the beautiful Dia de los Muertos Festival of the Altars in the Mission District. In early November, 5 community altars are erected to celebrate life and death, and the community's connection to the earth and their ancestors.
This event will take place in Potrero Del Sol Park, at the very southeast corner of the Mission District. If you would like to explore The Mission District further, check out this art and food walking tour.
Oktoberfest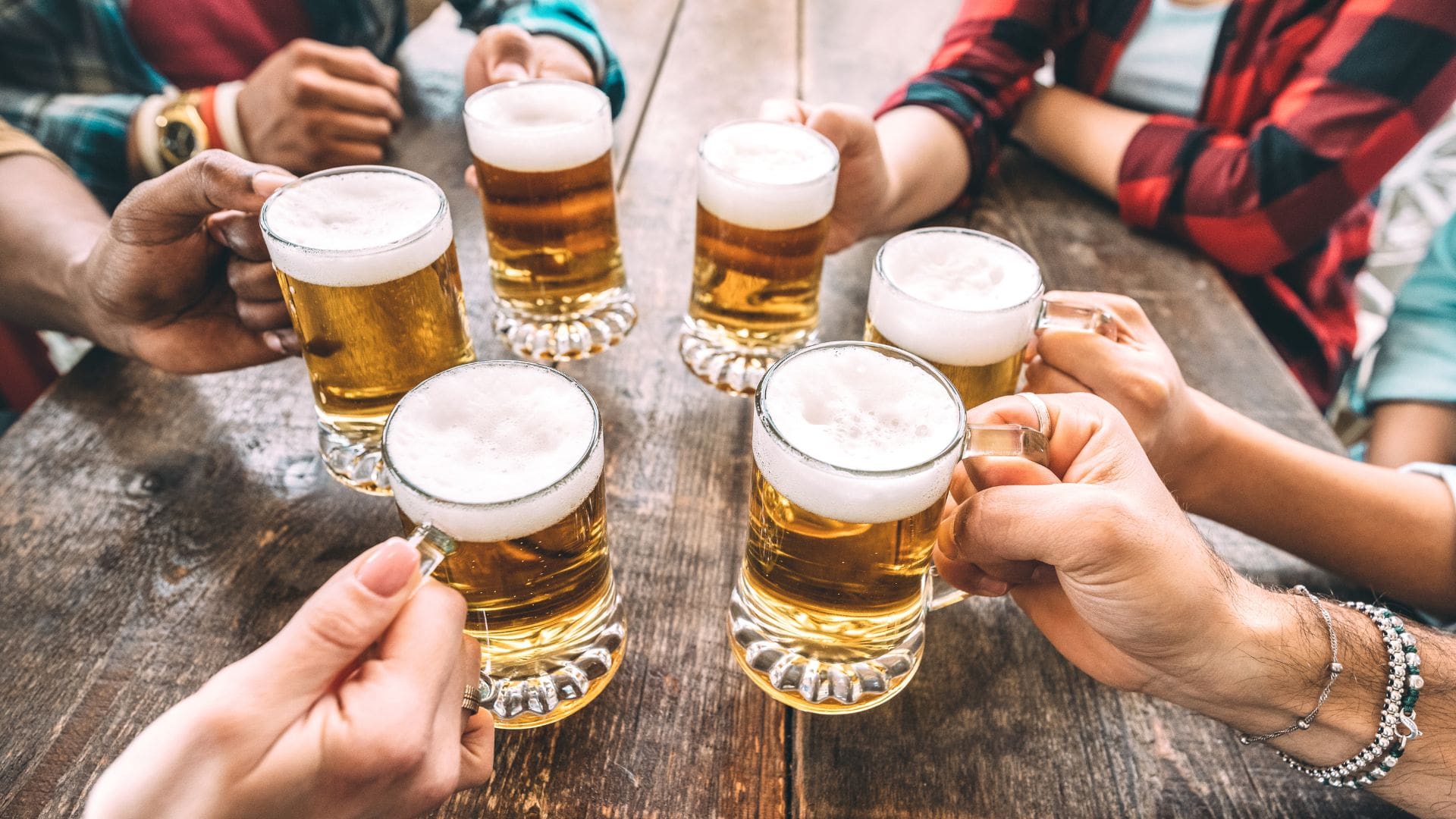 Of course we can't talk about festivals in fall without talking about Oktoberfest! San Francisco does not disappoint, as several Oktoberfest events pop up around the Bay Area in September and October. Check out this article for a full rundown of Fall 2023 Oktoberfests in the Bay Area.
7. Look Up for Fleet Week
One of the most anticipated Fall events in San Francisco is Fleet Week. Every October, Military ships parade under the Golden Gate Bridge to dock along the Embarcadero, and the most talented pilots from the Navy prepare to amaze the crowds below with their daring air choreography.
Airshow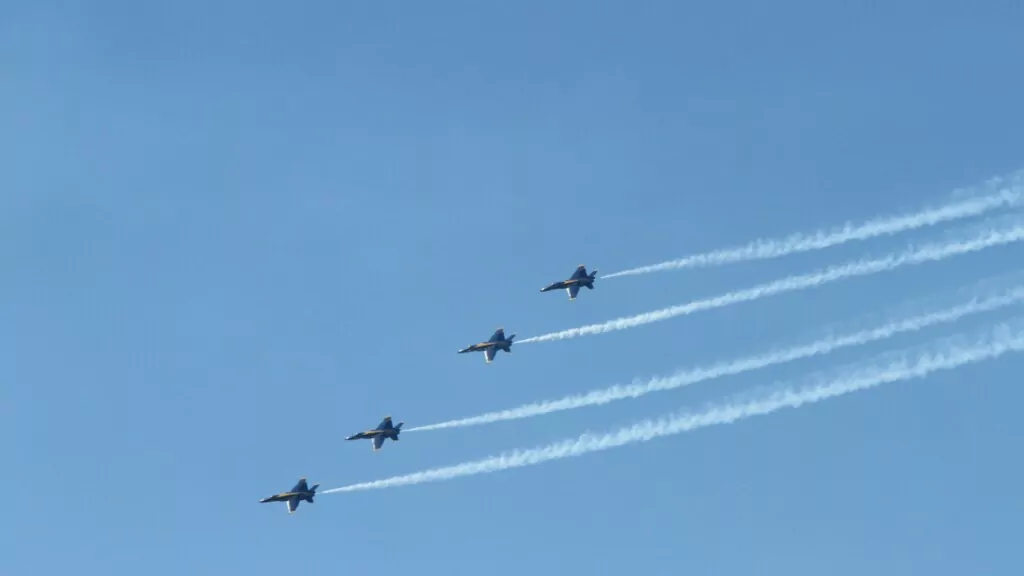 The highlight of the week is the Airshow, when various aircraft take to the skies above San Francisco for thrilling aerial displays, culminating in the fan favorite US Navy Blue Angels. A popular place to watch the show is the Aquatic Park lawn.
Ship Tours and More
Some of the impressive ships that parade into the Bay for Fleet Week are then available to board and tour for free! It is a fun and free way to get a behind the scenes look at life for sailors in the US Coast Guard and Navy. The rest of the week, from October 2nd-10th, will be filled with concerts and other events. Check out Fleet Week's official website for more information.
USS Hornet
Not technically a part of fleet week, the USS Hornet still fits in this category, and is a great thing to do in fall. The USS Hornet is a retired WWII aircraft carrier, turned museum, docked in Alameda. Specific to this article, the museum hosts a history mystery "After-Hours" Tour of the ship, which includes stories of the ship's rumored ghostly inhabitants.
8. Cheer on a Local Sports Team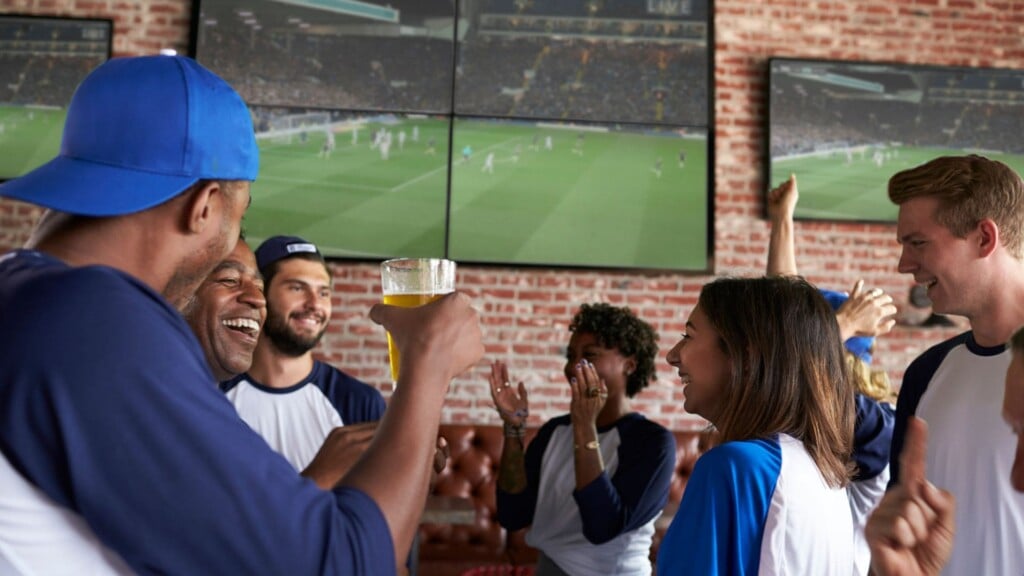 Take in a professional sports game during fall in San Francisco! Make the trek out to a game in person, or find a sports bar dedicated to your favorite team and cheer them to victory with fellow fans. Fall brings the wind down of baseball and the beginning of football season.
The SF Giants play their final home games at Oracle Park in September and October. On the football side of things, head down to Santa Clara to cheer on the 49ers at Levi's Stadium.

9. Visit Wine Country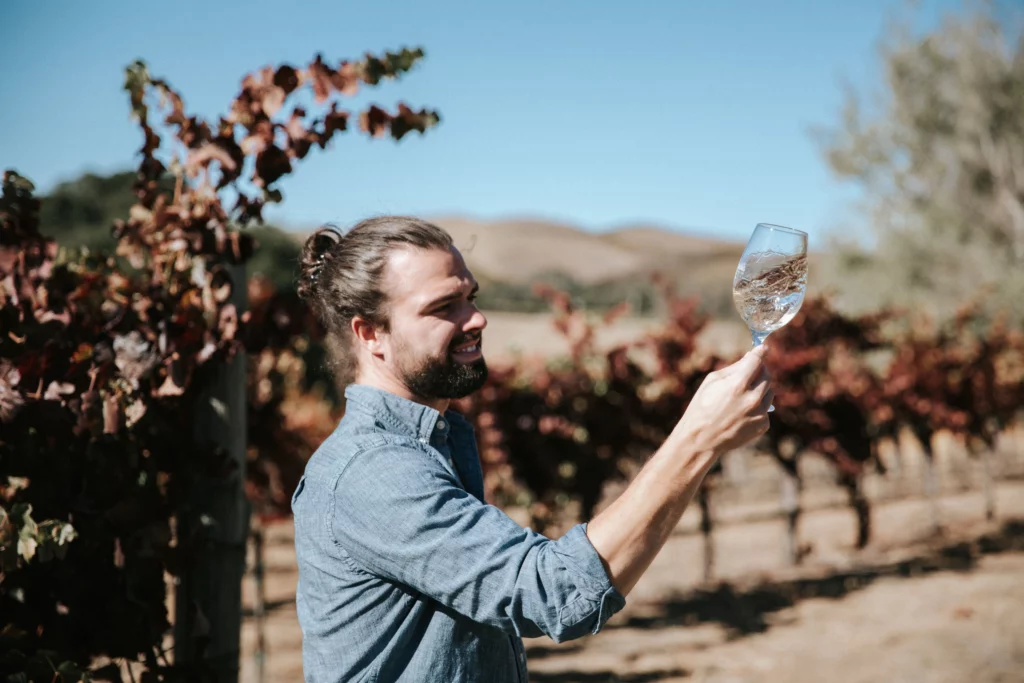 We realize that Sonoma and Napa Valley are not in San Francisco, but a visit to wine country is such a perfect fall activity, we just couldn't leaf it out 😉 Fall in Napa and Sonoma is magical, with the end of the harvest excitement leading into the golden hush of the slow season.
The vines, maples, and oaks throughout the region turn beautiful reds, oranges, and yellows for a classic fall show reminiscent of the East. Take a wine country day trip from San Francisco, or make it a whole weekend away.
10. Enjoy Traditional Fall in San Francisco Favorites
Although the weather doesn't start feeling really fall-like until November in San Francisco, you still have the opportunity to do all of the classic fall activities popular around the country. Apple picking, pumpkin patches, and corn mazes are all available within a reasonable drive of San Francisco. And although you may not be able to keep your flannel on for long in the sun, these classic activities will get you in the fall spirit.
Pumpkin Patches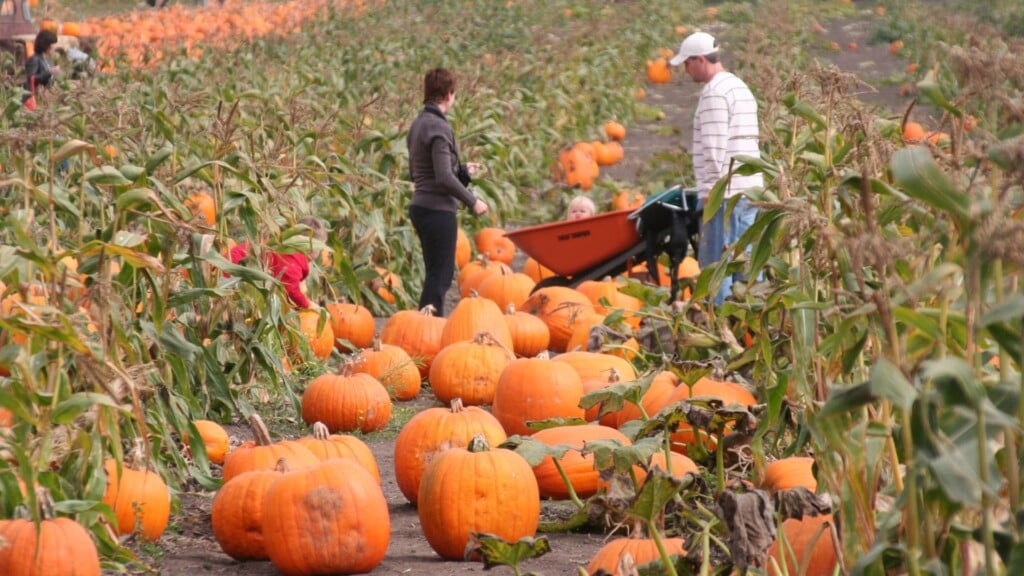 If you are looking for pumpkins in San Francisco, look no further than Half Moon Bay. Just 45 minutes south of the city, Half Moon Bay is a little California beach town that each October transforms into the "Pumpkin Capital of the World."
They back up this claim with the Half Moon Bay Art & Pumpkin Festival, a joyous fall celebration of everyone's favorite gourd. The festival begins with the Safeway World Championship pumpkin weigh off, a search for the area's biggest pumpkin, often weighing more than 1,000 lbs!
And of course Half Moon Bay delivers on great pumpkin patches! For tons of activities, you can't go wrong with Lemos Farm. They have pony rides, a haunted house, a petting zoo, a concession stand featuring pumpkin flavored desserts, and even goat yoga classes for the adults.
Another fan favorite pumpkin farm in Half Moon Bay is Arata's. They have pumpkins of every size and shape, as well as all of the pumpkin patch fun you expect like train and hay rides.
Corn and Hay Mazes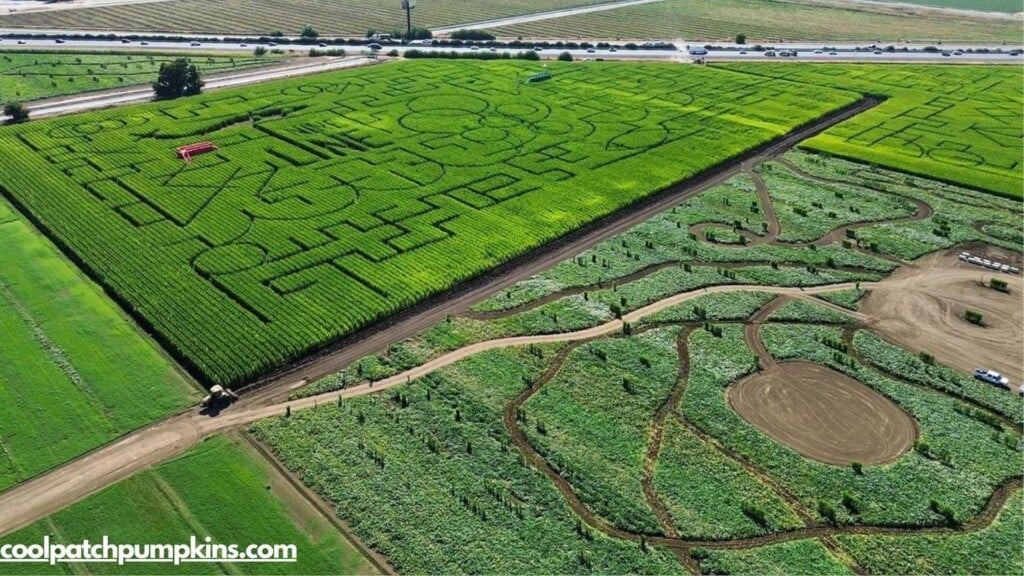 Ah…corn mazes. Who doesn't love getting lost in corn as high as an elephant's eye? How about finding the path you have been following is a dead end? Or rewarding yourself for a successful exit with a seasonal treat? It's a fall tradition, and there are several great mazes in easy driving distance from San Francisco.
The previously mentioned Arata's Pumpkin Farm has a 2-acre Minotaur Labyrinth Hay Maze. It is surprisingly difficult, and you can combine it with a visit to their haunted barn.
You just don't get more impressive than the corn maze at https://www.coolpatchpumpkins.com Cool Patch Pumpkins in Dixon, CA. The maze is HUGE and is a brand new, intricate design every year. This year the design is dedicated to the hard work of farmers across the country.
Perhaps equally as impressive, and just a bit closer to San Francisco, is the corn maze at G & M Farms in Livermore, CA. In Fact, Diablo Magazine voted G & M Farms the best seasonal attraction in the East Bay!
Apple Picking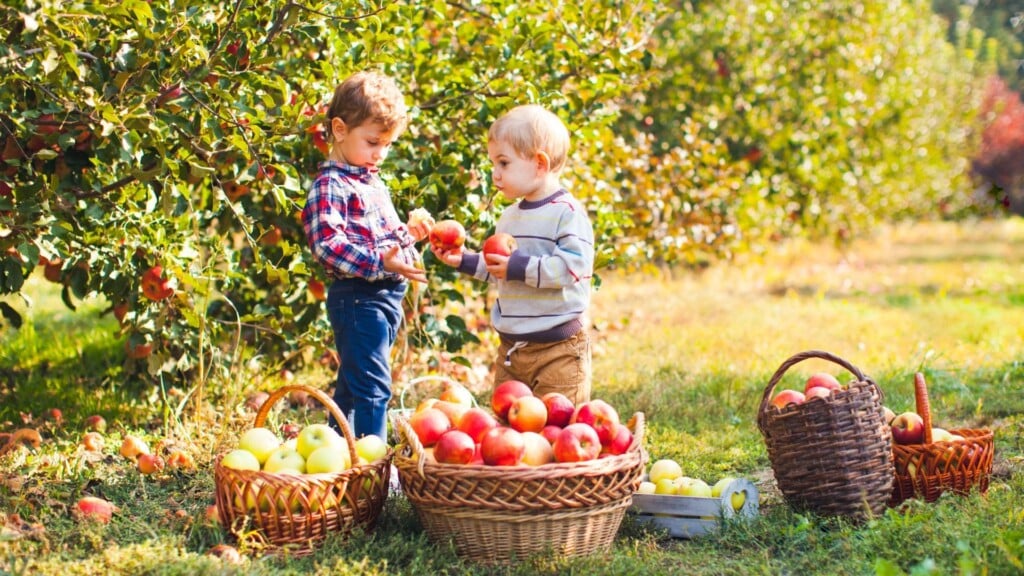 This requires more of a drive, but to celebrate everything apple near San Francisco, you can't go wrong with a visit to Apple Hill near Placerville, CA. This area has over 50 farms and vendors worth a visit. Pick your own local apples, stuff your face with apple cider donuts, and sample every flavor of cider available. Keep in mind that Apple Hill is very busy on weekends in October, so either plan to go another time or make peace with your fellow apple lovers.
Final Thoughts on San Francisco in Fall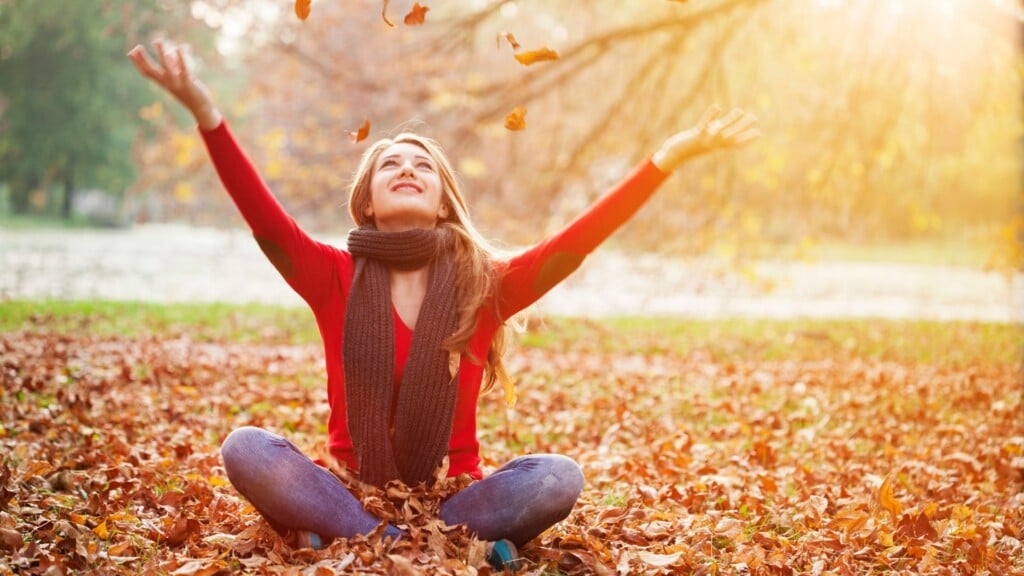 This concludes our 10 (more like 30 ;)) things to do in San Francisco in Fall. Whether you want to sip cider while you walk through a pumpkin patch or hold onto summer while you sunbathe in Golden Gate Park, San Francisco has the perfect fall activities for you. With your Pumpkin Spice Latte or stein of German Beer in hand, enjoy this special time of year in San Francisco!
If you would like someone to show you around, take a look at our San Francisco tours.
San Francisco in Fall FAQ
What is San Francisco like in fall?
Fall is great in San Francisco! The summer crowds have drifted away, just like the August fog. More days are sunny than not, and locals come outside to soak in their "second summer." Special fall events pop up everywhere, celebrating the food, art, and culture of the Bay Area.
How do people dress in San Francisco in Fall?
Plan to be comfy in a T-shirt during the day, but keep a layer close by for weather changes and evenings. Days are typically in the high 60s and low 70s, but evenings dip down into the 50s, so you will want something to keep you warm after the sun goes down.
Do the leaves change in San Francisco?
While it's true that San Francisco and the West coast are not known for fall foliage due to their abundance of evergreens, you can head to Golden Gate Park to see some beautiful fall colors. Or better yet, take a day trip (or longer!) to wine country. Many think the colors of the vines and trees in Napa and Sonoma rival the East Coast.
When is the best time to visit San Francisco?
Fall of course! Just take a look at all of the awesome activity ideas in this article. Plus, Fall has some of the best weather out of the whole year in the Bay Area. Skip the summer crowds and head to San francisco in the calmer and usually sunnier fall days.
Published on: October 13th 2023