Union Square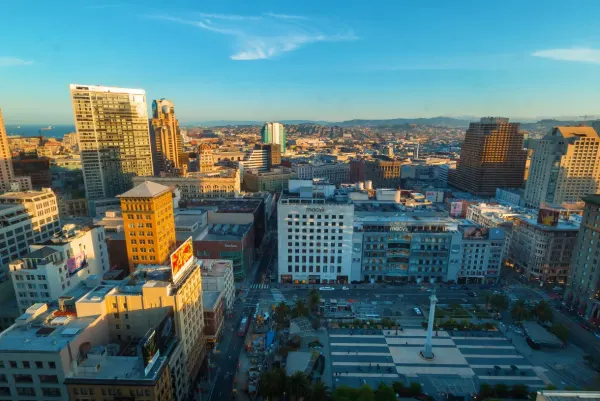 Union Square in San Francisco is without a doubt one of the hubs of San Francisco's thriving economy. It is emblematic of San Francisco's thriving mass appeal, and offers a variety of attractions. Union Square hotels boast a prime location in almost every way; surrounded by shopping venues, art galleries, hotels, theaters, restaurants, and the world-famous cable cars, it's impossible to deny–Union Square just buzzes! It's vibrant, it's glorious, and it's a little hectic, but you cannot go to San Francisco without spending at least an afternoon there. Union Square is the perfect place to be if you're looking for distraction, and it is filled with San Francisco history. Union Square started its long and brilliant story as a park, set aside in 1850 and named in honor of the demonstrations held in support of Union troops just before the Civil War. Remodeled in 2000, now it is a spacious and graceful plaza in the heart of San Francisco's hustle and bustle, with a 4 story parking garage so that you can park and be close to everything.
Surrounded by classy and well-priced hotels, Union Square is also a place that can accommodate a range of visitors. SF has a lively culture scene as well, which Union Square is definitely part of. Art galleries; theaters, like the Curran and A.C.T.; restaurants; cafes, they are all there waiting to be explored, and all so convenient to Union Square. The shopping in Union Square is as impressive as you'll find almost anywhere; Neiman Marcus, Macy's, The Westfield Mall, The Disney Store, Levi's, The Nike Store, and dozens of smaller stores and boutiques including Jessica McClintock and Louis Vuitton ensure that you will find whatever it is you want.
Union Square is also centrally located in terms of transportation. Several major bus lines run right near Union Square, as well as the MUNI underground at Powell and the F Market on Market St., so visiting other parts of SF is simple. Not to mention Union Square's proximity to Yerba Buena Gardens, the Metreon, the San Francisco Museum of Modern Art, the Moscone Convention Center, and to Nob Hill, Chinatown, and the Financial District, home to SF's only Frank Lloyd Wright building. Union Square is located so perfectly as to appeal to almost any desire. There is even a large Bastille Day celebration at Belden Place on Bush Street. Union Square is able to cater to every need.
Union Square, during the holidays, is the location of the annual Christmas tree and Menorah, which attracts thousands of visitors every year. It is also the location for public concerts, protests, and open-air movies. Something is always happening at Union Square, guaranteed. And, to offer a little shelter from the busy streets, Union Square is possibly the best location for hotels. The Sir Francis Drake, The Beresford, and The Handlery, to name a few, offer quality accommodations at reasonable prices. Hotels in Union Square are clean, comfortable, well-located, and classy. And in close by Nob Hill, you can find the high-end Fairmont, the Ritz-Carlton, and the Mark Hopkins, all internationally rated and respected establishments.
Union Square may at first seem a little intimidating, it is a busy area, and all the action and the noise may seem overwhelming. But Union Square is, at heart, a neighborhood. Above many of the little boutiques and cafés are apartments and flats; Union Square has a soul of its own. But that fast pace and high energy are infectious. They are part of Union Square's charm. The Square would not be nearly so enjoyable to visit if it didn't have that electric atmosphere. But there is another side to it; Union Square is a great place to sit and watch the world go by. Get a coffee from the small Italian café in the corner, and sit at one of the many tables placed around the edges of the Square, or on the steps and ledges that act as seating alternatives, and people watch or read or just relax and enjoy the scenery. It's pretty easy to spend an hour observing the Union Square scene: just as easy as getting caught up in it.
Union Square is a gorgeous neighborhood pulsing with excitement that appeal to all different kinds of people. Natives and tourists, businessmen and street vendors, all mix together in this little chunk of San Francisco. Spending time in Union Square is unforgettable because of the eclectic blending of people, and because almost anything you could possibly want is within walking distance. Surrounded by skyscrapers and adventure, it is an experience you have to have for yourself.