"Yosemite's natural beauty cleans and warms like a fire. None can escape its charms. "― John Muir
The things to do in Yosemite National Park seem endless from stunning views and exciting activities, to unique centers to visit.
Nothing is quite like the satisfaction felt when you ascend the final switchback and reach the wide-open vistas overlooking Yosemite Valley from Glacier Point, Olmstead Point, and Tunnel View. The Yosemite falls are, well, awesome. Three of the world's 20 tallest waterfalls—including Yosemite Falls, Sentinel Fall, and Ribbon Fall—are in Yosemite National Park!
If this jewel of our national park system is on your vacation bucket list, it is never too early to start planning the best places to visit and things to do in Yosemite National Park. Since the options can feel overwhelming, this post offers a comprehensive guide to all of Yosemite's activities and attractions so you can plan a tour perfect for you and your travel companions.
To help with your Yosemite tour planning we will cover here:
Activity List
Places to See in Yosemite
Let's get started!
The 1,189 square mile Yosemite National Park is roughly the size of the U.S. state of Rhode Island. Accessible from 800 miles of hiking trails and 350 miles of roads are thousands of lakes, rivers, granite monuments and natural wonders. To make your trip planning a bit easier, we've arranged our Yosemite suggestions into: Activity Centers, Places to See and Things to Do.
Activity Centers in Yosemite
Ahwahnee Hotel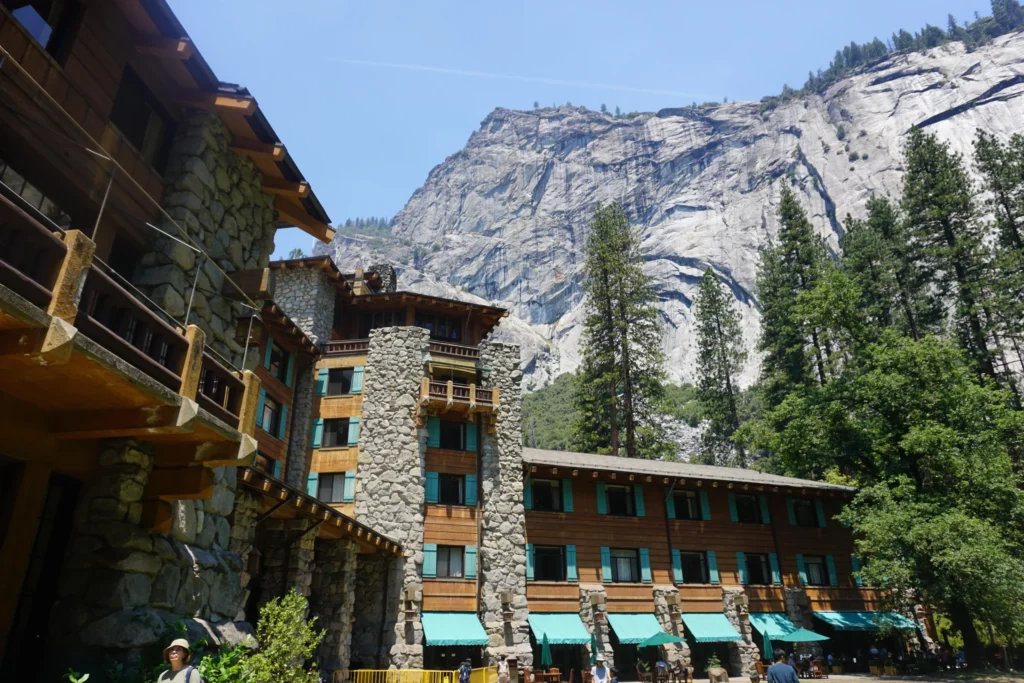 They don't build them like this anymore. The Ahwahnee Hotel, with its striking granite facade, elegant stained glass, magnificent log-beamed ceilings, massive stone fireplaces, and richly colored Native American artwork is a National Historic Landmark and a shining example of early 20th century rustic resorts.An island of luxury in the wilderness, the Ahwahnee offers a gift shop featuring local artisans, decadent sweet shop, comfortable bar and a great spot for breakfast or dinner. The hotel is a 45-minute hike from the Valley. If pressed for time, take YARTS to Stop 3.
Ansel Adams Gallery
Ansel Adams is known throughout the world for spectacular black and white images of America's natural grandeur. His majestic photographs and outspoken views helped to shape global opinion about the need to protect our environment. The Ansel Adams Gallery is a 10-minute walk from Yosemite Valley Lodge between the Visitor Center and Post Office. Some of his most famous images are from Half Dome and Yosemite Valley.
Badger Pass Ski Area
In Winter, you'll find groomed trails perfect for cross-country skiers, chairlifts for downhill skiers, a wicked terrain park for snowboarders to test their limits, and a tubing area where the whole family can experience thrills together. The Badger Pass Ski Area is open from mid-December through mid-March, conditions permitting. Visit Badger Ski Pass Website to check out snow conditions, rent equipment, find the shuttle schedule, buy season passes and get discounted ski and lodging packages.
Curry (Half Dome) Village
Curry Village (formerly known as Half Dome Village) located just below Half Dome and Glacier Point has been a family friendly attraction since its establishment in 1899. You will find fun, seasonal activities like an outdoor swimming pool, an ice-skating rink, entertainment amphitheater, ranger programs, bike rentals and several restaurants. Curry Village offers a variety of lodging options including wood-sided cabins and canvas tent cabins. Curry Village is extremely popular, so be sure to make your reservations well in advance.
Mariposa Grove of Giant Sequoias
This stand of Giant Redwoods, an hour from Yosemite Valley, is home to over 500 mature giant sequoias. Among the most popular trees in the grove is the Fallen Monarch made famous in an 1899 photograph with U. S Cavalry officers. Other must-visit trees are the Bachelor, Three Graces and the 2700-year-old Grizzly Giant.
There are a variety of easy to moderate trails within the grove. YARTS provides reliable public transportation to the Mariposa Grove Welcome Plaza. If you are driving your own vehicle, check local road conditions in winter since Highway 140 may be closed due to snow.
Places to See in Yosemite
Bridalveil Fall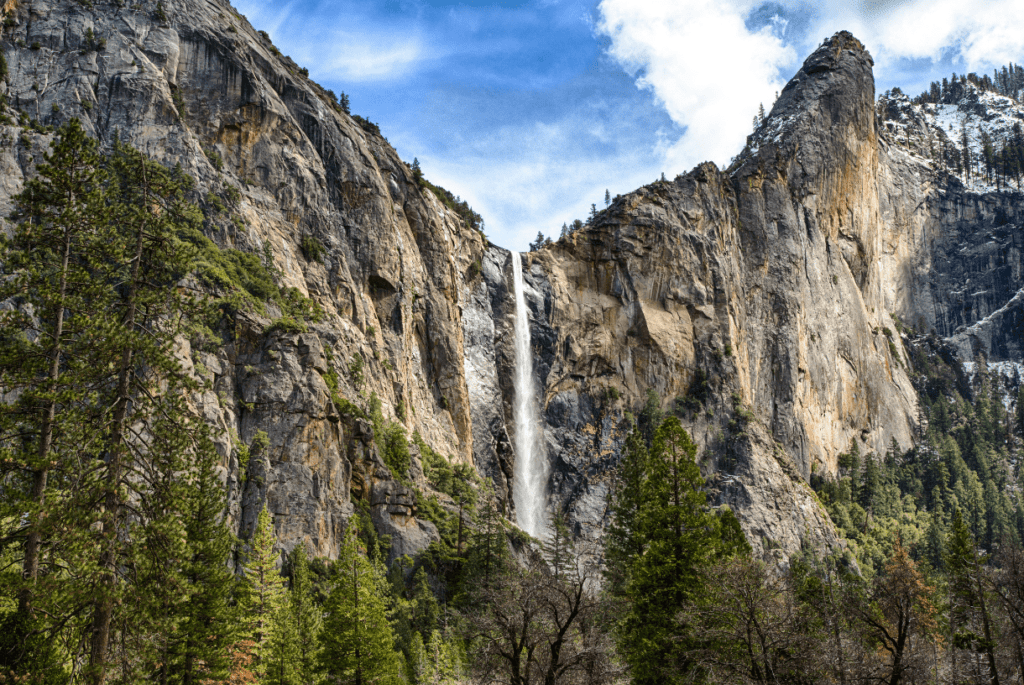 What makes Bridalveil Falls Yosemite's iconic waterfall? Well, it has a great name! When the breeze sways it, it looks like the veil of a 620-foot bride. Bridalveil Fall is often the first waterfall you will see on Extranomical Tours One-day Total Yosemite Experience tour. This waterfall is on our list of the top things to do in Yosemite during spring. This time of year, Bridalveil Falls really comes down with power; during the rest of the year, it's less "veil-y."
Access to the fall is available near the tunnels on Wawona Road and Big Oak Flat Road, as well as the parking lot on the way into Yosemite Valley. You can walk to an overlook just beneath its cascade but be very careful since it is a steep trail.
Best view by: short hike to overlook
Tour to visit this spot on: Yosemite Day Tour
Cathedral Peak
Cathedral Peak, a granite pinnacle rising high from the Cathedral Range, is an offshoot of the Sierras, located near to Tuolumne Meadows. This glacier-carved peak is stunning to look at from any angle. And, as a climbing spot –John Muir ascended it in 1869 – it is much respected.
Best view: from lower Cathedral Lake
Chilnualna Falls
A real hidden Yosemite gem! Chilnualna Falls spills its water over 2,200 feet but the cascade is broken up into five (or ten depending on the season) tiers that find their way through the rock-carved valley.
To visit Chilnualna Falls on foot, start at the trailhead at the end of Chilnualna Falls Road. The first section is easy, and it will give you nice views of the fall's first tier. Experienced hikers can continue all the way to the top. Be careful: this trail is steep and challenging.
Best view: from Chilnualna Falls Trail
Tour to visit this spot on: Yosemite Overnight Tour from San Francisco
El Capitan
This monolithic 3,000-foot sheer rock face on the north side of Yosemite Valley is legendary among climbers and those who admire their death-defying sport. From the Tunnel View lookout, El Capitan is the massive cliff on the left side of the valley.
This iconic rock face has been climbed by many people, but none so dramatically as Alex Honnold's "free solo" climb on June 3rd, 2017 which he did unaided and without ropes. The climb took an astonishing three hours and 56 minutes.
To learn more about Yosemite climbing, head over to the El Capitan Bridge and have a chat with one of the Yosemite Climbing Rangers. The "Ask a Climber" program is a daily gathering of rangers, climbers, and curious onlookers.
Best view: El Capitan Meadow
Tour to visit this spot on: Yosemite and Giant Sequoias Tour from San Francisco
Glacier Point
Park veterans often debate the "best" view in the park (we are not taking sides) and Glacier Point always makes the short list. From an altitude of 7,200 feet, visitors are treated to a grand view of the Sierra Nevada high country with the tooth of Half Dome featured prominently.
Full moon nights are a magical time to visit and celebrate the place where John Muir and US President Teddy Roosevelt once camped out. The road from Yosemite Village to Glacier Point takes about an hour and is often closed beyond the Badger Pass Ski area in winter.
Tour to visit this spot on: Glacier Point Tour
Half Dome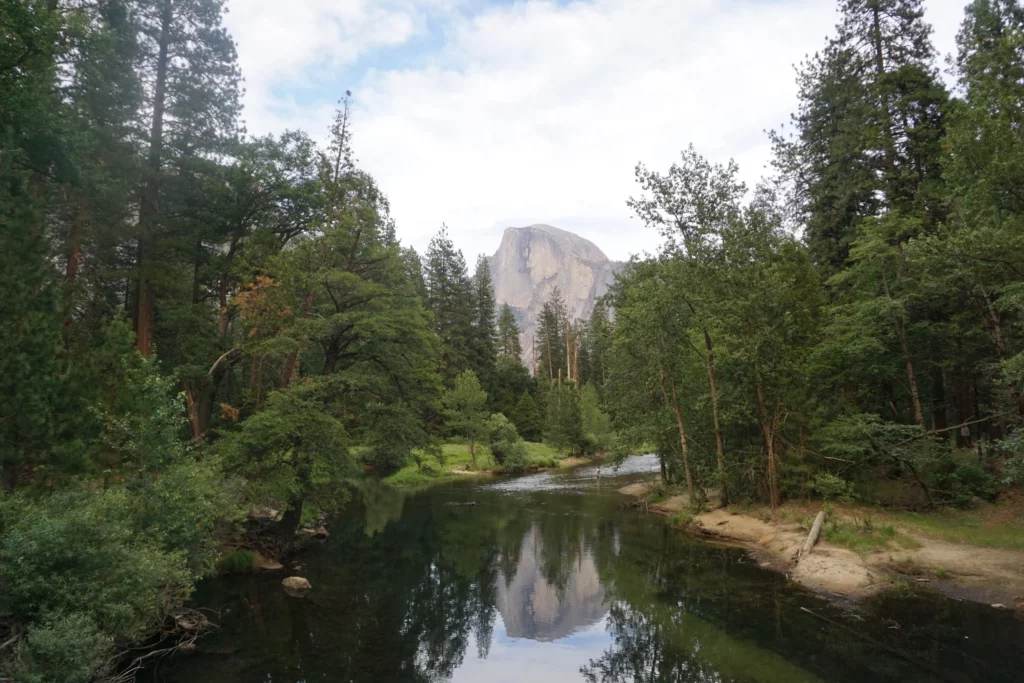 This granite formation at the eastern end of the Yosemite Valley is the most well-known rock formation in the park. Its face gives the appearance of being a large rock that's been cut in half – hence the name Half Dome.
While the fact that Half Dome rises 4,737 feet from the floor of Yosemite Valley is impressive, nothing can replace seeing the monument in person. Half Dome can be clearly spotted from Tunnel View, Glacier Point and many other vantage points around Yosemite National Park. Get a sneak peek of the view of Half Dome on a live camera from just east of Yosemite Village on the floor of Yosemite Valley.
Best view: Multiple locations in Yosemite Valley
Tour to visit this spot on: Yosemite and Giant Sequoias Tour from San Francisco
Horsetail Fall
because it pours water down its eastern face of El Capitan.
Horsetail Falls is a poluar photography spot in mid- to late-February because when the setting sun pierces the mist with reddish rays making it look like the waterfall is on fire. This "lunar rainbow" is a rare pheneomon which is why we consider it one of the top things to do in Yosemite in Winter.
To view the Horsetail Fall, park at the El Capitan picnic area and you'll be able to see it from the road.
Best view: Yosemite Valley
Illilouette Fall
These 370-foot Yosemite falls flow all year long, but peak flow comes in late May. You can see the top of Illilouette Fall from Washburn Point on Glacier Point Road.
To see Illilouette Fall in all her glory, you will need to hike the Panorama Trail toward Vernal Fall which is a few miles from Glacier Point. The fall is hidden inside Illilouette Creek Canyon, just below Glacier Point.
Best view: from Panorama Trail
Nevada Fall
Measuring 594 feet from top to bottom, Nevada Fall is a huge, curved granite water slide—with the entire Merced River going for the ride. With its soaring mists at the western end of Little Yosemite Valley, it is one of the most beautiful Yosemite waterfalls.
You can catch a distant view of Nevada Fall from Glacier Point. But if you really want to take in the grandeur of Nevada Fall, see it from the top! It's a pretty steep climb up the Mist Trail from Vernal Fall, but the views are worth it.
Best view: from Mist Trail
Olmstead Point
If you are in search of a new screen saver shot, this panoramic vista provides a breathtaking perspective of Yosemite Valley from the north and is a great spot for some selfies as you wander around erratic boulders left by retreating glaciers at the end of the last ice age.
Making the trek to Olmstead Point will bring you to a 48-mile stretch of Highway 120 between Big Oak Flat Road and Tioga Pass that meanders through forests, meadows, lakes, and granite domes. This high-country road is generally open between late May and October.
Best view: from Tioga Pass
Ribbon Fall
This delicate and under-appreciated fall is one of our Yosemite favorites. Ribbon Fall is the longest single-drop waterfall in North America and is only visible on the western side of El Capitan. The best time to visit this stunning 1,621-foot waterfall is usually in April or May.
Best view: You can get the best views of Ribbon Fall from the road that takes you into Yosemite Valley, just past the turn for Bridalveil Fall. You can park in the roadside turnout.
Sentinel Fall
Sentinel Falls is on the south side of Yosemite Valley, just west of Sentinel Rock. Sentinel Falls is actually several cascades, ranging in height from 50 to 500 feet, adding up to a total drop of 2,000 feet!
You can see Sentinel Fall best in early spring on Southside Drive; and also from the Four Mile trailhead. Prefer a panoramic view? Another view can be had on the Upper Yosemite Fall Trail.
Tenaya Lake
Tenaya Lake is a magnificent high Sierra lake surrounded by granite domes, lodgepole forests, and vast wilderness. The shores of Tenaya Lake are a popular spot for kayaking, boating, swimming and even sunbathing. The panorama of Sierra Nevada peaks over the waters of Tenaya Lake make a classic photo.
You'll find Tenaya Lake in the northern regions of Yosemite Park accessible to Highway 120 as it winds its way east toward Tioga Pass.
Best view: Tenaya Lake Picnic Area
Three Brothers
Visitors can get a great view from the Cathedral Picnic Area, but for the best perspective, hiking to the top of Eagle Peak, on the Valley Floor Loop, or the Lower Yosemite Fall Trail are best.
The three peaks, Eagle Peak, Middle and Lower Brothers, rival El Capitan and make for a famous site in Yosemite. John Muir considered the view from the top of Eagle Peak to be the most beautiful view of Yosemite Valley.
Tunnel View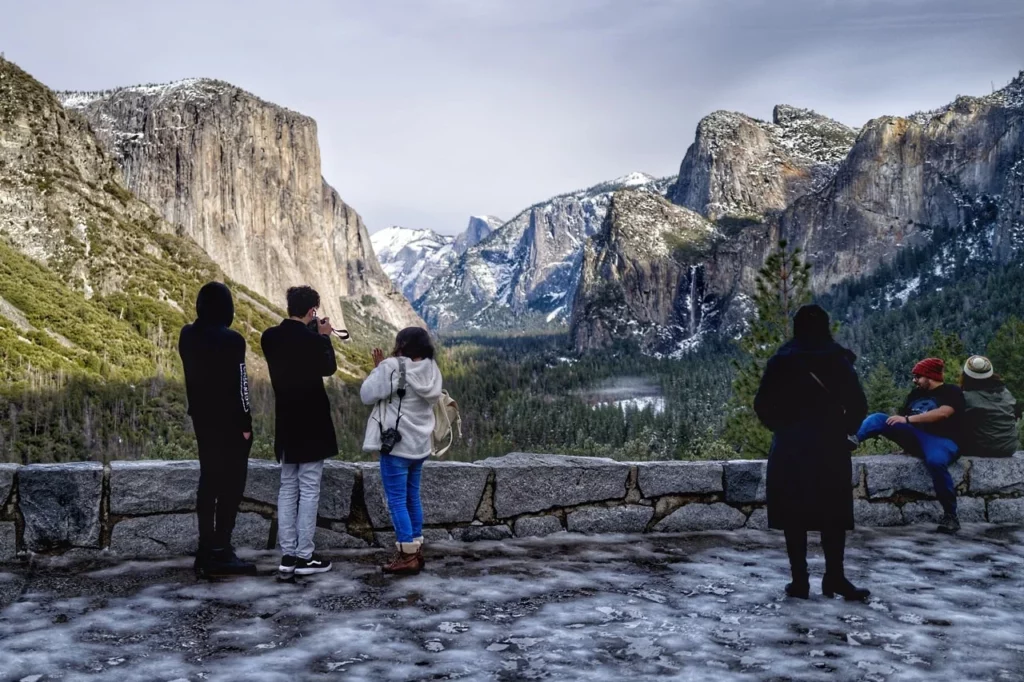 Tunnel View, made famous by Ansel Adams, stretches out to the El Capitan formation on the left, Bridalveil Fall plunging off granite cliffs on the right, and all the way across the lush valley to Half Dome.
What you see changes with the season but the best times to visit are early spring when the falls are gushing or in winter when the granite formations are draped in snow. Photographs may be best in the afternoon when the walls are bathed in sunlight.
Look for the Tunnel View parking lot outside the eastern side of the Wawona Tunnel on State Highway 41.
Best view: Tunnel view overlook
Tuolumne Meadows
One of the largest high-elevation meadows in the Sierra Nevada, Tuolumne Meadows has attracted early pioneers, present-day park visitors and scientists. The crystal-clear Tuolumne River meanders through its grassy channel, eventually cascading over a granite river bottom.
The visitors center has restrooms, a small gift shop and a staffed information center. Popular activities in the area include hiking, rock climbing, backpacking, and fishing. From the center, you can take an easy hike to the place where John Muir and Robert Underwood Johnson conceived the idea of establishing Yosemite National Park.
Best view: Tuolumne Meadows hike
Valley View
At Valley View, you'll be right along the banks of the Merced River and have a view framed by El Capitan, which reaches 3,000 feet up to the sky, and opposite it, the imposing spires of Cathedral Rocks.
You will find this lovely spot as you leave Yosemite Valley near the South Entrance. Look for a roadside lookout point on the one-way Northside Drive right before you reach Pohono Bridge.
Best view: Valley View overlook
Tour to visit this spot on: Yosemite Tour from San Francisco
Vernal Falls
Vernal Fall makes a dramatic photo because of its sheer ledge of rock, hemmed in by towering pines. The water cascades year-around over the edge, plummeting 317 feet down to a roaring finish on an outcropping of granite boulders.
Unlike other popular falls in the park, Vernal cannot be viewed from the valley floor by car. To feel the mist on your face, you must find the Vernal Fall trailhead near the Happy Isles Nature Center and follow it to the Vernal Fall footbridge, then on to the top. Be extra careful in winter when the trail can be wet or icy.
Best view: Mist Trail Hike
Wapama Falls
Wapama Falls is one of the most impressive waterfalls in Yosemite and often missed because of its location in the Hetch Hetchy Valley reservoir. During spring snow melt, water plummets over 1,000 feet and spills across the trail at its base.
The best spot for viewing Wapama Falls is from the parking lot at O'Shaughnessy Dam.
Yosemite Falls
This Yosemite icon may look familiar because its springtime rainbows have been featured in countless books, calendars, and posters. Yosemite Falls is actually three separate falls, stacked one atop the other. When adding together Upper Yosemite Fall, the Middle Cascades, and Lower Yosemite Fall, you get 2,425 feet—nearly half a mile—of falling water! That makes it the tallest in North America. Since it relies on snow melt, the best time to see Yosemite Falls itself is in the spring. Want to see if the falls are gushing right now, you can on this?
Things to Do in Yosemite
Raft the Merced River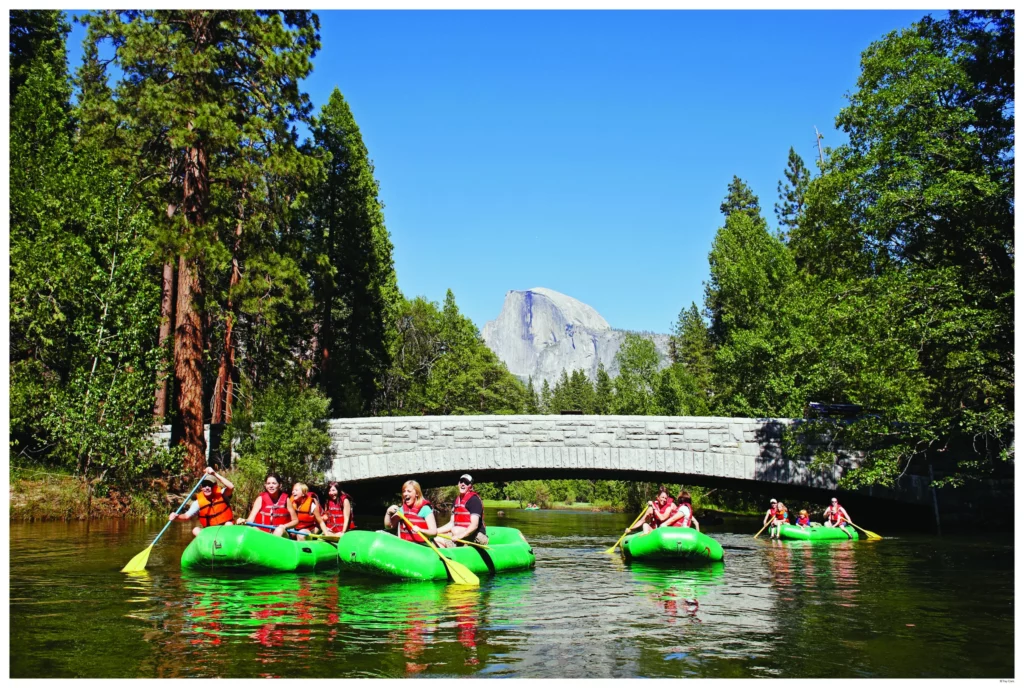 A totally entertaining summertime way to enjoy Yosemite park's major attractions is on a raft floating down the lazy Merced River. Lie on your back, trail your fingers in the water, and gaze up at Yosemite's granite walls as they pass by.
You can rent a raft and safety equipment at Curry Village. At the end, a shuttle bus can take you back to the start.
Bike to Mirror Lake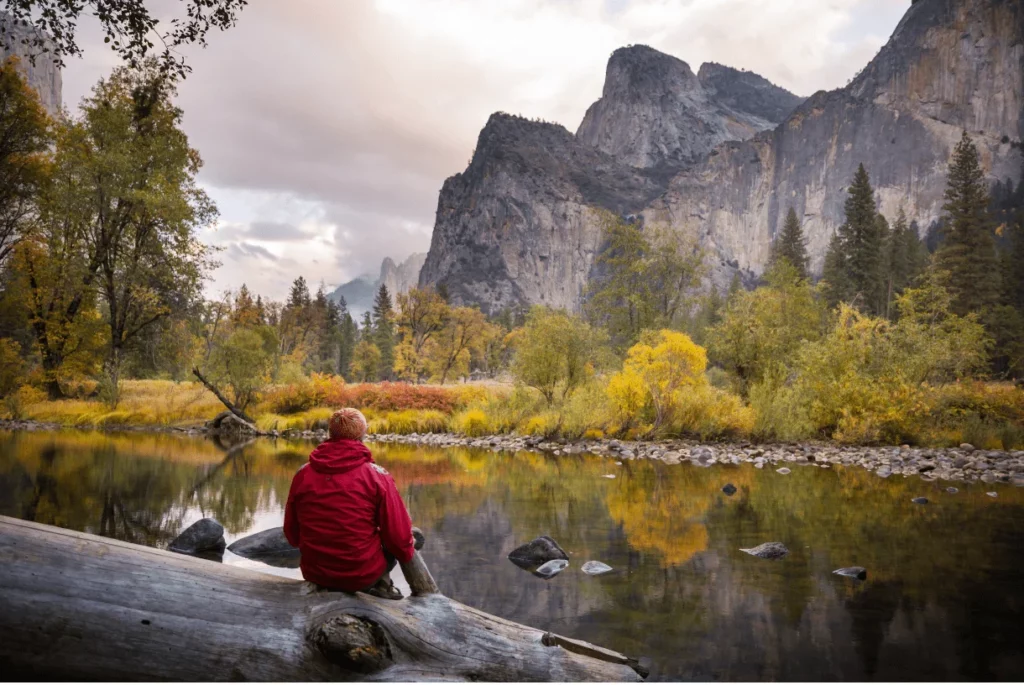 Mirror Lake offers stunning mirrored views of Tenaya Canyon, Mount Watkins and a different perspective of Half Dome. The paved biking trail near shuttle stop #17 leads directly to Mirror Lake. You will need to walk the final short portion to the upper section of the lake.
The trail is open year-round, but the best time to visit is early summer when the lake is filled by the flowing Tenaya Creek. This can be a good place to spot wildlife like coyotes and bobcats. Bike rentals are available in Curry Village.
Hike the Mist Trail
The Mist Trail hike has fabulous views at the bridge overlook, Nevada Fall, Liberty Cap, and the back of Half Dome. The 3-mile loop includes a steep granite stairway of 600 steps leading to the top of Vernal Fall. Prepare for slippery footing due to waterfall spray in the spring.
If you're hiking during peak season, you'll have the best experience starting early in the morning when crowds won't be much of an issue.
Gaze at the Stars
If you arrange a multi day tour to Yosemite, don't limit yourself to just daytime adventures. Yosemite and the national parks in general are some of the last great spaces without significant light pollution, offering wonderous nighttime skies and the opportunity to gape at the Milky Way.
Popular places for evening star gazing are at Bass Lake, Sentinel Dome and Glacier Point.
Photograph from the Swinging Bridge
Don't be surprised when you arrive at a bridge that does not swing. 50 years ago, this suspension bridge over the Merced River allowed adventure-seekers to rock the bridge enough to create unsettling challenges for other bridge crossers.
Yosemite's Swinging Bridge went through a couple of replacements as spring floods repeatedly damaged or washed the bridge away. This is still a beautiful place to gaze down into the Merced River's crystal-clear waters and take pictures with Yosemite Falls and Sentinel Rock in the background.
Go Climb a Rock (or Boulder)
Half Dome has had many famous ascents, including the first known summit by George Anderson in 1875. Like to try it yourself? A popular trail passes by Vernal Fall and Nevada Fall before reaching cabled handrails and steep granite steps up the backside of Half Dome. Permits to hike to the top of Half Dome are required and reservations are distributed via a lottery system here or by calling (877) 444-6777.
If you're new to climbing, sign up for a class with Yosemite Mountaineering School and Guide Service in Curry Village. The beginners' "Welcome to the Rock" class will have you climbing and rappelling on your first day.
Hike to the Tuolumne Grove of Giant Sequoias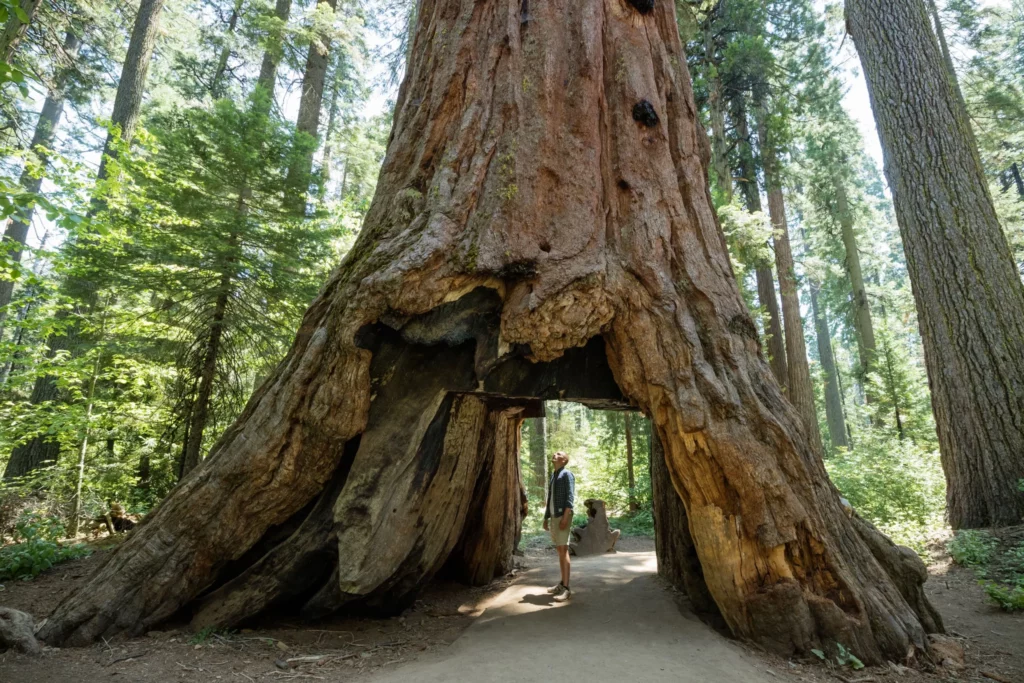 If you prefer an uncrowded and serene hike to a stand of old-growth redwoods and a tunnel tree, this is your spot. Tuolumne Grove has about two dozen mature giant sequoias visible at the end of a one-mile hike (the one-mile hike back to the parking lot gains altitude and can be challenging for some).
Bring drinking water for everyone. A small parking lot is located on Tioga Road just east of Crane Flat.
Lookout for Wildlife
If you get off the busy trails or visit Yosemite National in the winter, you can expect to see a large variety of wild animals. In fact, Yosemite is home to more than 400 types of species of mammals, birds, fish, reptiles and amphibians.
The most coveted animal in Yosemite is the American Black Bear. Contrary to their name, most of the black bears in Yosemite have brown fur. Bears are rarely confrontational but be sure to keep your distance since they can become aggressive when with cubs or guarding food.
Bring your binoculars! At higher elevations, you may get lucky and spot an endangered Sierra Nevada bighorn sheep. Other animals to look out for are mule deer, bobcat, and coyotes. Rangers strongly advise against feeding these wild park residents.
Suggested Itineraries for Yosemite
One early decision you will need to make when planning a tour to Yosemite National Park is: How long should I stay?
The most common itineraries are either:
Yosemite day trip from San Francisco, or a
2 days in Yosemite from San Francisco
Whether you make Yosemite a 1-day, 2-day or long tour depends on the attractions and activities you want to do. Consider that the park's roads and trails are never point to point so it can take hours to get from one place to another. Luckily, there are a large number of awesome things to do concentrated into a small space on the valley floor.
As a starting point, we have put together the following itinerary suggestions, which you can modify to suit your perfect single or multi-day trip to Yosemite.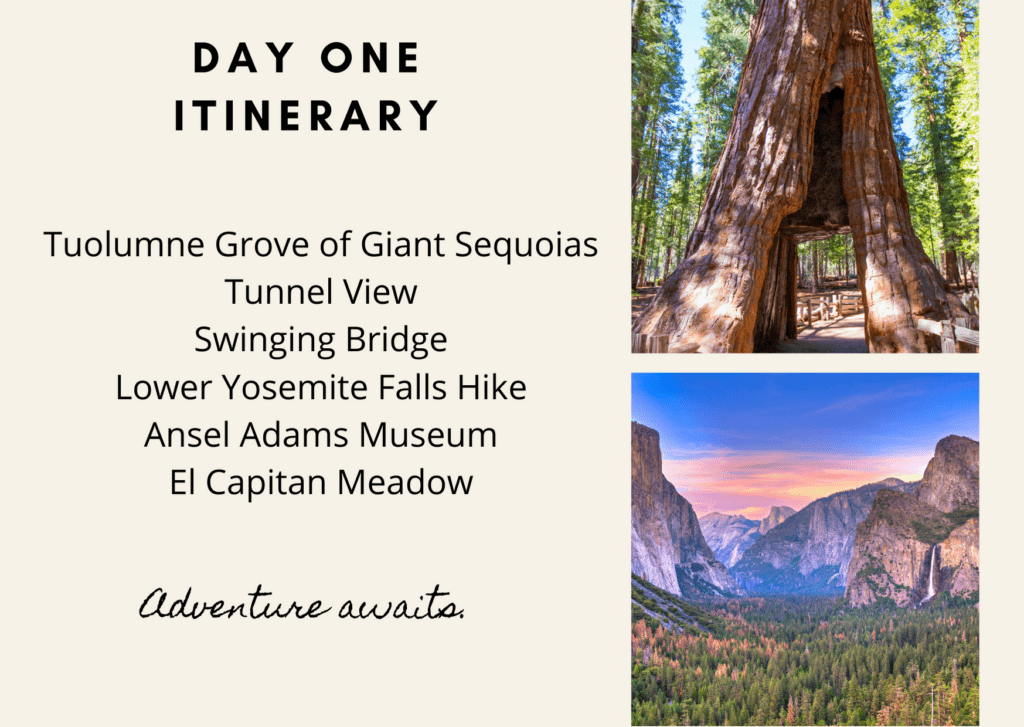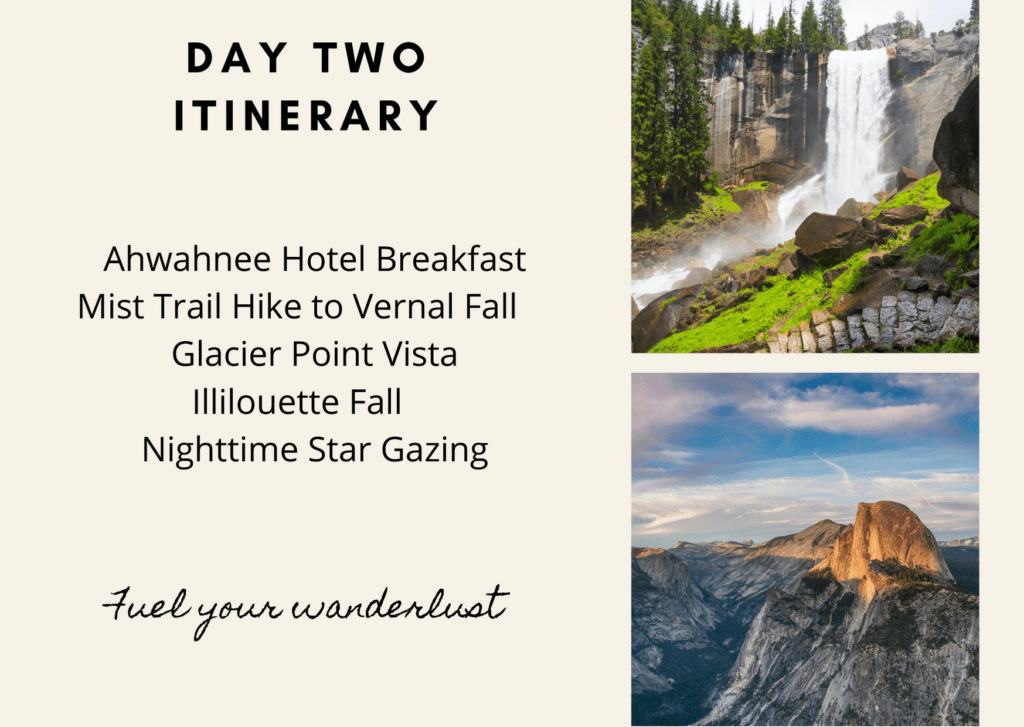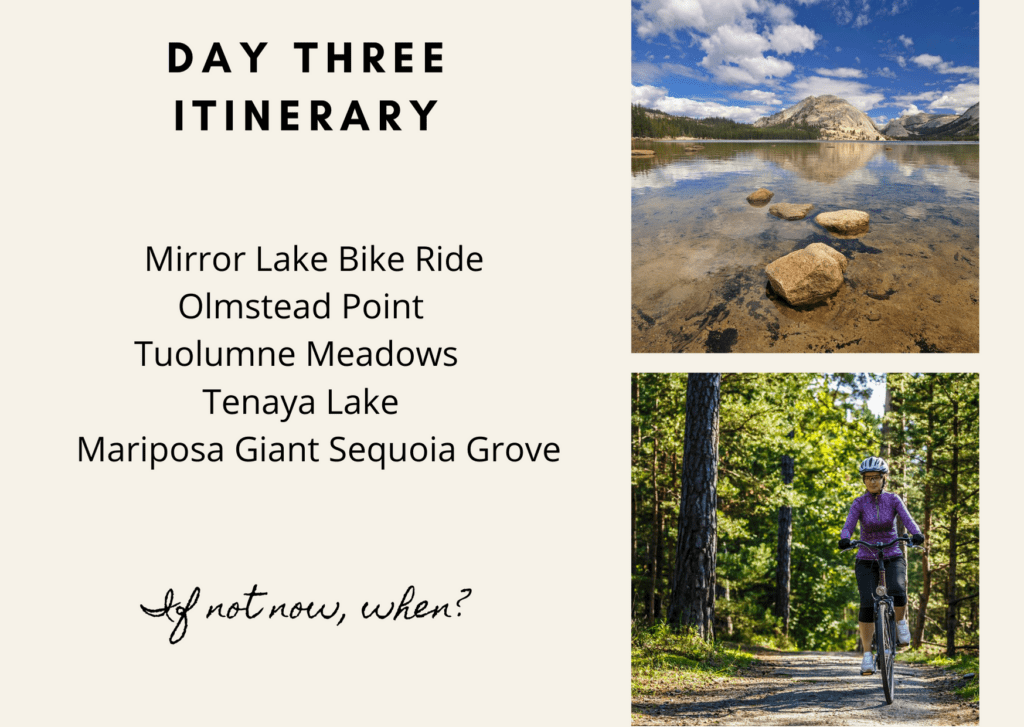 Best time to Visit Yosemite National Park
Yosemite is gorgeous all year round. In late spring and early summer, when melting snow from the Sierra Nevada Mountains thunders down into the valley, the waterfalls are especially spectacular. During Yosemite winters, the park becomes less crowded and offers fantastic snowy landscapes, skating and even skiing!
Here's the deal, there's no bad time to visit Yosemite. To help you out, we have summarized the special activities you can expect to find in winter, spring, summer, and fall. We hope this helps you to plan the best time to visit Yosemite National Park.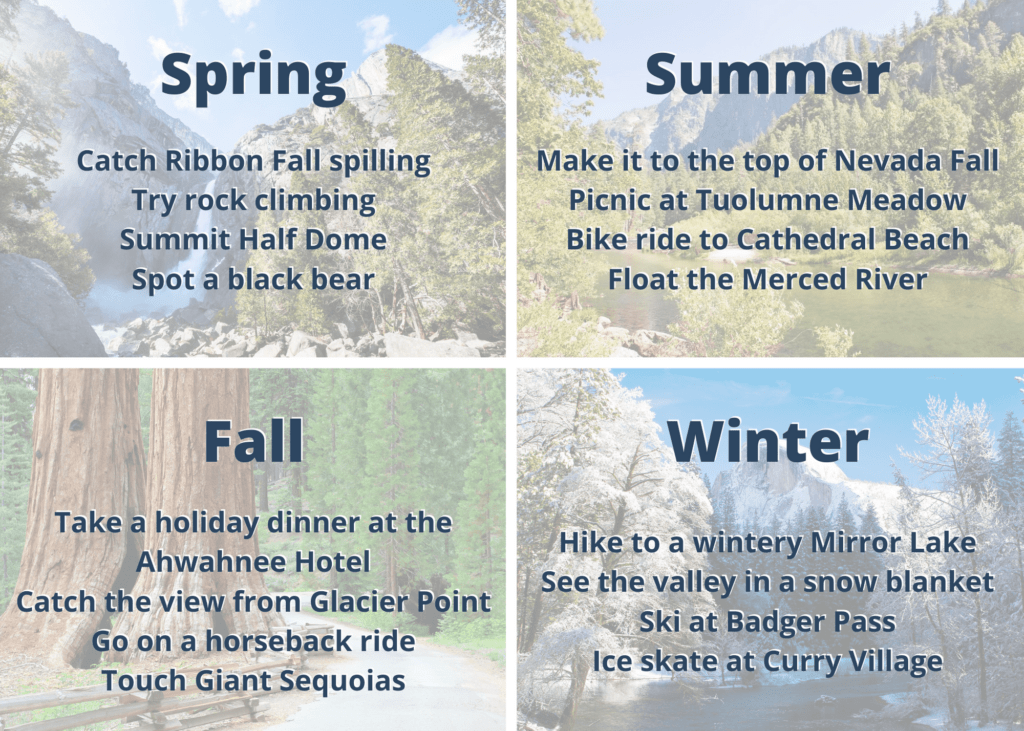 Where to Stay in Yosemite
If you are planning far enough ahead, you may be able to nab lodging inside of Yosemite park's boundaries. The options located on the Yosemite Valley floor include everything from the historic Ahwahnee Hotel to the rustic tent cabins in Curry Village. There are also many luxurious to primitive lodging options in the surrounding cities of El Portal, Mariposa, and Groveland. Not to mention, getting from Groveland to Yosemite requires just a short bus ride. Check out a comparison of our favorite Yosemite lodging options.
Making Yosemite Park Reservation
In 2020, Yosemite began requiring a reservation for personal vehicles entering the park and since the onset of the COVID-19 pandemic, they have reduced the number of daily visitors. So, get your reservation first before investing a lot of energy into planning your trip.
The entrance to Yosemite park costs $35 for a car, RV or truck and does not depend on the number of passengers). Fees are paid during checkout when you book a tour. If you plan on making multiple trips, you can purchase a Yosemite annual Pass for $70 or, better yet, acquire an annual pass to all National Parks for $80.
Getting Around in Yosemite Park
Getting around the park is made easier by the free Yosemite Area Regional Transportation System (YARTS), a public transit system that allows you to meander through the park car-free. Four routes connect to Yosemite from the gateway communities of Merced, Fresno, Mammoth Lakes, and Sonora (the latter three operate in summer only).
Do not count on shared ride apps like Uber or Lift since the cell signal in Yosemite is weak to non-existent. A personal car can be useful to reach Glacier Point, Tuolumne Meadows, Badger Pass Ski Area and other more distant Yosemite park destinations. Of course, the best transportation in the park is your own two legs!
Yosemite awaits!
There are many wonderful things to do in Yosemite National Park. Whether it is your first or umpteenth visit, we are excited for you and hope this post has been useful to your planning. If you would like additional help, we are here for you. See our Yosemite tours or contact us.
Your Extranomical Tours.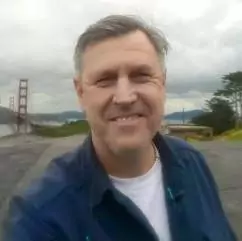 Gary Lillian is an advisor to Extranomical Tours which has led more than 10,000 guided tours in Northern California in the last 10 years. He is a graduate of Northwestern University, holds a master's degree from Kellog Graduate School of Management, and is a recognized subject matter expert in marketing and customer experience engineering.
Published on: October 2nd 2022