Yosemite Falls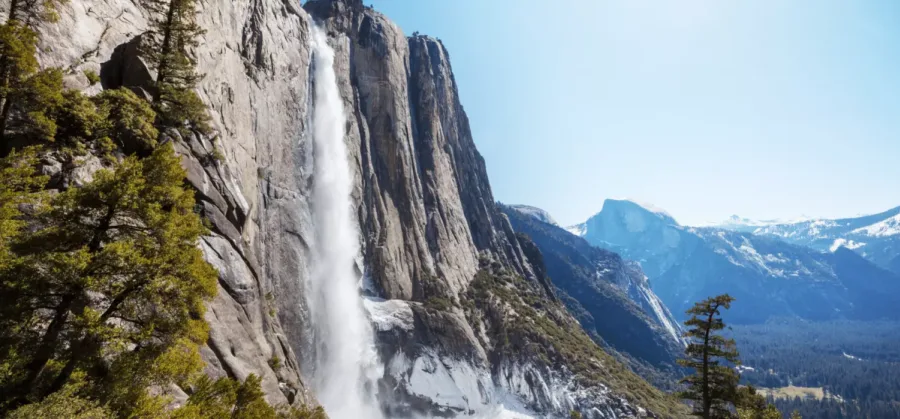 Lower Yosemite Falls is a "Must-See"
Without being there, it can be hard to appreciate how spectacular are the Upper, Middle and Lower Yosemite Falls in California. Consider this. Together, Yosemite Falls is ten times taller than Niagara Falls. It is nearly twice as tall as the Empire State Building. If it were a building it would have 200 stories.
Yosemite Falls faces out toward a wide-open  Yosemite Valley, making it visible from most places in the valley and from much of the high-country overlooking Yosemite. To the delight of casual visitors, the cascading waters of Lower Yosemite Falls Trail takes just 20 minutes to reach the cascading waters from Yosemite Village.
Yosemite Falls played an important role in the founding of Yosemite National Park. Back in the mid-19th century gold rush days, drawings by Thomas Ayres in popular magazines of the day sparked a firestorm of interest in conservation and taking a Yosemite Falls hike. Soon after that, the lands were set aside for public use and, ultimately, protected in the country's third national park.
How Tall is Yosemite Falls?
When counting the upper, middle, and lower Yosemite Falls together, water plunges 2,424 feet (740 meters) from Yosemite Creek at the top of the falls to its pool on the floor of Yosemite Valley. Yosemite Falls makes the list of tallest waterfalls in the U.S. Here are the top ten:
Rank Waterfall Height (Feet) Location
1 Olo'upena Falls 2,942 Hawaii
2 Pu'uka'oku Falls 2,755 Hawaii
3 Waihilau Falls 2,598 Hawaii
4 Colonial Creek Falls 2,585 Washington
5 Johannesburg Falls 2,463 Washington
6 Yosemite Falls 2,424 California
7 Manawainui Falls 2,358 Hawaii
8 Avalanche Basin Falls 2,320 Montana
9 Harrison Basin Falls 2,320 Montana
10 Haloku Falls 2,297 Hawaii
Interesting Fact: On the list of the tallest waterfalls on planet Earth, Yosemite Falls is number 22.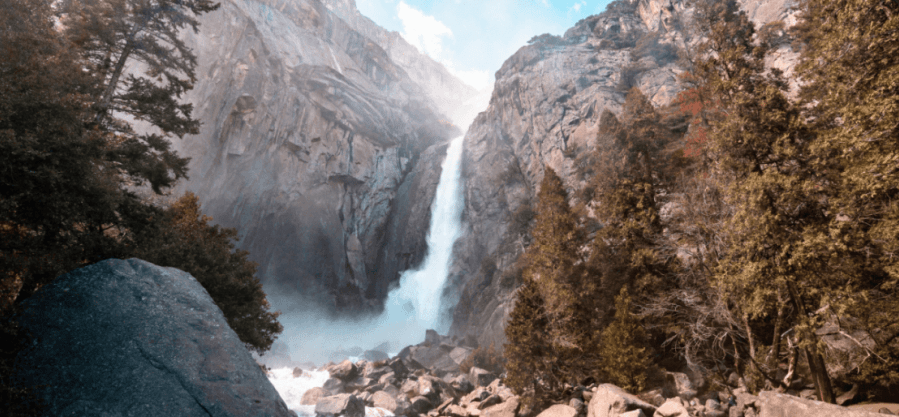 It is called "Yosemite Falls" (rather than "Fall") because the water feature is three distinct falls. The first plunge of Yosemite Creek, a total of 1,430 feet (440 meters), forms the Upper Fall. The Middle Cascades section is hidden from most observation points in Yosemite as it tumbles 675 feet (206 meters). The Lower Yosemite Fall hurls its water 320 feet (98 meters) before flowing into the Merced River.
Want to take a peak at Lower Yosemite Falls right now? Take a look at this live streaming webcam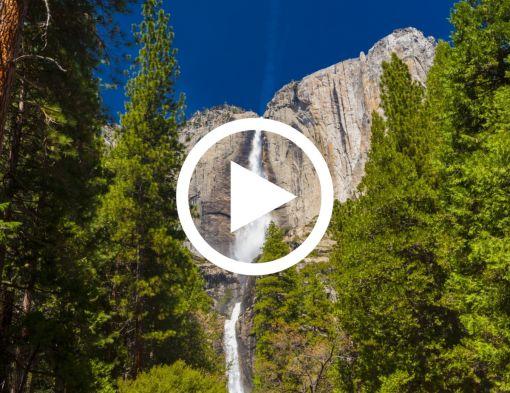 Best Places to View Upper and Lower Yosemite Falls
Walk to Lower Yosemite Falls from the Valley Lodge
Difficulty: Easy
Distance: 1 mile (1.6 km) round trip
Elevation Gain: None
Duration: 15 – 60 minutes
The Lower Yosemite Falls Trail meanders through a ponderosa pine and live oak forest before giving up a view of Lower and Upper Yosemite Falls in perfect alignment. Since the path is so family friendly, be prepared to share the trail to this Yosemite landmark with other park visitors.
Pick up the trailhead at Shuttle stop #6 across Northside Drive from Yosemite Lodge. After a short distance you come to a viewing platform. For a little space, continue up the trail and climb up to the pool where splashing water puts on a great show in Spring and early Summer. There is also a nice view of Half Dome from this spot.
Hiking Tips:
The flat, paved path can be crowded in Summer
Leashed pets are allowed
The trail is wheelchair accessible
View from the Swinging Bridge via the Sentinel & Cook's Meadow Loop
Difficulty: Moderate
Distance: 2.25 miles (3.6 km) round trip
Elevation Gain: very little
Duration: 1 ½ hour
This flat, easy path serves up several middle-range views of Yosemite Falls. One of our favorites, from the Swinging Bridge, allows you to see the falls reflected in the Merced River on super-calm days. As a bonus, this trail serves up Instagram-worthy shots of Half Dome. This path is a good alternative to the often-crowded Lower Yosemite Falls Trail since there is room to keep your distance from other hikers.
Hiking Tips:
If you can plan your trip for the Spring, you'll be treated to meadow wildflowers
This flat trail is a good choice if the group is not outfitted for a strenuous hike
You are never far from a restroom, the nicest are at the Yosemite Lodge
Yosemite Falls from the Four-Mile Trail
Difficulty: Challenging (one way); Strenuous (round trip)
Distance: 4.7 miles (7.5 km) one way; 9.4 miles (15 km) round trip
Elevation Gain: 3,200 feet (975 meters)
Duration: 2 – 4 hours one way; 4 – 8 hours roundtrip
There is no better way to catch views of Yosemite Falls than when hiking the lower part of the Four-Mile Trail. Compared to the easy trails to the falls from the valley, this long and sometimes steep trail to Glacier Point will give you private time to enjoy the views that pop around nearly every bend in the trail.
You need a full day to climb from the valley floor near the Swinging Bridge to the south valley rim at Glacier Point and return to the starting point. The most amazing shots of the falls come halfway through the trek in the lower part of Four-Mile Trail. As you climb up to Glacier Point, you'll reach views looking across the valley and down on the falls.
Along the way, you'll be treated to great views of Yosemite's granite landmarks. See Cathedral Rocks, El Capitan, Half Dome, Clouds Rest, North Dome and Royal Arches—all at perspectives that are not so common on Instagram.
The trail is a mile longer than the Upper Yosemite Falls Trail but smooth, and not quite as steep. Even so, the Four-Mile Trail will test your endurance. Like the Upper Yosemite Falls Trail this one has some narrow stretches that will awaken the butterflies in your stomach.
Hiking Tip: Because there is road access at both ends of the trail, you can shorten the day by hiking from the Yosemite Valley trailhead to Glacier Point and return to the valley via the YARTS shuttle (or do the reverse).
The Yosemite Valley trailhead is on Southside Drive just west of the Swinging Bridge, or near Yosemite Lodge (Stop #7). If the small parking lot at the trailhead is full, look for a spot at the Swinging Bridge parking lot, a few hundred yards (meters) to the east.
Hike to the Top on the Upper Yosemite Falls Trail
Difficulty: Strenuous
Distance: 7.2 miles (11.6 km) round trip
Elevation Gain: 2,700 ft (823 m)
Duration: 6-8 hours round trip
This popular trail to the crest of North America's third tallest waterfall dates to 1873. It is a strenuous trail that begins with a series of switchbacks that climb through an oak tree forest to an open plateau where your effort is rewarded by views of the valley featuring Half Dome and Sentinel Rock. A bonus on this hike is a view of normally hidden Middle Cascades of Yosemite Falls.
Hiking tips:
On sunny summer days this hike can be dehydrating. Be sure to carry plenty of water.
Use the restrooms in Camp 4 near the trailhead; there are no toilets on the trail
Wear boots with good traction as you will hike over sharp rocks and ice in the winter
There are some precarious trail sections not suitable for someone with a fear of heights.
The top of the falls has no protective railing, be careful when taking those photos
To get to the trailhead, drive to or take the Visitor Shuttle to stop #7 near Yosemite Lodge. Walk across the street to Camp 4 (Sunnyside Campground) and look for the trailhead signs to Upper Yosemite Falls.
Read more about this hike here.
Best Time to Visit the Falls in Yosemite
For the most vigorous flow of water over the falls, visitors should plan their visit for when rising temperatures cause snow and ice locked in the surrounding Sierra Nevada Mountains to flow into the Yosemite Creek. In a normal year, this process starts in March and peaks in April or May.
The snowpack is typically melted by mid-summer and Yosemite Falls relaxes into a trickle of water flowing into Yosemite Valley. The falls are, typically, dormant until seasonal rains begin again in the late Fall. These times are estimates, so the flow will depend on recent snowfall and temperatures.
Don't shy away from visiting in Winter. While the falls are not at their peak, the trails are uncrowded, and icicles draping from the rocks create a beautiful spectacle. Check out these winter season pics of Yosemite Falls.
Getting to Lower and Upper Yosemite Falls
There are many good places to view Yosemite Falls but all of them require entering Yosemite National Park and following the signs to Yosemite Valley. There are four entry gates to Yosemite:
Crane Flat (Highway 120): most direct route for trips originating in San Francisco or Sacramento
South near Fish Camp (Highway 41): closest entry point for trip coming from Southern California
Arch Rock near El Portal (Highway 140): low altitude and a good choice for snowy or icy days
Tioga Pass (Highway 120): best for Las Vegas or other eastern cities (not open in the winter)
Once you entered the park, head for the departure point for any of the Yosemite Falls viewing locations outlined below.
Heads up: once you enter the park, cell service is highly unreliable so make sure you have downloaded or printed a map of the park in advance. Download a map of Yosemite Valley here.
Need more maps? Here is a really useful link to a National Park Service page with 74 free maps.
If you are arriving in your own vehicle be sure to plan ahead. Gas is not available in Yosemite Valley. There are gas stations in Wawona, Crane Flat, and El Portal. Need an electric vehicle (EV) charging stations? There are just a couple: one at the Village Garage and the other at The Ahwahnee hotel.
Be patient when looking for parking in the summer or on holiday weekends. Some good bets are behind Yosemite Lodge, by Curry Village as well as Yosemite Village. Unless posted otherwise, it is fine to park in pullouts alongside Northside or Southside Drive.
Other Top-Rated Falls in Yosemite Valley
The dramatic geography of Yosemite National Park has formed other impressive waterfalls that can be reached by car, tour bus or on foot. If you have time to spend in the valley, here is a map of the major falls. Be aware that few of them will be flowing in the dry Summer and Fall seasons.
Thankfully, there are several organizations working to make sure that the Yosemite National Park's attractions like Lower Yosemite Falls are protected for future generations. One of the most active is the Yosemite Conservancy. You can learn about their many programs for cultural and historic preservation here.
FAQs
What is there to do at Lower Yosemite Falls?
Plunging water from Lower Yosemite Falls on its way to the Merced River is the dramatic final act of the third tallest waterfall in the U.S. While dodging splashing water, visitors to Yosemite Valley capture incredible photos from the base of the falls.
How long is the Lower Yosemite Falls Trail?
The Lower Yosemite Falls Trail loop begins near Yosemite Lodge (Shuttle Stop #7) and meanders just 1 mile (1.6 kilometers) to the viewing platform near the base of the falls and back. The path is flat and an easy stroll that takes most visitors under an hour to complete.
How long is the hike on the Upper Yosemite Falls Trail?
The Upper Yosemite Falls Trail is the most challenging (and most rewarding) route to experience all three sections of Yosemite Falls. It leads hikers through steep terrain all the way to the top where Yosemite Creek begins its 2,424 foot (740 meter) plunge into Yosemite Valley.
How tall is Lower Yosemite Falls?
Lower Yosemite Falls is the final vertical plunge of Yosemite Falls. It adds 320 feet (98 meters) to the three-part water feature, allowing the falls to make the list of 10 tallest waterfalls in the United States (and 22nd in the world).
How tall are Yosemite Falls?
When counting the upper, middle, and lower Yosemite Falls together, water plunges 2,424 feet (740 meters). Yosemite Falls is ten times taller than Niagara Falls. It is nearly twice as tall as the Empire State Building. If it were a building it would have 200 stories.