Yosemite National Park is one of the most breathtaking and popular national parks in the United States. Famous for its stunning waterfalls, granite cliffs, and Giant Sequoia trees, each season in Yosemite offers unique conditions and activities for visitors. Still, many travelers ask us: When is the best time to visit Yosemite National Park? 
It's a tricky question. The answer depends on your personality. Reflective types will find a silent one-on-one with El Capitan extremely satisfying. Active types will enjoy letting out their inner child by hopping on rocks and descending the bank of the Merced River to find the Instagram-perfect spot with Half Dome in the background.
No matter what season you choose, whether you are planning a week-long backpacking adventure or a day tour from
San Francisco, there are magical moments to be had. In this post, we'll share some insiders' tips to help with the decision on when is the best time for you to visit Bridalveil Fall, Tunnel View, Tuolumne Grove,the dozens of trailheads to the Yosemite high country, and other things to do in Yosemite. 
Fall in Yosemite National Park
Fall in Yosemite National Park is one of the most beautiful times to visit. The crowds have thinned out, and the autumn leaves create a gorgeous, golden hue. From late September to early November, the weather is mild, and you can enjoy hiking without worrying about the heat. The fall is also an excellent time to take a scenic drive through the park to see deciduous trees, like maples, oaks, and dogwoods, as they are changing color.
Winter in Yosemite National Park
If you enjoy winter sports, then winter is a great time to visit Yosemite National Park. From mid-December to early March, the park's high country becomes a winter wonderland. You can even strap on skis or a snowboard at Badger Pass ski resort. On evenings in February, off the east side of El Capitan, Horsetail Fall creates an extraordinary golden glow that looks as if it has caught fire!
On the northern side of the Yosemite Valley, cascading off the east side of El Capitan, the Horsetail Fall flows from December to April. In the evening, the extraordinary golden glow from the setting sun makes the waterfall look as if it's on fire! You've got to see it to believe it.
Have you seen a rainbow? Sure, it's spectacular, but wait until you see a moonbow, also known as a "lunar rainbow." In Yosemite, you can witness this rare phenomenon that occurs when moonlight is reflected and refracted off water droplets produced by a waterfall—best seen during the bright light of a full moon.
This is a rarity. There are only a few locations on Earth where you can see lunar rainbows: Cumberland Falls State Resort Park in Kentucky, Victoria Falls on the border of Zambia and Zimbabwe, Waimea in Hawaii, and of course, Yosemite National Park in California.
There are plenty of things to do in Yosemite in winter, but these winter months can be cold, so make sure to bring plenty of warm clothing.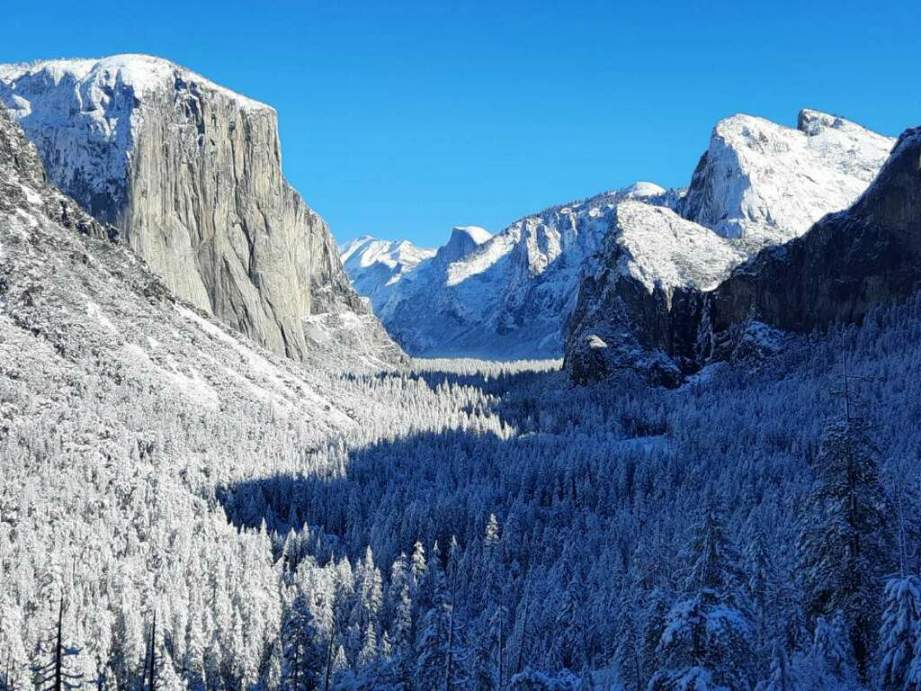 Spring in Yosemite National Park
From mid-March to early May, the weather turns mild and melting snow from the Sierra Nevada Mountains thunders down into the valley, creating waterfalls with stunning beauty. The park is not yet crowded and it is possible to have a moment of quiet reflection with Mother Nature. You can enjoy an uncrowded hike to Vernal Fall or on the Mist Trail. Spring is the season for wildflowers which usually produce super-blooms throughout the park's meadows. More activities during these months can be found in our guide to things to do in Yosemite in spring.
Summer in Yosemite National Park
Summer is the most popular time to visit Yosemite National Park. From late May to early September, the park is bustling with visitors. Even when crowded, the park's many high-country campgrounds offer opportunities for solitude. You can also enjoy swimming in the meandering Merced River. Yosemite summers can be hot. So, use sunscreen, wear a hat, and defend yourself against dehydration by drinking frequently.
Another tip for Yosemite in summer: You may want to get closer to the falls for the best view, since their water flow will be past its peak. (Don't worry: With this year's heavy rains and snow pack, you'll still have plenty to see.) Try hiking past the Vernal Fall on the Mist Trail. Insider's tip: The trail to the base of the falls is an easy hike, but it gets slippery in the spring and icy in the winter, so dress appropriately with sturdy shoes that have good-gripping soles.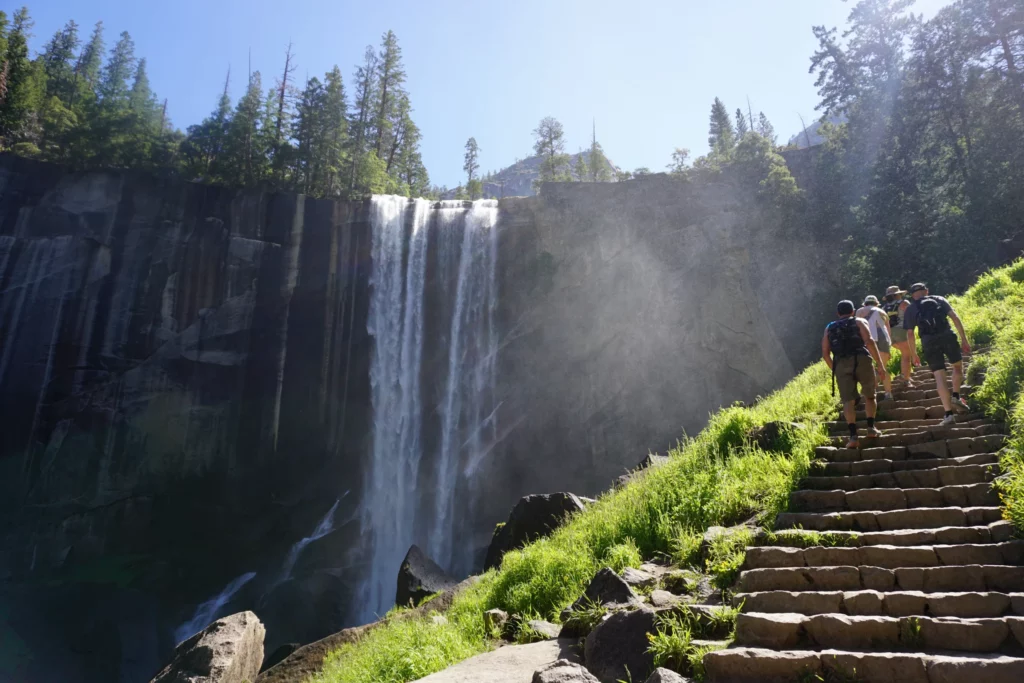 Advice for Planning Your Trip to Yosemite National Park
No matter when you decide to visit Yosemite National Park, there are a few tips that can help make your trip more enjoyable. First, make sure to pack plenty of water and snacks, as you'll be doing a lot of hiking and exploring. Second, make sure to dress in layers, as the weather can change quickly. Finally, book your accommodations and activities in advance, especially if you're planning on visiting during the peak season.
Once you have decided when to visit Yosemite National Park, there are plenty of options for how to visit. One popular option is to take a Yosemite day or overnight tour from San Francisco. These tours typically include transportation to and from the park with an experienced guide. Extranomical Tours has Yosemite tours from San Francisco every day of the year. 
In conclusion, the best time to visit Yosemite National Park depends on your interests and what you want to do. Each season offers unique features and activities that make it a perfect time to visit. By following these tips and advice, you can plan the perfect trip to one of the most beautiful national parks in the world.
Frequently Asked Questions About Yosemite National Park
When was Yosemite National Park established?
Yosemite National Park, California, was established by the United States Congress on Oct 1, 1890.
Why is Yosemite named Yosemite?
The name Yohhe'meti (Southern Miwok) or Yos.s.e'meti (Central Miwok) originally referred to the Indian tribes who used to live in the valley. The original inhabitants called the area Ahwahnee (big mouth) because the valley's walls resemble a bear's mouth. Back in the day, pioneers tended to disregard the native names of the places they discovered. In 1851, L.H.Bunnell of the Mariposa Battalion of volunteers named the valley Yosemite in honor of the tribe who used to live there. Discover more about the history from one of our knowledgeable guides as you ride through the park on one of our Yosemite bus tours.
How big is Yosemite National Park?
The park covers an area of 747,956 acres (1,168.681 sq mi, or 302,687 ha, or 3,026.87 km2).
How much is the Park Entrance Fee?
The current 1-day entry fee to Yosemite National Park is $35 per vehicle. You can purchase an annual pass for $70; $20 per person aged 16 or older.
How much is the Park Entrance Fee?
Parking fees are increasing in June 2018. Effective June 1, 2018: $35 per vehicle; $70 annual pass; $20 per person aged 16 or older.
What is the latest speed-climbing record in Yosemite?
The 2,425-foot-high Yosemite Falls are the highest North American waterfalls (and the 5th highest in the world!).
What is the highest waterfall in North America?
The 2,425-foot-high Yosemite Falls are the highest North American waterfalls (and the 5th highest in the world!).
What is the peak season for the waterfalls?
May is generally the peak season for waterfalls because this is the time when the winter snow starts melting fast. About 135,000 gallons of water drop over the top of the waterfalls every minute.
What month does it snow in Yosemtie?
Snowfall in Yosemite National Park typically occurs from November to April. The peak months for snowfall are December, January, and February. However, snow can sometimes fall as early as October and as late as May, depending on weather conditions. It's important to note that weather patterns can vary from year to year, so it's always a good idea to check the current weather forecast before planning a trip to Yosemite during the winter months.
What is the best airport for traveling to Yosemite?
The San Francisco International Airport is located about 200 miles west of Yosemite National Park. From San Francisco, you can rent a car or take public transportation (note: involves several system transfers). A much better way than driving and being stuck in traffic would be taking a bus tour to Yosemite from San Francisco.
Bon Voyage!
Published on: June 13th 2023