After a long winter, San Francisco is awakening and welcoming visitors again. When you are ready, there are plenty of fun things to do in San Francisco right now. Most all restaurants, parks, museums, trails, and San Francisco city tours of iconic attractions like the Golden Gate Bridge are open and operating like never before.
If you are confused by the colored tiers and what there is to do in San Francisco today—you are not alone. In this post, we will clarify a few things, so you know what to expect in the San Francisco Bay Area if you visit this Spring. We will update this blog as things change so check back as your travel date approaches to choose the right San Francisco tour for you.
What's Open in San Francisco
Alcatraz prison has reopened for tours. The indoor portion of the tour is not yet available.
Amusement parks are open with some restrictions on capacity for indoor attractions.
Self-guided audio tours are up and running with additional options available for groups and families. Click here to book your San Francisco City Tour.
Beaches are open for sunbathing, surfing and relaxing. Be sure to keep your distance, for now.
Biking and hiking on hundreds of miles of coastal and forested trails are wide open.
Entertainment centers like bowling alleys, gyms, climbing walls etc. are open with limits on capacity.
Golden Gate Park's gardens, trails, tennis courts, picnic areas are open. Indoor attractions like the California Academy of Sciences are open with reduced capacity.
Golf is permitted with requirements of one household per cart and staggered tee times.
Hotel dining, fitness centers and pools are open and can accept guests from outside the Bay Area.
Muir Woods National Monument and its forest of coast redwoods is open to visitors.
Museums, like the de Young and SFMOMA, are open with limits on capacity and timed tickets.
Music and sporting events may operate outdoors with a lower number of attendees.
PIER 39's shopping, fresh seafood restaurants, and bars are open with permitted capacities.
Restaurants are open with outdoor dining and indoor seating with reduced capacity.
Silicon Valley Tours are open with additional options available.
Rides like the SkyStar Wheel in Golden Gate Park, carousels, and train rides are open with household restrictions.
San Francisco Zoo & Gardens is open with social distancing a mask wearing requirements.
Napa and Sonoma Valley wineries are open for food service, wine tasting and tours. Yosemite National Park is open and no longer requires reservations. But you can book a Yosemite private tour here.
Like you, we were all excited to start the new year by getting back to the quintessential San Francisco we've missed so much. There's so much to catch up on! Here is our recommendation on the top 12 incredible things to do in the San Francisco Bay Area right now.
1. Catch the blooms in Golden Gate Park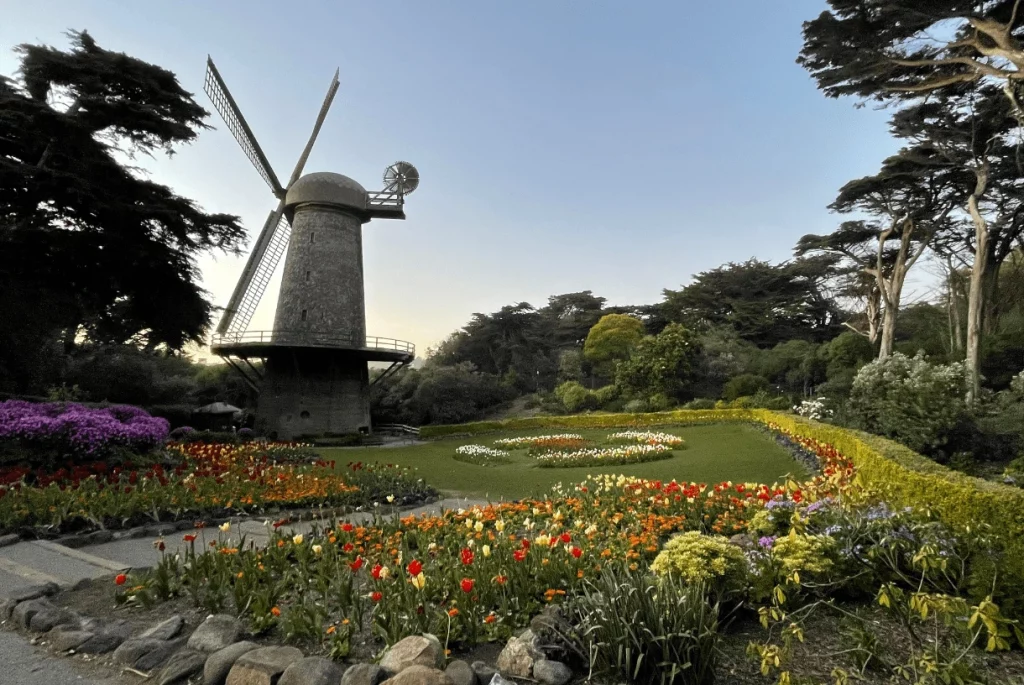 San Francisco's outdoor cultural center is Golden Gate Park. It is home to inspiring attractions like the de Young Museum, California Academy of Sciences, National AIDS Monument, Stowe Lake, the Shakespeare Garden and miles of groomed nature trails.
At this time, a large portion of John F. Kennedy Drive in Golden Gate Park is closed to vehicles making it more enjoyable and easier to maintain proper social distancing. You have many great places to hang out and enjoy the sunshine but here a couple that you won't want to miss this Spring.
The Japanese Tea Garden is open with some modifications to the pathways. Visitors can still enjoy classic features like the arched drum bridge, pagodas, native Japanese plants, koi ponds and Zen garden. No reservations are required.
If you get to the San Francisco Botanical Garden early in the Spring, you can see beautiful magnolias in bloom. San Francisco's cool foggy climate makes it a perfect place for preserving rare and threatened species. Besides magnolias, the Botanical Garden showcases more than 9,000 different kinds of plants from around the world. Do you live in San Francisco? Admission is free with proof of residency. Non-resident adult tickets range from $7-12. Advance tickets are recommended. Get them here.
2. Break into Alcatraz!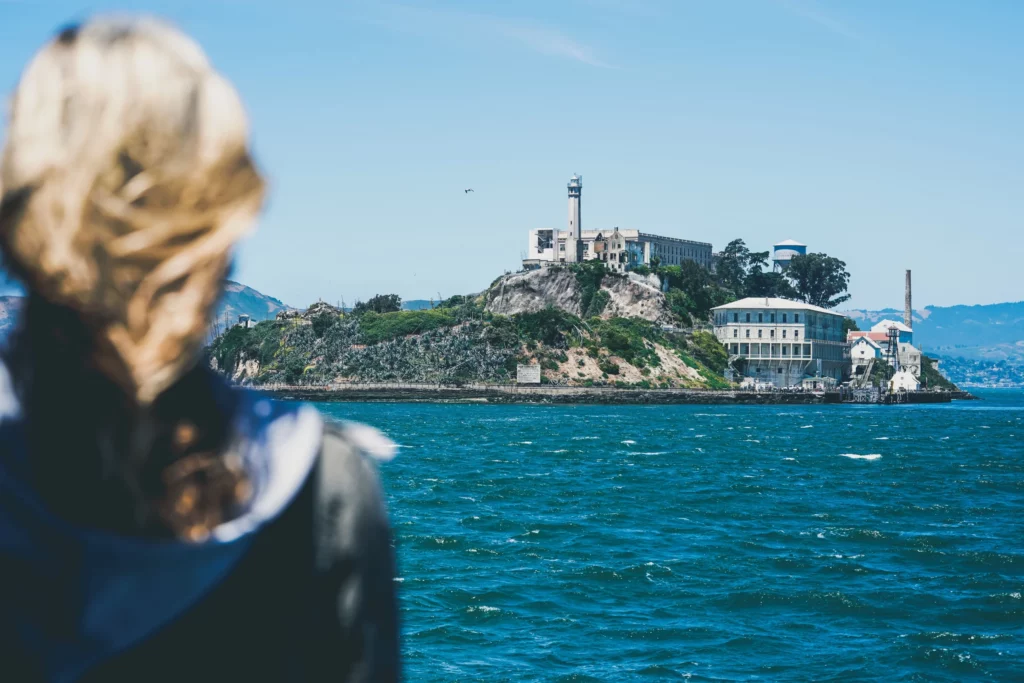 Hear harrowing accounts of failed prison breaks. See the quarters of notorious criminals up close. Enjoy stunning views of San Francisco and the Golden Gate Bridge from this perch in the middle of San Francisco Bay.
Spring visitors can once again "break into" Alcatraz Island prison. Currently, there are a reduced number of passages from Pier 33 to "The Rock", so expect the crowds on the island will be a bit smaller than normal (that's a good thing!).
Advance tickets are required and can be hard to get. Find out the latest on visiting Alcatraz Island and choosing the tour that's best for your group at Alcatraz Cruises. If Alcatraz is sold out, you may be able to get tickets as part of an Extranomical Tours package. Check availability here.
3. Peddle tip to tip on the Golden Gate Bridge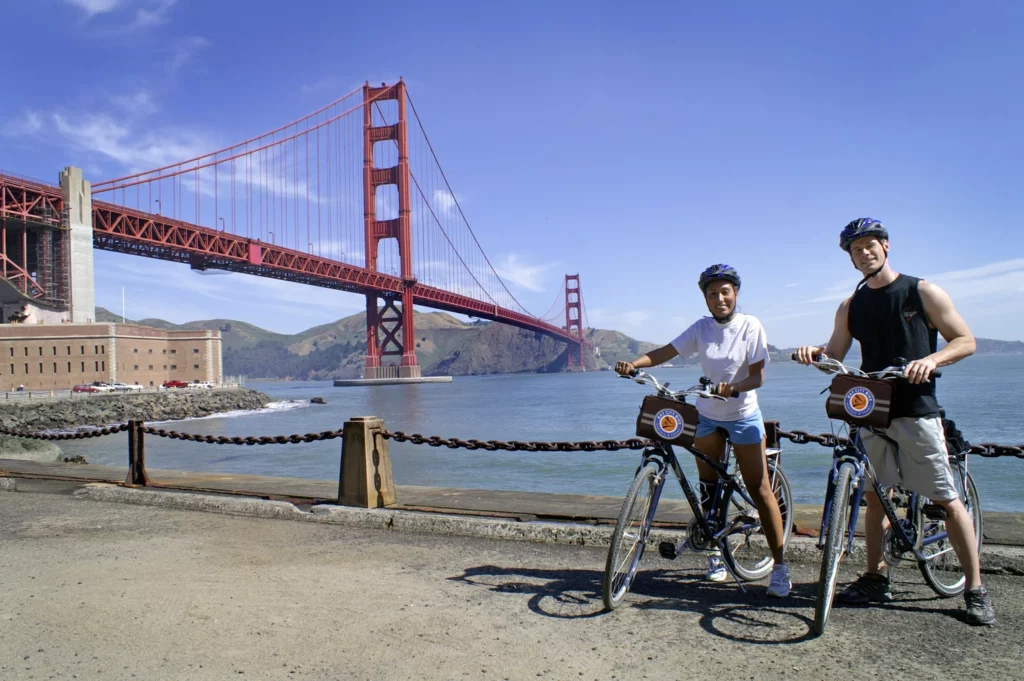 Pedaling along the mostly-level City waterfront and then over the bay to Sausalito really gets the blood moving! Begin in San Francisco's Fisherman's Wharf and follow the self-guided course past Pier 39's sea lions and other waterfront attractions. You'll have plenty of time to take in views of Alcatraz Island, Fort Mason and the Palace of Fine Arts as you pedal up to the iconic Golden Gate Bridge.
After a stop for pictures mid-way across the bridge, it's all downhill into sunny Sausalito. Relax over lunch and browsing in Sausalito's charming shops. Take selfies galore against the city skyline. Don't care to ride back? No worries. Bay City will pick it up so you can return by ferry back to the City. Bay City Bike offers bike rentals for all ages, levels and rider types starting at $32. Reservations recommended but not required.
4. Stoll under giant coastal redwoods
Muir Woods National Monument, a national park near San Francisco and home to one of the last giant redwood forests in California, is just a few miles away. Nature lovers from all over the world come to visit these Northern California coast redwood trees which are more than 750 years old and have branches so high that they would cast shade on the U.S. Capitol building.
The park's six miles of peaceful trails guide hikers to see the tallest trees in the world. It is an easy walk to Cathedral Grove where U.S. President Franklin Delano Roosevelt was memorialized and historic Bohemian Grove. While the giant redwoods are the star of the show in Muir Woods National Monument, the park is home to more than 380 different plant and animal species.
A visit to Muir Woods requires a parking reservation if you are taking your own vehicle. Make one here. Several San Francisco tour operators offer guided tours that include the parking and park admission fee. Check out availability at Extranomical Tours.
5. Eat your way through the Ferry Building
The handsome Ferry Building has been a San Francisco landmark since it opened as a transit center in the post-gold rush boom. The structure, also known as Pier 1, has suffered, and recovered from the 1906 earthquake and fire, competition from automobiles and a cross-town freeway that hid it behind a mountain of concrete.
The Ferry Building's latest renaissance has been as a gourmet food center beloved by visitors and San Francisco residents alike. Inside you'll discover artisan, locally crafted foods and beverages. If you go, don't miss the coffee at Blue Bottle Coffee. Lunch on the bay-side patio at Hog Island Oyster Company is to die for. If you can make it on a Tuesday, Thursday or Saturday, the CUESA market features products from small, sustainable growers and producers. Hours can vary, so check the latest here.
6. Fill Your sails with bay breezes
Iconic! San Francisco Bay as the sun sets over the Pacific Ocean. This 1.5-hour Sunset Sail is a serene, even romantic experience. For sure, you will have an unforgettable experience as you glide past San Francisco's seven hills and world-famous landmarks on a luxurious open-air deck.
You will be treated to twilight views of the Golden Gate Bridge, Alcatraz Island and waterfront landmarks like Coit Tower, Presidio, Transamerica Building and the Salesforce Tower. Keep your eyes peeled and you might see whales or sea lions cruising in the bay waters!
Adventure Cat Sailing can get you all set for this capstone to a perfect day in San Francisco. There are capacity limits on its catamarans. Dress in layers and arrive 30 minutes early at Pier 39, Dock J.
7. Explore street art in the Mission District
The cornerstone of the Mission District is the Misión San Francisco de Asís, established in 1776 by Father Juniper Sera. A progression of immigrant waves has left its mark on the neighborhood's buildings and colorful street scene. The dramatic murals of Balmy Alley, Clarion Alley, The Women's Building and many more attract open-minded visitors from around the world.
The best way to take in this vibrant neighborhood is on foot as you explore the murals, handicrafts, and the emerging food scene. There are quite a few good walking tour options. Ready to explore? We shamelessly recommend our Mission Street Art and Food Walking Tour.
8. Get above it all
The most dramatic way to admire San Francisco is from a birds-eye view. On weekends this Spring your group can board a 6-passenger seaplane and enjoy views of the Golden Gate Bridge, Alcatraz, Angel Island, Coit Tower, Muir Woods, Ocean Beach and more. Every passenger gets a window seat as you fly over San Francisco and the picturesque towns of Tiburon, Belvedere, Sausalito.
The fully narrated seaplane tour takes off from Sausalito, just across the way from San Francisco. Hundreds of 5-star Extranomical Tours reviews testify that this is a great way to get your bearing when you first arrive in San Francisco. Learn more about San Francisco Seaplane's ariel tours, with and without champagne, here.
9. Go wine tasting at elite Napa Valley wineries
Sausalito is a much-loved seaside community with charm to spare. It is the ideal place to linger after lunch and browse its eclectic shops. A selfie of the group against the city skyline across the bay could become your next profile pic.
There are many good touring options from Napa but if you are staying in San Francisco, we (of course) recommend our Small Group Napa Reserve Tour. The day begins at Castello di Amorosa, a medieval-styled Tuscan castle winery constructed using more than 200 containers of European castle furnishings. After a lunch break in charming Calistoga, California, point your taste buds to Beringer Vineyards, the oldest continuously operated winery in Napa Valley and a National Historic site. Finish the day on a high note enjoying award winning wines on the sunny porch of Kieu Hoang winery.
Check out availability for Extranomical Tours' Small Group Napa Reserve Tour here. If you prefer a relaxing two- or three-day trip to Napa and Sonoma, our private tours department can take care of that for you. Reach them at (415) 357-0700 or submit a request form online here.
10. Hang out in Dolores Park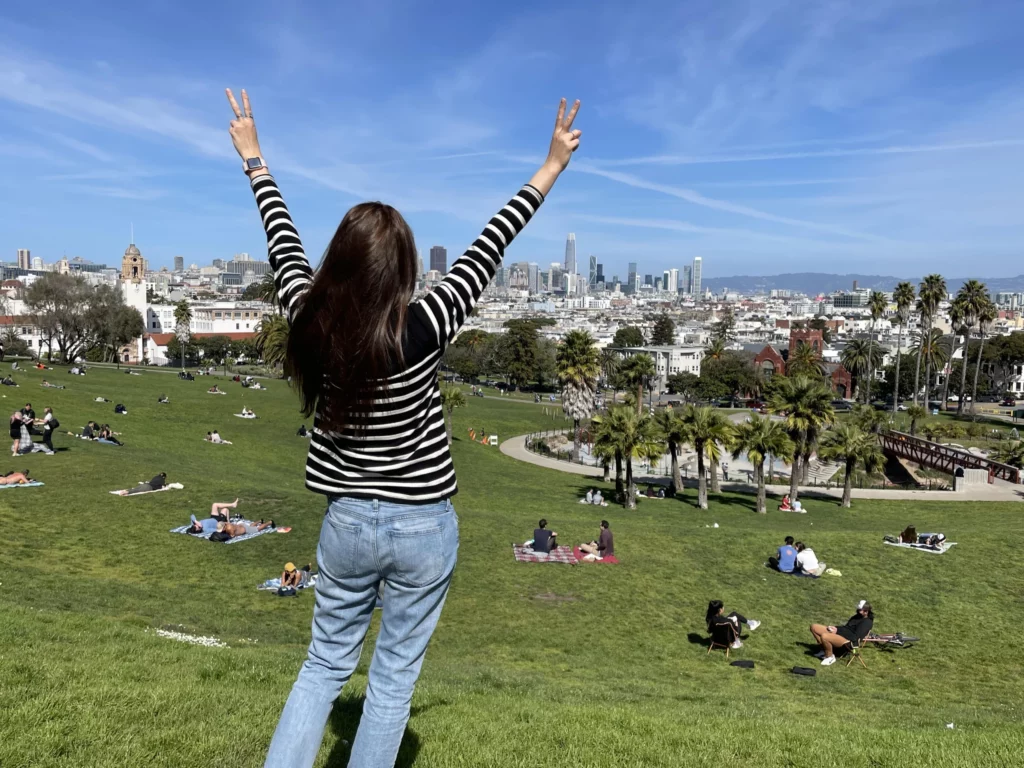 Located in the popular Mission District neighborhood, Dolores Park is beloved as a playful and relaxing spot to soak up a bit of vitamin D in the San Francisco sunshine. A pet- and frisbee-friendly zone, the park is a great spot for people watching, gorgeous city views, and chowing down on a takeout order of local burritos. If you get a little over heated (yes, that can happen in San Francisco!), it's a short walk to Bi-Rite Creamery, a popular spot for ice cream.
11. Have a bucket-list day in Yosemite National Park
Nothing is quite like the feeling of ascending the final switchback and reaching the wide-open vistas overlooking Yosemite Valley from Glacier Point, Olmstead Point and Tunnel View.
Just 4 hours from San Francisco, we offer a one-day tour to Yosemite National Park from San Francisco. Towering granite cliffs, waterfalls, Giant Sequoias and miles of forest trails headline this tour and its expert guides will make sure you don't miss the history, geology and wildlife that make Yosemite Valley the jewel of the U.S. National Parks. Check out availability here.
Have time to slow down the pace to savor the granite monuments, waterfalls, starry skies and giant redwood trees? Why not book a 2- or 3-day stay to enjoy to your heart's content. You will find a guide to your hotel options and all the best things to do in Best Things to do in Yosemite in Spring.
Make all the arrangements for a multi-day Yosemite experience with Extranomical Tours by exploring Yosemite overnight tours.
12. Have a delicious time in Chinatown
Chinatown is one of San Francisco's oldest neighborhoods and still one of the most densely populated residential districts in the United States. Long famous for its restaurants and food markets, this area was hard hit by the pandemic. Shopping and snacking as you explore is a great way to support the local business recovery.
There are dozens of fantastic restaurants in Chinatown ranging from the $$$ to the $. One of our favorites is Osmanthus Dim Sum Lounge.
About Safety
Most of the attractions, parks, and businesses have made special adjustments to their operations to comply with the city's recommendation for public health and safety. Please respect them so we can all get back to "normal" as soon as possible.
For more information on the best San Francisco Tours, ideas, and the latest news, contact us or email/call contact@extranomical or (415) 357-0700.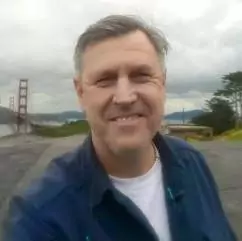 Gary Lillian is an advisor to Extranomical Tours which has led more than 10,000 guided tours in Northern California in the last 10 years. He is a graduate of Northwestern University, holds a master's degree from Kellog Graduate School of Management, and is a recognized subject matter expert in marketing and customer experience engineering.
Published on: April 5th 2021