What to know, what to see, where to stay, and all the best things to do during your trip, from Yosemite Valley experts.
So you are planning a trip to Yosemite Valley! Are you wondering how to get to Yosemite? Where you should stay? How about some fun activities to do in Yosemite Valley that aren't hiking? Look no further than this ultimate guide to Yosemite Valley for answers to those questions and more.
Basic Yosemite Valley Info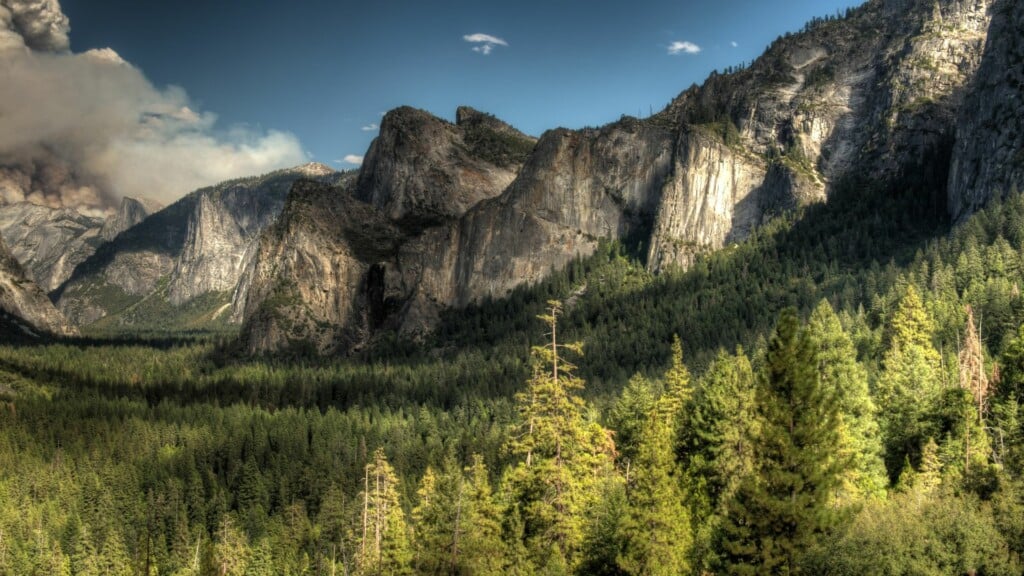 What: Yosemite National Park is a nearly 1,200 square mile piece of protected wilderness managed by the National Park Service. It was first protected in 1864, and since then, its diverse natural wonders have been attracting and delighting visitors from across the world.
While the huge park includes areas like Hetch Hetchy, Tuolumne Meadows, Mariposa Grove, and Crane Flat, most visitors spend most, if not all of their time in the 1-mile wide and 7-mile long Yosemite Valley. This is due to the immense beauty conveniently situated between the valley walls.
Where: Yosemite National Park is located in the Sierra Nevada Mountains in East Central California, about 190 miles from San Francisco. The Yosemite Valley lies just south and west of its center and is the metaphorical beating heart of the park. It is accessible by road, whether personal vehicle, tour bus, or public transportation, through 4 park entrances.
When: Everyday! The Yosemite Valley is open 365 days a year, and every time of year provides something special to experience. We will get more detailed below, but basically, whenever you have a chance to go to the Yosemite Valley — GO!
Why: How to keep this brief? Roaring waterfalls, soaring granite cliffs, a meandering river, and charismatic flora and fauna all await you in Yosemite Valley. And have you heard of Yosemite's most famous landmarks? El Capitan, Half Dome, Yosemite Falls? They are all visible from right in the valley itself! Yosemite Valley is the outdoor enthusiast's dream and the photographer's muse. It has truly earned its place on bucket lists across the globe.
Essential to Know Before You Go
Yosemite Entrance Gates and Fees
Yosemite has 5 entrance gates, but just 4 of them can connect you to the Yosemite Valley. They are as follows:
Big Oak Flat: Open year round via Hwy 120, closest to San Francisco, 45 minute drive to the Valley.
Arch Rock: Open year round via Hwy 140, close to San Francisco, quick 25 minute drive to Yosemite Valley.
South Entrance: Open year round via Hwy 41, convenient for travel from Sequoia National Park, Los Angeles, or San Diego, just over an hour drive to the Valley.
Tioga Pass: Open typically May – October, only Eastern entrance to the park for travel from Lake Tahoe or Las Vegas, 1 hour and 45 minute drive to the Valley.
Every entrance accepts payment of your entrance fee ($35 per personal vehicle) via debit/credit card only. If you are a big fan of National Parks and plan to visit at least 3 in the next year, invest in the America the Beautiful Pass ($80) to save some money and some hassle.
How to get to Yosemite Valley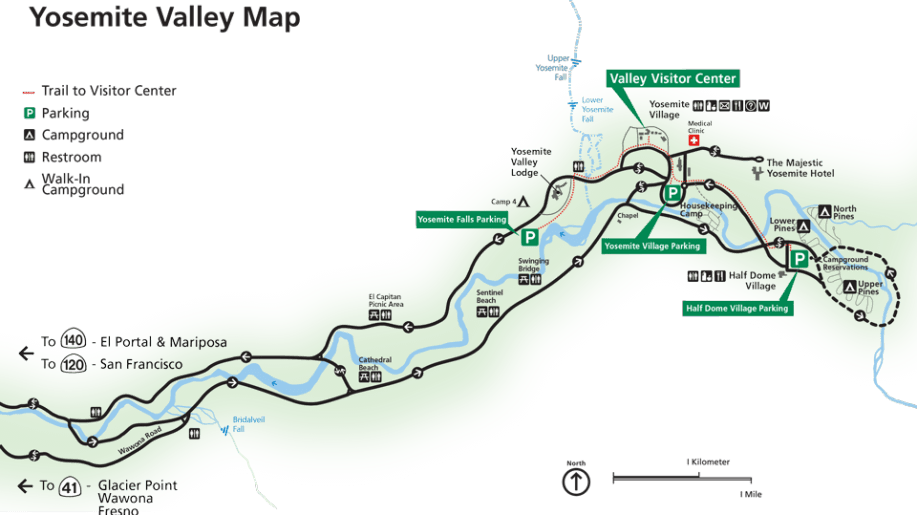 San Francisco is the perfect place to begin your Yosemite trip. With a bustling international airport, countless rental car options, and incredible tour companies, you can't ask for a better home base. Plus, it is a beautiful city full of fun things to do and worthy of a vacation all its own!
You have 4 main options to get to Yosemite from San Francisco. Check out our article dedicated to the topic here. To sum up, if you want to make your way to Yosemite on your own, you can either rent a car or take public transportation.
With a car, most visitors drive either Hwy 120 to enter the park at the Big Oak Flat Entrance, or Hwy 140 to enter through the Arch Rock Entrance. Hwy 120 is usually the faster choice, and 140 is a bit more scenic.
Riding the public bus to Yosemite is a hassle with tricky connections, so if choosing public transport we recommend taking the train. You will need to take the Amtrak San Joaquin line and connect with a Yosemite Area Regional Transit System (YARTS) bus in Merced for the final leg into the park and on to Yosemite Valley. One benefit to this is park entry is included in the YARTS ticket price!
The easiest way to visit Yosemite Valley is to take a tour. And tours come in all shapes and sizes for every schedule. If time is tight, hop on a one-day yosemite tour to take in the must-see sights with a seasoned guide.
If your schedule allows you more days to spend in the valley, consider a super flexible multi day tour. You can pick from one of our partner hotels, or take care of your accommodation separately. Either way, let us worry about the logistics of getting you to and from Yosemite Valley.
Best Time to Visit Yosemite Valley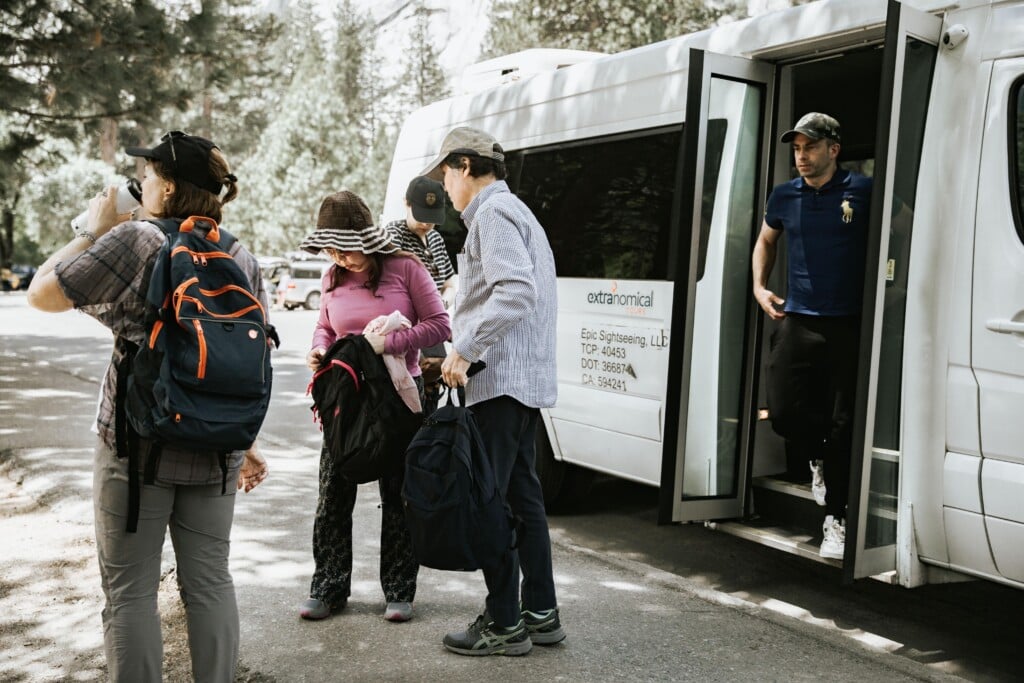 There is not a bad time to visit Yosemite Valley. But if you have a specific trip or sites in mind, we can help you determine which season is the absolute best. Visit our detailed guide to Yosemite throughout the year.
Spring in Yosemite Valley is the waterfall chaser's dream. Spring snowmelt roars over the rocky ledges and into the Merced River below, creating some of the most iconic Yosemite scenes. Wildlife becomes active as the valley warms. 
Summer in Yosemite Valley is crowded. If driving your own vehicle, parking will be tough. But it may be worth the extra effort, because all of the park is open and accessible and the weather is perfect for sun worshippers and swimmers. If looking for waterfalls, early summer is better, as many falls start to dry up in July or August. Make sure to make all reservations WELL in advance for this season. 
Fall in Yosemite Valley is lovely. The leaves and the light are changing, so this is a great time of year for fall photography. Fans of milder weather will prefer hiking once the summer heat passes. Keep in mind that most of the waterfalls and seasonal lakes have run dry by this point.
Winter in Yosemite Valley is spectacularly beautiful. The snow that often blankets the valley makes for extra special photographs and spreads a peaceful hush across the park. Several roads, and therefore, sections of Yosemite Park are closed seasonally, but Yosemite Valley remains open and accessible 365 days a year!
How to Get Around Yosemite Valley
One of Yosemite National Park's best manmade features is the free valley shuttles. They run on two routes: the Valleywide Shuttle, and the East Valley Shuttle. They arrive at least once every 22 minutes, from 7am-10pm, 7 days a week. These shuttles visit each hotel and major site in the valley and will save you a lot of headache.
The headache we speak of is parking of course. Driving your own vehicle to Yosemite Valley is wonderfully convenient, until you have to park it. Our recommendation is to plan on getting to the valley early, and then abandoning your car in favor of the shuttle for the day. Take the shuttle to all the viewpoints and hikes with no FOMO due to a full parking lot.
Yosemite Valley's Not to Miss Sights
While we believe that a successful Yosemite trip doesn't have to include the most popular sights to be unforgettable, there are a few major landmarks that most people want to see and photograph. The great news is you won't have to try hard to see the biggies in Yosemite Valley, as they loom over the valley in grand fashion, demanding your attention.
El Capitan – You can't miss this massive rock monolith towering over the valley. The most impressive views are from right beneath in El Capitan Meadow (Shuttle Stop #9), Valley View (on Northside Drive), and Tunnel View (on Wawona Rd just 15 min from the valley).
Half Dome – Once again, good luck missing this iconic sight! You will see spectacular views of Half Dome from Cook's Meadow and Sentinel Bridge (Shuttle Stop #6), Stoneman Meadow (near Curry Village), and Tunnel View.
Yosemite Falls – These impressive falls are best seen from the Lower Yosemite Falls Loop trail (Shuttle Stop #6) and places like Cook's Meadow and Swinging Bridge (Shuttle Stop #6).
Bridalveil Fall – This famous fall can be admired from Tunnel View, Valley View, and turnouts along Northside Drive. Easiest to see with a car or on a tour.
Tunnel View – The most famous viewpoint in the park, with a sweeping view of the valley, including Bridalveil Fall, El Cap, and Half Dome. This viewpoint is not technically IN the valley, because it is a view OF the valley from just above, but we wanted to mention it because it is a short, 15 min drive from the valley and definitely worth the trip. It is an included stop on all tours!
Best Hikes In Yosemite Valley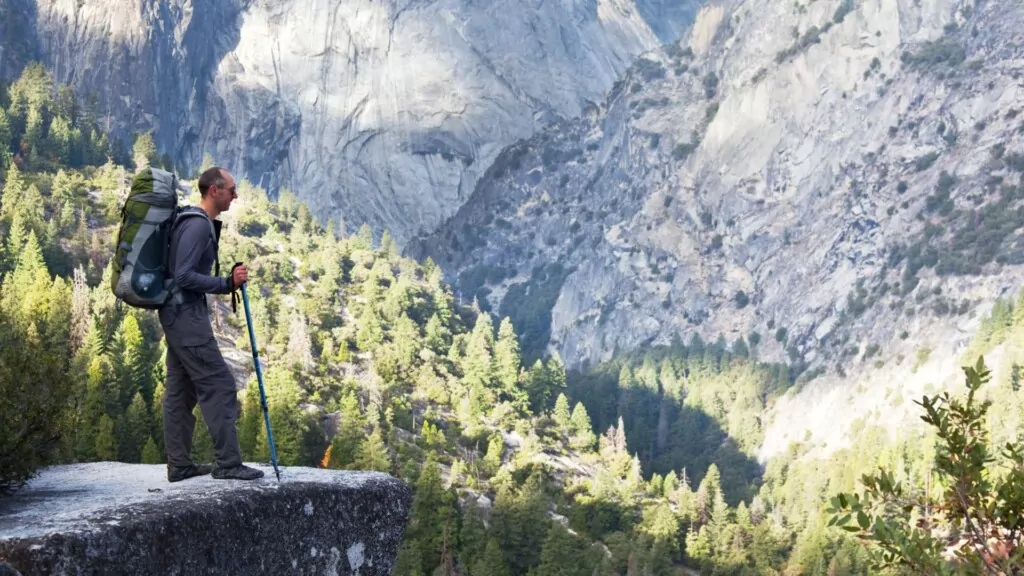 You are probably already aware that Yosemite Valley is a hiker's paradise. But did you know that there are also short, paved, accessible walks too? And you don't even have to compromise on the view! Some of our favorite views are from the valley floor, just steps from the road. Here are a couple of our favorite easy Yosemite Valley hikes, and then a couple more strenuous for those looking for a challenge.
Easy Yosemite Valley Hikes
Cook's Meadow (Shuttle Stop #5 or #6) – 1-mile flat loop with boardwalks and incredible views of the best of Yosemite Valley, including Half Dome, Yosemite Falls, and Glacier Point. If you are feeling up for it, extend your walk into Sentinel Meadow and across Swinging Bridge.
Lower Yosemite Fall Loop (Shuttle Stop #6) – 1-mile paved loop with only 50 foot elevation change and several beautiful perspectives up at the falls.
Mirror Lake (Shuttle Stop #17) – paved, 2-mile round trip to the lake or 5-mile loop around, beautiful area and reflection of Half Dome in the lake for lucky hikers. Lake dries up during summer.
Hard Yosemite Valley Hikes
Vernal and Nevada Falls (Shuttle Stop #16) – 5.4-8-mile strenuous loop to the top of Nevada Fall, via Mist Trail or John Muir Trail, respectively. The Mist Trail is undergoing construction with closures through Fall 2023. Check here for updates.
Upper Yosemite Falls (Shuttle Stop #7) – Strenuous 7.2-mile roundtrip to the top of North America's tallest waterfall, with close-up views along the way. Begins near Camp 4.
Four Mile Trail (Shuttle Stop #11) – The 9.6-mile difficult way to get to Glacier Point, earn the view with 3,200 ft. of elevation gain on this full-day hike. The full trail is generally open May-Nov, but depends on snowfall.
Half Dome (Shuttle Stop #14 or #16) – The famous, cable-assisted ascent of Half Dome is a 14-16-mile round trip journey gaining 4,800 ft. in elevation, lottery permit required, seasonal.
Non-hiking Things to Do in Yosemite Valley
Yosemite Valley is not just for hikers and climbers. Again for those in the back: Yosemite Valley is NOT just for hikers and climbers! We feel like a lot of the following activities are left out in guides like this, and that's a real shame. Yosemite Valley is for everyone, and here is the list to prove it.
Bike – Bring your own bike or rent through your accommodation or the rideshare program. There are over 12 miles of paved bike paths throughout the valley, perfect for a scenic and leisurely peddle.
Swim, float, or fish the Merced – Yosemite isn't exactly known for water sports, but the Merced is a beautiful little river just perfect for swimming and other recreation during summer.
Visit the Visitor Center – That's what it is there for! The Yosemite Valley Visitor Center (Shuttle Stop #5) has nature exhibits to teach you about the formation of the area, the wildlife that live here, and even a free film.
Photograph the Views – Snap you new profile picture, hone your composition skills, or just get that perfect picture to remember the trip. Use this article to find the best photo spots in Yosemite, many of which are right in the valley.
Join a Program – Join a ranger talk, a photography walk, or even an art class. Take a look at Yosemite's calendar of events.
Ride the Open-air Tram – This Yosemite Valley Floor tour is a fun way to see the valley. Seasonally operates as a closed bus tour Oct-May. It is a great way to see Tunnel View and Bridalveil Fall if you don't have a vehicle!
Museum and Gallery Hop – Visit the Yosemite Museum to learn about the cultural history of the valley, complete with demonstrations on the basket-weaving and traditional games of Yosemite's early inhabitants. Then head to the Ansel Adams Gallery to see the valley through the famous photographer's lens.
Star gaze – If you are staying late or overnight, don't forget about the stars! Maybe even try your hand at astrophotography.
Picnic – Often the best way to really experience a place is to stop… and eat food! Just don't feed the wildlife or make your own picnic spot off the beaten path. There are lovely designated picnic areas throughout the valley that are first come first serve.
Where to Stay in Yosemite Valley
If you are lucky enough to have a couple of days to explore Yosemite Valley, you will need to pick a place to stay. Our recommendation is to stay within the Valley itself. Yes, it will be more expensive, but we think it is worth it.
Staying in Yosemite Valley means the earliest access. You don't have to wake up early to drive to an entrance gate, and then maybe wait in line — you are already in! You will have no trouble getting to viewpoints before the rush, or lingering at them as the crowds drive home. And Yosemite Valley at night is unmissable. Enjoy every possible minute in the park by staying in the valley.
Hotels in Yosemite Valley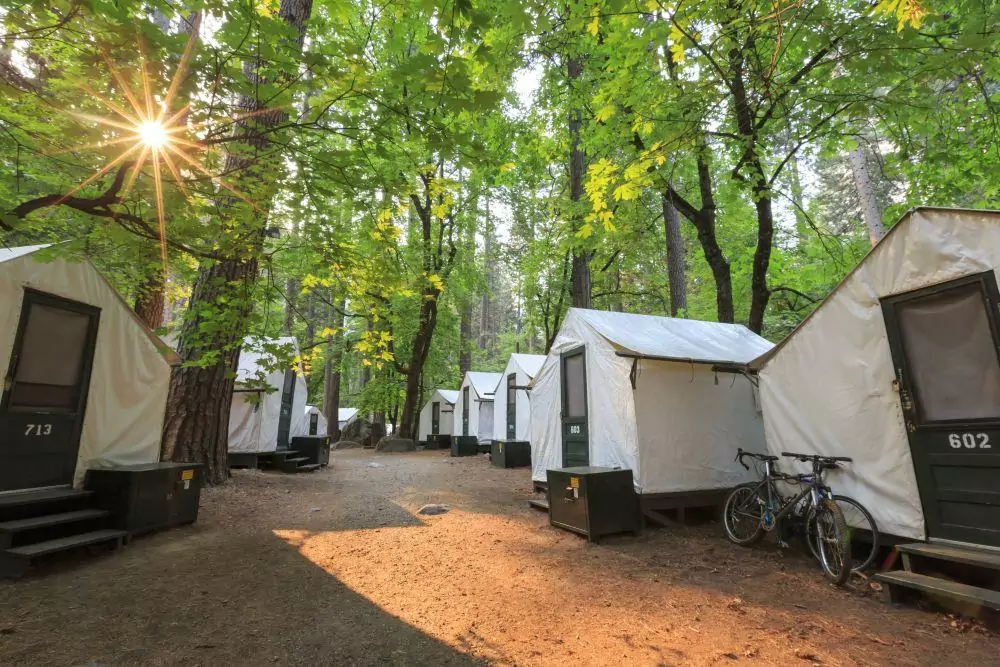 Your two traditional hotel options within the valley are the historic Ahwahnee Hotel or the Yosemite Valley Lodge. Both are in prime locations, accessible by the free valley shuttle, simply bursting with amenities, and open year round.
For a more rustic and budget-friendly experience, consider the Curry Tent Village. They offer traditional and canvas-sided tent cabins and simple motel rooms in the east end of the valley. They are open most of the year, with limited weekend-only availability from January to March.
Hotels Close to Yosemite Valley
If none of those options seem quite right, or they are booked up (this happens surprisingly early!), there are great options just outside the park. While these recommendations will require a YARTS bus ride to reach the valley, they are still convenient, great places to stay for a Yosemite vacation.
Along Hwy 140 you will find, in order of distance from the valley, the View Lodge, the Cedar Lodge, and the Bug Rustic Mountain Resort. The View and The Cedar are the more traditional lodging options. Both are situated on the river with multiple pools and spas, game rooms, and classic hotel rooms. The Cedar Lodge even has 3 onsite dining options.
The Bug Resort is a quirky property, with a variety of lodging options. Choose from traditional hostel style dorm rooms, private rooms, cabins on stilts, or glamping tents. While furthest from Yosemite Valley (34 miles on YARTS), the Bug Lodge delivers on rustic charm and sustainable fun. They also have a great little restaurant on site.
Camping in Yosemite Valley
Of course you don't need to sleep within 4 sturdy walls in Yosemite. There are 4 campgrounds right in Yosemite Valley. Upper Pines and Camp 4 (walk-in) are the only valley campgrounds open year round. Reservations are required for all campgrounds in the park from April – October and spots fill FAST. There is a limited selection of first-come first-served sites available October – May.
For a complete list of campgrounds in Yosemite, with details including estimated seasonal opening dates, head to the National Park Service Site.
Where to Eat in Yosemite Valley
Surprisingly, there are a handful of really great places to eat in Yosemite Valley, ranging from grocery stores, to casual outdoor eateries, to the upscale-dining experience offered at the Ahwahnee.
Eating at The Ahwahnee
Everyone should visit the historic Ahwahnee during their visit, even if they aren't staying there. The building is gorgeous and the setting is unmatched. Make your way to the Ahwahnee by walking 45 minutes up from the valley, or by taking the valleywide shuttle to stop #3.
While renovations are taking place in the Ahwahnee's main dining hall (Estimated completion during Fall 2023), a buffet-style dinner is available in their Great Lounge, Solarium, and Winter Club Rooms. See this page for their dress code and updates on the dining room renovation.
Eating at the Yosemite Valley Lodge
The Yosemite Valley Lodge (Shuttle Stop #7) offers several year round restaurants in their location at the base of Yosemite Falls. Head to the Mountain Room Restaurant or Lounge for upscale casual food and drinks, or to Bear Camp Eatery for casual food court fare and a Starbucks.
Eating in Curry and Yosemite Village
Curry Village (Shuttle Stop #14) offers several casual dining options including seasonal outdoor dining at the Meadow Grill and Pizza Deck, and year round indoor dining in the newly reopened Seven Tents Pavilion.
In Yosemite Village (Shuttle Stop #2,4,5) you can find the Village Store, complete with all you need to pack a lunch for the trail or a picnic, and seasonal outdoor dining. Degnan's Bakery provides a la carte breakfast and lunch fare, and just upstairs The Loft serves pizza, sandwiches, and salads for casual sit-down lunch and dinner.
What to Pack for a Trip to Yosemite Valley
Unless you are planning to stay or eat dinner at the Ahwahnee, Yosemite Valley doesn't have a dress code. Just pack what you need to enjoy your time outdoors! Definitely bring hats and sunscreen in the summer. In any season, bringing layers will help you be prepared for slightly warmer or cooler temperatures than expected.
While Yosemite has mild winters, it is no fun to explore when you are cold or wet. So when visiting the valley in the low season, bring appropriately warm clothing, waterproof shoes with grippy soles (for slick trails), and a rain layer.
If you plan to do any hiking, make sure to bring your basic first aid and emergency supplies and good, sturdy shoes you have already broken in. Download trail maps in advance, as cell service is not available in the valley, and even WIFI can be hard to come by. If you are camping, come prepared with, or prepared to buy, bear-safe food containers.
For the photographers out there, definitely bring multiple lenses (especially a wide angle) and a tripod. If you are hoping for great waterfall shots, consider bringing an ND (neutral density) filter and lens wipes or sleeves. They don't call it the Mist Trail for nothing!
Visit Yosemite Valley Safely and Responsibly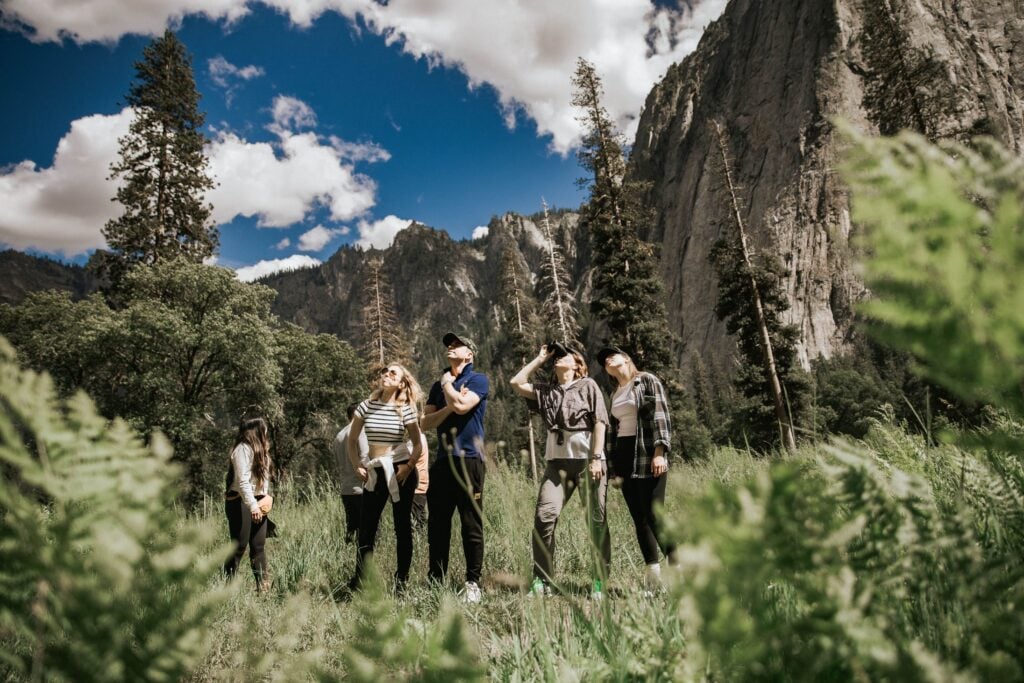 And there you have it! We hope this Yosemite Valley guide has helped you to plan your trip. To wrap up, we just want to say that the number one most important thing is to visit Yosemite Valley safely and responsibly. It is not the end of the world if you don't get that instagram-worthy shot from Tunnel View, or if you encounter cloudy skies when you want to go stargazing.
What really matters is respecting this land and keeping it beautiful for everyone. Stay on the designated trails, pack out what you pack in, and don't feed the wildlife. Seriously — if wildlife becomes dependent on us, it is not good for them or us.
Stay safe by coming prepared and being smart. Stay away from cliff ledges, and know your limits. Hiking at elevation can be a shock on the body, so take your time. Once again, be aware that there is no cell service in the valley, so come with paper or downloaded maps and let others know you will be unreachable.
Enjoy this stunning valley to the fullest! Take time during your visit to breathe deep and appreciate this little slice of heaven on earth.
If you want us to plan your trip for you, join us on one of our award-winning Yosemite Tours. And if you are looking for another Yosemite blog, we have got you covered! We have even more exciting Yosemite content coming soon, so make sure to check back.
Yosemite Valley FAQ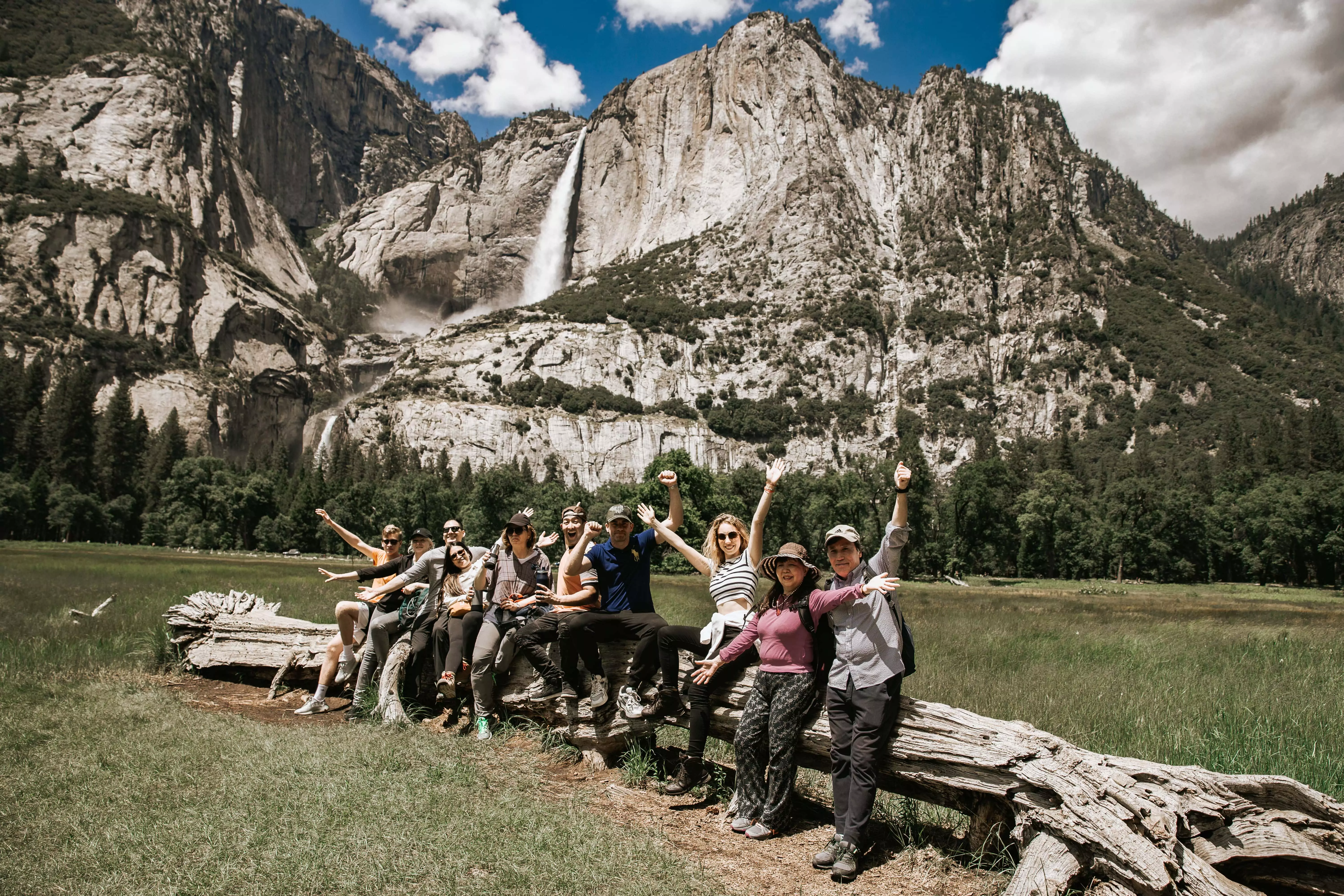 How many days do you need to do Yosemite Valley?
We think 2-3 days is ideal for truly taking in Yosemite Valley. You can take your time getting to viewpoints, do all of the hikes you wish, join in on a program, and just let the valley soak into your bones. Of course, staying overnight also allows you to see Yosemite Valley by the light of the stars.
Having said that, you can absolutely see the major sites in Yosemite Valley in one full day. The best way to do that is to take a tour. Let someone else worry about the itinerary and the transportation so you can just enjoy the park.
When is the best time to visit Yosemite Valley?
This depends entirely on what you want to see and how you want to experience the valley. If you are looking for warm days, swimming, and open access — summer is the best bet. If you are looking for waterfalls — go in spring. Fall and winter are fan favorites for calmer crowds and wonderful photography.
Do you need a car in Yosemite?
No! To get to Yosemite Valley you can take a tour or public transportation. Once in the valley, the free valley shuttles stop at most major sites, lodging, food, and trailheads from 7am – 10pm. If you plan to stay in Yosemite Valley, the need to find parking for your personal vehicle will lead mainly to headaches.
Why is Yosemite Valley famous?
Yosemite National Park was the first land in the United States designated for protection for the people by the federal government in 1862. Big fans and protectors of the area have included President Roosevelt and Naturalist John Muir.
Climbing culture in the valley is legendary and has included big names like Patagonia founder Yvon Chouinard, Royal Robbins, and more recently Tommy Caldwell and Alex Honnold.
Published on: October 1st 2023