Yosemite National Park is truly a photographer's dream. Let's face it, it's everyone's dream! With dramatic cliffs, picturesque waterways, and all four seasons filled with special reasons to visit, this park can awaken the Ansel Adams in everyone. Whether you bring just your phone or a trunkful of specialty camera gear, you can take incredible photos here, especially if you know where to go. This article will outline first the famous landmarks of Yosemite Valley and where to best photograph them, followed by the best photo spots and what you can see from each. We found this organization to be helpful and hope you do too.
If you know which landmark you have your eye on (Half Dome, maybe?) and need to know where to best capture it, head here. Want the low-down on all of the landmarks visible from each of the best viewpoints, and even when to best visit? Head here. Or you can join us in order from the top and get an excellent introduction to the best spots for photography in Yosemite.
Essential Park Updates and Closures
Visiting such a dynamic, rugged, and popular park has its challenges. While park staff do all they can to keep the park accessible, seeing every corner of the park every visit is just not a reality. The trick to an enjoyable trip is being in the know.
With so much content about Yosemite on the internet it can be confusing to puzzle out what is the newest and most up-to-date info. We promise to keep this article as updated as possible so it can be a resource for you. We are in the park nearly every day of the year on our Yosemite Tours so we will be the first to know of changes and will let you know here.
Glacier Point Road is undergoing construction through winter 2024. This is expected to cause delays and temporary closures and may make getting to Glacier Point, Washburn Point, Taft Point, and Sentinel Dome difficult or impossible (without a major hike).
Latest Update: Glacier Point Road will be open 24/7 beginning July 15th, 2023. Expect construction delays Monday-Friday from 6am-9pm.
Tioga Pass Road is typically open from sometime in May or June through November.
Latest Update: Tioga Pass Road is still closed as of July 8th, 2023. There is no planned opening date for Tioga Pass Road for 2023.
Bridalveil Fall Trail will be closed for a rehabilitation project until late Summer 2023. Thankfully there are many other photo spots to capture the iconic fall.
Now for some good news! There will be no reservations needed to enter Yosemite National Park for the remainder of 2023. There may be some limitations again for Feb 2024 for the annual Horsetail Firefall event, but as of now there are no plans or updates.
You do always need to either bring your America the Beautiful Pass or be prepared to pay the entrance fee when you arrive. 2023 prices are $35 per personal vehicle, payable by credit or debit card only at all entrances.
Helpful Planning Links:
National Park Official Website – The official site for everything Yosemite National Park. We love that every page includes the current alerts right up top so everyone is aware of current conditions.
Current Road Conditions – Perhaps your most valuable asset. Visit often and be in the know.
Historical Seasonal Road Info – This page can give you a good idea when seasonal roads like Glacier Point and Tioga Pass typically open, but they are not a guarantee for the future.
Getting Around: Transportation Options
There are two main options for getting around Yosemite National Park: Shuttle and personal vehicle. Each has their advantages. A personal vehicle obviously allows more freedom and flexibility, as you are not tied to the shuttle schedule or route. A vehicle also means cargo space for tripods and other camera equipment.
The biggest selling point for a personal vehicle is access to all open areas of the park. Getting to photo spots out of the valley like Glacier Point on public transportation can be difficult and expensive (and not even available in 2023!).
BUT, and this is a big BUT, the popularity of personal vehicles means many of the most popular parking lots fill fast, especially in summer. When this is the case, the shuttle actually allows for more photography opportunities in certain areas. We think the best plan for transportation in Yosemite is a mix of both personal vehicle and shuttle. Use the shuttle to get to those popular valley viewpoints, especially at peak times, and save the car for trips out of the valley.
The shuttle system in Yosemite includes a FREE Yosemite Valley shuttle, which makes all of the major stops in the valley, picking up every 12-22 minutes from 7am-10pm, and the fee-based YARTS shuttle buses for trips further out.

YARTS operates 3 shuttle bus routes which run along Highway 41 and Highway 120 East and 120 North. There is a fee for this shuttle and they are only fully operational in summer. Find the routes here.
Seasonality: When should you go?
There is a lot of excellent information out there on this topic and we want to get to the sites, so we will keep this brief. Summer is the most crowded. If you are willing to deal with the crowds, long summer days offer ample time to explore, waterfalls are still flowing, and every inch of the park is open and accessible (usually!).
By fall, the water slows to a trickle and many of the iconic waterfalls will be dry, but the fields, deciduous trees, and even the light itself takes on a beautiful golden hue which makes for fabulous photography. Be aware that seasonal roads like Glacier Point Road and Tioga Pass Road typically close for the season sometime in November.
Winter offers special wintry scenes to photograph and fewer crowds at popular spots. If you are lucky enough to catch fresh snow, it truly is magical. Colder temperatures require more preparation and gear, and seasonal roads are closed, limiting your choices. Spring brings snowmelt and spectacular waterfalls. The crowds are still lower and wildflowers and animals are abundant. It is not until late spring (May/June) that the seasonal roads open again.
And with that, let's begin this photographer's journey through Yosemite National Park!
The 5 Must-See Landmarks (and where to best photograph them)
The famous landmarks in Yosemite are numerous and simply everywhere you turn. And while you can photograph them without much planning at all, the best photos are captured when you really know where to go, especially on a tight schedule. Below are the top must-see landmarks in the valley and where to go to catch their most flattering angles.
Half Dome
Half Dome is truly the celebrity landmark in Yosemite. While climbing Half Dome is a bucket list item for many (have you seen those cable photos?!), the hike does require a coveted permit, nerves of steel, and a lot of trail mix. While the views from the top of that hike are incredible, you won't actually get the best view or photo of Half Dome itself. Here is where you will.
Best Captured From:
Cook's Meadow – Just a few steps into this meadow will give you a great shot of Half Dome, with the lovely meadows and trees below.
Sentinel Bridge – Coveted reflection photo of Half Dome in the Merced River.
Glacier Point Road Bend – An Instagram favorite! There is not actually a place to pull over here, so drive past the view and park in the Glacier Point lot and then walk back on the trail to the bend.
Glacier Point – An unobstructed view from above. Sunrise and sunset provide unique lighting opportunities here.
Stoneman Meadow Near Curry Village – One of the best photo spots of Half Dome down in the valley.
El Capitan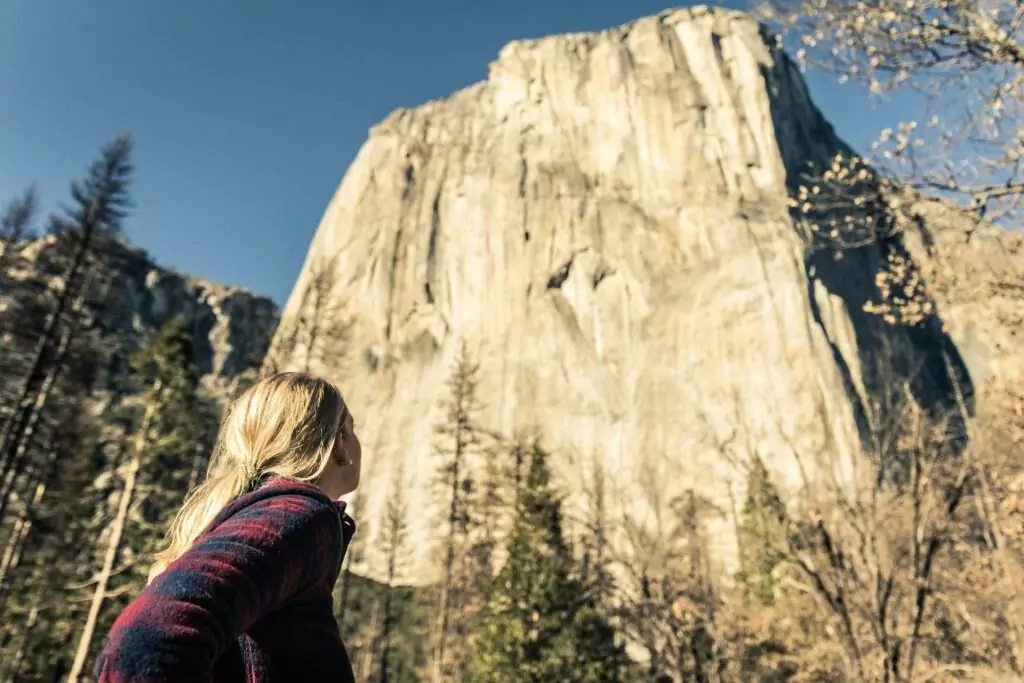 This impressive granite monolith is another favorite to photograph in Yosemite, and its climbing culture is legendary. A great number of photographs taken in the valley will include "El Cap" without effort, but there are some places where it shines just a bit brighter.
Best Captured From:
El Capitan Meadow – Obvious, but one of the best. This spot offers a great view of El Capitan and its climbers, although to see them well a zoom lens is required. On Northside Drive as you exit the valley.
Bridalveil Straight – Pull-offs along this stretch of Southside Drive provide incredible views of both Bridalveil Fall and El Capitan.
Valley View – A classic, if busy, viewpoint. We just love the composition possibilities here with the Merced River and Bridalveil Fall.
Cathedral Beach – Top to bottom shot of El Capitan with the Merced River running beneath. A wide angle lens is helpful here to capture the whole scene. Extra special in Fall and just after sunrise.
Taft Point – Feel as though you can reach out and touch El Cap from this daring viewpoint.
Tunnel View – This classic viewpoint really showcases El Cap and its commanding presence in the valley.
Bridalveil Fall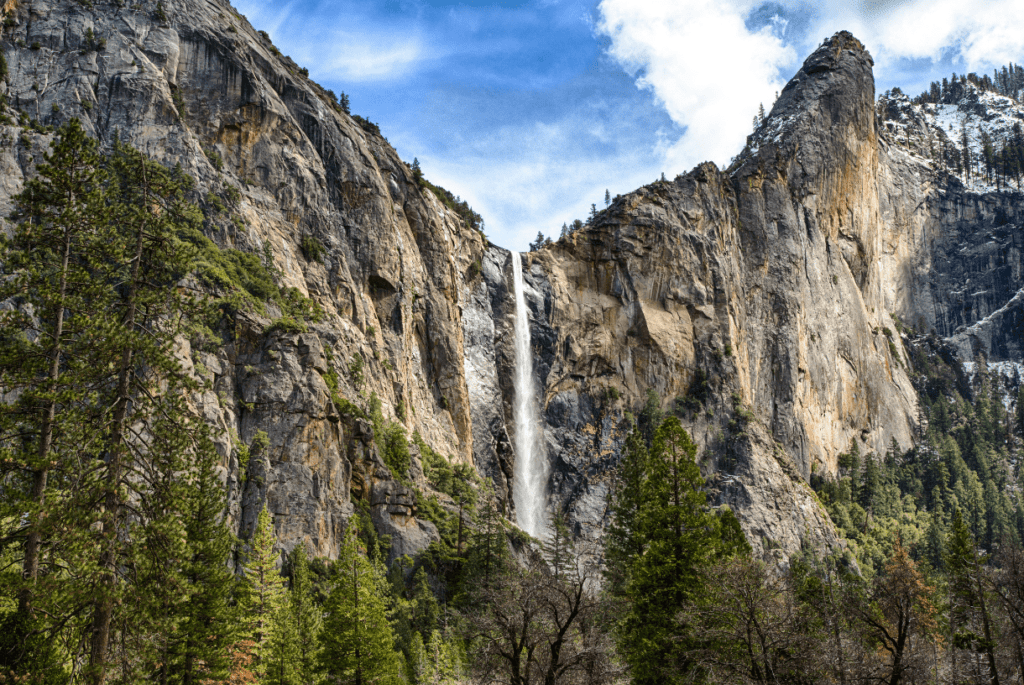 Bridalveil Fall is one of the most beloved falls in the park and for good reason. It is visible from many of the popular viewpoints and is one of the only falls with water year round. So even those visiting in fall may be able to get a waterfall photo! The obvious spot to view and photograph this fall is from the Bridalveil Fall Trail, but photos from further back and elsewhere in the park often make for more interesting compositions.
Important Closure Information!!
Bridalveil Fall Trail and parking lot are currently closed for a rehabilitation project to improve the visitor experience. The expected opening is scheduled for late Summer 2023, but check the official trail page before you go.
Best Captured From:
Bridalveil Fall Trail – Short and easy paved hike to the base of the fall. Take care of your camera equipment here as the base can be misty. Open year round, but can be icy in winter.
Bridalveil Fall Parking Lot – Many actually prefer the view of this fall from the lot. You can't get more accessible than that!
Bridalveil Straight and North River Road – Numerous places to pull off the road and take great photos of Bridalveil.
Valley View – Possibly our favorite spot to capture Bridalveil, with the Merced River and El Cap too.
Tunnel View – While far away, this popular viewpoint is actually a great place to get a photo of Bridalveil Fall and its place within the valley.
Vernal Fall
Vernal and upstream Nevada Falls make for great photo subjects in spring and summer. Unlike a lot of landmarks in the park, these beauties look great in full sun. You may even catch a rainbow if the conditions are right!
The Mist Trail is the main place to view these landmarks. It is a 2.4-mile moderate roundtrip hike to the top of Vernal Fall. The name may have clued you in, but this trail is wet! Be careful with your footing and protect your camera gear.
Nevada Fall is lovely, but does require a bigger hike and therefore time commitment. It can be hard to capture at a good angle even after all of the effort, but if you do wish to see Nevada Fall up close, keep hiking 1.5 miles past Vernal Fall on the Mist Trail.
This trail is a great example of the benefits of the free shuttle. While the closest parking lots to the trailhead are over 0.5 mile away, at Yosemite Valley Trailhead Parking or Curry Village, the shuttle can drop you off right where you need to be at stop #16.
Important Closure Information!!
We are sorry to keep doing this to you, but there will be trail maintenance on the Mist Trail through November 2023. It will remain open and accessible through to the Vernal Fall Footbridge. The trail beyond the footbridge will be closed Monday-Thursday from 7am-3:30pm. Check here for updates. The Top of both Vernal and Nevada Falls will still be accessible during the closure via the John Muir Trail.
Best Captured From:
Vernal Fall Footbridge – Perfect for those that don't want a big hike, this footbridge is 0.8 miles into the Mist Trail and offers a great view.
The Stone Steps – Arguably the best view of Vernal Fall is found not at the top, but along the stone steps in between the footbridge and the top on the Mist Trail. This is a very popular trail, so just carefully find a place where you are not impeding traffic and frame that perfect shot.
Glacier Point – Capture BOTH Vernal and Nevada Falls from the east side of the Glacier Point Viewpoint. Although they are small from here, this angle really puts the falls into perspective.
Washburn Point – An even better view of both falls from above! This parking area is just before Glacier Point and definitely worth a stop.
Yosemite Falls
Upper and Lower Yosemite Falls are impressive sights and great photo subjects, especially when roaring in spring and early summer. Similarly to Bridalveil, there is a designated trail leading all the way up to the base of Lower Yosemite Fall, but some of the best photos are taken from just a little further back.
Best Captured From:
Lower Yosemite Fall Trail – A paved 1-mile loop trail to get up close and personal with Lower Yosemite Fall. There are beautiful photo spots of both Upper and Lower Falls along this trail so definitely carve out some time for it. The base of the waterfall gets wet and this trail is crowded.
Sentinel and Cook's Meadow – Upper Yosemite Fall is Instagram famous for a photo spot on the Sentinel Boardwalk in Cook's Meadow, but there are countless spots along this 2.25-mile easy combined trail that will keep you shooting the whole way.
Swinging Bridge – On and just east of the Swinging Bridge are wonderful photo spots for Yosemite Falls and the Merced River in the foreground. Try your hand at a reflection photo in the morning calm.
Sentinel Dome – One of the only ways to see the entire Yosemite Falls, including the elusive middle cascade. This vantage point from above is special.
Bonus Landmark: Horsetail Falls
Ah the iconic Firefall! If you haven't heard of this, read a great breakdown about this phenomenon here. This is probably the photographic event of the year at Yosemite, but it only occurs for a limited time in February. The competition for limited park entry can be intense, but definitely worth it for some.
Horsetail Falls is a low flow waterfall on the eastern face of El Capitan and difficult to view for most of the year.
The 15 Best Photo Spots (and what you can see there)
So now we know the major landmarks to look for and where to head to photograph them, but what about these famous viewpoints we keep hearing about like Glacier Point and Tunnel View? Here we will take a look at each photo spot and lay out the type (Drive up, walk, or hike), the best time of day to visit, and what you can see from there.
We have organized these viewpoints by broad location in the park, as this will help when planning your day and is very important when talking about seasonality. Several of the park's roads close during winter, making viewpoints less accessible. So make sure to read the introduction section to each area for important details.

The Valley Photo Spots
These photo spots in Yosemite Valley serve up iconic views of the most photogenic landmarks like Yosemite Falls, El Capitan and Half Dome. Spots like Tunnel and Valley View are the locations of some of the most recognized photographs of the park, so they are definitely must-sees! Another great thing is valley viewpoints are open year round!
Winter brings snow to the park, which makes for stunning photographs. The most iconic landmarks just look that much more special with a dusting, and the open roads and viewpoints in the valley make them accessible for most people. Keep in mind that icy and snowy conditions can make walking treacherous, so wear good shoes and watch your step.
Tunnel View
Type: Drive Up
Seasonality: Open Year Round
Best time of day: Anytime
What you will see: El Capitan, Half Dome, Bridalveil Fall, Yosemite Valley, Cathedral Rocks, Sentinel Rock
Probably the most famous of the Yosemite viewpoints, Tunnel View really delivers. You can see most of the valley from here and as a drive-up viewpoint, it is extremely accessible. While this does lead to crowds, you have options to alleviate them.
Coming early or late will cut down on large groups coming in buses, but the photographers will be there in force. Just after sunrise can be nice, soft lighting and an opportunity to catch photogenic fog nestled in the valley. Late afternoon through sunset offers good lighting too, although not a direct view of the sunset due to the west-facing valley and east-facing viewpoint. At certain times of year, namely the Vernal Equinox in Spring, there is an opportunity to catch the final golden rays of light on El Cap and Bridalveil Fall.
If you want to really avoid the crowds but not miss this view, consider heading to Inspiration Point or Artist's Point. These are both accessible via hikes from the southern Tunnel View lot and afford nearly identical views with a fraction of the people. Inspiration Point is a moderate to strenuous 2.1-mile trip, and Artist's point is a slightly closer, but less-maintained offshoot.
Valley View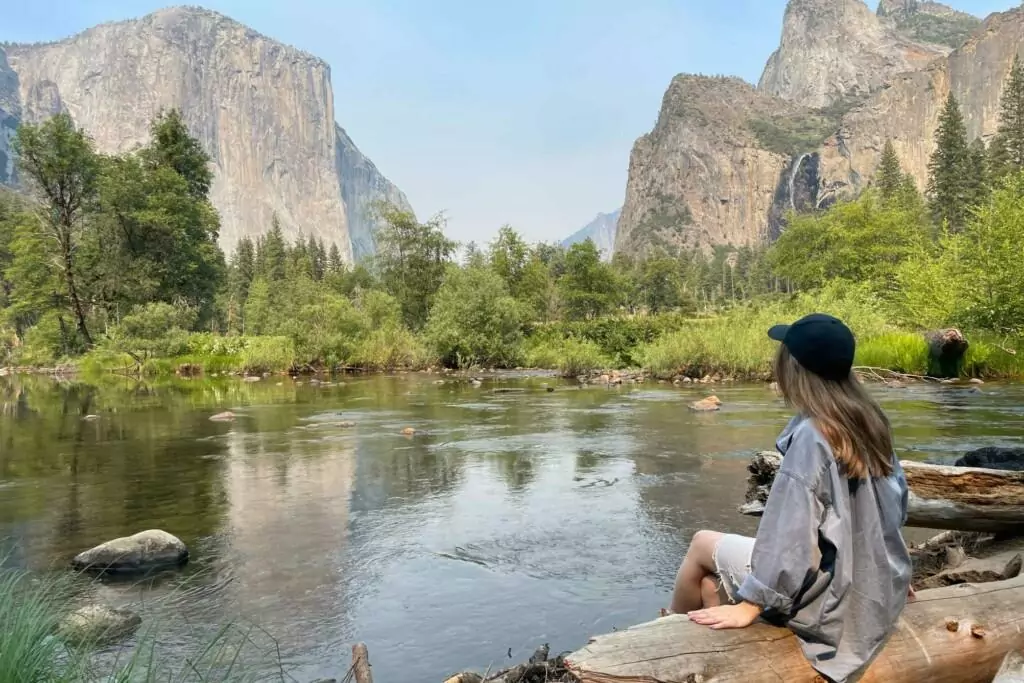 Type: Drive Up
Seasonality: Open year round
Best time of day: Sunrise and Sunset
What you will see: Merced River, El Capitan, Bridalveil Fall, Cathedral Rocks, Sentinel Rock
Valley View is another iconic and accessible photo spot in the valley. The view is similar to the view from Tunnel View, but from a lower angle, allowing for foreground interest. The flowing water and smooth granite boulders of the Merced River really add something special to photos of El Cap, Bridalveil and more. Wintertime shots here are particularly special, when snow is clinging to the trees and granite peaks.
This viewpoint has a very small parking lot. So while the view is stunning anytime, it is a good idea to avoid the worst of the crowds by coming early or late. Or take the shuttle and don't worry about the limited parking.
Yosemite Chapel
Type: Drive Up
Seasonality: Open year round
Best time of day: Anytime
What you will see: Yosemite Valley Chapel, Upper Yosemite Fall
We wavered about whether to include this as a landmark or a photo spot. While the adorable little chapel is indeed a famous landmark, we think it works here because of the 2 for 1 shot of both the Chapel AND Upper Yosemite Fall you can get if you know where to go.
Many just take a quick photo of this historic building (if they stop at all!) and move on, but our favorite photo can be taken by walking to the side of the Chapel and turning toward Yosemite Falls.
There are so many other viewpoints to focus on for sunrise and sunset that we think this one is a great place to visit any time of day. Obviously you will get a more balanced photo when the falls are in softer light, either early or late, or at least in cloudy conditions.
Cook's Meadow and Sentinel Meadow Boardwalks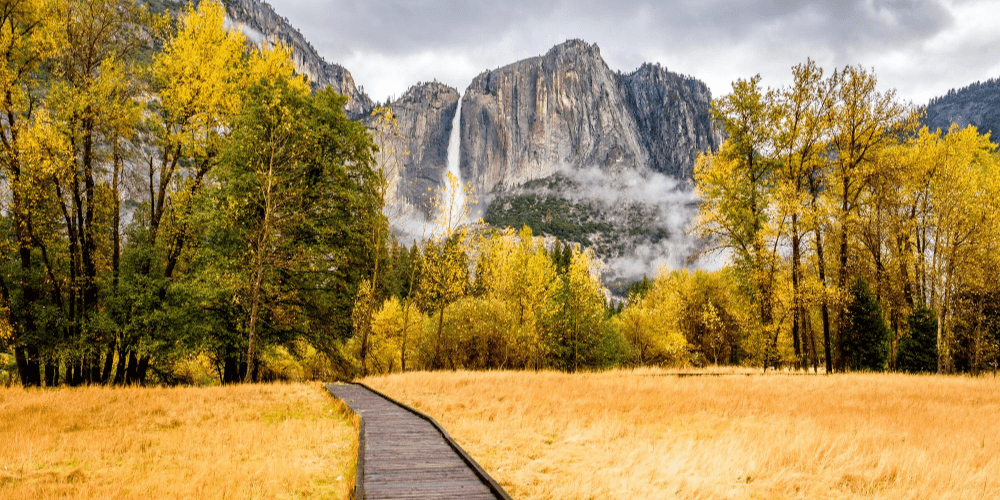 Type: Short walk/hike
Seasonality: Open year round
Best time of day: Anytime
What you will see: Half Dome, Yosemite Falls, Sentinel Rock, Merced River, Glacier Point
Cook's Meadow is really a choose your own adventure sort of photo spot. You can just barely step into the meadow, take an awesome photo of Half Dome and then call it quits, or wander along the boardwalks and into Sentinel Meadow (and even onto Swinging AND Sentinel Bridges) for hours.
While the views of roaring Yosemite Falls will make spring and early summer hard to beat for this spot, fall brings golden color to the trees and meadows for a special twist. The best parking options are Yosemite Village and Yosemite Falls Parking areas, or the very small lot at Sentinel Bridge.
Sentinel Bridge
Type: Short walk
Seasonality: Open year round
Best time of day: Sunrise or sunset
What you will see: Half Dome, Merced River, Yosemite Falls
Sentinel Bridge is one of the two photo spots well known for water reflection photos of Half Dome. See Mirror Lake below for the other. While getting this particular reflection shot requires the perfect river conditions and sometimes even a trek along or into the river itself, the view from here is always lovely.
There is a parking lot very close to the bridge, but it can also be reached by a hike through the meadows, which we recommend above. For the opportunity to catch the last rays of golden sunlight hitting Half Dome, show up early for sunset.
Swinging Bridge Picnic Area
Type: Drive up
Seasonality: Open year round
Best time of day: Sunrise or sunset
What you will see: Upper Yosemite Fall, Merced River, Taft Point, Cathedral Rocks
While this bridge no longer swings (don't confuse it with the Wawona Swinging Bridge!), it does offer an incredible opportunity to photograph Upper Yosemite Fall, the Merced River, and other eye-catching rock formations. Don't limit yourself to the bridge – photos including the bridge itself are wonderfully balanced.
Mirror Lake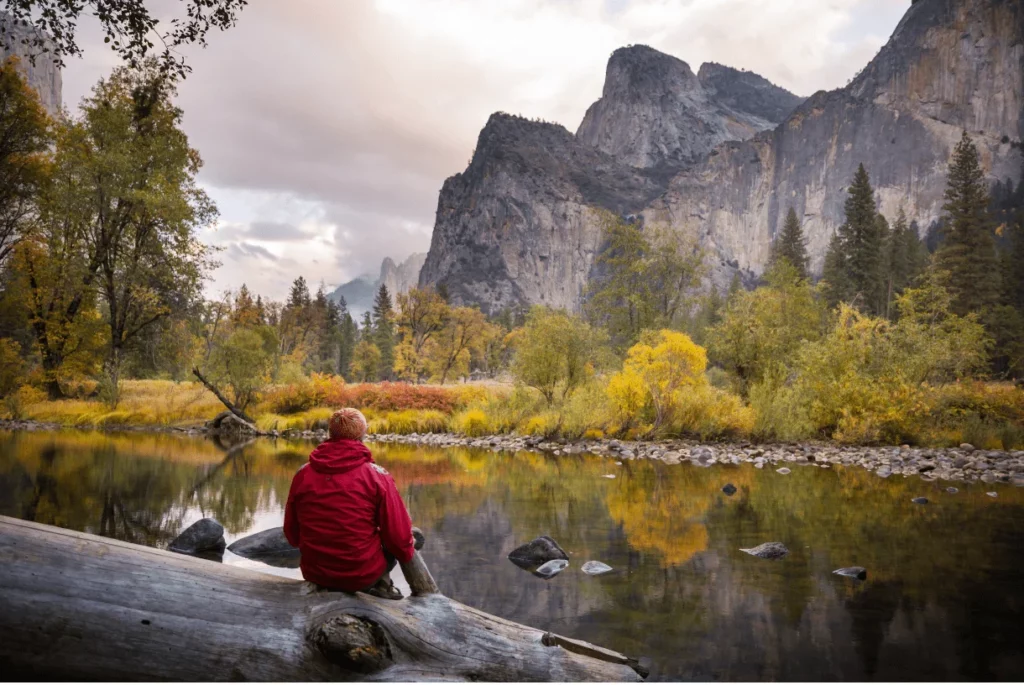 Type: Short hike
Seasonality: Open year round, but fall and winter may be dry
Best time of day: Early
What you will see: Half Dome, Mirror Lake, Mount Watkins, Washington Column
Mirror Lake is another chance to capture the reflection of Half Dome, but this is usually only possible during the spring and summer, when snowmelt fills this ephemeral lake.
Getting to Mirror Lake requires an easy 2-mile round trip hike on a paved trail. You can either just reach the lake, take your photos and turn back, or you can continue on around the lake for a 5-mile round trip hike. Your best opportunity to get the reflection shot is to go early when the water is calm and the most reflective.
Glacier Point Road Photo Spots
These viewpoints require a bit of a drive (about an hour) up from the valley floor, but they really deliver on stunning, panoramic views of the valley and landmarks below. Note: Glacier Point Road is not open all year long. It is closed when winter conditions call for it, typically from November to May or June.
When the Glacier Point Road is closed, these viewpoints are not out of reach – quite. They require the proper weather gear and long, strenuous hikes up from the valley below.
Taft Point and Sentinel Dome
Type: Short hikes
Seasonality: Road Closed mid-fall to mid-spring
Best time of day: Sunset/Golden Hour
What you will see: Half Dome, El Capitan, Yosemite Falls, Yosemite Valley
Taft Point is the more popular of the two viewpoints reached from the Sentinel Dome Trailhead. It is reached by a moderate 2.3-mile hike which is not for those scared of heights. Alternatively, it can be combined with a stop at Sentinel Dome for a 5-mile loop hike.
As mentioned, Taft Point is a popular photo spot, especially at sunset. From here you have a westerly view and can – almost! – catch the sun as it goes over the horizon. Get here and set up early, or just make peace with the crowds.
When hiking early or late, don't forget a headlamp! It is easy to overlook when you begin the hike in the light, but you definitely need a light for the return journey from Taft Point.
Look no further than Sentinel Dome for 360-degree views of the Yosemite Valley with minimal crowds. This is a unique vantage point from which to see the entirety of Yosemite Falls, including the middle cascade! Sentinel dome is a 2.1-mile round trip hike. It is easy for most of the way, but then gets tough for the last bit to reach the top.
Glacier Point
Type: Short walk
Seasonality: Road Closed mid-fall to mid-spring
Best time of day: Sunrise or Sunset/Golden Hour
What you will see: Half Dome, Yosemite Falls, Vernal and Nevada Falls, Yosemite Valley, Sentinel Dome
This quick 0.5-mile paved walk offers incredible views of the valley from above, and the world knows it. While crowded, a visit here is still a must for the photo opportunities of Half Dome and the Yosemite Valley, and a unique perspective onto both Vernal and Nevada Falls.
There is a bit of a controversy brewing around the best time to take photos here so we included both. While an early start, the right time of year, and the right equipment can win you a to-die-for photo of the sun rising behind Half Dome, sunset is a reliable crowd pleaser.
Washburn Point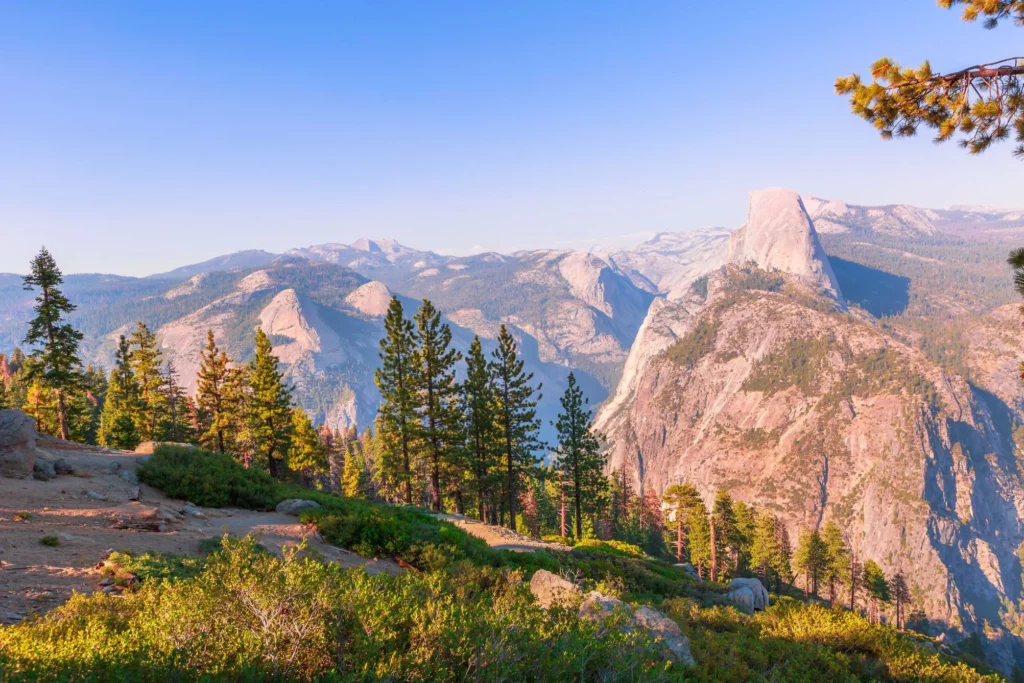 Type: Drive up
Seasonality: Road Closed mid-fall to mid-spring
Best time of day: Sunset/Golden Hour
What you will see: Half Dome, Vernal and Nevada Falls, Yosemite Valley
Not as storied as Glacier Point, and definitely not as crowded, Washburn Point flies a bit under the radar. We had to mention it here because the photo opportunities are very similar to Glacier Point, with the bonus of an even better view of Vernal and Nevada Falls. You can even see the lovely Illilouette Fall from here. And all just steps from your vehicle!
Tioga Pass Road Photo Spots
These locations offer something a little different. Away from Yosemite Valley, they offer less of the iconic landmarks, but just as many soaring granite peaks of the Sierra Nevadas, photogenic waterways, and the possibility for wildlife.
Like Glacier Point Road, Tioga Pass Road is not maintained, and therefore closed, from mid-fall to mid-spring. Winter access is available by cross-country skiing from Highway 120.
Tuolumne Grove of Giant Sequoias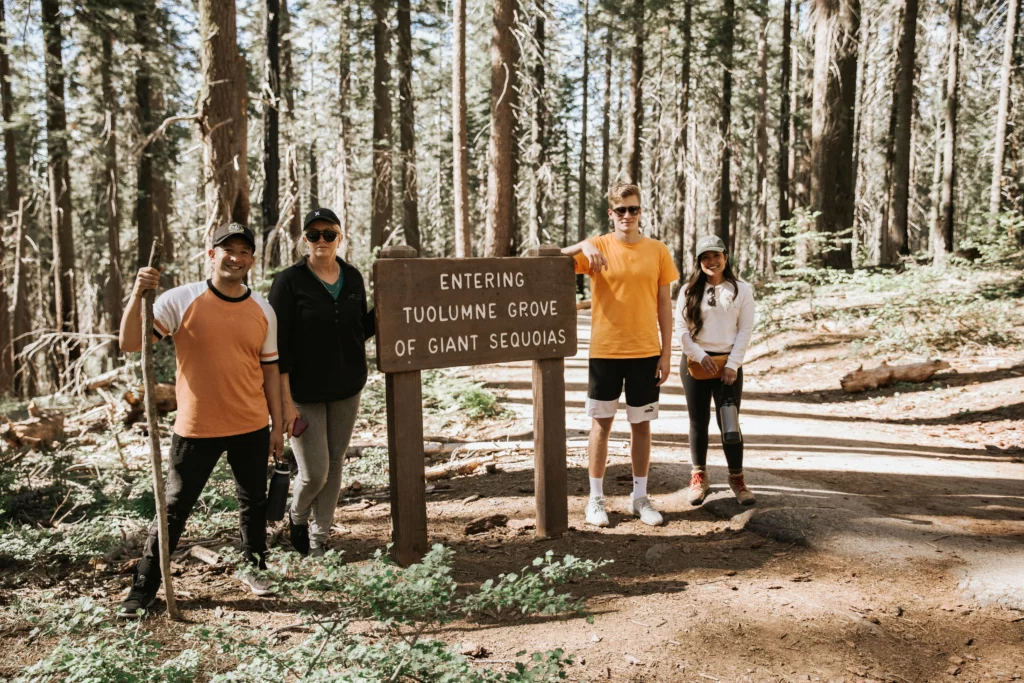 Type: 2-mile walk
Seasonality: Road Closed late-fall to mid-spring
Best time of day: Anytime
What you will see: Fallen Giant Tree, Red Giant, Giant Tunnel Tree
The Tuolumne Grove of Giant Sequoias in Yosemite is a must-see! These towering ancient trees, over 200 feet tall and thousands of years old, will leave you in awe. Hiking through the scenic forest to reach the grove adds to the adventure, and once you're there, it's like stepping into another world. Don't miss this magical experience and a chance to connect with nature's living giants. It's unforgettable!
Tuolumne Meadows
Type: Drive Up/Short walk
Seasonality: Road Closed mid-fall to mid-spring
Best time of day: Anytime
What you will see: Sierra Nevadas, Tuolumne River
Tuolumne Meadows is just a gorgeous place with inspiring views all around. This uncrowded meadow offers the chance to view and photograph wildlife beneath the granite domes and peaks of the high Sierras. The Tuolumne River and seasonal wildflowers provide opportunities for artistic photo compositions.
Olmsted Point
Type: Drive Up/Short walk
Seasonality: Road Closed mid-Fall to mid-Spring
Best time of day: Sunset/Golden hour
What you will see: Half Dome, Cloud's Rest, Tenaya Lake
This lesser-visited gem offers a unique vantage point of the north side of Half Dome. The granite slope beneath your feet makes for interesting foreground composition too. Also visible from here are Cloud's Rest and Tenaya Lake. You can take the 0.25-mile round trip trail to the point or just enjoy taking photos from the lot.
Sunset is a great time to stop by Olmsted Point as it is one of the few photo spots in the park that offers a view west. But it is also lovely any time of the day, or even a place to consider trying out astrophotography. We have seen some spectacular shots of the milky way taken here.
Tenaya Lake
Type: Drive Up/Short walk or 2.5 miles (4 km) loop around the lake
Seasonality: Road Closed mid-Fall to mid-Spring
Best time of day: Sunset/Golden hour
What you will see: turquoise waters of the lake, Sierra Nevada Mountains
Tenaya Lake in Yosemite National Park is a must-see destination for its stunning beauty and tranquil atmosphere. Surrounded by the Sierra Nevada Mountains, the lake's clear, turquoise waters reflect the granite peaks, creating a mesmerizing sight. Whether you're into outdoor activities like swimming and kayaking or prefer peaceful hikes, Tenaya Lake offers something for everyone. Its diverse ecosystem also attracts nature lovers and wildlife enthusiasts, providing a chance to witness various plant and animal species in their natural habitat.
You'll have the opportunity to witness stunning sunrises and sunsets that paint the sky with vibrant hues, enhancing the already breathtaking scenery. It is a must-visit destination in Yosemite National Park.
Wawona Road Photo Spot
While we are only including Mariposa Grove in this section, as we find it the best, the Wawona area also includes the Wawona Covered Bridge, which makes for a New England feeling portrait spot in Fall, the Wawona Swinging Bridge, and more.
This area is open year round for recreation, but sits at a higher elevation than the valley, so you need to be prepared with chains for your tires and skis or snowshoes for your feet.
Mariposa Grove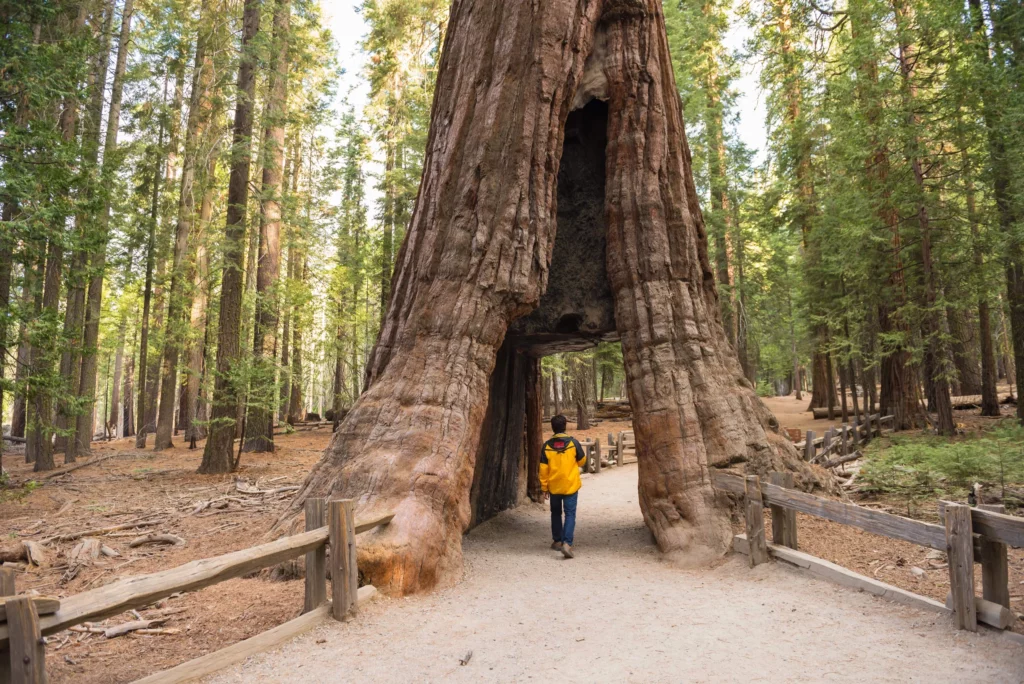 Type: Short hike
Seasonality: Open year round, but requires longer hike/ski during winter
Best time of day: Morning
What you will see: Giant Sequoias including Grizzly Giant, Bachelor, Fallen Monarch, Three Graces, California Tunnel Tree
This giant sequoia grove is a must-see. It offers a counterpoint to the towering granite peaks and roaring falls, instead offering a canopy of 500 mature giant sequoias and serene contemplation. The feeling of walking among these giant trees will stick with you long after you leave. The sunlight streaming through the trees here makes for wonderful photos and there are enough trails to choose from to thin the crowds a bit.
In the summer, there is a free shuttle to transfer you from the parking lot at the Mariposa Welcome Center to Mariposa Grove. From here you have multiple trail options. The Grizzly Giant Loop Trail is a 2-mile trail that will give you a good taste of the area and great photo opportunities.
Mariposa Grove is also an option in winter, but the shuttle does not run so you must hike, ski, or snowshoe the 2 miles from the Welcome Center to the grove itself before continuing on to one or more of the trails.
Final Words of Wisdom
We hope this article has helped you to prepare well for your trip to Yosemite. Make sure to bookmark your must-see photo spots and keep up on road and trail closures. Having said that, some of the most magical moments you may have in the park will be when you allow your artistic spirit and the stunning landscape to lead you where you need to go. Happy snapping!
Looking for more insider Yosemite knowledge? Check out our other blogs on the park. Or take a look at our One Day Tour of Yosemite, which takes you to several of the photo spots mentioned in this article!
Published on: July 30th 2023