When it comes to wine tasting, Sonoma is often called the "other" valley. However, Sonoma makes for a nature lover's perfect wine-tasting experience with the stunning landscape of coastal vineyards and rolling hills.
Located on the northern edge of the greater San Francisco Bay Area, Sonoma County, California, stretches from the rugged Pacific Coast to the Mayacamas Mountains. The town of Sonoma lies within the heart of Sonoma Valley.
Sonoma is increasingly famous for its premium wines, sharing the pedestal with Napa Valley. Visitors often debate whether to visit Sonoma Valley or Napa Valley. However, in Sonoma County, you are just as likely to stumble across extraordinary wines crafted in someone's backyard as you are to taste exceptional premium wines. Take Forestville's Joseph Swanwinery, which has been around since 1967 and still serves its award-winning wines out of a tasting room that's an old wooden-barrel barn.
Intimacy abounds at Sonoma County wineries. Often, it will be the actual winemaker who's filling your glass with their faithful winery dog sitting nearby. This valley offers an ideal opportunity for interested wine lovers to avoid the crowds, glitz, and high-end prices that are now common during summer and fall in Napa.
From lively stand-up tasting bars to urban-style wineries with live music to lavish sit-down private tasting suites, there are winery experiences for every type of wine lover.
Planning Your Wasting Tasting at Sonoma County's Wineries
With more than 425 wineries spread over 17 miles and 60,000 acres, Sonoma County's wine country is no place to approach a day of wine tasting without a plan. Besides finding and reserving nice wine tastings and tour spots, you want to have a sensible route through the long valley so you spend the most time enjoying the experiences and not just driving.
Where to Go Tasting First
Below, our wine enthusiast guides offer several recommendations for wineries to visit beginning in the north near Geyserville, then continuing through Healdsburg, Santa Rosa, Kenwood, and, finally, the city of Sonoma. This way you can concentrate on a particular region or plan out a more extensive day hitting several of the most prominent winegrowing regions in the valley.
Frequently Asked Wine Tasting Questions
How many wineries should you visit in Sonoma?
If you have the entire day, we suggest three wineries. This way you can have a variety of experiences and enough time to travel between the wineries without rushing. Don't forget to leave time for a relax lunch stop.
Is Sonoma more cost-effective than Napa?
Wineries in both valleys have increased their tasting fees in recent years, some adding pricey food options to their experiences. Still, you will find a greater number of affordable tasting options ($20-30) in Sonoma.
What kind of wine is Sonoma known for?
Being closer to the coast, Sonoma is slightly cooler than Napa and its micro-climates are particularly conducive to producing fine Chardonnay, Cabernet Sauvignon, Pinot Noir, Sauvignon Blanc, and Zinfandel wines.
What is the best way to get around Sonoma?
If your group plans to travel in a private car, the driver will need to sit out the tastings (bummer). Shared ride apps can be unreliable on crowded weekends. A guided tour with a driver is still the best choice for Sonoma wine tasting.
Is there a dress code in Sonoma's wineries?
Sonoma has a vibe that's pretty laid back. There is no "dress code" beyond wearing shoes and a shirt. Versus Napa Valley, the dress is more casual and most visitors wear shorts or jeans when visiting wineries.
What is the average price of a wine tasting in Sonoma?
Just like Napa Valley, wine tasting fees very greatly and most wineries now offer pricier experiences with reserve wines and food. Sonoma has a large number of wineries with standard tasting experiences between $25 and $40.
What This Ultimate Guide Includes
Wineries to Taste by Region
To make this the "ultimate" guide to Sonoma Valley wine tasting, we included details about covering the winery's location, how to make a reservation and some guidance on how expensive the tasting and tours are. Note that even though there are some very nice locations, we have chosen not to include tasting rooms or retail locations serving wine but without winemaking on site.
Key to pricing for estate wine tasting:
$ Less than $30 / per person
$$ $35 to $45 / per person
$$$ $50 to $70 / per person
$$$$ More than $75 / per person
Geyserville Wine Tasting Locations
Garden Creek Vineyards $$
This Alexander Valley vineyard and winery run by husband-and-wife team Justin and Karin Warnelius-Miller is the quintessential small, family-owned and operated Sonoma winery. They were one of the first to plant cabernet sauvignon in the area, along with several other varietals less typical for Sonoma. Winegrowing 75 acres of vineyards since 1969 and producing wines since 2001, their wines are grown, produced, and bottled on their property.
Visitors begin their private, appointment-only wine tasting with a tour through Garden Creek's historic vineyards and conclude with a tasting of aged wines by candlelight in the barrel room.
Visit: Tasting appointments are offered Wednesday thru Saturday ONLY to members of Garden Creek's mailing list. For a private tasting appointment please email or phone us at (707) 433-8345.
Address: 2335 Geyser Road, Geyserville, CA 95441
Phone: (707) 433-8345
Francis Ford Coppola Winery $$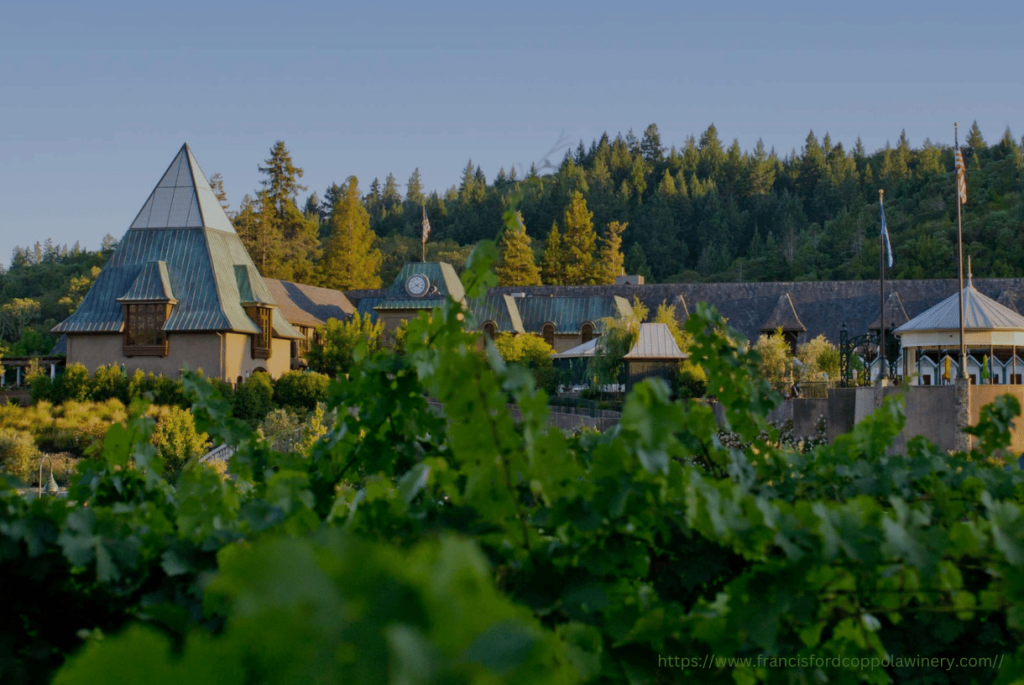 This wine wonderland, where the "Godfather" and "Apocalypse Now" director combines Italian food, grapevines, and of course, movies to elevate the experience. Indulge in lunch at the onsite restaurant Rustic; taste "Director's Cut" Cabernet, Sauvignon Blanc, and Pinot Noir; and ogle memorabilia from Coppola's movies, including the car from "Tucker," costumes from "Apocalypse Now," Don Corleone's desk, and even a few Oscar statuettes.
Embracing the centuries-old tradition of multi-generational familial interaction, our winery offers award-winning wines, educational winery experiences, authentic culinary adventures, and a variety of enjoyable amenities including a swimming pool, a movie gallery, expansive bocce ball courtyards, and a Pavilion offering live musical performances.
Visit: Francis Ford Coppola Winery offers tasting experiences Thursday-Monday, from 11am-5pm. Reservations are highly recommended. Lunch options are available. For all group sizes of 12 or more guests, please contact Guest Services at (707) 857-1471 or GuestServices@FrancisFordCoppolaWinery.com to learn more about our available experiences.
Address: 300 Via Archimedes, Geyserville, CA 95441
Phone: (707) 857-1471
deLorimier Winery $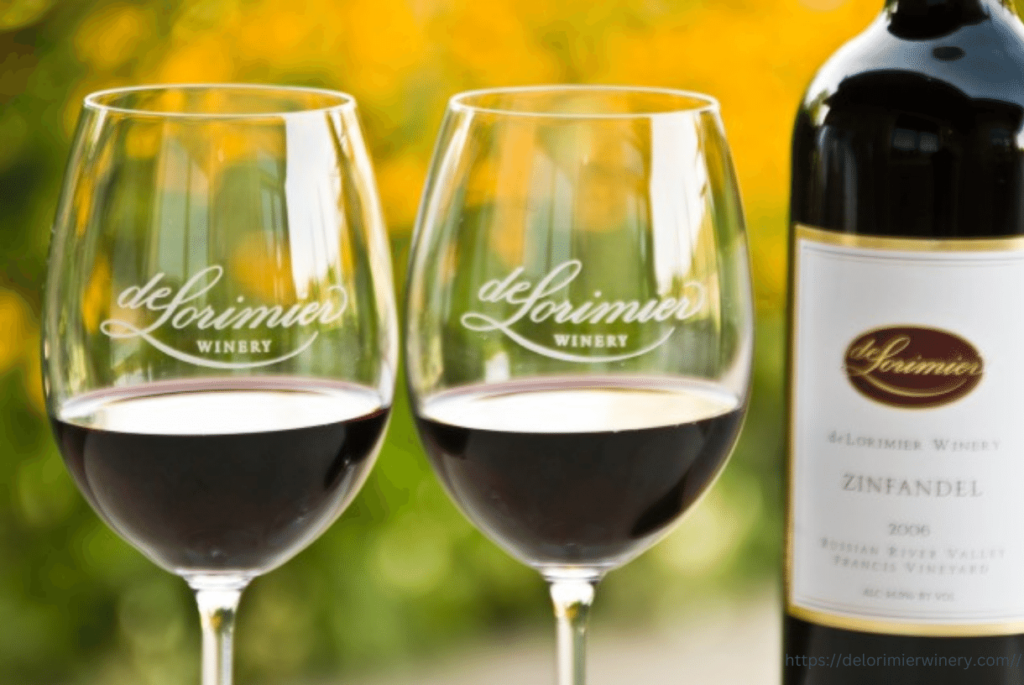 deLorimier Winery is known for both wine and art. The white-plastered walls for the gallery/tasting room display the works of local and national artists. In fact, the winery hosts four art exhibits and receptions annually. Surrounded by lovely estate vineyards, our patio tasting room features spectacular views of the entire valley.
With a focus on single vineyard designated Cabernets, winemakers Diane Wilson and Antoine Favero are combining their talents and are already producing award-winning artisan wines. With a fabulous lineup of ten Cabernet Sauvignons, including the renowned Crazy Creek Vineyard Cabernet Sauvignon as well as Chardonnay, Sauv Blanc, Malbec, and their signature Meritage, deLorimier is the winery to visit when in Sonoma County.
Check their calendar; live music concerts on the cabana courtyard on many Saturday afternoons, and impromptu croquet matches on the lawn all year round. deLorimier Winery demonstrates an uncompromised dedication to quality.
Visit: Open daily from 10:30am-5pm for tastings. Call (707) 857-2000 for an appointment or book on Cellarpass. Lunch and wine-pairing dinner options are available.
Address: 2001 Highway 128, Geyserville, CA 95441
Phone: (707) 857-2000
Bella Vineyards and Wine Caves $$
Bella Vineyards and Wine Caves is one of just a handful of wineries in the area that allow walk-in cave tastings. Outside, the winery is all back-yard barbecue vibes: relax under the oaks, play bean-bag toss or work a hula-hoop while you sip Zinfandel on the sunny lawn. It manages to hit the perfect balance of swanky and laid-back.
Bella is a family-run winery dedicated to handcrafting small lots of Zinfandel. We focus on our own century-old vineyards as well as those tended by other small, passionate growers who are extremely dedicated to the heritage and quality of these vines planted so many generations ago.
Follow your guide on a walking tour of Bella's remarkable series of wine caves—including richly appointed nooks and crannies reserved for weddings and other special events—to an underground tasting room.
Visit: Reservations for its seated wine tasting are required and the winery does not accept reservations for groups larger than eight. Enjoy a flight of delightful wines underground in the magical wine caves or on the Bella lawn overlooking the valley and Lily Hill. BBQ and pizza are available for lunch. To book a Bella wine caves immersive winery tour, call (707) 473-9171. Appointments can also be made on exploretock.com.
Address: 9711 West Dry Creek Road, Healdsburg CA, 95448
Phone: (707) 473-9171
Reeve Wines $$$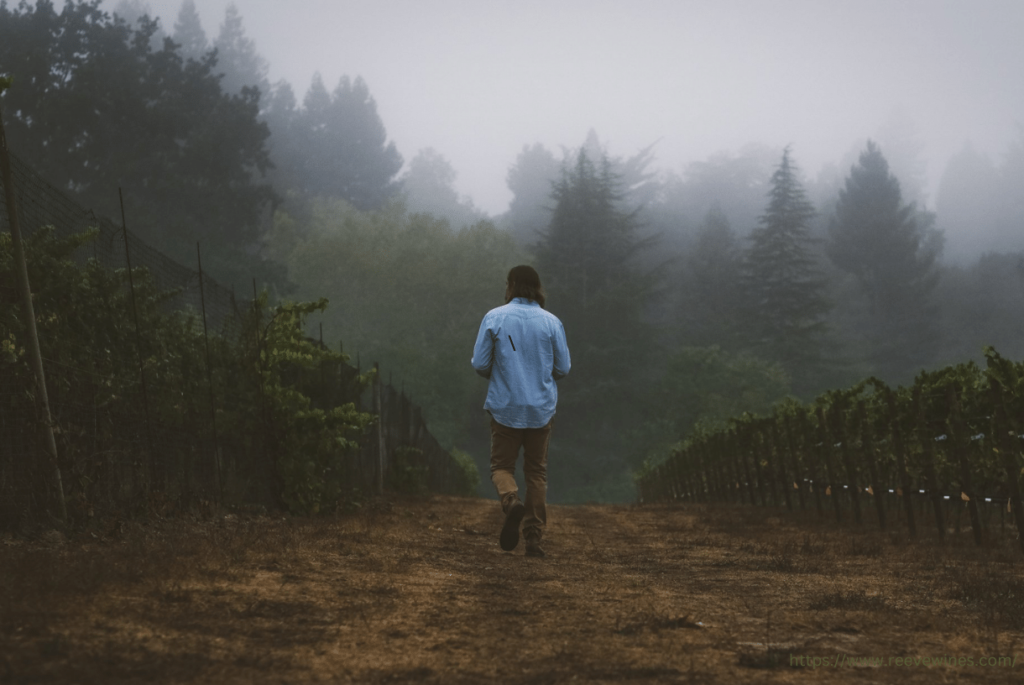 Situated off bucolic country roads in Sonoma's Dry Creek Valley, Reeve Wines charms with its peaceful, relaxed setting and small-lot wines. While the inside is as inviting as walking into the living room of a cool friend, the expansive patio makes for an especially lovely place to taste riesling or their proprietary red blend, offering a rustic-chic atmosphere that looks out at the surrounding vineyards.
We love this winery for an amazing tasting experience in the shaded tree grove, looking out into the vineyards with goats. Just outside of town, but you feel like you are in a whole different world. The launch of Reeve Wines gave the husband and wife duo of Kelly and Noah Dorrance a studio in which to explore new spaces in their wine worlds. Together they are creating nuanced, elegant expressions of both the familiar and more unconventional varieties.
As a lover of Pinot Noir Wines, I was delighted to be able to try some at Reeve Wines and I was not disappointed (which is saying something because I am quite picky about my Pinot Noir).
Visit: We are located about one mile past the Dry Creek General Store and four miles from Healdsburg. Tasting are by appointment only, seven days a week. Dog friendly. Seasonal pizzas are available for lunch. To book an appointment, email or call 707.235.6345 or email info@reevewines.com. Reservations for up to 6 may be made at exploretock.com.
Address: 4551 Dry Creek Road, Healdsburg, CA 95448
Phone: (707) 235-6345
Healdsburg Wine Tasting Locations
A.Rafanelli Winery $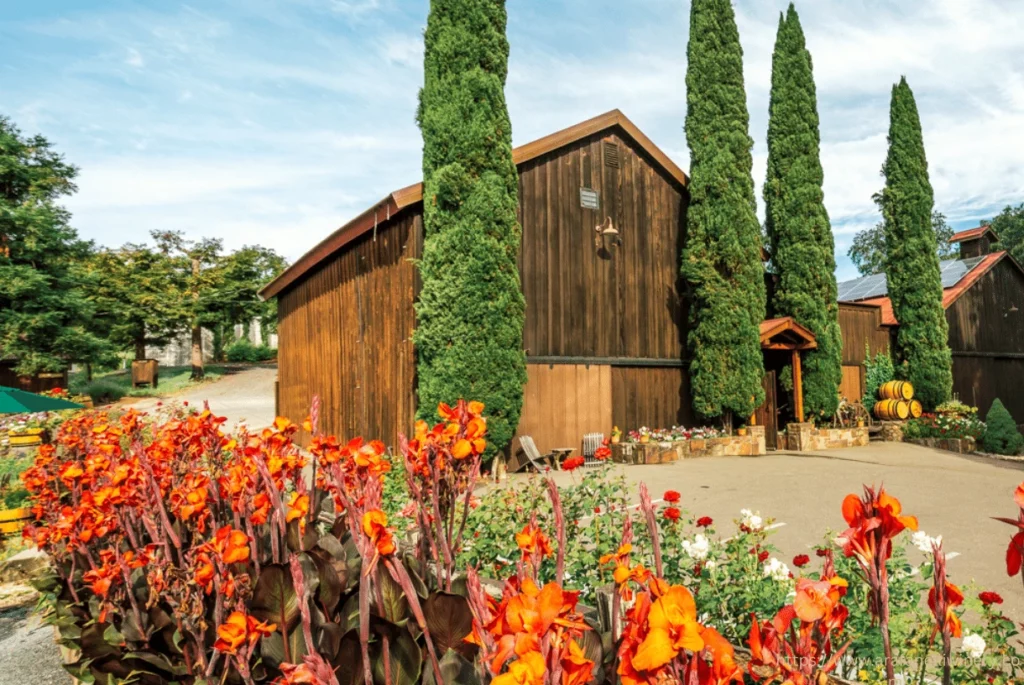 The Rafanelli family is now in its fourth generation of growing grapes and making wine in the Dry Creek Valley. The current family members are proud to continue in the same winemaking and farming traditions as the founding generation. We continue to work passionately as stewards of the land with sustainable farming practices and preserving the traditional style of handcrafted wines.
This is a no-frills tasting experience and will be all about exceptional wines. We believe that the wines are first made in the vineyard and then achieve their maximum potential through traditional winemaking practices such as open-top fermentation and non-filtration.
Our quaint and rustic winery sits on a knoll overlooking the scenic Dry Creek Valley and is surrounded by terraced hillside vineyards, perfect for its Zinfandel, Cabernet Sauvignon, and Merlot grapes.
Visit: Rafenelli wines are not available in any retail outlets, and can only be purchased at the winery. Open by appointment only. Use of picnic tables is based on availability and must be reserved in advance. Reservations for up to six visitors are required and can be made by calling the winery directly at 707-433-1385.
Address: 4685 W Dry Creek Rd, Healdsburg, CA 95448
Phone: (707) 433-1385
Dry Creek Vineyards $$
Founded in 1972, Dry Creek Vineyard produces world-class wines in the heart of the Dry Creek Valley. Dry Creek has been a consistent innovator, recognized as the first winery to plant Sauvignon Blanc in the Dry Creek Valley. A pioneer of Bordeaux-style blending, the winery was also the first to use the term Meritage with the 1985 vintage and the first to coin the term "Old Vine" to describe pre-Prohibition era Zinfandel vineyards. Today, the winery is also 100% Certified Sustainable.
Now, a new generation is firmly committed to a "No Compromises" philosophy, producing appellation-focused, terroir-driven, varietal-defining wines, with a goal to remain one of the last truly private, family-owned, iconic wineries consistently producing 90+ point wines. Dry Creek was named one of the Top 100 wineries of 2015 by Wine & Spirits Magazine and a Top 10 Tasting Room by USA TODAY,. Dry Creek Vineyard proudly produces delicious Dry Chenin Blanc, Sauvignon Blanc, Chardonnay, Zinfandel, Cabernet Sauvignon, and Meritage blends as well as a portfolio of limited-production, single-vineyard selections.
Dry Creek is one of the few remaining family wineries, and we're ready to make your tasting experience a memorable one! Our relaxed and inviting tasting room and picnic grounds make the perfect afternoon getaway. Enjoy our beautiful picnic grounds, colorful gardens, and down-home wine-country hospitality in the heart of Dry Creek Valley. Modeled after a Loire Valley chateau, our charming tasting room epitomizes the small family feel of the Dry Creek Valley.
Visit: A seated tasting for up to 16 people of limited-production and single-vineyard wines, exclusively crafted for our tasting room and club members daily between10:00 a.m. – 4:30 p.m. By Appointment Only. Call 707-433-1000 ext. 106 concierge@drycreekvineyard.com or make a reservation at Cellarpass.com.
Address: 3770 Lambert Bridge Road, Healdsburg, CA 95448
Phone: (707) 433-1000
Jordan Vineyard & Winery $$$$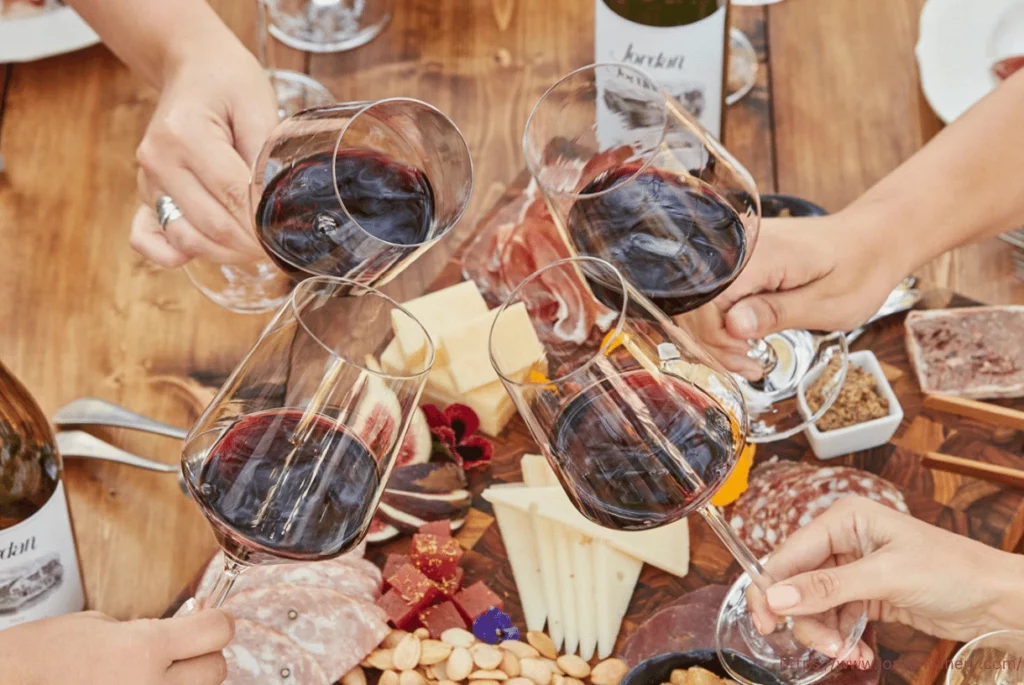 The ivy-covered chateau of Jordan Winery, tucked among the rolling hills of Alexander Valley northeast of Healdsburg, in Alexander Valley will make you think that you have been transported to the French countryside. of France. The 1,200-acre property, features mountaintop vistas, rolling vineyards, and elaborate culinary gardens, the majority of which has been set aside as a natural habitat and a large pollinator sanctuary.
Once inside, the Library and Cellar Room lovingly-curated collection of vintage books, antiques, and one-of-a-kind objets d'art on display. And, for the ultimate indulgence, starting this Fall, Champagne and caviar will now be incorporated for the first time into the daily winery experiences.
Visit: There are several unique tasting experiences available but we recommend the Estate Tour and Tasting, a three-hour journey through the picturesque estate that includes al fresco wine tastings, food pairings, and a tasting of Jordan's extra virgin olive oil. Seasonal lunches are available for guests. Reservations for up to 8 guests may be made at Jordan's website.
Address: 1474 Alexander Valley Road, Healdsburg, CA 95448
Phone: (707) 431-5250
BACA Wines $$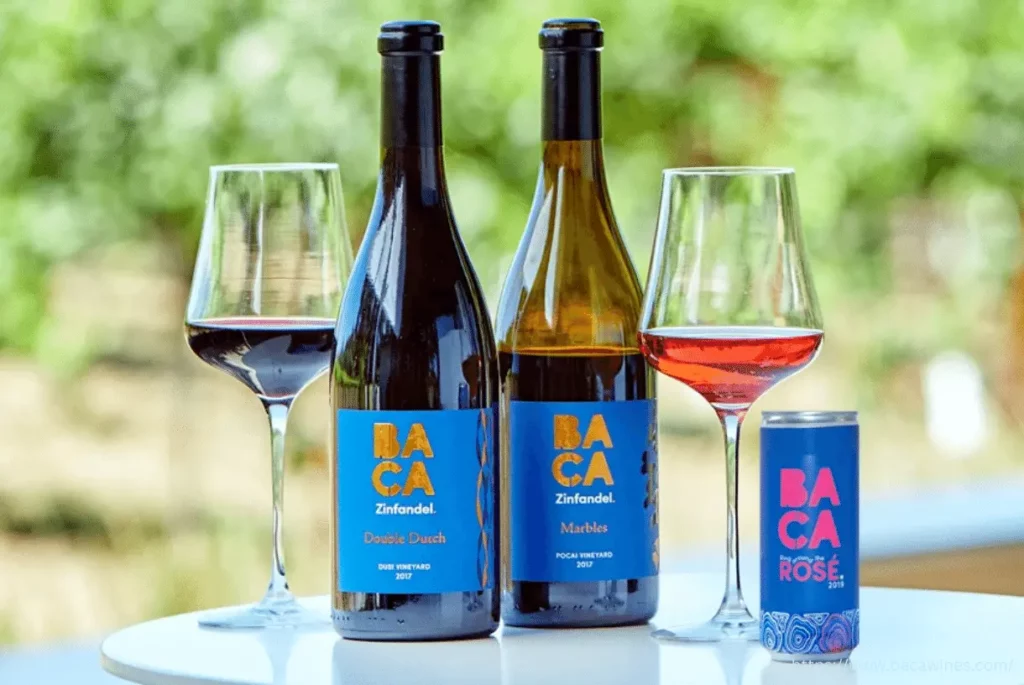 In Latin, BACA means "berry". Owned by the renowned Hall Family, this relatively new Alexander Valley winery specializes in luxury, craft Zinfandels from pedigreed California vineyards.
Searching far and wide into some of California's most noted growing regions—Calistoga, Russian River, Rockpile, Howell Mountain, and Paso Robles—BACA sources the most intriguing fruit for its wines. Grapes from gorgeously old vines and historic areas are transformed using masterful winemaking techniques into wines that reflect the unique places in which they're grown. The result is 8 complex, charismatic Zinfandels, and a few other delectable curveballs.
Its spirited Healdsburg winery and tasting room shows off panoramic vineyard views and also offers sips of sister winery WALT selections, so guests can either stick to BACA Zinfandel or mix it up with some WALT pinot noir.
Visit: BACA offers a standard tasting experience but if you are up for a little indulgence, try the Zinfandel and chocolate pairing featuring handcrafted, artisanal chocolates from a local chocolatier, Fleur Sauvage Chocolates. Walk-ins are welcome but reservations are recommended for all tastings. Parties are limited to a maximum of 6 guests. Reservations may be made at BACA's website or by calling (707) 721-8625. Open 7 days a week • 11am-5pm.
Address: 779 Westside Road, Healdsburg, CA 95448
Phone: 707-721-8625
Aperture Cellars $$$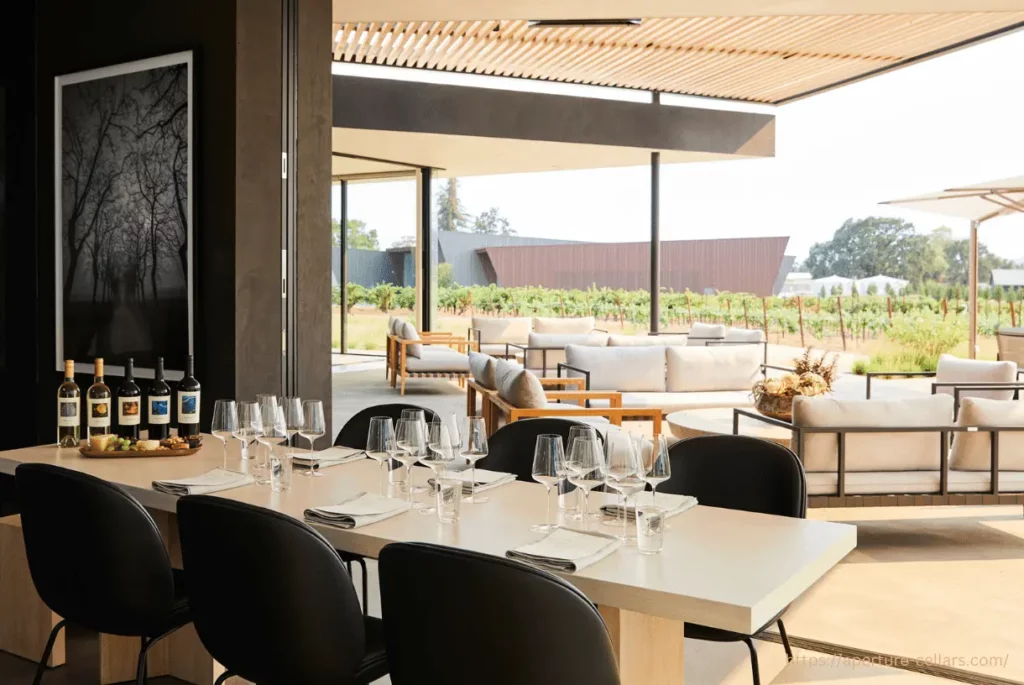 Aperture Estate, minutes from downtown Healdsburg, may just take your breath away. Winemaker Jesse Katz's range of Bordeaux-style wines is crafted from cool-climate vineyards planted a century ago in the northern Russian River Valley. With a glass in hand, you will relish the expansive landscape and the natural beauty of the 40-acre estate and vineyards. The scenery indoors is just as vivid. The fine collection of art that graces the walls is by Jesse's father, acclaimed photographer Andy Katz.
Working with our legendary viticulturist Phil Freese, who helped shape the vineyards for Opus One and Robert Mondavi's To-Kalon holdings in Oakville, Jesse has already received much acclaim as a winemaker. None other than Wine Spectator has described our wines as "plump, intense, and juicy" while remaining "clean and complex."
Aperture wines are small batches and they sell out quickly, but they are worth searching out, combining as they do the best of the Old and New World, delivering a powerful punch but well sculpted with natural balance. Your best chance of scoring a bottle is to get it at the winery.
Visit: Enjoy the Soil Series Experience, a stunning introduction to the Bordeaux-inspired blends from exquisite vineyards in Alexander Valley and greater Sonoma County with unique soil profiles perfectly suited for these varieties. This seated tasting experience is approximately 90 minutes and includes a flight of five wines. Tasting reservations may be made at exploretock.com. For parties greater than 6 people, please contact the winery directly, by email or 707-200-7891.
Address: 12291 Old Redwood Highway, Healdsburg, CA 95448
Phone: (707) 200-7891
J Vineyards & Winery $$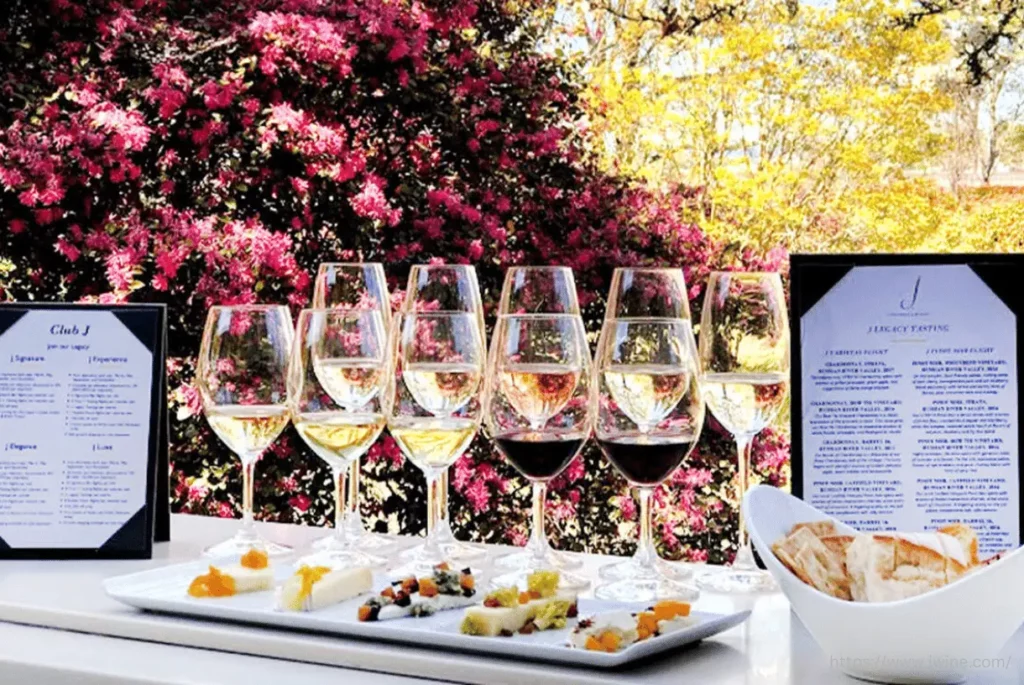 For over 30 years, J Vineyards & Winery has elevated the standard for California sparkling and varietal winemakers. Situated in the vine-friendly Russian River Valley of Sonoma County, the vineyards offer the ideal climate for growing distinctive, world-class wines.
Widely known as a top producer of small-production chardonnay, pinot noir, and sparkling wines. California sparkling wine, including the highly lauded J Vintage Brut, J Late-Disgorged Vintage Brut, J Brut Rosé Non-Vintage and J Cuvée 20 Brut Non-Vintage. J Vineyards truly offers something for everyone at its stylish winery and tasting room near Healdsburg — especially for those who love fantastic food.
J Vineyard's winemaking philosophy is grounded in founder Judy Jordan's sense of place and commitment to quality and expressed through J's winemaking artistry. Considered a pioneer in Sonoma County for the enhanced Visitor Center experience, Our varietal & sparkling wines evoke the intriguing character of this unique part of the world–where hip energy meets relaxed Russian River Valley style and contemporary elegance meets classic quality.
Visit: The Signature Tasting flight includes a selection of five Russian River Valley wines served in their comfortable, vineyard-facing outdoor terrace. The winery offers sumptuous food and wine pairings in its Bubble Room. Tastings are available 7 days a week from 11:00 a.m.–4:00 p.m. Reservations are required. Private dinners are available. Reservations may be made at exploretock.com or by calling (707) 431-5430.
Address: 11447 Old Redwood Highway, Healdsburg, CA 95448
Phone: (707) 431-5430
Santa Rosa Wine Tasting Locations
Bricoleur Vineyards $$$$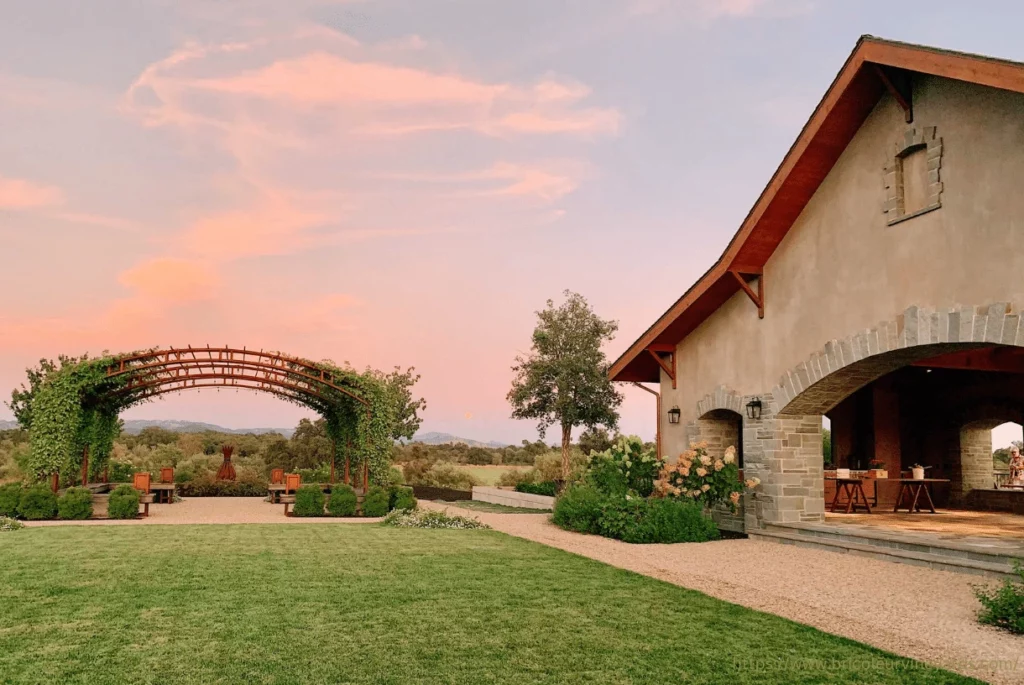 Already heralded by the San Francisco Bay Area press as the region's "Best New Emerging Winery" and "Most Romantic Winery," the property features culinary gardens, fruit trees, olive groves, chickens, and honeybees, as well as a massive barn-turned-tasting-room with an open kitchen to produce Bricoleur's creative food and wine pairing experiences.
Bricoleur Vineyards is a destination for friends and family to gather around our table to enjoy exceptional wine and food in a stunning and relaxed environment.
The idyllic Russian River Valley retreat is home to vineyards, olive groves, and a honey farm. Winemaker Cary Gott crafts our elegant wines, ranging from unoaked Chardonnay to Alexander Valley Zinfandel. We invite you to stroll through our rose garden and fruit orchards. Enjoy rowing or fishing on our Pond. Relax on the Pavilion lawn or compete on the Bocce Courts.
Arrive hungry! Bricoleur recently introduced "Rooted", immersive six-course food and wine pairing collaboration with James Beard Award-winning chefs Charlie Palmer and Nate Appleman. Each wine is expertly paired with a seasonal dish made from ingredients grown on the estate. Other food/wine pairings include seasonal picnic lunches and full-plated meals in the rose garden.
Visit: Visitors with reservations are welcomed Thursday ‑ Monday, 11:00 a.m. ‑ 5:00 p.m. Appointments may be made by calling 707-857-5700 or online at exploretock.com.
Address: 7394 Starr Road, Windsor, CA 95492
Phone: (707) 857-5700
DeLoach Vineyards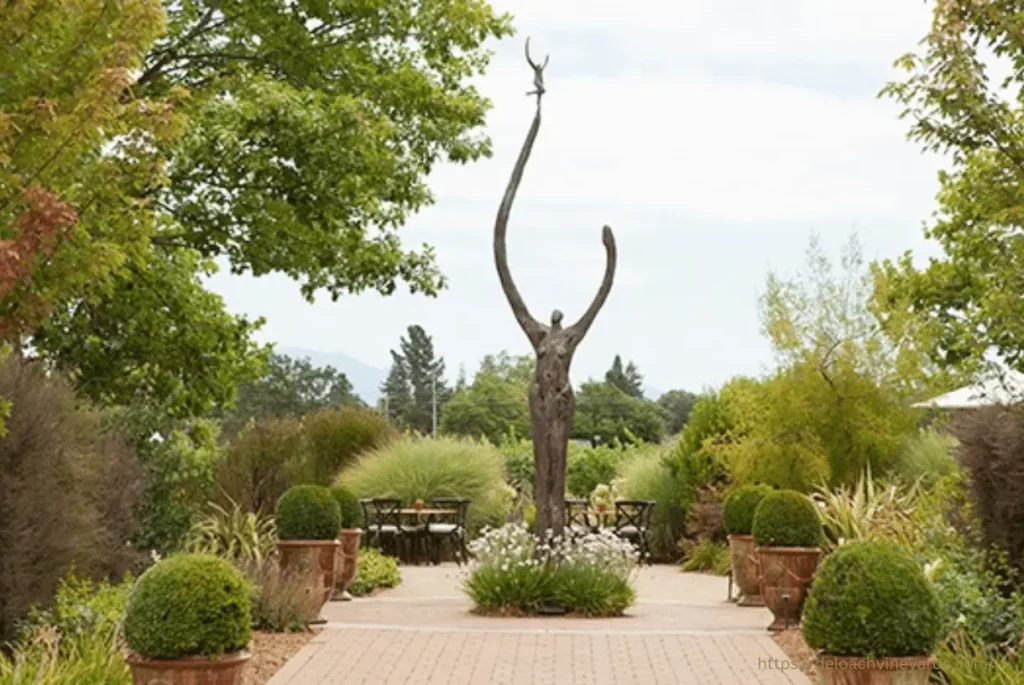 Since 1975, DeLoach Vineyards has produced quality pinot noir, chardonnay, and zinfandel wines from throughout the Russian River, many from their Certified Organic and Biodynamic estate vineyards. At the tasting room, elevate your tasting with a cheese plate or boxed lunch from Oakville Grocery, or plan to keep it more casual with an afternoon glass of wine and a snack during their Thursday and Friday evening happy hours from 4 pm – 6 pm.
Address: 1791 Olivet Road, Santa Rosa, CA 95401
Phone: (707) 755-3300
Sonoma-Cutrer Vineyards $$
Sonoma-Cutrer's winemaking philosophy is to marry together Burgundian traditions with Californian ingenuity and a deep appreciation for Sonoma Valley's remarkable terroir. Over its long history in Sonoma County, it has pulled off a successful marriage of tradition and innovation
Sonoma-Cutrer has been crafting wines since 1981 in the esteemed Russian River Valley growing region of Sonoma County, California. Its flagship wine, Russian River Ranches, has for over 30 years dominated the Most Popular Chardonnay Wine & Spirits Annual Restaurant Poll. Its female-led winemaking team seeks to preserve the highest quality grapes, and the wines are aged in barrels made of specific French oak trees that are selected to fit the winemakers' needs.
Visit: Sonoma-Cutrer's popular Heritage Tasting features a seated tasting of four wines overlooking its vineyard. Through the tasting of these wines, you will note each vineyard's unique characteristics. If you are hungry, the winery offers cheese & charcuterie, and veggie boxes. The tasting room welcomes guests over 21 with appointments on Fridays, Saturdays, and Sundays from 10:00 AM to 4:00 PM. Reservations may be made at the winery's website or by calling (707) 237-3489.
Address: 4401 Slusser Rd, Windsor, CA 95492
Phone: (707) 237-3489
Kendall-Jackson Wine Estate & Gardens $$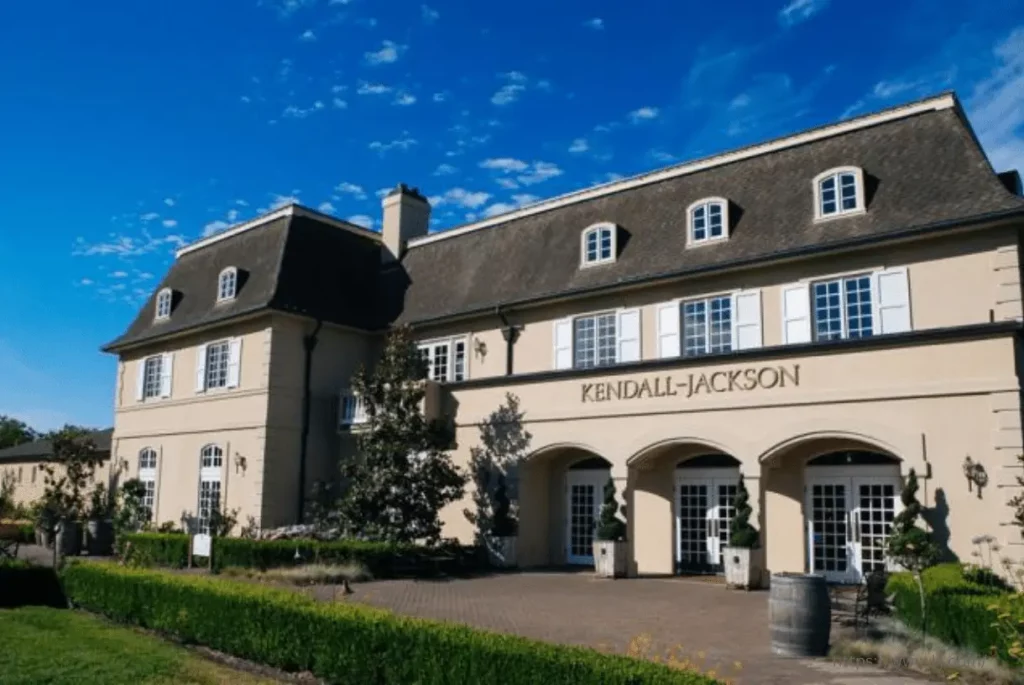 Kendall-Jackson is one of the biggest names in California wine, but don't let that stop you from a visit. There's much more to visiting Kendall-Jackson Winery than wine tasting – it's also an educational and culinary experience.
Kendall-Jackson's vineyards are strategically situated throughout the cool California coastal regions, where our vineyards sit atop mountains, ridges, hillsides, and benchlands. Since 1982, these breathtakingly beautiful sites have produced wines of exceptional depth and complexity.
Kendall-Jackson's home is a magnificent chateau-style winery estate at the gateway to northern Sonoma County wine country, just north of Santa Rosa. If you go, be sure to explore the winery's peaceful, park-like setting on a self-guided tour or a guided tour with wine tasting, strolling through the rose, vegetables, herbs, and fruit gardens, then relaxing in the gazebo.
The winery's buttery, oaky style of Chardonnay has helped make Kendall-Jackson a household name, but others like the Avant Chardonnay and Grand Reserve Chardonnay have crisper edges and softer flavor notes. Several Cabernet Sauvignons round out the selection of top wines available for tasting.
A real treat during a visit is Kendall-Jackson's gourmet food and wine pairing program. May through October, the winery holds a Farm-to-Table dinner series with seasonal menus prepared by Executive Chef Justin Wangler and featuring produce from the extensive onsite culinary gardens. Wine-and-cheese and wine- and-chocolate pairings also are available.
Visit: To maximize your experience, opt for the Garden Tour & Tasting, where you will be led on a stroll through the garden, then be seated on our beautiful patio to enjoy some of the day's garden harvest and taste world-class wines. The winery is open for visitors daily from 10:00 AM to 5:00 PM. Advance reservations are required and may be made online at the winery's website (or exploretock.com) or by calling 707-571-8100.
Address: 5007 Fulton Rd, Santa Rosa, CA 95403
Phone: (707) 571-8100
Kenwood Wine Tasting Locations
Ledson Winery & Vineyards $$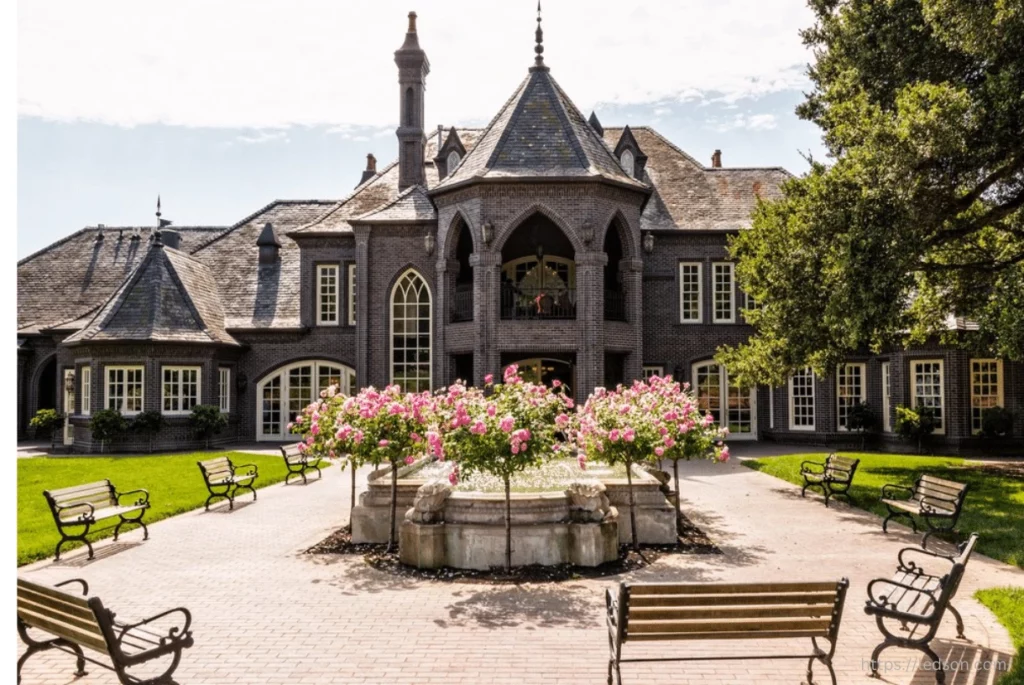 It's no wonder this winery – known locally as "The Castle" – was named "One of the twelve most impressive wineries in the world," by VinePair. The 16,000-square-foot French-Normandy-style architectural wonder in the heart of Sonoma Valley is quite the place to taste some wine.
The winery consistently produces highly coveted, small-lot handcrafted wines scoring in the mid-'90s and above, showcasing the absolute best Sonoma County has to offer. The winemaking philosophy is, "everything begins in the vineyard." Steve chooses quality over quantity, only selects the best grapes, and will reject fruit if it doesn't meet his approval.
Ledson is a wonderful place to plan a casual lunch. Their Gourmet Marketplace offers a great selection of local and unique cheeses, meats, fresh sandwiches, and salads, plus many Ledson delicacies, such as flavored mustards, olive oils, and wine-infused chocolate sauces. After the tasting, many decide to enjoy a delicious picnic in the majestic Oak Grove.
Visit: Ledson offers several wine-tasting experiences by appointment. Guests can select a tasting at one of three separate tasting bars or enjoy a private wine tasting in a personal tasting suite hosted by a winemaker assistant. Reservations can be made online, by calling 707.537.3823 or by sending an email to tastings@ledson.com.
Address: 7335 CA-12, Kenwood, CA 95409
Phone: (707) 537-3810
Kunde Family Winery $$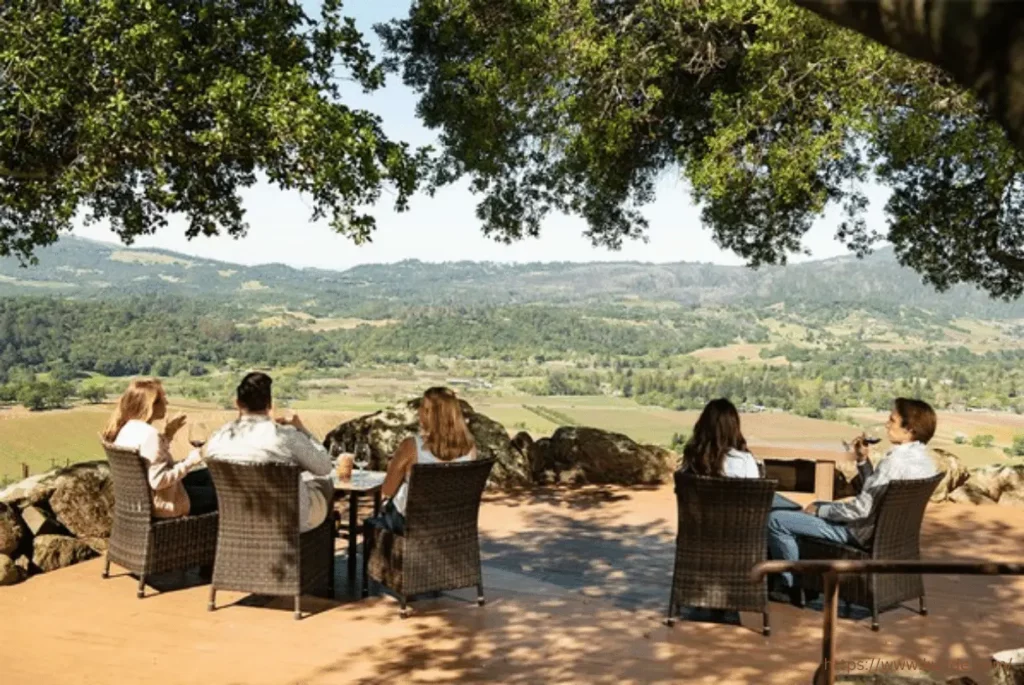 For over a century, five generations of the Kunde family have farmed its 1,850-acre estate in the heart of Sonoma Valley—a truly remarkable legacy in the modern age of California winemaking.
A passion for elegant, estate-grown wines and a forward-thinking vision of land stewardship and sustainability have been at the core of each successive generation.
Amazingly, the vineyards on the Kunde Estate were first planted in 1879 by pioneer John Drummond with imported cuttings from Chateaux Margaux and Lafite Rothschild. The winery remained open during prohibition but was forced to close when the second generation of Kunde sons was drafted into service in World War II. Today, Kunde Family Winery is still family-owned and operated with a hands-on team of 4th and 5th-generation family members at the helm who remain committed to innovation in our vineyards and winery while maintaining a deep, personal commitment to sustainable winegrowing and preserving the land for generations to come.
There is one more interesting detail about Kunde's beautiful Sonoma Valley location and mountain-top view all the way to San Francisco–it was one of the sets for filming the movie Bottle Shock, the acclaimed documentary about the surprising victory of Napa Valley wines at the Judgement of Paris.
Visit: While there are several tasting and food pairing experiences, be sure and consider the Mountain Top Tour & Tasting (Offered April – October) which features the winery's most sought-after small production wines while touring through its vineyard and up to a tasting deck overlooking Sonoma Valley from an elevation of 1,400 feet. Uniquely, Kunde's offers a nicely priced Lounge Tasting at their outside bar on Saturdays and Sundays. No reservation is required. Open daily from 10:30 AM to 3:30 PM. Advance reservations for seated tastings are required and may be made at Kunde's website or by calling 707-833-5501.
Address: 9825 Sonoma Highway 12, Kenwood CA, 95452
Phone: 707-833-5501
Lasseter Family Winery $$
There is little evidence that the creative inspiration behind this place is John Lasseter, former creative director for the animation giant Pixar and owner of a star on the Hollywood Walk of Fame. Now open to the public, the Lasseter Winery was operated for many years on the down low, open only to a few Hollywood starlets and friends.
The Lasseter Family's love of old-world Rhône & Bordeaux style blended wines inspired them to begin revitalizing these historic, organically-farmed vineyards and to begin producing vibrant expressions of the place, each with its own story, and a unique work of art gracing each label. Each season it offers a release of library tastings of its Bordeaux and Rhône inspired white, rosé, and red wines, along with Zinfandel from 100-year-old vines.
Sweeping views of Lasseter's estate vineyards, founded by a French winemaker in 1894, greet you as you enter the gate. Once there, your Wine Specialist will lead you to explore the Barrel room, Tank Room, and Crush pad. You'll then be invited to relax in our intimate Wine Room to taste the collection of Lasseter Family Wines accompanied by a plate of local, artisan cheeses.
Visit: The tasting is hosted in a shaded, open-air garden patio nestled among beautiful, organically farmed, heritage estate vineyards. A patio tasting features a flight of five Bordeaux and Rhône-inspired White, Rosé, and Red wines on our shaded, open-air patio aside our estate vineyard. Local artisan cheeses are available for purchase, handpicked to complement each wine. Guests must be 21 years of age. Open daily from 10:00 AM to 5:00 PM. or at cellarpass.com.
Address: 1 Vintage Lane, Glen Ellen, CA 95442
Phone: (707) 933-2800
B Wise Vineyards $$$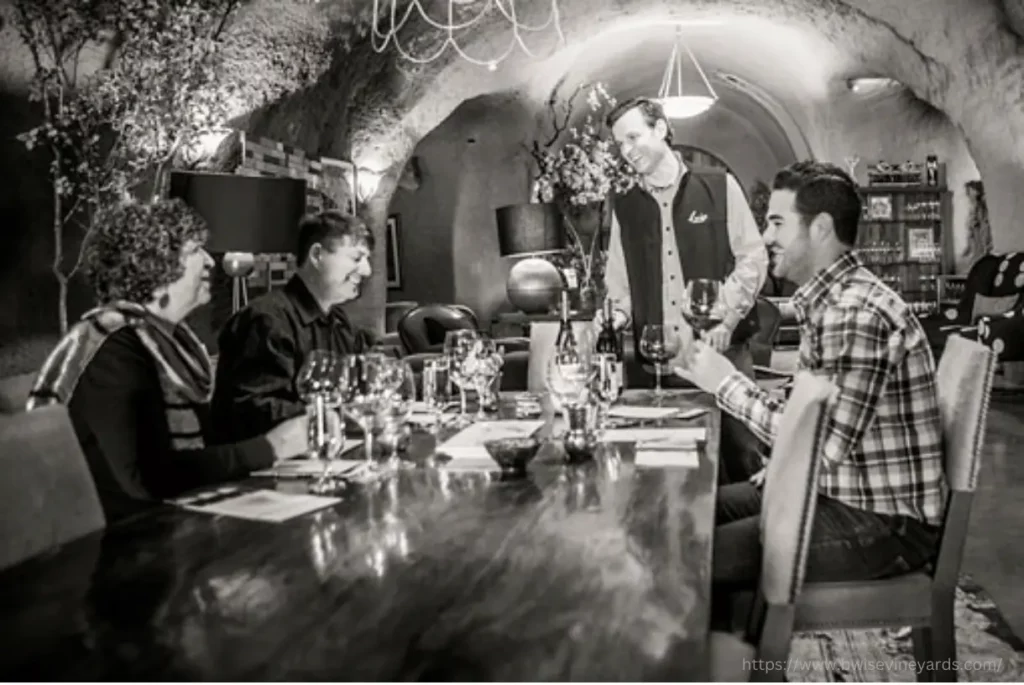 B. Wise Vineyards is located on top of a ridge that looks down over the Sonoma Valley. This is a benevolent climate, a place you can live outdoors amid peach trees and avocados.
Family farmer and winemaker, Brion Wise works with the special terroir of their home vineyard in the Sonoma Valley as well as other special sites in Napa Valley and the Sonoma Coast. All of their wines are expressions of this commitment to great wine and the vineyards in which they are grown.
Visit: B. Wise has a by appointment-only tasting room in Kenwood, CA but for the fullest experience we recommend making a private tasting reservation at the caves located at the Estate overlooking Sonoma Valley. There, a series of rooms and alcoves are devoted to hospitality, leading to a spacious salon where wines are shared with delightful food pairings. The outdoor terrace is an inviting place to relax and overlook the estate vineyards and the Sonoma Valley below. To make an appointment, call 707.935.1791.
Address: Tasting Lounge: 9077 Sonoma Highway, Kenwood CA, 95452
Phone: (707) 935-1791
City of Sonoma Wine Tasting Locations
Buena Vista Winery $$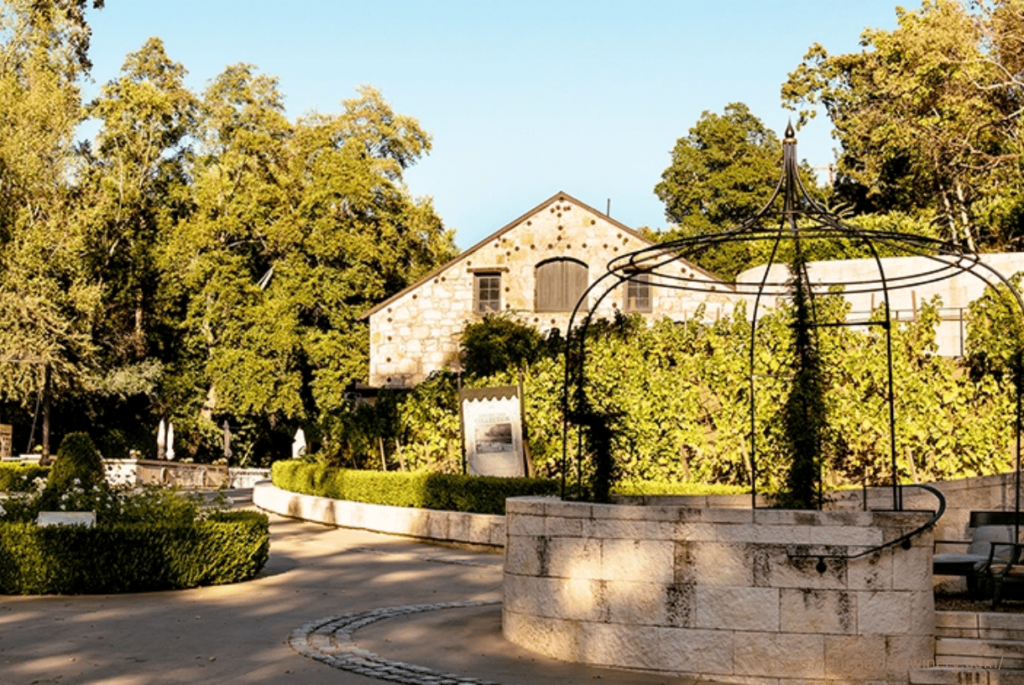 The winery that started it all! Founded in 1857, Buena Vista is California's first premium winery. Today, the legend is being re-born under the vision of Jean-Charles Boisset. The grounds, now a California Historic Landmark, are home to Buena Vista's Winery, Tasting Room, and Visitor's Center.
History is no longer the headline at Buena Vista. Buena Vista joined the Boisset Collection in 2011 and the new owner has returned the winery to its original glory with the complete restoration and re-opening of the Champagne Cellars, which were unavailable to the public for over 20 years. Buena Vista wines are being driven to greater heights under Winemaker Brian Maloney.
Visit: Buena Vista Winery is open Monday through Friday from 11:00 am to 5:00 pm, and Saturday and Sunday from 10:00 am to 5:00 pm. The last seating time each day is at 3:30 pm. Ask about private tasting options in the Buena Vista library or in their historic wine cave. Reservations are required and may be made at exploretock.com.
Address: 18000 Old Winery Road, Sonoma, CA 95476
Phone: (800) 926-1266
Gundlach Bundschu Winery $$$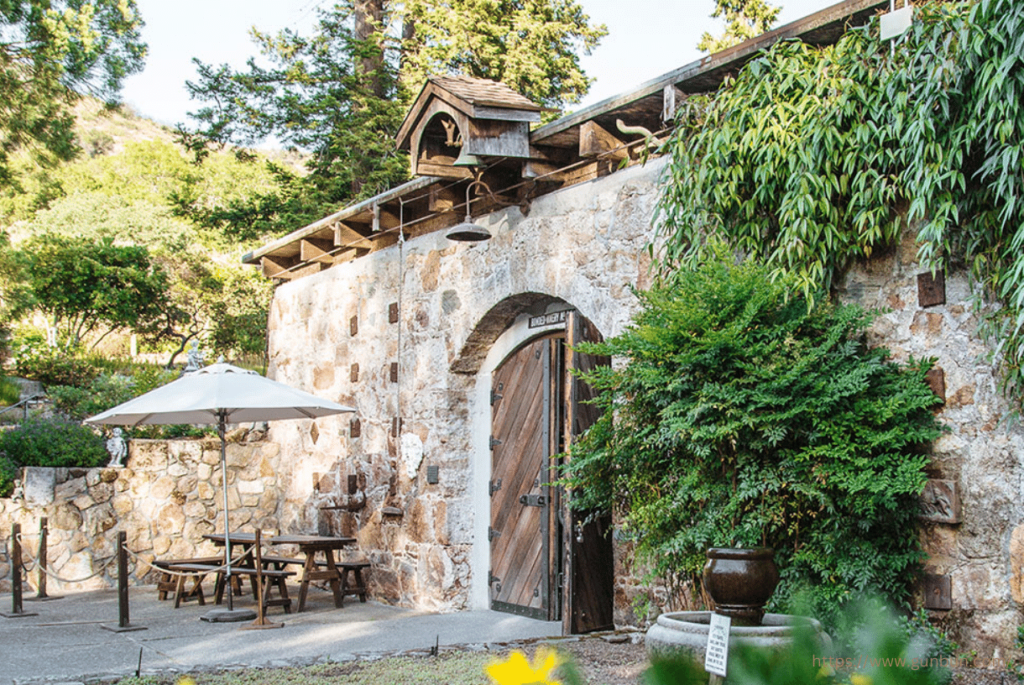 Spend some time getting to know the land, the wines, and the people that make Gundlach Bundschu and you will learn what makes them unique. As the oldest family-owned winery in California, we offer distinctive, small-production wines in a historic and bucolic setting.
For six generations and over 160 years, the Bundschu family has farmed the Rhinefarm estate vineyard at the crossroads of the Sonoma Valley, Carneros, and Napa Valley appellations. Today, the winery focus on making small lots of ultra-premium wines from this distinctive and historic property.
Visit: Just five minutes from the historic Sonoma Plaza, Gundlach is convenient to visit before or after a stop in the city of Sonoma. The Rhinefarm Experience is a classic Sonoma wine tasting that lets you kick back on our winery courtyard surrounded by our organic vineyards and wine caves as our engaging and experienced hosts guide you through a memorable flight of five wines with optional seasonal snack add-ons. The winery is open every day 11:00am – 5:30pm for tastings and tours by appointment only. The property is family and dog-friendly. Reservations may be made at https://www.gunbun.com/visit or by calling (707) 938-5277.
Address: 2000 Denmark Street, Sonoma CA, 95476
Phone: (707) 938-5277
Nicholson Ranch $$$
The vineyards of Nicholson Ranch are planted at the intersection of Napa and Sonoma where four of California's best appellations–Sonoma Valley, Sonoma Coast, Napa Valley, and Los Carneros–meet. The prized locations give Nicholson Ranch a combination of soils, sloping hills, and climate that is ideal for producing premium grapes for our handcrafted Chardonnay, Pinot Noir, Merlot, and Syrah.
The winery building is reminiscent of Mediterranean and California structures, with double-thick walls and deep overhangs. Salvaged first-growth redwood, native Douglas fir, a variegated slate roof, and subtle earthen colors create Old World charm and sensibility.
The winery is built directly above the caves and uses a gravity-flow design to preserve the delicate flavors and aromas of its Estate wines. At the topmost level, freshly harvested grapes are sorted and de-stemmed before being lowered into the fermentation tanks at the next level. After fermentation, the wine flows from the above-ground facility down into a settling tank in the caves. From there, it is gravity-fed into barrels for aging.
Visit: While a standard 5-wine tasting is available at the tasting bar, the Cave Tour and Tasting is a guided tour through Nicholson's vineyards, winery, and cellars while tasting five Estate and Reserve wines. This educational grapes-to-glass experience follows the journey of the grapes through the vineyards, the winery, and underground cellars. The winery is open daily from 10:00 AM to 6:00 PM. Tasting reservations may be made online at exploretock.com.
Address: 4200 Napa Road, Sonoma CA, 95476
Phone: (707) 938-8822
Gloria Ferrer Caves & Vineyards $$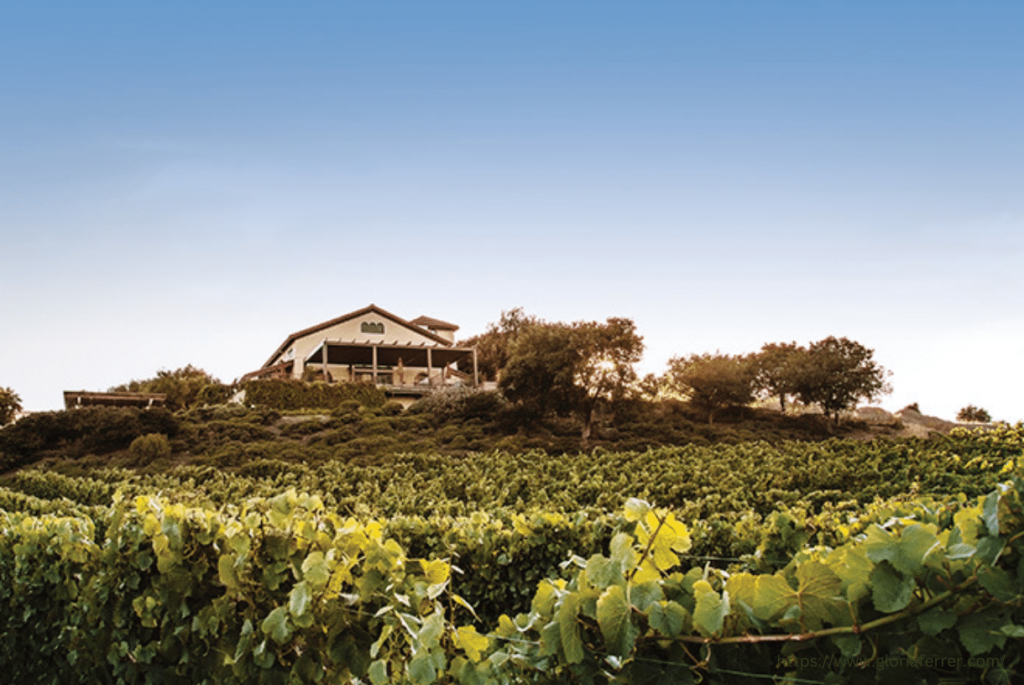 Gloria Ferrer was the first winery to produce world-class sparkling wine in Carneros and an icon of Sonoma Valley. Back in the early 80s, there were only a handful of winegrowers planting Pinot Noir in Carneros, yet, the Ferrer Family insisted that the key to a world-class méthode champenoise wine would be Pinot Noir. Their quest for perfection took them to Champagne where they managed to acquire Pinot Noir and Chardonnay cuttings to plant their vineyard. Almost thirty years later, with 335 acres under vine, the estate vineyards at Gloria Ferrer produce Pinot Noir and Chardonnay that rival some of the world's finest.
As soon as you arrive, you'll understand why Gloria Ferrer was named Winery of the Year by Wine & Spirits Magazine. Its vineyards are nestled at the base of the Sonoma Mountains and Wildcat Peak, which supply alluvial soils, soft hillside air, bright sunshine, and cooling fog to nourish its Chardonnay and Pinot Noir vines. The combination produces consistent world-class award-winning sparkling wines as well as Chardonnay and Pinot Noir.
Visit: Public tours are offered three times at 11:00, 1:00, and 3:00 PM and include 3 sparkling and 1 estate varietal tasting. Food items such as cheese & charcuterie and snacks are available for purchase. If you are feeling adventurous, check out the agricultural tour, a variety of caviar and food pairings, a yoga and wine experience, and a dog tasting (really!). The winery is open to guests 6 days a week (closed on Tuesdays) from 10:00 AM to 5:00 PM. For groups of seven or more, a tasting reservation is required. Private winery tours and tastings are available by appointment. Reservations may be made online at Gloria Ferrer's website or at exploretock.com or by calling 707-933-1932.
Address: 23555 Arnold Drive, Sonoma California, 95476
Phone: (707) 933-1986
Jacuzzi Family Vineyards $$
Fred and Nancy Cline built Jacuzzi Family Vineyards to honor Fred's grandfather, Valeriano Jacuzzi, who invented the namesake spa pump and later inspired grandson Fred's love of winemaking. The stunning, 18,000-square-foot Tuscan-style property was modeled on the Jacuzzi family's ancestral home in Italy and features a traditional piazza in its center where guests can taste wine and picnic.
True Italian hospitality awaits you at the 190-acre vineyard located at the "gateway to Sonoma", where cool Pacific fog and coastal wind follow the afternoon's blistering California heat. The estate vineyards are planted in volcanic soil and adobe clay perfect for Chardonnay, Pinot Noir, Sangiovese, Barbera, and Nebbiolo. In addition to the California standards, the winery offers hard-to-find, Italian-style wines like Teroldego, Barbera, Moscato, Arneis, and Pinot Grigio.
A visit to Jacuzzi Family Vineyards wouldn't be complete without stopping by The Olive Press tasting room and gift shop, located within the walls of the winery. Discover the most highly awarded and acclaimed extra virgin olive oils, 100% grown and milled in California. Learn about their dedication to quality and flavor that guides every step from orchard to bottle.
Visit: The Taste of Italy experience features a seasonal flight of exclusive Italian varietals, accompanied by freshly baked bread from Della Fattoria and a house dip of extra virgin olive oil and balsamic vinegar from The Olive Press. The winery is open daily from 10:30 AM to 5:00 PM. Reservations recommended may be made at Jacuzzi's website or at exploretock.com.
Address: 24724 Arnold Drive, Sonoma CA, 95476
Phone: 707-931-7516
Know Before You Go to the Sonoma Wine Country
When to Plan Your Trip
Visiting in Spring
March is the "bud break" — some nice photo opportunities. The weather is perfect — generally, in the 70s during the day, with cool nights. Wineries are not yet crowded, creating a better chance of meeting/speaking with the winemaker.
Visiting in Summer
Vine and grapes are at their peak and make for incredible photos in the vineyard. Weather can be very warm, with many days above 100 degrees. Plan on traffic and difficulty getting reservations at popular wineries.
Visiting in Fall
October: It's harvest time. Experience "the crush". Vineyards take on colors of yellow and orange. The crowds are not overwhelming and the weather tends to be very pleasant. A nice time to visit.
Visiting in Winter
Vines are dormant and so "vineyard photos" are not colorful. But this is the best time to do wine tasting if you want to avoid crowds and traffic jams. Also, it is the best time to take advantage of discounts on unsold wine from the previous year's vintage.
Plan a Relaxing Lunch
Our suggestions:
French-country the girl & the fig on the square is a delight, for seasonal plates like duck egg ravioli with spring mushrooms, onion crema, green garlic, spring peas, and baby carrots sprinkled in smoked paprika. Not too long ago, Lady Gaga turned heads as she dined here, accompanied by her boyfriend and two bodyguards.
Conveniently located Dry Creek General Store sells fresh delicious deli sandwiches and other goodies perfect for a vineyard picnic.
The Sunflower Caffé is located on the historic Sonoma Plaza in the heart of the California Wine Country. Our food is simple, our ingredients are real. We use salt from the San Francisco Bay, Milk from cows grazing in the Sonoma County pastures, and local pastured eggs in all of our dishes.
In Healdsburg, check out farm-to-fork American eatery Barndiva. Relax in a spacious garden patio and enjoy the tremendous service staff. Tip: they have one of the best pork tenderloins around.
Where to Stay
Just like the wineries, prices for an overnight stay in Sonoma cover the gambit of reasonable to lavish. A comfy night at the Auberge du Soleil will run you over $1,500. Our guests have enjoyed Sonoma Creek Inn, Fairmont Sonoma Mission Inn & Spa and the AutoCamp Russian River for their luxury and good value. Just think: what you save on sleeping can be used to buy extra wine!
The Sonoma Creek Inn is a darling, reasonably priced 16-room hideaway. Many of the recently updated, colorfully decorated rooms have private outdoor patios or porches, and the hosts offer complimentary tasting passes at area wineries.
For a night of luxury, the Fairmont Sonoma Mission Inn & Spa is a historic, mission-style property originally opened in 1840. It evolved into a health retreat for wealthy guests in the 1920s and is now top-of-the-line contemporary, thanks to a recent resort-wide renovation that includes the entire lobby, heritage guest rooms, meeting rooms, and landscaping.
Try glamping, Sonoma-style at AutoCamp Russian River in Guerneville, There's no need to pitch a tent when you can settle into a comfy Airstream camper or a luxurious canvas tent—each outfitted with modern, upscale interiors. The property is set in a grove of majestic redwoods, and it's an easy walk or bike ride to the Russian River.
Things to Do in Sonoma (Besides Wine Tasting)
Want to mix it up in Sonoma? Or planning a couple of days and want to explore other things that Sonoma has to offer? Our regular guides in Sonoma have these suggestions.
Explore the Armstrong Redwoods
Armstrong Redwoods state park is a living reminder of the magnificent primeval redwood forest that covered much of this area before logging operations began during the 19th century. Armstrong Redwoods preserves stately and magnificent Sequoia sempervirens, commonly known as the coast redwood.
Visit & Hike Around Stump Beach
Set within Salt Point State Park, Stump Beach in Jenner is one of the few sandy beaches north of "downtown" Jenner. It's rare to see more than a few people hiking along the quarter-mile trail that leads down to the sand, so you might just have the place all to yourself. While you're in the park, take time to explore its scenic grasslands, pygmy forests, and 20 miles of hiking trails.
Visit the Charles M. Schulz Museum
Experience the Joy of Peanuts! Visit Snoopy, Charlie Brown, and the rest of the Peanuts gang—comic creations of Charles M. Schulz. The Charles M. Schulz Museum features changing galleries and all sorts of activities for kids of all ages.
Taste Sonoma's Beer at HenHouse Brewing
It doesn't involve wine! HenHouse Brewing Company began as a one-beer operation in Petaluma and grew to include a bustling brewery/taproom in Santa Rosa and the Palace of Barrels in Petaluma. Try the Oyster Stout, made with the meat and shells of locally harvested oysters.
How to Taste Wine with the 4 S's on Your Tour Day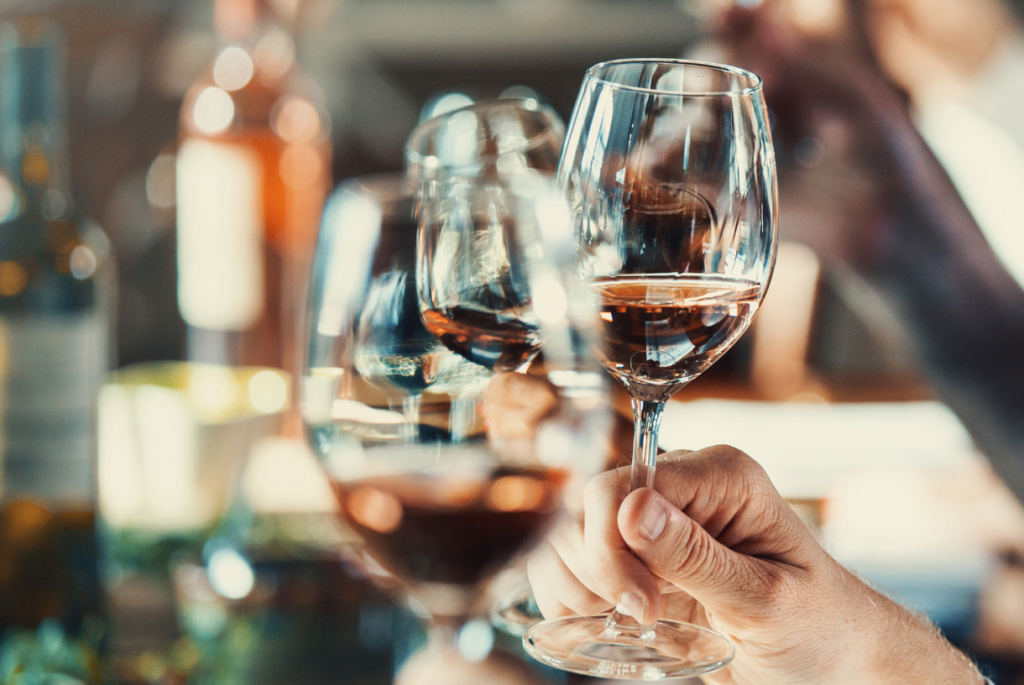 Every wine you taste has a distinct flavor. We would like to offer a few tips on wine tasting that will help you feel like an experienced wine connoisseur and make your wine tasting even more enjoyable. We offer a simple approach for evaluating a wine. It's called the 4 S's of wine tasting: See, Smell, Sip, and Savor.
SEE
Lift the glass up a bit toward a source of natural light or against a white background, and describe what you see. What is the color of the wine? Is it deep or light? Does the wine have "legs"? These are the clear streaks and droplets that linger on the inside of the glass as you swirl the wine.
SMELL
Swirl the wine in your glass so oxygen causes it to release aromas. With your eyes closed, stick your nose into the glass. Take a deep sniff. What do you smell? Do you detect hints of fruit, floral, berries, vanilla, moss, or bacon…go ahead get creative with your smell. Reviewing a list of wine-tasting descriptors before your tasting can help you find the words to describe the experience.
SIP
Go ahead, and take a sip. Gently roll the wine around in your mouth. Part your lips ever so slightly and draw in some air for even more flavor. Swallow. Repeat. What do you taste? Does it have acidic or sour notes? Does your tongue feel dry? Does the texture change as you sip?
SAVOR
This is where you use your brain to sum things up. Were there characteristics that impressed you? Did you like the wine? How was it unique or memorable?
Take the Stress Out of Planning with Sonoma Wine Tours
So many options! We can certainly appreciate that all this information can be a bit overwhelming. Planning the perfect visit to Sonoma, particularly with a large group, can be a real time suck.
If it's your first time to the valley and looking for convenient introduction to Sonoma, a public tour is a great option. Extranomical Tours has several good 1-day tour options that visit Sonoma Valley from San Francisco here. Once you have the lay of the land, you can return for a more bespoke experience, perhaps for a private tour.
Final Pro Tips
Make reservations early. Most wineries ask that you make an appointment prior to your visit. Don't count on being seated for a tasting if you are visiting on a weekend, or holiday or have a group larger than six. Many appointments may not be canceled without fees so don't double-book.
Pace yourself. Give yourself plenty of time. If you'll just be walking up to the bar and tasting through a few wines at each tasting room, then you have the time to visit 3-4 wineries in one day. But if you're going on a Winery tour or sitting down for a chef-prepared food and wine pairing, you might only be able to plan for two wineries in one day.
Spitting is normal. You can still have a good time without drinking all of the wine – in fact, the pour isn't even meant for you to drink. Sure, everybody says, 'I just can't spit out good wine!' That one's really old, and spitting is what wine professionals do.
Don't drink and drive. Even if you've swirled, sniffed, and savored; five one-ounce pours at a handful of wineries, that soon equals two to three full servings of wine. Here's what you do: designate a driver from your group who won't be consuming wine. If that's not possible, hire a tour guide or plan to spend the night in one of Sonoma County's relaxing hotels and resorts.
Extanomical Tours has been hosting visitors to Sonoma for 15+ years from its base in San Francisco, just 50 miles away. With over 400 wineries and gads of great restaurant choices it is a real challenge to stay up to date but our cast of wine educators and guides does a pretty good job finding and serving up the best the valley has to offer.
We are constantly adding to our tours and posting about new experiences in Sonoma. Please follow us on social media so we can send you notifications. If your ready to book now for a future experience, check out Extranomical Tours wine country experiences.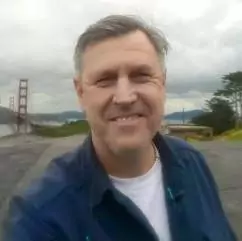 Gary Lillian is an advisor to Extranomical Tours which has led more than 10,000 guided tours in Northern California in the last 10 years. He is a graduate of Northwestern University, holds a master's degree from Kellog Graduate School of Management, and is a recognized subject matter expert in marketing and customer experience engineering.
Published on: November 9th 2022