Congratulations! If you are reading this, you are considering or planning a visit to California's wine country during fall, and you are close to an unforgettable vacation. Autumn is truly a magical time to spend among the vines. With Harvest to celebrate, fall colors to soak in, and countless other things to do, fall in Napa Valley or Sonoma County will not disappoint.
The beginning of Fall in wine country is Harvest season. Wineries are in full swing and at full capacity for the most exciting time of the year. As the season moves on, the leaves begin to turn, the nights get cooler, and Napa and Sonoma transition into the slow season. Wineries are again able to offer one-on-one attention and you may even snag a deal on a hotel.
Whether you plan your fall visit for the exciting Harvest rush, or the after Harvest hush, there are some not to miss things to do in wine country during Fall.
In this article, we will cover all of the best things to do in Sonoma and Napa Valley in Fall. While some activities listed here are wonderful all year long, others (like Harvest festivals!) are fall specialties that only come once a year. To help you divide and conquer your activities for your trip, we have organized this article as follows:
Celebrate harvest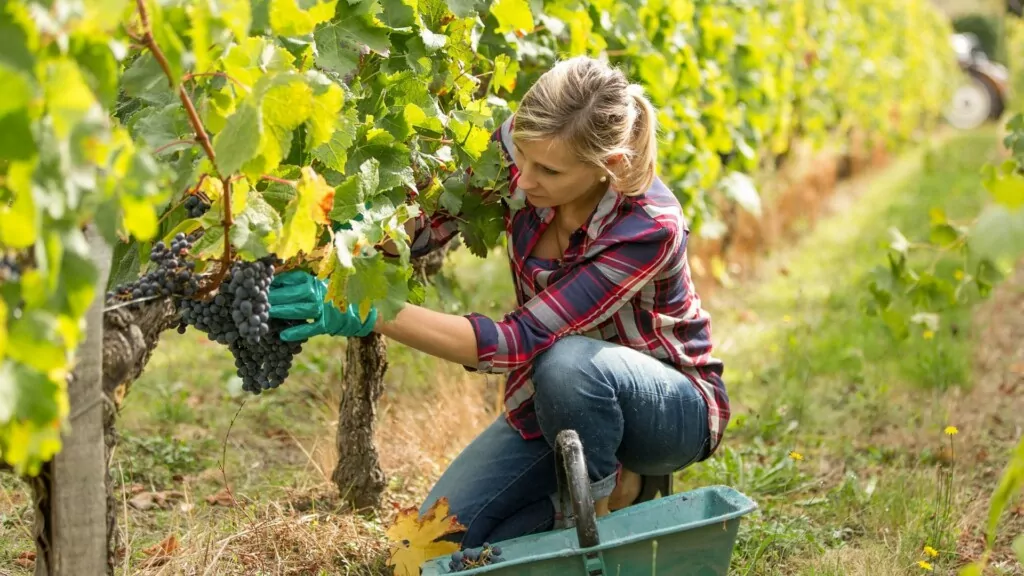 Harvest is the most celebrated time in California wine country. The grapes have ripened all summer and are now bursting with flavor and potential. Visitor's noses fill with the warm scent of fermenting fruit, as the light of late Summer and early Fall drapes across the vines in a golden honey hue.
The busiest time of the year for the wineries can be the most exciting for visitors. Vineyard workers race to pick and press the grapes at peak ripeness in order to produce the world-class wine the world has come to expect from the region. This frantic time culminates with get togethers in celebration of yet another successful season in wine country.
There is no wrong way to celebrate Harvest. If you want to simply hop from tasting room to tasting room for a classic wine country trip, you will find the experience as delightful and delicious as always. You will notice more crowds though, so our number one recommendation is to plan ahead and make reservations! Trust us – reservations will make or break your harvest-time trip to Napa or Sonoma.
If you are looking for something a little special to do, consider one of the Harvest experiences below. Check out Napa Valley's event page and Sonoma County's Calendar of events for even more ideas.
Harvest Balls and Parties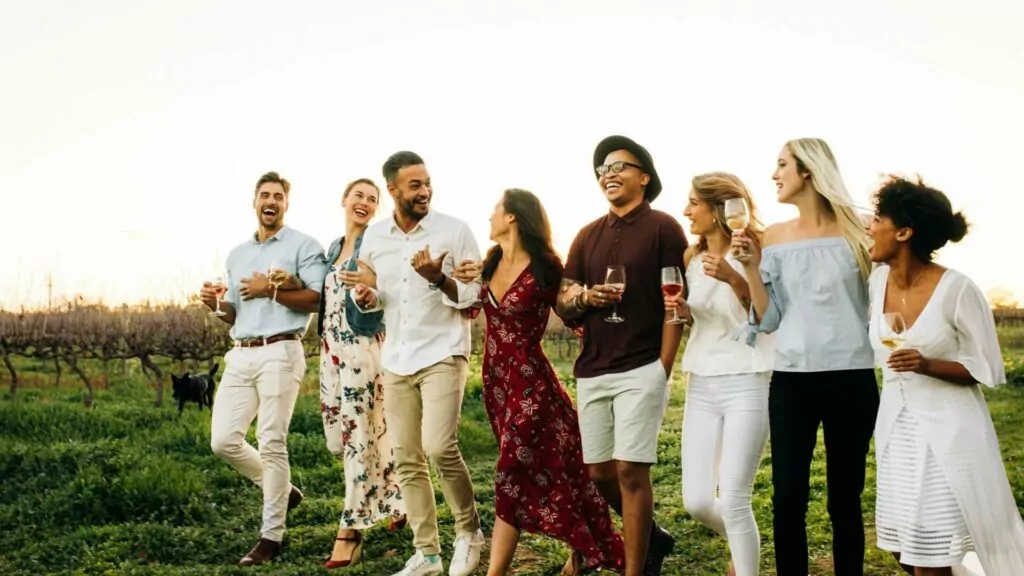 A number of wineries pull out all the stops during Harvest and host fabulous celebrations. One of the most famous is V. Sattui Winery. Their annual Harvest Ball in September is the event of the season. Guests dress to the nines for a night of wine, food, and dancing on V. Sattui's perfectly-manicured grounds.
Another elegant affair will be held at Inglenook Vineyard on September 30th. An Italian style dinner will be served under the stars near their Chateau, followed by dancing and, of course, wine. Visit their website for details.
Hands-on Harvest Experiences
Celebrating Harvest isn't all about getting dressed up and sipping wine, sometimes it can involve getting your hands (and feet) dirty! Admit it – stomping grapes a la I Love Lucy is on your bucket list. Lucky for you, harvest is the time to make dreams come true.
Crush it at The Estate Yountville is a Harvest celebration including a grape stomp and BBQ feast. Look back on the day fondly with your commemorative T-shirt. Learn more and buy tickets here.
Take part in both picking and stomping at Bouchaine Vineyards. Their annual Crush Party on October 1st, 2023 includes a picking contest, grape stomp, sneak peek vintage sips, and a paella feast.
Napa doesn't get to have all the grape-stomping fun. Alexander Valley Vineyards in Healdsburg is hosting Let's Crush It on September 16th, a day of grape stomping, BBQ, and wine bingo on the Wetzel Family Estate.
Harvest Festivals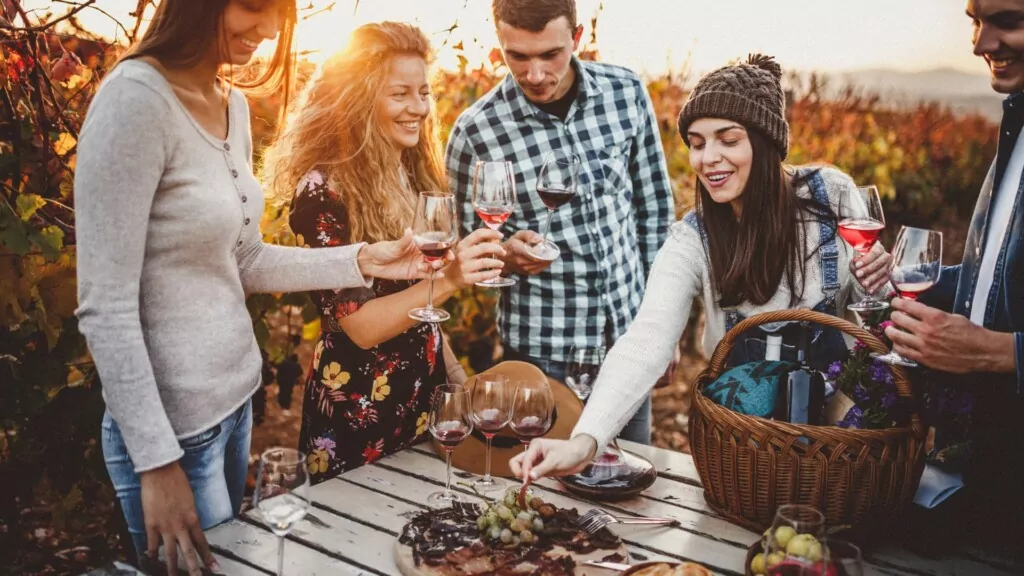 Not all of the Harvest celebrations are black tie. Here are some relaxed events celebrating the season.
The Sonoma County Harvest Fair is two days of family-friendly fun celebrating the county's agricultural prosperity and cultural resources. Watch the judges narrow down the winners from over 900 local wines during the grand tasting.
Head to downtown Sonoma for the Valley of the Moon Vintage Festival. While more encompassing than just a Harvest celebration, we have included it here due to its timing and events. This year the festival will take place September 29-30th and events will include a teams grape stomp and grand tasting.
Sonoma will also throw a family-focused Harvest party at Cornerstone Sonoma. On September 24th, 2023 enjoy live music, wine and beer tastings, local bites, and activities ranging from farming demos to face painting to ax throwing.

See the fall color
California and the west coast are not usually celebrated for fall color. We hope that you will keep an open mind though, because the fall colors of Napa and Sonoma may just surprise you.
The grape vines, big leaf maples, black oaks, and ginkgos provide reds, yellows, and bronzes enough to create a stunning display amongst the evergreens of the valley. Some say the scene rivals the fall display on the East coast, but we will let you be the judge of that.
If your goal is to see the fall color in Napa and Sonoma, you should plan for a trip later into Fall, at the end of Harvest. The leaves begin to change in mid to late October, typically peaking in early November. The exact dates can vary, obviously, but the valley usually holds onto its color through the month of November.
The best way to experience the fall color in wine country is to get outside and explore. There are scenic drives, beautiful hikes, and even balloon rides (for all you romantics out there).

Scenic drives – ride to the fall color
So much of the beautiful fall foliage in Napa and Sonoma can be seen from the road, if you know where to go. Whether you opt for a car or a bike, wheels will help you see more in the time you have.
The Silverado Trail (Highway 121) is probably the most famous scenic drive in Napa. Connecting Carneros to Calistoga, this stretch of road is a feast for the eyes. Another drive great for leaf peeping is Oak Knoll Avenue near Napa.
For a classic road trip in Sonoma County, look no further than Hwy 12, also known as the wine road. This trip showcases the best the area has to offer, and invites you to stop at wineries along the way to savor the views and, of course, the wines.
Many wineries have spots on their properties that are particularly special in Fall. If you get out and explore, you are sure to find your own favorites, but a couple of suggestions to get you started are the ginkgo-lined driveway at Far Niente winery, and the elm tunnel at Beringer Vineyards. Both make for fabulous fall photos.
To get a break from the car, rent a bike! One of the best bike routes around is the Napa Valley Vine Trail, a 12.5-mile car-free walking and biking path between South Napa and Yountville. The ultimate goal is to complete the 47-mile route connecting ALL of Napa Valley, which we hope to see in the near future. For Napa Valley bike rentals, look for a shop with easy access to the trail in downtown Napa.
Hikes – walk through the fall color
To get up close and personal with the fall color in wine country, take a hike! There are too many glorious walks to list them all here, but here are a couple of our favorites.
For Napa valley fall colors, don't miss Bothe-Napa State Park. This 1,900 acre park has over 10 miles of hiking trails which immerse you in oaks, madrones, maples, and coast redwoods.
If a town walk is more your speed, take a walk through downtown St. Helena. The tree-lined streets will fill your heart with fall magic, and your shopping bags with treasures. There is something especially cool about admiring the Victorian houses in fall too, especially during spooky season.
Sonoma County also delivers on the fall walks, and one of the best places to go is Spring Lake in Santa Rosa. Join in on a naturalist-led family hike to further explore and understand the wilderness of the park, offered Saturdays through the Environmental Discovery Center.
Another fabulous park to visit in Sonoma County in Fall is Jack London State Historic Park. It offers over 20 miles of trails for all fitness levels. Also take the time to explore the historical relics in the park, or take in a live theater or music performance in the old winery ruins.
Balloon rides – fly above the fall color
For those wanting a bird's eye view of the fall color, hop in a balloon and take to the skies! Several companies offer hot air balloon rides in Napa, including Napa Valley Balloons. They offer a range of experience packages to complete your balloon ride, including champagne breakfasts, and even bike rentals.
Keep in mind that Napa balloon rides are sunrise affairs. They will be chilly, even if the day is forecasted to be hot, so remember to take a warm layer.
Fill up on Food, Festivals, and Wine
Yes, fall is focused on Harvest and fall colors, but it is really so much more! Seasonal food favorites bring fresh excitement to restaurant plates, the annual Napa Film Festival brings Hollywood to the valley, and so much more.
Seasonal Food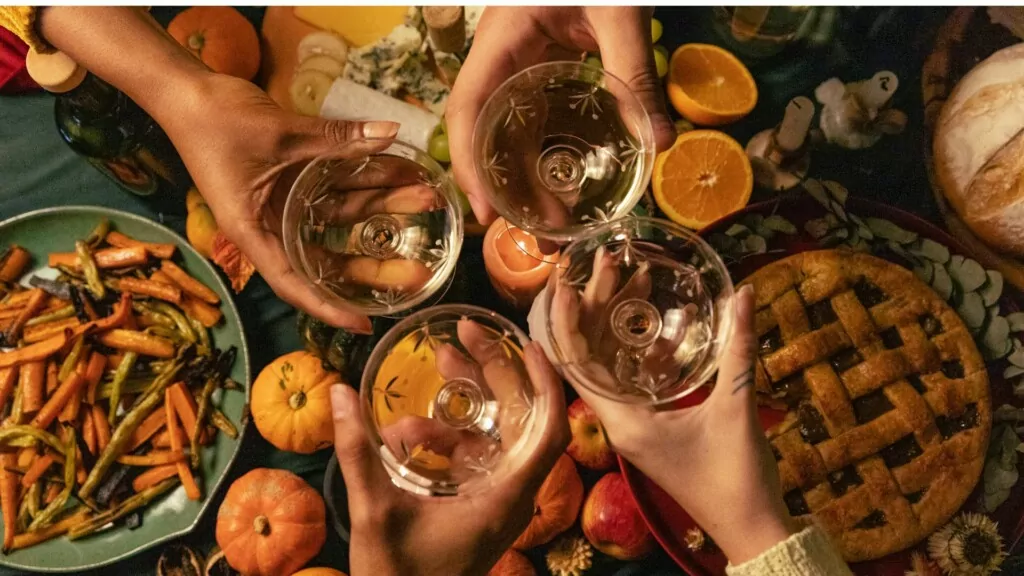 California wine country is well known as a foodie destination. Currently home to 7 michelin-starred restaurants, it isn't hard to see why. These establishments and countless other fantastic local restaurants pride themselves on offering rotating seasonal menus that celebrate the season and local produce.
One perfect example is SingleThread in Healdsburg. Farmer and co-owner Katina Connaughton focuses on celebrating the micro-seasons of Sonoma County, guaranteeing the freshest seasonal ingredients for a truly elevated dining experience.
And we can't forget the most food-centric Holiday of Fall: Thanksgiving! Thanksgiving in Napa may not have been on your radar, but we think it should be. Restaurants ranging from family-friendly buffet style, all the way up to those michelin-starred establishments offer special Thanksgiving spreads to remove the holiday food stress and help you focus on friends and family.
Festivals
We have already touched on Harvest festivals, but wine country in fall has a lot more festival fun to offer. Festivals celebrating bluegrass, beer, films, and everything in between can be found. Have you seen a trend yet? Napa and Sonoma just love to celebrate the things that make life worth living!
A fall festival favorite is Napa Blues, Brews, and BBQ. It is a celebration of, you guessed it, Blues music, BBQ, and beer, and it's one of the best fall activities in Napa. That's right, Napa isn't only about wine! This fun 1-day event will be held on October 7th, 2023 in downtown Napa.
Hollywood meets wine country for the annual Napa Valley Film Festival. Typically held in November, 100+ independent films are shown alongside big award contenders. Screening events and wine tastings are held at venues across the valley.
Wine!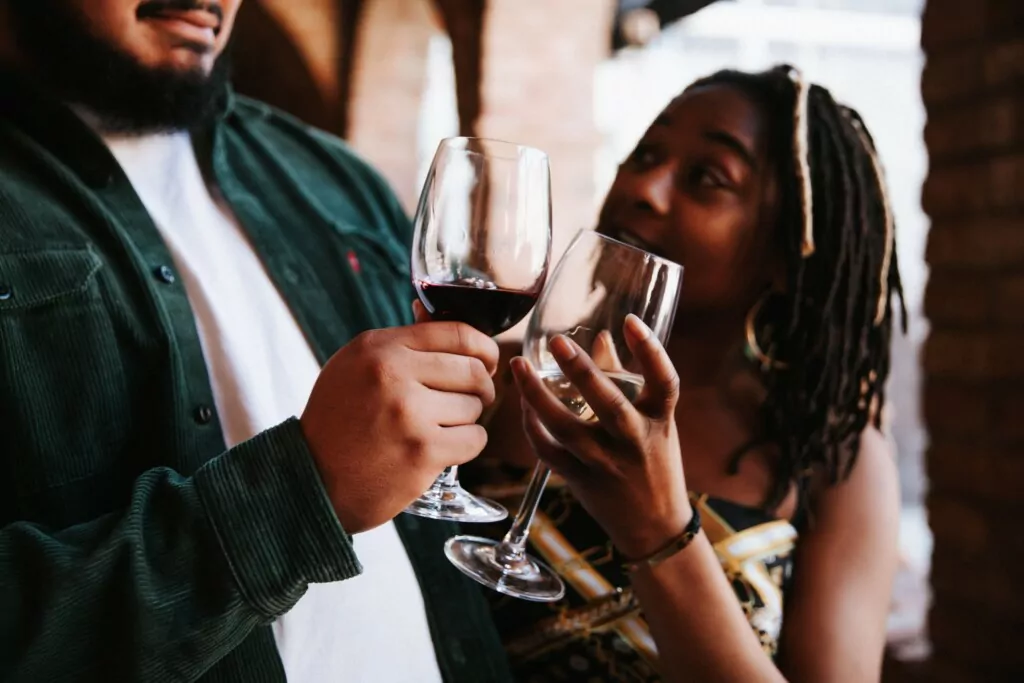 In all of the fall festival excitement, don't forget about what lies at the heart of Napa and Sonoma – the wineries! Scheduling tastings and tours at wineries is a must-do experience for any trip to Napa or Sonoma in any season.
Every winery has its own character and its own special thing to offer, so picking just a handful of tasting rooms for a trip can be nearly impossible. Use our Ultimate Guide to the Best Napa Valley Wine Tours and Tastings to help you narrow it down.
Wineries often participate in events that welcome the public to their properties to taste their wine at a bargain. One such event is Sonoma's Fall Wine Trail. The 1-day event involves 30+ wineries up and down the wine road (Hwy 12) offering 2+ free wine pours to each ticket holder. Find out more about the September event here.
If you are planning your trip to wine country on your own, definitely keep an eye out for similar events and special offers. They can save you money, and help focus your travel itinerary, which is always helpful.
Take a tour!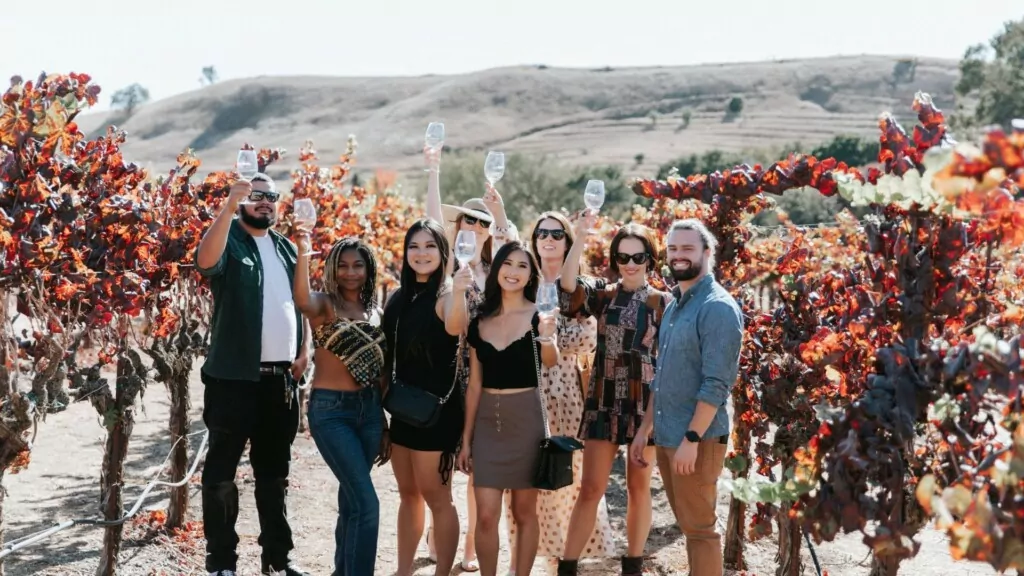 Speaking of travel planning, possibly the best way to visit Napa or Sonoma in Fall is to take a tour. Especially if you are new to the region, leave the questions and stressful planning behind and let the experts show you the best of wine country!
Tours come in every size and shape, for all interests and availability.
There are full-day and half-day tours from San Francisco that showcase the best of the area with expertly-planned itineraries full of wine, history, and views. This Perfect Day in Napa and Sonoma Valley Tour is one of ours and, consequently, the best 😉 It includes transportation to and from wine country with an expert guide, and visits to 3 historic wineries.
There are also tours that include nearby not-to-miss destinations, like this Redwoods and California Wine Country Tour that includes time to explore the breathtaking Muir Woods National Monument before jetting off to wine country.
There are behind-the-scenes tours offered at some wineries. Most require your own transportation to the vineyard, but will treat you to insider wine knowledge from the winemakers themselves, not to mention fabulous wine and food pairings. These experiences are special during harvest, when the workings of the winery are in full swing.
There are also shorter excursions that are quite popular, such as the Napa Valley Wine Train. Fall may actually be the best time of year to ride the Napa Valley wine train, allowing you to see some Napa Valley fall color from the comfort and style of a vintage train car. Choose from various journey durations and styles. They even offer a Thanksgiving meal trip.
Finally, there are small group and private tours to wine country. These will cost your group more, but will deliver unbeatable experiences, one-on-one service, and customizable itineraries for unforgettable trips.
One great feature of wine country tours that many don't consider is the built-in designated driver. Wineries in Napa and Sonoma are spread out, and someone needs to always be safe to drive in between. Taking a tour with included transportation allows the entire group to enjoy tastings to the fullest.
Final Thoughts on Fall in Napa and Sonoma
We hope by now you are thoroughly convinced you need to take a fall trip to wine country. Use this article to pinpoint your must-do activities and as a jumping off point to creating your perfect fall in wine country itinerary.
If you have any questions about Napa or Sonoma in fall, check out the FAQ section below, or reach out to us! And of course, if you are wine country curious, check out all of our wine country tours.
FAQ
When can you see fall colors in Napa Valley?
The leaves of Napa really begin to change in mid to late October, and tend to be at their peak in early November. This can shift either way depending on the year, so if your heart is set on seeing the fall colors, aim for somewhere in early November and then keep a close eye on social media to keep you up to date on the leaves for your trip.
Is Napa good to visit in Fall?
Absolutely! Whether you visit for the hustle and bustle of Harvest, or wait to visit Napa in October or November, your fall trip to Napa (or Sonoma!) will be one to remember. The scenery is spectacular, the weather is comfortable, and the wineries are pouring. What more can you ask for?
Especially if visiting during Harvest, just make sure to make reservations for tastings and meals.
What is the weather like in wine country in fall?
Many think the weather in California wine country is the best in Fall. The temperatures are cooling slightly compared to Summer, but the days are still beautiful and sunny. Expect average highs in the 70s and lows in the 50s. All outdoor activities (including wine tastings) are just as, or even more, enjoyable as in summer.
What to wear/pack for fall in Napa Valley?
The key to dressing correctly for fall in Napa and Sonoma is to bring layers. Bring a warmer coat than you think may be necessary, because the nights can be chilly once the sun goes down, despite the heaters on winery patios.
If you are visiting in the second half of fall, throw an umbrella in the trunk of your car and bring all-weather shoes. You may not need them, but you will be glad you were prepared if you are lucky enough to experience the first real rain of the slow season.
Published on: September 17th 2023