An insider's take by Napa Valley tour guides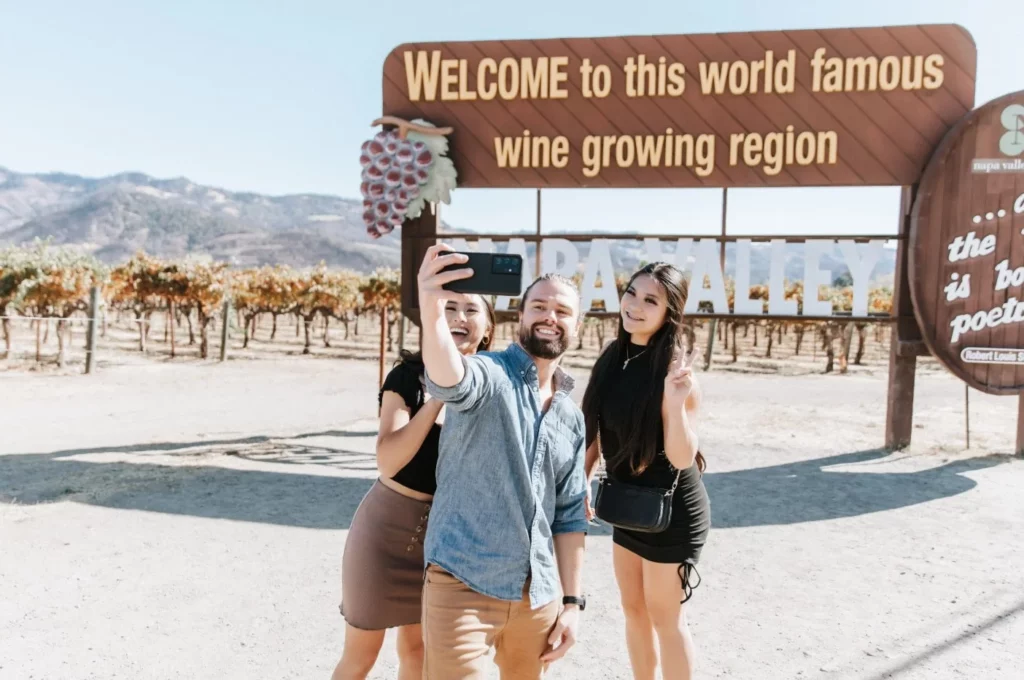 There is no topping Napa Valley winery tours and wine tasting. Even though tasting rooms re-opened with fits and starts during the pandemic, the region's passionate winemakers never took their focus off creating some of the world's most exquisite wines.
Today, most of the over 500 wineries in Napa Valley welcome guests for winery tours, education and wine tasting. If you have just one day to tour the wine country from San Francisco, where are the best places to go in Napa Valley?
This post will leave the question of "best wine" to others. Instead, it focuses on the best "winery tours" in Napa Valley. Some Napa wineries feature over-the-top luxury, others beautifully cuofted gardens, and some intimate experiences with the winemaker at a family-owned winery.
What we will cover in this guide to the best winery tours in Napa:
We asked a panel of Napa Valley tour guides to judge the hospitality, education, ambiance, and the overall wine tasting experience at hundreds of Napa wineries. According to our panel, these are the 'best' Napa Valley winery tour and tasting experiences:
Best View: Sterling Winery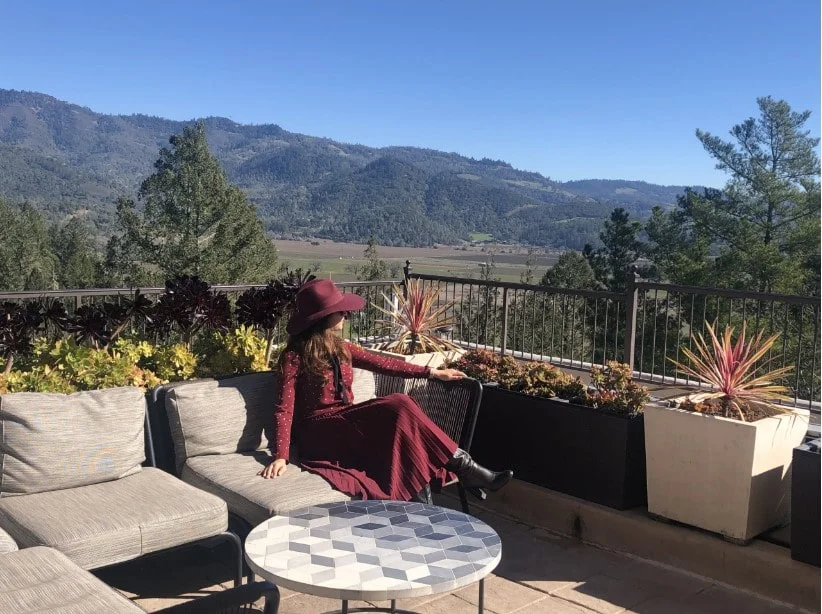 Perched 300 feet above the town of Calistoga, Sterling Vineyards offers panoramic views of Napa Valley. An aerial tram carries visitors up the hill to the white stucco winery that stands out dramatically against the Mayacamas and Vaca mountain ranges that flank Napa Valley.
While tasting Sterling's award-winning wines, guests may roam beautiful outdoor terraces and elegant tasting rooms inspired by the sun-bleached island of Mykonos. Well-marked walkways and motion-sensitive DVD screens allow guests to take their time during a self-guided tour of Sterling Vineyards' winemaking facilities.
While known for its Cabernet Sauvignon, Sterling cultivates ten vastly different terroirs producing wines of great distinction.
| | |
| --- | --- |
| Hours | 10:00 AM – 4:30 PM |
| Reservations | No appointment required. Note: there can be long waits for the tram during summer and fall weekends.Phone: (800) 726-6136 |
| Website | www.sterlingvineyards.com |
| Address | 1111 Dunaweal Lane, Calistoga, CA 94515 |
Best Tasting Room: Artesa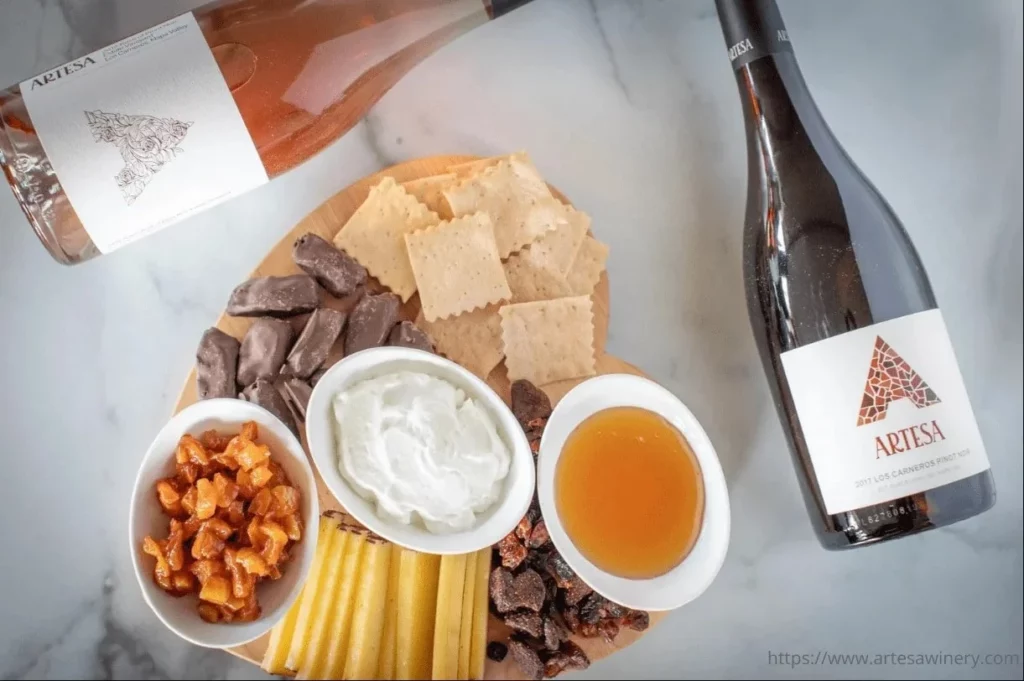 The Spanish-inspired tasting salon and adjoining patio space at Artesa Winery overlooks the rolling hills
The Spanish-inspired tasting salon and adjoining patio space at Artesa Winery overlooks the rolling hills of Carneros and is easily one of the most beautiful places to enjoy a flight of wine. Designed by a renowned Spanish architect, the winery was built to blend seamlessly into a high hill of native grasses at the south of the estate.
Artesa's tasting salon, awarded the 2018 Design Award from the American Institute of Architects, draws inspiration from the art, culture and nature of Barcelona. This Napa winery features sweeping views through floor to ceiling windows and courtyard reminiscent of the Mediterranean waterfront.
At the heart of the bright-white space is a dramatic circular bar covered with hand-made, imported tiles. Leather lounge chairs and tall white 'tapas' tables complete the atmosphere of relaxed luxury.
Both the Tasting Salon and Terrace feature Barcelona-inspired food and wine pairing experiences by appointment. Artesa Winery specializes in Pinots and Chardonnay along with a vintage estate sparkling and cabernet, tempranillo, and albariño.
| | |
| --- | --- |
| Hours | Monday – Sunday: 10:00 AM – 5:00 PM |
| Reservations | Required for tours and tastings for groups of 6 or more. |
| Website | www.artesawinery.com |
| Address | 1345 Henry Road, Napa CA 94559 |
Best Garden: Chateau Montelena
The setting at Chateau Montelena winery is one of the most remarkable in the Napa Valley. It features an Instagram-worthy stone castle carved into a hillside above a garden, lake and vineyard that stretches to the base of Mount Saint Helena.
While they appear to be groomed, the gardens are mostly wild, growing where and how nature intended. If you take the time to walk the path around the lake, you will be surrounded by plants native to the area, including redwoods, oak, madrone, and toyon.
The Calistoga AVA offers the perfect climate for fruit, so besides impressive vineyards, you will see mature orchards of mandarins, key limes, blood oranges, Buddha's hand, Yuzu, and finger limes on the paths leading to the tasting room.
Jade Lake provides the perfect backdrop for this sanctuary which hosts many species of wildlife such as the mute swans and ducks along with the occasional visits of otters and beavers.
As pleasing as the gardens may be, they are not the highlight of this remarkable winey. Chateau Montelena is the Napa Valley winery that famously won the white wine section of the historic "Judgment of Paris" wine competition in 1976.
The winery still features its remarkable chardonnays, but the vineyard's diversified soil produces aromatic, rich and full-bodied Cabernet Sauvignons and Zinfandels.
| | |
| --- | --- |
| Hours | Daily from 9:30 AM to 4:00 PM |
| Reservations | Upgraded experiences can be booked by calling 800.222.7288 or emailing reservations@montelena.com. |
| Website | www.montelena.com |
| Address | 1429 Tubbs Ln, Calistoga |
Best Tasting Porch: Ru Vango Winery
This quintessential Carneros AVA property, once cultivated by the Michael Mondavi Family Estate, is surrounded by rolling hills of planted vineyards. In the evening, fog and breezes off nearby San Pablo Bay provide natural cooling.
What makes a visit delightful is Ru Vango's perfectly situated wrap-around porch that looks out over sun-soaked vineyards located in the southernmost grape-growing region in Napa Valley.
The winery is particularly known for its wines made from Chardonnay and Pinot Noir grapes grown at 2000 feet above sea level and in the direct pathway of cool breezes that create the ideal growing conditions for wines with complex character.
| | |
| --- | --- |
| Hours | Daily from 10:00 AM to 4:30 PM |
| Reservations | Reservations for fewer than 6 are not required. For special arrangements or large parties call 707 253 1615 or email reservations@kieuhoangwinery.com |
| Website | https://www.ruvango.com/ |
| Address | 1285 Dealy Lane Napa, CA 94559 |
Best Family-Owned Winery: Hans Fahden Vineyard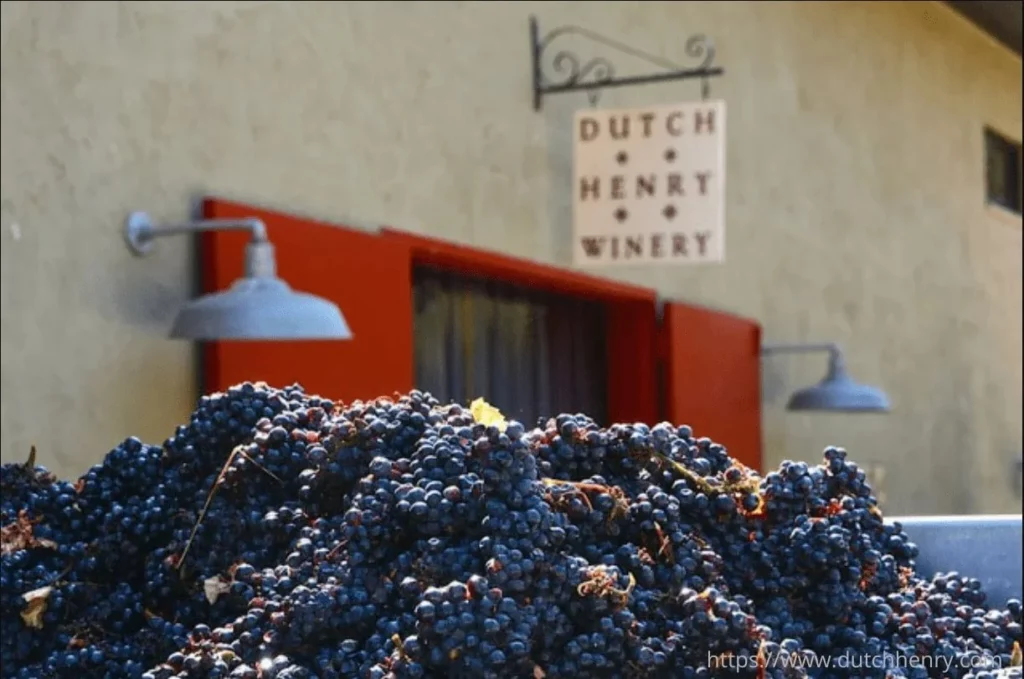 Hans Fahden Vineyards is a family-owned winery, resting 1,000 feet above Napa's valley floor in the heart of the Mayacama Mountains. A family-owned and operated for three generations, the Fahden Family has a limited production of 1,500 cases per year.
Three vineyard areas are separated by volcanic outcroppings and forests of Douglas Fir. The soil is pure volcanic tufa beneath a thin layer of topsoil that forces it Cabernet Sauvignon vines' roots to compete for a scarce water supply.
The estate's perfect location just 30 miles from cooling blankets of fog on the Pacific Coast gives the grapes time to rest at night, producing character and complexity for master winemaker, David Sunberg.
French-style gardens surround the tasting room and add a dash of color to the estage. No matter the season, roses, irises, petunias, pansies, cornflowers, poppies, ornamental grasses or native shrubs are in bloom.
A generation ago, an amazing wine cave was tunneled into a formation of volcanic ash rock. Inside, the cave's walls are lined with wine barrels; grape-leaf adorned fixtures; and the twinkle of tiny lights.
| | |
| --- | --- |
| Hours | Daily from 11:00 AM to 4:00 PM |
| Reservations | Reservations are requested. Each tasting is approximately 60 minutes and may include up to six (6) guests.Phone: (707) 942-6760 |
| Website | www.hansfahden.com/ |
| Address | 4855 Petrified Forest Road, Calistoga, 94515 |
Best Lunch Spot: V. Sattui Winery
V. Sattui Winery is a long-time favorite stop for lunch because of its old-world Italian charm, vast picnic grounds, personalized winery, barrel tastings, food pairings, legendary fresh food deli, and friendly staff.
Michelin-Star chef, Stefano Masanti ensures exceptional cuisine matches the glamorous and relaxing space. Culinary Director, Joe Schneider, combines award-winning wines with weekly tasting events. For any Napa tour from San Francisco, V. Sattui is a great spot to relax with a bottle of wine, while enjoying a family lunch on the picnic grounds.
V. Sattui features more than 60 different wines including sparkling and Port-styles and has recently added a Concierge Service designed to tailor group visits to guest preferences.
| | |
| --- | --- |
| Hours | Winter: 9:00 AM-5:00 PMSummer: 9:00 AM-6:00 PM |
| Reservations | No appointment required. Large groups or event reservations can be made at (707) 963-7774 |
| Website | www.vsattui.com |
| Address | 1111 White Lane, St. Helena, CA 94574 |
Best Medieval Castle: Castello di Amorosa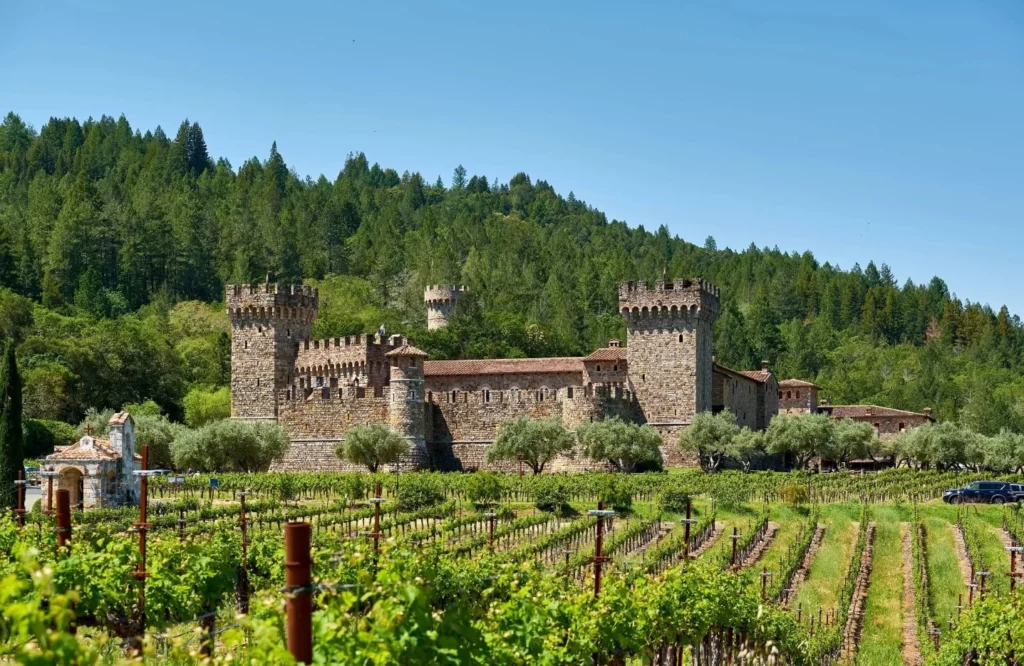 Castello di Amorosa knows how to make a first impression. The authentically styled, 13th-century Tuscan castle winery was constructed using more than 200 containers of European materials and furnishings.
Begun in 1994, a humble building gradually morphed into a castle spanning 121,000 square feet with 107 rooms located in four underground and four above-ground levels. The building has all the elements you'd expect from an authentic Italian castle. A moat with a drawbridge, high stone walls, gargoyles, a church, and a fully equipped torture chamber will fascinate on the way to the vaulted wine tasting cellar.
Thankfully, Castello di Amorosa puts the same love and attention into its wines which are elegant, intensely flavored, and well-balanced. The castle winery produces hand-crafted Italian-styled wines, including Cabernet Sauvignon, Merlot, Primitivo and Sangiovese.
| | |
| --- | --- |
| Hours | Daily 9:30 AM to 4:30 PM |
| Reservations | Reservations are highly recommended. The winery advises visiting before 12:30 PM on weekends. Assistance is available at 707.967.6272. |
| Website | www.castellodiamorosa.com |
| Address | 4045 St. Helena Hwy, Calistoga, CA 94515 |
Best Wine Cave: Stags Leap Cellars
Founded in 1970 by Warren Winiarski, this winery brought international acclaim to Napa Valley wines when their 1973 Cabernet Sauvignon won the famous 1976 "Judgment of Paris" tasting. A bottle of the vintage was inducted into the Smithsonian National Museum in 1996 to highlight the impact that the achievement had on the U.S. wine industry.
The newly remodeled facility at Stags Leap is a showcase for gorgeous vineyards and Napa countryside. At the center of the vaulted cave, swings an amazing floor-to-ceiling Foucault pendulum. According to Winiarski, the winery's cave "is the moral center of the universe."
The 90-minute Stags Leap tour and tasting experience (by appointment only) explores the history of the estate, its unique terroir, and its superlative wines. Small groups are treated to fascinating stories of one of California's earliest wine estates as they stroll the property and finish with a seated tasting in the stately Manor House.
You can no longer taste the famous 1973 cabernet, but you can taste one of their newer vintages from vines that have been growing on the estate since the 1890s.
| | |
| --- | --- |
| Hours | Daily at 10:00 AM, 1:00 PM and 3:00 PM |
| Reservations | By appointment only. Call (707) 261-6410 |
| Website | www.stagsleap.com |
| Address | 6150 Silverado Trail · Napa, CA 94558 |
Best Wine Club: Beringer Vineyard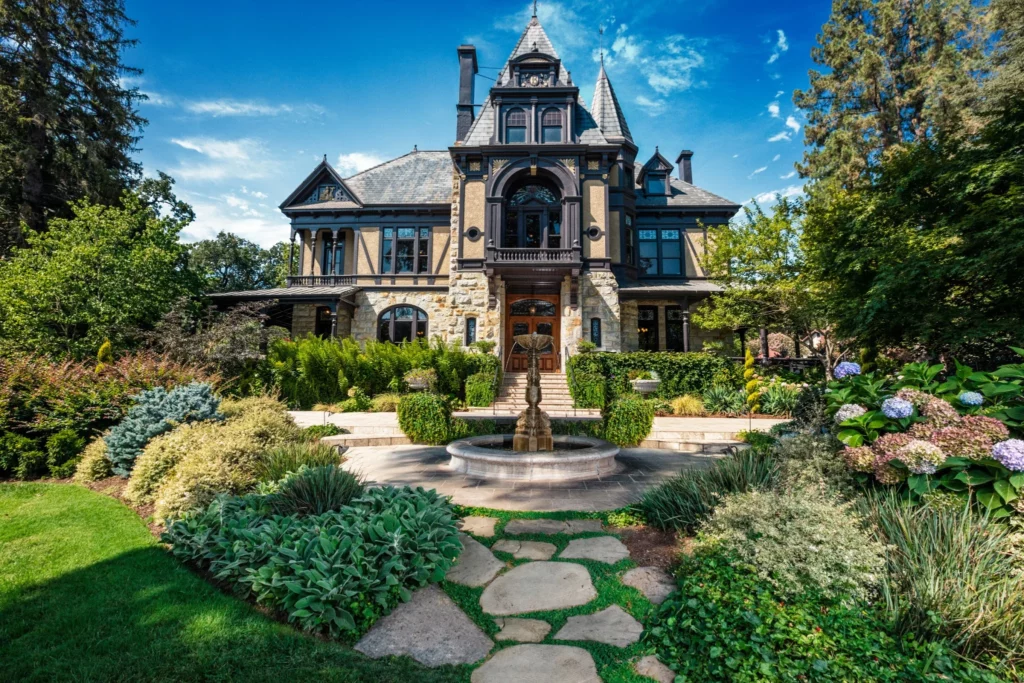 If you really enjoy the wines from a specific winery and the wines are hard to find, then I recommend
If you really enjoy the wines from a specific winery and the wines are hard to find, then I recommend signing up a wine club in Napa Valley. As a member, you will often be the first to receive new releases or limited production wines. Most memberships include free tastings in their tasting rooms and discounts when you buy more wines online.
Beringer Vineyards has an extremely celebrated wine club credited to its intricately adorned 17-room Rhine House mansion, constructed in 1884. Beringer Reserve Club members receive complimentary samples and tastings in exclusive areas of the mansion.
The Beringer Wine Club also features special invitations to classes, performances, recitals and other pop-up occasions like gourmet dinners and rare barrel-tasting sessions in cellars where wine producers work their magic.
While distinguished as the oldest continuously operating winery in Napa Valley and a National Historic site, Beringer Estate is graced with 19th-century architecture and verdant gardens.
Beringer cultivates diverse and prized vineyards across appellations from the highest hills in Napa to the valley floor behind the historic winery.
| | |
| --- | --- |
| Hours | Daily from 10:30 AM to 4:45 |
| Reservations | Appointments are recommended, call (707) 257-5771 or book online. |
| Website | www.beringer.com |
| Address | 2000 Main Street, St. Helena, CA 94574 |
Best Fairy Tale Estate: Domaine Carneros
Founded by the noble French family behind Champagne Taittinger, this majestically grand château delivers a splendid wine tour in Carneros Appellation of Napa Valley. The Domaine Carneros is located in the southern part of Napa Valley, near the cool climate of San Pablo Bay.
This stunning 18th-century French mansion is carved into a gorgeous Napa hillside. Below the winery are cellars, replete with exceptional sparkling wine. There are three terraces from which you can enjoy breathtaking views while sipping extraordinary sparkling and Pinot Noir wines.
Winery tours offer a behind-the-scenes look at how sparkling wines are produced, from harvesting of the vineyards to the bottling process. The tour experience culminates with a sampling of wines paired with an array of artisan cheeses, gourmet caviar, smoked salmon, and charcuterie, while seated in the Louis XV–inspired salon.
| | |
| --- | --- |
| Hours | Daily from 10:00 AM–5:30 PM. |
| Reservations | Reservations are required. Phone (707) 257-0101 |
| Website | www.domainecarneros.com |
| Address | 1240 Duhig Rd., Napa, CA 94559 |
Best Celebrity-Owned Winery: Inglenook Winery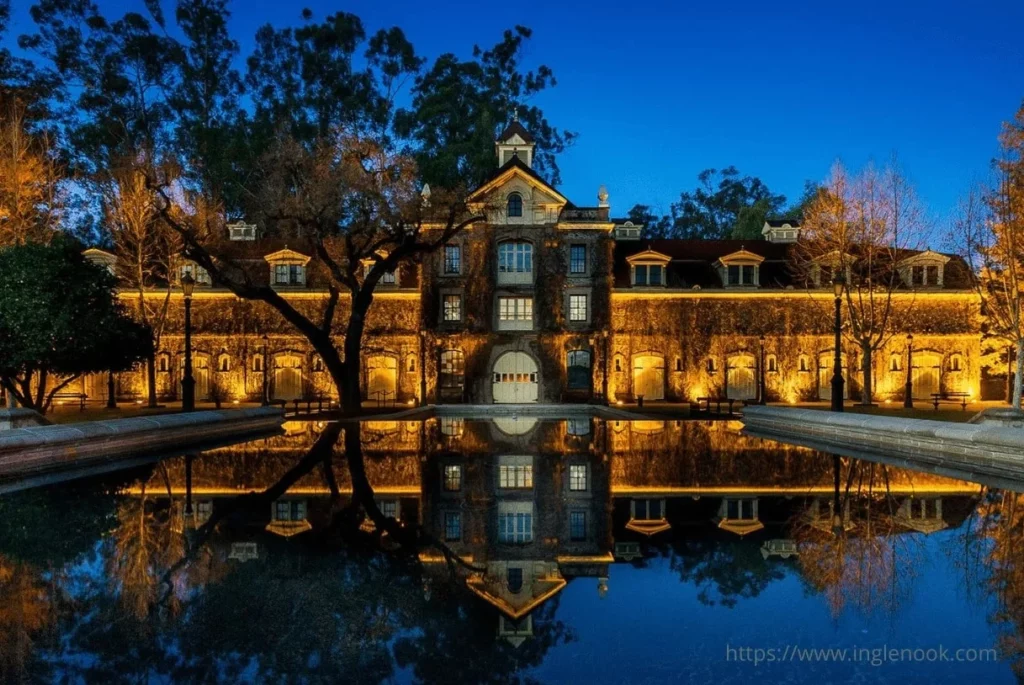 One of the original Napa Valley wineries, the elegant, ivy-covered Inglenook was founded by Finnish sea
One of the original Napa Valley wineries, the elegant, ivy-covered Inglenook was founded by Finnish sea captain and wine connoisseur, Gustave Niebaum, in 1879. Gustave was passionate about making fine wines.
Hollywood legends were drawn to this Napa treasure in the 1930s and 40s, including Carole Lombard, Clark Gable, and Jean Harlow, to name just a few.
In 1975, Francis Ford Coppola acquired the notorious winery and spent considerable time, money, and energy restoring it to its original, magnificent splendor. He has since returned the abandoned name Inglenook to the estate, promoting it as a true crown jewel of Napa Valley.
Wine tours of the historic grounds, elaborate tasting rooms, antique cars and other features are by appointment only.
| | |
| --- | --- |
| Hours | Daily from 10:00 AM to 4:30 PM |
| Reservations | Tours are by appointment only. Call (707) 968-1161 |
| Website | www.inglenook.com |
| Address | 1991 St. Helena Highway, Rutherford, CA 94573 |
Best Exclusive: Hall Napa Valley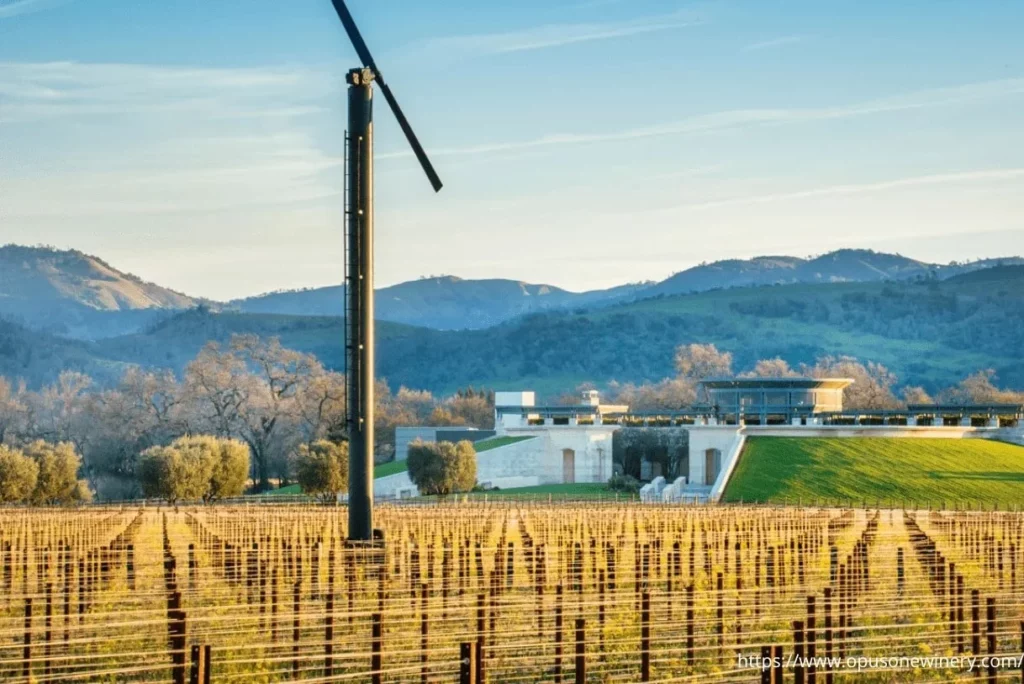 Hall Napa Valley wines perfectly illustrate the meaning of terroir. Carefully curating grapes from 13 of the 16 Napa Valley appellations makes for a portfolio of plush, dense, structured wines with refined tannins.
The tasting room of this Rutherford AVA has floor-to-ceiling glass to show off the remarkable views of the Sacrache vineyard where organically farmed, densely planted grapes result in some of the smoothest, most flavorful Cabernet Sauvignon wines in the world.
Exquisite tasting dinners of seasonal cuisine prepared by celebrity chefs, are delightfully lit by a massive Donald Lipski chandelier in the shape of a grapevine root system set aglow with the sparkle of 1,500 Swarovski crystals. The tasting caves are hand-built from bricks imported out of Vienna.
Watch Hall's calendar for special wine and food pairing events and for when they will offering sips of the rarest single-vineyard bottles in the Appellation Exploration Experience.
| | |
| --- | --- |
| Hours | No scheduled hours. All tastings are private affairs. |
| Reservations | hturner@hallwines.com(707) 286-7150 |
| Website | www.hallwines.com |
| Address | 401 St. Helena Hwy. South, St. Helena, CA 94574 |
Best Time to Go to Napa Valley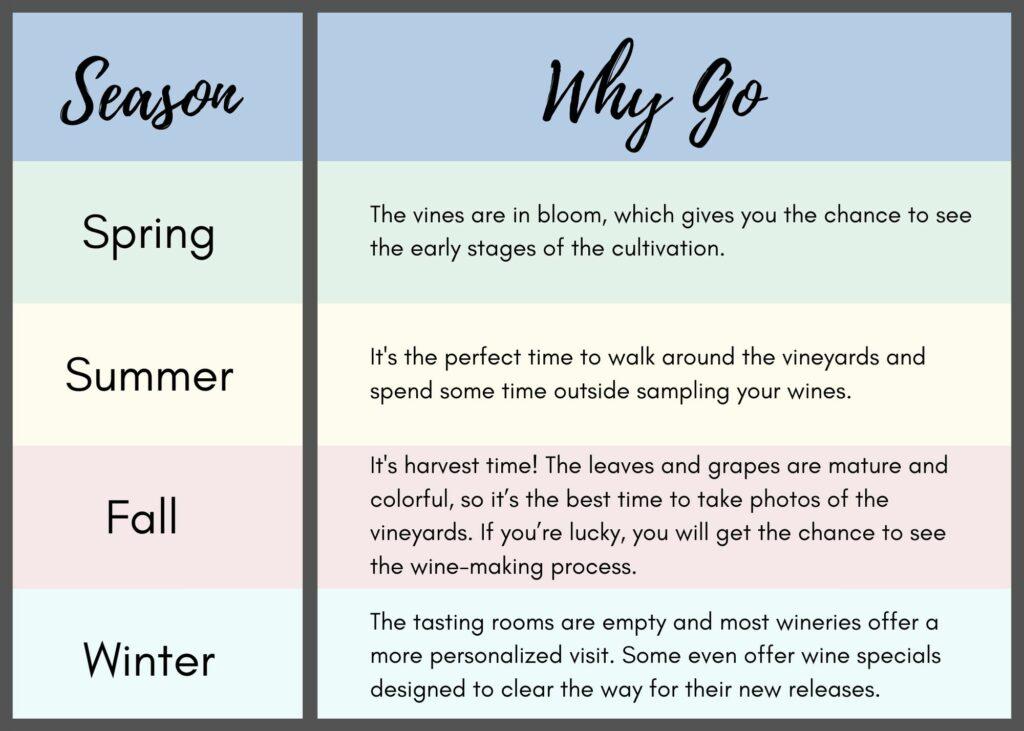 Best Ways to Do Napa Valley Tours from San Francisco
Group Tour.
There are more than a dozen established and respected tour operators offering wine tasting experiences. Taking one of these wine tours from San Francisco offers you the chance to sit back, relax and enjoy the experience.
The experiences are guided so you can learn about grape growing and winemaking as you travel to visit Napa Valley wineries. As a bonus, you'll have the chance to socialize with other wine enthusiasts as you taste your way through the area.
Group tour operators usually include the wine tasting fees which they negotiate below the posted rates. They also take care of reservations which can be difficult to get during the peak summer and fall seasons. Here are several, we recommend:
Platypus Wine Tours' "join-in" wine tours are a good option to experience Napa's wineries while meeting new people along the way. During this approachable, sociable tour, you'll visit four wineries and have a picnic lunch. Note: Platypus does not pick up at any hotels in San Francisco. They begin tours from Vallejo, CA, which you must reach by taking a ferry from Pier 1 in San Francisco. Phone: (707) 253-2723
Extranomical Tours' Redwoods and Wine Country Tour is one of the most highly regarded wine tours from San Francisco based on TripAdvisor reviews. The day starts with a stroll under giant redwoods in Muir Woods and then a wine enthusiast guide takes you to both Napa and Sonoma Valleys for tastings and an optional gourmet lunch. Extranomical Tours also offers a Small Group Reserve Tour to Napa that visits three of the wineries on this "best" list.
Private Tours
If you prefer to stick with your own group for a Napa Valley wine tasting from San Francisco and you have at least 6 people, you can easily arrange a reasonably priced private tour. A day tour to Napa from San Francisco will run $400 to $600 but you'll need to add in the wine tasting fees (plan on an average $25 per person at each winery) and gratuity for the driver.
Private tours can be customized to wineries you want to visit, and you can decide whether you want the fare to include wine tasting fees or pay them as you go. The operator should also make reservations at the wineries (make sure of this!).
Extranomical San Francisco Tours (more shameless promotion!) also offers private, build-your-own wine tours to Napa Valley from San Francisco. To make the planning easy, an experienced travel consultant will help put your private tour together and handle reservations and all the special details needed to make your day in the wine country perfectly memorable. They do pickups from any Bay Area hotel to Napa and back. Phone: (415)-357-0700
Beau Wine Tours & Limo offers introductory tours perfect for Napa Valley newbies. The experience can be customized to your tastes and offers the chance to visit and tour at premier Napa wineries like Robert Mondavi Winery, Chateau Montelena, and Beringer Estate. A professional guide will provide insights into Napa's grape varieties and terroir to help you gain a better understanding of this beloved wine region. Beau Wine Tours is based in Napa but will pick up qualifying groups in San Francisco for an extra fee. Phone: (707) 257-0887
DIY Of course, you can drive yourself on a tour of Napa Valley wineries. Don't rent a car from the airport, wait until you get into San Francisco and rent your car just for the day you plan to head to up to Napa Valley (hotels can charge up to $70 per night for a garage space!). Make sure you check how late the rental car company is open, since some close early on certain nights of the week.
Be sure to set up tasting tour appointments in advance. Most wineries have open tasting hours, but many of the best experiences require advance reservations. You can simply call the wineries or look on their sites to see if appointments can be made online.
You can also use Uber/Lift as transportation, but they will not plan your route for the day. Without a good plan for going from winery to winery and lunch, you may spend most of your day inside a Prius instead of enjoying your day in Napa Valley.
Be sure to assign a designated driver!
You can also use Uber/Lift as transportation, but they will not plan your route for the day. Without a good plan for going from winery to winery and lunch you may spend most of your day inside a Prius instead of enjoying your day in Napa Valley.
Best to Know Before You Go
Is this your first trip to the wine country? No problem, here are a few helpful hints to help you prepare.
Eat Before Tasting: Eat a good breakfast before you leave your hotel so you are ready for a full day of tasting.
Don't Wear Perfume: Leave the scent of your perfume and lotions at your hotel. This allows your nose (and others' noses!) to fully experience the beauty of each wine.
Search "how to taste wines": Swirl, sniff, sip, and repeat to savor all of the aromas and flavors.
Ask Questions: Don't be afraid to ask questions as the wineries LOVE talking about their wines.
Pace Yourself: Wine tasting is a slow process so you can remember every moment, flavor, and wine. Take your time as you taste and savor the experience.
Of course, this list only scratches the surface. Napa has dozens of other amazing wineries worth noting, such as Beaulieu, Cakebread, Ehlers, Far Niente, Robert Mondavi, Pine Ridge, Shafer, Darioush and Silver Oak, to name a few.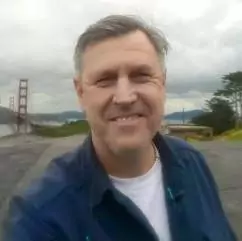 Gary Lillian is an advisor to Extranomical Tours which has led more than 10,000 guided tours in Northern California in the last 10 years. He is a graduate of Northwestern University, holds a master's degree from Kellog Graduate School of Management, and is a recognized subject matter expert in marketing and customer experience engineering.
Published on: August 19th 2022