Yosemite Valley
The valley came suddenly into view: the noble walls and sculptured domes…all a-tremble with the thunder of falling water. The level bottom seemed to be dressed like a garden, sunny meadows here and there and groves of pine and oak, the river of Mercy sweeping in through the midst of them and flashing back the sunbeams.
John Muir
Why Yosemite Valley is a "Must See"
Yosemite Valley is the centerpiece of Yosemite National Park. Half Dome, El Capitan and Glacier Point all stand at attention, their profiles creating dramatic and memorable landscapes. Yosemite Valley is known the world over for vertical granite cliffs, misty waterfalls, lush meadows, clear streams, pinewood forests and biological diversity. In spring, a great spectacle is created when snow melts from the Sierras fills creeks before plunging 3,000-3,500 feet (915-1,065 meters) from granite cliffs to the valley floor.
Each year, four million enthusiastic visitors arrive to experience Yosemite Valley camping, hiking, photography, climbing, or just relaxation in the bucolic setting. Whether you are planning a visit to Yosemite Valley in your own vehicle or on an Extranomical Tours guided tour, use this page to acquaint yourself with Yosemite Valley's waterfalls, hiking trails, hotels, visitor centers, and directions, then enjoy the experience of a lifetime.
What to See in Yosemite Valley
From the Tunnel View perch on the western, lower end of the Yosemite Valley, visitors can see:
El Capitan – 3,000-foot sheer face that tops every climber's bucket list
Clouds Rest – mountain peak floating 1,000 feet above Half Dome
Half Dome – signature Yosemite formation towering above the valley floor
Sentinel Dome – granite peak that once hosted the Jeffrey Pine
Glacier Point – southern rock cliff that towers above its surroundings
Cathedral Rocks – fascinating collections of pinnacles, cliffs and spires
Bridalveil Fall – spilling year around down its 317-foot rock face
Just nine square miles, Yosemite Valley represents only one percent of Yosemite National Park, but this is where most visitors arrive and stay. Yosemite Valley's granite monuments, waterfalls, and breathtaking vistas are many… so many that we present them here in alphabetical order: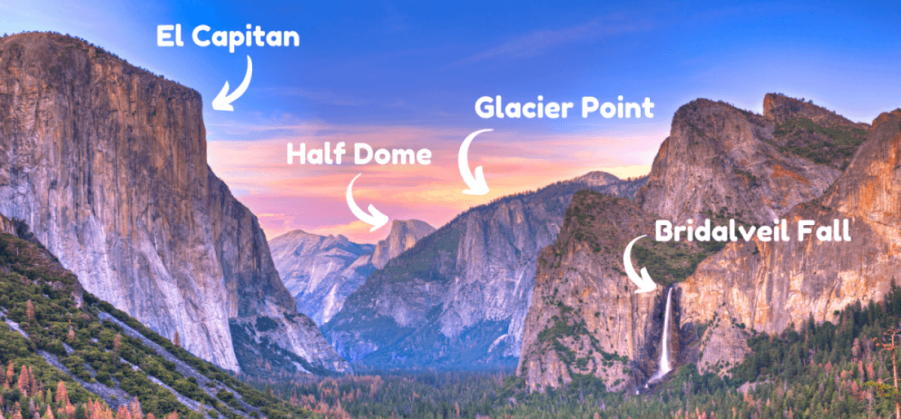 Bridalveil Fall is one of Yosemite's iconic waterfalls. As the wind whips water falling below Half Dome, visitors get the image of the 620-foot bride. One of the best shots of Bridalveil is near the tunnels on Wawona Road and Big Oak Flat Road. On Extranomical Tours' one-day Yosemite tour, Bridalveil Fall is the first waterfall you will see. This tour got featured in the "Best Yosemite Tours from San Francisco" article by Travelmag.

Cathedral Peak, a granite pinnacle rising high from the Cathedral Range, is an offshoot of the Sierras, located near Tuolumne Meadows. This glacier-carved peak is stunning to look at from any angle in Yosemite Valley. It is also a climbing spot – John Muir ascended it in 1869 – that is much respected.
Chilnualna Falls spills its water more than 2,200 feet (670 meters) but the plunge is broken up into five (or ten depending on the season) smaller falls that work their way through the face of the valley. At the end of Chilnualna Falls Road, you can pick up the trail to the top of the falls.
El Capitan is a monolithic 3,000-foot sheer rock face on the north side of Yosemite Valley that can be most dramatically viewed from El Capitan Meadow. This daunting rock face has been successfully overcome by many times, but none as dramatically as Alex Honnold's unassisted "free solo" climb on June 3rd, 2017. You can learn more about El Capitan here.
Half Dome may be the most awe-inspiring and photographed monument in Yosemite Valley. Rising 4,737 (1,444 meters) above the valley floor, Half Dome can be clearly spotted from Tunnel View, Glacier Point and most other vistas in Yosemite Valley. The domed beauty was a frequent subject for famed nature photographer Ansel Adams.
These days, it is fun to park yourself in Yosemite Valley and watch the rock climbers make their way up the walls of granite. Want to see Half Dome right now? Check out this live stream webcam.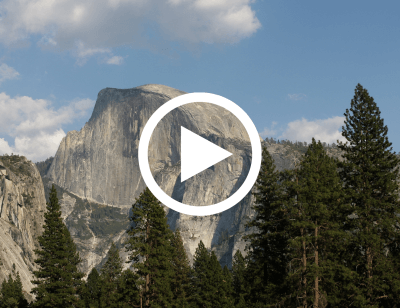 Horsetail Fall is smaller than other Yosemite falls but it has earned notoriety as a photography spot in mid- to late-February. The "firefall" phenomenon requires the convergence of clear skies and the right amount of water flowing off the fall. In the late afternoon, mist reflects the sun rays and creates an optical treat that lasts just 5-10 minutes. The best view of Horsetail Fall is from the El Capitan Picnic Area.
Illilouette Fall is a 370-foot fall that, unlike other Yosemite Valley waterfalls, flows all year long. To see Illilouette Fall in all her glory, you will need to hike the Panorama Trail toward Vernal Fall which is a few miles from Glacier Point. The fall is hidden inside Illilouette Creek Canyon, just below Glacier Point.
Mirror Lake is a shallow lake that in calm conditions offers beautiful reflections of Tenaya Canyon, Mount Watkins and Half Dome. There are educational exhibits along the trail to Mirror Lake that highlight the natural and cultural history of this much photographed setting.
Nevada Fall is a 594-foot (181 meter) granite water slide fed by the Merced River. Located on the western end of Little Yosemite Valley, it is one of the most striking of Yosemite Valley waterfalls. To really appreciate Nevada Fall, you can see it from the top. Use the Mist Trail for the steep climb and be rewarded with an awesome view.
Ribbon Fall, which hides out on the western side of El Capitan, is under-appreciated among Yosemite waterfalls. Water from Ribbon Fall violently plunges 1,621 feet (494 meters) in a single drop--the longest on the continent. Get the best view of Ribbon Fall in April or May from the road just past the turn for Bridalveil Fall. You can park in the roadside turnout.
Sentinel Falls is patchwork of several cascades, some as small as 50 feet (15 meters), but adding up to a total drop of 2,000 feet (610 meters). You will find Sentinel Fall on the south end of Yosemite Valley, just west of Sentinel Rock. For hikers, a great view can be had from the Four Mile trailhead.
Three Brothers is a group of three peaks: Eagle, Middle and Lower Brother. John Muir once told companions that he thought the view from the top of Eagle Peak was the most beautiful in Yosemite Valley. You can get a great view of Three Brothers from the Cathedral Picnic Area, but for the best perspective, hike to the top of Eagle Peak, on the Valley Floor Loop Trail.
Vernal Fall has a different look from other waterfalls because its sheer rock ledge is framed by towering pines. It is also unique for having water that flows year-around to a roaring finish on an outcropping of granite boulders. Vernal Fall cannot be viewed from the valley floor by car. Look for the Vernal Fall trailhead by the Happy Isles Nature Center.
Yosemite Falls may look familiar because its springtime rainbows have been featured in countless books, calendars, and posters. When adding together the Upper, Middle Cascades, and Lower Yosemite Falls there is nearly a half mile (800 meters) of falling water! Together, Yosemite Falls is ten times taller than Niagara Falls. It is nearly twice as tall as the Empire State Building. If it were a building it would have 200 stories. Check out this live streaming view of Yosemite Falls right now.
Want to see them all? Here is a map of the major falls in Yosemite Valley. Be aware that only a few of them will be flowing in the dry summer and Fall seasons.
Need more help deciding what to see? Take a virtual tour.
Best Views of Yosemite Valley
Nothing is quite like the thrill you feel when ascending the final switchback and reaching wide-open vistas overlooking Yosemite Valley from Tunnel View, Glacier Point, or Valley View. We could not choose, so here are our finalists for the best view of Yosemite Valley.
Tunnel View of Yosemite Valley is a jaw-dropping introduction to the park, giving visitors who stop at this lookout point (on Highway 41) a spectacular panorama of El Capitan at left, Half Dome at center, and Bridalveil Falls at right.
The dramatic photography of Ansel Adams helped to make Tunnel View into a scene recognized around the world. The panorama featuring granite formations and magical Yosemite Valley waterfalls that emerges from the Wawona Tunnel is an attraction for artists and casual visitors to paint, draw and photograph.
Glacier Point sits at an altitude of 7,200 feet. Its visitors are treated to a grand view of some of the park's famous landmarks—Vernal and Nevada Falls, Half Dome, Clouds Rest,, and the distant High Sierra mountain ranges.
Glacier Point is a spot where John Muir and US President Teddy Roosevelt once famously camped. Head up:the road from Yosemite Village to Glacier Point is long and, in winter, is often closed beyond the Badger Pass Ski area. Full moon nights are a magical time to visit.
Valley View, along the banks of the Merced River, gives up a view framed by the spires of Cathedral Rocks and El Capitan. To enjoy this vista, look for a roadside parking area on the Northside Drive right before you reach Pohono Bridge near the South gate.
Things to Do in Yosemite Valley
Biking
There are many paved biking trails in Yosemite Valley; and it is a wonderful way to get around when the roads are congested with vehicles. One of our favorites is the trail near shuttle stop #17 which leads to Mirror Lake. A good time to try this ride is in early summer when the lake is filled by the flowing Tenaya Creek. This is a good place to spot wild animals like coyotes and bobcats. Bike rentals are available in Curry Village on a first-come-first basis.
Hiking
There is a delicious choice of Yosemite Valley hiking trails heading to the tops of Half Dome, Yosemite Falls, Vernal Falls, and Glacier Point. There are several super-easy trails that do not sacrifice on scenery if you are not prepared for a strenuous hike. Cook's Meadow offers a dazzling array of wildflowers in spring and icy beauty in winter.
Here are four trails that our guests have raved about.
Hike #1: Walk to Lower Yosemite Falls from the Valley Lodge
Difficulty: Easy
Distance: 1 mile (1.6 km) round trip
Elevation Gain: None
Duration: 15 - 60 minutes
The Lower Yosemite Falls Trail meanders through a ponderosa pine and live oak forest before giving up a view of Lower and Upper Yosemite Falls in perfect alignment. Since the path is so family friendly, be prepared to share the trail to this Yosemite landmark with other park visitors.
Hike #2: Sentinel & Cook's Meadow Loop
Difficulty: Easy
Distance: 2.25 miles (3.6 km) round trip
Elevation Gain: very little
Duration: 1 ½ hours
This flat, easy path serves up several middle-range views of Yosemite Falls. One of our favorites, from the Swinging Bridge, allows you to see the falls reflected in the Merced River on super-calm days. This trail also serves up Instagram-worthy shots of Half Dome.
Hike #3: The Mist Trail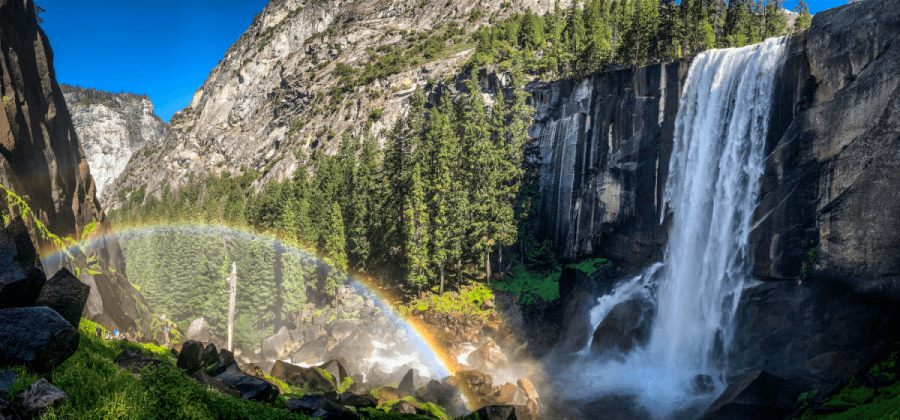 Distance: 3 miles (4.8 km) to Vernal Fall, 7 miles (11 km) to Nevada Fall (round trips)
Elevation: 4,000 feet (1,200m)
Difficulty: Moderate
Time: 2 - 5 hours
The Mist Trail to Vernal Fall begins with a steep granite stairway with over 600 steps. Be prepared for slippery footing and a great deal of spray from the waterfall in spring and early summer. The trail is usually accessible throughout the autumn season but closed in the winter. Hikers can return or continue on the Mist Trail to the top of Nevada Fall by hiking another 1.3 miles (2.1 km). Water and bathrooms are available on the trail.
Hike #4: Four-Mile Trail
Difficulty: Challenging (one way); Strenuous (round trip)
Distance: 4.7 miles (7.5 km) one way; 9.4 miles (15 km) round trip
Elevation Gain: 3,200 feet (975 meters)
Duration: 2 - 4 hours one way; 4 – 8 hours roundtrip
This long and sometimes steep trail to Glacier Point will give you private time to enjoy the views that pop up around nearly every bend in the trail. You need a full day to climb from the valley floor near the Swinging Bridge to the south valley rim at Glacier Point and return to the starting point. Some amazing shots of the Yosemite Falls come halfway through the trek in the lower part of Four-Mile Trail.
No matter which hikes you select, as a precaution, throw these into your backpack:
Topographic map of the area and compass
Gloves to prevent chaffing of your hands on rocks and cables
Trash bags. There is no service on most trails. Be sure to pack out all trash
Water. Carry at least 1 liter for each hour of your hike
Flashlight or headlamp with extra batteries since darkness arrives early in the valley
Just in case. Sunscreen, first aid kit, trail mix, whistle, and emergency blanket
More hiking tips:
Restrooms. Use them before you start. Toilets are few and far between.
Start early. That's when Yosemite Valley trails are less crowded, and you are more likely to spot wildlife. Plan on one mile per hour when gaining elevation and two miles per hour when descending. If you are taking a long hike, establish a firm time at which you will turn around, regardless of where you are.
Warning. Cancel your hike if there are thunderstorms or snow in the forecast since rain and ice make the walking treacherous. Lightning strikes are common near any peaks.
Star Gazing
If you arrange a multi day tour to Yosemite, don't forget the nighttime. Yosemite Valley is remote and still without significant light pollution. On clear evenings, find mind blowing views of the Milky Way at Glacier Point, Bass Lake, and Sentinel Dome.
Photography
With hundreds of Instagram worthy shots in every direction and Ansel Adams as inspiration, you won't need any help here. One of our favorite places for a classic Yosemite Valley setting is from the Swinging Bridge (full disclosure: the "new" bridge no longer swings) where you can frame up the Merced River's crystal-clear waters with Yosemite Falls and Sentinel Rock in the background. Reach the bridge on the Sentinel & Cook's Meadow Trail.
Rafting
A nice way to enjoy Yosemite Valley's attractions in summertime is from a raft on the slow-moving Merced River. On your back, with fingers trailing in the water, you can gaze up at Yosemite's granite walls as you pass by. Rent a raft and safety equipment at Curry Village.
Rock Climbing
Deservedly so, Yosemite Valley is an attraction for world-class rock climbers wanting to challenge themselves on the 'big walls'. Climbs that traditionally took several days to complete are, today, scaled in mere hours. Like to try it yourself? A popular trail that does not require expert skills is using cabled handrails and steep granite steps to climb up the back side of Half Dome. Permits for this hike are required. Reservations are distributed via a lottery system here.
If you're new to climbing, you can sign up for a class with Yosemite Mountaineering School and Guide Service in Curry Village. The "Welcome to the Rock" class is great for beginners.
Skiing
While not in the valley, Badger Pass Ski Area is just a short drive. In winter, it offers groomed trails for cross-country skiers, chairlifts for downhill skiers, a terrain park for snowboarders and a tubing area the whole family can enjoy together. In a normal year, the Badger Pass Ski Area is open from mid-December through mid-March. Visit www.travelyosemite.com to find out about snow conditions, rent equipment, and get discounted ski and lodging packages.
Visitor Centers
The Ansel Adams Gallery, a 10-minute walk from Yosemite Valley Lodge between the Visitor Center and Post Office. Learn more about Ansel Adams influential black and white images and the gallery.
Curry Village was developed by an early concessionaire of the National Park Service. Its family-friendly attractions date back to 1899. The village is the center for seasonal activities and hosts an outdoor swimming pool, ranger presentations, entertainment amphitheater, bike rentals and restaurants and an ice skating rink in winter.
The Yosemite Valley Visitor Center, staffed by rangers and volunteers, and is a convenient last-minute resource for information on all things Yosemite. You'll find Yosemite Valley maps, guidebooks, and souvenirs. The Yosemite Valley Visitor Center is located in Yosemite Village at 9035 Village Drive.
Yosemite Museum features the Indian Cultural Exhibit and Village dedicated to the history of Yosemite's native Miwok and Paiute people. Demonstrations of traditional skills are presented daily during the summer.
Yosemite Valley Wilderness Center is a resource for wilderness permits, bear canisters, maps, and guidebooks from May to October. The Center is located between the Ansel Adams Gallery and the Post Office in Yosemite Village. Useful information on pre-trip planning, minimum-impact camping, and the Yosemite's wilderness can be found here.
Happy Isles Art and Nature Center is perfect for nature-curious families. The center offers natural history exhibits, interactive displays, and art workshops from May to September. Nearby are short trails through the Yosemite Valley's forests, rivers, and nature environments.
Yosemite Conservation Heritage Center, operated by the Sierra Club, features a children's corner, library, and a variety of environmental education and evening programs from May to September.
Nature in the Valley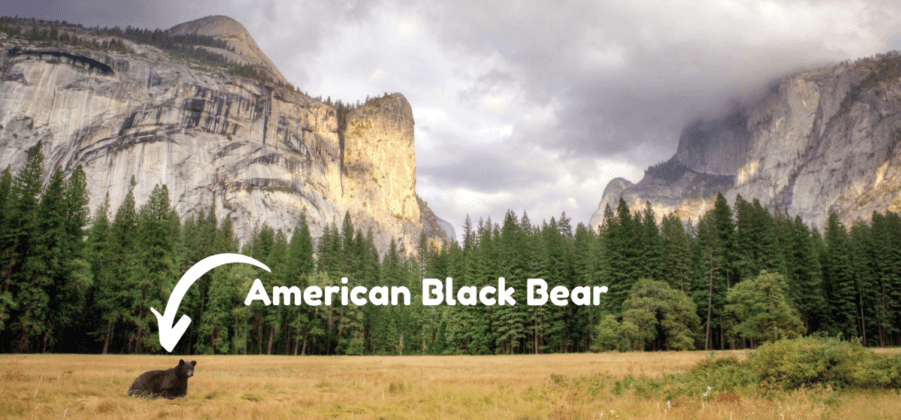 Yosemite Valley is classified as a dry yellow pine forest with a collection of large open meadows. Once off the busy trails, you can expect to see a variety of wildlife. In fact, Yosemite Valley is home to more than 400 different species of mammals, birds, fish, reptiles and amphibians.
The American Black Bear is an active resident in Yosemite Valley. Oddly, most of the black bears in Yosemite are brown. Bears are not normally a threat but be sure to store your food securely and keep your distance when bears are with cubs or guarding food.
Other mammals you might encounter are the western gray squirrel, chickaree, mule deer, bobcat, and coyote.
Wildflowers are abundant in spring and visitors can easily spot Pacific starflower, western buttercup, pineapple weed, California poppy, Indian pink, soap plant, miner's lettuce, and purple milkweed.
Birds you may find in the valley include white-headed woodpecker, Steller's jay, American dipper, common raven, dark-eyed junco, black-headed grosbeak, and mountain chickadee.
There are snakes in the Yosemite Valley. Be especially mindful of rattlesnakes in the early spring when they emerge to warm themselves on the rocks at mid-day.
Trees that blanket the valley floor include: California black oak, Douglas fir, California laurel, ponderosa pine, sugar pine, white fir, bigleaf maple, Pacific dogwood, and western balsam poplar.
We would like to thank the many organizations dedicated to making sure that the Yosemite National Park is around for future generations. One of the largest is the Yosemite Conservancy. You can learn about their cultural and historic programs here.
Giant Sequoia Groves near Yosemite Valley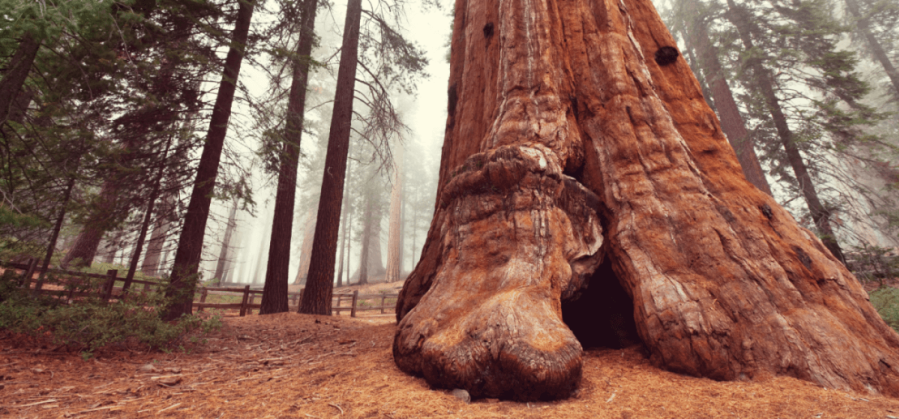 There is sometimes confusion about the location of Giant Sequoias (Redwoods) in Yosemite National Park. There are three stands of giant trees (or groves) in the park but none are in Yosemite Valley where the elevation is too low for these trees to thrive.
You should plan to visit one of the groves on a visit to Yosemite Valley. Here are the three that have easy access from Yosemite Valley.
Mariposa Grove
Mariposa Grove is located near Yosemite's south entrance, hosts a stand of 500 mature giant sequoia trees. The most famous trees in the grove are the Bachelor, Three Graces and the 2700-year-old Grizzly Giant. You will also find the Fallen Monarch, made famous by a popular photograph with U. S Cavalry officers.
If you are driving your own vehicle in winter, check local road conditions since Highway 140 may be closed due to snow. YARTS provides public transportation to the Welcome Plaza.
Tuolumne Grove
Tuolumne Grove offers a hike to a stand of about two dozen old-growth Giant Sequoias that avoids the crowds. The grove has a fallen tree that you can walk through. The hike to the grove is a 2.5 mile (4 km) round trip and can be strenuous on the steep uphill return to trailhead.
If you are coming from Yosemite Valley, take Highway 120 ten miles (16.8 km) to the Crane Flat/Tioga Road turnoff, then continue on Tioga Road for a half mile (0.8 km) to the Tuolumne Grove parking lot.
You can visit this Tuolumne Grove on Extranomical Tours' Giant Sequoias and Yosemite National Park 1-day tour.
Merced Grove
Merced Grove is secluded and practically undiscovered. The grove is home to approximately 20 mature Giant Sequoias. The trailhead for the Merced Grove is located on the Big Oak Flat Road (Highway 120) about 3.5 miles north of Crane Flat. Look out for a Merced Grove sign and a post labeled B-10.
Yosemite Geology
Most of the hard construction work that led to Yosemite Valley's striking features was done back in the Mesozoic Era, more than 100 million years ago. While dinosaurs were ruling the Earth's surface, molten granite from deep within the core pushed up to the surface. As it cooled and crystallized something called a pluton was formed. This solidified mass was further uplifted, then exposed by years of erosion.
Later clean up work was done by a large, U-shaped glacier during a period of extreme cold about 2 to 3 million years ago. As the Sherwin Age glacier, which covered Yosemite for 300 thousand years, retreated it did some major excavation and shaping of Yosemite Valley.
Once the glaciers were gone, snow and ice melt from the surrounding mountains formed ancient Lake Yosemite. The flat valley floor was created by sediment deposited at the bottom of the lake. At its zenith, Lake Yosemite was 5.5 miles (8.9 km) long and had its base near El Capitan. As they lake drained over thousands of years, Yosemite Valley transformed into a swampy meadow vibrant with new life.
History of Yosemite Valley
Before the arrival of Europeans, Yosemite Valley was inhabited by a tribe of native Miwok who called the Valley "Ah-wah-nee", which translates to "big mouth" since the valley's walls resemble the mouth of a bear. These early residents did annual controlled burns of the Valley floor to promote the growth of the acorn-bearing black oak tree. The open forest also reduced the chance of ambush.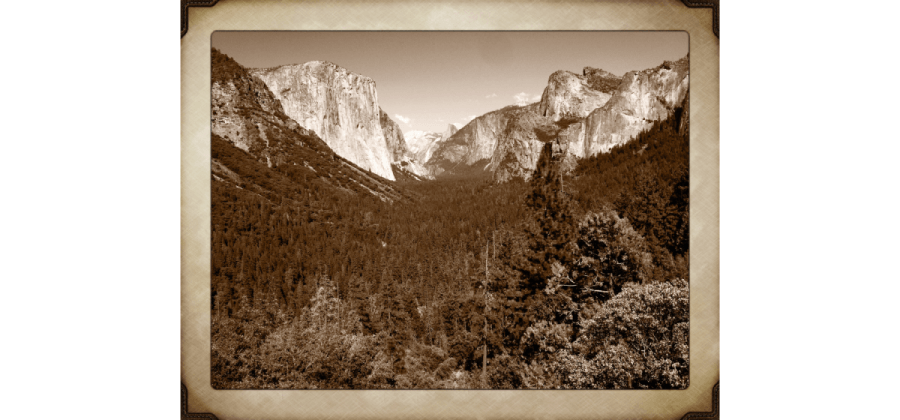 During the gold rush era, the U.S. Army's Mariposa Battalion were the first white men to lay eyes on Yosemite Valley. While not the custom to adopt native names, the army command agreed to give the land the name they thought was used by the native population—"Yo-sem-ity". Historians only later discover that the word actually meant "they are killers", referring to the ferocious inhabitants of the valley.
Within a few years, highly detailed drawings and articles about the valley by artist Thomas Ayers were well publicized in the populated Eastern cities of the United States. His work did the trick and kicked off the country's first conservation movement. Later, influential figures Galen Clark, clergyman Thomas Starr King and landscape architect Frederick Law Olmsted were successful in lobbying Senator John Conness of California to push for preservation of Yosemite.
President Abraham Lincoln signed a bill, during the Civil War in 1864, authorizing the State of California to protect Yosemite Valley and the Mariposa Grove of giant sequoias "for public use, resort and recreation". Importantly, this was the first time in history that the United States set aside lands for their enjoyment by all people.
After the creation of the Park Service, private owners were granted concessions to operate Yosemite Valley hotels and tourist services. Merchants of the Yosemite Park Company built the Yosemite Lodge and Yosemite Village. In 1925, two family-run companies merged to form the Yosemite Park and Curry Company and started construction of the Ahwahnee Hotel. These early operators introduced a number of traditions, like the Bracebridge dinner, that survive to this day.
Best Time to Visit
Yosemite National Park sits in a mountainous region with elevations up to 10,000 feet (3,050 meters), and the conditions vary enormously depending on the season. The weather can also change within hours. Visitors should be prepared for more severe conditions than they expect.
Every season brings special ways to experience Yosemite Valley's natural wonders. Before settling on your travel dates, look over the highlights below for each season.
Spring
Rising temperatures cause snow and ice locked in the surrounding Sierra Nevada Mountains to flow into the creeks and rivers on the cliff tops. For the most vigorous flow of water over the falls, visitors should plan their visit for March, April, even early May. Spring is always a popular time in Yosemite National Park and picture-perfect spots around the falls will be crowded. Come prepared for temperature swings of 30-40 degrees F (20-25 degree C) within a few hours.
Summer
The snowpack is typically melted by summer and many of the Yosemite Valley falls slow to a trickle by June. The timing is just an estimate, and the flows will depend on the amount of winter snowfall and springtime temperatures. Yosemite Valley is typically crowded with families taking summer vacations in the United States. Make your reservations early!
Summer in Yosemite can be hot so protect yourself. Wear a broad-brimmed hat. Use sunscreen. Prevent dehydration in the high altitudes by drinking frequently, even before you're thirsty.
Fall
In many ways, fall is a wonderful time to enjoy Yosemite Valley. If you enjoy solitude, this is the time of year when the popular spots are available for near private viewings. Yosemite Valley's pine forest puts on quite a show as it changes its coat for winter.
Clear fall evenings are the perfect time to experience a moonbow, also known as a "lunar rainbow." In Yosemite, you can witness this phenomenon at the base of waterfalls in the bright light of a full moon.
Periods of cold rain, even snow and ice can arrive early and cause the need to retreat indoors until the storm passes. Be sure to pack plenty of layers to throw on and off as conditions change.
Winter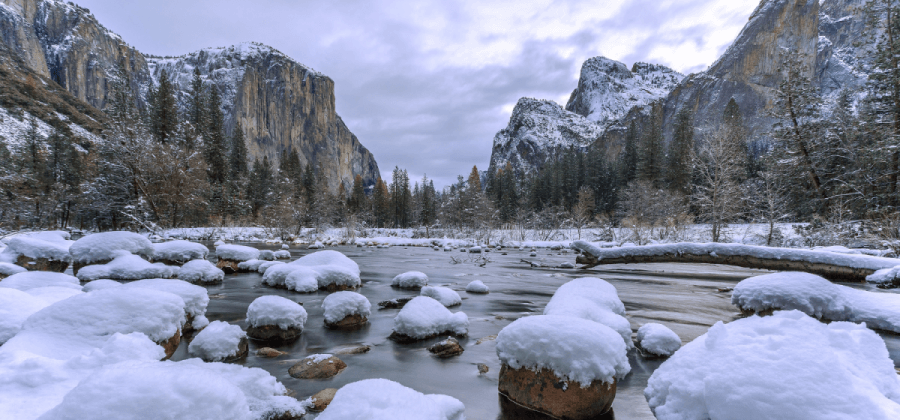 Don't shy away from visiting in winter. While the falls are not at their peak, the Yosemite Valley trails are uncrowded, and icicles draping from the rocks create a beautiful spectacle. Check out these winter season pics of Yosemite Valley.
In February, on the northern side of the Yosemite Valley, cascading off the east side of El Capitan, Horsetail Fall creates a special show. The fleeting photographic event called "fire fall" during the setting sun makes the waterfall look as if it's on fire!
Where to Stay in Yosemite Valley
Be sure to check the location of hotels and campgrounds before you book. Many are actually located outside the boundary of the park, often as much as a 45-60 minute drive to Yosemite Valley. If you are planning far enough ahead, try to nab lodging in Yosemite Valley where you will have easy access to hiking trails, restaurants and visitor centers. There are overnight options from pricey to affordable at the Ahwahnee Hotel, quaint Curry Village, Yosemite Lodge, and numerous campgrounds are all found in Yosemite Valley. Here are the overnight options in Yosemite Valley.
The Ahwahnee ($$$)
Easily one of the most distinctive luxury hotels in the United States, The Ahwahnee, built in 1927, is an historical landmark. Each room's decor uniquely reflects the natural landmarks of Yosemite National Park, the area's Native American influences, and the historical significance of the place. It promises the perfect balance of nature and hospitality. Find out about availability here.
Yosemite Valley Lodge ($$)
You could not ask for a better location in Yosemite Valley. Yosemite Valley Lodge is located within walking distance of Yosemite Falls, Curry Village and the YARTS shuttle to reach the park's more distant attractions. The lodge is family friendly and its rustic, cabin-like vibe blends in to surrounding wilderness. Bonus—the lodge has evening programs in their amphitheater and a great restaurant.
Curry Village ($)
Would you like to 'camp' in Yosemite Valley without having to bring your own tent? Curry Village offers economical lodging options on the valley floor. It offers a selection of heated and unheated tent cabins (wood-framed with a canvas room and sides) and regular log cabins at the foot of Glacier Point. Heads up: the tent cabins have shared bath facilities. Curry Village also offers standard motel-style rooms with private baths at the Stoneman House. See the options here.

Campgrounds ($)
There are several primitive campgrounds with spaces for RVs and cars in Yosemite Valley, their names are: North Pines, Upper Pines, Lower Pines, and Camp 4. Reservations are required for all campgrounds in the valley and a fee of $26 per day is collected at the site. Find more information here.
How to Get to Yosemite Valley
Yosemite Valley is on the western slope of the Sierra Nevada mountains approximately 150 miles (240 km) east of San Francisco, California. There are several choices for reaching Yosemite Valley. The best one depends upon the route you will be taking toward Yosemite National Park. There are four entry gates to Yosemite, once you are through the gate just follow the signs to Yosemite Valley:
Crane Flat (Highway 120): most direct route for trips originating in San Francisco or Sacramento
South near Fish Camp (Highway 41): closest entry point for trip coming from Southern California
Arch Rock near El Portal (Highway 140): low altitude and a good choice for snowy or icy days
Tioga Pass (Highway 120): best for Las Vegas or other eastern cities (not open in the winter)
You can skip the driving and skip much of the traffic congestion (since buses have special lanes and parking areas) by taking a comfortable seat on one of Extranomical Tours' guided trips to Yosemite National Park. Learn more and check out availability for 1-day or overnight tours.

Getting Around the Valley
Yosemite Area Regional Transportation System (YARTS) makes getting from point to point in Yosemite National Park very easy and free. Visitors can jump on a shuttle bus at any one of 19 stops. Additional routes connect to Yosemite from the gateway communities of Merced, Fresno, Mammoth Lakes, and Sonora (the latter three operate in summer only).
The road through Yosemite Valley is a one-way loop. On the way into the park it is called Southside Drive, on the way out it is Northside Drive. There are only two places to connect between them.
In the summer and on holiday weekends, parking in Yosemite Valley can be a real challenge. Look for spots behind Yosemite Lodge, by Curry Village as well as Yosemite Village. Unless posted otherwise, it is fine to park in pullouts alongside Northside or Southside Drive.
If you are arriving in your own vehicle be sure to plan ahead. Gas is not available in Yosemite Valley. There are stations in Wawona, Crane Flat, and El Portal. If you need an Electric vehicle (EV) charging station, you can find them at the Village Garage and the Ahwahnee hotel.
Since there is very little cell signal in Yosemite, don't count on shared ride apps like Uber or Lift.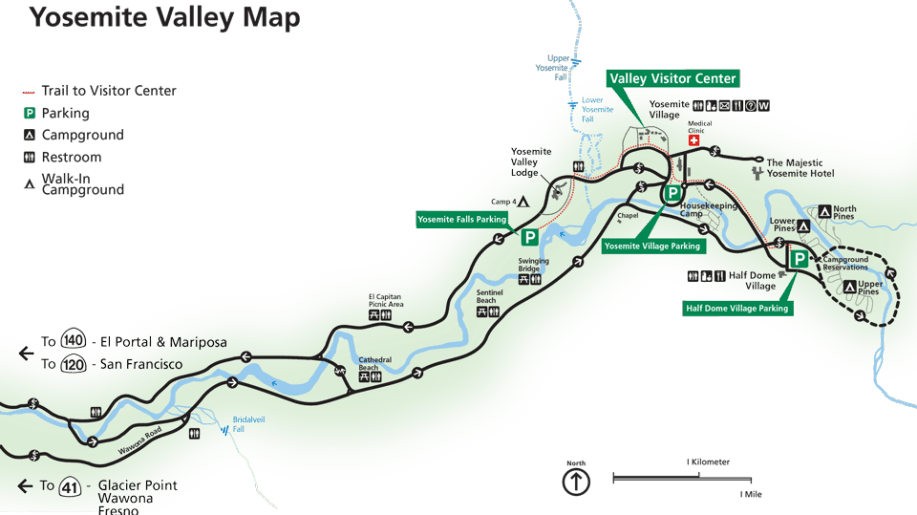 For more detailed maps of Yosemite National Park trails and attractions, here is a really useful link to a National Park Service page with 74 free maps.
Permits
The entrance fee for Yosemite National Park is $35 for a car, RV or truck, regardless of the number of passengers. Tip: you can purchase a Yosemite Annual Pass for $70 or an annual pass to all National Parks for $80--a terrific savings if you are planning to visit several parks over the next year.
If you are planning to do some overnight backpacking, using Yosemite Valley as your basecamp, a Wilderness Permit is required. There is always more demand that permits available in the spring and summer seasons. Check out the application process here.
Climbing the back of Half Dome on the iron cables requires a separate permit to control the flow of visitors making this trek. Make your application for a day permit here.
10 Insider Tips to Know Before You Go
As you put the pieces of your trip to Yosemite Valley together, here are a few insider tips to keep in mind as you prepare to navigate the 9 square mile of Yosemite Valley.
Be an early bird. You can avoid crowds at popular areas by visiting them early in the day. By mid- to late-morning on crowded weekends or holidays, the parking lots and roadside parking will be full.
No bars! Yosemite Valley is out of range for most services. Your best bet for a signal is on the eastern side of Yosemite Valley (Yosemite Village, Half Dome Village, the campgrounds, etc.)
Print or download your Yosemite Valley maps ahead of time since you won't be able to count on having cell service.
Walk to your activities to avoid the traffic congestion. Most of the paths in Yosemite Valley are paved and uncrowded and offer wonderful scenery to enjoy.
Bring your own food. Dealing with lines at the small number of restaurants and snack shops wastes time that could be spent enjoying Yosemite Valley's attractions.
Bring along a bike. There are well-organized bike paths in the valley and it's a convenient way of getting out to El Capitan and Bridalveil Falls without getting bogged down in traffic
Altitude sickness is a thing. The Yosemite Valley sits at roughly 4000 feet above sea level. If you are arriving from lower elevations and planning to hike to Yosemite's peaks you could experience nausea or headaches. Take it easy on your first day to give your body time to acclimate.
Secure your food. Do not leave food in your car or sitting out at camp, it can attract all sorts of animals. Lockers to stow your food safely are available in the most used areas of the park.
Don't run from bears. If you encounter a black bear, park rangers recommend that you 'stand your ground and scare the bear away by raising your arms and making very loud noises'.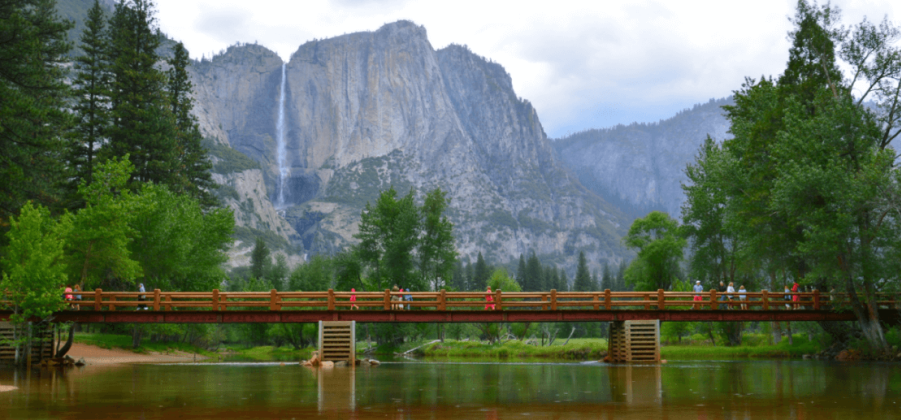 FAQs
Where is Yosemite Valley located?
Yosemite Valley is on the western slope of the Sierra Nevadas, 150 miles (240 km) east of San Francisco. There are four entry gates (three in the west and one in the east): Crane Flat (Highway 120), South near Fish Camp (Highway 41), Arch Rock near El Portal (highway 140) and Tioga Pass (Highway 120).
How many days do you need in Yosemite Valley?
You can drive the entire 16-mile (26 kilometer) Yosemite Valley loop and see most of the park's famous attractions, in 2-3 hours. Most visitors, however, prefer to linger at the sites and do some trail hiking. Spending one or two nights in Yosemite Valley is ideal.
Why is Yosemite Valley important?
Yosemite Valley is the activity center of Yosemite National Park. The 9-square-mile (14-square-kilometer) valley is known for its vertical granite cliffs, sky-scraping waterfalls, lush meadows, clear streams, pinewood forests and biological diversity. From the valley floor, visitors can see El Capitan, Half Dome, Yosemite Falls and other famous landmarks.
How was Yosemite Valley formed?
Most of the hard geological work in Yosemite Valley was done back in the Mesozoic Era when molten granite deep within the Earth's core pushed up to the surface. As it cooled and crystallized, a pluton was formed. Over millions of years, this mass was further uplifted, then exposed to grooming by glaciers and natural erosion.
Is Yosemite Valley open in winter?
Yes. Yosemite Valley is open 365 days a year. It is an uncrowded time in the park when visitors can enjoy relatively more private and snow-covered viewings Half Dome, El Capitan, Glacier Point and the other granite monuments in the valley.
Where can you stay in Yosemite Valley?
Staying in Yosemite Valley avoids a 45-60-minute drive to the start of most Yosemite Valley hiking trails, restaurants and visitor centers. There are good options in the valley from pricey to affordable, including the historic Ahwahnee hotel, quaint tent cabins at Curry Village, conveniently located Yosemite Lodge, and four park service campgrounds.
What is the best way to get to Yosemite Valley?
The best route to Yosemite Valley depends on your location. Visitors from southern California may use either the South entry near Fish Camp (Highway 41) or the Arch Rock gate near El Portal (Highway 140). Approaches from points west and north generally use Crane Flat (Highway 120). There is just one entry point in the east, at Tioga Pass near Lee Vining (Highway 120).
What are the best things to do in Yosemite Valley?
The most popular activity in Yosemite Valley is day hikes to Yosemite Falls, Vernal Falls, Glacier Point, Cooks Meadow and other scenic spots. The visitor center in Yosemite Valley can also assist with rafting, biking, star gazing, rock climbing, photography (and in winter with) ice skating and skiing.
What is the best time of year to visit Yosemite Valley?
Each season in Yosemite Valley offers its own advantages. Summer is the best chance for sunny and warm hikes, Fall offers peace and solitude at the popular attractions, winter means a blanket of snow over all the rock monuments and spring features the peak of the annual Yosemite Valley waterfall show.
Is there public transportation in Yosemite Valley?
Yes. The Yosemite Area Regional Transit (YARTS) service offers continuous loops around Yosemite Valley and a daily scheduled service to Glacier Point, Tenaya Lake and nearby towns like Merced, Mariposa, Midpines, and El Portal. There are winter and summer schedules. Check them out here.
What is the speed-climbing record for El Capitan in Yosemite?
The "Nose" of El Capitan, was first climbed in 1958 by a team led by Warren Harding. The climb took 47 days. The current world's speed-climbing record was set on June 6, 2018, by Tommy Caldwell and Alex Honnold, who scaled the 3,000-foot face in 1 hour, 58 minutes, and 7 seconds.
What is the best airport to use for Yosemite?
The only international airport close to Yosemite National Park is San Francisco. It is 200 miles from the HIghway 120 entry gate. Public transportation to the park is possible but requires using a combination of San Francisco (Amtrak train) and YARTS. Alternatively, visitors can rent a car and drive, entering the park on Highway 120 or 140. The Fresno Regional Airport is closer to Yosemite but has just a few flights a day.