Spring. Summer. Fall harvest. When is the best time to visit Napa Valley for a wine tour from San Francisco? Sorry to disappoint, but there is NO simple answer to this question. Napa Valley is a spectacular place all year round, so the answer to the best time to visit depends on your budget, activities that interest you, and the type of weather you enjoy.
Some may tell you the best time to visit is September, when the sights and smells of the harvest are a feast for the senses, but others may prefer the heat and the buzz of midsummer. Fans of the bright colors of spring may claim April the winner, while travelers who enjoy a laid-back visit and attentive service wouldn't consider any time but the low season. And have you ever considered a trip to Napa during the holidays? The valley is alive with celebrations and good cheer.
So how ever will you choose? With the help of this deep dive, of course! Below, we will break down the Napa Valley experience and answer the following questions for each season:
Why is Napa Valley best at this time?
What should I wear in Napa Valley?
What are the best things to do in Napa Valley?
You will quickly notice that there are more than four sections in this article. Well, that is because you can't truly do a deep dive into Napa Valley with just the classic four seasons. In California Wine Country there are six distinct times of year to visit:
All six of these seasons will include our insider knowledge on the following:
Season Overview: What is this season known for in Napa Valley? We will introduce you to the season's offerings and give you an idea if it could be right for you.
What to Wear: With a temperate, mediterranean climate, Napa Valley is suitable for enjoyable visits year round, but there are definitely differences between the seasons when it comes to rainfall and temperatures. We will give you a detailed walkthrough of the weather specifics.
To ensure you enjoy your trip to the fullest in any season, we have included packing pointers in this section. While some items, like layers, are a good idea year round (they can be life savers in chilly tasting rooms!), we will prepare you for the specific season. Nothing puts a damper on a wine country visit quite like a rainstorm without an umbrella!
Best Things to Do: While wine tasting, stunning views, and all-around good times are a constant in Napa Valley, there are many activities and events that are season specific. Here we will list a few of the very best activities and events available in each season.
Winter/Low Season — January and February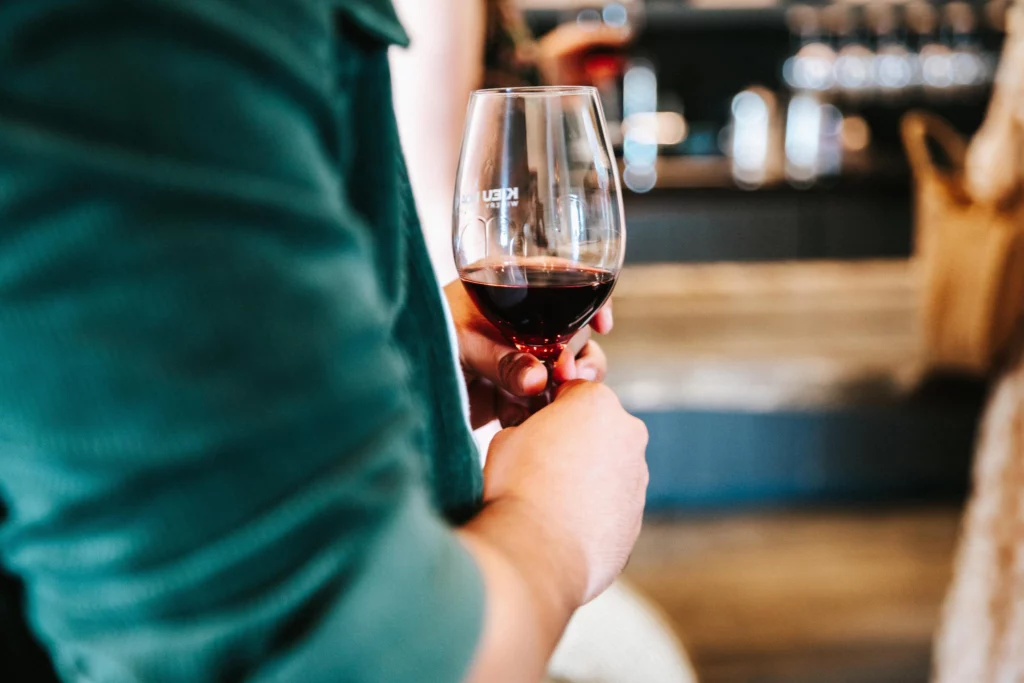 Let's begin at the top of the year with the quietest time in wine country. Fewer crowds often lead to greater opportunities — for those willing to grab them!
Season Overview:
"Low Season" in Napa Valley is certainly not a reference to the mood in the valley. The vines are dormant and the days are cooler, but there are many excellent reasons to visit.
Calling all foodies! Low season in Napa Valley is a not-to-be-missed experience for you. Every January brings Napa Valley Restaurant Week, a deliciously splendid event. Not your thing? No Worries! Napa is the perfect place to restaurant hop in the winter. From southern BBQ to authentic tacos to farm-to-table vegetarian, there is a top-notch restaurant for every taste.
And what's Wine Country without the wine? Pair all of that food with a cabernet! Did you know that this season in Napa Valley is often called "Cabernet Season?" This laid-back time is perfect for savoring a bold red by a roaring fire.
Another defining trait of this season? There are fewer tourists. Now this may concern all the extroverts out there, but there are some major advantages to the off-season in a tourist destination. Here are just a few to consider:
Fewer tourists = many hotels, rental properties, and wineries offer incredible deals! Traveling during this time is a great way to have the vacation of your dreams on a budget, without much compromise.
Fewer tourists = more one-on-one time with winery staff. Feel truly pampered, or even like one of the family, with extraordinary service and cheerful, relaxed staff. Pro tip: you may even find discount bottles this time of year as wineries make room for the year ahead!
Fewer tourists = more time spent at the wineries and less time on the roads. This is an often overlooked perk to Low Season, but who wants to spend valuable time on vacation stuck in the infamous Bay Area traffic?
What to Wear:
It will surprise few that this is the chilliest season in Napa Valley. Average lows are in the 30's° F. If I haven't lost you to one of the other seasons yet, I am happy to report that daytime temps average from 55° to 60° F. So while these chillier trends do require some extra planning, one can be quite comfortable if prepared.
Something to remember: Napa Valley visits can be centered indoors. Most wineries have ample indoor seating, comfortable at any time of year. Many even have toasty fireplaces to cozy up next to! If you do want to be closer to the scenery, many establishments in the valley also offer heat lamps in their outdoor seating areas to ease the chill.
So what about the rain? While it is true that December through March wins the rainiest season award, it is all about perspective. On average, according to NOAA, only 8 days a month experience rain. So in other words, more than ⅔ of these months are dry! Having said that, the best experience will be had by all if you expect and plan for rain every day. An umbrella (or a rain jacket, if that's more your style) is never a bad idea, just in case the day you visit happens to be one of the 8!
We would also add boots, sweaters, long pants, and a good jacket to the packing list. Remember, the alcohol in wine is a blood thinner, and nothing is sadder than a wine tasting marred by shivers. Respect the wine and bring warm layers!
Best Things to Do:
Eat your way across the valley during Napa Valley Restaurant Week. Typically held in late January, this festival offers deals on multi-course, prix-fixe lunch and dinner menus at michelin-starred establishments. Make sure to plan ahead and make reservations as this is a popular event. Specific dates are yet to be announced for the coming year, so check back here for updates.
Delight in the bright yellow splash of color in the vineyards during mustard season! Did you know that many vineyards encourage mustard to grow in and around their vines? The plant provides multiple benefits to the vines, including soil stabilization and deterrence of harmful worms. But most importantly for this article — they are lovely! Definitely plan to spend a few extra minutes gazing out at the wash of yellow, or framing that perfect photo for your social media.
Stroll downtown Napa and wonder at the artwork in the Napa Lighted Art Festival. This free outdoor festival celebrates light technology as a growing art medium and lights up the night in spectacular fashion. Check back here for information and dates for the 2024 season.
Spring — March through May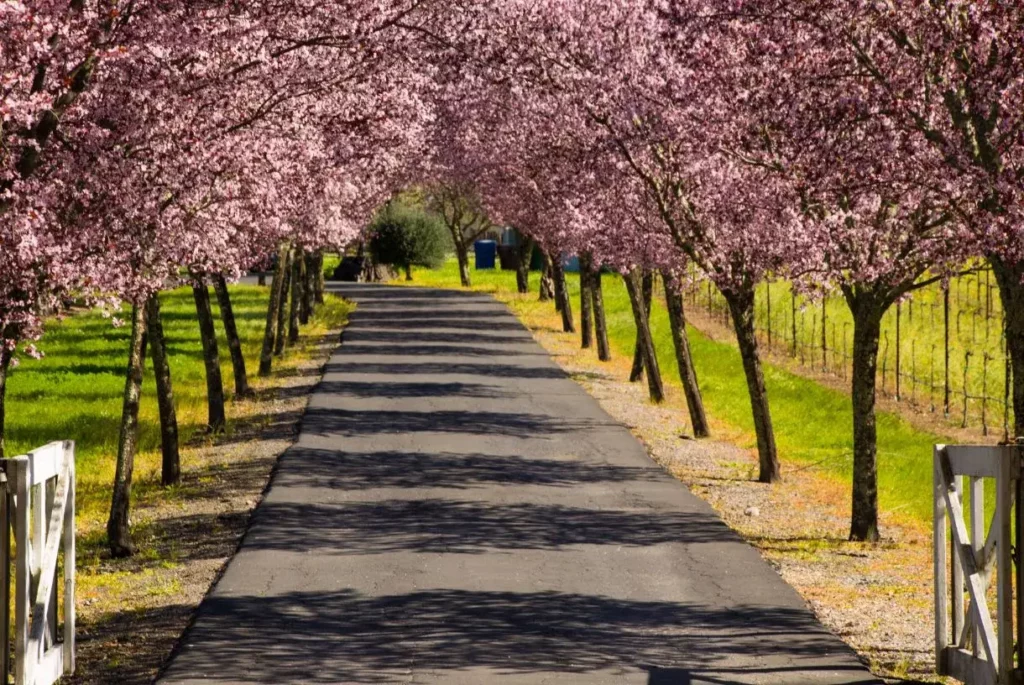 Let's turn our attention to the bud break season, a season filled with possibilities and the excitement of the busy season to come, without all the crowds.
Season Overview:
With the weather on the upswing and everything turning green, this is the perfect season to spend time outdoors in Napa Valley. Hiking and biking are favorite activities, but also consider booking a ride on horseback or even in a hot air balloon.
Spring is arguably the most beautiful time in the valley, especially for nature lovers. California poppies, tulips, and fruit trees are in full bloom and seemingly grapple for attention. The grape vines which have been dormant all winter begin to bud, sending those first leaves stretching for the sun. Sheep graze in and amongst the vines in some wineries, adding their own fluffy joy to the mix.
Crowds begin to pick up in this season, and really take off in the second half of May. Something to keep this in mind when booking accommodations and/or tastings.
What to Wear:
Temperatures are on the rise this season, and visitors generally enjoy highs in the 60's° and 70's° F with mostly sunny, clear days by April and May. Overnight lows can still be quite chilly, averaging in the 40's° F, so bringing options to throw on when the sun goes down is a must.
You may experience a rain shower early in this season, but by April and May, worrying about the rain is mostly a distant memory. Morning fog is a possibility in Spring though, so be prepared for a potentially moist, yet stunningly atmospheric, start to the day.
Best Things to Do:
Cover the breathtaking scenery on foot in the Napa Valley Marathon. Scheduled for March 3rd, 2024, the route will take runners along the Silverado Trail from Calistoga to Napa.
If running's not your thing, you can opt for two wheels and enjoy the valley on bicycle. Bicycle rentals are available at many accommodations, in addition to rental companies. Pro Tip: One of the best routes for cycling is the very same Silverado Trail as mentioned above. It can be a busy thoroughfare, but there is a bike lane along the entire 27 mile length. If something totally car free is more "up your valley" (see what we did there?), try the Napa Valley Vine Trail, a 12.5 mile, completely car-free recreation path!
Experience Napa Valley from behind the lens. Springtime is the ideal time for nature photographers. Colorful flowers, trees, and vines are ready for their closeups. Please be respectful and leave everything how you found it for others to enjoy.
Ring in the beginning of the summer season at Bottle Rock Festival. This West Coast destination for music, wine, food, and beer is a feast for the senses and the event of the season. Scheduled for May 24-26th 2024.
Summer — June through August
Napa is simply bursting with things to do, wines to savor, and reservations to make in this season. Crowds reach their height, but for good reason. The weather is arguably perfect and spending your summer day lazily sipping wine while gazing out at the verdant green vines puts one in mind of a scene from a movie.
This is the best time of year if you love to hustle and event hop. Live music and performances are too plentiful to list and will be hard to pick between.
Even if you do not mind the crowds, their presence requires careful planning. Reservations are absolutely critical and often recommended months in advance. Make the most of your trip by investing this time ahead of time.

If all of this sounds intimidating, but you really want to make your trip to Napa in the Summer, (or any season for that matter!), you can always book a tour with us at Extranomical Tours and let US do the prep work for you! Click here to see our variety of Napa Valley tours.
What to Wear:
Temperatures hit their peak in this season, with average highs in the upper 80's° and 90's° F, and lows in the mid 50's° F. This season is sunny and dry and you can't deny the appeal. Bring a hat, sunscreen, and a reusable water bottle if you plan to spend much time outside, as the sun, as wonderful as it is, can be sweltering. Fight the urge to bring only short sleeves! Pack that light layer for the mornings and evenings.
Best Things to Do:
Attend all the events you could ever dream of during the summer months. There are cooking classes, live music performances ranging from opera to bluegrass, dance performances, walking tours, master classes with experts, and of course — wine tastings! There are multiple special events scheduled every day. View the events calendar for Napa Valley.
Indulge in a picnic with a view. Many wineries offer or encourage picnics in the summer as a way for guests to truly experience their properties to the fullest. Pack your own or pick a winery that caters and let them lay out a delicious spread.
Cool off in the refreshing waters of Lake Berryessa and the Napa River. Water sports like swimming, kayaking, and stand-up paddleboarding are popular ways to beat the heat. There are boat tours available too, for those who love the water but prefer to stay just a little further out of it!
Harvest — August through October
Ah Harvest! We have split this iconic season off on its own due to its specific events that draw wine lovers from far and wide.
Season Overview:
The sights and smells of harvest in wine country are simply like no other, and everyone knows it. The summer crowds are still present, if not bigger, proving that the draw of harvest time in the valley is undeniable.
Harvest begins in August with the sparkling wines for the bubble lovers out there, followed closely by the white varieties. As the red varieties reach maturation, they too join the "crush" and make their way one step closer to becoming wine. The last to develop their distinct flavor are the Cabernet Sauvignons, sometimes remaining on the vine until November.
Wineries offer special events, tastings, live music, and myriad ways to join in on the harvest-time fun. In fact, this is the best season for hands-on tours that really make you feel like a part of the process… at least for the duration of the tour! Then you can happily return home with your souvenir wines and memories and leave the hard work to the vintners. We are starting to sound like a broken record here, but these fun events sell out, so book far in advance!
What to Wear:
Harvest is on the cusp between summer and fall so expect the weather to be simply delightful. Warm, sunny days make way for refreshing evenings, and not many activities are off limits.
Best Things to Do:
Get your feet dirty at a grape stomp! Several wineries offer this iconic activity as part of their special Harvest tours and parties. Time to finally scratch this experience off your bucket list!
Play winemaker for a day at Harvest experiences throughout the valley. These day-long tours can include activities such as grape picking, stomping, barrel sampling, instructions on blending techniques, delectable lunches, and more. Usually these tours also send you home with a thoughtful souvenir to remember your time.
Dress to the nines and attend a Harvest ball. Several wineries offer fancy parties this time of year and they are a wonderful excuse to get all dolled up, celebrate wine country, and dance the night away!
Fall — October through November
Harvest makes its way into the shoulder season, and the valley takes a deep, restorative breath.
Season Overview:
Many claim late fall as their favorite season to visit Napa, and it's easy to see why. As the Harvest winds down, prices drop and budget travel begins again. The weather is still lovely and the valley is awash in the golden light and leaves of autumn.
Those that find the summer heat just a bit stifling are free to spend long days outdoors again, or casually make their way between tasting rooms and outdoor seating. Wineries are more relaxed later in this season and one-on-one service is more likely.
What to Wear:
Cooler days roll in here, but plenty of sun remains. Daytime highs are in the 60's and 70's° F, and nights can dip into the 40's° F. While the chance of rain does increase in November, just throw an umbrella in the car and put it out of your mind. Pants are the name of the game again, but you will probably be stripping down to a T during the day, so layer, layer, layer.
Best Things to Do:
Explore the fall colors in Napa Valley on foot by heading to one of the area's hiking trails. Head here to Visit Napa Valley website for information on several of the most popular hikes in the region.
Gather in downtown Napa for their 12th annual Napa Blues, Brews, and BBQ on Saturday October 7th, 2023. This 1 day festival is a celebration of great BBQ, the talented blues musicians of the Bay Area, and of course — Napa's best craft beer! Visit here for event details and ticket presales.
Consider a different kind of Thanksgiving meal this year. Many restaurants in the valley go all out creating Thanksgiving spreads to remember. You can find participating establishments ranging from michelin-starred to family-friendly buffets, so there is something for every travel party.
The Holidays — Late November through December
Never considered a trip to Napa for the holidays? Let's change that.
Season Overview:
Good cheer abounds in the towns and wineries of Napa Valley during this season. Interiors and exteriors alike are adorned with lights and decorations and local stores are the perfect places to find gifts for those you love.
For all the seasonal flair it exudes, Napa is surprisingly calm during the holidays, so it is a great time to go and imagine all of the extra effort was made just for you. Take advantage of everyone else being preoccupied with holiday get-togethers near their homes, and slip away for a much-needed self-care or family trip before the excitement of the new year.
What to Wear:
We have come full circle and the weather has too. Expect January-like temperatures between the 30's° and the 50's° F and some moisture. Although it rarely snows in the Valley, Mt. St. Helena is known to get a picturesque dusting. Having said that, February 2023 brought a surprise 12+ inches to the hillsides surrounding the valley and even a dusting to the valley floor in some places, so you never know!
Definitely pack a warm coat and umbrella for this season, but plan to spend most of your time snuggled up somewhere warm in a seasonal sweater, with a cabernet in hand.
Best Things to Do:
Help your kids search for Santa on the Napa Valley Wine Train. While the train is a wonderful experience year round, the holidays transform the train into a celebration of the season with hot chocolate, cookies, and musical entertainment. If something with a little more intrigue is your style, throw on your deerstalker cap and solve the case aboard the Murder Mystery Dining Tour, on select dinner trains throughout the year.
Take a break from the often-hectic holiday season with some serious relaxation during a mud bath spa treatment in Calistoga. The Calistoga area has been known for its healing mixture of mineral spring water and volcanic ash for thousands of years, and it's definitely time to find out why!
Visit any or all of Napa Valley's 5 main towns for their holiday celebrations and tree lightings. Main streets will be aglow with picturesque, twinkling lights and there are endless opportunities for holiday fun with faires and parades throughout the season. The Yountville Town and Tree Lighting Ceremony even features carriage rides! This ceremony kicks off the holiday season in Yountville each year on the Sunday before Thanksgiving. Bookmark this page and check back after November 1st for all the details.
Stamp your Winter in the Wineries Passport
to take advantage of incredible off-season deals in Northern Napa Valley. The 13th annual passport, offered in winter 2022-2023, included tastings at 16 participating wineries, valued at $400, for just $75! Not to mention the other discounts to local shops. This program is well worth a visit through early February.
Wrap-Up and Key Takeaways: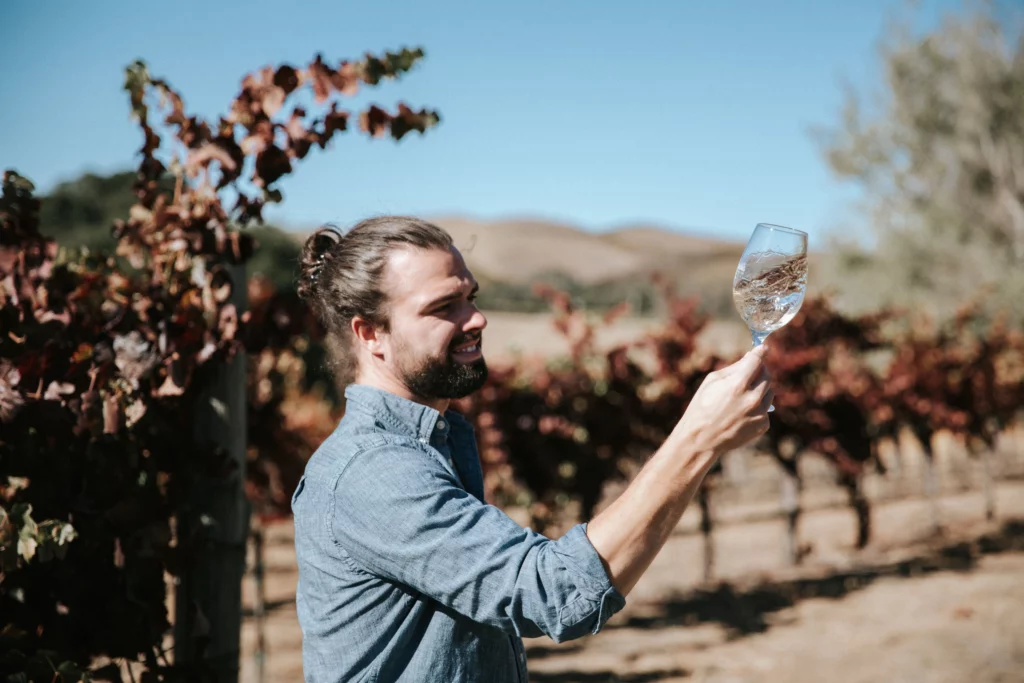 We have made it through the whole year in Napa Valley! We hope this article has helped you make your decision about when to visit this magical area.
Maybe you decided to hunt for deals in the low season, or bring your camera and capture those gorgeous spring blooms? Or perhaps the events of the summer or the hands-on tours of the Harvest are calling to you? Maybe you are planning to take your family or partner to experience the holidays in the valley?
One thing is absolutely sure — whenever you go, you will have an unforgettable experience you will want to repeat! Before you head off on your unforgettable wine-country getaway, keep these final tips in mind:
What to Wear:
After reading this article you have a pretty good idea of what the weather will look like during your chosen season. But counting on seasonal trends isn't foolproof. Especially since the weather has been so unpredictable the last few years! On the eve of your trip, check the weather forecast for the week ahead to be the most prepared visitor in the valley!
Best Things to Do:
There is simply not an article long enough to list all of the activities and events available throughout the year in Napa Valley. There is truly something for everyone all year round. Do some research, read some reviews, or simply go and see where the Valley leads you. As long as you make reservations for your must-dos in advance of course! Here is the super helpful Napa Valley events page.
Finally, thank you for joining us on this deep dive into Napa Valley throughout the year, and we will see you in the tasting rooms!
Published on: June 20th 2023