Yosemite and Giant Sequoias One Day Tour from San Jose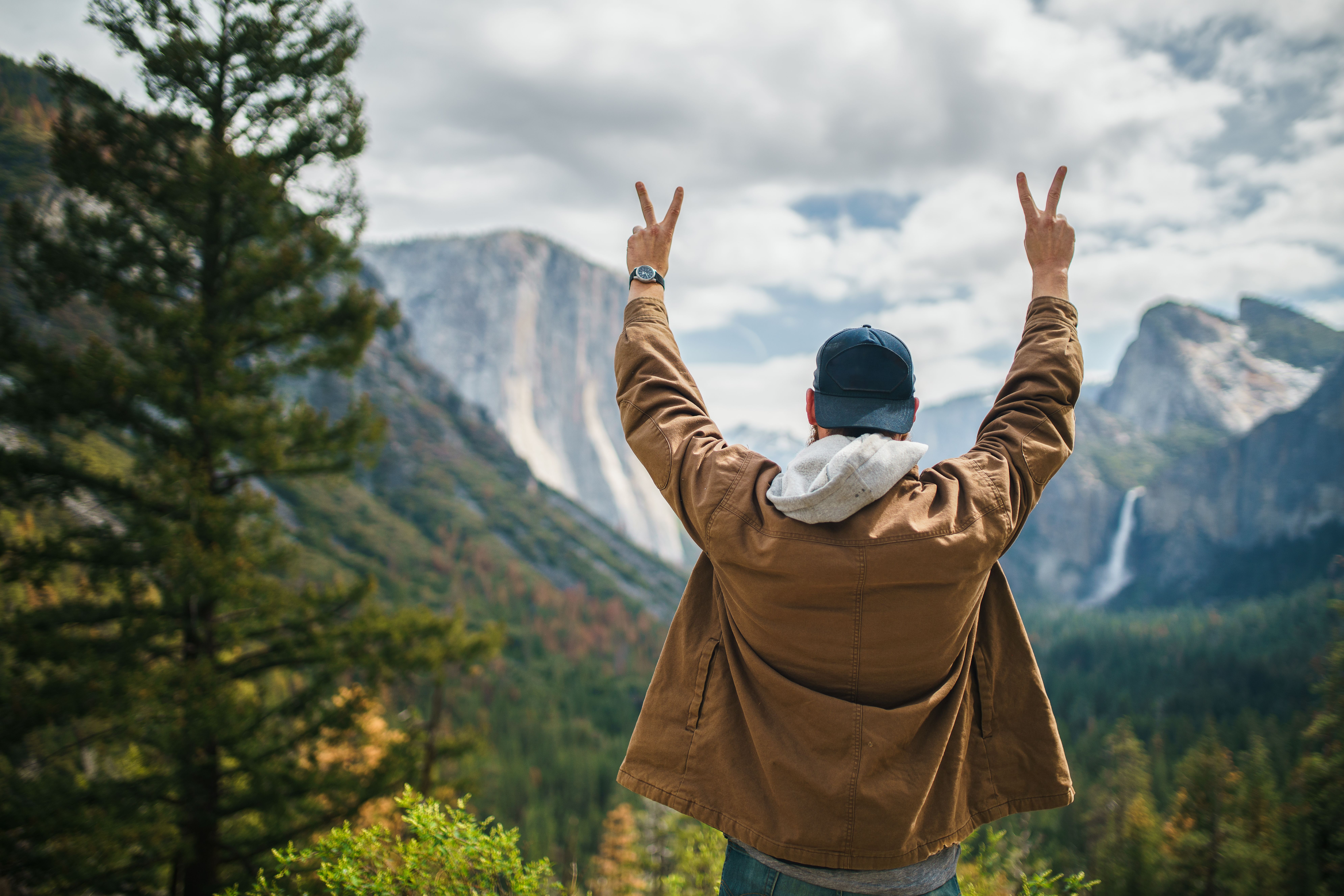 TOUR DESCRIPTION
An inspiring one-day tour to Yosemite National Park and its Giant Sequoias from San Jose. The most trusted Yosemite tour for over 15 years. Offers the most time in the park and the opportunity to experience a grove of giant redwood trees. Guaranteed departures every day of the year.
Tour Length - 15 hours approximately
Hike to Giant Sequoias (conditions permitting)
Stunning views of Half-Dome, El Capitan and Yosemite Falls
Free time to explore the valley floor
Local expert guide (English)
Foreign language audios in 8 languages
Guaranteed daily departures
Pickup at Fairmont Hotel in San Jose
Park entry fee included at checkout
Meals or beverages
Guide gratuity: recommended
MORE INFORMATION
Towering granite cliffs and Giant Sequoias headline this one-day Yosemite tour from San Jose but our expert guides will make sure you don't miss the history, geology, wildflowers and wildlife that have made this glacier carved valley the jewel of the national park system.
Your Yosemite day tour begins with a pickup at a conveniently located hotel in San Jose, then heads east crossing through California's fertile San Joaquin (also known as Central) Valley and into the rocky Sierra Nevada mountains. See 170-year-old mining towns and learn the colorful history of the region.
This is the only Yosemite National Park tour where you will also experience the solitude of the Tuolumne Grove of Giant Sequoias, the largest living things on the Earth. You'll reconsider your place in the world—two-thousand-year-old trees can make people do that!
Your heart (and cameras) will be racing as you enter Yosemite Valley and enjoy stops at Inspiration Point and El Capitan Meadow. Take a moment at Half Dome, El Capitan, Yosemite Falls and Bridalveil Falls.
Special requests? Help with photos? Just ask. Extranomical has earned more 5-star reviews at Yosemite National Park than anyone. Guests can enjoy this Yosemite National Park tour 365 days a year. But no two tours are alike.
We're so confident that our Yosemite day tour will amaze—its backed by a Satisfaction Guarantee. Come aboard—we're saving a seat for you!
.
TOUR ITINERARY
6:15 AM - 10:30 AM
Begin your Yosemite National Park tour with a convenient pickup at the Fairmont Hotel in San Jose
Rest stop. Pick up snacks and lunch for the park
Learn the history of the Sierra Nevada mountains and the Gold Country
Be introduced to Yosemite as you cross the San Joaquin valley
10:30 AM - 12:30 PM
Enter Yosemite National Park
Trail conditions permitting, experience a Giant Sequoia grove
12:30 PM - 1:30 PM
Heart-stopping views of Bridalveil Falls, El Capitan and Half Dome
Be inspired at Inspiration Point/Tunnel View
1:30 PM - 3:00 PM
Free time in Yosemite Valley
Hike the Meadow Loop or the trail to Yosemite Falls
Photograph the Swinging Bridge
3:00 PM - 5:00 PM
Re-board the vehicle for more photo stops as we exit the park
Descend from the Sierras back to San Francisco
5:00 PM - 9:30 PM
Continue your descent from the Sierras
Stop for a break and dinner (approx 30 min)
Watch the sun set into California's golden hills
Conclude your Yosemite National Park tour back at the San Jose Fairmont
* Times listed are approximates only. Traffic and other unforeseen issues can cause delays or changes in these time which are out of our control. Please do not make flight/travel arrangements on the same day as your tour.
Important Information
What should I bring?
Comfortable shoes for walking
Extra spending money for meals or snacks
A light jacket (easily removable) in case of wind
Camera (optional)
Water bottle (optional)
Warm clothes and a waterproof jacket (during the winter months)
Hat and sunscreen (during the summer months)
Sturdy umbrella (if the forecast calls for rain)
How long is the tour?
This tour takes about 15 hours.
What should I wear?
Temperatures vary depending on the season and time of day in Yosemite, so we recommend that you wear layered clothing in case of unexpectedly climbing or falling temperatures. We do not recommend wearing shorts or sleeveless shirts in the winter. However, we realize that everyone is acclimated to different weather and thus trust you to make your own judgment. For footwear, we recommend comfortable walking shoes, such as regular tennis shoes, sneakers, or boots with rubber soles and treads. In the summer months, hiking sandals can be worn on the Yosemite One Day Tour, but high heels, beach flip-flops, and other open-toed shoes are not recommended.
What is the average temperature in Yosemite?
Yosemite weather varies depending on the season. Average temperature data is below.
SUMMER MONTHS (JUNE, JULY, AUGUST):
Average High temperature: 87°F / 31°C
Average Low temperature: 55°F / 13°C
WINTER MONTHS (DECEMBER, JANUARY, FEBRUARY):
Average High temperature: 48°F / 9°C
Average Low temperature: 29°F / -2°C
Do you provide meals? If not, can we buy food on the tour or take our own?
Meals are not included on this tour. We do make a stop about halfway to Yosemite, where you can buy a snack or meal to take with you. There are also restaurants and a deli in Yosemite Valley where you can purchase lunch and snacks. Eating and drinking are allowed on our vehicles, and you can also bring your own food if you do not feel comfortable purchasing it on the trip.
What languages are available for this tour?
The tour is narrated in English but we offer complimentary recorded audio guides in 8 languages: Spanish, French, German, Italian, Korean, Mandarin, Japanese, and Portuguese. If an audio guide is required, please specify when booking.
What type of vehicle do you use?
We have a variety of vehicles ranging from a 13-passenger van to a 41-passenger bus.
What do I need to know about the Giant Sequoias hike?
The hike is dependent on trail and weather conditions. The Grove is usually only available from April to October. If you choose not to participate in the hike, then you can stay with the bus at the top of the trail as you wait for the rest of the group to return from the hike. The hike is about 2 miles round-trip (about 60 minutes round-trip, depending on your pace) and has a paved trail with 400 ft (122m) incline.
How can I travel around the park during my free time?
Yosemite National Park has a free, year-round Yosemite Valley Shuttle with stops at most major sights of interest and some trailheads. However, as we do not want you to miss your return trip to San Francisco, we do not recommend taking public transportation during your free time in the valley. There are many sights and attractions that you will be able to reach on foot while you are there.
Can I use my annual pass for the United States National Parks to enter Yosemite for free?
Unfortunately, you cannot use your pass on this tour. The entrance price for Yosemite National Park is based on the vehicle used and not on the number of individuals in the vehicle, and is paid all at once by our Expedition Leader. Therefore, the $10 fee is added to the cost of the tour when you pay.
Does this tour run every day?
Yes, we have guaranteed daily departures for our Yosemite tour.