What to Know Before You Go to Alcatraz Island
Alcatraz Island falls within the boundaries of the Golden Gate National Recreation Area. Alcatraz Island tours are conducted by National Park Service and its rangers. Private tour guiding is not permitted. Access to the island is limited to a single ferry service provided by Alcatraz Cruises.
Alcatraz Day Tour
The standard Alcatraz Day tour is no Disneyland ride. It is an experience with raw and rough edges to it. The tour begins with a 15-minute ferry ride over to the island. The views of the city skyline, the Golden Gate Bridge, the Bay Bridge, San Francisco Bay and Angel Island, are spectacular—have your camera ready.
After arriving on the island, groups are assigned a park ranger, and given a brief talk on what there is to see and do on the island. The ranger will lead you up the hill to the prison entrance, where you will find the equipment for the Alcatraz audio tour.
A 45-minute Cellhouse Audio Tour is available and included with the purchase of your Alcatraz ferry ticket. You'll hear the voices of actual prisoners and guards describing their experiences at Alcatraz. It directs you to see key spots, like Al Capone's cell B 181. The audio tour is available in English, Spanish, Japanese, French, Italian, German, Dutch and Mandarin.
Beyond the cell blocks, you can roam the island freely and at your own pace. There are many old structures, courtyards, a guardhouse, exercise yard and lighthouse to explore.
If you are into bird watching, Alcatraz is a special place. Among the species, you'll see are cormorants, orange-footed pigeon guillemots, snowy egrets, black-crowned night herons, and Western Gulls. Get more information about seabirds on Alcatraz here.
If you are feeling energetic, try the island's 0.7-mile Agave Trail. The succulent-lined path built by prison guards, meanders through a eucalyptus grove, then descends to the water's edge where you'll find dazzling views of San Francisco, Golden Gate Bridge, Marin County, and nearby Angel Island.
Insider tip: Go outside and explore the grounds and views, then come back to do the audio tour. Most do the audio tour first, and people tend to get bunched up around the points of interest. This way, you have the cellblock portion of the tour (almost) all to yourself!
The Golden Gate National Recreation Area offers three other "special" Alcatraz Island tours to the public.
Alcatraz Night Tour
Duration: 2 hours 40 minutes
The Alcatraz Night Tour is limited to just a few hundred visitors per evening. The Night Tour Alcatraz ferry makes a trip around Alcatraz Island before arriving at the dock and the tour includes activities and special presentations not offered during the day tour.
Alcatraz Behind the Scenes Tour
Duration: Approximately 4-5 hours
This tour starts with a guided 2-hour tour of the island with a park ranger, going to places where other tours don't, like the dungeon cells, a Civil-War-era tunnel, A Block cells, the prison chapel and the eerie prison hospital.
Alcatraz & Angel Island Combination Island Hop Tour
Duration: 6 hours
This is a handy combination if you want to make a day of it and see both sights. Angel Island is a beautiful place and considered to be the Ellis Island of the West Coast. Thousands of immigrants came through Angel Island, especially during the Gold Rush era.
To make sure that you and your group enjoy your time on the island, here is some advice for your departure day:
Go to the Will Call booth at Pier 33 Alcatraz Landing
Arrive 30 minutes prior to your scheduled departure time
Bring a passport or photo ID as proof of your identity
Alcatraz tickets are issued to a person and are not transferable
Eat before you go. No food or drinks are allowed on the island
Bring a jacket even if it feels warm in the city
Don't bring bags larger than a standard size backpack
Alcatraz is closed on Thanksgiving Day, Christmas Day and New Year's Day.
Insider tip: The first tour of the day is called the Early Bird Tour, leaving at 8:45 am. It is extremely popular because it's the first boat out to the island and you can explore before it gets really crowded.
Buying Alcatraz tickets
Each day, a limited number of tickets for San Francisco Alcatraz tours are sold. Since they are always in demand, getting Alcatraz tickets is not easy. During peak season, they can sell out weeks (or months) in advance.
The hardest times to get Alcatraz tickets are: June to August, the Christmas/New Years holidays, Easter break, Memorial Day and Labor Day.
Tickets for Alcatraz go on sale 90 days in advance of the tours. There are three ways to get Alcatraz tickets:
Buy online. Only one company is authorized to ferry the visitors to Alcatraz. During peak season Alcatraz may be sold out, so book your tickets early! To purchase Alcatraz tickets, view the schedule and/or for more information, visit the Alcatraz Cruises web site at www.alcatrazcruises.com.
Line up. Alcatraz tickets for future tour dates are available for purchase by walking up to the Alcatraz Cruises kiosk at Pier 33. During peak season people line up before dawn for same-day Alcatraz tickets but even that is no guarantee.
Book a tour package. Many local tour operators have Alcatraz tickets and offer them as part of a package bundled with other attractions. If your San Francisco plans include doing a tour of the City, Muir Woods, the Napa Valley Wine Country, or Yosemite National Park, this is a good way to get your Alcatraz ticket and save money.
Extranomical Tours has several Alcatraz package options.

Frequently Asked Questions About Alcatraz Island
How do you go to Alcatraz Island?
Only on ferries operated by Alcatraz Cruises. They depart from Pier 33 on The Embarcadero in San Francisco. Private vessels are not allowed to doc at Alcatraz island. Daily departures, every 30 minutes to an hour depending on the season.
Where do you buy Alcatraz tickets?
There are three ways to get Alcatraz tickets:
Buy online. Visit the Alcatraz Cruises web site at www.alcatrazcruises.com.
Line Up. Future and same-day tickets are available at Alcatraz Cruises kiosk at Pier 33.
Book a tour package. Many tour operators offer tickets as part of a package bundled with another attractions.
What do you do if Alcatraz is sold out?
There are cruises that go around the island but don't visit Alcatraz itself. A favorite is the Escape from the Rock Cruise by Blue and Gold fleet. The 90-minute bay cruise tells the stories of the most dramatic escape attempts While you enjoy San Francisco Bay. Learn more here.
Has anyone ever escaped from Alcatraz?
There have been 14 attempts to escape Alcatraz. All but one ended with the escapees being recaptured or killed. In 1962, Frank Morris and brothers John and Clarence Anglin used homemade tools to break out of their cells and leave the island in makeshift rafts. Their bodies were never found and the official record is that they drowned.
What is the weather like on Alcatraz?
The weather on Alcatraz tends to be very unpredictable. It can be warm, windy and wet, sometimes all on the same day. It is risky to assume mild conditions in the summer. San Francisco has famously foggy and cold conditions in July and August.
Where is Alcatraz located?
Alcatraz is located in the middle of San Francisco Bay, approximately 1.25 miles (2.01 KM) from the northern shore of San Francisco and the northern tower of the Golden Gate Bridge in Marin County. H
How do you get to the Alcatraz Island Ferry?
The following SF Municipal Railway (MUNI) bus lines stop within three blocks of THE Hornblower Alcatraz Landing at Pier 33:
#8X Third Street bus
#82X Presidio & Wharves Express bus
F Line streetcar. The most direct route. Use the Bay Street stop
#10 Townsend bus (Weekdays only, ending at 7 p.m.)
For additional information, routes and schedules, check the San Francisco Municipal Transportation Agency website.
Is there parking at Pier 33 Alcatraz Landing?
There is no parking at Pier 33. Street parking won't generally work as you will be at Alcatraz longer than the maximum stay for most of the nearby street parking locations. The Pier 39 garage usually has room. Check out more parking options on the map below.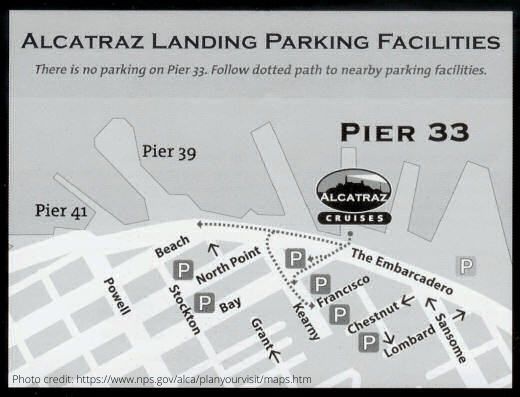 What to know before going to Alcatraz?
It is a steep hill to reach the cellhouse. The distance from the dock to the cellhouse is approximately 1/4 mile and equivalent to a 13-story climb. Visitors unable to make this climb may take advantage of an hourly electric shuttle.
On a regular day, the last boat leaves Alcatraz at 5:50 pm in summer and 4:25 pm in winter. You can take any boat back, but plan to spend at least a few hours to see everything without feeling rushed.
What does Alcatraz mean?
Alcatraz Island received its name from the Spanish explorer, Juan Manuel de Ayala, as he traveled through and charted the San Francisco Bay in 1775. Upon noticing the countless birds that claimed the island, he labeled the plot of land La Isla de los Alcatraces, or Island of the Pelicans.
Why is Alcatraz famous?
Alcatraz was a U.S. maximum-security prison in the middle of frigid San Francisco between 1934 and 1963. Sometimes known as "The Rock," it had a reputation for housing the most notorious criminals including Al Capone, Whitey Bulger, and George "Machine Gun" Kelly.
How long is the Alcatraz tour?
The tour is self-paced, and you can take any return Alcatraz ferry you like. Allow at least 3 hours for the whole trip; although many visitors spend more time exploring the prison, guard houses, gardens and other island features.
When did Alcatraz close?
Due to the high cost of operating the prison and damage to the buildings from the salty conditions, the facility was closed in 1963. In 1972 it was designated as part of the newly created Golden Gate National Recreation Area.
What should you wear on your Alcatraz tour?
Weather on Alcatraz is always windy and unpredictable. Be sure to dress in layers and long pants. Don't forget a jacket even if the day starts off sunny. You will be doing a bit of walking and climbing around the island, so firm walking shoes with a good tread are recommended.
Is Alcatraz haunted?
There are many unsubstantiated ghost stories surrounding the dreary Alcatraz Island prison. The most widely repeated haunt is that you can still hear the twang of Al Capone's banjo, which the notorious mobster often played during his sentence there.