Alcatraz Island
The Alcatraz Island
The Alcatraz Island is one of Golden Gate National Recreation Area's most popular destinations, offering a close-up look at a historic and infamous federal prison long off-limits to the public. Visitors in Alcatraz can learn about the Indian occupation of 1969 - 1971, early military fortifications (the first U.S. fort on the coast), and the West Coast's first (and oldest operating) lighthouse. The island of Alcatraz, received its name in 1775 when Spanish explorer Juan Manuel de Ayala charted the San Francisco Bay (enjoy a San Francisco Bay Cruise to see the city skyline from the Bay), and named this tiny speck of land La Isla de los Alcatraces, which translated to "Island of the Pelicans." Alcatraz was also home to several Chinese families, who were employed as servants, and made up the largest segment of the island's civilian population.
The City of San Francisco from Alcatraz
Many inmates in Alcatraz worked as general servants who cooked, cleaned, and attended to household chores for island families. In many cases, select prisoners were entrusted to care for the children of staff members. Even when they were not confined in a cell, at night when all the activities in Alcatraz stopped, they could hear the noises of the city and see the City of San Francisco, from their cell in Alcatraz. Take one of our San Francisco City tours to explore the city.
Alcatraz Island
From the mid 1930's until the mid 1960's, Alcatraz used to be the home of many inmates, and the final stop for the most dangerous criminals. Their resumes boast crimes ranging from kidnapping to espionage, bank robbery to murder. The most famous inmates in the Island of Alcatraz were:
Al Capone, master on the art of politics, and as a wealthy, powerful gangster figure, he attempted to balance his activities. By 1924, Capone had his hand in various rackets, including prostitution rings, bootlegging, and gambling houses. By 1929, Capone's empire was worth over $62,000,000.
George "Machine Gun" Kelly was born in a wealthy family and even went to the University, but his best school was the Leavenworth Penitentiary in 1928. He was caught smuggling liquor into an Indian Reservation and was sentenced to three years. He had a similar conviction and this time he went to the State Penitentiary of New Mexico. Once he was free, he fell in love with Kathryn Thorne and killed her husband among some other crimes.
Henry Young was a bank robber who had taken and brutalized a hostage on at least one occasion and committed murder in 1933. In January of 1939 he intended to escape from Alcatraz.
Robert Stroud was also known as "Birdman of Alcatraz". In 1909, he brutally murdered a bartender who had allegedly failed to pay a prostitute for whom Stroud was pimping in Alaska.
Visit Alcatraz Island and see the infamous prison yourself with one of our Alcatraz Packages!
One of the empty buildings in Alcatraz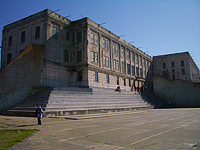 Main entrance to Alcatraz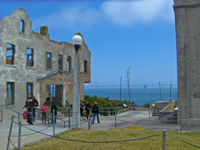 This is a cell in Alcatraz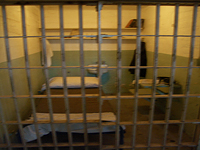 The other side of Alcatraz