Angel Island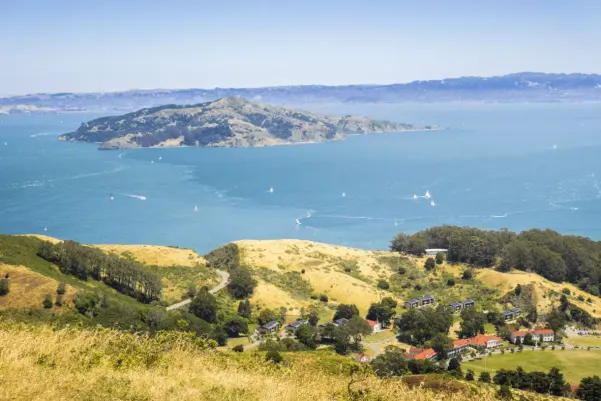 Angel Island is the largest island in the San Francisco Bay. While perhaps not as "famous" as Alcatraz, it has its own rich history that is worth learning and exploring.
The Early History of Angel Island
From about two thousand years ago the island was a fishing and hunting site for Coast Miwok Native Americans. However, in 1775, Lt. Juan Manuel de Ayala sailed into San Francisco Bay on a mission to chart the area for future Spanish ships, and anchored his boat next to what he christened "Isla de Los Angeles", or "Island of the Angels". The area where he once moored is now named after him – Ayala Cove.
In the early 19th century, the island had few inhabitants. Russians hunting sea otters off the coast of San Francisco built a storehouse, and a British warship used it as a repair station. After 1846 and the war with Mexico, a quarry was developed on Angel Island which provided sandstone for San Francisco's original Bank of California. Many prisoners from Alcatraz Island labored there as part of their sentence.
US Military Involvement
During the Civil War, Angel Island became a military post to protect the San Francisco Bay from Confederate attack. The federal government established Camp Reynolds and several artillery batteries on Angel Island. Many of the wooden military buildings from 1863 still stand on Angel Island today. Two of them are open to the public on docent-led tours. After the Civil War was over, Camp Reynolds remained on Angel Island, serving as an infantry camp for over 200 soldiers.
In 1892, a Quarantine Station was opened at Ayala Cove to fumigate ships from foreign ports coming into the San Francisco Bay. They also held immigrants suspected of carrying infectious diseases like smallpox in isolation. An Immigration Station was completed in 1910, amid public controversy, and Angel Island was billed as the "Ellis Island of the West." However, the reality was that it was primarily used as a detention facility, due to the Chinese Exclusion Act of 1882, which barred Chinese immigrants from entering the country. In 1970, Camp Reynolds was saved from demolition – and today, it is a museum showcasing the lives of the thousands of people detained there.
The military also used the island as a staging area for troops in both World War I and World War II. More than 300,000 soldiers were shipped out to fight in the Pacific through Angel Island until the war ended in 1945. As part of a growing defense system, a Nike anti-aircraft missile was installed on the island in 1954, but later removed in 1962.
Angel Island Today
Today, the island doubles as both a 740-acre State Park and a historical State Landmark. It has 13 miles of hiking trails, eight miles of paved biking trails, and basic campsites. Visitors can climb Mt. Livermore for panoramic views of San Francisco, Mt. Tamalpais, Sausalito, and Oakland. This "Jewel of the Bay" is visible during clear skies from the Golden Gate Bridge, the San Francisco Oakland Bay Bridge, Coit Tower, and Pier 39. It can be reached by ferries from Oakland, San Francisco, and Tiburon.
You can see even more details at their official website.
Want to read more about San Francisco and the surrounding area? Try: