San Francisco is one of the few big cities lucky enough to be immersed in nature. Bustling wharves and high-rise buildings meet towering ancient redwood trees, parks filled to the brim with colorful wildflowers, and unparalleled coastal estuaries. There are 89 scenic trails running through and in between these memorable places.
There are many tours of San Francisco highlighting its natural and urban charm offered by Extranomical Tours. In addition, San Francisco is a great city for hiking and walking. Many of the trails lead directly to the city's top attractions and after a few days of touring, you may be ready to set off on your own and see the sites on foot. To help get you started, we've compiled the top-rated San Francisco hiking trails offering nature, history, access to the area's urban culture, and more.
Recommended trails include:
Here are my thoughts on the best hikes the city has to offer:
Presidio-Promenade Trail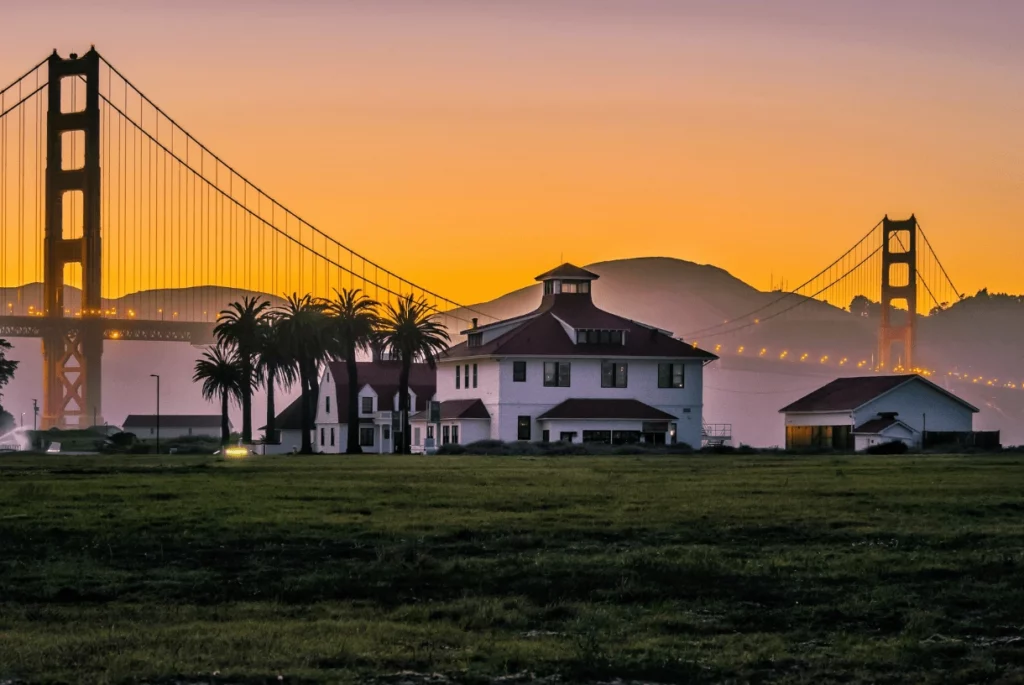 This 4.5-mile loop trail begins just inside the Lombard Street Gate. The trail consists of streets, wide sidewalks, and paved pathways leading pedestrians through both natural and residential areas. Hikers can take in views of migratory birds overhead on the Pacific Flyway and iconic landmarks on the ground, including attractions such as:
Walt Disney Museum: The Walt Disney Family Museum celebrates everything Walt Disney has with exhibitions covering his life, his work, and his lasting legacy.
Crissy Field: Once the Pacific coast's first Air Coast Defense Station, today Crissy Field is a lovely public park and recreational area named in honor of Major Dana Crissy.

Alcatraz Islan

d: The infamous Alcatraz Federal Penitentiary, where society once sent most dangerous prisoners, is now open to the public for tours, photos, and nightmare-inducing true tales.
Presidio Park is dog-friendly, wheelchair accessible, and even offers a free shuttle from the downtown area. Enjoy the sights along your way, but be mindful of the trail markers! Hikers have reported that the path is difficult to follow at points.
Trail Details
Length: 4.5-mile loop
Difficulty:
Elevation Gain: 129 meters. For another look at this elevation gain, the Presidio parks organization has a chart of feet above sea level along the Presidio-Promenade trail.
Hiker Review: "Every spot in the Presidio is magical. The Presidio Promenade Trail is no exception and I love taking my dog for a walk in this area on the daily." Benjamin F; Yelp
Golden Gate Park: Stow Lake and Strawberry Hill Loop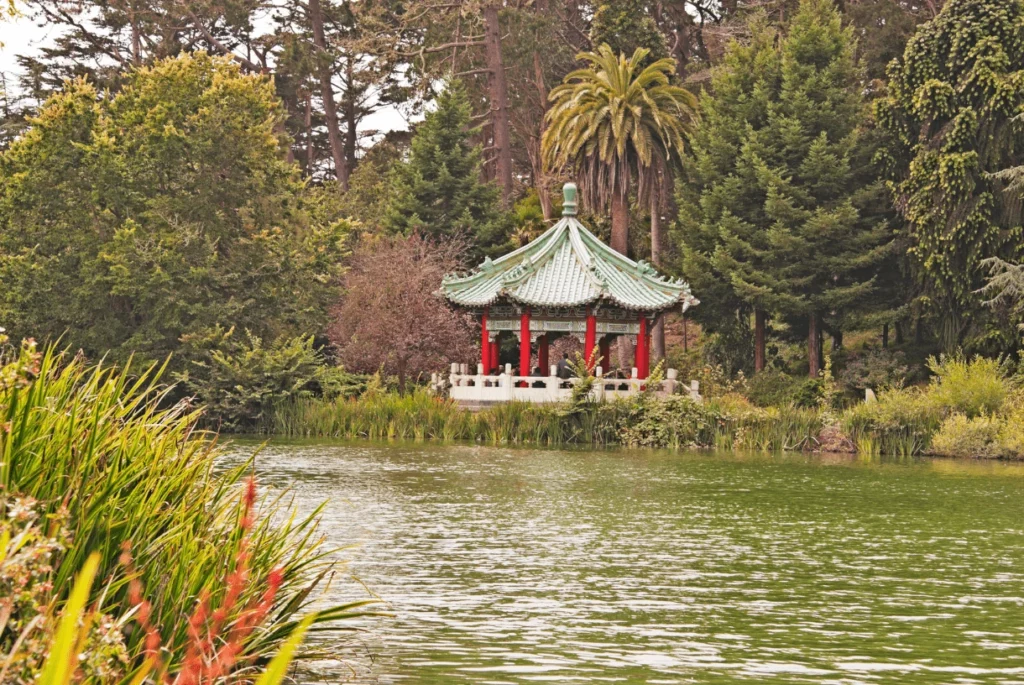 Stow Lake and Strawberry Hill Loop is a gentle 2.1-mile stroll through Golden Gate Park. The park is handicap accessible and dog friendly. The loop trail offers birding opportunities and beautiful views of the lake along with stops at attractions, including:
Golden Gate Pavilion: This traditional Chinese pailou donated by San Francisco's sister city Taipei is the perfect place to picnic or sit back and enjoy the landscape, turtles included.
Strawberry Hill Waterfall: This stunning multi-tier waterfall sits at the park's highest point engulfed in a towering green landscape with views accessible from above and below.
Stow Lake Boathouse: Take a break from the trail at Stow Lake Boathouse where you will find a café, an art gallery, and boat rentals.
After the hike, settle in for a picnic at one of the many picnic tables along the route or get out on the water with a row, paddle, or pedalboat rental. If you plan to spend more time in the area, you can see more details on a few things to do in Golden Gate Park.
Trail Details
Length: 2.1-mile stroll
Difficulty: Easy
Elevation Gain: 45 meters
Hiker Review: "Always easy to get a good sweat going, and a pleasant stroll." D Artemis; AllTrails
Battery Chamberlin Trail
This trail may be short, just .15 miles round-trip, but it has a lot to offer! Enjoy views of the Golden Gate Bridge, witness a disappearing 97,000-pound cannon, and finally kick back and relax at a clothing-optional beach. Stops along the route include:
Golden Gate Bridge

: The gateway to San Francisco is the 1-mile suspension bridge considered an architectural wonder for being the longest, tallest, and most impressive of its time; even today, few bridges outrank Golden Gate.
Battery Chamberlin: Enjoy a free demonstration of the last 6-inch disappearing gun of its type on the west coast, an Endicott-era battery used to protect underwater minefields in the early 1900s.
Baker Beach: A clothing-optional beach with spectacular views of the mountains, the Golden Gate Bridge, and Marin Headlands.
Keep in mind that the waves at Baker Beach are rough, making it dangerous to swim. Instead, we recommend strolling among the many wildflowers and appreciating the brown pelicans gliding on the horizon. And of course, working on evening out your tan lines is always an option here.
Trail Details
Length: .15 miles
Difficulty: Easy
Elevation Gain: Flat, no gain.
Hiker Review: "Great trail to take in the beautiful area with outstanding views. Hiked this trail many times over the years. Great place to bring visitors for a taste of hiking and history!" Ginger Kelly-de Vegh; AllTrails
Marin Headlands: Battery Spencer Trail
Battery Spencer is a prime example of how San Francisco's hiking trails offer it all- nature, history, architecture, and vistas of both the city and the sea. This short, rocky trail offers an entertaining .5-mile out and back hike, jam-packed with iconic views. While enjoying your hike, be on the lookout for:
San Francisco Bay: Get an outside view of the bay without leaving the city- be sure to bring your camera for this one!

Angel Island

: White-sand beaches, dense green forests, and a sparkling turquoise shoreline- once a U.S. immigration station, Angel Island is now quite a sight for sore eyes.
City Skyline: Beyond the bay is the towering San Francisco city skyline, the tallest building (Salesforce Tower) reaching 1,070-feet.
Be aware that this trail is usually very crowded, but the phenomenal views are definitely worth it!
Trail Details
Length: .5-miles
Difficulty: Easy
Elevation Gain: 30 meters
Hiker Review: "What a view of San Fran! Great place to take pics and hike around. Wear comfortable shoes, and hopefully you find a nice parking spot." Boricua; TripAdvisor
Ft. Baker Bay Trail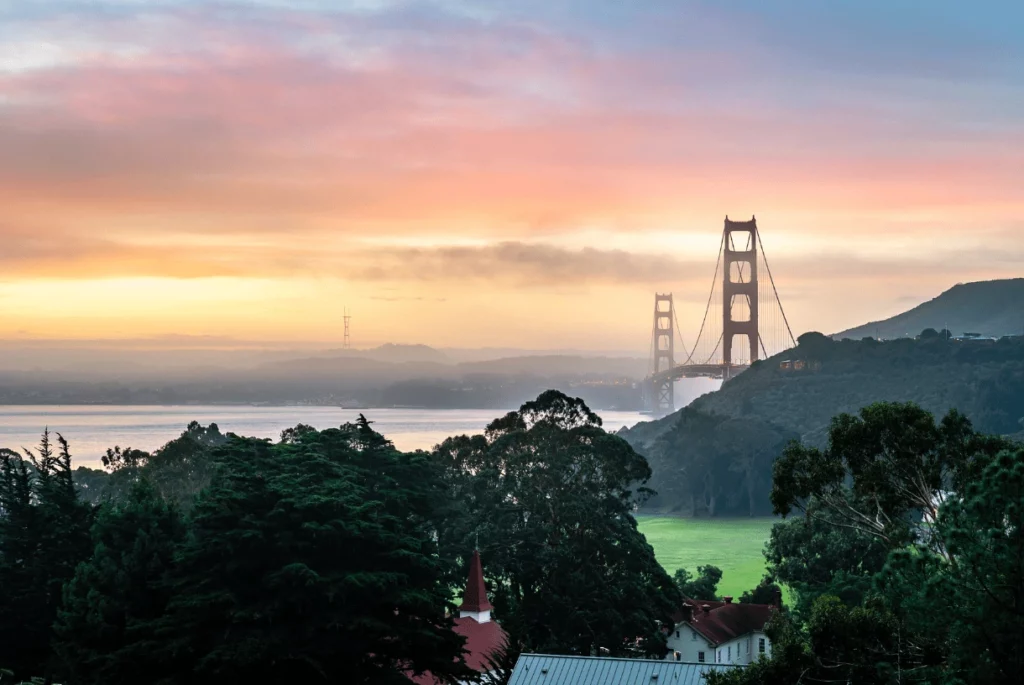 This trail traverses the 1905 U.S. Army post north of the Golden Gate Bridge. The hike offers something for everyone, with history, nature, and Instagram-worthy views all on the itinerary. Dogs are allowed at Fort Baker if they are leashed. You can find more information on DogTrekker. Notable features beyond views of the city skyline include:
Fort Baker: This park, once a former army post, is directly beneath the Golden Gate Bridge offering visitors a unique viewpoint.
Sutro Tower: This 3-legged 977-foot TV and radio tower is considered an icon of the city and is often featured in local art, TV shows, and movies.
While hiking the Ft. Baker Bay Trail, keep an eye out for the endangered Mission Blue butterfly. This stunning silver-blue insect is endemic to the San Francisco Peninsula and is now found only in a select few locations around the bay.
Trail Details
Length: 0.8 miles
Difficulty: Moderate
Elevation Gain: 45 meters
Hiker Review: "This is a must-see for tourists and locals alike. The views in every direction are amazing, and the history is pretty awesome also." Scott H; AllTrails
Twin Peaks Boulevard Pathway
Find yourself standing 925-feet above sea level in thirty minutes or less on Twin Peaks Boulevard Pathway. This trail takes you to the top of two peaks smack dab in the city's center. The hike has a rare opportunity to see endangered Mission Blue butterflies. You can read more about the history of their reintroduction on Twin Peaks here. Sweeping vistas offer views of Golden Gate Bridge, Alcatraz Island, and other San Francisco iconic landmarks including:
Downtown Market Street: A notable thoroughfare in the center of San Francisco where locals and tourists alike can ride the double-decker subway and iconic red trolley cars.
Mount Diablo in Oakland: From atop the Twin Peaks you can glimpse Mount Diablo- a 3,894-foot mountain made of black volcanic rock considered the point of creation in Miwok and Ohlone mythologies.
The trail is 2.1-miles out and back and can be steep in places. Strong wind, dense fog, and muddy terrain are reported on occasion, so please climb with care.
Trail Details
Length: 2.1-miles
Difficulty: Moderate/Hard
Elevation Gain: 200 meters
Hiker Review: "A wonderful way to see San Francisco from the top. Get there early because sunrise makes it even better." Kai W; AllTrails
Land's End Loop Trail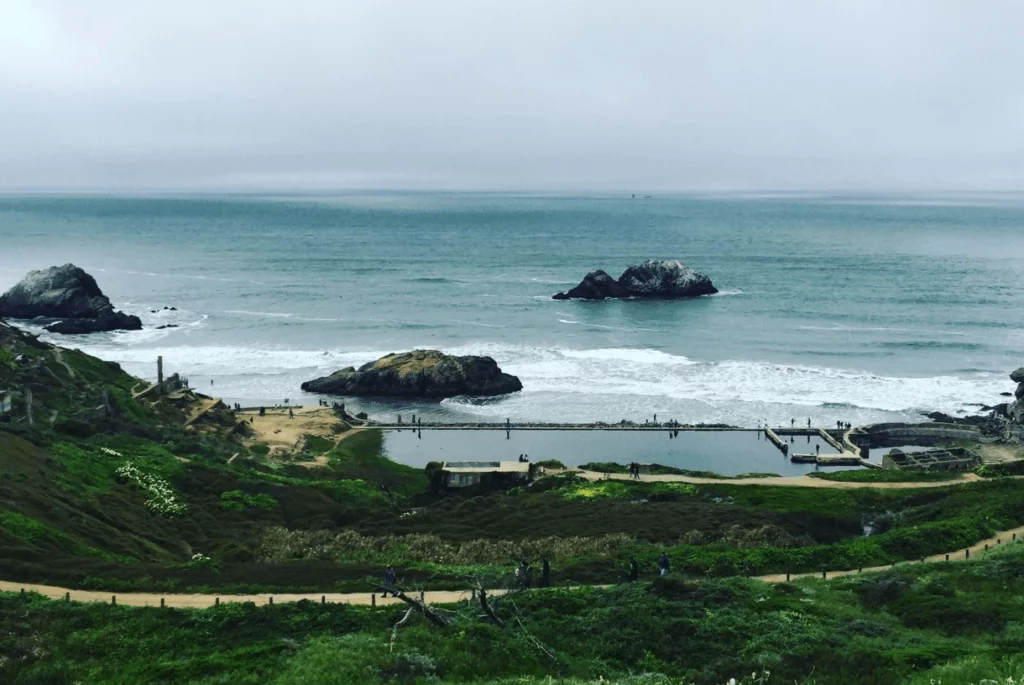 You may be hiking towards the Land's End on this trail, but there is no shortage of sights to see along the way. Our favorite? The abundance of sea lions hauled out on Seal Rock. (We recommend plugging your nose when you get close.) The loop trail is 3-miles and consists of stairs, paved pathways, and sections of sandy beach. Features to check out along the way include:
Sutro Baths

: Don't get your bathing suit out just yet; the Sutro Baths are ruins of what was once a marvelous swimming center with seven pools of ocean water that could hold up to 10,000 people with slides, trapezes, springboards, and a high dive.
Cliff House: Visit self-made millionaire Adolph Sutro's dream establishment- a luxurious restaurant, hotel, and gallery made affordable for the residents of San Francisco.
Seal Rocks: This is a group of rock formations aptly named for the Steller's sea lions and California sea lions who flock there.
Mile Rocks Lighthouse: A quirky structure as lighthouses go- this lighthouse is positioned on a rock about a half-mile offshore.
Land's End offers the most wilderness one can find within city limits, with even more to come. Staff and volunteers are planting 20,000 native plants to better the habitat for local wildlife including coyotes, seals, salamanders, great horned owls, woodpeckers and much more. There is no cost associated with entrance to Land's End Loop Trail.
Trail Details
Length: 3-miles
Difficulty: Moderate
Elevation Gain: 75 meters
Hiker Review: "Lovely, quick hike at Land's End Trail. Spectacular views, plenty of stairs for cardio. Well laid out and maintained." David G; Yelp
Mt. Davidson Trail
Mt. Davidson Trail is a popular 1-mile loop named after geographer and Sierra Club charter member George Davidson. Hikers eagerly climb for thirty minutes to the highest natural point in the San Francisco area. Views include a mix of city and forest with sights including:
Mt. Davidson Cross: This is one of the city's oldest landmarks commemorating the 1.5 million victims of the Armenian Genocide.
Twin Peaks: Take in views of the towering Twin Peaks in the city center from atop Mt. Davidson.
Neighborhoods of San Francisco: The mountain may be less than 1,000 ft tall, but it still offers views of the city's downtown and many of its accompanying neighborhoods.
The trail also leads hikers to a plaque commemorating the many Armenians lost in the genocide of the early 1900s.
Trail Details
Length: 1-mile
Difficulty: Hard
Elevation Gain: 300 meters
Hiker Review: "Great panoramic view at the top and a dappled sunny walk down past the cross." Aurora Golden-Appleton; AllTrails
Angel Island: North Ridge Trail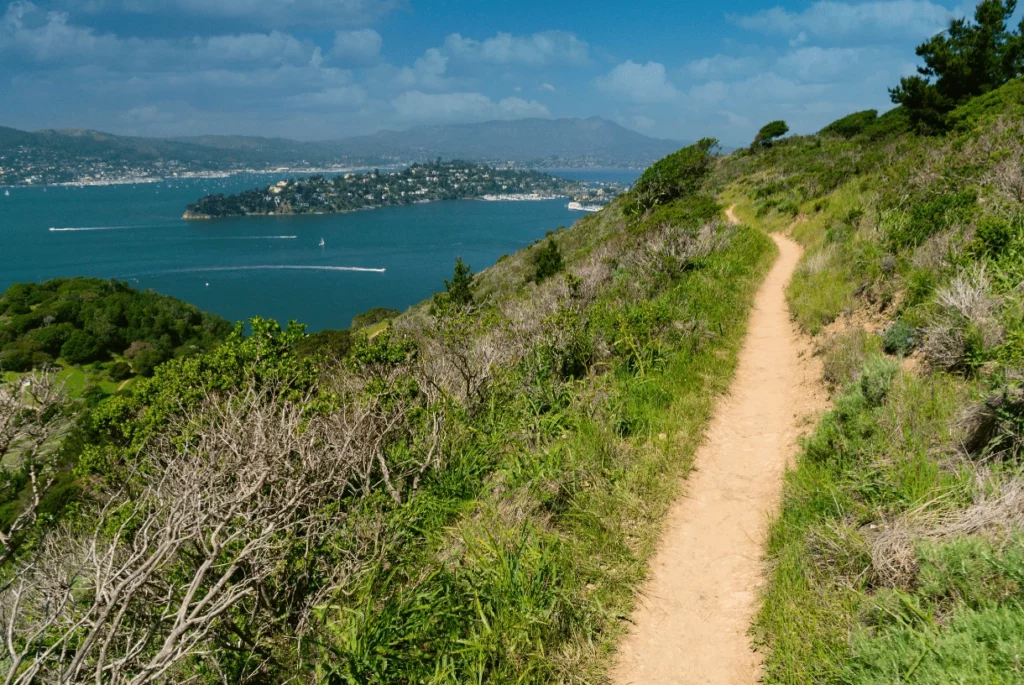 The North Ridge Trail offers hikers the unique experience of viewing the city skyline from a new perspective: out on the bay. This hike begins with a breathtaking ferry ride to Angel Island, a 20th-century army base referred to by locals as the "Ellis Island of the West". The 5.9-mile loop traverses Mt. Livermore trailing hikers through dense forests of pine, oak, eucalyptus, and black locust trees. From the vista, hikers can see the city skyline and landmarks such as:
Tiburon: This somewhat ritzy town on the San Francisco Bay is named for the leopard sharks that frequent its shorelines.

Sausalito

: From the island, you can see as far as Sausalito- an artsy beach town located just north of San Francisco.
In addition to the fresh, salty island air and splendid shoreline views, your senses will be further aroused by the magical array of wildflowers sporting every color of the rainbow. Visitors to the island can spot poppies, iris, star lilies, mission bells, thistles, forget-me-nots, and more.
Trail Details
Length: 5.9-mile
Difficulty: Hard
Elevation Gain: 300 meters
Hiker Review: "Lots of spectacular views on the trail! I took so many pictures because it just kept getting better and better." Semuteh F; Yelp
Muir Woods: Redwood Creek Trail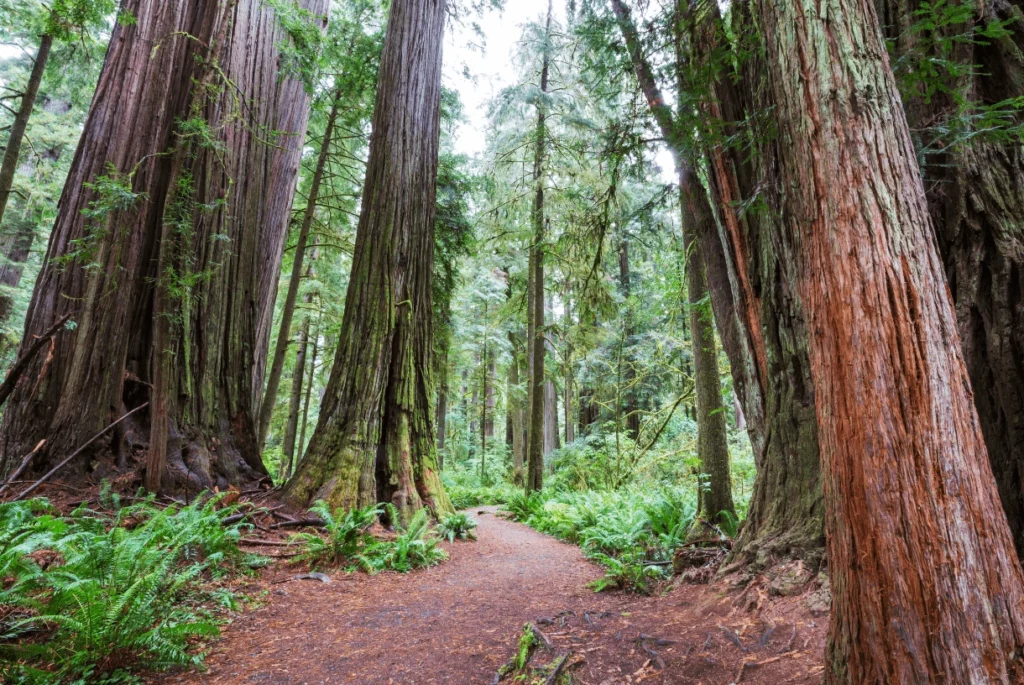 The Redwood Creek Trail may be located outside San Francisco proper, but locals still consider this a San Francisco hiking trail. Muir Woods National Monument is located in Mill Valley and is accessible by public transport, bike, or car. The seventeen-mile journey north out of San Francisco to the Redwood Creek Trail will reward you with 10.5-miles of giant coastal redwood trees reaching over 250 feet in height. The trail meanders alongside a gently flowing brook. Featured points along the trek include:
Muir Woods Visitors Center: The national monument visitor center has exhibits, seasonal displays, books for sale, and trail maps.
Bohemian Grove: The Bohemian Grove Trail, named after the legendary Bohemian Club, is one of the most popular in the park for its ground-to-canopy views of the iconic Redwood trees.
Cathedral Grove: The hike through Cathedral Grove is unique in that it is a silent hike, allowing guests to truly appreciate the ancient trees they are visiting.
Expert tip: follow the path clockwise to avoid direct sun the whole way. Ambitious hikers can add additional trails to their journey such as Fern Creek Trail, Lost Trail, Hillside Trail, and Ben Johnson Trail.
Trail Details
Length: 1.5 miles (in the park)
Difficulty: Easy
Elevation Gain: Flat
Hiker Review: "This trail is pretty amazing after the rainfall. The flowing stream soothes the mind. Part of the trail is muddy but manageable." Chintan Patel; AllTrails
Point Bonita Lighthouse Trail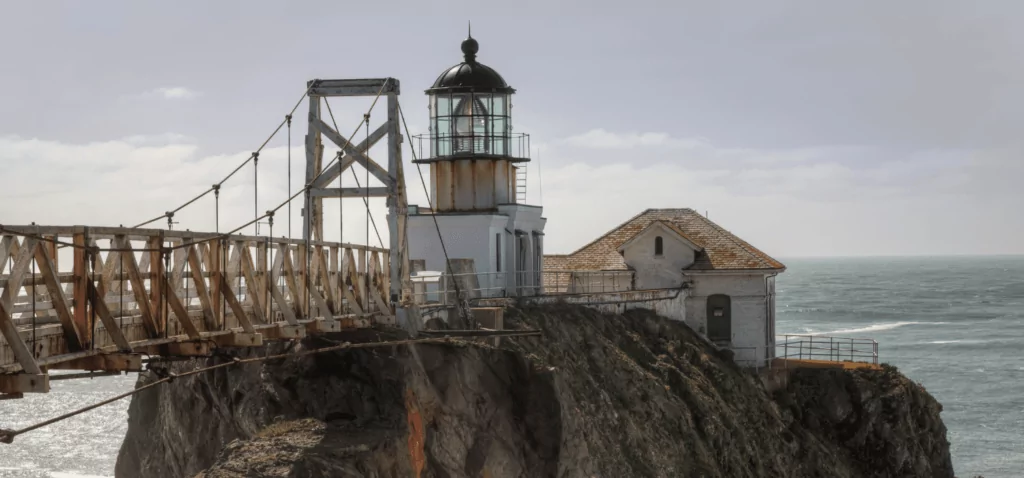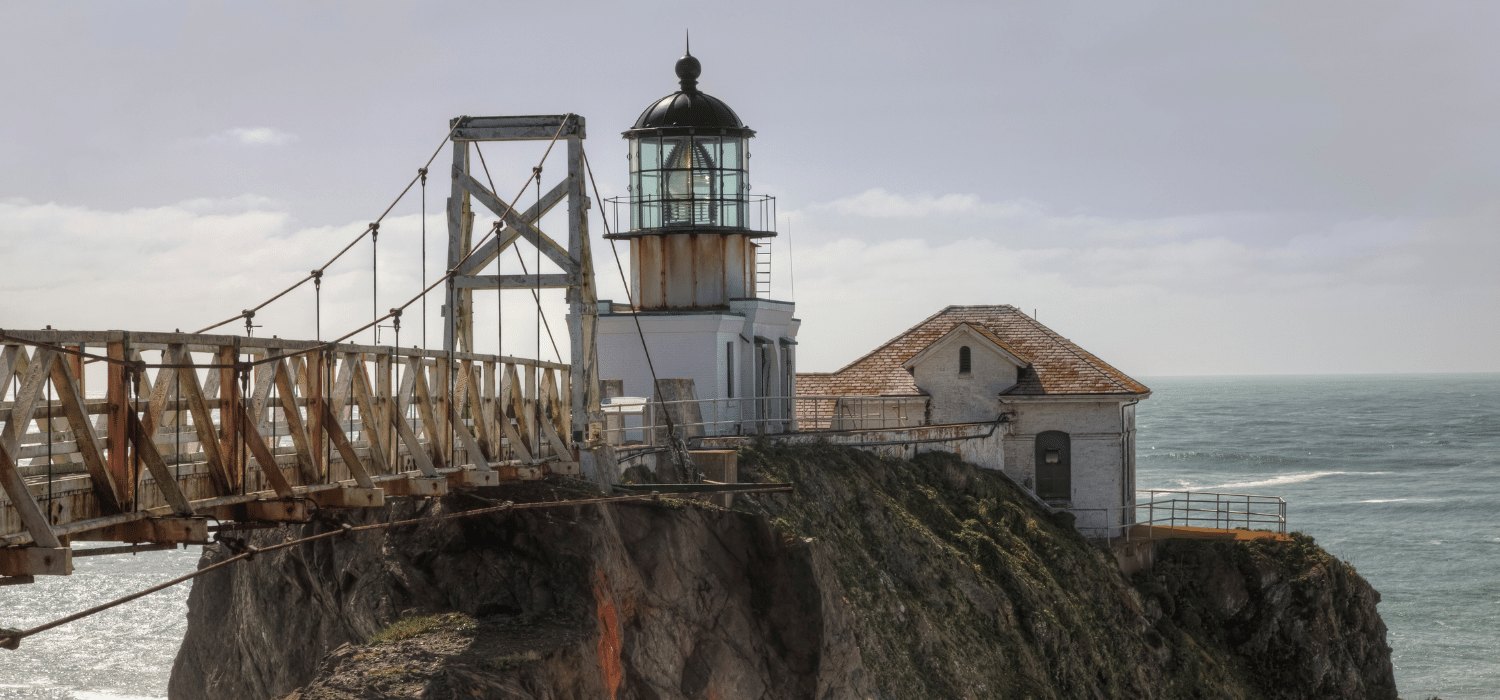 Point Bonita Lighthouse Trail is a 1-mile out-and-back trail located in Golden Gate National Recreation Area. Point Bonita Lighthouse, the third lighthouse on the West Coast, was built in 1855 and is still operational today. The trail offers views of the lighthouse, the Pacific Ocean, and the basalt rock cliffs bordering the shoreline. Other features include:
Nike Missile Site: One of the many Nike missile sites leftover from the U.S. Air Defense's attempt to protect the country from an impending Soviet nuclear attack in the 1950s.
Historic Coast Guard Rescue Station: The rescue station was once used for coastal steamers and sailing ships that wrecked on the rocky cliffs of Land's End.
The majority of the trail is steep and visitors using wheelchairs, mobility equipment, or strollers may require assistance.
Trail Details
Length: 1 mile
Difficulty: Moderate/Hard
Elevation Gain: 250 meters
Hiker Review: "While this was not the traditional tall lighthouse I expected, the history contained within the lighthouse was enlightening. And the view was absolutely breathtaking, from every angle. The walk in and out was very steep without handrails, but thankfully not a great distance of incline." KentuckyKin; TripAdvisor
Well, that should keep your travel pod busy during your visit to San Francisco. There are plenty of good resources online if you'd like more detailed information about any individual hike. In case you are looking for something far more aggressive check out the Bay Trail which at its completion will circle the Bay Area and extend for 500 miles!
We here at Extranomical Tours love sharing our passion for the beauty of San Francisco and the Bay area with visitors and locals alike. Happy hiking!
Published on: August 4th 2022