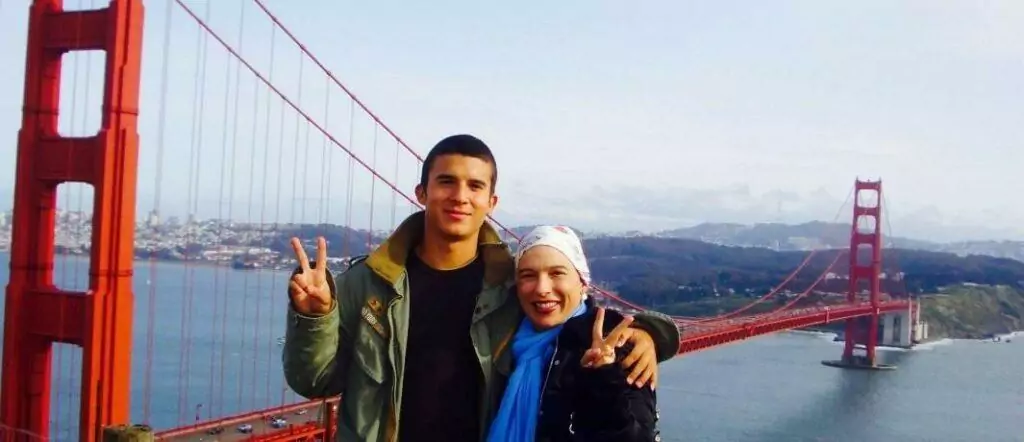 Trying to figure out how to make this year's Mother's Day stand out from all the rest? We can answer that question with one city: San Francisco! There are enough San Francisco attractions to make Mom's day truly special. To make things even better, we're experts at San Francisco sightseeing, so we've put together a Mom-worthy package: a San Francisco city tour that she'll remember, and cherish, forever.
This is the best way to treat Mom to the San Francisco hidden gems that most visitors (and tour guides!) miss. All those years of tender loving care that Mom doled out will be repaid aplenty, replete with chocolate, champagne, strawberries, flowers, and smiles galore on this incredible, best-ever Mother's Day tour, featuring the best views in San Francisco.
Don't worry about the planning. Don't fret about the parking (or the navigation, or the traffic). Leave it all up to us! It's a full day to say "Thanks" to Mom for taking care of all those runny noses, scraped knees, and birthday parties as we cruise America's most photogenic city to Fisherman's Wharf, the Palace of Fine Arts, Golden Gate Bridge, the Dutch Windmill, Japanese Tea Garden, and Ghirardelli Square.
San Francisco Sightseeing With Mom
If you're thinking about San Francisco guided tours, think about this one. It offers the top San Francisco attractions at their best:
While Fisherman's Wharf was established by 19th-century Italian immigrant men who found success catching and selling fish in nearby waters, it was the moms who made the local delicacies, like Dungeness crab, into tasty and memorable meals.
Mom will love our visit to the Palace of Fine Arts, a must-see attraction since its opening at the 1915 Pan-Pacific Exposition. This picture-perfect setting is a favorite spot for wedding photographs and other loving gatherings.
What could say "San Francisco" better than the Golden Gate Bridge? This iconic structure was completed in 1937, with the help of 1.2 million rivets! Take a break, Rosie—it's Mother's Day!
Completed in 1903, the picturesque Dutch Windmill was immediately put to work pumping water and life into the newly-planted Golden Gate Park. It's a must-see spot with Mom—and we'll take you there, for the best views in San Francisco.
The Japanese Tea Garden celebrates a connection between natural serenity and tea. Its grounds combine sculptures and water structures to create a calming landscape. Enjoy a moment of Zen with Mom in this Eastern-inspired enclave.
What's Mother's Day without chocolate? Here, you'll treat Mom to the very best there is as we visit Ghirardelli Square. After learning about the chocolate-making process, Mom will pick a treat from the assortment of hot fudge sundaes, hot cocoas, chocolate-chip cookies, and chocolate-dipped waffle bowls. Need something to go? Browse the wide selection of Ghirardelli chocolate gifts unavailable anywhere else.
What's included:
Luxury transportation on this 4-hour excursion
Live narration by Kimmy—she's bringing her family, too!
Champagne and strawberries
Made in San Francisco chocolate treats
Wrist flower corsage for each mom
Itinerary:
9:00
Depart from Fisherman's Wharf Zephyr Hotel
9:05 – 9:30
Roll along the Fisherman's Wharf, cross over the Marina and arrive for a strawberries—and-champagne-filled stop at the Palace of Fine Arts.
9:30 – 10:15
Re-board for a spirit-lifting crossing of the mother of all bridges—the Golden Gate! Then, it's through the spring greenery of the Presidio on our way to Golden Gate Park.
10:15 – 10:30
Smiles everyone! The Dutch Windmill and its gardens are a perfect spot for the 2019 family photo. Share it with everyone in your social network.
10:30 – 11:45
Spend an hour strolling while Mom enjoys the serenity and beauty of the Japanese Tea Garden (if the weather isn't cooperating, we'll head for the Conservatory of Flowers).
11:45 – 12:30
Sit back and relax with Mom as we tour through Haight Ashbury, the Mission, and other San Francisco neighborhoods on our way to the big finish.
12:30
At Ghirardelli Square, head in and enjoy one of the many chocolate or ice cream treats. If you'd like to stay for lunch, just let Kimmy know and she'll leave you to dine in peace.
1:30
Arrive back at the Zephyr Hotel, where everyone will say goodbye to Kimmy and enjoy the rest of the Greatest Mom's Day Ever.
Other options for Mom
Do you think we're done? Oh no! Monterey… Yosemite Valley… Lake Tahoe… We know which tours moms love most! Over the years, we've gotten feedback from thousands of moms! So in addition to San Francisco city tours, we also know that a trip to the Redwoods—combined with wine tasting in Napa and Sonoma with close family and friends—is impossible to forget.
Our Redwoods and Wine Country tour is perfect for a Mother's Day celebration because it combines two tours in one. In the morning, Mom will be swept away from her daily routine as she walks among majestic groves of 600-year-old coastal redwood trees.
The crisp, oxygen-lush air and natural beauty helps you relax—and detox. Listen for birds, especially Steller's jays, downy woodpeckers, spotted owls, and California quails. Look for flowers like sorrel, trillium, anemone, clintonia, Pacific rhododendron, and redwood violet in the ground cover. Be ready to capture shots of wild animals that have taken up residence in the Redwood forest, such as black-tailed deer, western gray squirrels, and chipmunks.
In the afternoon, Mom's party will enjoy an enlightening conversation with vintners who share their stories about creating delicious wines from the grapes in Napa and Sonoma valleys. You don't have to be a sommelier to pick your favorites; tasting wines side-by-side reveals the subtle differences that you might otherwise miss.
Here's another recommendation: Add the gourmet lunch upgrade to your tour to test your newly-gained wine and food-pairing knowledge. This experience on the quaint and historic Sonoma Plaza will delight the whole family.
A San Francisco Redwoods Tour combined with wine tasting and lunch promises the sort of magical moments that we want so much for our moms. So give us a call at 866-231-3752, or book your tour online with Extranomical Tours.
Check out our Special Mother's Day Tour Now
Cheers!
Published on: May 2nd 2019