It sounds unbelievable, and hilarious, that over one million visitors a year from around the globe eagerly line up to board a ferry boat headed to federal prison. Unless, you are referring to the floating penitentiary infamously known as "The Rock". Alcatraz prison is the stuff legends are made of—not to mention hit songs, blockbuster movies and fascinating documentaries.
About 1.25 miles off the picturesque San Francisco coastline, the maximum-security Alcatraz island once housed the worst of the worst. Al "Scarface" Capone, George "Machine Gun" Kelly, and Robert "Birdman" Stroud are just a few of the mobsters so feared by the American public they were isolated on an island surrounded by deep, freezing, treacherous waters.
To see one of history's notorious prisons up close, see the stunning views of San Francisco and the Golden Gate bridge from the water, and hear the harrowing accounts of failed prison breaks, people line up as early as 5 am for a chance to score Alcatraz cruise tickets. If you are visiting San Francisco and need to make sure you get on The Rock before you leave the City, or live locally and want to surprise guests while they are in town, there are a few things you need to know.
Here's the What, Where, When and How of booking Alcatraz tours.
Oh, and the What Nobody Tells You, But You Absolutely Need to Know about having the best Alcatraz tour possible!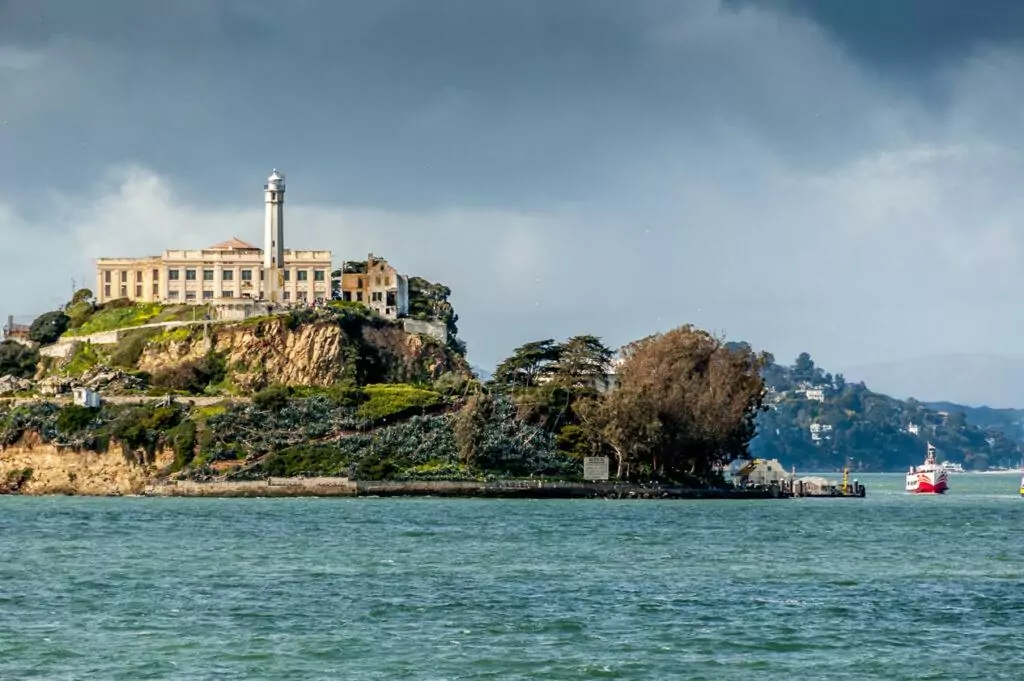 What
The ticket for San Francisco Alcatraz tours includes:
1. The boat ride to and from the island
2. An Audio Tour of the prison in the following languages: English, German, French, Dutch, Spanish, Italian, Russian, Portuguese, Korean, Japanese and Mandarin
3. 45-minute guided tours on various topics (English language only)
4. Videos on the history of Alcatraz.
5. Exploring the inside of the prison
6. Exploring the island (including the old Civil War fort and the nature preserve)
Where
The only boats allowed to dock on the island are operated by one company, Alcatraz Cruises. While other Bay cruises may ferry around Alcatraz, they can't dock and let you off on the island.
Alcatraz Cruises is located at Pier 33 (also called Alcatraz Landing) on the San Francisco Embarcadero. The Embarcadero is the famous waterfront roadway from Fisherman's Wharf to the Ferry Building.
When
You can take a day or night Alcatraz Island tours. The departure times for tours, like the availability of tickets, varies by season. Bookmark this blog so you can refer back!
1. Day Tours
When: Daily
Departure: Every 20 to 30 minutes from 8:45 am to 3:50 pm, or 1:35 pm in winter.
Return: About every half an hour
Good to know: The last boat leaves Alcatraz at 6:30 pm in summer and 4:30 pm in winter. You can take any boat back, but plan to spend at least a few hours to see everything without feeling rushed.
2. Night Tours
When: Thursday through Monday (tour is about 2.5 hours)
Departure: 5:55 pm and 6:30 pm
Return: 8:40 and 9:25 pm
Good to Know: In Winter it drops to only one sailing at 3:50 pm, Thursday through Monday.
How
San Francisco Alcatraz tours are always in demand, so getting tickets is not easy. Only one company, Alcatraz Cruises, is permitted to run tours of the island. They offer a limited number of tickets for sale to the public. During peak season, spring and summer, selling out weeks (or months) in advance is the norm.
Here's how to make sure you get onto the island.
1. Line up
Depending on the season, there are 50 to 150 Alcatraz tickets available for purchase by walking up to the Alcatraz Cruises kiosk on Pier 33.
During peak season people line up as early as 5 am to get a chance at these last-minute tickets, and there is no guarantee unless you are willing to get up before dawn and line up for hours.
Good to know: If you get to the front of the line and day tour tickets are already gone, there may be 10 to 20 Standby Tickets available for the night cruise. Standby Tickets mean you are not guaranteed to get on the island, but they do refund your ticket if you are show up and can't get on the boat.
2. Book a Combination Tour (and save money)
A good way to get your confirmed Alcatraz tickets is to purchase a combination tour. This is the only way to get San Francisco Alcatraz tours when the official seller, AlcatrazCruises.com, is sold out.
Good to know: This not only gets you Alcatraz tickets without having to stand in line, but it's the only way to save money. There are never any discounts on Alcatraz tickets, but when you pair them with another San Francisco tour activity you get a deal on two tours. If you're are planning to do a City tour, go to Muir Woods and Wine Country, or visit Yosemite, you can find these tours combined with Alcatraz and save money while guaranteeing you'll get on the island.
What Nobody Tells You, But You Absolutely Need to Know
In addition to the standard audio tours everyone knows about, there are a couple of little known tour options.
1. Guided Tours
These 45-minute tours are offered throughout the day. They go in-depth on topics such as: Famous Inmates, Escapes, Hollywood's Rock, the Victorian Gardens, 200 Years of Alcatraz History, or Fortress Alcatraz.
Good to know: No reservations are required, and all programs are free.
2. Night Programs
These sunset tours touch on interesting topics such as: memoirs written by former prisoners, sports and leisure on "The Rock" and escape attempts.
Good to know: The Alcatraz Night Tour is a smaller group, making it a more intimate tour. Night programs feature special tours and activities the day tour does not offer.
3. Behind the Scenes Alcatraz Tours
This 4.5-hour tour is the best kept secret of Alcatraz programs. (Shhh… Don't tell!) The Behind the Scenes Tour includes all the Night Tour programming, plus a guided trek into the hidden rooms, passageways, and underground cells of an Alcatraz prison long forgotten. This secret Alcatraz tour is not for the faint of heart!
Getting on the Ferry
You should check in thirty minutes before departure. While the boat will be full, there is plenty of seating, so don't worry. Once the ferry sets sail most people chose to stand on the decks to take in the stunning views.
Good to know: Since you're going to be standing in line, grab a coffee and a pastry at the snack bar on Pier 33.
Food and Drink on Alcatraz
There is absolutely no eating or drinking on Alcatraz, except for water. You can eat on the dock before and after your Alcatraz tour, but only in the dock area.
You can grab sandwiches, hot dogs, nachos, snacks, and drinks on the boat, so if you missed breakfast or lunch, make use of this time to grab a bite. It will be a few hours before you're back at Pier 33.
Good to know: beer and wine are served on the return boat ride.
What you need to bring
1. Your photo ID. Alcatraz Cruises strictly enforces their policy that you must show photo identification before you can buy or pick-up your Alcatraz tickets.
2. A jacket. It can get foggy, windy, and chilly on the boat and on the island.
Good to know: If you forget a jacket or need an extra layer, you can buy a souvenir sweatshirt in the Gift Shop.
Still Have Questions? That's What We're Here For!
Now you know as much about Alcatraz tours from San Francisco as a verified City Insider. All that's left is to score your tickets and let the good times roll! Have more questions, like which tour you should pair with Alcatraz? Give us a call at 1-866-231-3752 (5:30am-10pm PST) or contact us here.
Published on: October 19th 2018