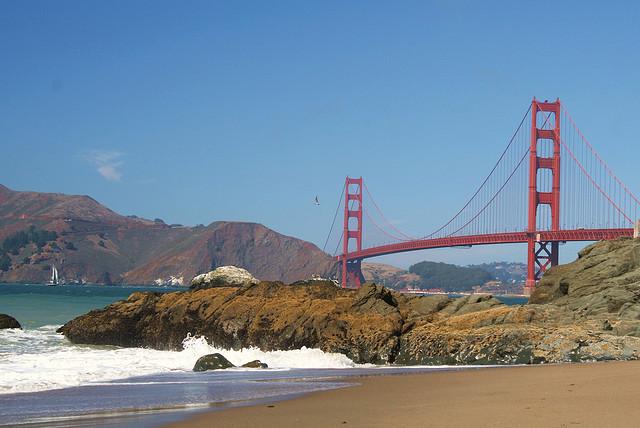 Baker Beach in San Francisco, CA Photo by Alohalea via Flickr
San Francisco is known for its gloomy weather and for Mark Twain's famous quote, "The coldest winter I ever spent was a summer in San Francisco." But, contrary to popular belief, the city does experience that famous California sunshine that everyone speaks so highly of, even if it is only a handful of times a year. Now you may be asking yourself, "Where do San Franciscans hang out on those infrequent, yet beautiful days?" It would be impossible to list all of them, but here are some of our favorites.
1. Baker Beach – One of the few beaches in San Francisco that allows for a real "California beach day." Semi-protected from the wind, so warm days actually do stay warm, this beautiful bit of coastline offers breathtaking views of the Golden Gate Bridge and a great place to hang out and soak in some sunshine.
2. Dolores Park – Mission District San Francisco has a tendency to remain warm even when other parts of the city become encompassed with fog and wind. Dolores Park is a local spot located between the Mission and Castro district, and is a great place to have a picnic, make new friends, or grab a famous scoop of Bi-Rite Ice Cream (See #3).
3. Bi-Rite – This famous spot for ice cream can have lines around the block on a sunny day. See what all the fuss is about with their unique flavors and tasty treats.

4. Zeitgeist – Looking for somewhere to grab a drink? This bar has an indoor section, outdoor patio area filled with picnic tables, famous Bloody Mary's, great burgers, and all the punk rock music one person could handle. On a sunny day try to arrive early, as the table space fills up quickly and people tend to hang on to their tables for a while.
5. Golden Gate Park – Home to some of San Francisco's most famous festivals and events, Golden Gate Park has so much to do it had to make the list. Take a stroll though some of the gardens, go check out the bison (yes, real bison), hang out on hippie hill, or check out the De Young for some amazing art from around the world. Although Golden Gate Park does tend to experience fog earlier than other parts of the city, the park also offers a series of night time activities that allow you to escape the cold (see Academy of Science Nightlife).
Where are some of your favorite spots to hang out on a sunny day in San Francisco? Let us know by replying below.
Resources:
Posted by Josh Webber 9/19/2013
Published on: September 19th 2013