Tuolumne Meadows, Yosemite NP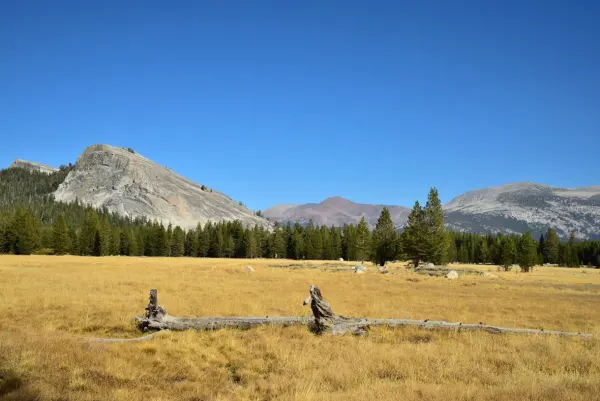 Tuolumne Meadows holds the largest subalpine meadow in the Sierra Nevada. At 2.5 miles long, Tuolumne Meadows contains beautiful wildflowers such as lady slipper orchid and golden monkey flower. Surrounded by granite outcroppings and high peaks, Tuolumne Meadows is a playground for rock climbers within Yosemite National Park.
Tuolumne Meadows has the largest campground in Yosemite and a number of public facilities. Tuolumne Meadows tends to be less crowded than the Yosemite Valley floor and has many hiking trails and great views of Lembert Dome and Mt. Dana.
Park rangers lead narrated walks that explore geology, birds, and Tuolumne Meadows Native American history. Until gold miners arrived in the 1840's, Tuolumne Meadows and the Tuolumne River provided a fertile home for the Miwok Indians. The name Tuolumne may mean "cave people" or "stone wigwams." The eastern entrance to Yosemite National Park is a few minutes from Tuolumne Meadows, at Tioga Pass.