Treasure Island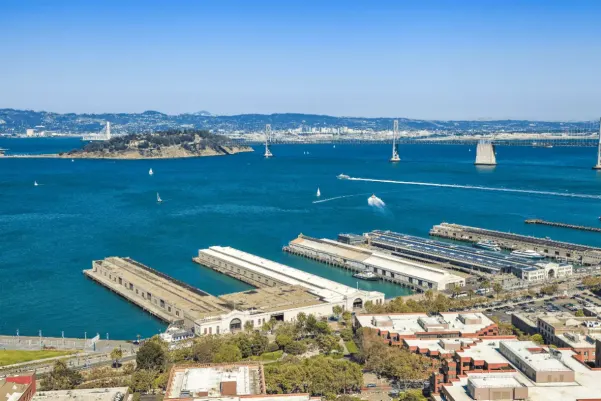 Treasure Island is a 400-acre manmade island positioned in the San Francisco Bay midway between San Francisco and Oakland. Treasure Island, a federal WPA project that was completed in 1939, was built from fill-dirt washed down from the sierras, which was then dredged as mud from the Sacramento Delta. Treasure Island is attached by an isthmus to Yerba Buena Island, a 150-acre natural rock outcropping that connects the cantilever and suspension sections of the Bay Bridge.
Treasure Island was named for the promise and lure of the gold its soil may contain, and was originally planned to be San Francisco's first municipal international airport. Treasure Island also served as a site for the 1939-1940 World's Fair.
During the 1930's, Treasure Island was used as an airport for Pan American Airline's first commercial Pacific Rim service, and was home to the glamorous China Clipper seaplanes flying out of Clipper Cove. This cove is now the site of the annual San Francisco International Dragon Boat Festival. In 1941, the Navy leased Treasure Island from the City of San Francisco, when it became Naval Station Treasure Island, a major departure point for "preparing, forwarding and receiving men to Naval duty" in World War II.
Fleet Admiral Chester Nimitz, Commander in Chief Pacific Fleet and Pacific Ocean Areas, directed the war in the Pacific from Building One, the Art Deco administration building, built in 1938, which was originally planned to be used as the terminal for the international airport. Later, the administration building housed the Treasure Island Museum, from its founding in 1976 to its closing in 1997, where the building also served as headquarters for the 12th Naval District in San Francisco. The Navy used the island as a training and administrative center, until 1997, when Treasure Island was decommissioned as part of Congress's 1993 Base and Realignment Closure program.
The original aircraft hangars on Treasure Island, have been used as sound stages for many film and television productions, including Indiana Jones and the Last Crusade, Flubber, Patch Adams, and Bicentennial Man.
Now, the future for Treasure Island looks bright and also very green. With the recent approval of the redevelopment of 100 of the 400-acres, Treasure Island will become "a new national model for what a wholly sustainable community can be about." This urban renewal will be bike and pedestrian-friendly, and feature 6,000 units of high density housing, a ferry terminal, a wind farm and plenty of green space in the form of parklands and wetlands. New residents to Treasure Island will be occupying the new sustainable towers by 2013 with completion scheduled for 2022.