The Castro, San Francisco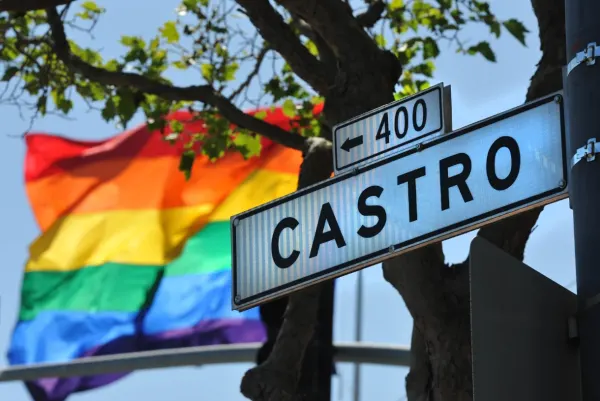 If only the Mexican land barons and European homesteaders who built the Castro district could see it today! What was once dairy farms and dirt roads is now one of the city's most vibrant and cohesive communities, saturated with stylish shops and bars so popular that patrons spill out onto the street. Now known as the "Gay Mecca", there are coffee shops and cafes, diners and casual eats in this "open" neighborhood.
The Castro district in San Francisco was once a working class neighborhood known as Eureka Valley, populated by Irish, German and Scandinavian immigrants. But that changed in the 1960's, when people started leaving San Francisco for the suburbs. Gay men started buying the vacant properties, and the Castro district changed its name and gained a queer identity. The Castro was the district represented by San Francisco's first openly gay supervisor, Harvey Milk, who was assassinated in San Francisco City Hall in 1978 along with Mayor George Moscone. Rioting broke out in downtown San Francisco after Milk's killer, Dan White was only sentenced to five years in jail. Harvey Milk, also known as "The Mayor of Castro Street," is regarded as a martyr for the gay community and the gay rights movement.
Many different shops, restaurants and bars line Castro Street through to 19th Street and upper Market Street. The landmark Castro Theatre was built in 1922, and remains as one of the best movie theaters in San Francisco, running a lineup of classics, foreign films and film festivals. The Castro comes alive at night, when the gay bars start pumping out dance music and people pack the streets to see and be seen. The Twin Peaks tavern at Castro and 17th Streets was the first bar to have floor-to-ceiling windows—a radical idea when it opened in the 1960's. Harvey's, on 18th and Castro is full of gay memorabilia, and displays work by local artists. The Castro is the gay Mecca of the West Coast– large rainbow flags mark the borders of the Castro, and can be seen down Market Street and from various other locations throughout San Francisco.