The Ahwahnee Hotel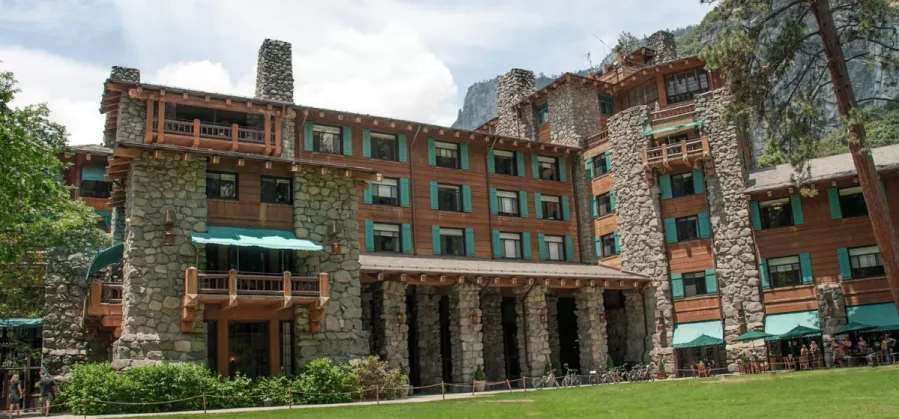 Built in 1927, the Ahwahnee Hotel (Majestic Yosemite Hotel) was designed by Gilbert Stanley Underwood, designer of the Zion Lodge, Bryce Canyon Lodge, and Grand Canyon North Rim Lodge. The Ahwahnee Hotel is situated in the Yosemite Valley below the Royal Arches Rock formation and was chosen for the idyllic views of Half Dome, Yosemite Falls and Glacier Point. The exterior of the hotel was constructed out of stained concrete poured into moulds to simulate wood. This inventive design was chosen as an artistic element and also to add fire resistance to the structure. The Ahwahnee was renamed the Majestic Yosemite Hotel on March 1, 2016, due to a legal dispute between the US Government (which owns the property) and the Delaware North (which claims rights to the trademarked name). It has since won the right to its name.
Almost immediately after opening, in 1928, the hotel's rooftop garden and dance hall were redesigned as a private apartment because the dance hall failed to draw an audience. In 1933, during the end of the Prohibition Era, a private dining room was transformed into the El Dorado Diggins Bar, a California Gold rush themed establishment. In 1943 the United States Navy took over the hotel and used it as a convalescent hospital for war veterans. The 1950's, 60's and 70's brought modern building and construction to the hotel including fire escapes, a fire alarm system, an indoor sprinkler system and smoke detectors. In 2003-2004 the original slate tile roof and copper gutter system was repaired and finally replaced. The roof project is most notable for the 97% reuse of original materials.
The 150,000 square foot hotel was declared a National Historic Landmark in 1987. The hotel has 99 rooms, parlors and suites all decorated with original Native American designs. Along with the main building are 24 cottages bringing the total number of rooms to 123.