Muir Woods Private Tours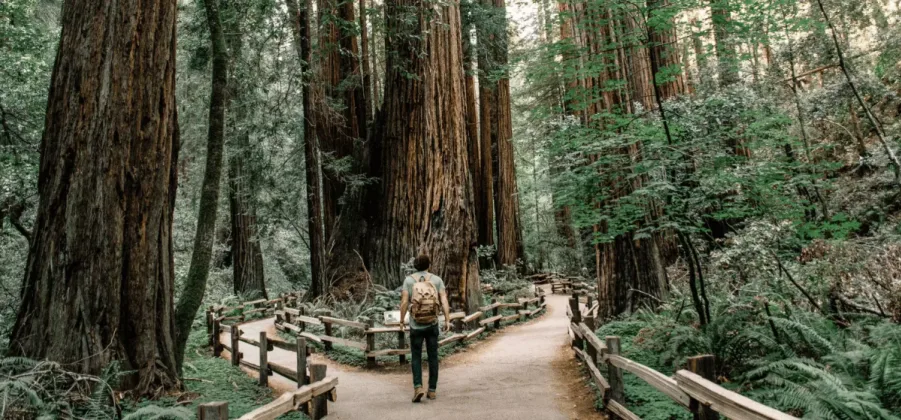 On a private tour, your group can slow down the pace so you can fully experience Muir Woods, the coastal redwood forest closest to San Francisco. Our expert private tours team will work with you in order to plan the perfect Muir Woods tour from San Francisco for an unforgettable day.
Your Muir Woods private tour begins at any San Francisco Bay Area location. As of January 2018, Muir Woods National Monument has required all visitors to have a prepaid parking permit. Our private tours team will take care of this task for you, so all your group has to worry about is having a great time! Ask our team to arrange for you stop for pictures of the Golden Gate Bridge from the Marin Headlands on the way to the park. After arriving at serene Muir Woods, you'll spend free time exploring this natural treasure alongside plenty of park rangers who will be happy to answer your questions.
Once your group has had its fill of coastal redwoods, ferns, and other wildlife, re-board your tour vehicle and return to San Francisco or make a stop in Sausalito, a seaside community full of charm and unforgettable views of San Francisco. When you are ready to leave Sausalito, return to your vehicle or board a ferry for a cruise that floats by Angel Island. Marvel once more at the Golden Gate Bridge and snap shareable panoramic memories of the San Francisco skyline.
Anything you'd like to do or see while you are in the area that we didn't mention? Mention it below! Fill out the quote request form below and our private tours team will work with you in order to plan the perfect itinerary for an unforgettable day.