Lone Cypress Tree, Monterey & Carmel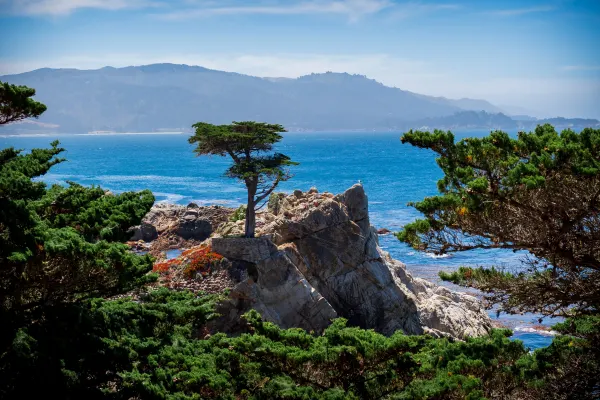 The Lone Cypress Tree, located along the scenic 17-Mile Drive in Monterey and Carmel, is one of the most iconic landmarks on the California coast. This solitary cypress has withstood the test of time, weathering countless storms and braving the salty sea air for over 250 years.
The tree is believed to have sprouted sometime in the early 1770s, making it one of the oldest living things in the area. Its unique location on a rocky outcropping, overlooking the Pacific Ocean, has made it a popular subject for photographs, paintings, and even logos for the Pebble Beach Company.
The Lone Cypress Tree has become a symbol of resilience and perseverance, standing strong despite the challenges of its harsh environment. It has even survived attempts to remove it from its precarious perch. In the 1940s, the tree was propped up with cables to prevent it from falling into the ocean, and in the 1980s, a replacement tree was planted nearby in case the original finally succumbed to the elements.
But despite its fame and popularity, the Lone Cypress Tree is still a living thing that requires care and attention. In recent years, the tree has faced a number of health challenges, including the effects of climate change and invasive pests. The Pebble Beach Company has taken steps to protect and preserve the tree, including limiting public access to the area around it and implementing conservation measures.
Visitors can still enjoy the breathtaking views of the Lone Cypress Tree from designated lookout points along the 17-Mile Drive. The scenic drive, which winds along the coast and through the Del Monte Forest, is a popular attraction for tourists and locals alike. In addition to the Lone Cypress Tree, the drive offers stunning views of rugged coastline, picturesque beaches, and luxurious mansions.
For those interested in learning more about the history and ecology of the area, there are several educational opportunities available. The Pacific Grove Museum of Natural History, located just a short drive from the Lone Cypress Tree, offers exhibits on the local flora and fauna, as well as the cultural history of the region. The Monterey Bay Aquarium, located in nearby Cannery Row, is also a must-see for visitors to the area.
Whether you're a nature lover, history buff, or just looking for a scenic drive, the Lone Cypress Tree is a must-see destination on the California coast. Its rugged beauty and enduring spirit are a testament to the resilience of nature and the human spirit.