Lake Tahoe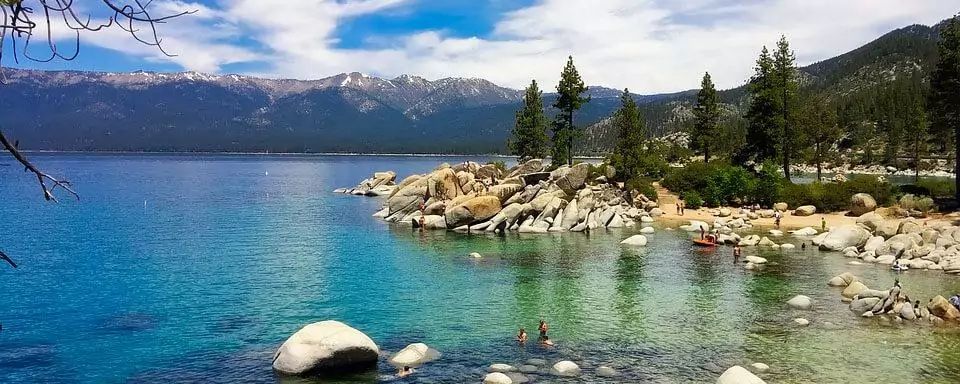 Straddling the states of California and Nevada at an impressive 6,200-foot elevation, Lake Tahoe is the largest alpine lake in all North America. It's also the second deepest in the U.S., plunging over 1,600 feet to the very bottom. Its breathtaking geography and surrounding mountains of the Sierra Nevada were carved during the Ice Age, some 2 million years ago. That's even before Extranomical started giving tours!
Today, Lake Tahoe is a great destination all year round. In the winter, it's a skier's paradise, with a dozen resorts nearby, including Heavenly Mountain Resort and Squaw Valley, which was home to the 1960 Winter Olympics. In the summer, Lake Tahoe is awesome for everything from parasailing to paddle boats, sailboat racing, guided cruises, hiking, and biking. And on the Nevada side, there's casino entertainment all year. Cha-ching!
All this beauty attracts more than tourists; there's also tons of wildlife. Each autumn, for example, the kokanee salmon (a landlocked version of the Pacific sockeye) spawn in nearby Taylor Creek—and then—create a seafood feast for local mink, bears, and even bald eagles!
If Lake Tahoe looks familiar to you when you first see it, it may be because you recognize it from the opening credits of the classic TV show Bonanza, or perhaps the movies A Place in the Sun or Things Change.
How about a little lake history: After an 1864 border dispute between California and Nevada, the state line was established in the lake waters. But don't tell Nevada, because they only got one third of the lake in the deal!
Here's a spooky story: Back in 1994, a diver suffered a mishap on the lake and was presumed lost. Flash-forward 17 years to 2011, and his body was found, perfectly preserved from the clear, cold, and intense pressure, 265 feet below the surface! That's a true story, but the tales of Tahoe sea monster aren't. We wouldn't lie to you!
Trust Extranomical to take you to this amazing place.