Japantown, San Francisco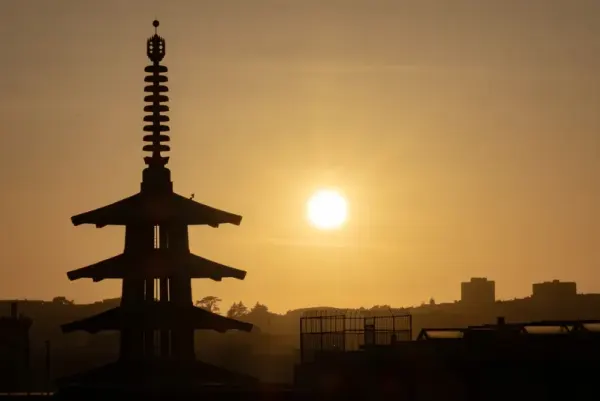 Travelers from around the globe always make sure to make a stop at Chinatown when they visit San Francisco but many overlook Japantown. Japantown SF may not be a thriving tourist attraction, but it is an important historical place and a thriving modern neighborhood. Visitors and locals alike can go to Japantown to learn about the history of the Japanese people in the area, do some shopping and enjoy the many wonderful restaurants to be found here. Japantown is also home to a movie theater that is quite popular with local people, especially during the time of year when the film festivals come around.
The one time of year that people do remember to visit Japantown is during the cherry blossom festival. The Japantown SF Cherry Blossom Festival takes place over two different weekends in the spring when the area's cherry blossom trees are in full bloom. The annual festival includes live music, martial arts demonstrations, anime conventions, art displays and much more. During this time of year, Japantown comes to life with the activity that is bubbling under its surface all throughout the rest of the year.
In comparison with the bustle of the more well-known Chinatown, Japantown is a relatively quiet place. Other than during the weeks of the Cherry Blossom Festival, the area normally doesn't have extensive foot traffic (no more than the rest of pedestrian-based San Francisco anyhow). But that doesn't mean that there is nothing going on in Japantown. It just means that you have to look under that surface a little bit to see what there is to see. Once you do, you'll find that there is a lot to do in Japantown on any given day.
One of the things that many people enjoy doing in Japantown San Francisco is shopping. There is a large underground shopping mall there with many stores which sell items directly from Japan. There are anime comic book stores, electronics stores and general shopping stores which all offer a wide variety of items that can't be found elsewhere in the city. But more than the items themselves, many people enjoy shopping in Japantown because of the positive experience that they find there. The mall is clean, the people are friendly and the ambience is serene. There are also a number of places in Japantown for additional relaxation, such as aromatherapy spas and shiatsu massage parlors.
But the mall in Japantown is not only a place for shopping and relaxation. It is also a place where history is honored. The mall, known as The Japan Center, includes a Peace Plaza. This area reminds visitors about the horrors that were suffered by Japanese-Americans in this country, most specifically the use of internment camps during World War II. Many Japanese people moved out of the San Francisco area at this time to escape persecution and the Peace Center helps to remind us of that time so that we don't allow such tragedies to happen again. Other historical markers throughout Japantown San Francisco remind us of these times as well so you should pay attention to signage while you are shopping in the area.
People who are shopping in Japantown San Francisco also often enjoy dining in the area while they are there. Traditional Japanese foods of all kinds can be found in Japantown San Francisco. One of the favorite things to get here is sushi, preferably in a Japantown restaurant that has the sushi boats to allow for a full experience of the fun of the area. Other dining is, of course, available in Japantown as well so you aren't limited to Japanese cuisine but the sushi and soba noodles will probably tempt you to stick with that anyway. And of course there are plenty of bars where you can get plum wine and sake if you are so inclined. You can also enjoy the nightlife of the karaoke bars that are located throughout Japantown neighborhood.
Japantown San Francisco CA isn't as bustling as Little Tokyo (Japantown Los Angeles) where many of California's Japanese people are centralized. But Japantown San Francisco is still an interesting area worth taking the time to explore when you are in the city. It has historical information which is important to the Japanese people as well as to the basic history of San Francisco. And it is also a place where there is peace to be found on many levels. Whether for shopping or education or a little bit of both, Japantown shouldn't be overlooked.